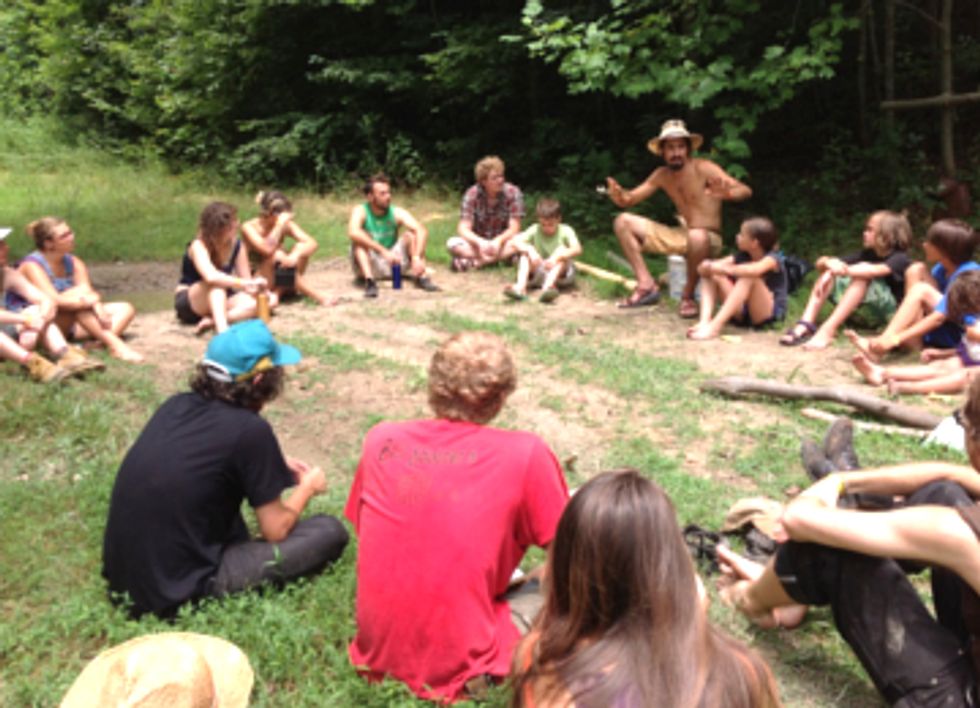 Are you worried about how peak oil and climate change will affect your life? Do you want to live a healthier, happier, more sustainable lifestyle? Do you want to spend less time stuck in traffic and more time stuck in the garden?
The Whippoorwill Festival, July 11-14, is a four day festival near Berea, KY (just south of Lexington off Interstate 75) that seeks to build community and promote sustainable living by sharing earth-friendly living skills in a positive, healthy, family-friendly atmosphere.
The Whippoorwill Festival celebrates Kentucky's Appalachian heritage while helping prepare our minds and bodies for a future world of climate change and a diminished supply of fossil fuels. The festival is a low-cost event with over 75 workshops. The ticket includes tent camping; healthy, home-cooked meals; guest speakers; plus Bluegrass, Americana, mountain music and dancing in the evenings.
Many Whippoorwill workshops are led by experts with years of knowledge and skills in fields such as forest ecology and wild mushroom identification. In order to encourage leadership development in Appalachia, other workshops are led by young people and relative novices. Small discussion groups allow festival participants to share their thoughts and experiences with each other in an informal atmosphere.
Berea has a long and strong tradition of Appalachian craftsmanship that is well known in Kentucky, but the Whippoorwill Festival broadens the market for these craftspeople by attracting attendees from Tennessee, North Carolina, Virginia, Ohio and West Virginia.
In the spirit of the book Last Child in the Woods, the Whippoorwill Festival encourages kids at the festival to play outdoors. The festival offers free admission to children 16 and under. Unstructured activities for children are encouraged. The facility for the festival, HomeGrown HideAways, has a nice clean creek with woods and trails on the property. There is also a lake nearby.
Berea's The New Coon Creek Girls will play Bluegrass on Friday night. Other bands include Cincinnati's terrific trio The Tillers; The New Old Cavalry from Bloomington, IN; old-time mountain ballads with Saro; Possum Riot from Knoxville and contra dancing with Berea caller Joe Wilkie.
Visit EcoWatch's CLIMATE CHANGE page for more related news on this topic.
EcoWatch Daily Newsletter
stocknroll / Getty Images
More and more Americans are retrofitting their bathrooms with high-end bidets, allowing them to enjoy cleanliness and hygiene without creating as much paper waste. Not all bidets are created equal, however, and before deciding on a particular brand, it's important to do your homework. Take a look at our comprehensive Toto bidet review, and our reviews of Tushy and Omigo, to learn more about all of their options.

<h2>Toto overview</h2><p>Toto is a company that has been around for over 100 years. They aim to improve people's quality of life, and they do that specifically by focusing on bathrooms. To that end, Toto is known for high-quality products including toilets, faucets, showers, bathtubs, and bidets. </p><p>Toto has also expressed an admirable commitment to ecological stewardship. As <a href="https://www.totousa.com/about-toto/toto-way" target="_blank">their corporate website</a> notes, they strive to "protect the global environment by conserving finite natural resources and energy." One example of this is their donation of any imperfectly fired porcelain products for recycling and reuse as porcelain floor tile. Their <a href="https://www.totousa.com/about-toto/living-toto-library/smart-sustainable-packaging-solution" rel="noopener noreferrer" target="_blank">packaging</a> uses differing levels of recycled post-consumer paper products while their forklifts operate using <a href="https://www.totousa.com/about-toto/living-toto-library/plant-based-hydraulics" rel="noopener noreferrer" target="_blank">plant-based hydraulics</a> made from soybean oil instead of traditional hydraulic oil.</p><p>Toto is definitely a company with a superior reputation when it comes to bathroom accessories in general, and bidets in particular. Here are reviews of some of the specific products in the Toto line.</p><h2>Toto bidet reviews</h2><p>There are two different bidet product families available from Toto: standalone bidets and bidet seat attachments. Their standalone models include the Piedmont bidet, the Lloyd bidet, and the Clayton bidet, while their bidet toilet seat offerings include a wide selection in the popular Washlet line. Here are details on the three standalone options and three of the most popular bidet seat attachments.</p><p><em>Each product featured here has been independently selected by the writer. If you make a purchase using the links included, we may earn commission.</em></p><h3>Toto standalone bidets</h3><h4></h4>
<h3>Toto bidet seats</h3>