This website uses cookies to ensure you get the best experience while browsing it. By clicking 'Got It' you're accepting these terms.


The best of EcoWatch, right in your inbox. Sign up for our email newsletter!
Maryland wetlands near Nanticoke Wildlife Management Area. Farmers, developers or landowners will no longer need a permit to pollute the streams and wetlands. NRDC / Matt Rath / Chesapeake Bay Program / Flickr
By Jennifer Weeks
World Wetlands Day on Feb. 2 marks the date when 18 nations signed the Convention on Wetlands in 1971, in the Iranian city of Ramsar on the shores of the Caspian Sea. Since that time, scientists have shown that wetlands provide many valuable services, from buffering coasts against floods to filtering water and storing carbon. These five articles from our archive highlight wetlands' diversity and the potential payoffs from conserving and restoring them.
EcoWatch Daily Newsletter
Brazil, Pantanal, water lilies. Nat Photos / DigitalVision / Getty Images Plus
Most people have heard of the Amazon, South America's famed rainforest and hub of biological diversity. Less well known, though no less critical, is the Pantanal, the world's largest tropical wetland.
Like the Amazon, the Pantanal is ecologically important and imperiled. Located primarily in Brazil, it also stretches into neighboring Bolivia and Paraguay. Covering an area larger than England at more than 70,000 square miles, the massive wetland provides irreplaceable ecosystem services that include the regulation of floodwaters, nutrient renewal, river flow for navigability, groundwater recharge and carbon sequestration. The wetland also supports the economies of the four South American states it covers.
The Elkhorn Slough Reserve is one of California's few remaining coastal wetlands. Edmund Lowe Photography / Moment / Getty Images
By Jake Johnson
In a move environmentalists are warning will seriously endanger drinking water and wildlife nationwide, President Donald Trump's U.S. Environmental Protection Agency (EPA) is reportedly gearing up to hand yet another gift to big polluters by drastically curtailing the number of waterways and wetlands protected under the Clean Water Act.
The Jackson Bottom Wetlands Preserve in Hillsboro, Oregon.
born1945 / CC BY 2.0
By Robert McSweeney
Emissions of CO2 and methane from wetlands and thawing permafrost as the climate warms could cut the "carbon budget" for the Paris agreement temperature limits by around five years, a new study says.
These natural processes are "positive feedbacks"—so called because they release more greenhouse gases as global temperatures rise, thus reinforcing the warming. They have previously not been represented in carbon budget estimates as they are not included in most climate models, the researchers say.
Earlier this month the Florida Department of Environmental Protection (DEP) ordered the Dan A. Hughes Company, LP to stop all exploratory "fracking-like" drilling activities at five wells in Collier County, on the edge of the Everglades, until further notice, saying that the DEP will review results of monitoring efforts by the company.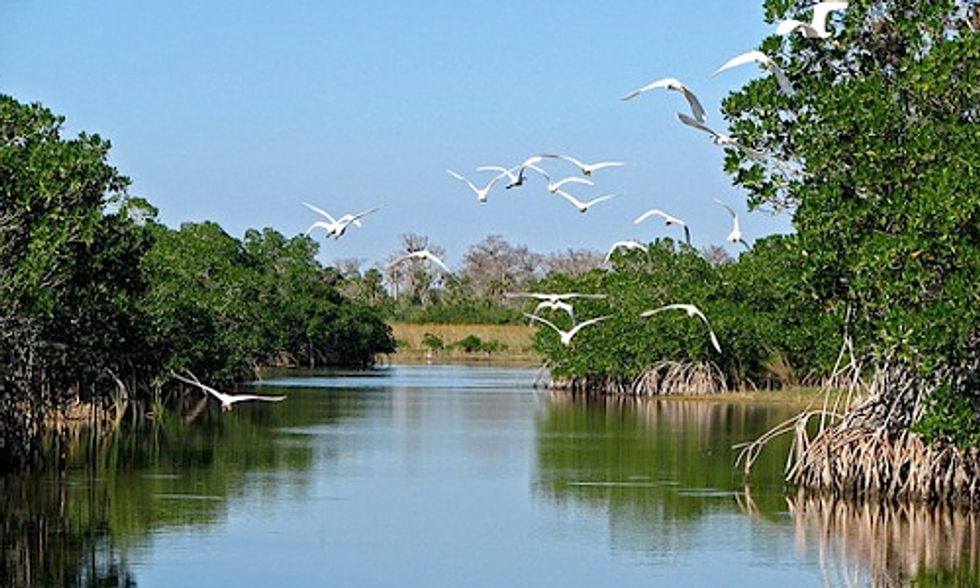 The "fracking-like" drilling refers to a request from the company to the DEP which "proposed an enhanced extraction procedure that had not previously been used in Florida."
According to the DEP, the Dan A. Hughes Company proposed injecting a dissolving solution at sufficient pressure to create some openings in the oil-bearing rock formation, which would then be propped open with sand in pursuit of enhanced oil production. The department subsequently requested that the company not move forward until additional information could be collected.
Ignoring the DEP's request, the Dan A. Hughes Company commenced the "fracking-like" extraction method and in December 2013, officials caught the company conducting "unauthorized activities" at a well south of Lake Trafford in Collier County, northeast of Naples, FL.
The possibility of groundwater contamination worries opponents of oil and gas drilling in the area, as well as the fact that the ecologically fragile region is already endangered by agricultural runoff, invasive species, rising sea levels due to climate change and other threats. Because of environmental damage due to construction and the chance of potential oil spills, drilling poses far too great a risk to wildlife.  
Locally, resistance has been building to potential oil and gas operations and recently, Sen. Nelson (D-FL) wrote a letter to the U.S. Environmental Protection Agency asking that they investigate the company's illegal drilling practices. 
"We cannot tolerate expanded industrial drilling activities that pose a threat to the drinking and surface water so close to the Florida Everglades. The recent discovery of a fracking-like incident there raises serious concerns about whether outside wildcatters would soil one of the world's great environmental treasures," Sen. Nelson's letter read.
Hopefully, Sen. Nelson's letter, along with the work of non-profit organizations like South Florida Wildlands Association and concerned citizens, will help draw nation-wide attention to the contentious issue. 
--------
YOU MIGHT ALSO LIKE
Big Oil Eyes Florida's Public Lands, Plans to Drill in the Everglades
EPA Rule Would Close Loopholes in Clean Water Act, Restore Protections for Streams and Wetlands
Study Finds Wildlife Fences Result in Ecological Meltdown
--------
It may sound like a familiar story: a proposed pipeline that will carry hundreds of thousands of barrels of Canadian oil sands crude across the Midwest prairies is embroiled in a permit controversy.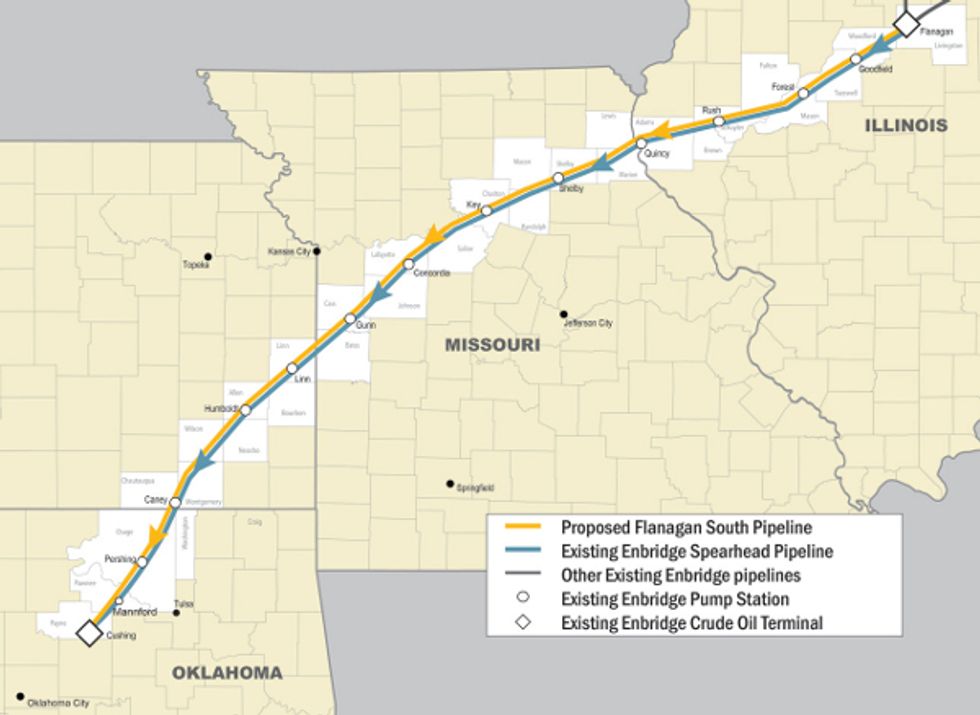 But this is not a story about Keystone XL.
Enbridge Energy's proposed Flanagan South pipeline, like Keystone XL, would connect with existing pipes to ferry crude oil from Alberta—and Montana and North Dakota—to refineries in the Midwest and the Gulf Coast. The 600 miles of 36-inch pipe would run from southwest of Chicago across Illinois, Missouri and southeast Kansas before connecting with the oil hub of Cushing, OK.
Both pipelines would have a hefty capacity: 830,000 barrels a day for Keystone XL; 600,000 barrels a day initially for the Flanagan South, and 783,000 barrels per day once combined with the Spearhead, an existing pipeline that largely runs parallel to the proposed Flanagan route.
Since Flanagan South doesn't cross an international border, it doesn't require State Department approval, the current point of contention for Keystone XL. However, Enbridge is trying to use a regulatory shortcut known as Nationwide Permit 12 that might allow it to get its pipe in the ground before it provokes the sort of opposition now marshaled against Keystone XL.
Nationwide 12
According to its website, Enbridge is aiming to begin construction in August.
Before it can get started, though, Enbridge must get approval from the U.S. Army Corps of Engineers. The Corps regulates projects that require disturbing wetlands, and Flanagan South, which would cross the Missouri and Mississippi rivers along with many smaller waterways, would require digging in wetland areas, then refilling them.
"We're looking at trying to finalize our review, probably close to August," said Lucius Duerksen, a regulatory specialist in the Corps' Kansas City office. Duerksen is coordinating the four Corps offices in Illinois, Missouri and Oklahoma that are involved in reviewing the Flanagan project.
The Corps must determine whether the Flanagan project qualifies for Nationwide Permit 12 status, allowing Enbridge to bypass the usual lengthy permit process and get to work much faster than they otherwise would. Also, under Nationwide 12, no public notification is required.
Nationwide 12 is a popular option with pipeline developers. TransCanada, developer of Keystone XL, attempted to use that process. In response, the Sierra Club filed two lawsuits. A request for a temporary injunction against granting the permit to TransCanada is before a federal appellate judge in Washington DC. A lawsuit alleging that Nationwide 12 is a violation of the Clean Water Act and the National Environmental Policy Act (NEPA) is now before a federal district judge in Oklahoma.
Flanagan is a reprise of the Keystone XL dispute, according to Doug Hayes, one of the Sierra Club staff attorneys who filed the two now-pending lawsuits.
"It's happening all over again," he said. "The Corps is completely refusing to disclose any information about this to the public."
The Sierra Club is a member of RE-AMP, which also publishes Midwest Energy News.
'We'll Do This Without Public Input'
In May, the Sierra Club filed a Freedom of Information Act request with the four Corps offices involved in the Flanagan case. The Club sought "expedited" access to documents related to the application for a Nationwide 12 permit. Expedited access puts a request at the front, rather than the back, of the queue.
Two of the offices have denied the request. The other two haven't yet responded to it, according to the Sierra Club. If the group isn't granted expedited access, Hayes said, documents most likely would not arrive for at least a year. And given that Enbridge intends to have the pipeline operating by mid-2014, any documents received in a year "will be useless information," according to Hayes.
"The Corps seems to be saying, 'We'll do this without public input, and the only way people will get information is with a lawsuit.' "
Nationwide 12 is one of 52 expedited permits, each addressing a general type of project. The nationwide permits are reviewed every five years, at which point the public is alerted and invited to comment. Then, if a given project fits the parameters of one of the permit types, it can gain approval fairly quickly with a minimum of hoops to pass through.
A pipeline project can qualify for Nationwide 12 status if, for example, it disturbs no more than a half-acre of wetland in a "single and complete project." The Corps interprets "single and complete" as the crossing of one stream, rather than an entire pipeline project.
"The way to get around that is to say that each crossing is a separate project," said Hayes, the Sierra Club's lawyer. That interpretation, in his view, "violates the intent of the Clean Water Act."
It means that pipeline developers can go the Nationwide 12 route even if they will cross hundreds or thousands of streams, provided no single one would disturb more than a half-acre of wetland. The proposed Keystone XL route would cross about 2,227 streams; Flanagan South, about 2,000.
The Nationwide 12 permit also is reserved for projects that would cause no more than what the Clean Water Act terms, "minimal individual and cumulative adverse environmental impact." In other words, "insignificant projects," Hayes said.
He wonders whether the Corps will characterize a 600-mile pipeline with 2,000 stream crossings as a small disruption. Like most major pipeline projects, Flanagan South would require a temporary construction right-of-way 85 feet wide, which it would clear and level. After burying the 36-inch wide pipe four feet below ground, a 50-foot-wide right-of-way would be maintained in a treeless state to maintain easy access to the pipeline.
If they can convince the Corps that their project fits within the general parameters of the permit language, pipeline developers can be granted Nationwide 12 status in a relatively quick and easy fashion, rather than the arduous individual permit process with its required public hearing.
'It's This Smokescreen'
Nationwide 12 was used in Louisiana and Arkansas for a 26-mile pipeline that will receive about 20 million gallons a day of treated waste from two chemical companies, one oil refinery and the wastewater treatment plant of El Dorado, AR, and then deposit it into the Ouachita River. It's projected to be completed in October.
Cheryl Slavant, the designated riverkeeper of the Ouachita RiverKeepers, said that like Doug Hayes' experience, information has been hard to come by. She receives regular e-mails from the Corps about projects affecting the Ouachita River.
The Corps, as Slavant sees it, is "allowed to pick and choose who has to follow what law. A little guy who wants to build a house has to have a public hearing. They take a sledgehammer to the little guy, and give a pass to the big guy."
"All we're trying to do is make sure people follow the law," said Greg Raimondo, a Corps spokesman in the Vicksburg office.
Slavant had her opportunity to weigh in on this and other wetland-disrupting projects a few years ago when the Corps was seeking input before renewing the Nationwide Permit 12, said Mike Miller, the pipeline project manager in the Vicksburg office.
"It's this smokescreen," said the Sierra Club's Hayes. "At each point in the process, the Corps points to an analysis they supposedly did at another point. The effect in the end is that they never analyze the environmental impact under the National Environmental Policy Act."
NEPA would require regulators to assess the likelihood and potential impact of an oil spill from a pipeline like the Flanagan. When Hayes studied the 45 pages of Nationwide Permit 12, he found "not a single mention of oil spills."
As a result, he contends that regulators have little insight as to what environmental hazards might result from pipeline projects: whether it's the 26-mile pipeline delivering waste to the Ouachita River, or the 600-mile Flanagan pipeline that next summer may be ferrying crude across the middle of the country.
Visit EcoWatch's FRACKING page for more related news on this topic.
——–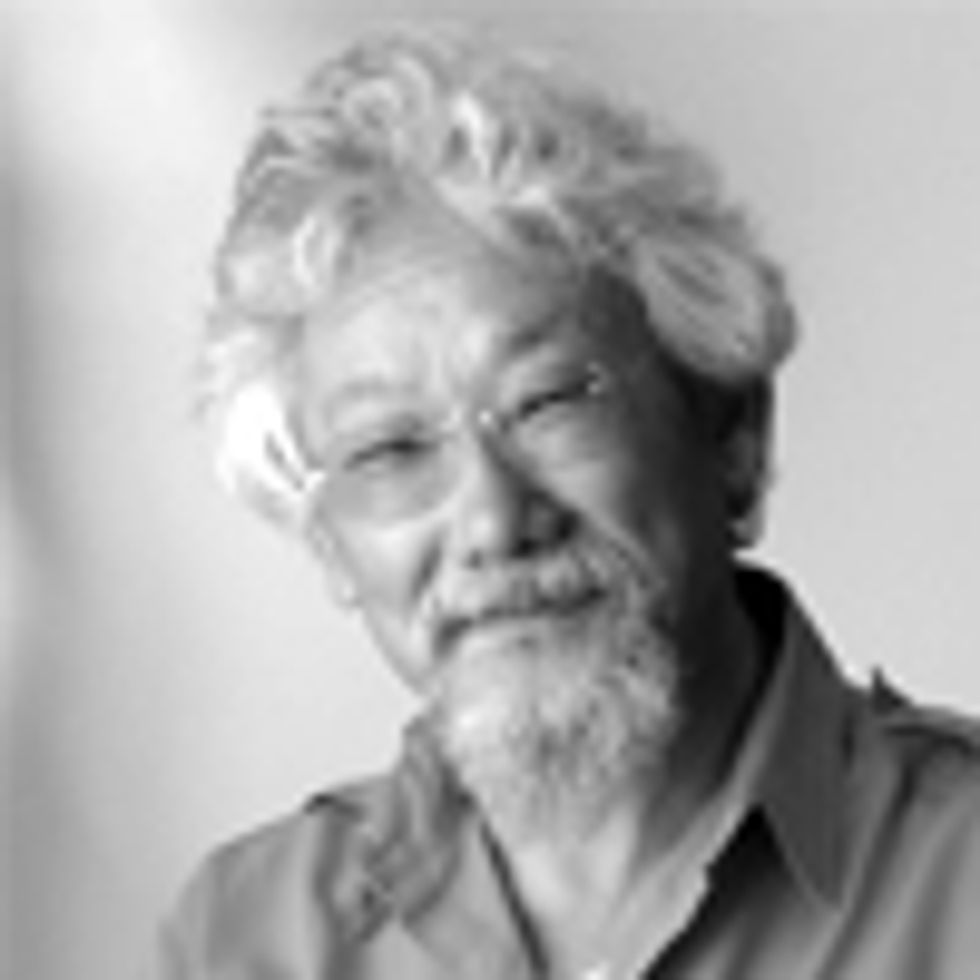 News of the devastating floods in Alberta hit Canadians hard. We've all been moved by extraordinary stories of first responders and neighbors stepping in to help and give selflessly at a time of great need. As people begin to pick up their lives, and talk turns to what Calgary and other communities can do to rebuild, safeguarding our irreplaceable, most precious flood-protection assets should be given top priority.
 
The severe floods in Alberta used to be referred to as "once in a generation" or "once in a century". As recent floods in Europe and India are added to the list, that's scaled up to "once in a decade". Scientists and insurance executives alike predict extreme weather events will increase in intensity and frequency. Climate change is already having a dramatic impact on our planet. Communities around the world, like those in Alberta, are rallying to prepare.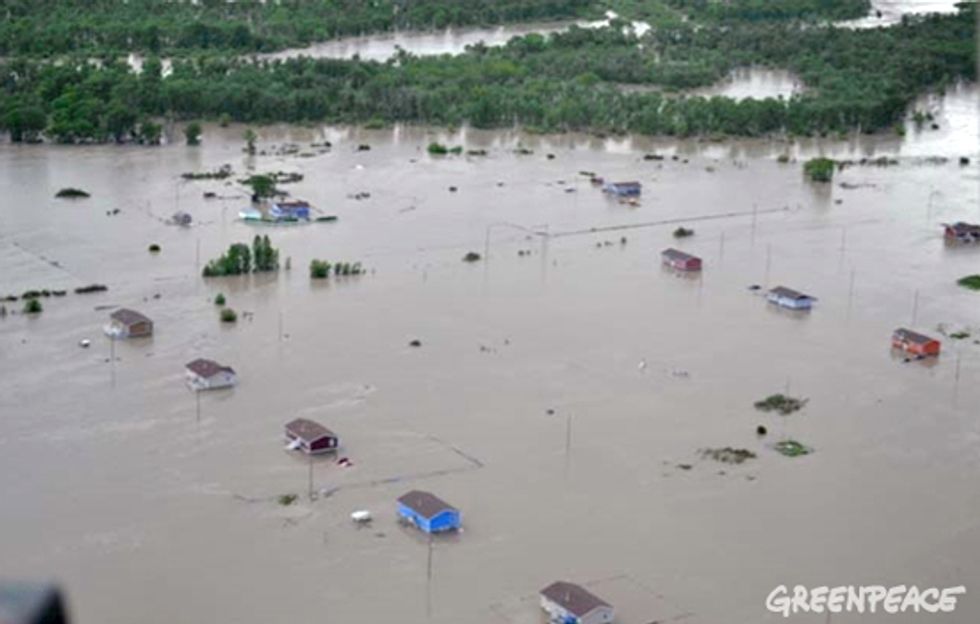 While calls are mounting for the need to rebuild and strengthen infrastructure such as dikes, storm-water management systems and stream-channel diversion projects, we've overlooked one of our best climate change-fighting tools: nature. By protecting nature, we protect ourselves, our communities and our families.
The business case for maintaining and restoring nature's ecosystems is stronger than ever. Wetlands, forests, flood plains and other natural systems absorb and store water and reduce the risk of floods and storms, usually more efficiently and cost-effectively than built infrastructure. Wetlands help control floods by storing large amounts of water during heavy rains—something paved city surfaces just don't do.
A study of the Upper Mississippi and Missouri Basins showed wetland restoration would have provided enough flood water storage to accommodate excess river flows associated with flooding in the U.S. Midwest in 1993. Research done for the City of Calgary more than 30 years ago made similar suggestions about the value of protecting flood plains from over-development. When wetlands are destroyed, the probability of a heavy rainfall causing flooding increases significantly. Yet we're losing wetlands around the world at a rate estimated at between one and three percent a year.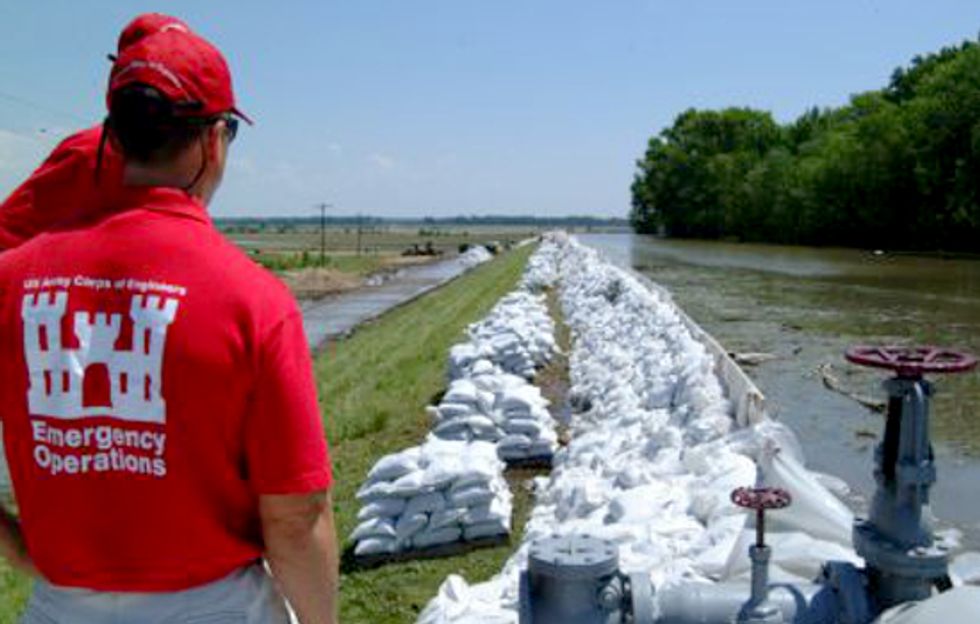 By failing to work with nature in building our cities, we've disrupted hydrological cycles and the valuable services they provide. The readily available benefits of intact ecosystems must be replaced by man-made infrastructure that can fail and is costly to build, maintain and replace.
Protecting and restoring rich forests, flood plains and wetlands near our urban areas is critical to reduce carbon emissions and protect against the effects of climate change. Nature effectively sequesters and stores carbon, helping to reduce greenhouse gas emissions. It also regulates water. Forested basins, for example, have greater capacity to absorb water than clear-cut areas where higher peak stream flows, flooding, erosion and landslides are common.
How can we protect ecosystems rather than seeing conservation as an impediment to economic growth? The answer is to recognize their real value. The David Suzuki Foundation has evaluated some of Canada's natural assets. This approach calculates the economic contribution of natural services, such as flood protection and climate regulation, and adds that to our balance sheets. Because traditional economic calculations ignore these benefits and services, decisions often lead to the destruction of the very ecosystems upon which we rely. Unfortunately, we often appreciate the value of an ecosystem only when it's not there to do its job.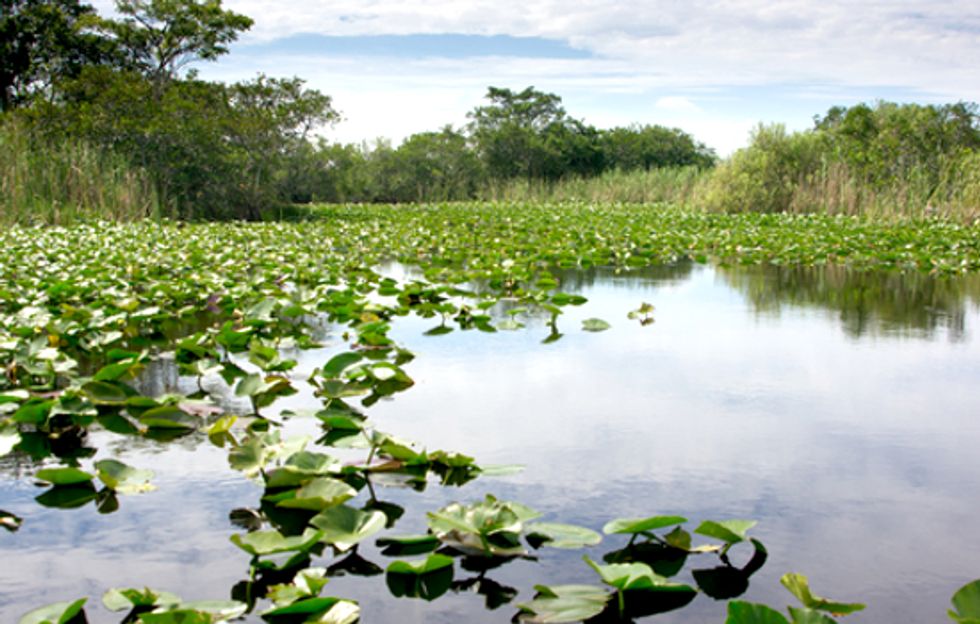 Photo courtesy of Shutterstock
Cities around North America are discovering that maintaining ecosystems can save money, protect the environment and create healthier communities. A study of the Bowker Creek watershed on southern Vancouver Island, BC, showed that by incorporating rain gardens, green roofs and other green infrastructure, peak flows projected for 2080 from increased precipitation due to climate change could be reduced by 95 percent. Opting to protect and restore watersheds in the 1990s rather than building costly filtration systems has saved New York City billions of dollars.
Intact ecosystems are vital in facing the climate change challenges ahead. They also give us health and quality-of-life benefits. Responsible decision-making needs to consider incentives for protecting and restoring nature, and disincentives for degrading it.
Visit EcoWatch's CLIMATE CHANGE page for more related news on this topic.
——–
IN WHAT OTHER WAYS CAN MAINTAINING ECOSYSTEMS HELP PREVENT NATURAL DISASTERS?
By George Sorvalis
The Obama Administration is facing mounting pressure to release an environmental analysis that could recommend building the controversial New Madrid Levee, a component of the St. John's Bayou and New Madrid Floodway project in South East Missouri.
The pressure is coming from Missouri's Sen. Blunt, who has placed a hold on President Obama's nominee to run the U.S. Environmental Protection Agency (EPA), Gina McCarthy, until the U.S. Army Corps of Engineers (USACE) publicly releases its newest environmental analysis for the project, called a Draft Environmental Impact Statement.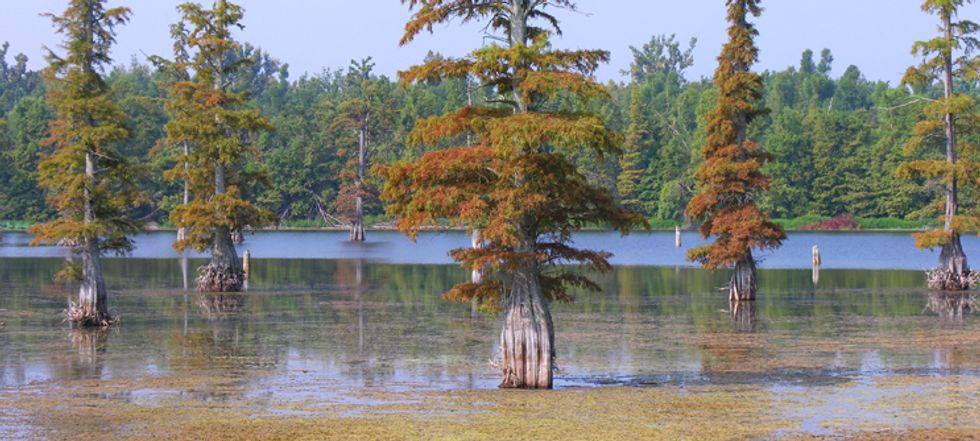 The public release of the analysis has been delayed due to major differences between the USACE and the resource agencies (like EPA and U.S. Fish and Wildlife Service) over the number of wetlands impacted and the adequacy of the mitigation plan to offset those impacts.  
While Missouri landowners who farm in the New Madrid Floodway want to see this project move forward, pubic officials in Illinois and Kentucky (who fear the New Madrid Levee will complicate federal flood response) and environmentalists (who fear the New Madrid Levee will collapse the fishery of the Middle Mississippi River) are urging the Obama Administration to put an end to the project once and for all.
The New Madrid Floodway
The USACE has built thousands of miles of flood control levees on the Mississippi River. It has also built a few floodways—areas where the USACE diverts floodwaters to take pressure off of its levees. Shaded in red here is the New Madrid Floodway. The levees that surround the floodway, shown in red, are 60 feet high and totally surround the New Madrid Floodway, except for a quarter-mile gap at New Madrid. This quarter mile gap is the yellow "Outflow" line on the map. The most controversial element of the St. Johns Bayou New Madrid Floodway Project is a new proposed levee, come to be known as the New Madrid Levee, to close that quarter-mile gap.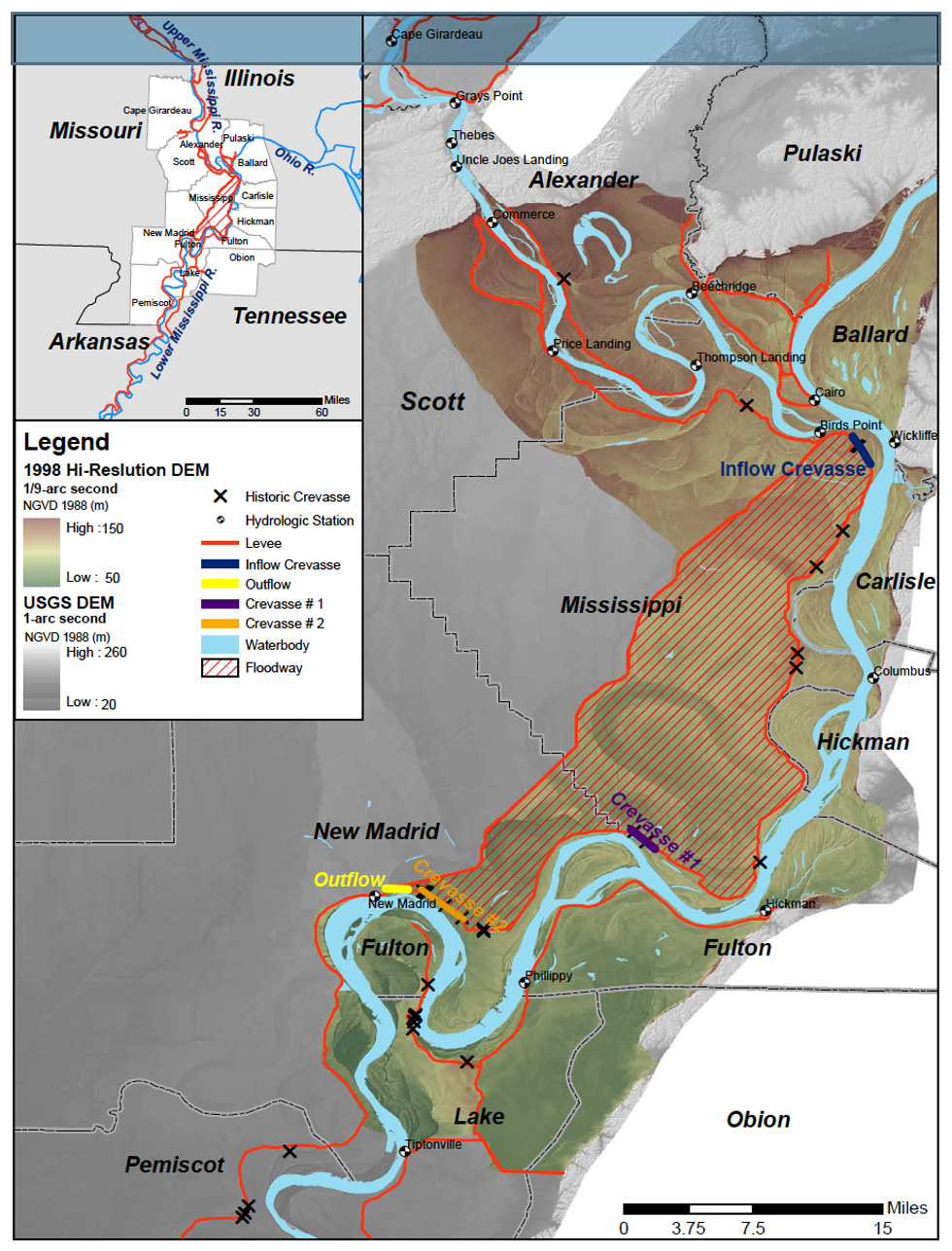 Closing the Gap Will Increase Flooding Risk
Closing this gap with the proposed New Madrid Levee will increase the flooding threats to a dozen riverside towns by encouraging more agribusiness and development in the New Madrid Floodway, thereby discouraging its use. Throughout history, the USACE has faced significant obstacles when it tries to activate the New Madrid Floodway, and the new levee will only add another obstacle.
To activate the New Madrid Floodway, the USACE fills in pre-drilled holes in the existing levees with explosives and literally explodes the levee at Birds Point, just south of Cairo, IL. The water flowing into the floodway then relieves pressure on the entire flood control system, and reduces flood heights regionally in Cairo and other nearby towns.
In 1937, the first time the USACE used the floodway, it had to call in the National Guard to fend off armed Missouri floodway farmers, even though the federal government has compensated floodway landowners by purchasing flowage easement to flood their farmland. In 1983, when the USACE was preparing to use the floodway, Missouri floodway farmers sued and the judge issued an order preventing the USACE from using the floodway until April of the following year. Fortunately floodway activation levels were never reached. But during the great Mississippi River Flood of 2011, activation levels were reached, then surpassed before the Corps activated the floodway. While Cairo and other towns that were under mandatory evacuation orders saw flood heights start rapidly lowering, the Len Small Levee protecting the City of Olive Brach breached before the Corps activated the floodway, destroying 50 homes and causing millions in damages.
Cairo, IL, Paducah, KY, and Sikeston, MO, are some of the towns that will face greater flooding risks if the USACE builds the New Madrid Levee. According to the Corps' 2006 Environmental Analysis, "Non-operation of the floodway during project flood conditions means that many citizens outside the floodway would not be provided the level of flood protection that they are authorized to have by law." The USACE models show higher river stages as far as 40 miles up the Ohio and Mississippi Rivers, with those towns experiencing "overtopping of floodwalls and/or levees and flooding." Hickman, KY, will see an additional 3.9 feet; Cairo an additional 4.6 feet and Paducah, KY, an additional 1.8 feet of flooding.
As flood waters were rising in the Spring of 2011, on behalf of Missouri floodway farmers, the State of Missouri filed a restraining order to prevent the USACE from using floodway, and the federal judge heard the case on April 28.  On April 29, the federal court denied the order and Missouri appealed.  On April 30, the 8th Circuit Appellate Court also denied Missouri's restraining order before Missouri appealed to the U.S. Supreme Court. All the while floodwaters are rising.  On May 1, the U.S. Supreme Court denied the restraining order and the USACE was "cleared" to use the floodway, but it was too late for Olive Branch—the Len Small Levee had breached, sending floodwaters to inundate the town.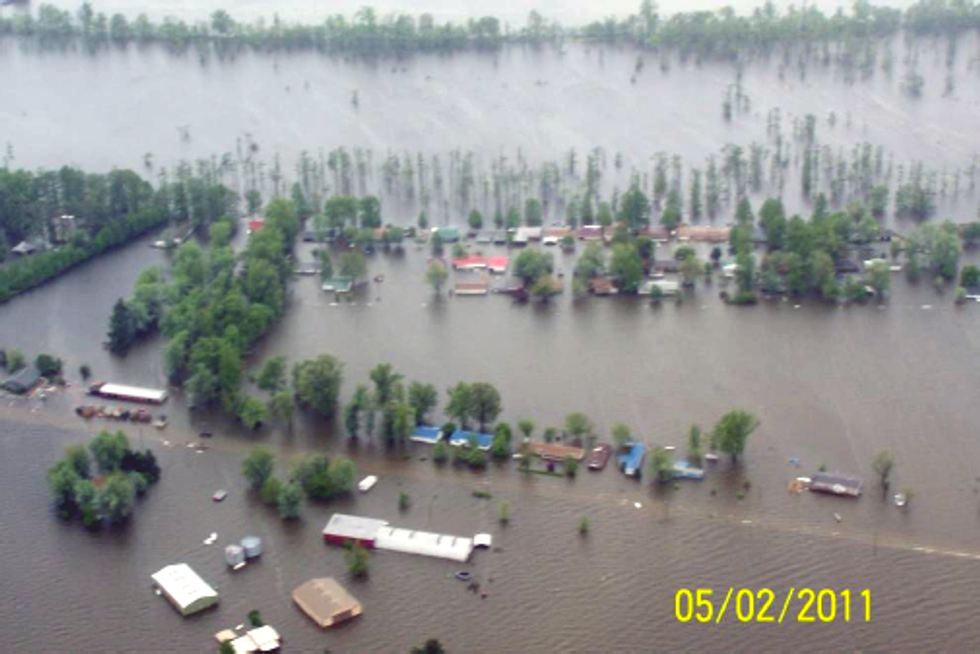 According to Illinois Department of Natural Resources Flood of 2011 Alexander County Flood Damage Reduction Study, "If the floodway had been activated prior to a stage of 61 feet, millions of dollars in flood damages could have been avoided, including the damage to the Len Small Levee, excessive seepage in Cairo and direct flood damages in unprotected Alexander County."  In total, 50 homes were completely lost and the community is currently working with Federal Emergency Management Agency on a community-scale buy out and relocation.
Public Officials Oppose New Madrid Levee
Due to the increased flooding threat the New Madrid Levee would bring to river communities in the region, pubic officials are speaking out against the project.
Cairo Mayor Coleman testified April 8 at the Mississippi River Commission Public Meeting in Cape Girardeau, MO. He stated:
By building the New Madrid Levee we are inviting more development to occur in the New Madrid Floodway, which will undoubtedly make it harder for the Commission to use the floodway in future floods, putting our town and others at greater risk of catastrophic flooding.
Other public officials have also written in opposition.
In a 2012 letter, Michael Caldwell, the chairman of Alexander County Board of Commissioners wrote:
I urge you to do everything you can to ensure that this project is stopped for good and that the basic safety needs of Alexander County, the City of Cairo, and surrounding communities are prioritized over a levee closure to benefit a few wealthy landowners.
In a 2012 letter, Monte Russell, the chairman of Pulanski County Board of Commissioners, wrote:
This federally funded Corps of Engineers project jeopardizes the safety of our community by increasing our risk of catastrophic flooding.
In a 2012 letter, Sam Johnson, mayor of Mound City, IL, wrote:
Federal flood damage reduction investments in the region should instead focus on protecting people and recognize the critical value and function of the New Madrid Floodway in doing just that.
In a 2012 letter, Wayman A. Butler, junior mayor of City of Mounds, IL, wrote:
Use of the New Madrid Floodway saved our community from catastrophic flooding during last spring's flooding along the Mississippi River.
In a 2012 letter, David Willis, chairman of the Len Small Drainage & Levee District wrote:
This project would trade away our town's safety to allow large landowners to intensify agricultural production and development behind the new levee, within the New Madrid Floodway in Missouri.
Environmental Impacts
Thanks to the thousands of miles of levees on the Mississippi River, that quarter-mile gap represents the last significant connection the Mississippi River has to its floodplain in the whole state of Missouri and for hundreds of miles. This connection is absolutely critical to sustaining the fish population of the Mississippi River. During high water, the bottom portion of the New Madrid Floodway floods and fish enter the floodway. When the water recedes, thousands of acres of ponds remain, creating a tapestry of fish nurseries where fish can grow where the water is warmer, calmer and shallower than the cold swift currents of the mighty Mississippi. Closing the gap will eliminate this habitat and likely lead to a collapse of the fishery of the entire Middle Mississippi River.
According to the U.S. Fish and Wildlife Service's 2000 Fish and Wildlife Coordination Act Report:
The Service opposes the St. Johns Bayou and New Madrid Floodway alternative because it would cause substantial, irretrievable losses of nationally significant fish and wildlife resources, and greatly diminish rare and unique habitats found in southeast Missouri.
A 2011 email from EPA's Region 7 Watershed Planning & Implementation Branch Manager said:
[It] could potentially have the largest negative impact on wetlands and streams of any project ever proposed in Region 7.
Even the USACE's own Independent Review Panel concluded in its 2011 Final External Peer Review Report that "the loss of this last remaining connection and its ecosystem functioning would be the 'straw that broke the camel's back' in terms of the total cumulative impact to the natural ecosystem."
A 2011 letter from the U.S. Department of Interior to the Assistant Secretary of the Army for Civil Works asserts that the project is not in our national interest and should be abandoned: 
The primary project purpose is to reduce flooding for the intensification and diversification of agriculture production, which comprises 90 percent of the project's economic benefits. Improving agriculture production is an important value, but it does not depend on draining wetlands and severing the river-floodplain connection... Unless the purpose and alternatives for the New Madrid project have changed since the last evaluation, the Department does not believe it is in the public interest to engage in yet more environmental analysis of this project.
The EPA estimated about 45,000 acres of wetlands impacts, in sharp contrast to the 6,000 acres the USACE asserts. Putting this into context with other projects—if you take the annual average amount of permitted wetlands losses, then double that number, you still would not reach the number of wetlands this project would destroy. Based on this one statistic alone, this project should not be permitted to move forward.
Economic Impacts
Investing millions of tax dollars to build a levee, to protect an area designed to be intentionally flooded, just does not make sense. In this era of austerity, newspapers have been quick to pick up on how wasteful a project this is:
According to an article in the The Washington Post, "A Watery waste of Taxpayers' Money":
They want the federal government to spend taxpayer money encouraging economic activity in a zone it is obligated to flood during high-water events.
According to a letter to the editor from from the Great Rivers Environmental Law Center, "New Madrid Levee Project Would Misuse Tax Money," published in the St. Louis Dispatch:
We think the best resolution is no project, or one focused on protecting homes and schools. A more focused project could be accomplished at a fraction of the cost, and would not sever the Mississippi River from its floodplain in Missouri, destroying 50,000 acres of wetlands.
According to a 2002 email from the USACE Legislative Management Chief:
[The project is] an economic dud with huge environmental consequences.
And according to a 2000 email from a recently retired USACE employee:
You just can't find enough economic justification to build the essential parts of the project, let alone pay a reasonable amount of mitigation of the environmental losses.
Project Status
In 2007, a Federal District Judge threw out the USACE environmental analysis for being out of compliance with environmental laws and actually ordered the USACE to remove project features that it had already constructed. The judge stated in his opinion, "The Corps of Engineers has resorted to arbitrary and capricious reasoning—manipulating models and changing definitions where necessary—to make this project seem compliant with the Clean Water Act and the National Environmental Policy Act when it is not."
Today, the USACE is on the verge of releasing to the public its "revised" analysis, but is in dispute with the EPA and the Fish and Wildlife Service on the number of wetlands impacted and the adequacy of the project's mitigation plan to offset the environmental damage. Apparently frustrated by the delay this dispute is causing, Sen. Blunt (R-MO) is pressuring the USACE to release the revised study by placing a hold on President Obama's nominee to head the EPA, Gina McCarthy. Sen. Blunt has stated publicly that he simply wants resolution and for the agencies to stop arguing among themselves over the facts surrounding the project. "I'm not calling on the Obama Administration to spend a dime, or to build a thing. All these agencies need to do is agree on the facts surrounding a very long-standing project." 
Resolution
The USACE can resolve this dispute immediately by agreeing with the EPA and the Fish and Wildlife Service on the wetlands impacts, fish and wildlife impacts, and appropriate mitigation to replace lost wetlands and fish and wildlife habitat. Fully embracing and incorporating this input from the resource agencies will ensure the USACE provides the public with an accurate accounting of the project impacts, something we know the Corps fell far short of accomplishing in their last study that the federal district court threw out in 2007.  
This full accounting of the environmental impacts would likely preclude the levee from being a project feature, but could still allow the USACE to proceed with project elements that provide flood protection for communities in the St. John's Bayou. If agencies agree on the impacts and the process can move forward, Sen. Blunt will have his decision and a fair vote on well qualified leader like Gina McCarthy as EPA Administrator can also move forward. 
It is by no means a perfect situation to have to sacrifice farmland to save towns, but we can't just build our way out of this mess. It may mean giving just a little of the floodplain back to the Mississippi River. We will get a lot back in return.
You can weigh in by signing a petition urging President Obama to stop the New Madrid Levee and call your Senators to insist that they give President Obama the following message: "Mr. President, do not let Senator Blunt's hold on EPA Nominee Gina McCarthy force you into letting the Corps of Engineers disregard the sound science of EPA and FWS for this project that has such huge environmental and public safety impacts."
Visit EcoWatch's BIODIVERSITY page for more related news on this topic.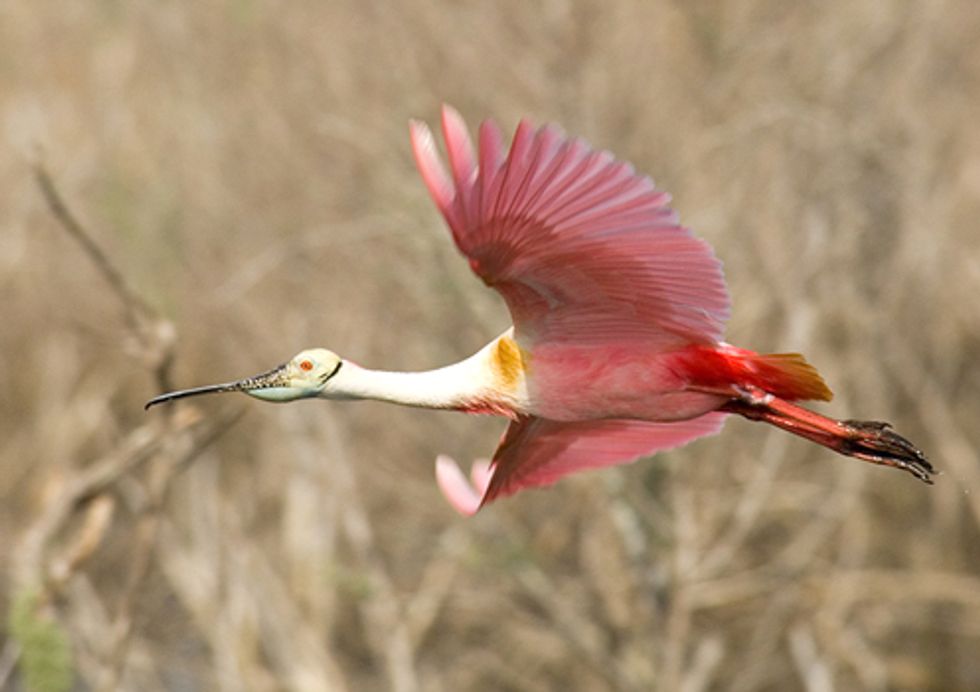 The Conservation Fund and the U.S. Fish and Wildlife Service (FWS) on Feb. 21 announced the purchase of 4,471 acres of unique Columbia Bottomlands habitat near West Columbia. This acquisition will permanently protect a diverse freshwater wetland and the Brazos River floodplain forest surrounding Eagle Nest Lake for wildlife, public recreation and education.
"The service is excited about the opportunity that conservation of Osceola Plantation will provide for wildlife and visitors; including restoring the emergent marsh to provide freshwater habitat for thousands of wintering ducks and geese and restoring one thousand acres of diverse native prairie habitat where one day an Attwater's prairie chicken may once again be heard," said Jennifer Sanchez, refuge manager of the Texas Mid-Coast NWR Complex, which includes San Bernard National Wildlife Refuge (NWR).
The property, known as the Osceola Plantation, features one of the largest natural lakes in the coastal region. The tract's unique and diverse habitat features coastal prairie, river bottom forests, freshwater wetland and open water. The habitat is a magnet for migratory land birds, wintering sparrows, shorebirds and waterfowl, including the Mottled Duck, a species in sharp decline.
The Conservation Fund has conveyed the tract to the FWS for incorporation into the San Bernard NWR as part of the FWS's Austin's Woods/Columbia Bottomlands Conservation Plan—an effort to conserve 70,000 acres of bottomland hardwood forests and other associated habitats vital for approximately 29 million migrant birds. As one of the "birdiest" spots in the world, the Texas Gulf Coast brought in $2.9 billion in revenue for the state from wildlife watching in 2006. These low-lying forests loved by birds also help to clean the water on its way through to the Gulf of Mexico, improving conditions for aquatic life and the multimillion-dollar seafood industry.
The U.S. Department of Agriculture's Natural Resources Conservation Service designated funds for the protection of the property with a conservation easement through its Wetlands Reserve Program. In 2009, the U.S. Congress approved funding for the purchase of the property through the Land and Water Conservation Fund. A North American Wetlands Conservation Act grant and $3 million from the Migratory Bird Conservation Commission's Federal Duck Stamp program were also approved for this conservation effort. In addition, generous private donations from Houston Endowment, Inc.; The Brown Foundation, Inc.; The Trull Foundation; Malcolm C. Damuth Foundation; The Jacob and Teresa Hershey Foundation; George and Mary Josephine Hamman Foundation and the Great Texas Birding Classic helped make this acquisition possible.
"The San Bernard National Wildlife Refuge has attracted visitors from around the world," said U.S. Sen. Kay Bailey Hutchinson (R-TX). "Today's welcome announcement assures that this wildlife refuge and its unique habitat are protected for future generations to enjoy."
"This project attracted the attention of so many partners because of its beauty, habitat diversity, recreational potential and proximity to the Houston metroplex," said Julie Shackelford, Texas programs director of The Conservation Fund. "With key support from the National Fish and Wildlife Foundation and all of our partners, we were finally able to facilitate its permanent protection."
 For more information, click here.
—————
The San Bernard NWR is one of three refuges that make up the Texas Mid-Coast National Wildlife Refuge Complex and form a vital area of coastal wetlands harboring more than 300 bird species. The complex serves as an end point of the Central Flyway for waterfowl in winter, and an entry point for neotropical migratory songbirds tired from a 600-mile Gulf crossing from Mexico's Yucatan Peninsula. Located just south of Houston, the refuge complex offers a haven for both wildlife and people. The public is welcome at several locations across San Bernard NWR, providing opportunities to encounter marsh, prairie and forest ecosystems.
At The Conservation Fund, we combine a passion for conservation with an entrepreneurial spirit to protect your favorite places before they become just a memory. A hallmark of our work is our deep, unwavering understanding that for conservation solutions to last, they need to make economic sense. Top-ranked, we have protected nearly 7 million acres across America.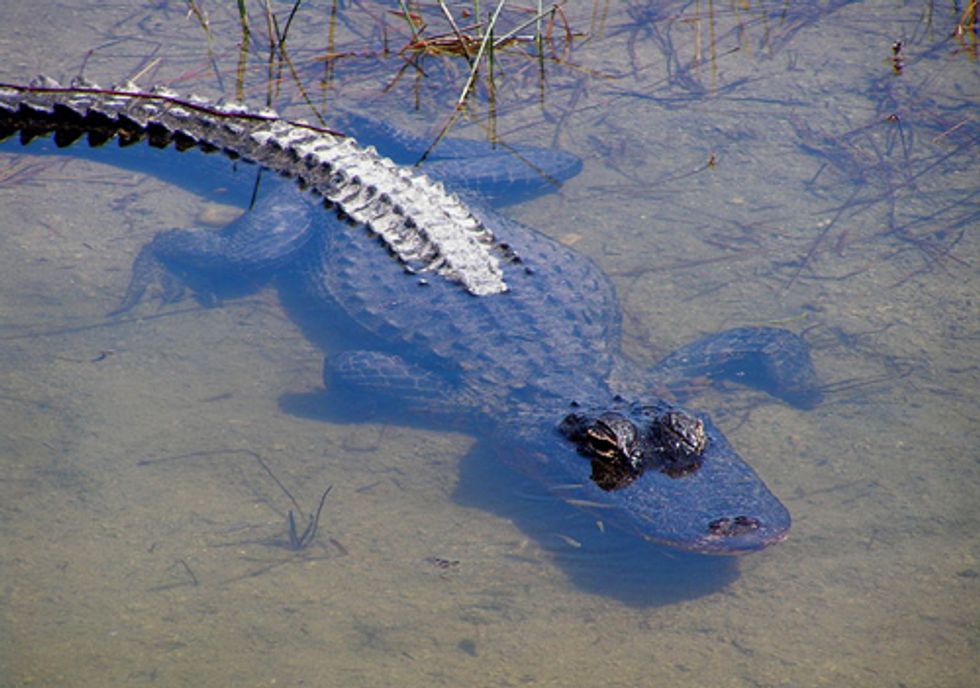 Announced Jan. 26, the Southern Environmental Law Center's (SELC) 4th annual list of the Top 10 Endangered Places of the Southeast targets areas of exceptional ecological, scenic, or cultural value that are facing immediate, possibly irreversible threats—and the important actions needed in 2012 to protect them. Many of the areas on this year's list are endangered by pressure to undercut environmental protections and to lower the hurdles for potentially destructive projects, whether it's fracking in the North Carolina Piedmont, mining uranium in Virginia, or deepwater drilling off the coast of Alabama.
"Under the guise of promoting economic growth, anti-environmental forces are working in Congress, in state legislatures, and in government agencies to gut our most essential safeguards," said Marie Hawthorne, SELC's director of development. "But doing away with effective laws and enforcement will accomplish nothing except sacrifice natural treasures like those on our Top 10 list, and other resources that make the South such a great place to live, work, and raise our families. We owe it to ourselves—and to future generations—to make sure this doesn't happen.
Following is SELC's 4th annual Top 10 Endangered Places of the Southeast: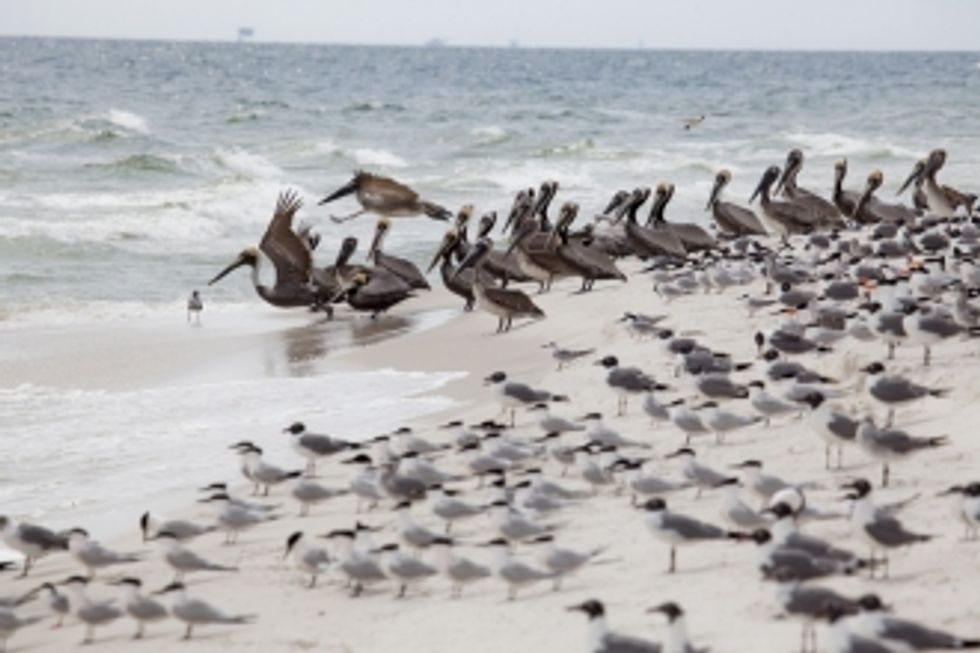 1. Alabama's Coast
What's at Stake?
Miles of white sandy beaches, wetlands, bays, and swamps that support vibrant tourism and fishing industries; habitat for migratory birds, turtles, and rare species; economic health of coastal communities; public health.
The Threat
Future spills on the scale of the Deepwater Horizon disaster due to the absence of meaningful reforms of oil industry practices or government policies.
Alabama's coast is on SELC's endangered list for the second year in a row because a disaster on the scale of the Deepwater Horizon could happen again. The government is back to business as usual, rubber-stamping risky deepwater projects with the same flawed assumptions that led to the BP spill—almost as if it never happened.
In June 2011, for example, the Bureau of Oceans Energy Management (BOEM) gave Shell Oil the green light to drill an exploratory well off of Alabama's coast in waters 2,000 feet deeper than the Horizon well, and without the enhanced environmental review promised immediately after the BP spill. Worse, regulators acknowledge that the operations could result in an oil spill almost ten times bigger than the BP disaster. SELC believes this approach is irresponsible and illegal, and blatantly ignores the devastating impacts to Gulf wildlife, the tourism and fishing industries, and coastal communities caused by the Deepwater Horizon disaster.  
SELC is challenging BOEM's decision as part of our ongoing multi-front offensive, including lawsuits, activity in Congress, and engagement with federal agencies to end industry control of offshore drilling and prevent future disasters.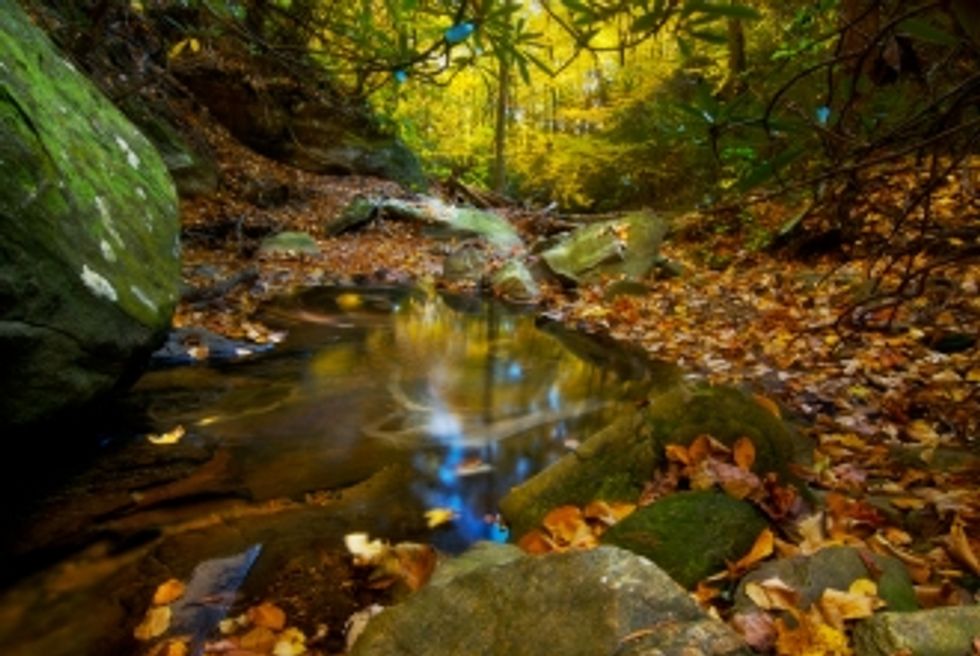 2. Dawson Forest, Georgia
What's at Stake?
Habitat for federally protected fish species found nowhere else in the world; 1,200 acres of forest; a haven for hunters, anglers, horseback riders, hikers, cyclists and paddlers; water supplies for downstream communities.
The Threat
A massive, unnecessary, $650 million proposed reservoir on Shoal Creek that would be filled with 100 million gallons of water per day pumped from the Etowah River.
An hour's drive north of Atlanta, Dawson Forest Wildlife Management Area is a 10,000-acre wooded refuge for hunters, anglers, paddlers, and bikers who enjoy miles of scenic backcountry trails criss-crossed by the Etowah River. Shoal Creek, a major tributary feeding the Etowah, is home to federally protected fish species found nowhere else in the world.
Unfortunately, Dawson Forest is threatened by a massive, unnecessary, expensive proposed reservoir that would drain 100 million gallons per day from the Etowah River to fuel metro Atlanta's ever-growing water supply demand. The Etowah would lose a quarter of its water during high-flow months—and during the low-flow season, withdrawals would drain nearly 100 percent of the river's volume, wiping out aquatic life and diminishing water supplies for downstream communities in Cherokee, Cobb, Bartow, and Floyd counties.
The Dawson Forest project is one of a half-dozen new reservoirs being proposed outside metro Atlanta, illustrating a misguided notion among Georgia leaders that these costly, destructive projects are the first and best solution to meeting Georgia's water supply needs. But SELC and our partners view new reservoirs as a last resort when there are far more cost-effective, less damaging, and readily available options available. First and foremost, we are advocating the full implementation of water conservation and efficiency measures in metro Atlanta, coupled with expanding the city's existing reservoirs to their full capacity. This solution could virtually eliminate the need for new reservoirs at a fraction of the cost to Georgia's environment, taxpayers, and downstream communities.
We are also pushing back against efforts to lower the regulatory hurdles for reservoir proposals, including the use of a new law that eases the way for public-private partnerships to develop reservoirs and recoup costs with user fees.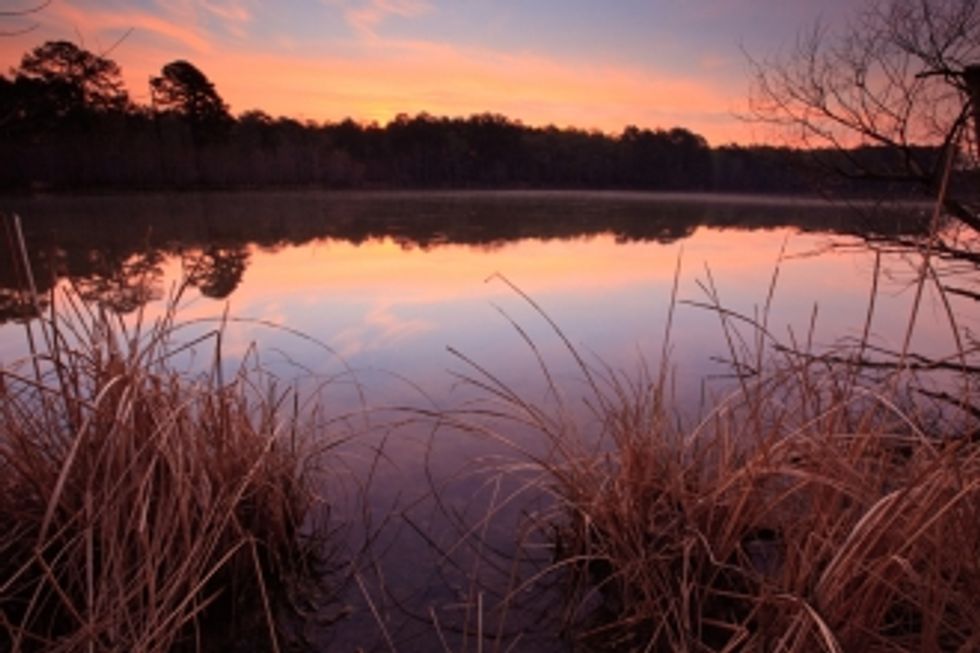 3. Catawba—Wateree River Basin, North Carolina and South Carolina
What's at Stake?
A river system that drains 5,000 miles of waterways and provides drinking water and recreation for hundreds of thousands of people.
The Threat
The impacts of electric power generation and unnecessary reservoir projects.
Comprising 5,000 miles of waterways, the Catawba-Wateree river system originates on the eastern slopes of the Blue Ridge and then winds through the rapidly urbanizing North Carolina Piedmont before entering the lush lowlands of South Carolina. Along its 300-mile route, it provides clean water and recreation for hundreds of thousands of people. Threats endangering the health of this vital resource include:
Pollution from Coal Ash Sites. Coal-fired power plants generate millions of tons of ash, which typically has been dumped into unlined and poorly monitored ponds and landfills. Five of the most hazardous coal ash ponds in the U.S. are on the Catawba-Wateree River and its tributaries, including a site that has discharged arsenic-laden pollution for years. SELC has filed suit to compel South Carolina Electric and Gas to clean it up.
Water Withdrawals by Power Plants. According to a recent study by the Union of Concerned Scientists, the Catawba River ranks among the 25 watersheds nationwide that suffer from the highest levels of water-supply stress due to the water demands of power plants for steam production and cooling purposes.
Hydroelectric Dams. Over the last century, much of the Catawba-Wateree was impounded to generate electricity, and for decades, power companies have been allowed to operate their dams in ways that disrupt healthy stream flows and fish migration. As Duke Energy applies for a new federal license for a series of five hydroelectric plants in South Carolina, it is seeking to trade land and cash for permission to maintain harmfully low flows in the Catawba-Wateree for the next fifty years. Learn more about SELC's legal action to protect the river.
Unnecessary Reservoir Projects. Two counties—one in North Carolina and another in South Carolina—have proposed a 92-acre reservoir off the main channel of the Catawba-Wateree that is sure to fuel more sprawl and pollution in the Charlotte metro area. What's more, water withdrawn from the reservoir would be discharged into another river basin, robbing water from downstream farms and communities that depend on the Catawba-Wateree. If approved, this project would pave the way for other municipalities to build their own new reservoirs before first exhausting less environmentally damaging means to satisfy demand, such as increasing their water systems' efficiency, encouraging their customers to conserve water, and exploring interconnections to other systems with excess capacity. Such reservoirs often needlessly destroy significant wetlands and wildlife habitat.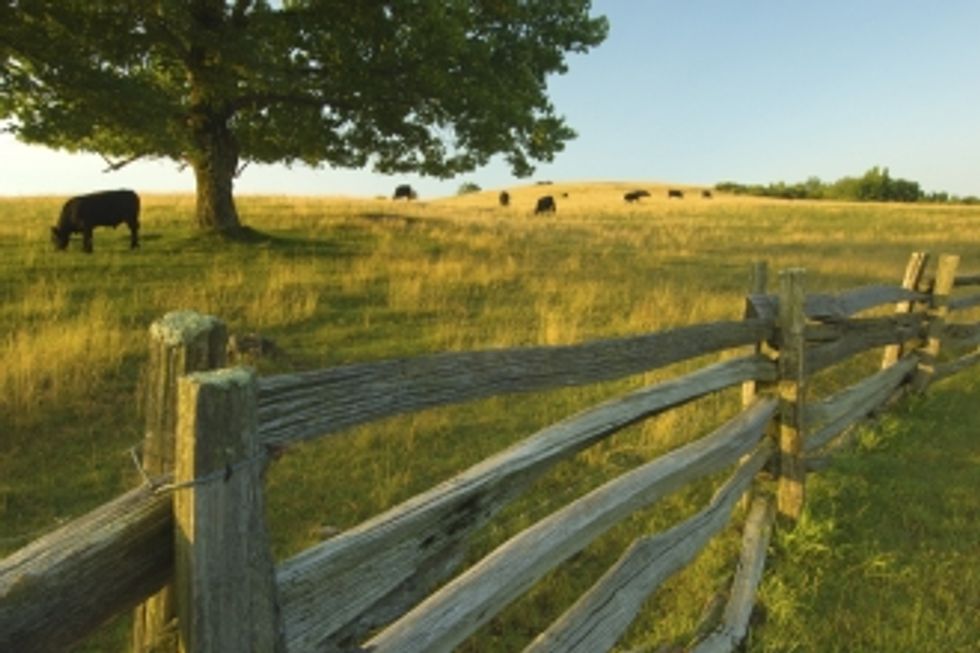 4. North Carolina Piedmont
What's at Stake?
Rural lands in the North Carolina Piedmont and drinking water sources for some 2.4 million people.
The Threat
Pressure to repeal a law that thus far has kept "fracking" wells out of North Carolina.
Requiring the high-pressure injection of water, sand, and a stew of chemicals into shale formations, the use of hydraulic fracturing—a.k.a. "fracking"—to extract natural gas has been linked to groundwater contamination, pollution in lakes and rivers, even earthquakes. A study by Duke University scientists found methane concentrations 17 times above normal, on average, in samples taken from water wells near fracking sites.
The gas drilling industry and its political allies are pushing hard to bring this controversial process to North Carolina's rural Piedmont. The only thing standing in their way is a state law that bans horizontal drilling, which thus far has kept hydraulic fracturing in check. If pro-fracking forces succeed in repealing the ban, state regulators will face enormous new challenges for protecting the Piedmont's land and water.
Even with the ban in place, gas companies have snapped up scores of leases for potential drilling sites in Piedmont counties that overlie the state's Triassic Basins, a shale-rich geologic formation that stretches from the Triangle (Raleigh, Durham, Chapel Hill) to the South Carolina state line. These properties would be transformed into 24-7 industrial operations, with gas flaring, bright lights, and a steady stream of trucks carrying equipment, water, and waste.
An SELC analysis shows that potential gas formations in the Triassic Basins are underneath or upstream from public drinking water supplies for 2.4 million people. Gas drilling could also affect the quantity of water available to the state's citizens. A single fracking well can require as much as 5 million gallons, much of which comes back to the surface as chemical-laden flowback that must be either trucked away to treatment facilities or stored onsite. According to a draft EPA study, fracking chemicals have been detected in groundwater near disposal pits and wells.
Congress has exempted fracking from regulation under the Safe Drinking Water Act, leaving it largely to the states to police this industry. North Carolina, which has slashed the budget of its environmental agency by more than a third, will be hard-pressed to provide adequate protection for the state's waters and rural lands.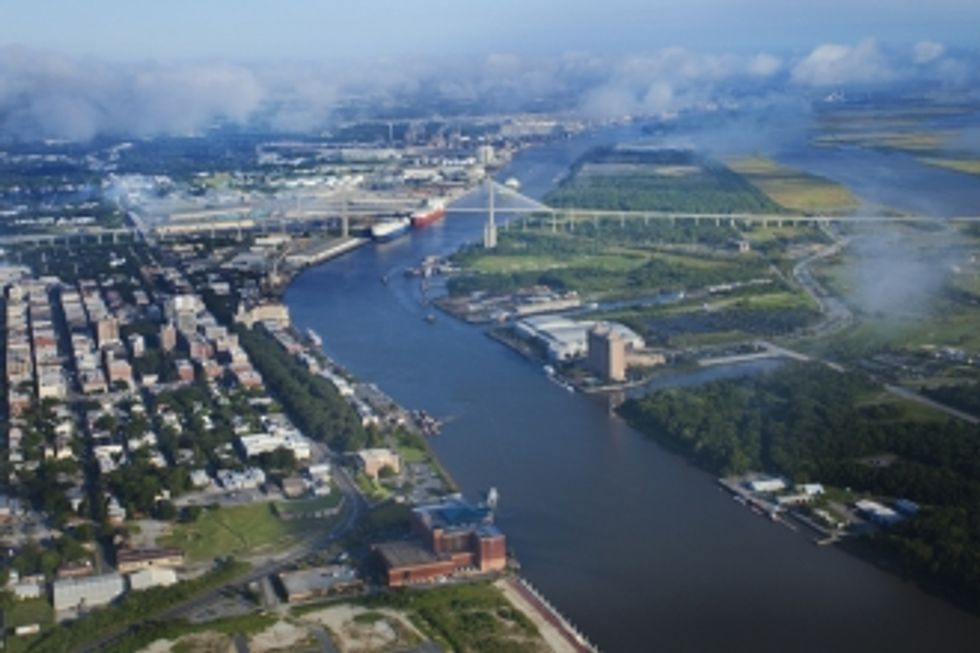 5. Savannah River, South Carolina and Georgia
What's at Stake?
Aquatic wildlife habitat, freshwater marshlands, and drinking water for Savannah and other communities.
The Threat
The Army Corps of Engineers' plan to deepen 38 miles of the Savannah River shipping channel.
A prime spot on the Atlantic Flyway, the marshlands of the Savannah National Wildlife Refuge provide a vital rest stop for thousands of migratory waterfowl, as well as a permanent home for many other species. Over the years, successive dredging of the Savannah River has allowed saltwater from the Atlantic to chip away at the refuge's freshwater marshes. Even more will be lost if the Army Corps of Engineers is allowed to move forward with its plan to deepen 38 miles of the river's shipping channel.
The Savannah Harbor project, which would deepen the river by as much as six feet, is part of a mad scramble by U.S. ports to attract the larger class of container ships that will come through the Panama Canal when its expansion is completed in 2014. In addition to damaging hundreds of acres of the refuge's freshwater wetlands, the dredging would threaten drinking water for Savannah and other communities. It would also require the Corps to install massive "bubbling" devices to maintain sufficient dissolved oxygen levels for aquatic life in the river, including rare and at-risk species and commercially important fish populations. This technology has not been proven effective.
All of this would carry a price tag of at least $650 million, and it may be completely unnecessary. The Panama Canal's chief executive officer has said publicly that only two harbors on the East Coast and one on the Gulf Coast would be needed to service the supersized freighters carrying goods along the East-West trade lane. Rather than pour scarce taxpayer dollars into one of the most environmentally destructive projects currently proposed in the Southeast, the Corps should do what federal law requires—conduct a regional assessment to determine which ports can be expanded at the least expense and with the least damage to precious natural resources.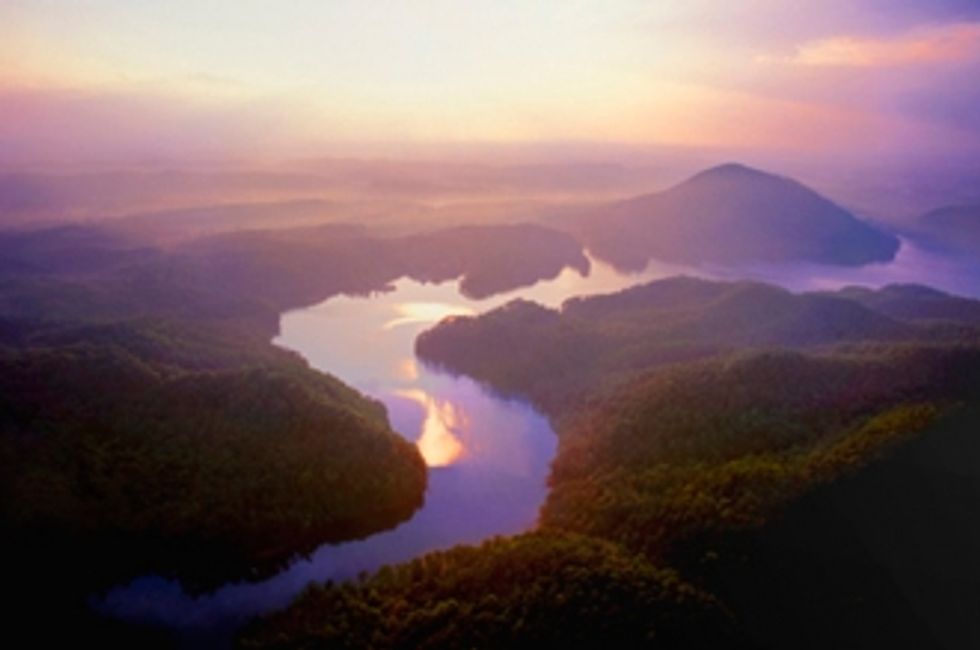 6. Chilhowee Mountain, Tennessee
What's at Stake?
A popular recreation spot and natural area that includes hiking and biking trails and a leg of the first scenic byway ever established in a U.S. national forest.
The Threat
Pressure to complete an outdated highway plan that could push new asphalt across the shoulder of the mountain and through Cherokee National Forest.
Chilhowee Mountain in the southernmost district of Tennessee's Cherokee National Forest is a beloved destination for people who enjoy the outdoors. On its crest is the Chilhowee Recreation Area, a popular spot for picnicking, camping, and swimming. Each weekend finds hikers and bikers on its extensive trail network, which leads to waterfalls, cascading streams, and views of the Ocoee River Gorge below.  
The road leading to the Chilhowie Recreation Area is part of the Ocoee Scenic Byway, the first scenic byway designated in a U.S. national forest. The winding drive to the mountain's ridgeline rewards motorists and cyclists with stunning vistas. Three states—Tennessee, North Carolina, and Georgia—are visible on clear days.
Chilhowie Mountain and the rugged peaks and hollows in its viewshed are in the path of Corridor K, a chain of highways linking Chattanooga, Tennessee, and Asheville, North Carolina. Despite the fact that completion of the interstate system made the project obsolete, the Tennessee Department of Transportation is studying multiple options for finishing the leg of Corridor K running through the Ocoee Region. Among them are proposals for routing a new four-lane, divided highway across the shoulder of Chilhowee Mountain and through largely unspoiled reaches of the Cherokee National Forest.
When it was conceived in 1964 by the Appalachian Regional Commission, Corridor K was seen as a means of lifting this area out of poverty. But since then, local citizens have built a thriving, tourism-based economy that capitalizes on the Ocoee Region's extraordinary natural assets. Pushing new asphalt through national forest lands would jeopardize the intact wildlife habitat, clear-running rivers and streams, and mountain scenery that have made Chilhowee Mountain and the Ocoee Gorge a magnet for outdoor enthusiasts.
Rather than pour a billion dollars or more into a new road, TDOT should focus on targeted upgrades along the existing two-lane highway, U.S. 64—the lifeline of the local economy. This would improve safety, enhance the flow of traffic during the busy tourist season, and preserve the natural and cultural features that are vital to the Ocoee Region and its communities.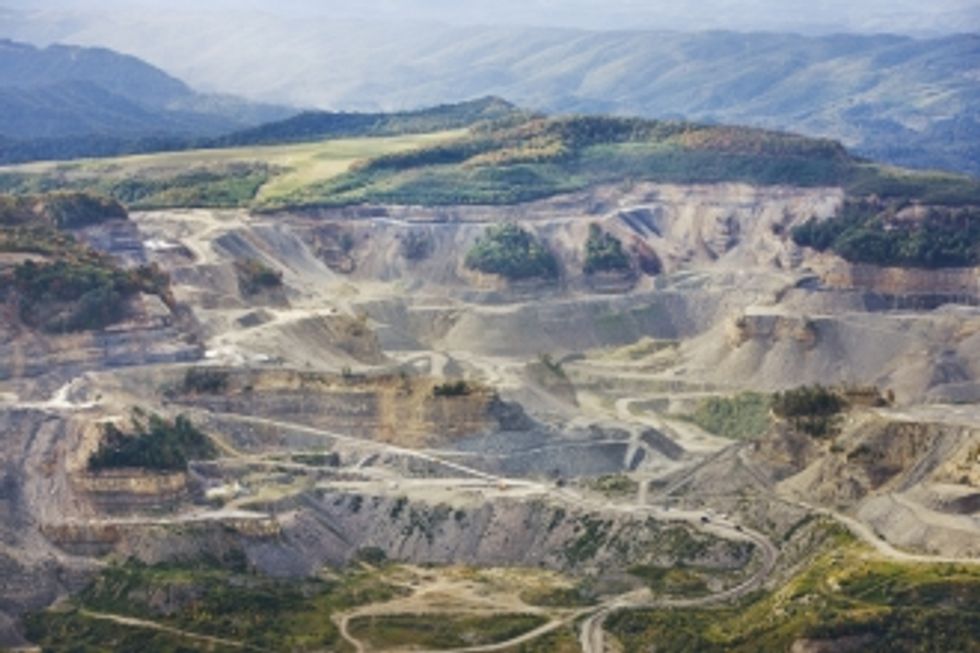 7. Virginia and Tennessee Mountains
What's at Stake?
Scenic beauty of the Southern Appalachians, wildlife habitat, endangered species, headwater streams, clean drinking water for downstream communities, recreation areas, quality of life.
The Threat
Weak laws allow coal companies to blow up mountains and dump rubble into valleys, burying streams, destroying wildlife habitat, and harming communities
Dubbed "the Appalachian Apocalypse," mountaintop removal coal mining has obliterated more than 500 mountains and damaged more than 1,700 miles of streams in central Appalachian states. Forests and topsoil are stripped from mountain ridges, and then, using tons of explosives, coal companies blast the mountaintops off to expose the underlying coal seams. The leftover rock and soil is pushed into nearby valleys, resulting in the loss of critical forest habitat and widespread destruction of mountain streams, many of which are critical headwaters for drinking water sources downstream.
At stake are some of the South's most valued natural treasures, including the species-rich Clinch and Powell watersheds in Virginia and Tennessee, and Tennessee's Cumberland Plateau, an area known for its world-class biodiversity. 2012 could be a landmark year for Tennessee due to the State's groundbreaking petition, which SELC is supporting, that would shield the most ecologically valuable areas in the Cumberlands from destructive mining practices.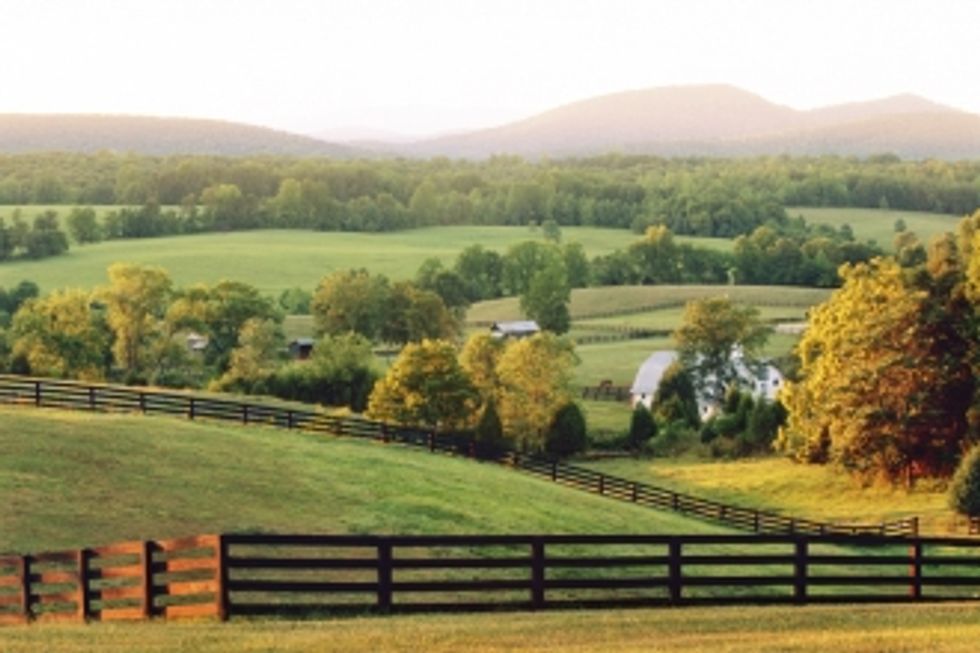 8. Charlottesville, Virginia
What's at Stake?
Taxpayer dollars, rural countryside, public health, natural beauty, community character.
The Threat
A wasteful, destructive bypass would mar landscapes, cost taxpayers hundreds of millions of dollars, endanger public health, and fail to solve traffic problems
Charlottesville is no stranger to Top Ten lists, but it's usually in recognition of the area's exceptional quality of life, unique community character, or beautiful surrounding countryside. Nestled in the foothills of the Blue Ridge Mountains near Shenandoah National Park, it is home to outstanding schools including the University of Virginia, historic sites such as Thomas Jefferson's Monticello, a vibrant arts scene, vineyards and horse farms, and other attractions that draw more than 2 million visitors per year.
This special place would be deeply and irreparably scarred if a long-obsolete plan to build a bypass around U.S. Route 29 goes forward. Described as one of the most wasteful and destructive projects in the country by Taxpayers for Common Sense and Friends of the Earth, the Bypass would leave a permanent gash on the landscape, cost hundreds of millions in a time of fiscal constraints, endanger citizens' health, pave over countryside, and fail to solve traffic problems. The proposal isn't new—in fact it was shelved more than a decade ago by local leaders. But in the summer of 2011, the Bypass was revived in a rushed process that showed little respect for public input, skirted environmental review, and ignored years of efforts by community leaders, SELC, and others to advance more cost-effective, less destructive alternatives.
Before it can be built, the road must be approved at the local, state, and federal levels. Local and state leaders have approved it, but the critical federal decision-making process is far from over. SELC attorneys will ensure that the federal government's review is thorough and that it fully considers updated information on the ineffectiveness of the bypass, the long list of negative community impacts, and the availability of better alternatives before a decision is made.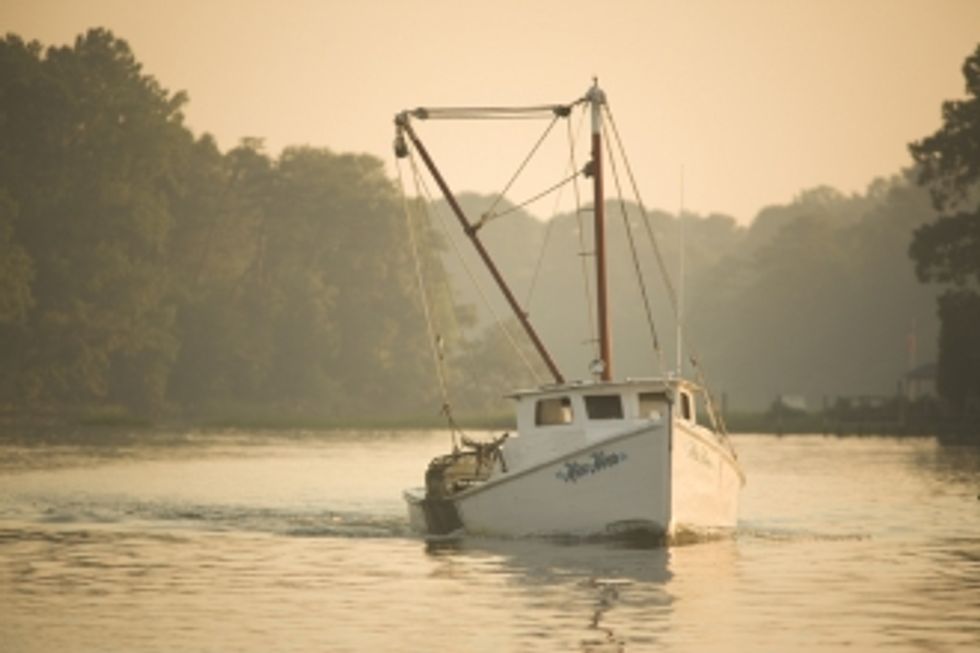 9. Chesapeake Bay, Virginia
What's at Stake?
The nation's largest estuary, which supports populations of oysters, blue crabs, striped bass, and other species vital to the health of commercial and recreational fisheries.
The Threat
Nutrient and sediment pollution flowing into the bay from throughout its 64,000-square-mile watershed, as well as legal challenges to EPA's restoration plan.
The Chesapeake Bay, the nation's largest estuary, is a place where freshwater and seawater come together to form one of the world's most productive ecosystems. The bay supports more than 3,600 species of plants and animals, including populations of oysters, blue crabs, Atlantic menhaden, and striped bass that are vital to the health of commercial and recreational fisheries.
For decades, this extraordinary resource has suffered from pollution pouring in from all sides—by air, land, and water. Effluent from wastewater treatment plants, stormwater from municipal sewer systems, runoff from farms and suburban lawns, mud from bare construction sites, and emissions from tailpipes and smokestacks all contribute to the nutrients and sediment flowing into the bay. These pollutants feed algae that cloud the bay's waters and, when they die off, create oxygen-starved dead zones incapable of supporting aquatic wildlife.
The six states in the bay watershed pledged to stem this destructive tide, but when it became clear that they would fail to meet cleanup deadlines, they turned to the U.S. Environmental Protection Agency to take charge of the process. EPA stepped in and developed the most sophisticated water restoration plan ever crafted for the bay. Released in December 2010, EPA's recovery plan—known as a Total Maximum Daily Load, or TMDL—calculates how much pollution the bay can withstand and how much pollution must be reduced from all sources throughout the bay's 64,000-square-mile watershed.
EPA's goal is to achieve full implementation of this "pollution diet" by 2025, but it will take years more, perhaps even decades, for the bay to recover completely. In the meantime, industry interests and their political allies are doing all they can to impede the cleanup effort. The Farm Bureau and the National Association of Home Builders have both filed suit to challenge the TMDL. Anti-environmental forces in Congress also have piled on, attempting to pass legislation that would prevent EPA from moving forward with its restoration plan.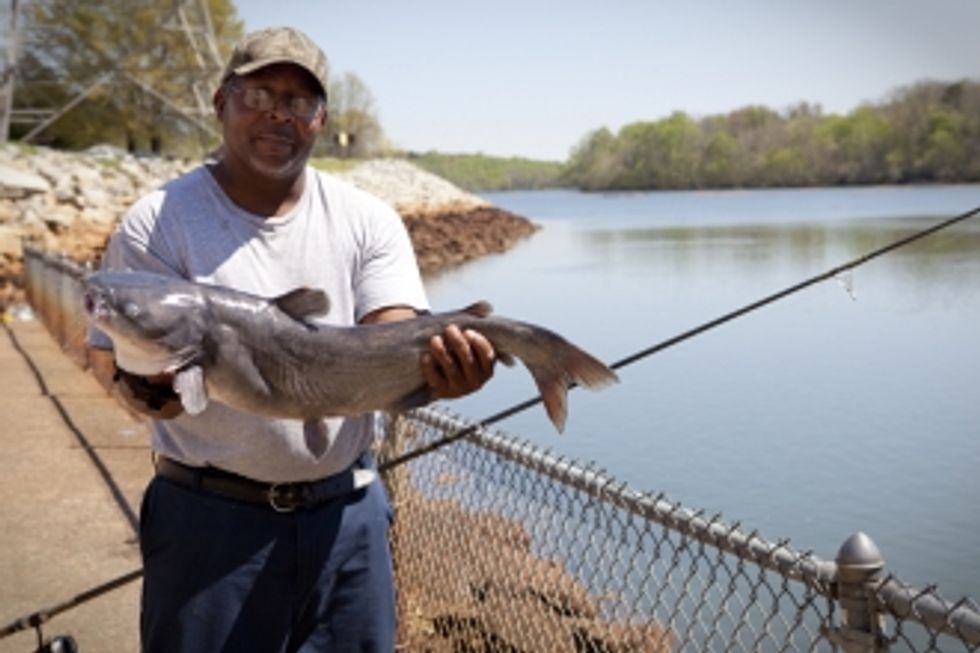 10. Southside, Virginia
What's at Stake?
Clean drinking water for more than 1 million people in Southside Virginia and North Carolina.
The Threat
Intense pressure to lift Virginia's 30-year ban on uranium mining; radioactive waste leaking into streams and groundwater; risk of cancer, birth defects, and other health problems from exposure to uranium or mining chemicals
In 2012 or 2013, Virginia's General Assembly may be asked to lift the state's 30-year ban on uranium mining, largely due to pressure from a Canadian-backed company that wants to mine a deposit near Danville. The proposed mining and waste disposal operation would be in the Roanoke River watershed and threatens drinking water supplies for more than a million people in Southside Virginia and North Carolina, including residents of Virginia Beach and Norfolk.
Extracting uranium ore requires intensive use of water and chemicals, and leaves behind massive amounts of radioactive and contaminated waste. There is no precedent for underground or open-pit uranium mining in the East, where the population density and a wet climate increase the chance of toxic and radioactive materials leaking into streams groundwater, and drinking water supplies. The potential health impacts of exposure to uranium and mining chemicals are well-documented and include several types of cancer, birth defects, and vital organ damage.
In December 2011, the National Academy of Sciences (NAS) released a study that validates many of SELC's core concerns about uranium mining and the water quality risks associated with uranium tailings, which can be a potential source of radioactive contamination for thousands of years. The NAS study also confirmed that Virginia state agencies have no experience with uranium mining, and that current federal regulations are far from sufficient to ensure public health and safety.   
SELC is at the forefront of a statewide citizen effort, the Keep the Ban Coalition, to ensure the statewide freeze stays in place. We are also educating key decision makers about the dangers of uranium mining, and making certain that the state keeps its promise to seek public input before any legislation to lift the ban is put before the General Assembly.
Note: In May 2011, American Rivers named the Roanoke one of the 10 most endangered rivers due to the threat of uranium mining.
For more information, click here.