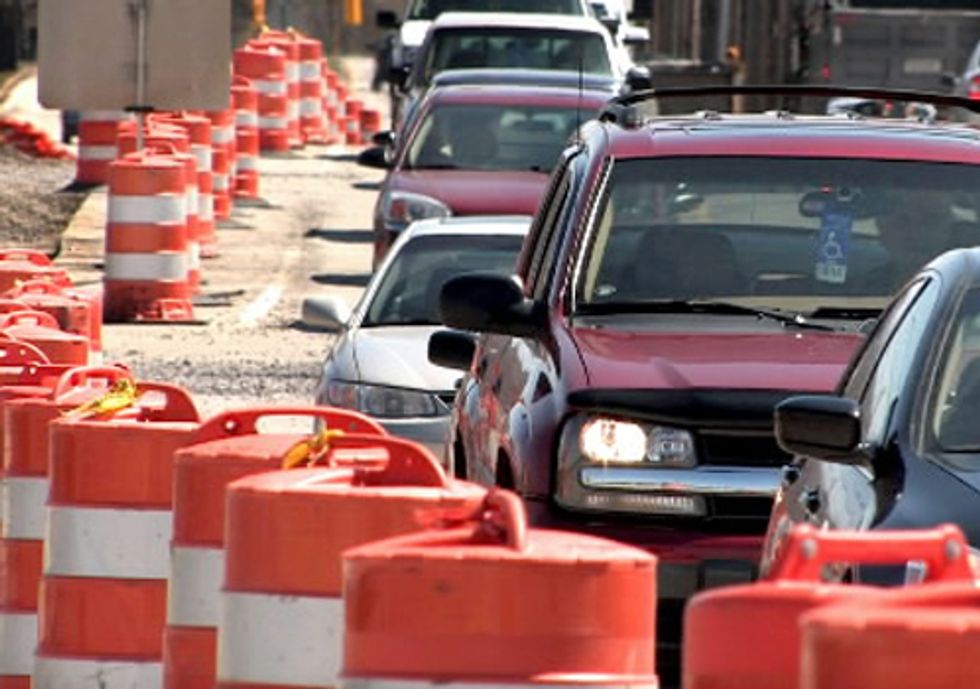 Rep. Dave Camp (R-MI), chairman of the House of Representatives' Ways and Means Committee on Feb. 2 proposed eliminating dedicated federal funding for mass transit, moving funds currently used for mass transit and putting them instead toward building new highways. This proposal for the bill comes on top of provisions from other House committees that would not only force us to consume more oil, but actually open new, destructive drilling throughout the country. 
Environment America Transportation Advocate John Cross issued this statement in response:
"We are stunned that Rep. Camp is proposing to eliminate all dedicated funding for public transit—guaranteeing that America becomes more dependent on oil. Big Oil is the winner in every step of this process at the expense of the air we breathe, the places we love, and the Americans who take more than 10 billion trips on public transit every year. 
"The House has now proposed eliminating all dedicated federal funds for any form of transportation other than highways, roads and airports in an attempt to throw clean transportation choices under the bus. This comes on top of the blatant gift to Big Oil of proposing that we pay for new highways by granting the oil companies the right to drill off our coasts and in the Arctic National Wildlife Refuge and to develop destructive oil shale. 
"When it comes to transportation, this House is taking us down a dead end road to pollute our air, threaten our climate, endanger our country's treasured spaces, and grant oil corporations' every wish."
For more information, click here.
EcoWatch Daily Newsletter
To truly get the most out of life, a person needs to be able to get a good night's sleep, which has led many to wonder if there is anything behind the idea of CBD for sleep improvement.
<p>According to the <a href="https://www.sleephealth.org/sleep-health/the-state-of-sleephealth-in-america/" rel="noopener noreferrer" target="_blank">American Sleep Apnea Association</a>, an estimated 50 to 70 million people in the United States spanning all ages and socioeconomic classes suffer from sleeplessness. Both men and women are impacted by sleep disturbances, and according to <a href="https://www.cdc.gov/sleep/data_statistics.html" rel="noopener noreferrer" target="_blank">The American Academy of Sleep Medicine and the Sleep Research Society</a>, adults aged 18-60 years old need at least seven hours of sleep each night to realize optimal health and well-being. </p><p>Ultimately, when a person does not get the sleep they need they run the risk of developing many chronic health conditions, including high blood pressure, stroke, heart disease, obesity, diabetes, and other mental health issues. Therefore, a person must develop good sleep practices and implement strategies both during the day and before bed that will allow them to get the sleep they need to have a great life. </p><p>In this article, we will explore why Americans have problems sleeping, discuss strategies for improving sleep, and most importantly investigate the role that CBD for sleep improvement could play in helping people achieve a healthy sleep cycle.</p><h2>Our Top CBD Oils for Sleep</h2><p><em>Each product featured here has been independently selected by the writer. If you make a purchase using the links included, we may earn commission.</em></p><ul class="ee-ul"><li><a href="https://takespruce.com/?rfsn=2546834.ac5974&amp;subid=EW_Sleep" target="_blank">Spruce CBD Oil</a> - Strongest CBD Oil for Sleep</li><li><a href="https://cbdistillery.vxoy.net/52VD3" target="_blank">CBDistillery CBN + CBD Oil</a> - Best for Sleep Specifically</li><li><a href="https://plantpeople.pxf.io/av09o" target="_blank">Plant People CBN Oil</a> - Best for Calming and Sleep</li></ul><h2>How We Picked the Best CBD Oils for Sleep</h2><p>For the sake of this article, the source and quality of the CBD oils that we will discuss were properly vetted. All recommended products were derived from industrial hemp grown in the United States and contains under 0.3% THC, which is required by law. Additionally, all products have been tested by third-party labs to ensure their quality and safety.</p><p><span></span>When reviewing CBD brands and products, we focus on six major factors:</p><ul class="ee-ul"><li><strong>Value</strong> — is the brand's CBD oil affordable compared to similar products?</li><li><strong>Strength</strong> — how much CBD and what type of CBD does their oil contain?</li><li><strong>Source </strong>— where does the company source their hemp and how is the CBD extracted?</li><li><strong>Flavor</strong> — does the product come in any flavors and do they flavor them naturally?</li><li><strong>Transparency</strong> — do they offer third-party lab test results and information about each batch of CBD?</li><li><strong>Customer experience</strong> — what do customer have to say about the product and purchasing experience?</li></ul><p>Using these standards we were able to select the best CBD oils for sleep. Learn more about our choices below.</p>