Hydraulic fracturing (a.k.a. fracking) has recast the U.S.'s energy future, but it's also shining a light on fragile water supplies, which could crimp the industry's growth.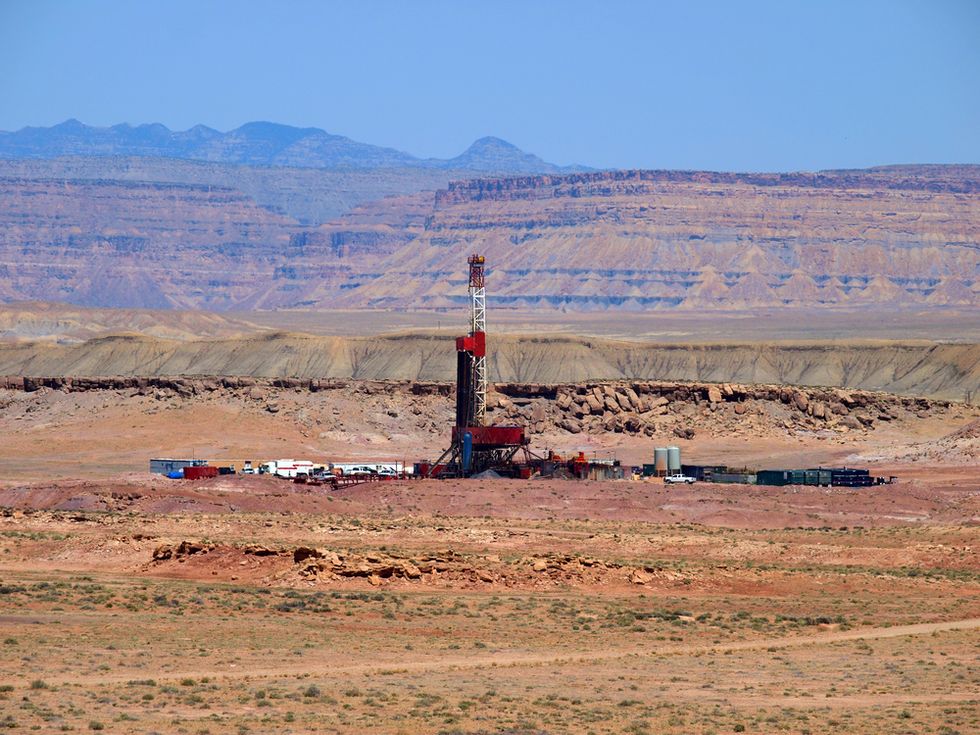 Photo courtesy of Shutterstock
The pinch is especially strong on shale energy producers and state regulators who are scrambling to find ways to keep the water flowing to this thirsty industry while not shortchanging farmers, municipalities and growing populations. Anywhere from two to 10 million gallons of water (along with sand and chemicals) are injected into each fracturing well. Multiply that times tens of thousands of wells and you're talking lots of water—and wastewater, too.
Given a fast-changing regulatory landscape and the diverse geologic conditions of key shale energy basins around the country, it's a challenge with no easy solutions.
"We've got to plan and plan and plan," engineering executive Ken Burris told a crowd of 75 industry players and regulators last week at a Water Management for Shale Plays 2013 conference in Denver.
The urgency is palpable. In less than a decade, hydraulic fracturing has grown from a largely unregulated wildcat industry to an energy juggernaut that is rejuvenating rural economies in North Dakota, Texas and Pennsylvania and putting America back on track to become the world's largest oil producer again.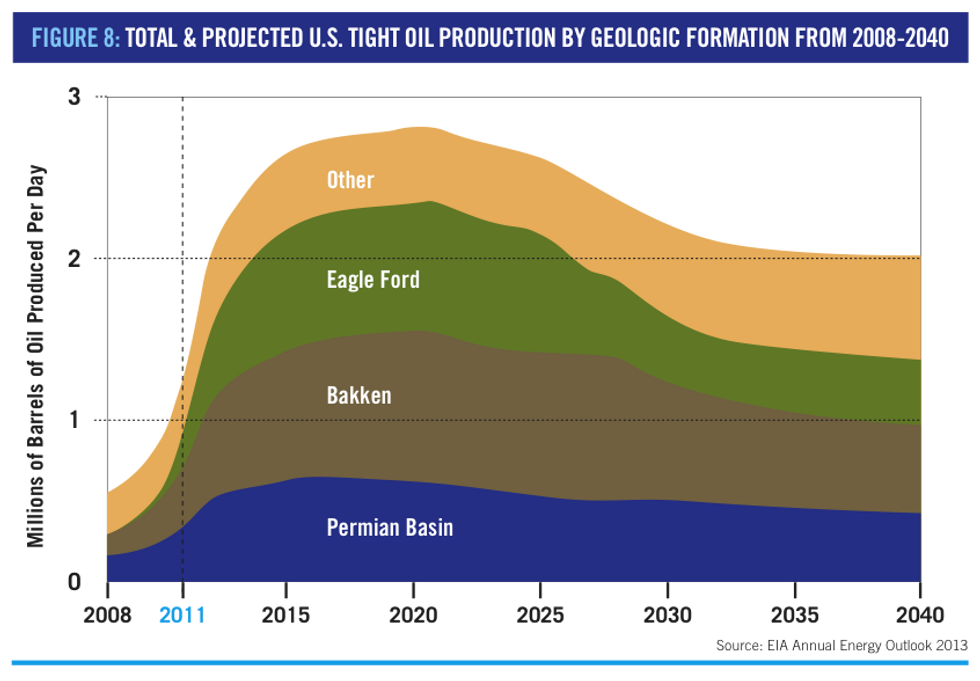 But achieving such meteoric growth doesn't come without growing pains—especially those around meeting the red-hot demand for water that shale producers need to inject into their wells.
Ground zero, in many ways, is Texas.
The U.S.'s second-largest state is in the midst of a historic drought, has little surface water to speak of and many of its groundwater aquifers are drying up. The most noteworthy of these sources under stress is the Ogallala Aquifer, which overlaps with the Permian Basin in west Texas. But that hasn't stopped oil and gas shale production from booming, leading to a doubling in water use the past three years with even bigger jumps expected as more wells are drilled in the rich Eagle Ford formation in south Texas.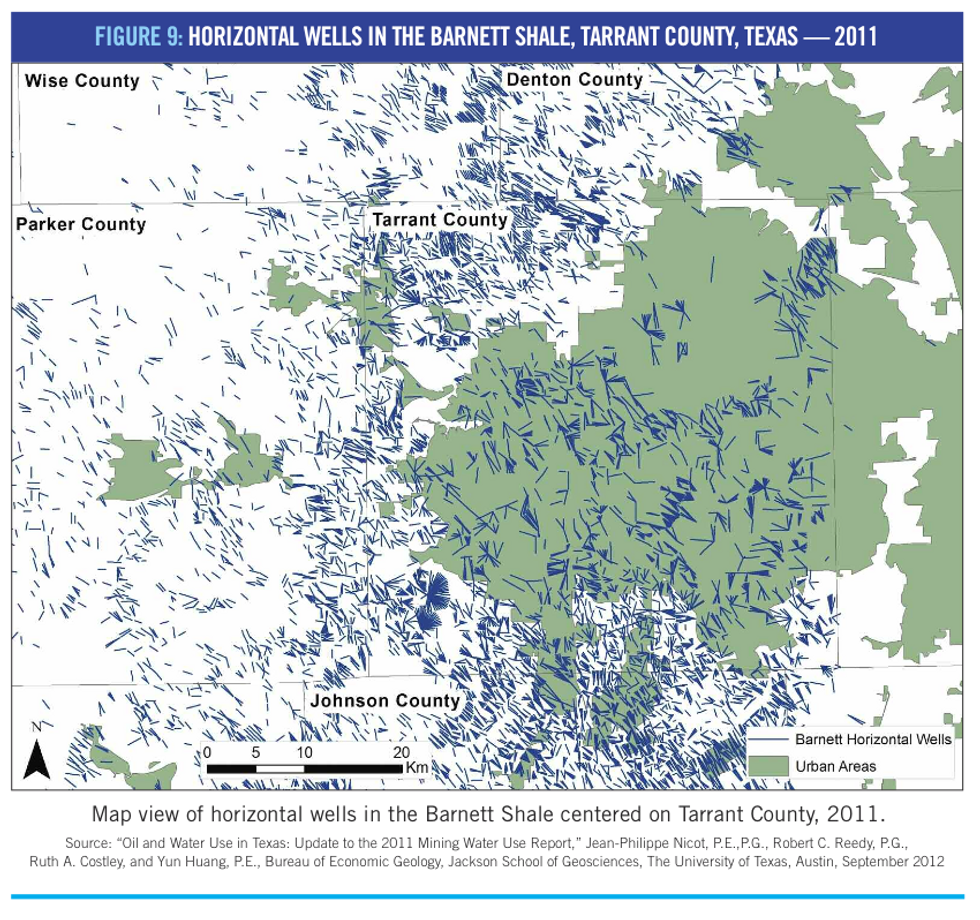 Industry players concede there isn't enough freshwater to meet their needs. "There are areas, like out in west Texas, where water could be a limiting factor," for shale production, said Ken Nichols, civil engineer at CH2M Hill, at the Denver conference.
And that means turning to alternatives, such as recycled water or brackish water, which are already seeing more use.
The state's vast reserves of brackish groundwater seems to be getting the most attention, with one study saying it's already providing some 20 percent of water being used in the Permian and Eagle Ford Shale Basins. "It's a very promising resource for the state," said Larry French, director of the Texas Groundwater Resources Division.
But it is expensive and energy intensive to make the slightly salty water usable for each drilling site. More scrutiny is also needed to understand how escalating withdrawals of brackish waters may compromise freshwater aquifers. Growing interest by water-starved cities and towns to desalinate brackish water is another complicating factor.
Colorado faces a similar challenge of more people, escalating shale production and growing competitive pressures for surface water, especially by agriculture, which has strong legal water rights and uses about 85 percent of the state's water. "Anything [frackers] produce from these wells has the potential to affect senior water rights," said Dick Wolfe, state engineer for the Colorado Division of Water Resources.
For this reason, shale producers noted during the conference that they are relying as much as possible on deeper groundwater resources. These "non-tributary" waters are typically thousands of feet underground and are largely isolated from rivers, streams and other surface waters. Wolfe says the vast majority of the state's 50,000 oil and gas wells—many of them fracking wells in the Niobrara Basin in northeast Colorado—are in non-tributary formations.
While Wolfe is confident that shale production will not compromise the state's water supplies and water quality, others are leery and are calling for much more stringent recycling of fracking wastewater.
"Most frack water is so laden with toxics or salts that it is unsuitable for other uses, and must be disposed of in shallow pits or far below groundwater reservoirs," wrote Bart Miller, water program director at Western Resources Advocates, in the Denver Post. "We can only hope it will never migrate and contaminate drinking water reservoirs."
Unlike Texas and Colorado, North Dakota is relying on both aquifers and surface waters for hydraulic fracturing, much of it coming from the Missouri River, Lake Sakakawea and over-allocated groundwater supplies. With wells popping up like dandelions—North Dakota now produces 10 percent of the country's energy—tensions and lawsuits are escalating between frackers, farmers and other water users.
"When all of us had nothing [before the oil boom], there was nothing to fight about," Dan Kalil, a county commissioner in western North Dakota's Williams County, home to many oil and natural gas wells, told Reuters. "Now, so many friendships have been destroyed because of water and oil."
Visit EcoWatch's FRACKING page for more related news on this topic.
——–
Sign the petition today, telling President Obama to enact an immediate fracking moratorium:

EcoWatch Daily Newsletter
Water in the Anthropocene is a three minute film charting the global impact of humans on the water cycle. Evidence is growing that our global footprint is now so significant we have driven Earth into a new geological epoch—the Anthropocene.
Human activities such as damming and agriculture are changing the global water cycle in significant ways.
As datasets build upon one another, the film charts Earth's changing global water cycle, why it is changing and what this means for the future. The vertical spikes that appear in the film represent the 48,000 large dams that have been built.
The film was produced by Globaïa and the International Geosphere-Biosphere Programme.
The film is part of the first website on the concept of humans as a geological force, anthropocene.info. The data visualisation was commissioned by the Global Water Systems Project for a major international conference, Water in the Anthropocene held in Bonn, Germany, May 21-24.
Visit EcoWatch's WATER page for more related news on this topic.
——–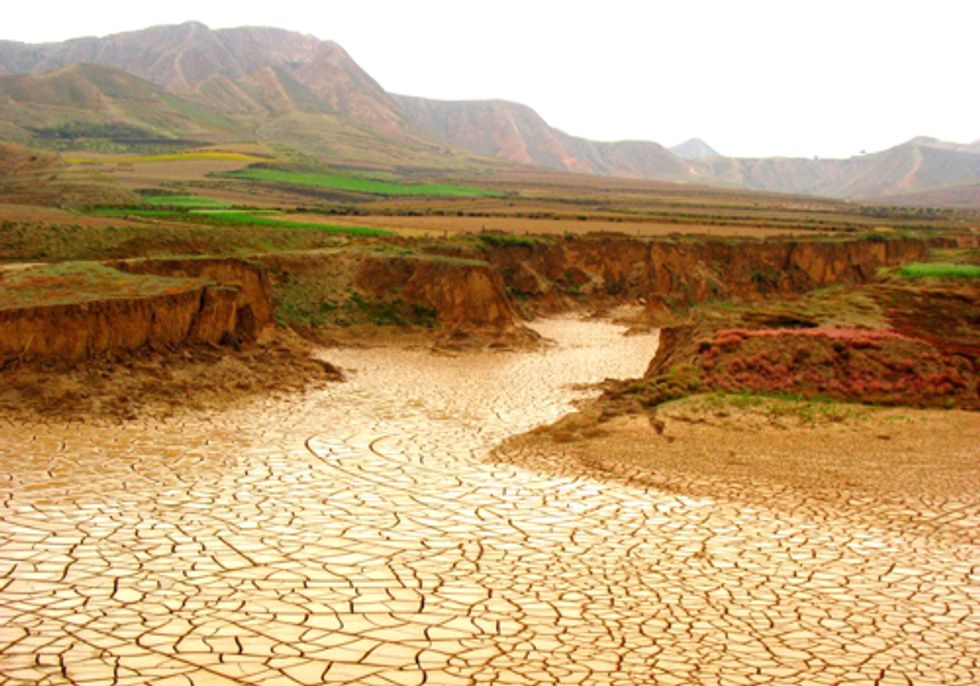 A new report published in the online journal PLoS ONE, analyzing water consumption in 405 river basins around the world, found that water scarcity impacts at least 2.7 billion people for at least one month each year.
"Freshwater is a scarce resource; its annual availability is limited and demand is growing," said Arjen Hoekstra, professor in water management at the University of Twente and lead author of the report, Global Monthly Water Scarcity: Blue Water Footprints versus Blue Water Availability. "There are many places in the world where serious water depletion takes place—rivers running dry and dropping lake and groundwater levels." 
The new assessment of global water scarcity tracked month-to-month variability in water flows and accounted for the flows needed to sustain critical ecological functions. Through detailed analysis of the total water consumption, or depletion, rather than water withdrawals, the study highlights how the water used to grow crops, sustain industry and provide drinking water has in many places exceeded sustainable levels of water use.  
Ninety-two percent of humanity's total water footprint is for agriculture, and irrigated agriculture depletes more water than cities and industries. Study co-author Brian Richter, director of The Nature Conservancy's Global Freshwater Program, explained, "Cities use more water than crops on a per-area basis, but it's important to note that irrigated agriculture occupies four times as much land as cities do. We need to help farmers implement state-of-the-science irrigation methods and improve the productivity of rain-fed farms as soon as possible. We are going to have to produce more food with less water." 
Researchers from the University of Twente, Water Footprint Network, The Nature Conservancy and World Wildlife Fund (WWF) studied river flows in 405 river basins between 1996-2005. Their analysis showed that 201 river basins supporting 2.67 billion people experienced severe water scarcity during at least one month of the year.   
"In places with multiple months of scarcity, they are likely experiencing serious competition for water," said Richter, "and during droughts they'll have economic impacts in agriculture, power production or other industries."  
"This assessment gives a more detailed and complete view of the relationship between the water footprint—the amount of water consumed in the production of goods and services—and the growing problems of water scarcity and the resulting environmental, social and economic losses," said Ruth Mathews, executive director of the Water Footprint Network. "Through cooperation between governments, investors, companies, farmers and environmental organizations, we can take direct action to improve the sustainability, efficiency and equitability of water use ensuring that we can feed people and sustain healthy ecosystems in the future." 
Study co-author Ashok Chapagain, senior water advisor at WWF-UK, highlighted the importance of this work to the global conservation targets of WWF. "Annual averages can mask what is really happening in a basin. Visualizing water scarcity month-by-month will help guide water allocations so as to meet social and economic demands, and the needs of rivers themselves."
The levels of water scarcity estimated in the report correspond strongly with documented ecological declines and socio-economic disruption in some of the world's most heavily used river basins.
For more information, click here.
—————
The University of Twente is a young, entrepreneurial university in the Netherlands. Its research focuses on the interface between technology and its implications for mankind and society and covers areas such as health, water, sustainability, security and education.
The Water Footprint Network is a dynamic, international learning community and a platform for connecting diverse communities interested in sustainability, equitability and efficiency of water use. The Water Footprint Network has over 160 partners in 34 countries from a wide variety of stakeholder groups.

WWF is one of the world's largest and most respected independent conservation organizations, with over 5 million supporters and a global network active in over 100 countries. WWF's mission is to stop the degradation of the Earth's natural environment and to build a future in which humans live in harmony with nature by conserving the world's biological diversity, ensuring that the use of renewable natural resources is sustainable, and promoting the reduction of pollution and wasteful consumption.
The Nature Conservancy is a leading conservation organization working around the world to protect ecologically important lands and waters for nature and people. The Conservancy and its more than 1 million members have protected nearly 120 million acres worldwide.