This website uses cookies to ensure you get the best experience while browsing it. By clicking 'Got It' you're accepting these terms.


The best of EcoWatch, right in your inbox. Sign up for our email newsletter!
www.youtube.com
An 11-year-old girl was given a top award after inventing "Tethys," a sensor that detects lead levels in water.
Gitanjali Rao of Lone Tree, Colorado won the 2017 Discovery Education 3M Young Scientist Challenge and a $25,000 prize for the innovation, which she said was inspired by the water crisis in Flint, Michigan.
The U.S. Environmental Protection Agency (EPA) is moving back its timeline for release of its study on the impact of hydraulic fracturing from 2014 to 2016, the agency announced this week at the Shale Gas: Promises and Challenges conference in Cleveland, OH.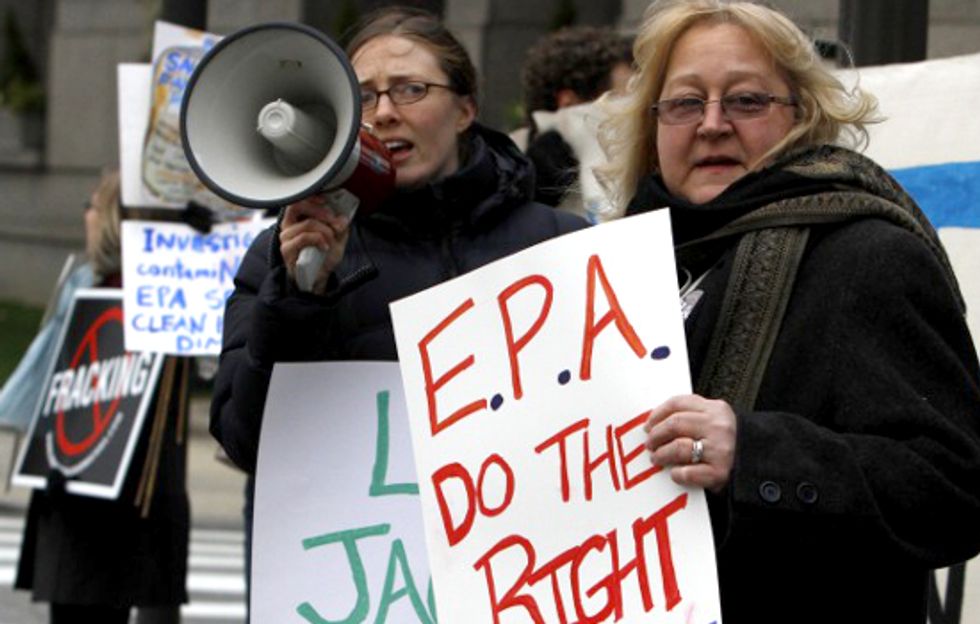 The study, aimed at assessing the threats fracking poses to groundwater supplies and air quality, began in 2010 under the direction of Congress. The intent was to create a thorough assessment of the drilling method so states could make informed decisions on whether to ban fracking or regulate the industry.
With the study's release still years away, some observers question whether it will mean much at all, as the industry is likely to continue its takeover. Horizontal drilling is already taking off in North Dakota, Pennsylvania, Colorado and Ohio, to name a few. Just this week, Illinois enacted a new law welcoming the industry into the southern portion of the state.
In June 2012, there were more than 680,000 fracking wells throughout the country, according to a Scientific American report—and there's no sign of it slowing down. By 2018, North America's daily supply of oil will be 3.9 million barrels higher than it was in 2012, according to the International Energy Agency.
This expansion of the industry will happen before the EPA study can provide guidance on the possibility of water contamination from the fracking process, which injects a combination of water, chemicals and silica sand deep into the earth to break up formation where oil is locked. The concern is that, once injected, those chemicals will seep into the groundwater supply.
"In 10 to 100 years we are going to find out that most of our groundwater is polluted," Mario Salazar, a former EPA engineer, told Scientific American. "A lot of people are going to get sick, and a lot of people may die."
For some, it's more than a concern—it's a reality. According to EPA's coordinator of hydraulic fracturing research, Jeanne Briskin, 1,000 chemicals have already been identified as those commonly used in the drilling process.
Without adequate understanding of what is happening and what the consequences are, particularly related to water supplies, a release date of 2016 could be too little, too late.
In the meantime, federal and state governments are attempting to put regulations in place, yet not everyone is convinced they're doing enough to protect Americans.
Just last month, the Obama administration said it would force oil companies to disclose chemicals used in the drilling process. However, the requirement came with a loophole: The contents of the fracking fluid will be disclosed through the industry-run FracFocus.org, which doesn't require companies to reveal chemicals that are considered "trade secrets."
Visit EcoWatch's FRACKING page for more related news on this topic.
——–
Sign the petition today, telling President Obama to enact an immediate fracking moratorium:

EcoWatch Daily Newsletter
By Kati Lawson, Pennsylvania Legislative Service
Clean water activists and representatives from Clean Water Action, Sierra Club, Delaware Riverkeeper Network and Berks Gas Truth gathered in the Capitol Wednesday to call on Gov. Corbett (R-PA) to speak publicly on the extent of water contamination from fracking for natural gas in Pennsylvania.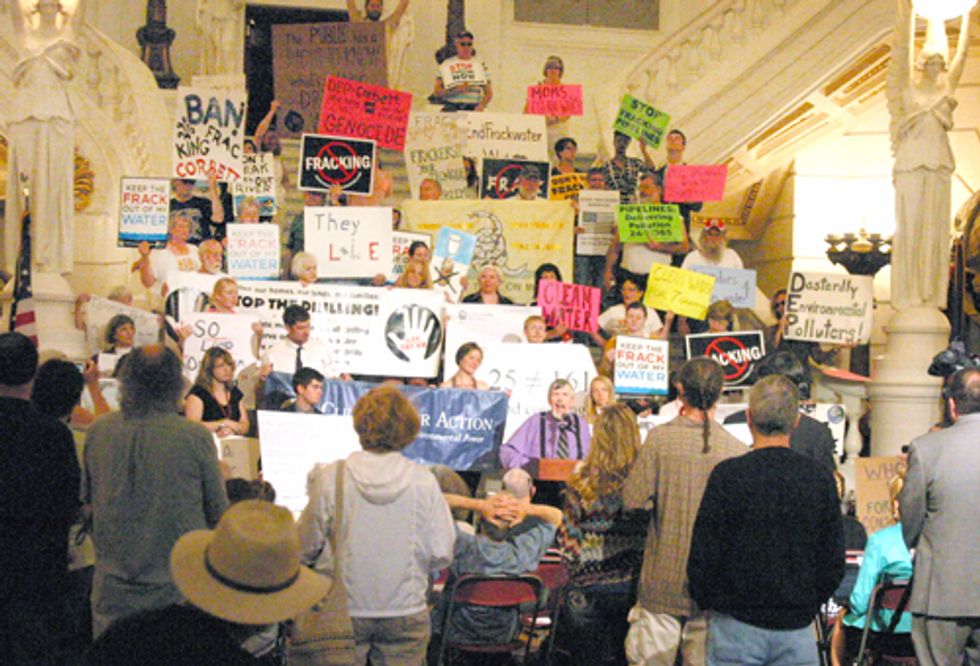 Pennsylvania State Director of Clean Water Action, Myron Arnowitt, said the rally was being held because many activists know that Pennsylvania will end up with dirty water if gas companies continue to work without regulations. He pointed to some of the large signs carried by attendees on the steps and explained that they received a letter from the Department of Environmental Protection (DEP) that told homeowners that their water had been contaminated due to gas drilling.
"It's time for Gov. Corbett to tell the public what happened and how many people have been affected by fracking," said Arnowitt. "We want a little truth from our government and some justice for the folks who have had their water contaminated by fracking."
Tracy Carluccio, deputy director at Delaware Riverkeeper Network, said that the rally was scheduled to make the government listen to the people saying "no" to drilling for natural gas in Pennsylvania. "We are as important as the gas development companies," said Carluccio. "Democracy is eroding and we will bring it back by showing the truth about gas drilling."
Carluccio said DEP has failed Pennsylvanians, and because Gov. Corbett is the man behind DEP, he too has failed his constituents. She said that DEP has not been transparent about drilling incidents and does not even have a database of the water affected by natural gas drilling.
"This administration is working for the gas drillers and developers, not for the people," stated Carluccio. "We demand that the truth come out and we want a DEP that cares and works for the people."
Karen Feridun, founder of Berks Gas Truth, said that all of Pennsylvania is in danger because of fracking, not just the areas of the state that host drilling wells. She explained that a compressor station 100 miles away from a Berks County Residence was affected during Hurricane Sandy and sent tons of gas and compounds into the air. Feridun said that people in the area who smelled gas tried to contact the gas company, the media and DEP with no success.
Feridun said that it took her personally contacting DEP representatives to get any answers about the compressor station incident. "Nothing has been done to the company who caused the leak and this kind of thing happens all the time," said Feridun. "It's almost guaranteed that when these companies violate the rules that nothing will happen; the recidivism rate is ridiculous."
Feridun stated that she knows many wonderful hardworking people who would love to do their jobs in the DEP, but as long as Gov. Corbett is in charge the state is stuck with a dangerous industry in command. "There are lots of things in life that are more important than money," said Feridun. "Our environment, health, safety and community are more important than money."
Craig Stevens, a Susquehanna County resident affected by gas drilling, said that his message to the naysayers is to go see the destruction caused by fracking firsthand. He stated that DEP has been claiming that there is no problem, then he held up hundreds of determination letters from DEP released through Right-to-Know requests.
"This isn't about fracking the ground for gas," said Stevens. "This is about fracturing a community."
Stevens said that he and other activists have offered the dirty drinking water of wells considered "safe" by DEP standards to DEP officials who refuse to drink. "There might be money in the ground for this, but I need water more than I need gas," proffered Stevens.
Ray Kemble, a resident of Dimock, PA, brought with him a jug of his well water, which was a medium brown color. "The DEP and EPA [Environmental Protection Agency] came to my house and said there was nothing wrong with my water at first," said Kemble. "Then a few months later I got a letter than said my well water is undrinkable."
Kemble explained that he used to work within the natural gas industry, but now that he is a whistleblower he no longer has a job.
Nathan Sooy, Harrisburg director of Clean Water Action, called Harrisburg the "Capital of Un-Reality." He demanded that Gov. Corbett direct DEP to protect the environment of Pennsylvania by implementing strong policies and practices, help all of the families whose water is impacted by natural gas drilling, and appoint a DEP Secretary who has experience in environmental protection.
Sooy said that a recent poll showed that almost two-thirds of Pennsylvanians are in favor of a full moratorium on drilling. He said that Gov. Corbett has accepted $1.8 million in contributions from the oil and gas industry since 2004 and called for Pennsylvanians to make the change in the Commonwealth through grassroots efforts.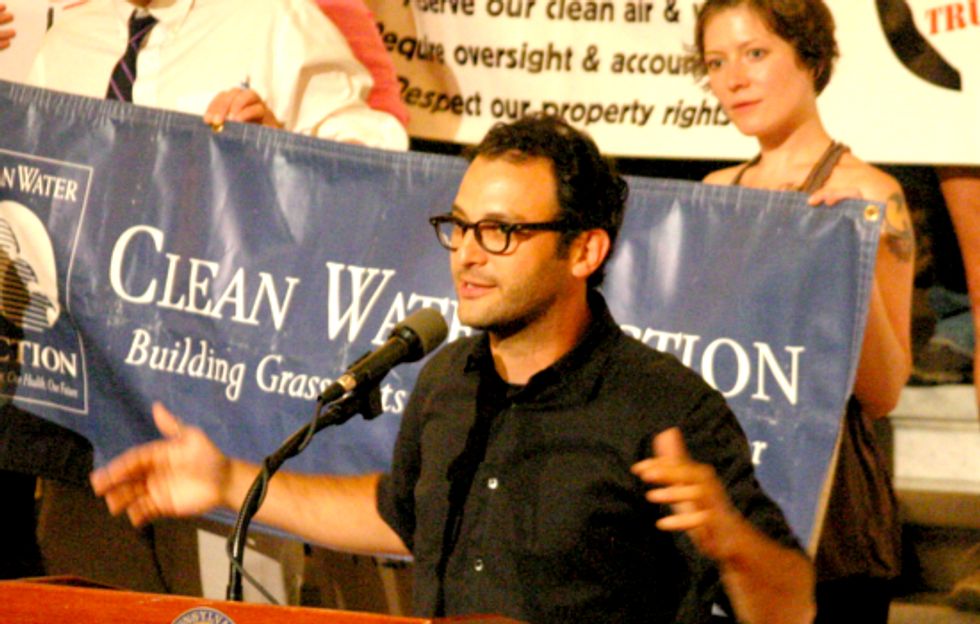 Filmmaker Josh Fox, creator of the movie Gasland, called Harrisburg the biggest fracking site in the Commonwealth. He said that the past three governors have accepted funds from natural gas drillers, but that Act 13 is the greatest affront to Pennsylvania's environment.
"Corbett sponsored and signed Act 13 which [sought] to overturn local and municipal bans because of Pennsylvania oil and gas laws," said Fox. "Another law above Pennsylvania oil and gas law, which is the Constitution of Pennsylvania, guarantees Pennsylvanians our rights to clean air and water."
Fox said that Act 13 also steps in between doctors and patients. He explained that if doctors think that their patient is suffering of a drilling-related illness they have to sign non-disclosure agreements.
"In New York, the government did environmental studies and then kept the natural gas industry out of the state because they had the democratic opportunity to do that," said Fox.
He said that the democracy of every Pennsylvanian is in jeopardy because of the gas industry's stranglehold on the elected government. Fox further explained that studies show that after thirty years, 50 percent of gas wells will leak in Pennsylvania. "With the projected 180,000 gas wells that are supposed to be built in Pennsylvania, there could be 90,000 leaky gas wells across Pennsylvania," said Fox. "There is a clear possibility of contaminating the entire state of Pennsylvania."
Fox said that Pennsylvanians have several reasons to be hopeful. "Nearly two-thirds of Pennsylvanians want a moratorium and Nate Silver said that Gov. Corbett is the most endangered governor in the United States of America," stated Fox. He said it is important to share information from neighbor to neighbor in order to vote Gov. Corbett out of office in 2014 and make sure the Democrat running for governor embraces a full moratorium on gas drilling.
Visit EcoWatch's FRACKING page for more related news on this topic.
——–

Sign the petition today, telling President Obama to enact an immediate fracking moratorium: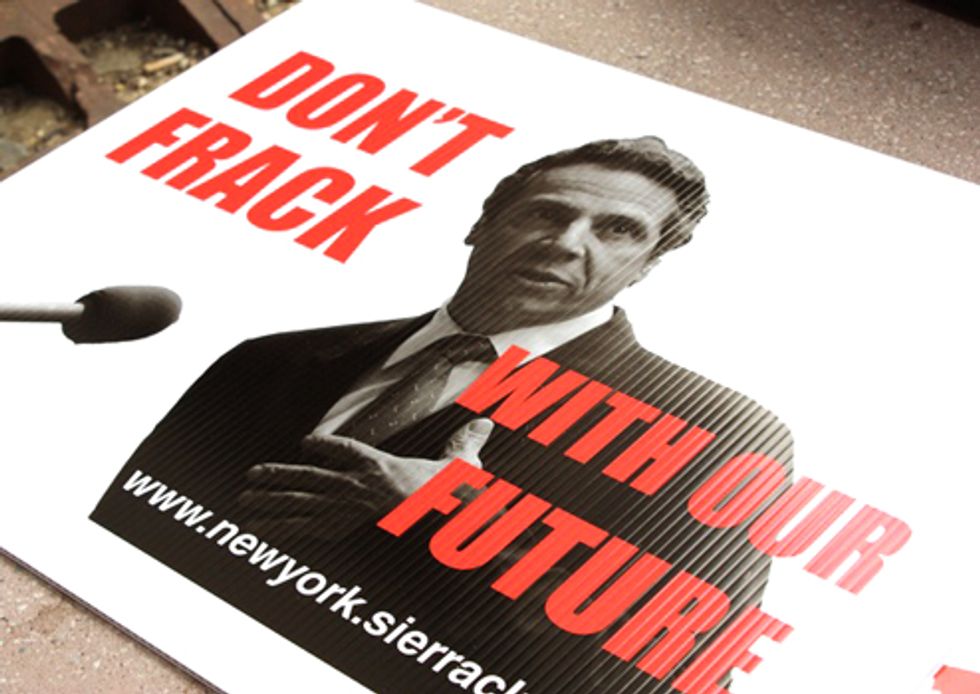 The U.S. Geological Survey (USGS) has warned New York state regulators that their plan to allow drilling and hydraulic fracturing for natural gas in the Marcellus Shale could endanger private water wells, municipal aquifers and New York City's drinking water supply.
The assessment of the USGS, widely regarded as impartial and authoritative on drilling issues, intensifies pressure on Gov. Andrew Cuomo (D-NY) not to proceed with a drilling plan drafted by the New York State Department of Environmental Conservation. Cuomo has pledged to "let the science and the facts make the determination, not emotion and not politics."1
The U.S. Environmental Protection Agency (EPA) has separately written New York regulators arguing that they are ill-equipped to regulate a boom in shale gas drilling and have limited financial means to enforce the numerous new regulations they have proposed. The EPA has raised additional concerns, among them, that the state has understated the severity of radioactive pollution associated with drilling and doesn't know how such contaminants would be disposed of.
Officials at the Department of Environmental Conservation are now considering whether to modify their plan to address the federal agencies' reservations and about 60,000 letters from local governments, independent scientists, gas drillers, property owners, environmental groups and other interested citizens. Once the state agency has concluded its review, which could wind up as soon as this spring, the issue goes to Cuomo's desk.
The stakes for New York taxpayers are enormous. The Department of Environmental Conservation has estimated that if New York City's drinking water supply is contaminated by drilling, cleaning up the water would require a water filtration plant costing at least $8 billion, with a yearly operating expense of $200 million.2 Even then, city officials have said there is no guarantee that the water could be purified. If water supplies of other population centers are tainted, the cleanup costs would soar higher.
As now written, the state plan projects that tens of thousands of natural gas wells could spring up along the New York portion of the Marcellus Shale, a vast underground formation that stretches along the Appalachian chain as far south as Kentucky. Most of the wells are likely to deploy a relatively new shale-drilling process called high volume hydraulic fracturing and horizontal drilling, which typically involves injecting millions of gallons of water laced with chemicals into the ground under high pressure, aiming to crack shale rock and release natural gas trapped in small pockets.
The USGS, the federal government's expert on the geology and hydrology of oil and gas drilling, advised New York regulators that their plan is flawed in several respects. Among them:
The state's proposal to prohibit drilling inside a 500-foot buffer around aquifers that supply major municipal water systems "is one-size-fits-all and may provide only partial protection to these aquifers."3
 
A similar 500-foot buffer for private water wells and springs "affords limited protection" and "does not take local geohydrologic conditions and topographic setting into account." The USGS added that "changes brought about by drilling, including water quality changes, can be felt rapidly at significant distance from a disturbance—especially if a domestic well is [downhill] of a well pad."4
 
Pressurized fracturing fluids could migrate through underground faults and impact an underground aqueduct that carries drinking water to New York City. The USGS said that "the possibility of damage to the aqueduct from hydraulic-fracturing operations is an issue of concern" and deserves more study.5
 
A map displayed in the state's draft plan "grossly under-represents the number and extent of [natural] faults in the Appalachian Basin of New York" where shale gas drilling would occur. Ground that is riddled with underground faults could channel pollution from drilling into underground aquifers.6
 
"Only scattered and incomplete information is available" on underground freshwater sources that could be polluted by shale gas drilling. The USGS said the state plan should require drilling companies to maintain detailed logs that would identify and protect these aquifers.7
Drilling too close to water sources
The USGS went to some lengths to dispute the state agency's premise that drilling could be safely conducted 500 feet from water supplies. The federal agency said that in some cases, it might be necessary to prohibit drilling within five square miles of aquifers to avoid polluting them.8
The USGS position is bolstered by documented cases in Colorado, Ohio and Pennsylvania, where natural gas and related contaminants have polluted underground water supplies at distances much greater than 500 feet.
In 2004, Canada-based Encana Corp. improperly cemented and hydraulically fractured a well in Garfield County, Colo. The state found that the poor cementing caused natural gas and associated contaminants to travel underground more than 4,000 feet laterally. As a result, a creek became contaminated with dangerous levels of carcinogenic benzene. The state of Colorado fined Encana a then-record $371,200. Despite more than seven years of cleanup efforts, as of last September, three groundwater monitoring wells near the creek still showed unsafe levels of benzene.9
 
In 2007, a natural gas well fractured by Ohio Valley Energy Systems Corp. in Bainbridge, Ohio, caused natural gas to contaminate 23 nearby water wells, two of which were more than 2,300 feet from the drilling site.10
 
In 2009, several natural gas wells drilled by Houston-based Cabot Oil and Gas Corp. in Dimock, Penn., polluted water wells used by at least 19 families, according to the state Department of Environmental Protection. Cabot has disputed the finding. At least three of the water wells were farther than 1,000 feet from the gas wells. For about two years, the Pennsylvania DEP ordered the company to deliver water to the families. Last December, Cabot stopped the deliveries after the DEP ruled that the company had met its obligations under a state order. Affected families were forced to scramble for new sources of water. Filmmaker Josh Fox, actor Marc Ruffalo and others donated bottled water that met some of the families' needs. The federal EPA recently found dangerous contaminants in well water in Dimock and ordered a resumption of water deliveries for four of the families. Pennsylvania officials have declined to extend public water lines to the affected families, estimating the cost at $12 million.11
New York City water aqueduct threatened
The USGS concluded that under the state plan, hydraulic fracturing fluids could reach and damage New York City's West Delaware Aqueduct, an underground tunnel that brings drinking water to the city from reservoirs in the Catskill Mountains. Naturally occurring fractures "may potentially provide pathways for the migration of pressurized fluids over significant distances," the USGS wrote. It suggested that the state's proposal to require site-specific permits in a 1,000-foot zone around the aqueduct might prove inadequate.12 The USGS focused only on threats to the West Delaware Aqueduct, one of several underground aqueducts that carry water to New York City from the Marcellus Shale region.
An earlier assessment commissioned by New York City's Department of Environmental Protection (DEP) also concluded that drilling might endanger the West Delaware Aqueduct and other tunnels that carry the city's water, for reasons similar to those cited by the USGS. The city's DEP found that naturally occurring underground pathways near the tunnels "can extend up to seven miles laterally and up to 6,000 feet in depth." It added:
"The vertical and lateral persistence of these features in conjunction with the potential for failed casings or other unforeseen occurrences could result in significant surface and subsurface contamination of fresh water aquifers, as illustrated by incidents in other well fields, most notably documented in Garfield County, Colorado (migration of toxic formation material through subsurface fractures) and Dimock, Pennsylvania (migration of natural gas to the surface via improperly cased wells). Similar mechanisms could permit migration of material into the fresh water aquifers that comprise the NYC West-of-Hudson watersheds and present potential risks to water quality and tunnel lining integrity."13
Based on this assessment, the city agency recommended several preventive measures, including barring drilling within seven miles of several aqueducts and a drilling ban within two miles of other water tunnels.14
Underground faults, water supplies unmapped
The USGS raised serious questions about the state's significant undercount of natural faults throughout the gas-rich Marcellus Shale formation. If drilling and hydraulic fracturing were permitted directly underneath faults, the federal agency said, contaminants could flow upward into underground aquifers. It noted that there are generally far more natural faults in bedrock overlying the Marcellus Shale than elsewhere.15
In a study that focused on the Marcellus Shale in New York and Pennsylvania and was published last year by the National Academy of Sciences, researchers from Duke University reported finding levels of natural gas an average of 17 times higher in water wells close to active natural gas wells than in water wells in non-active drilling areas. The most likely cause, they said, was leaky well casings, but they also raised the possibility that some gas migrated through "extensive fracture systems" in rock above the shale formations. Another factor, they said, might be gas migration through many older, un-cased wells abandoned during 150 years of drilling in Pennsylvania and New York.16
USGS urges better reporting
The USGS said that the depths of underground drinking water sources are not well documented and must be established so that drilling companies can design casing and cementing to prevent migration of gas or saltwater into underground drinking water supplies. The agency faulted New York state regulators for failing to require drilling companies to map underground fresh water and salt water sources and, as well, shallow gas formations before they drill extensively. It called these determinations critical to the design and installation of effective casing and cementing.17
Cuomo should emulate Maryland's O'Malley
The USGS assessment makes clear that New York is not ready for shale gas drilling on any level. Given Cuomo's commitment to science, it is hard to see how he could come to a different conclusion. Cuomo should halt the state's drilling plan and let scientists like those at USGS continue their work so that New Yorkers can know whether high volume hydraulic fracturing and horizontal drilling can be conducted safely before drilling begins.
That's essentially the approach Maryland Gov. Martin O'Malley has taken. His administration has embarked on a detailed study of potential drilling impacts, to be finished by 2014. Until then, O'Malley has committed not to allow gas drilling companies to deploy this controversial technique in Maryland's portion of the Marcellus Shale.18
Meanwhile, the EPA is conducting a nationwide study on hydraulic fracturing's impact on water and a separate inquiry in Pavillion, Wyo., where the agency concluded in a draft report that hydraulic fracturing likely contaminated groundwater on which the community relies for its drinking water and agricultural needs.
By proceeding with drilling in the face of warnings by USGS, the EPA and other experts, "Cuomo would be betting nothing of significance will go wrong," Albany Times-Union columnist Fred LeBrun wrote in a Jan. 15, 2012, column. "Given the enormity of the possibilities, that's a dumb bet."19
Will Cuomo make a multi-billion-dollar gamble with the state's drinking water and the health of New Yorkers? The upside, in the form of jobs and revenues from gas production, is modest. The downside, if anything goes wrong, is incalculable. Why chance it?
For more information, click here.
—————
1. Thomas Kaplan, Millions Spent in Albany Fight to Drill for Gas, New York Times, Nov. 26, 2011.
2. See NYDEC SGEIS, supra note 9, at 6-47.
3. U.S. Geological Survey, New York Water Science Center, Comments on the Revised Draft Supplemental Generic Environmental Impact Statement 6 (2012).
4. See id., at 7.
5. See id., at 20.
6. See id., at 10.
7. See id., at 1.
8. USGS, supra note 3, at 6-7.
9. URS Corp., Phase I Hydrogeologic Characterization of the Mamm Creek field Area in Garfield County (2006), http://cogcc.state.co.us/ (follow links for "Library" and then "Piceance Basin") (prepared for Bd. of County Comm'rs, Garfield County, Colo.); Colo. Oil & Gas Conservation Comm'n, Order No. 1V-276 (Sept. 16, 2004), http://cogcc.state.co.us/ (follow link for "Orders").
10. Ohio Dep't of Natural Res., Report on the Investigation of the Natural Gas Invasion of Aquifers in Bainbridge Township of Geauga County, Ohio 6, 46-7 (2008); Bair, E. Scott, et al., Expert Panel Technical Report, Subsurface Gas Invasion Bainbridge Township, Geauga County, Ohio 3-113 (2010), http://www.ohiodnr.com/mineral/bainbridge/tabid/20484/default.aspx (submitted to Ohio Dep't of Natural Res., Div. of Mineral Res. Mgmt.); Ohio Dep't of Natural Res., Order Number 2009-17 (Apr. 14, 2009) (see attachments A, B).
11. Consent Order & Settlement Agreement in re Cabot Oil & Gas Corp. (Dep't Envtl. Prot. Dec. 15, 2010); Consent Order & Settlement Agreement in re Cabot Oil & Gas Corp. (Dep't Envtl. Prot. Nov. 4, 2009); Laura Legere, DEP Drops Dimock Waterline Plans; Cabot Agrees to Pay $4.1M to Residents, Scranton Times-Tribune, Dec. 16, 2010, http://thetimes-tribune.com/news/gas-drilling/dep- drops-dimock-waterline-plans-cabot-agrees-to-pay-4-1m-to-residents-1.1077910. Laura Legere, Outside Groups Deliver Water as Sides Spar over Drilling, Scranton Times-Tribune, December 7, 2011.
12. See USGS, supra note 3, at 19-20. N.Y. City Dep't of Envtl. Prot., Final Impact Assessment Report, Impact Assessment of Natural Gas Production in the New York City Water Supply Watershed 39-40 (2009) [hereinafter NYCDEP]. N.Y. State Dep't. Envtl. Conservation, Supplemental Generic Envtl. Impact Statement on the Oil, Gas and Solution Mining Regulatory Program, Well Permit Issuance for Horizontal Drilling and High-Volume Hydraulic fracturing to Develop the Marcellus Shale and other Low-Permeability Gas Reservoirs ES-6 (2011) [hereinafter NYDEC SGEIS].
13. NYCDEP, supra note 9, at 39-40 (2009).
14. See id., at D-3. Paul Rush, Dep. Commissioner, Bureau of Water Supply, N.Y. City Dep't of Envtl. Prot., Before the New York City Council, Committee on Envtl. Prot., Sep. 22, 2011. N.Y. City Dep't of Envtl. Prot., Comments on the Revised Draft Supplemental Generic Environmental Impact Statement on the Oil, Gas and Solution Mining Regulatory Program 2 (2012).
15. See USGS, supra note 3, at 9.
16. Stephen G. Osborn, et al., Methane Contamination of Drinking Water Accompanying Gas-Well Drilling and Hydraulic Fracturing, 108 PNAS 8172-76, 8175 (2011), http://www.pnas.org/content/108/20/8172.
17. USGS, supra note 3, at 1.
18. Martin O'Malley, Governor of Maryland, Executive Order 01.01.2011.11, The Marcellus Shale Safe Drilling Initiative, June 6, 2011. Accessed online February 20, 2012 at http://www.governor.maryland.gov/executiveorders/01.01.2011.11.pdf.
19. Fred LeBrun. The Keys to the Kingdom, Albany Times-Union, Jan. 15, 2012, at D1.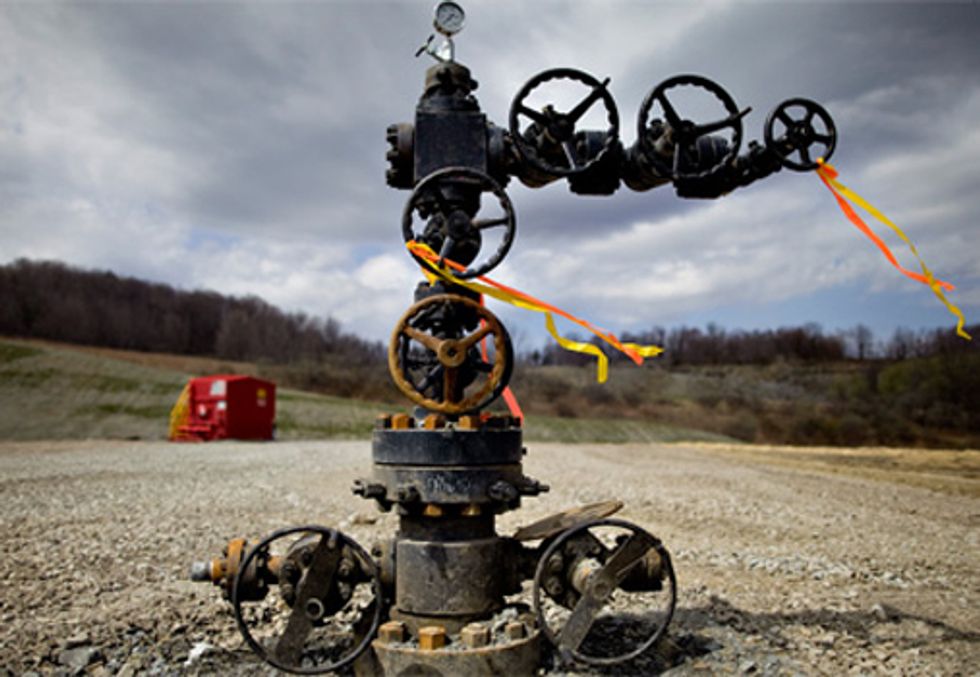 By Andy Rowell
In a decision that will both dismay and worry environmental campaigners and communities facing fracking across Europe, the European Commission has concluded that existing laws are adequate to cover the controversial drilling technique.
A new report undertaken for the European Commission by the Belgian law firm Philippe & Partners, argues that there is no need for more environmental legislation concerning fracking until it reaches commercial scale.
"Neither on the European level nor on the national level have we noticed significant gaps in the current legislative framework, when it comes to regulating the current level of shale gas activities," the study says.
However, in words that are meant to reassure people, the report continued: "However, this is no reason for complacency, since this assessment explicitly refers to the current level of experience and scale of operations as can be expected during the exploration phase."
Although the study was finished last November, it has only just been released by the commission. It also just covered four countries—Sweden, Poland, France and Germany.
But the report argues that activities relating to exploration of shale gas are already subject to EU and national laws and regulations, such as the Water Framework Directive, the Groundwater Directive and the Mining Waste Directive. The use of chemicals is covered by the REACH (Registration, Evaluation, Authorisation and Restriction of Chemical substances) regulation.
"It is a new technology and we do not have a specific legislation on shale gas, because it is so new," said Marlene Holzner, European commission spokesperson on energy. "So the study only says that the existing regulations are applicable for shale gas, that the tool is there and has only to be applied."
Ironically this report is at odds with another report submitted last summer to the commission, which was written for the European Parliament's Committee on Environment, Public Health and Food Safety.
That report called for "consideration to be given to developing a new directive at European level regulating all issues in this area comprehensively." The report, entitled Impacts of shale gas and shale oil extraction on the environment and human health also recommended that for fracking, "all chemicals to be used should be disclosed publicly, the number of allowed chemicals should be restricted and its use should be monitored."
But of course, by the time fracking gets to a commercial scale it could well be too late to monitor all the chemicals being used and to rush in EU-wide legislation, especially given the time it takes to draft legislation and then get it past the EU's various respective bodies.
Meanwhile, there would be huge financial and other pressure from the oil industry to carry on drilling without having to wait for further regulations. It is a scenario that many communities in America are finding to their cost.
The new report will be used by the oil industry as a green light to carry on fracking. Poland, where the fracking revolution is occurring full steam ahead, is planning to begin commercial shale gas production in two years' time. So if laws are to be implemented at the EU level to cover commercial drilling, that needs to happen now.
Not every country in the EU is fracking mad, though.
A couple of weeks ago, thousands of Bulgarians protested against fracking over fears it could poison underground water, trigger earthquakes and pose serious public health hazards. Protestors rallied in more than six Bulgarian cities calling for a fracking moratorium.
"I am opposed because we do not know what chemicals they will put in the ground. Once they poison the water, what shall we drink?" said Olga Petrova, 24, a student who attended a protest in Sofia.
Days later, Bulgaria's National Assembly voted to impose an indefinite fracking ban in the country. France also banned fracking last July, while in Britain fracking has caused minor earthquakes.
Who's going to draft a law to stop that happening again?
For more information, click here.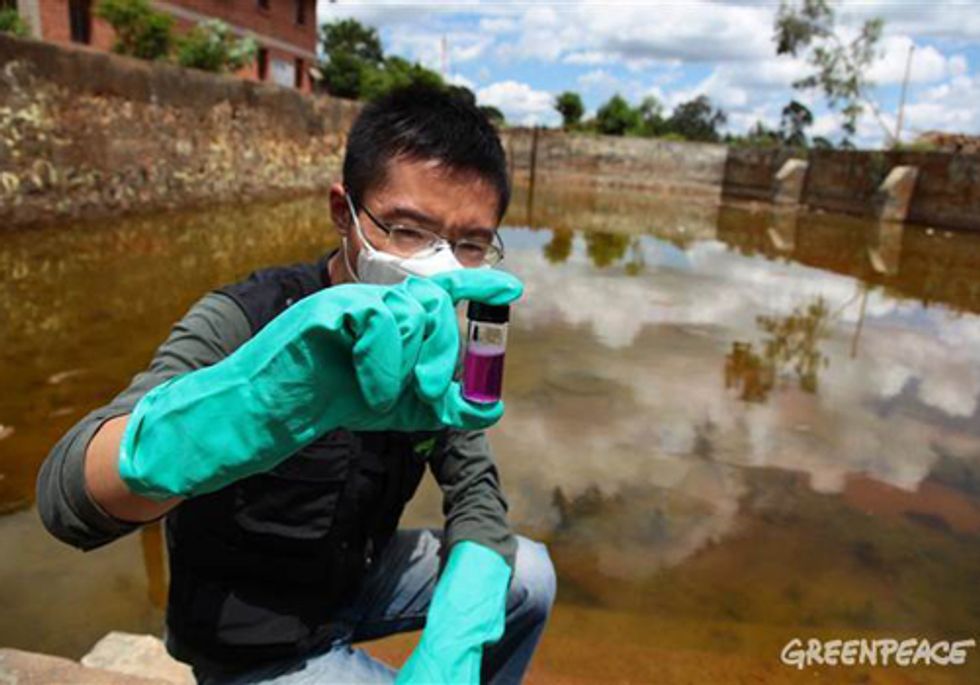 By Monica Tan
Earlier this year we were all shocked by the news that a chemical company in southern China's Yunnan province had been illegally dumping toxic cancer-causing waste near the village of Xinglong. The problem was so serious that the Chinese press began calling Xinglong a cancer village. Yunnan Liuliang Chemical Industry had dumped 5,000 tons of the hazardous waste and had another 140,000 tons that would likely have ended up the same way if they had not been discovered. The waste should have been driven to the neighbouring province of Guizhou to a processing plant.
The chemical waste, containing toxic chromium VI, had seeped into the soil, drinking water and crops. And the villagers did not know the real dangers. They were still drinking the water and walking in their fields barefoot.
As soon as we heard about the news, Greenpeace sent a rapid response team to the area to document the problem and raise awareness among the local people. When we tested the water used by the villagers for drinking, the levels of chromium VI were so high the readings went off the scale.
Our work and the resulting media attention then kick-started a clean-up campaign. The local government fenced off the polluted area, surveyed the region for other illegal waste sites, tested for levels of contamination and then made the results public.
There are many other chromium waste dump sites across China, endangering people's lives and polluting the land and water. Following our work in Yunnan, the Ministry of Environmental Protection announced a national crackdown on chromium waste sites, with clear timelines. And it's had a positive spill-on effect into other waste issues such as e-waste.
Then in October, local environmental NGO (non-governmental organization), Friends of Nature, filed a public interest law suit against Luliang Chemical for dumping the toxic chromium waste. This is the first time a grassroots Chinese NGO has successfully brought a public interest lawsuit to court.
Ma Tianjie, from Greenpeace in Beijing, was part of the Greenpeace rapid response team that was dispatched to Yunnan to investigate that toxic chromium dump. Here he shares with us his experiences:
The drivers working for the chemical company were lazy and so they dumped the toxic chromium waste in several sites in the hills here. Rain washed the waste into a nearby reservoir killing dozens of cattle and sheep. And the bigger problem is that Liuliang Chemical still has more than 100,000 tons of untreated chromium waste. If there was a bad storm this waste could contaminate the source of the Pearl River and turn it into a toxic soup.

We visited a nearby village, called Xinglong, which because of abnormally high rates of cancer has been dubbed a cancer village by the media. We took some measurements from the mouth of an underground aquifer, which locals call 'the dragon's fountain' and it was hundreds of times over the safe limit for chromium. But still local villagers plant their crops barefoot and put their cattle and sheep out to graze on this contaminated land. They told us crops fail and their livestock die for no reason.

The other members of the emergency response team and I put on rubber boots, gloves and masks, and dug through the chromium waste dump to take suitable samples. We also told the villagers how to protect themselves and urged the local government to take immediate action.

Sadly, this dump in Liuliang County is not the only one. There are similar toxic dump sites all across the country including in Tianjin, Henan and Hunan. They are like toxic time bombs. We hope that we can use this Yunnan example to kick start a big cleanup everywhere. We have taken the first step.
Chromium VI—Fast Facts
Heavy metal, highly toxic, commonly used in electroplating or in the manufacture of stainless steel.
Included on China's national list of hazardous waste, one of eight substances most harmful to the human body.
Difficult to break down, it requires years or even decades to completely clean up.
In the U.S., similar contaminated sites are still not completely clean even after 30 years.
For more information, click here.