By Kati Lawson, Pennsylvania Legislative Service
Clean water activists and representatives from Clean Water Action, Sierra Club, Delaware Riverkeeper Network and Berks Gas Truth gathered in the Capitol Wednesday to call on Gov. Corbett (R-PA) to speak publicly on the extent of water contamination from fracking for natural gas in Pennsylvania.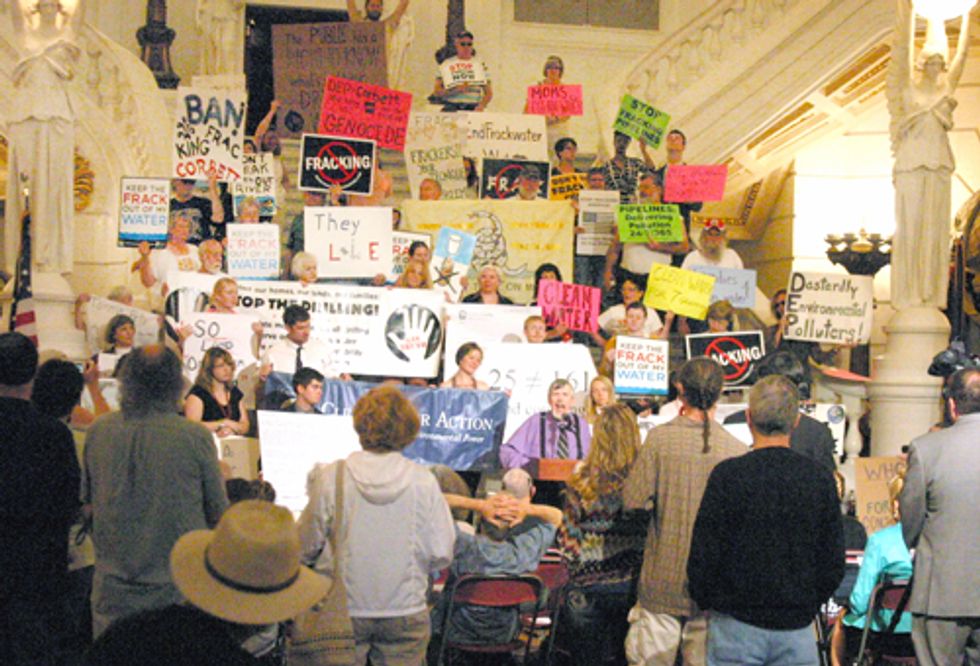 Pennsylvania State Director of Clean Water Action, Myron Arnowitt, said the rally was being held because many activists know that Pennsylvania will end up with dirty water if gas companies continue to work without regulations. He pointed to some of the large signs carried by attendees on the steps and explained that they received a letter from the Department of Environmental Protection (DEP) that told homeowners that their water had been contaminated due to gas drilling.
"It's time for Gov. Corbett to tell the public what happened and how many people have been affected by fracking," said Arnowitt. "We want a little truth from our government and some justice for the folks who have had their water contaminated by fracking."
Tracy Carluccio, deputy director at Delaware Riverkeeper Network, said that the rally was scheduled to make the government listen to the people saying "no" to drilling for natural gas in Pennsylvania. "We are as important as the gas development companies," said Carluccio. "Democracy is eroding and we will bring it back by showing the truth about gas drilling."
Carluccio said DEP has failed Pennsylvanians, and because Gov. Corbett is the man behind DEP, he too has failed his constituents. She said that DEP has not been transparent about drilling incidents and does not even have a database of the water affected by natural gas drilling.
"This administration is working for the gas drillers and developers, not for the people," stated Carluccio. "We demand that the truth come out and we want a DEP that cares and works for the people."
Karen Feridun, founder of Berks Gas Truth, said that all of Pennsylvania is in danger because of fracking, not just the areas of the state that host drilling wells. She explained that a compressor station 100 miles away from a Berks County Residence was affected during Hurricane Sandy and sent tons of gas and compounds into the air. Feridun said that people in the area who smelled gas tried to contact the gas company, the media and DEP with no success.
Feridun said that it took her personally contacting DEP representatives to get any answers about the compressor station incident. "Nothing has been done to the company who caused the leak and this kind of thing happens all the time," said Feridun. "It's almost guaranteed that when these companies violate the rules that nothing will happen; the recidivism rate is ridiculous."
Feridun stated that she knows many wonderful hardworking people who would love to do their jobs in the DEP, but as long as Gov. Corbett is in charge the state is stuck with a dangerous industry in command. "There are lots of things in life that are more important than money," said Feridun. "Our environment, health, safety and community are more important than money."
Craig Stevens, a Susquehanna County resident affected by gas drilling, said that his message to the naysayers is to go see the destruction caused by fracking firsthand. He stated that DEP has been claiming that there is no problem, then he held up hundreds of determination letters from DEP released through Right-to-Know requests.
"This isn't about fracking the ground for gas," said Stevens. "This is about fracturing a community."
Stevens said that he and other activists have offered the dirty drinking water of wells considered "safe" by DEP standards to DEP officials who refuse to drink. "There might be money in the ground for this, but I need water more than I need gas," proffered Stevens.
Ray Kemble, a resident of Dimock, PA, brought with him a jug of his well water, which was a medium brown color. "The DEP and EPA [Environmental Protection Agency] came to my house and said there was nothing wrong with my water at first," said Kemble. "Then a few months later I got a letter than said my well water is undrinkable."
Kemble explained that he used to work within the natural gas industry, but now that he is a whistleblower he no longer has a job.
Nathan Sooy, Harrisburg director of Clean Water Action, called Harrisburg the "Capital of Un-Reality." He demanded that Gov. Corbett direct DEP to protect the environment of Pennsylvania by implementing strong policies and practices, help all of the families whose water is impacted by natural gas drilling, and appoint a DEP Secretary who has experience in environmental protection.
Sooy said that a recent poll showed that almost two-thirds of Pennsylvanians are in favor of a full moratorium on drilling. He said that Gov. Corbett has accepted $1.8 million in contributions from the oil and gas industry since 2004 and called for Pennsylvanians to make the change in the Commonwealth through grassroots efforts.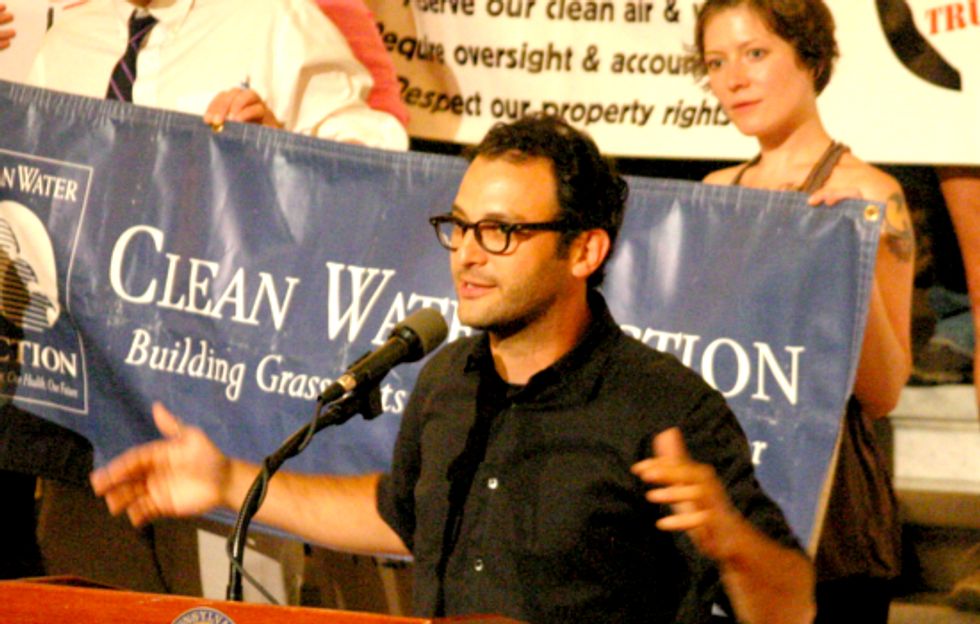 Filmmaker Josh Fox, creator of the movie Gasland, called Harrisburg the biggest fracking site in the Commonwealth. He said that the past three governors have accepted funds from natural gas drillers, but that Act 13 is the greatest affront to Pennsylvania's environment.
"Corbett sponsored and signed Act 13 which [sought] to overturn local and municipal bans because of Pennsylvania oil and gas laws," said Fox. "Another law above Pennsylvania oil and gas law, which is the Constitution of Pennsylvania, guarantees Pennsylvanians our rights to clean air and water."
Fox said that Act 13 also steps in between doctors and patients. He explained that if doctors think that their patient is suffering of a drilling-related illness they have to sign non-disclosure agreements.
"In New York, the government did environmental studies and then kept the natural gas industry out of the state because they had the democratic opportunity to do that," said Fox.
He said that the democracy of every Pennsylvanian is in jeopardy because of the gas industry's stranglehold on the elected government. Fox further explained that studies show that after thirty years, 50 percent of gas wells will leak in Pennsylvania. "With the projected 180,000 gas wells that are supposed to be built in Pennsylvania, there could be 90,000 leaky gas wells across Pennsylvania," said Fox. "There is a clear possibility of contaminating the entire state of Pennsylvania."
Fox said that Pennsylvanians have several reasons to be hopeful. "Nearly two-thirds of Pennsylvanians want a moratorium and Nate Silver said that Gov. Corbett is the most endangered governor in the United States of America," stated Fox. He said it is important to share information from neighbor to neighbor in order to vote Gov. Corbett out of office in 2014 and make sure the Democrat running for governor embraces a full moratorium on gas drilling.
Visit EcoWatch's FRACKING page for more related news on this topic.
——–

Sign the petition today, telling President Obama to enact an immediate fracking moratorium:

EcoWatch Daily Newsletter
By Andrew Morris
The relatively untapped Chattanooga shale field—which runs from southern Kentucky through central Tennessee—will soon see a long awaited incursion of major gas and oil companies such as CONSOL Energy, CNX Gas, GeoMet and Atlas Energy. Tennessee's General Assembly's Joint Committee on Government Operations passed a series of rules on fracking on May 22, set to go into effect June 18.
CONSOL Energy—which has gas leases on roughly 240,000 acres in the state–already is preparing to begin horizontal drilling in Anderson County, which borders Kentucky. Soon workers will shoot gallons of water and nitrogen into the shale rock in order to release and collect the natural gas within. Some of the most glaring issues regard the notably high bar on when the rules actually apply—which most operations will not meet due to low demand and the state's geography.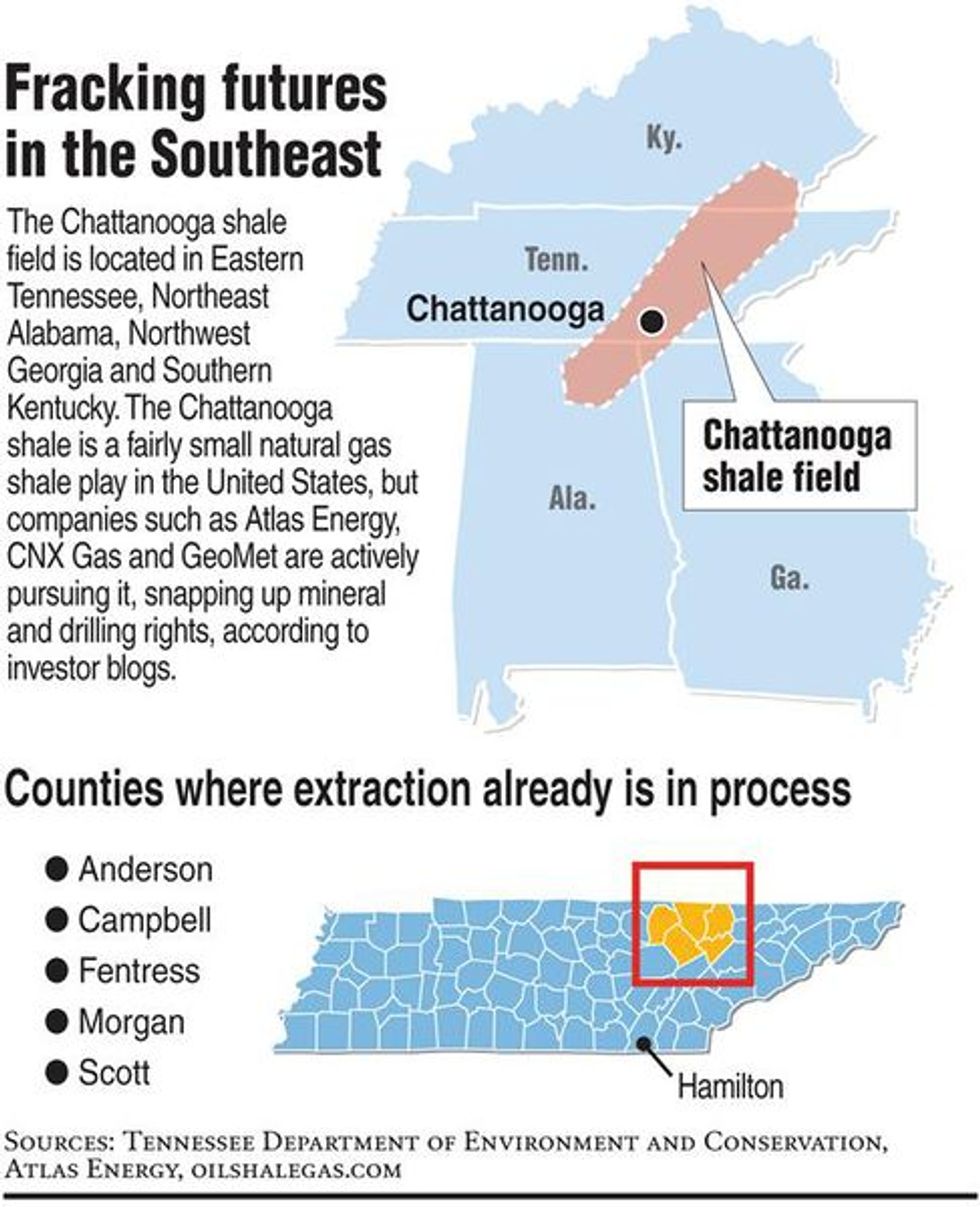 Unlike the Marcellus shale field in Pennsylvania, Tennessee's Chattanooga field is significantly shallower, which warrants less water to be used. Part of the controversy with the new rules is that public notice only applies when operations exceed 200,000 gallons of water, which is unlikely in the case of Chattanooga as significantly less water is necessary. In addition, general notice of the operations themselves is only required for those living half a mile from the site, which would exclude many.
In September local environmental groups pushed for a ban on fracking operations that would use water exceeding 200,000 gallons. The board dismissed the ban but kept 200,000 gallons as a marker for public notification. The board, at that time called the Oil and Gas Board—now merged with the Water Quality Control Board, forming the Board of Water Quality, Oil and Gas—ignored the cries of the groups for tighter regulations.
Serious questions have arisen about the effectiveness of the new set of rules in assuring proper safety of the local population and environment. Groups such as the Tennessee Clean Water Network and the Sierra Club's Tennessee Chapter were less than enthused. Concerns were raised about the safety of local groundwater, as fracking produces significant quantities of wastewater—also known as flowback—which contains salt, oil, grease and occasionally radioactive material depending on the location and method of fracking.
"Wastewater disposal is a significant issue in the Northeast where fracking occurs," contends Meg Lockhart of the Tennessee Department of Environment and Conservation. "The amounts of liquid we're dealing with in Tennessee are much, much smaller, if liquid is used at all."
"But, if water in any significant quantity is used, some of it would come back up the well," said Renee Hoyos, executive director of the Tennessee Clean Water Network.
It is a bit hyperbolic at this stage to assume that fracking operations in Tennessee will reach the level of Ohio or Pennsylvania, but if gas prices resume an increase in the near future we can expect to see more and more companies expanding into previously ignored areas of the country.
Visit EcoWatch's FRACKING page for more related news on this topic.
——–
Sign the petition today, telling President Obama to enact an immediate fracking moratorium: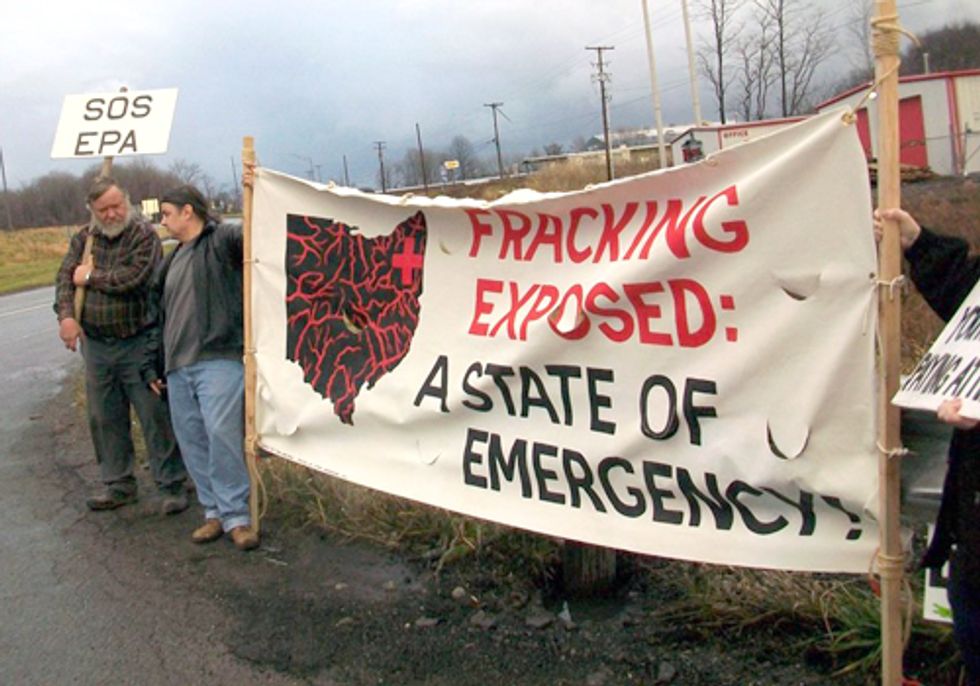 By Ben Shapiro and Jonathan Sidney
On the heels of an announcement by the Ohio Division of Natural Resources (ODNR), as reported in The Vindicator on Dec. 30, that ordered D&L Energy Inc to cease operations at a nearby brine-injection well—a storage site for toxic fracking wastewater—due to ten earthquakes since March 17 in close proximity to the well site in Youngstown, Ohio, another earthquake on Dec. 31 at 3:05 p.m., this one an unprecedented magnitude 4.0 recorded by the U.S. Geologic Society, was reported.
Susie Beiersdorfer, an instructor of geology at Youngstown State University, was downtown during today's quake. She said, "Everyone felt it. Shutting down an injection well is not like turning off a light switch, the pressure is still there. If more pressure needs to be equalized it's going to keep happening." Beiersdorfer went on to say "we are elated that the well has been shut down. None too soon. Because of the history of earthquakes and the history of epicenters around the injection well, it's only prudent to shut it down until it's ruled out as being a cause, nor should any injection wells be permitted or used."
The D&L well has been the subject of widespread community outrage. Youngstown area residents have attended township meetings, staged protests, sung anti-fracking carols outside the mayor's office and even blockaded entrances to the D&L injection site to put a stop to the toxic earthquakes in the absence of regulatory intervention. Beiersdorfer feels that the "hard work and constant pressure is paying off. It's in the news, it's raising people's awareness. That's what I'm looking forward to in 2012."
Though residents are excited by the temporary closure of the well, they remain concerned about the 170+ injection wells that remain active throughout Ohio. John Williams, a Youngstown resident, urges communities to remain vigilant, stating that while "we won this battle, the war is far from over. D&L has no regard for the long term safety of our communities or water. They'll just try to shift their dirty business from one well to another and think we won't notice." D&L is constructing yet another injection well in Hubbard, about two miles east of the recently closed site.
More than a dozen protesters attended an ODNR informational meeting. Steve Beck, a local farmer spoke at the meeting saying, "there's no way it's safe," while holding up a sign reading SOS EPA. "They make promises that give us a false sense of security. But common sense will tell you it's not 100 percent safe."
Residents lack confidence in the ability of local and state regulatory agencies. Beiersdorfer and other concerned citizens attended a November Coitsville Township meeting and were shocked to find out that public officials didn't even know about the D&L injection wells until the land was cleared. ODNR geologist Tom Tomastik admited to angry residents that spills have occurred. "One of the trucks overflowed one of the drilling-mud tanks," Tomastik explained to The Vindicator. "It spilled out on the ground and into a ditch."
While citizens are thankful for the temporary closure of the injection well site, it is clear, especially after today's earthquake and the other active well sites, that community members will need to continually ramp up pressure in order to put a  stop to the epidemic of new injection wells that threatens Ohio's drinking water and seismic stability. The statewide struggle against injection wells continued on Dec. 31 at #OccupyMansfield's In Memory of Mansfield, Casualty of Fracking.
We need to keep building momentum in the movement against fracking across Ohio, the Utica and Marcellus shale regions, and around the world.  Your involvement in the fight is crucial—consider seeking a local ban on fracking and signing the Anti-Fracking Pledge of Resistance. The tireless organizers in Youngstown have shown that working together makes us strong.
For more information, click here.