People don't want more pollution. With the new century and the agonizing economic shift we're going through, things should get better, not worse in terms of environmental health.
Ohio ranks the worst in the country for toxic air pollution. The American Lung Association's State of the Air 2011 report gives Cuyahoga County a failing grade for ozone and particulate pollution levels. The eight-county Cleveland metropolitan area is ranked as having the nation's 12th highest level of year-round particulate pollution. Clevelanders, although maybe not aware of the statistics, know that our pollution stinks and it's a major cause of illness.
Despite our poor environmental rankings, the City of Cleveland held public meetings in January and will hold meetings in February to explain to residents the plans for a proposed gasification waste-to-energy facility. Cleveland Public Power has applied for an air permit from the Ohio Environmental Protection Agency for a 15 megawatt facility that would combust an estimated 560 tons of trash a day.
The proposed Ridge Road project is an unproven combination of technologies that does not exist anywhere in the world. The gasification plant would be the first of its type in the country and the first time the technology has been used in the U.S. for municipal solid waste.
The gasification technology has been described by industry experts as "emerging" with high risks. Risks include insufficient experience to establish reliability estimates, high operating expenses, high capital investment requirements, scale-up issues and lack of performance guarantees from equipment manufacturers due to the volatility of the fuel-syngas produced by gasifying municipal solid waste.
The Commissioner of Cleveland Public Power, Ivan Henderson, has claimed publicly that the project "doesn't have any harmful pollutants associated with it." However, an official representing the City's Division of Air Quality stated in an internal memo, "This will be a new, and a large, air pollution source. Highest pollutants are expected to be particulates, sulfur dioxide, nitrogen oxides, carbon dioxide, and carbon monoxide ... ".
The annual potential air pollution emissions from the proposed facility, as indicated in the draft air permit, include 500 pounds of lead, 260 pounds of mercury and tons of other hazardous air pollutants.
Cleveland Public Power claims that the project will enable it to implement city-wide curbside recycling. The proposed project has a target recycling rate of 25 percent with the national average recycling rate being 34 percent. In 2010, other Cuyahoga County municipalities achieved recycling rates of 30, 40 and even more than 60 percent. Cleveland's current rate for areas that have curbside recycling is 15 percent, but the city-wide rate for 2011 was 2.5 percent.
An uncommon aspect of the proposal is how the project started. Cleveland Public Power first identified gasification as the preferred technology it wanted to adopt. Cleveland Public Power's partner in developing the proposal to date is Princeton Environmental Group, led by Peter Tien, a manufacturer's representative to the Japanese company Kinsei Sangyo. Tien was awarded a $1.5 million contract in March 2010 to prepare preliminary designs and to seek an air permit.
The project's total costs have been estimated at $180 to $222 million. Financing, which has yet to be determined, could increase the total cost to an estimated $300 million. Ownership and operational details have also not yet been finalized.
Another unusual development was Cleveland Public Power issuing a request for information and qualifications (RFIQ) in September of 2011. Although the City's air permit application was submitted in March 2011 and the permit utilized Kinsei Sangyo specifications for equipment and emissions, the RFIQ seeks to identify other potential technologies and vendors.
Cleveland City Council anticipates another request for legislative authority from CPP in the amount of $250,000 to hire a consultant to review and assess the responses and plan for the next step. That will bring the planning costs to date to well over $2 million. Ultimately the project is likely to fail primarily due to financial constraints.
Opponents of the project have a long list of alternatives for the city to consider, including recycling, composting, renewable energy such as wind and solar, and energy efficiency, all of which can help create green jobs for city residents. In addition, the City will benefit from the estimated $4 million in savings if 25 percent of the waste from landfills is diverted and revenues generated from selling some 58,000 tons of recyclable material. When you consider the combinations of risks, difficulty in financing, questionable process and phasing, the clear and proven alternatives offered and the call of "no more pollution" from citizens, it's clear that the city needs to go back to the drawing board.
EcoWatch Daily Newsletter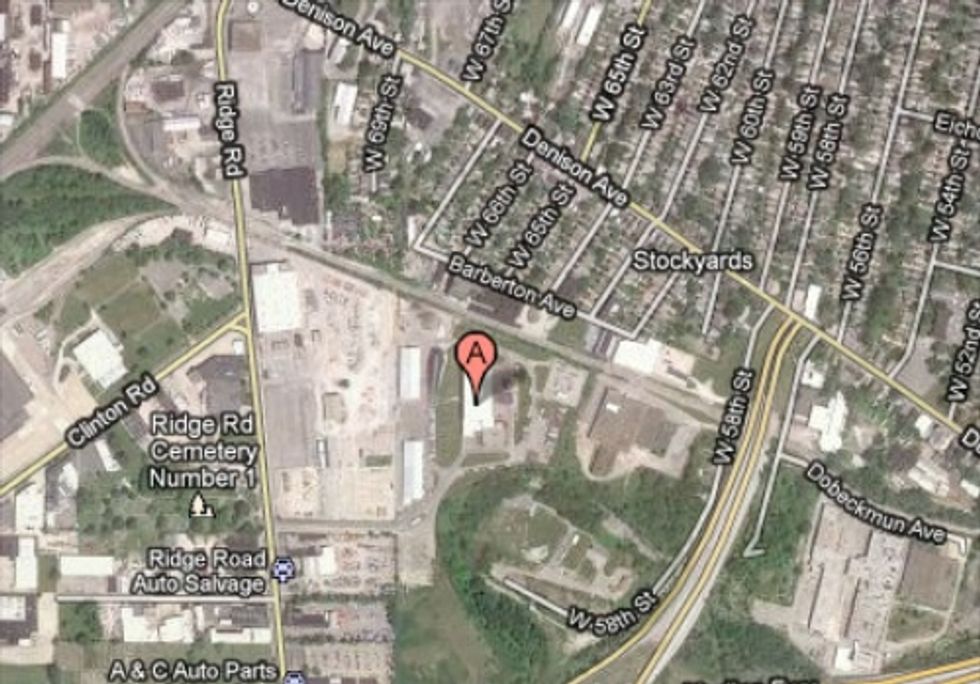 The Ohio Environmental Protection Agency (OEPA) has issued a draft permit-to-install (PTI) to Cleveland Public Power (CPP), Cleveland's municipal electric company. CPP plans to install a municipal solid waste-to-energy facility at 3727 Ridge Rd in the Old Brooklyn neighborhood.
As mentioned in an earlier article on EcoWatch.org, CPP is proposing to bring in garbage from the city and Northeast Ohio region to be "gasified" by using a type of incineration technology new to the U.S. The incinerator would become one of the largest sources of air pollution in Cleveland, especially for soot and mercury.
On Jan. 3 a briefing meeting is scheduled from 6:30 to 8 p.m., at the Neighborhood Family Practice at 3569 Ridge Rd. in Cleveland to help educate residents about this proposed facility. A public hearing is set for Jan. 9 from 6 to 7:30 p.m., at Estabrook Recreation Center at 4125 Fulton Rd. in Cleveland.
Written comments are due Jan. 23 and can be sent to: Cleveland Division of Air Quality, Attn: David Hearne, 75 Erieview Plaza, Suite 200, Cleveland, OH, 44114.
For more information on the meeting, click here. For more information on the public hearing, click here. For OEPA's press release about the hearing click here. 
waterlust.com / @tulasendlesssummer_sierra .
Each product featured here has been independently selected by the writer. If you make a purchase using the links included, we may earn commission.
The bright patterns and recognizable designs of Waterlust's activewear aren't just for show. In fact, they're meant to promote the conversation around sustainability and give back to the ocean science and conservation community.
Each design is paired with a research lab, nonprofit, or education organization that has high intellectual merit and the potential to move the needle in its respective field. For each product sold, Waterlust donates 10% of profits to these conservation partners.
Eye-Catching Designs Made from Recycled Plastic Bottles
waterlust.com / @abamabam
The company sells a range of eco-friendly items like leggings, rash guards, and board shorts that are made using recycled post-consumer plastic bottles. There are currently 16 causes represented by distinct marine-life patterns, from whale shark research and invasive lionfish removal to sockeye salmon monitoring and abalone restoration.

One such organization is Get Inspired, a nonprofit that specializes in ocean restoration and environmental education. Get Inspired founder, marine biologist Nancy Caruso, says supporting on-the-ground efforts is one thing that sets Waterlust apart, like their apparel line that supports Get Inspired abalone restoration programs.
"All of us [conservation partners] are doing something," Caruso said. "We're not putting up exhibits and talking about it — although that is important — we're in the field."
Waterlust not only helps its conservation partners financially so they can continue their important work. It also helps them get the word out about what they're doing, whether that's through social media spotlights, photo and video projects, or the informative note card that comes with each piece of apparel.
"They're doing their part for sure, pushing the information out across all of their channels, and I think that's what makes them so interesting," Caruso said.
And then there are the clothes, which speak for themselves.
Advocate Apparel to Start Conversations About Conservation
waterlust.com / @oceanraysphotography
Waterlust's concept of "advocate apparel" encourages people to see getting dressed every day as an opportunity to not only express their individuality and style, but also to advance the conversation around marine science. By infusing science into clothing, people can visually represent species and ecosystems in need of advocacy — something that, more often than not, leads to a teaching moment.

"When people wear Waterlust gear, it's just a matter of time before somebody asks them about the bright, funky designs," said Waterlust's CEO, Patrick Rynne. "That moment is incredibly special, because it creates an intimate opportunity for the wearer to share what they've learned with another."
The idea for the company came to Rynne when he was a Ph.D. student in marine science.
"I was surrounded by incredible people that were discovering fascinating things but noticed that often their work wasn't reaching the general public in creative and engaging ways," he said. "That seemed like a missed opportunity with big implications."
Waterlust initially focused on conventional media, like film and photography, to promote ocean science, but the team quickly realized engagement on social media didn't translate to action or even knowledge sharing offscreen.
Rynne also saw the "in one ear, out the other" issue in the classroom — if students didn't repeatedly engage with the topics they learned, they'd quickly forget them.
"We decided that if we truly wanted to achieve our goal of bringing science into people's lives and have it stick, it would need to be through a process that is frequently repeated, fun, and functional," Rynne said. "That's when we thought about clothing."
Support Marine Research and Sustainability in Style
To date, Waterlust has sold tens of thousands of pieces of apparel in over 100 countries, and the interactions its products have sparked have had clear implications for furthering science communication.
For Caruso alone, it's led to opportunities to share her abalone restoration methods with communities far and wide.
"It moves my small little world of what I'm doing here in Orange County, California, across the entire globe," she said. "That's one of the beautiful things about our partnership."
Check out all of the different eco-conscious apparel options available from Waterlust to help promote ocean conservation.
Melissa Smith is an avid writer, scuba diver, backpacker, and all-around outdoor enthusiast. She graduated from the University of Florida with degrees in journalism and sustainable studies. Before joining EcoWatch, Melissa worked as the managing editor of Scuba Diving magazine and the communications manager of The Ocean Agency, a non-profit that's featured in the Emmy award-winning documentary Chasing Coral.