This website uses cookies to ensure you get the best experience while browsing it. By clicking 'Got It' you're accepting these terms.


The best of EcoWatch, right in your inbox. Sign up for our email newsletter!
At high tide, people are forced off parts of the pathway surrounding DC's Tidal Basin. Andrew Bossi /
Wikimedia
The Jefferson Memorial in Washington, DC overlooks the Tidal Basin, a man-made body of water surrounded by cherry trees. Visitors can stroll along the water's edge, gazing up at the stately monument.
But at high tide, people are forced off parts of the path. Twice a day, the Tidal Basin floods and water spills onto the walkway.
Citibike station in midtown Manhattan. Jim Henderson, CC BY
By Douglas Johnson
Residents of major U.S. cities are becoming used to seeing docks for bike sharing programs nestled into parking spaces or next to subway station entrances. Adorned with stylish branding and corporate sponsors' logos, these facilities are transforming transportation in cities across the country.
The modern concept of bike sharing—offering bikes for short-term public rental from multiple stations in cities—was launched in Copenhagen in 1995, but U.S. cities only started piloting their own systems in the past decade. Washington, DC led the way, launching SmartBike DC in 2008 and an expanded network called Capital Bikeshare in 2010. This program now boasts more than 480 stations and a daily ridership of 5,700.
EcoWatch Daily Newsletter
By Chesapeake Climate Action Network
The nation's capital took another step toward nation-leading climate action today, as the District of Columbia Council unanimously approved legislation, B21-650, to expand DC's renewable energy target to 50 percent by 2032.
"Today's vote is a major step toward growing the district's clean energy economy," said council member Mary Cheh (Ward 3), lead sponsor of B21-650. "This bill will create good-paying jobs, more affordable energy and healthier air for all district residents."
The bill, which heads to the desk of Mayor Muriel Bowser, sets one of the top-five mandatory clean energy goals in the nation at the state level. By creating incentives for 1,500 Megawatts of new solar and wind power, the bill will quadruple jobs in DC's solar industry, which currently employs 1,000 people. It will also reduce climate pollution at a rate equal to taking 500,000 cars off the road per year.

On top of expanding DC's Renewable Portfolio Standard, the bill establishes a "Solar for All" program that aims to cut the electric bills of 100,000 low-income district households in half by 2032 using clean energy and energy conservation.
"The DC Council is setting an example of strong climate action that leaders on Capitol Hill and across our region should follow," said Mike Tidwell, director of the Chesapeake Climate Action Network. "Solar and wind are the fastest growing sources of power and DC is positioning itself to capture the benefits of cleaner air, thousands of new jobs and a better future for all residents."
Clean energy is already a growing source of power and a driver of economic development in the district. DC's existing renewable energy standard requires 20 percent of the district's electricity to come from renewable sources by 2020, a target the city is on pace to exceed. DC currently has more than 250 clean energy companies, which are positioned to grow under the new policy.
"Washington, DC is already seeing a solar boom and it's about to get a whole lot bigger," said Atta Kiarash, construction manager at DC-based Solar Solution. "Today's vote will create an estimated 4,000 new DC jobs in the solar industry that pay middle class wages and offer career pathways for DC workers."
The bill passed today will assist DC's low-income residents in particular. Low-income households spend a high proportion of their income on energy bills. By connecting low-income families to low-cost clean energy and money-saving energy efficiency upgrades, the bill will help DC residents cover basic needs like food, housing and education. More clean energy will also reduce toxic air pollution that disproportionately impacts the health of low-income people and people of color.
"With Mayor Bowser's signature, DC will join the ranks of a number of cities and states leading a clean energy revolution," said Chris Weiss, executive director of the DC Environmental Network. "The DC Council is taking the steps necessary to more aggressively curb carbon emissions that cause climate change. Additionally, the Solar for All program will make sure clean and affordable renewable energy is available to all district residents. The DC Environmental Network urges Mayor Bowser to sign this bill as soon as possible."
DC has more than enough renewable resources at hand to meet and exceed the 50 percent target approved today. DC can meet its higher goal by tapping just 11 percent of the wind power already in queue to be developed in the region. Meanwhile, DC's total solar potential is 2 Gigawatts or four times greater than the 5 percent solar "carve-out" set by the new legislation.
YOU MIGHT ALSO LIKE
'Three Amigos' Vow to Get Half Their Electricity From Clean Power by 2025
Germany Bans Fracking But Does It Go Far Enough?
DNC Platform Calls for Fossil Fuel Investigations, 100% Renewable Energy
TransCanada Files NAFTA Suit Demanding More Than $15 Billion for Keystone XL Rejection
Photo courtesy of Shutterstock
The DC Council unanimously approved the Community Renewables Energy Act yesterday, which establishes a new program to help renters and thousands of other DC families, schools and businesses go solar for the first time. Advocates applauded the council members for giving DC residents more ways to participate in and benefit from our growing solar economy.
"It's great to see our nation's capital leading on clean energy," said Hannah Masterjohn, policy advocate at Vote Solar. "This new shared renewables program will make solar energy work for more homes and businesses and help the District meet its clean energy goals."
"Given the many local economic and health benefits of expanding access to clean energy, this proposal had broad community support," said Irv Sheffey, DC organizer with the Sierra Club. "We thank the council for turning that strong public support into real clean energy progress with today's vote."
"This legislation will bring clean energy and bill savings to more DC residents, including communities that have been under-served by our clean energy programs to date," said Anya Schoolman, president of DC Solar United Neighborhoods (DC SUN). "It's going to create a new economic engine for the District and put people to work installing solar right here in our community where we need it the most."
Despite tremendous growth in solar adoption nationwide, many DC energy consumers—including the 60 percent of households who rent—are simply unable to invest in their own on-site solar energy systems. Shared renewables arrangements overcome that barrier by allowing energy customers to subscribe to an off-site renewable energy project and get utility bill credit for their portion of the energy produced. The program will be available to all DC energy customers, and will allow them to sign up for up to 100 percent local renewable energy for their home or business.
"This is a good day for the many congregations in DC that dream of getting their energy 'from heaven,'" said Joelle Novey, director of Greater Washington Interfaith Power & Light. "For the first time, any DC resident can join with neighbors to install solar panels on our community buildings."
The electric utility Pepco worked diligently with solar advocates to develop the program.
"Care and respect for the environment have long been fundamental principles that guide our business, and enable our success today and into the future," said Donna M. Cooper president, Pepco Region. "Not only are we committed to delivering safe and reliable electricity, we are also committed to collaborating with the District of Columbia government and other stakeholders to become a model of innovative environmental policies and practices, including the expansion of renewable energy to District of Columbia residents." 
Visit EcoWatch's RENEWABLES page for more related news on this topic.
——–

Green building is growing fast in the U.S., and may represent more than half of all commercial and institutional construction as soon as 2016.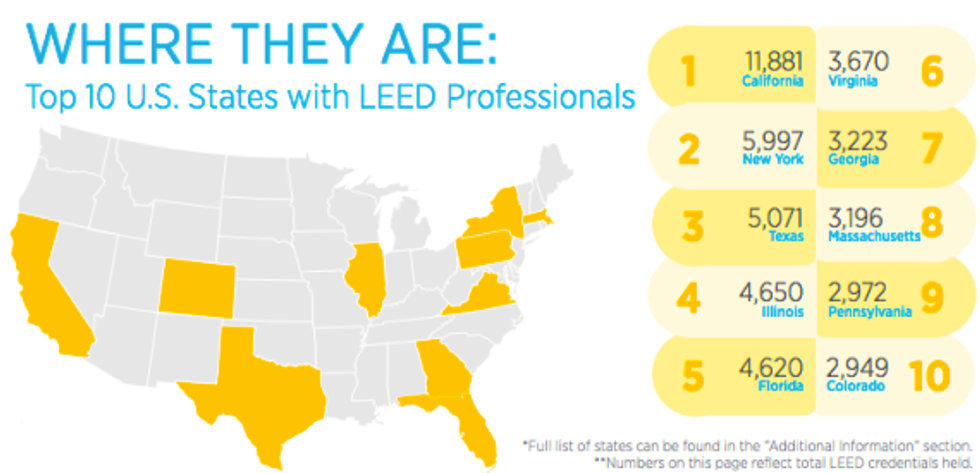 LEED in Motion green professionals graphic via U.S. Green Building Council.
A new report from the U.S. Green Building Council (USGBC), LEED in Motion: People and Progress, details green building's exponential growth and outlines both the value of the industry and its reach into American lives.
The report is the first of three LEED in Motion summaries planned for release in 2013, and it reveals yet another key indicator that sustainability can be as much an economic boost as an environmental one.
Millions Living And Working In Green Buildings
As a snapshot in time, People and Progress finds millions of Americans benefiting from LEED projects. USGBC estimates more than 4.3 million people live and work in LEED-certified buildings every day, while more than 6.2 million people experience LEED projects every day during their daily routine.
Green building, of which LEED properties are a key subset of, represented around 44 percent of all commercial and institutional construction in America across 2012, and that percentage should pass 55 percent as early as 2016.
All this growth means jobs and profits, according to USGBC. Green building could top $140 billion in revenue with 835 million square feet of construction this year, 35 percent of all U.S. construction jobs today are in green building, and industry revenue could top $248 billion by 2016.
While Washington, DC, has long led the U.S. in per-capita LEED certifications, that may be set to change, as California and New York State took the lead with the most LEED professionals and USGBC members. Fitting, considering California's place as the epicenter of America's clean tech market and New York City's success with energy efficiency retrofits.
Commercial Buildings Lead, But Residential Projects On The Upswing
USGBC's findings echo the results of McGraw Hill Construction's Green Retail and Hospitality SmartMarket Report released earlier this year, which estimated more than half of all new retail, restaurant, and hotel construction would be green building projects by 2015, boosting values anywhere from seven percent to 11 percent
Commercial buildings have traditionally led the green building charge, but residential properties are also growing fast. USGBC finds 93,120 bedrooms in 10,174 LEED-certified single-family homes and 1,236 LEED-certified multifamily buildings. Previous market research has predicted residential green building projects could be worth up to $114 billion industry-wide by 2016.
From Novelty To Norm
This growing exposure to green buildings and sustainable design seems like it's starting to move LEED certifications from novel to must-have. "The new LEED in Motion report reflects that incredible cross-section of people—diverse in background, geography and vocation—who are working together to fulfill USGBC's mission of a sustainably built environment within a generation," said Rick Fedrizzi, USGBC CEO.
Indeed, growth rates for green businesses have risen faster than conventional goods in America, and every day brings another U.S. green building first, from the first LEED-certified National Football League stadium to the world's largest net-zero building.
Visit EcoWatch's RENEWABLES pages for more related news on this topic.
——–
Sixty activists risked arrest today outside the State Department building in Washington, DC, during a sit-in and protest over the proposed Keystone XL pipeline. The State Department declined to arrest the protesters who departed chanting "we'll be back," promising to return in even greater numbers if the State Department recommends approval of the Keystone XL pipeline. Two hundred people were in attendance at today's event, including protesters who rallied in support of those risking arrest.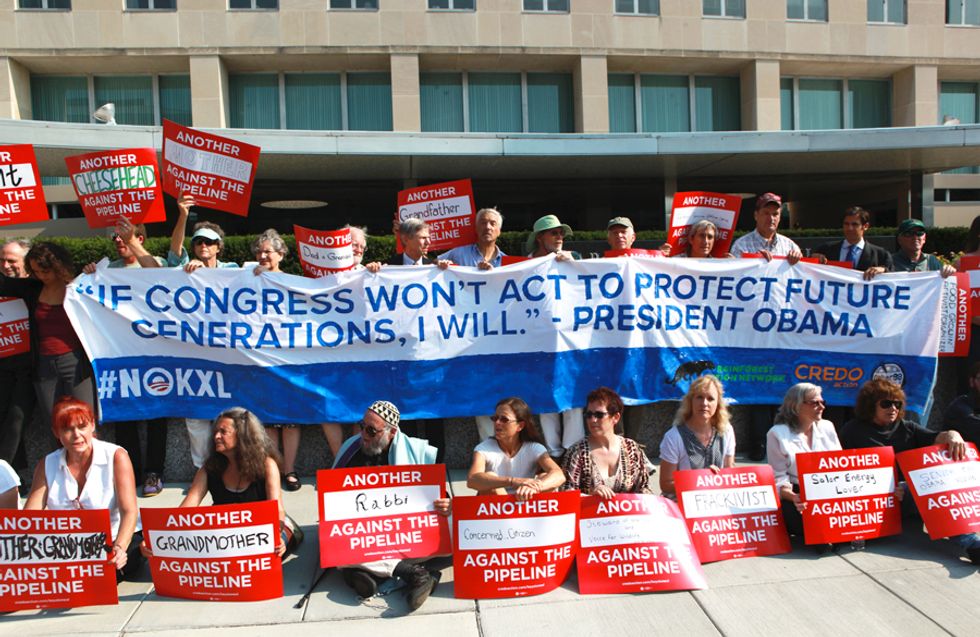 The sit-in is the second act of civil disobedience that CREDO, Rainforest Action Network and The Other 98% have organized to maintain pressure on President Obama to keep his promise to fight climate change by rejecting the Keystone XL pipeline.
The protest was held at the State Department in the wake of the announcement that an Inspector General is launching an investigation into Environmental Resources Management (ERM), the contractor that drafted the latest controversial environmental analysis of the Keystone XL pipeline. Recent revelations show that ERM failed to disclose ties with TransCanada, the foreign oil company seeking approval to build the pipeline through American soil, and with the powerful oil lobby, the American Petroleum Institute. In November 2011, President Obama postponed a decision on the pipeline until 2013, in the midst of a delegitimized review process conducted by another oil industry-compromised contractor, Cardno Entrix.
"The State Department has been working to determine what's in the oil industry's interest, not what's in the national interest," said Becky Bond, CREDO's political director. "The Keystone XL pipeline will accelerate climate change, and President Obama must make good on his climate promises by rejecting it."
Among the people risking arrest and protesting were grassroots activists who helped elect President Obama in 2008 and 2012, including activists who currently volunteer for Obama's campaign arm, Organizing for Action (OFA).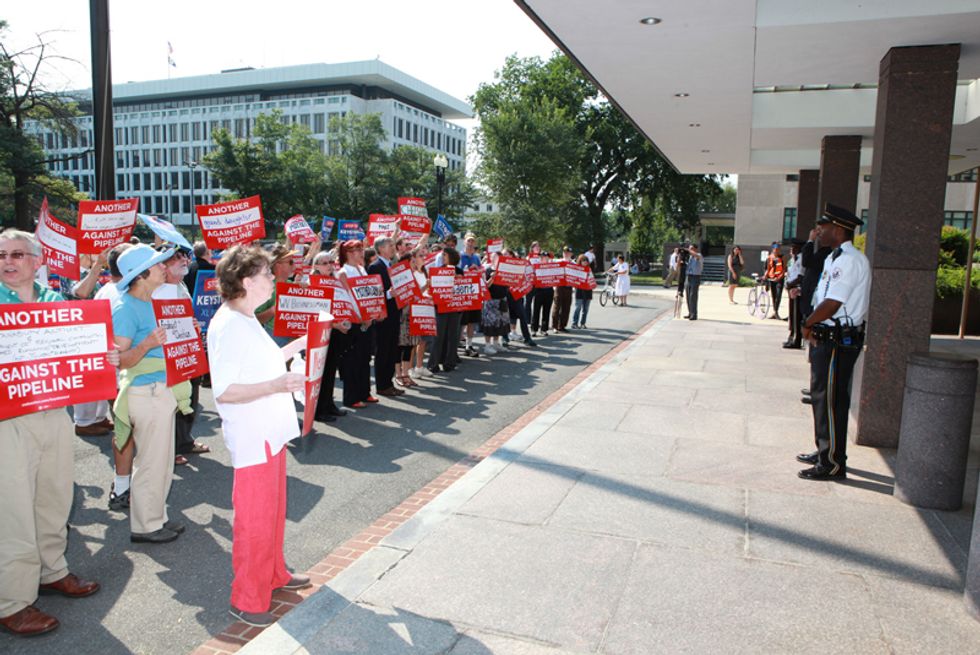 "History will not judge us kindly if we put the profits of a foreign oil company before the fight against climate change," said Jim Sandoe, Lancaster County director of OFA, who risked arrest at today's action. "It's my hope that President Obama will make good on his promise to fight climate change and will reject the Keystone XL pipeline."
"People are taking dignified action today to draw a line in the sand against oil-fueled politics and for a clean energy future for everyone," said Scott Parkin, senior campaigner at Rainforest Action Network. "Its past time for the President to fight for our climate with more than just words and put the Keystone XL pipeline proposal to bed."
"How many times do the American people need to catch the State Department in bed with Big Oil before John Kerry and the President take action to stop this dirty pipeline?" said John Sellers, executive director of The Other 98%.
More than 70,000 people have signed the Pledge of Resistance to risk arrest in peaceful, dignified civil disobedience, if President Obama's administration recommends approval of the Keystone XL pipeline. Today's action is the second civil disobedience action the groups have organized to maintain pressure on the president to keep his promise to fight climate change and reject the Keystone XL pipeline.
Visit EcoWatch's KEYSTONE XL page for more related news on this topic.
——–
Yesterday the Sierra Club and the American Institute of Architects (AIA) released a new print ad opposing the Hoeven-Manchin amendment—a special interest-backed attempt through to repeal energy conservation requirements for new federal buildings.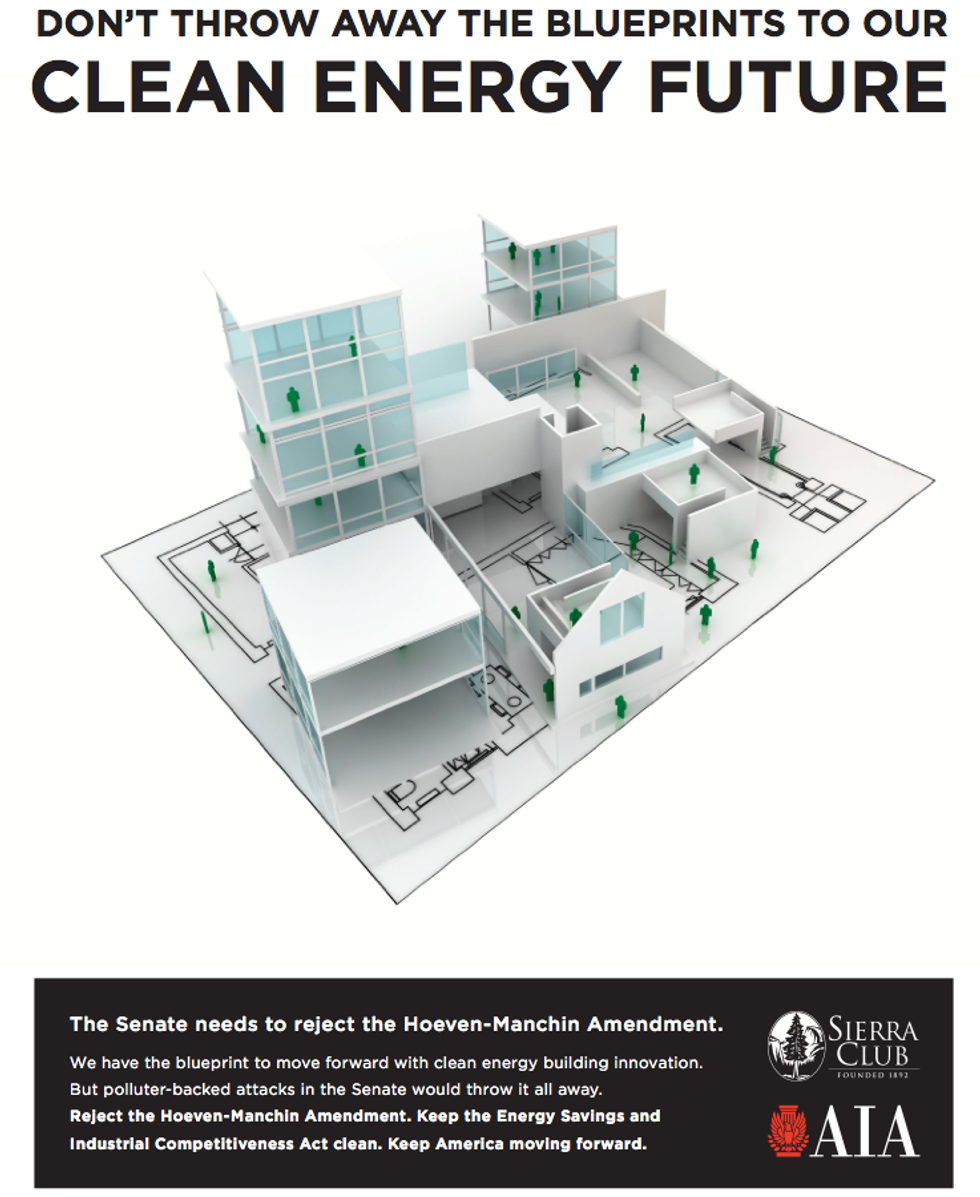 As a proposed addition to the otherwise strong and broadly supported Energy Savings and Industrial Competitiveness Act, introduced by Sen. Shaheen (D-NH) and Sen. Portman (R-OH), the amendment would repeal a key provision—section 433 of the Energy Independence and Security Act of 2007—which sets carbon pollution reduction targets for new federal buildings. The bill is expected to come to a floor vote in the coming days.
Overall, buildings contributed nearly half of U.S. CO2 emissions in 2010. Section 433 ensures that starting in 2030 new federal buildings, and those that undergo significant renovations, be carbon-neutral, in order to reduce their carbon footprint.
"To build a clean energy future, we have to start with buildings—we cannot adequately address the climate crisis without making our buildings cleaner and more efficient," said Dave Hamilton, clean energy director for the Beyond Coal campaign.
"Yet, Big Oil and Gas is trying to repeal strong, established laws and undermine clean energy innovation to stifle competition and pad profits at the expense of American families," he continued. "The Senate should reject this deplorable backdoor attack on clean energy innovation and climate progress."
As an alternative to the Hoeven-Manchin amendment, Sen. Whitehouse (D-RI) has introduced an amendment to clarify section 433 while retaining the overall purpose of the provision, which was passed into law in 2007.
"The future—and present—of the built environment around the world is energy efficiency," said Paul Mendelsohn, vice president, government and community relations at the AIA.
"If the U.S. wants to be on the cutting edge of the job-creating innovation, the federal government should lead by drawing the blueprints," Mendelsohn continued. "The Whitehouse amendment presents a reasonable compromise that will do just that."
Visit EcoWatch's CLIMATE CHANGE page for more related news on this topic.
——–
Today's decision by a federal appeals court upholds the contention by environmental groups that the Bush Administration's smog standards do not assure protection of forests and vegetation from ozone damage as the law requires. The court's judgment found that in 2008 the U.S. Environmental Protection Agency (EPA) violated the Clean Air Act when it refused to set protective standards and ignored the unanimous recommendation of its independent science advisors. However, the decision also upholds a health standard that these same scientific advisors had found failed to protect public health.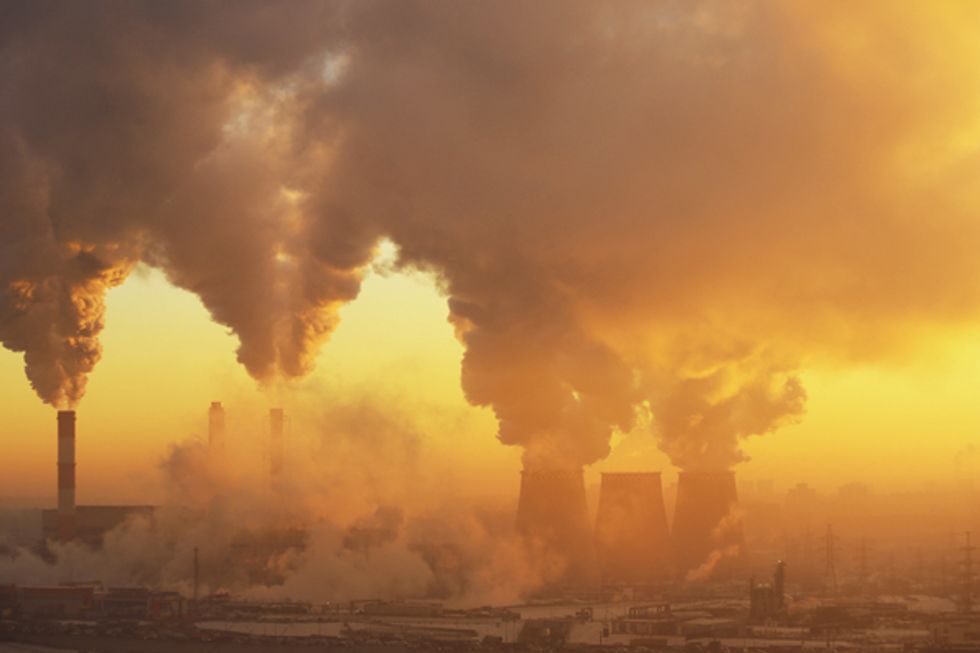 Photo courtesy of Shutterstock
The decision is the result of a suit brought by Earthjustice on behalf of the American Lung Association, Environmental Defense Fund (EDF), Natural Resources Defense Council, National Parks Conservation Association, and Appalachian Mountain Club. Also challenging the standards as too weak were the states of  New York, California, Connecticut, Delaware, Illinois, Maine, Maryland, Massachusetts, New Hampshire, New Mexico, Oregon, Rhode Island, as well as Washington D.C. and New York City.
Health and environmental groups initially filed suit against the Bush Administration following the final EPA decision in May 2008.  Shortly after taking office, the Obama Administration asked the court to put the case on hold while EPA reconsidered the evidence that the standards were too weak to protect public health and welfare. The two-year reconsideration included three public hearings showing overwhelming public comment urging stronger protections, as well as a restatement by the EPA's independent science advisors of their support for a tighter standard.
Then-EPA Administrator Lisa Jackson had concluded that the Bush-era ozone standards were not sufficiently or lawfully protective of public health. In an abrupt about-face, however, President Obama in September 2011, ordered EPA to leave the 2008 standards in place while continuing its ozone review slated for completion in 2013. EPA has now missed the statutory deadline for completing its ozone review and has not proposed any rulemaking yet.
These organizations resumed the legal battle following the Obama Administration's decision to continue to ignore the overwhelming scientific research and the opinion of experts that much stronger standards were needed.  
 
Sometimes called smog, ozone is a highly irritating gas found to shorten lives and worsen asthma and other lung diseases. It also is highly damaging to trees and plants, posing a major threat to the nation's forests. EPA's science advisers and the National Park Service told EPA a separate ozone standard was warranted to prevent these harms. Although EPA was poised to set such a standard, President Bush at the last minute ordered the agency not to include the secondary standards meant to protect our forests and national parks from smog.
 
"The Bush Administration violated the law in refusing to protect our forests from this dangerous pollutant," said Earthjustice Attorney David Baron. "EPA must now take strong action to repair the damage."
 
"Forested landscapes are important ecological resources that are highly valued for providing clean air and water as well as recreational opportunities that support local tourism economies. Protecting them from air pollution has always been a goal of the Clean Air Act, and this ruling underscores the importance of EPA acting on the science to do so effectively," said Georgia Murray, Appalachian Mountain Club staff scientist.
 
"Smog sickens and even kills some plants and trees, even in America's national parks, which are supposed to have the cleanest air in the country" said Mark Wenzler, vice president of Climate and Air Quality Programs at the National Parks Conservation Association. "The Obama administration now has an opportunity to follow the science, and not play politics with protecting our national parks and forests from air pollution damage."
 
The Court rejected challenges by health and environmental groups and states to EPA's 2008 health standard for ozone.  Although acknowledging that those standards were weaker than recommended unanimously by EPA's science advisors, the Court found that the agency had not acted arbitrarily in setting the weaker standards.
 
"There is no question that ozone makes people sick and can kill at levels well below the standard EPA set in 2008. Given that overwhelming evidence and the requirement to set the standard where it will protect public health, we are disappointed that the Court upheld this inadequate standard," explained Janice Nolen, American Lung Association Assistant vice president of national policy. "The evidence continues to grow that we need a stronger standard. The American Lung Association expects that the Obama Administration to follow the science and the law in the current review."
 
"The scientific evidence for a more protective standard has only become stronger since 2008," said Elena Craft, Health Scientist for EDF. "Notwithstanding today's decision, EPA must move forward with stronger standards to protect Americans' health with an adequate margin of safety in its legally-required review of the 2008 standard, which is now underway."
 
Not only had the EPA's science advisors found the health standard inadequate, major health and medical groups, in addition to the American Lung Association, had also supported a much stronger health standard, including the American Academy of Pediatrics, American Thoracic Society and the American Medical Association.
 
"The practical effects of today's ruling on the health standard should be minimal, because there is on ongoing standard-setting process in which EPA's science advisers and the nation's major medical societies have all said we need much stronger smog standards," said John Walke, clean air director for the Natural Resources Defense Council. "EPA needs to heed that advice, and protect our children and seniors who are especially at risk from smog."
 
The Court also rejected all challenges to the ozone standards by industry and the state of Mississippi.
Visit EcoWatch's AIR page for more related news on this topic.
——–

On Saturday activists from Climate First! entered, in succession and without incident, two TD Bank branches in Washington, DC, attempting to initiate discussions with the bank about its investments in the Keystone XL pipeline.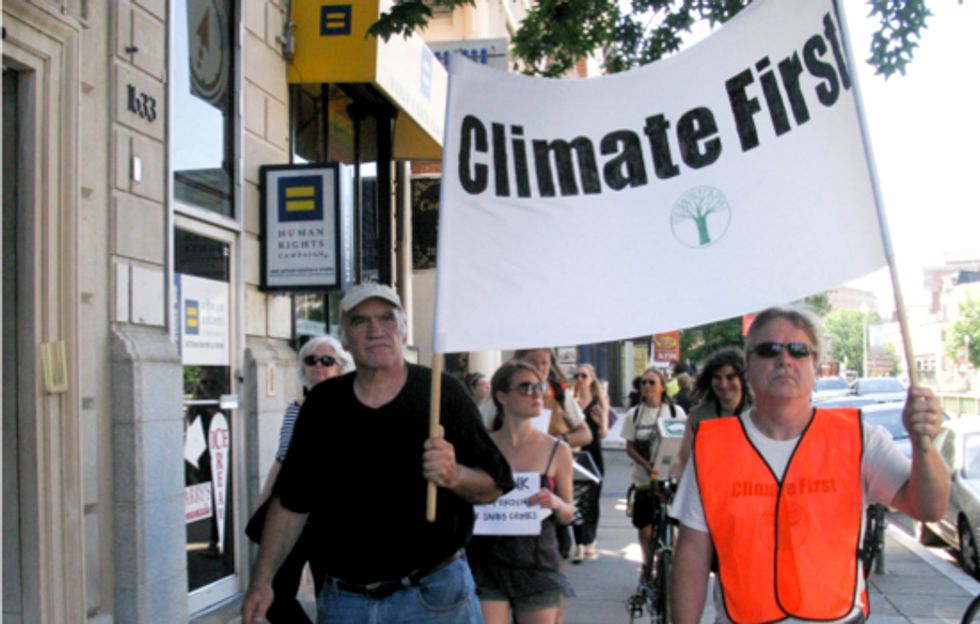 The action was taken one day after a TD Bank press release was issued—later discovered to be a clever prank by the environmental group, Tar Sands Blockade. The fake press release announced that the bank intended to sell all of its shares in TransCanada, the company seeking to build the pipeline in the U.S., due to the stock's financial risk, as well as the beating that the bank's "green" reputation has been receiving. Activists were surprised that neither bank manager showed any reluctance to speak with them.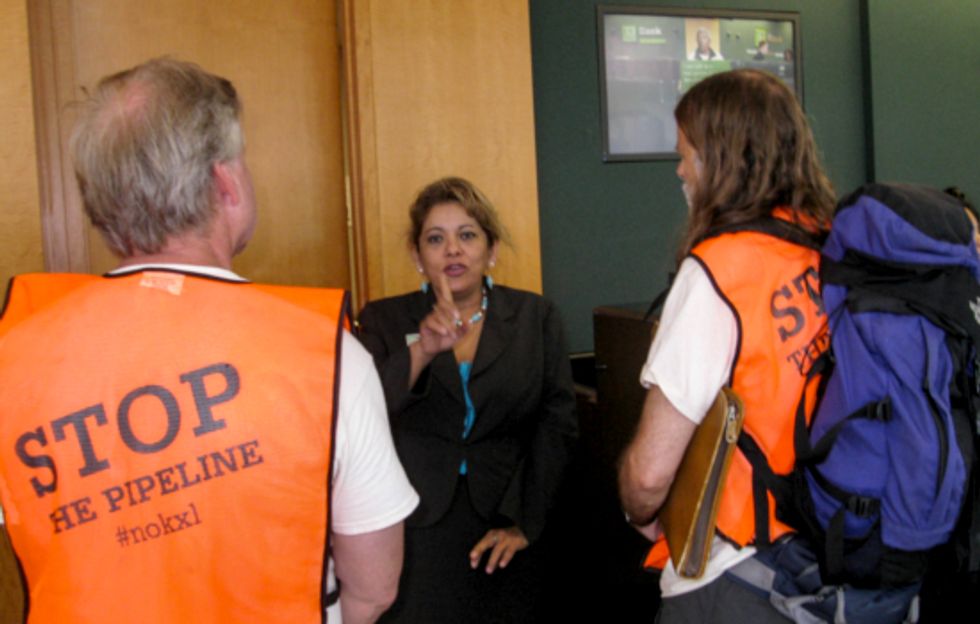 Ted Conwell and Brian Higgins of Climate First! conversed with both employees, asking why TD Bank had invested in carbon intensive fuels that many experts say could lead to climate instability if they all were burned for energy. Predictably, both managers responded that they were not authorized to speak on behalf of the bank regarding such matters, but would provide contact information for individuals who could respond. Climate First! will attempt to contact these individuals early this week in an effort to further the discussion.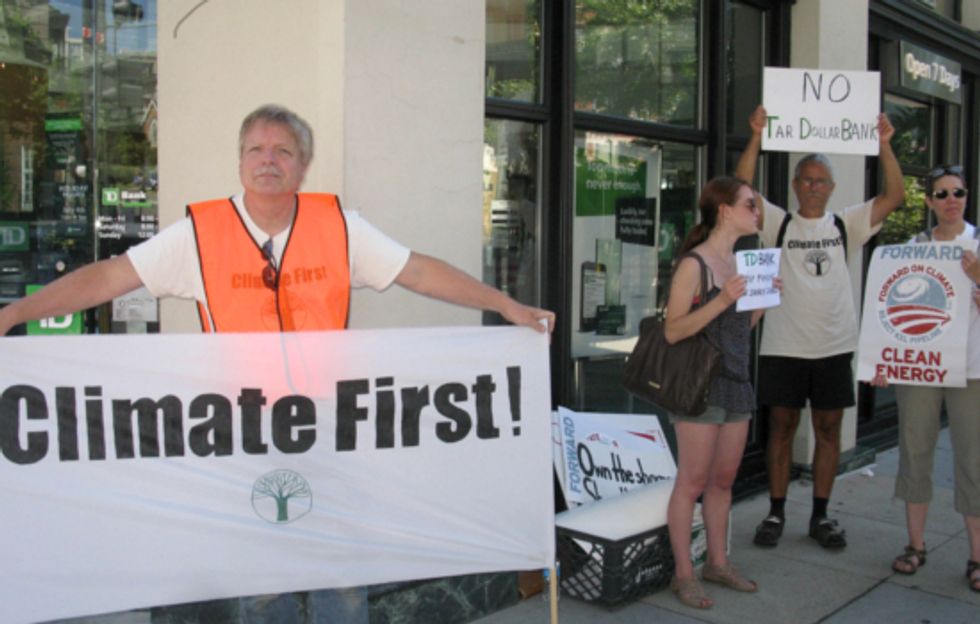 Visit EcoWatch's KEYSTONE XL and TAR SANDS pages for more related news on this topic.

[Editor's note: These are the prepared remarks for the commencement keynote on June 22 by John Armstrong from Frack Action to the New Roots Charter School in Ithaca, NY.]
What an honor and a privilege to be here with you all. I am blown away by the magnificent idea of New Roots to combine rigorous academics with the vision of empowering young people to create just, democratic and equitable communities powered by green, sustainable economies.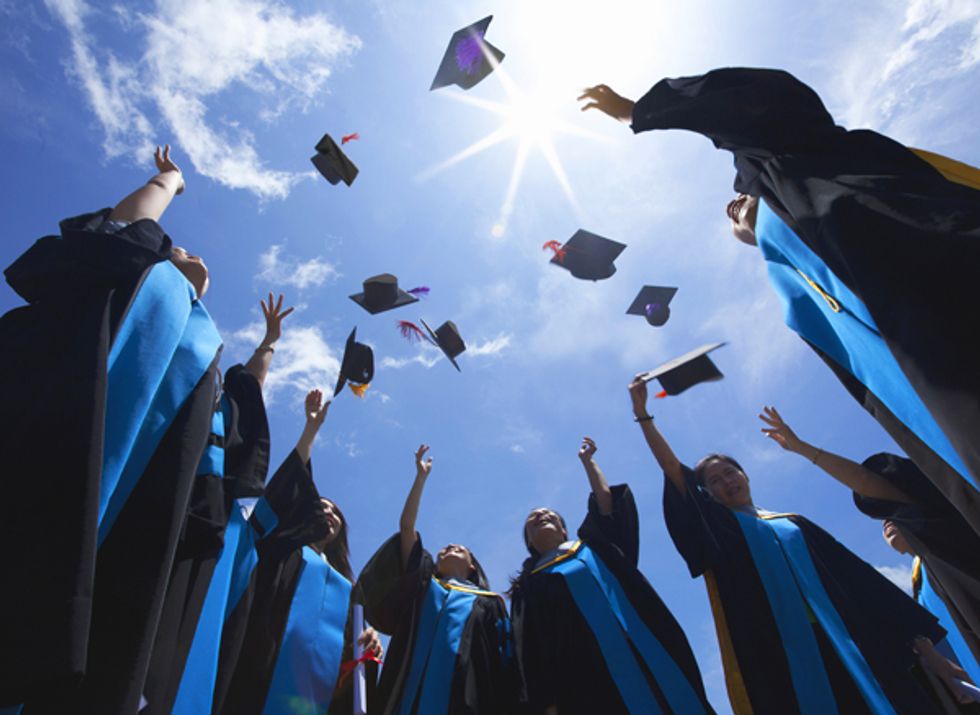 Photo courtesy of Shutterstock
Yours is no ordinary graduation. Today's rightful celebration marks the deployment of a force for good into a world that desperately needs your vision, energy and your convictions. Your class might not be the largest to graduate on this day, but mark my words, you could change the world.  
And you must. Right now the course of our future is being set by the fossil fuel industry, the most powerful corporations in the history of the world, and they're steering us off a cliff into a raging inferno. They fight each day to blow up more mountains for coal, demolish more land and oceans for oil and shatter more of the ground beneath our feet by fracking for oil and gas with a cocktail of the most toxic chemicals known to humankind. With each passing day that these interests set our course, with every additional ton of greenhouse gases emitted like a poison in our atmosphere, the drier the ink becomes on the bleak future written by the fossil fuel industry.
That future is one where oceans drown our coastal homes and cities, where biodiversity is diminished. It's a future where droughts will parch our agricultural fields and allow wildfires to run rampant. It's a future where clean, freshwater will be among the world's scarcest resources, and where smog and pollution suffocate our lungs and the planet's.
Given the fossil fuel industry's seemingly unlimited money and political influence, changing their course and taking control of our future is a tall order. But again, we must. And all of you, yes at your young ages, can make the choices that lead you to seize that control.
I turned 24 last month, and I can tell you how significant a difference each of us can make, how important the choices we make can be and the power we have as youth in this country.
I've made some of those choices. I studied ecology at Cornell, following my love of scientific research. After my undergraduate, I planned to pursue a doctorate and launch a career in research. I was particularly interested in studying high-elevation, mountainous ecosystems and how climate change would affect them. One example I worked on stands out. There's a bird in New York's Catskill Mountains called the Bicknell's Thrush, a threatened species that only lives in ecosystems unique to the highest 600 feet of the tallest mountains.
To cut to the chase of a lot of data, detailed spreadsheets and a great deal of literature, climate change is bad news for the Bicknell's Thrush. As the climate warms, ecosystems and other species' ranges will shift and those 600 feet of habitat will become 400, 200 and eventually none. The appropriate conditions for the Bicknell's Thrush will be above the top of the highest mountains. In other words, no more Bicknell's Thrushes in the Catskills.
My research was essentially projecting the effects of climate change over time, which are mostly negative, often disastrous, and in this case meant projecting the demise of the Bicknell's Thrush in the Catskills over the next 50 years or so. It hit me that I would ultimately be judging my success by how well I had predicted the demise of a species and an ecosystem I cherished.
How's that for a career and your life's work?
Around the same time, a professor pointed me to an opportunity to work for a year in environmental advocacy after graduating. I didn't really know what that was, but as I looked into it more and more, I realized it was a chance to directly affect our future, to campaign for laws that reduce greenhouse gas emissions, safeguard important environmental protections and build a movement to stop the worst impacts of climate change and environmental destruction. On this path, in 50 years I could judge my success not by how well I predicted the demise of species and ecosystems, but by how well they are doing.
I guess you know what choice I made. In that year, I was part of a successful campaign to save our nation's best climate laws in California from a couple of Texas oil companies; I worked in Maine to protect the Clean Air Act from extreme special interests; and I worked on Power Shift in our nation's capital to build the youth climate movement.
After Washington DC, I had another job lined up in New Hampshire. But I'd been learning more and more about fracking. I saw the disaster that was taking place in Pennsylvania, the research showing that fracking is one of the worst things we could do for the climate, and that widespread fracking was on the verge of being allowed in New York State. Worse yet, I saw that fracking was pushing out renewable energy, falsely being sold as a clean transition fuel, and was on track to expand exponentially across the country and the world.
I knew that the oil and gas industry had set a course for a future dominated by fracked oil and gas. If we were going to stop them, we would have to make a stand in New York.
With that conviction, I chose not to take the job in New Hampshire and instead committed myself 100 percent to stopping fracking. I moved back to New York and joined up with a couple of young women who had recently started an organization called Frack Action with the mission to stop fracking outright.
We believed that if we could stop it in New York, that would send shockwaves across the country and the world and we could also stop it elsewhere. It's a lofty goal, but one we must reach to prevent the worst impacts of climate change and to create a renewable energy future.
Given the political landscape, we saw an urgent need to better coordinate the growing grassroots movement and leverage its power across the state, in Albany and in the media. As it stood, the grassroots weren't being heard in our capital, where an army of gas industry lobbyists and a sophisticated propaganda campaign were drowning out our voices and the science.
At that point, Frack Action had a terrible website, a few hundred likes on Facebook and Twitter, and no funding. But the group of us all had some good political experience and an abundance of determination. We worked tirelessly off savings, loans and some small contributions. Frack Action organized the first major rally for a ban in Albany with a record breaking 500 people. With many allies, we went on to build out the movement, educating businesses, farmers, elected officials and combating the gas industry's lies with science and facts. Countless rallies and press conferences got the truth out and helped build the movement across the state.
And the movement was growing like wildfire, with each grassroots group inspiring another and each local action igniting the next.
Our work with the media began to change the discussion from when and how fracking would take place to whether it would take place. And today, the call for a full statewide ban is the prevailing demand. Our voices would go on to carry across the state, nation and even the world in thousands of news stories, informing the public and the national debate while also pressuring our elected officials.   
Ultimately, our vision of a coordinated movement that could effectively leverage its influence turned into what is now the mighty New Yorkers Against Fracking coalition of over 200 organizations.
This past Monday, two years and a month after that first rally for a ban in Albany, over 3,000 people descended on Governor Cuomo's doorstep to demand a frack free future powered by renewable energy. We made the case, and we made it loudly and forcefully, for a better future. Our voices resonated throughout the capitol and across the state and the nation in well over a hundred news outlets. The same morning, a poll showed statewide opposition to fracking significantly ahead of support.
By keeping fracking out this long, we've all done what many political insiders, elected officials and mainstream environmental organizations promised us was impossible. But this isn't a fight for what seems possible—it's a fight for what's necessary. We haven't won yet, but we've certainly changed the playing field. And our growth is exponential, not linear.
Meanwhile, the world is watching us in New York and similar coalitions and actions are popping up everywhere. We've helped empower a serious national and international movement against fracking.
In leaked documents, the gas industry notes how effective we are and the danger we pose. In other words, they're worried that we are changing the course they've set for a future dominated by fracked oil and gas.
We must.
Our movement is broad and diverse. But that's a result of the choices a relatively small number of individuals have made to dedicate ourselves to this cause, with the belief that we can change the course of our future. If not for those choices, we would have had fracking years ago and that future would loom darker. What I've come to know, and I know this for certain, is the incredible difference regular, individual people can make if they choose to.
They always have. An hour north of here in the town of Seneca Falls in 1848, one such individual named Elizabeth Cady Stanton led a group of 68 women and 32 men in signing the Declaration of Sentiments. Modeled after the Declaration of Independence, it asserted the equality and rights of women. A small group of women's vision, choices and action thus marked the beginning of the women's rights movement in the United States. From Seneca Falls they went forward with stalwart determination, and today we all benefit greatly from their resolve and their action.
Those women weren't so different than you and I.
One of the men who signed the Declaration of Sentiments was Frederick Douglass, who escaped slavery and became a leader of the abolitionist movement. He had the courage to fight the establishment for what was right in the face extraordinary odds and very personal attacks. Yet his words and his convictions inspired a movement and broad support ranging from everyday people to President Abraham Lincoln. He knew that you have to fight for the change you want to see in the world.
In his words, "If there is no struggle there is no progress. Power concedes nothing without a demand. It never did and it never will."
These powerful words ring true in the environmental movement as well. In 1962, marine biologist and author Rachel Carson challenged the powerful chemical and pesticides industry with her book Silent Spring. Industry fiercely opposed her work, but Caron's powerful voice carried the science and rang true, leading to a reversal of national pesticide policy and a ban on DDT. As pollution ran rampant, her uncompromising voice also inspired a grassroots environmental movement.
In 1970, Wisconsin Senator Gaylord Nelson created Earth Day, which marked a pivotal turning point away from a future of unchecked pollution and toxic chemicals. Twenty-six year old Dennis Hayes coordinated the event nationally with a team of 85 people, turning out a shocking 20 million Americans demanding environmental reform. Later that year, as a result of the public outcry, Congress created the U.S. Environmental Protection Agency and enacted the Clean Air Act. The Clean Water Act would follow in 1972.
Isn't that amazing?
Today we face climate change, perhaps the greatest challenge humankind has ever faced.
Yet as hard as it will be to meet, this is a moment of hope, not despair. If history is any guide, don't doubt the power of individuals and small groups of people to change the course of our future.
We are those people.
Can you imagine if 20 million people took to the streets tomorrow to demand action on climate change?
We have the science showing we have to take serious action. We have the technology to makes the changes. We need the political will.
That's up to us. As youth, our voices can carry far. Both the Democratic and Republican parties recognize that youth played a major role in the last two presidential elections. Corporations know that the purchasing habits we make now last for life, and as a result listen to us intently. But most importantly, we have a vision for a better world, and we can make that vision a reality with the right determination and action. It's our future, and it's time we take ownership of it.
Recall the words of Frederick Douglass, "Power concedes nothing without a demand."
Uncompromising, let's make that demand. Let's give science the force of 20 million people pushing it forward. With love and resolve, let's take control of our future.
In closing, I implore you all: give your convictions the power of action. Wherever you go from here, make the choices to make a difference.
Visit EcoWatch's FRACKING and CLIMATE CHANGE pages for more related news on this topic.
——–
Sign the petition today, telling President Obama to enact an immediate fracking moratorium: