This website uses cookies to ensure you get the best experience while browsing it. By clicking 'Got It' you're accepting these terms.


The best of EcoWatch, right in your inbox. Sign up for our email newsletter!
SOPA Images / Getty Images
By Sarah Vogel
Monday, Walmart announced that it will stop selling paint strippers containing methylene chloride or N-methylpyrrolidone (NMP) in stores by February 2019—making it the first general merchandise retailer to take such action. Walmart's announcement follows the strong leadership demonstrated by Lowes, Home Depot and Sherwin Williams, all of which have committed not to sell methylene chloride- and NMP-based paint stripping products by the end of the year. Importantly, Walmart's action goes beyond its U.S. stores, including those in Mexico, Canada and Central America, as well as their online store.
A robot bee from a season three episode of Black Mirror on Netflix
With the mass die-off of bees spelling trouble for agriculture, the world's largest retailer has filed patents for the use of "unmanned vehicles," or drones, to aid with pollination and crop production.
In U.S. Patent Office documents made public last week, Walmart has applied for six patents on drones designed to identify pest damage, spray pesticides and pollinate plants.
EcoWatch Daily Newsletter
Pexels
By Elizabeth Sturcken
Feeling down about our planet in 2018? Don't!
There are many reasons to be hopeful around environmental action in the new year—and if the following developments don't make you feel better, I've prescribed some action steps at the end that are guaranteed to set you on a healthier, happier path.
16:9clue / Flickr
By Dan Nosowitz
A lawsuit has been filed in a California district court against two of the biggest companies in the country: Walmart and Cal-Maine Foods. The lawsuit claims that Walmart and Cal-Maine—the latter is one of the biggest egg producers in the U.S.—lied to customers about the treatment of hens whose eggs were sold at Walmart. The alleged lie? The packaging claimed "outdoor access," yet the birds are not permitted to go outside.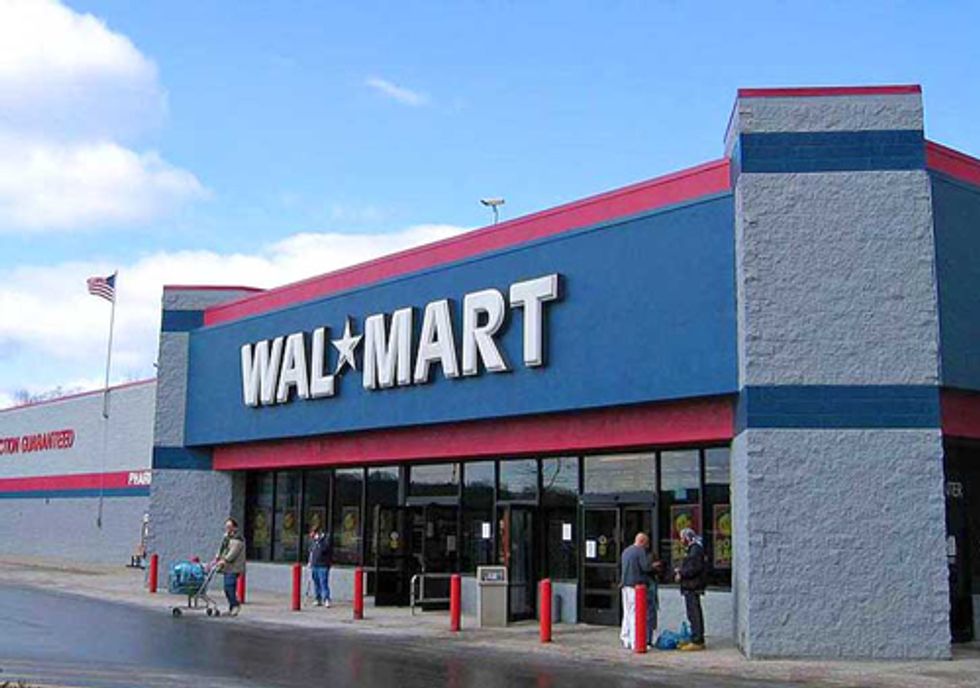 As Walmart releases its fourth quarter earnings on Feb. 21, Food & Water Watch released a report analyzing the rift between Walmart's marketing claims and the true impact the company has on the food system. Why Walmart Can't Fix the Food System finds that Walmart's recent high-profile initiatives to bring healthier fare to food deserts, expand healthy food offerings including local and organic food, and be environmentally sustainable are merely window dressing to divert attention away from the company's business model, which squeezes farmers, workers and processors, and drives food production to become more consolidated and industrialized.
"From press conferences with the First Lady, to promises to buy local produce, to the 'Great For You' healthy labeling scheme they just announced, Walmart's PR machine has been on overdrive for the past couple years as it tries to polish its tarnished image," said Wenonah Hauter, executive director of Food & Water Watch. "The truth is, Walmart is still the retail giant that exploits its workers and suppliers to undercut all other competition, which leaves consumers with a lot less choice. Unless it changes its business model, Walmart cannot help us move towards a more sustainable food system."
Walmart is the biggest company in the U.S. with 2010 sales of $419 billion, a little over half of that coming from grocery sales. In the past 12 years since it began selling food alongside other retail products, Walmart has become the largest food retailer in the U.S. One out of every three dollars spent on groceries in the U.S. goes to Walmart.
Food isn't just good business for Walmart—it's the cornerstone of the company's public relations offensive. The report analyzes Walmart's ambitious campaign to convince skeptical local governments and communities that the company can alleviate the problem of food deserts—low-income areas with little access to fresh food. Contrary to the company's claims, report explains that Walmart's motivation is to break through the strong community opposition that has successfully blocked Walmart from many urban markets including New York, Los Angeles, and until 2006, Chicago.  
"Plunking down a big-box store in the middle of a community with a lack of access to healthy food will not solve this complicated problem," said Hauter. "Selling fruit and vegetables is one step, but all communities, especially those that are struggling financially, will be better served for the long term by local businesses that put money back into the community by paying livable wages and buying from local and regional suppliers and farmers whenever possible."
Walmart's other good food pledges such as buying local, offering more organic foods and being environmentally responsible are probed in the report, which describes Walmart's business model of driving down costs at every step in the supply chain without consideration for the costs to employees, food producers and the environment.
To conclude, the report advises local governments to seek better solutions to increase communities' access to healthy food and encourages the federal government to investigate Walmart's anticompetitive practices and its impact on the food chain—and adapt food and farm policy that strengthens regional food systems and food assistance programs that will provide healthy, affordable food to all communities.
On Thursday, Feb. 23, a press conference will be held on the steps of City Hall in New York City in conjunction with the Walmart-Free NYC campaign. Food & Water Watch's Executive Director Wenonah Hauter will speak alongside national and local community and labor leaders who will also be available for interviews.
To read the full report, click here.
For more information, click here.