This website uses cookies to ensure you get the best experience while browsing it. By clicking 'Got It' you're accepting these terms.


The best of EcoWatch, right in your inbox. Sign up for our email newsletter!
Two silver-backed chevrotain caught on camera trap. The species has only recently been rediscovered after being last seen in 1990. GWC / Mongabay
By Jeremy Hance
VIETNAM, July 2019 – I'm chasing a ghost, I think not for the first time, as night falls and I gather up my gear in a hotel in a village in southern Vietnam. I pack my camera, a bottle of water, and a poncho; outside the window I can see a light rain.

People visit The Bund before typhoon Ampil landfall on July 22, 2018 in Shanghai, China. VCG / Getty Images
EcoWatch Daily Newsletter
A new mole species named Euroscaptor orlovi discovered in northern Vietnam. WWF
Not every newly-discovered species becomes a cartoon character. But the Vietnamese crocodile lizard (Shinisaurus crocodilurus vietnamensis) has achieved such fame as "Shini," a lizard who teaches the importance of protecting his species to local schoolchildren.
The lizard is just one of 115 species—including a snail-eating turtle and a horseshoe bat—discovered in the Greater Mekong region in 2016. That's an average of more than two new species found each week. A new WWF Report, Stranger Species, documents the work of hundreds of scientists around the world who have discovered previously unknown amphibians, fish, reptiles, plants and mammals in Cambodia, Laos, Myanmar and Vietnam.
A passerby looks at a picture that is part of a campaign to save the rhino in Ho Chi Minh City, Vietnam. Photo credit: Michael Tatarski / Mongabay

By Michael Tatarski
Throughout the month of March, a unique graffiti campaign popped up on the walls of several streets in downtown Ho Chi Minh City, the hyperactive commercial capital of Vietnam. The works differed from the usual tags and designs that adorn urban areas around the world. The graffiti pieces, 17 in all, carry a simple message: "Save the rhinos" or "Cứu tê giác" in Vietnamese.
By Christina Sarich
One of Monsanto's former companies, among nine contractors responsible for creating Agent Orange, sprayed more than 20 million gallons of the herbicide on an area of South Vietnam about the size of the state of Massachusetts between 1962 and 1971.
In a caustic plot twist, the Vietnamese government says it hopes to have 30 to 50 percent of its cropland planted with GMOs by 2020—exactly 55 years after the U.S. government first devastated Ho Chi Minh City and surrounding areas.
U.S. Huey helicopter spraying Agent Orange over Vietnam.Wikimedia Commons
Monsanto and the U.S. government alike have issued statements saying Monsanto deserves no blame for making chemical agents that have caused hundreds of thousands of birth defects and contaminated Vietnam's land so inexorably that even without applying additional herbicides to transgenic crops, they shall remain toxic for decades.

Babies are still being born today with horrific birth defects—decades after Agent Orange was sprayed so haphazardly across Vietnam. Nearly 4.8 million Vietnamese people have been exposed, causing 400,000 deaths and a grab bag of health issues that would make a haunted house seem cheery. An estimated 650,000 victims are suffering from chronic illnesses linked to Agent Orange in Vietnam, alone.
The Vietnamese government has never officially stated its stance on the grievous actions of Monsanto and other military contractors for the U.S., focusing instead on reparations for victims of Agent Orange. As one of the makers of Agent Orange, Monsanto claims they were just following the recipe for the formula as directed by the U.S. government.
Instead, the country seems to be embracing a company headquartered in the U.S. and its incessant propaganda promoting genetically modified organisms.
Furthermore, dioxin, found in Agent Orange, is one of the most dangerous chemicals ever made by man. Though the U.S. military carries out orders to help remove dioxin "hot-spots," their actions include heating the old Da Nang air base to temperatures above 600 degrees Fahrenheit, a level said to render the toxin harmless. There is no scientific proof that this even works.
A draft report released for public comment in September 1994 by the U.S. Environmental Protection Agency clearly describes dioxin as a serious public health threat, yet Cao Duc Phat, Vietnam's former agriculture minister says there's no problem. "GMOs are a scientific achievement of humankind, and Vietnam needs to embrace them as soon as possible," he stated.
This is a surprising statement since dioxin and other herbicides are part of the overall platform upon which genetically modified crops are sold. According to the U.S. Department of Agriculture, in recent years, more than 93 percent of soy planted in America was "herbicide tolerant," meaning it was engineered to withstand herbicides (sold by the same companies who patent and sell the seeds).
Although the toxicity of dioxins harms human health through other means of contamination, such as through industrial emissions, Enlist Duo, the latest herbicidal development by Dow Agrochemical and Monsanto is a combination of both 2,4-D and glyphosate. It has been called the "Agent Orange" of GMOs by environmentalists, though others dispute this fact.
Meanwhile, Monsanto, who has absolved themselves from any responsibility in practically defecating on Vietnam with their insidious chemicals, is creating yet a new herbicide for use in the U.S. Companies like Dow Chemical and Bayer are also implicated in putting more dioxin into the environment—and they too promote the GMO agenda.
Enlist Duo—the latest herbicide, which is a combination of 2,4-D (another component of Agent Orange), choline and glyphosate—is set to be approved anytime.
Dekalb Vietnam, which operates under U.S. mega-corporation Monsanto; Pioneer Hi-Bred Vietnam, under the U.S.'s Dupont; and Syngenta of Switzerland have been licensed to carry out lab research and tests on genetically-modified seeds in Vietnam since 2011.
Moreover, Monsanto received the endorsement of the Ministry of Agriculture and Rural Development, which announced that their worm- and weed-killer-resistant varieties are "environmentally friendly."
Fifty-five years after rendering almost an entire country cancerous, chemical companies like Monsanto are welcomed with open arms into Vietnam. It boggles the mind.
Reposted with permission from UndergroundReporter.org.
By Tim Radford
By 2050, flood damage in the world's coastal cities is expected to reach $1 trillion a year as sea levels rise and global warming triggers new extremes of heat, windstorm and rain.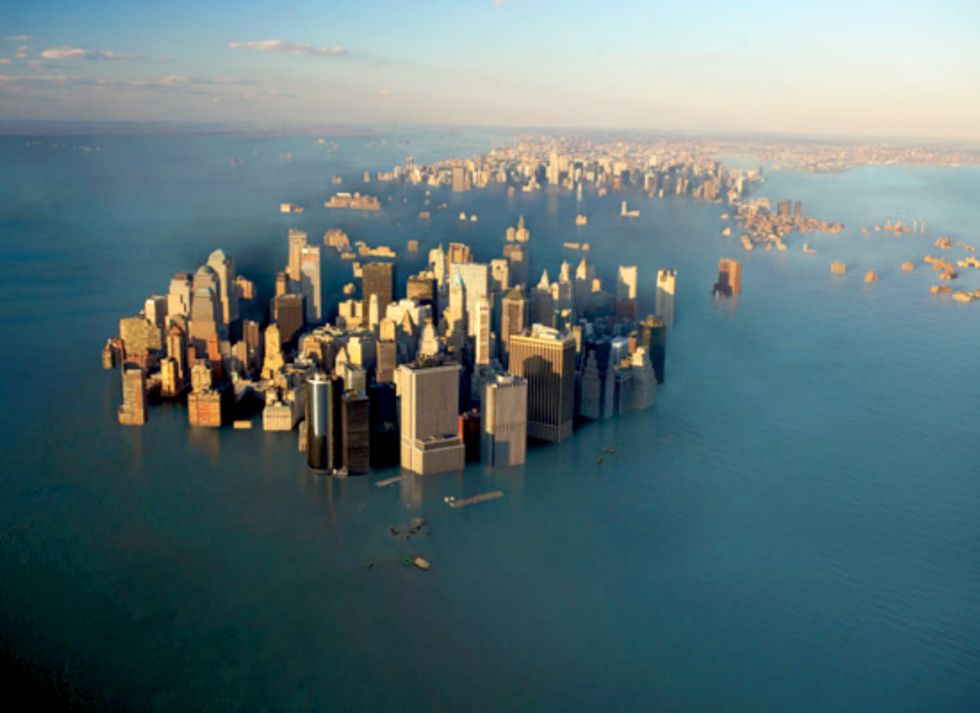 More than 40 percent of these prodigious costs could fall upon just four cities—New Orleans, Miami and New York in the U.S. and Guangzhou in China.
Stephane Hallegatte of the World Bank in Washington and colleagues looked at the risks of future flood losses in the 136 largest of the world's coastal cities.
Any coastal city is always at some risk—by definition it is at sea level, and often on an estuary or floodplain, and very often began as a seaport.
But risks increase as the environment changes: some coastal cities are subsiding; sea levels are slowly but surely rising as the oceans warm and the glaciers melt; and for two decades researchers have repeatedly warned that what used to be "extreme" events such as once-in-a-century floods are likely to arrive considerably more often than once a century.
But, Hallegatte and colleagues point out in Nature Climate Change, there is another factor: populations are growing, and even in the poorest nations there is greater economic development. At bottom, for any future disaster, there will be more potential victims, with more investment to lose.
In 2005, average global flood losses are estimated to have reached $6 billion a year. This figure is expected to grow to $50 billion a year, and unless cities put money into better flood defenses, losses could pass the $1 trillion mark.
To make their calculations, the authors matched average annual losses (and in a city like New Orleans, much of it already below sea level, this is estimated at $600 million) against a city's gross domestic product, to provide a measure of how much should be set aside to pay for such losses.
Both New York and New Orleans have already undergone catastrophic flooding this century, and flood hazard can only increase.
Some cities—Amsterdam in the Netherlands is a classic example—are highly exposed to flood risk, and the once-a-century flood could cost the Dutch $83 billion, but in fact Dutch sea defense standards are probably the highest in the world. Ho Chi Minh City in Vietnam and Alexandria in Egypt have less to lose, but in relative terms both are far more vulnerable.
Prophecies such as these are intended to be proved wrong: the idea is that a prophet warns of horrors to come, people take steps and as a consequence the horrors do not arrive.
But as disaster professionals have learned again and again, governments, city authorities, investors and even citizens tend not to listen to prophecies of doom: scientists and engineers repeatedly described what could happen to New Orleans if it was hit by a powerful-enough hurricane, and in 2005, as Hurricane Katrina arrived, the levees gave way with catastrophic results.
But, the scientists warn, Miami, New York and New Orleans are especially vulnerable, because wealth is high but protection systems are poor, and governments should be prepared for disasters more devastating than any experienced today.
The paper's authors argue that with systematic preparedness and adaptation, annual flood losses in the great global cities could be cut to $63 billion a year.
Engineering projects can help, but will not be enough, so civic authorities should also be thinking about disaster planning and comprehensive insurance programs to cover future losses.
Since risks are highly concentrated—any city piles millions of people and billions of dollars of investment into a relatively small area—flood reduction schemes could be highly cost-effective.
Visit EcoWatch's CLIMATE CHANGE page for more related news on this topic.
——–

By Mitch Jones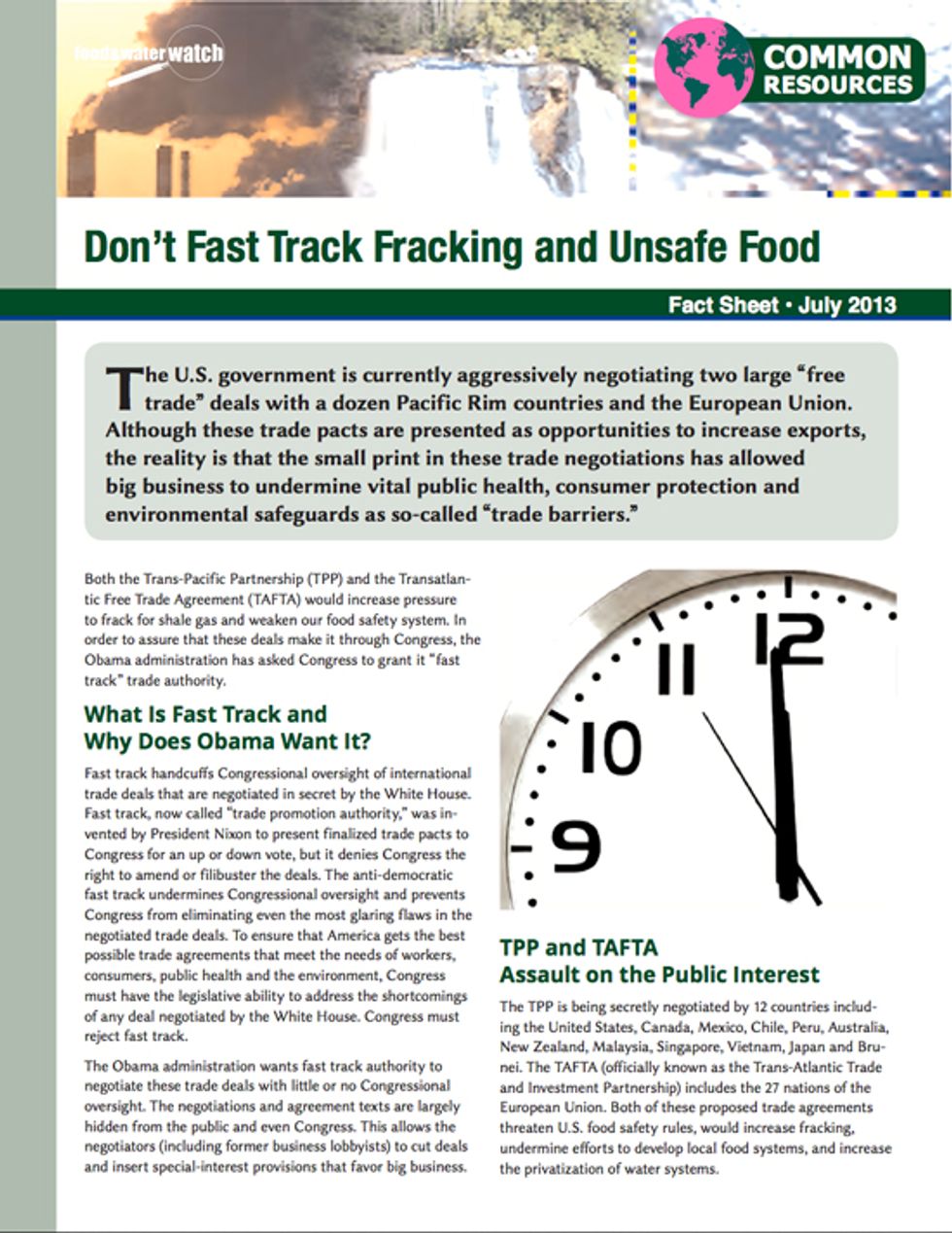 We've all seen the results in states across the country of the influence that the American Legislative Exchange Council and the Koch Brothers have amassed. And if you think the results of their agenda to hand more and more power to corporations at your expense are bad, you should really hate the new "trade" deals being negotiated to hand even more power to corporations at our expense.
The Transpacific Partnership (TPP) is being secretly negotiated by 12 countries, including the U.S., Canada, Mexico, Chile, Peru, Australia, New Zealand, Malaysia, Singapore, Vietnam, Japan and Brunei. The Trans Atlantic Free Trade Agreement (TAFTA) includes the 27 nations of the European Union. Both of these proposed trade agreements threaten U.S. food safety rules, infringe upon public and private land with an increased push for fracking, undermine efforts to develop local food systems and increase the privatization of water systems.
While its supporters talk about them as "trade" deals, in reality the TPP and TAFTA would be a permanent power grab by corporations and their financiers that would make it impossible for future generations to choose what laws and rules they want to live under. They would permanently enshrine the very economic system that has lead to greater imbalances in income and wealth and increasing economic crises. These deals would also allow foreign corporations to sue the federal, state and local governments over laws and policies that violate the "trade" deal, but protect us from unsafe food, dirty water and dangerous fracking. It's outrageous!
How do we know that these deals will give more power to corporations and leave our children, our air and water, and our food safety at greater risk? Because while the American people aren't being told what's in the deal, and while members of Congress are being shut out of the negotiations, representatives from more than 600 corporations and corporate interests are able not only to see the text of the agreement, but also are able to help influence what goes into it.
We need to stop these trade deals before they give even more power to corporations. Food & Water Watch just published a new fact sheet, Don't Fast Track Fracking and Unsafe Food, with extensive details on these trade agreements and provides information on how to contact your representatives to oppose these corporate giveaways.
Visit EcoWatch's FOOD and FRACKING pages for more related news on this topic.
——–
SHARE YOUR THOUGHTS BELOW: What do you think would be the result of these trade deals in the U.S.?

——–

By Katherine Paul and Ronnie Cummins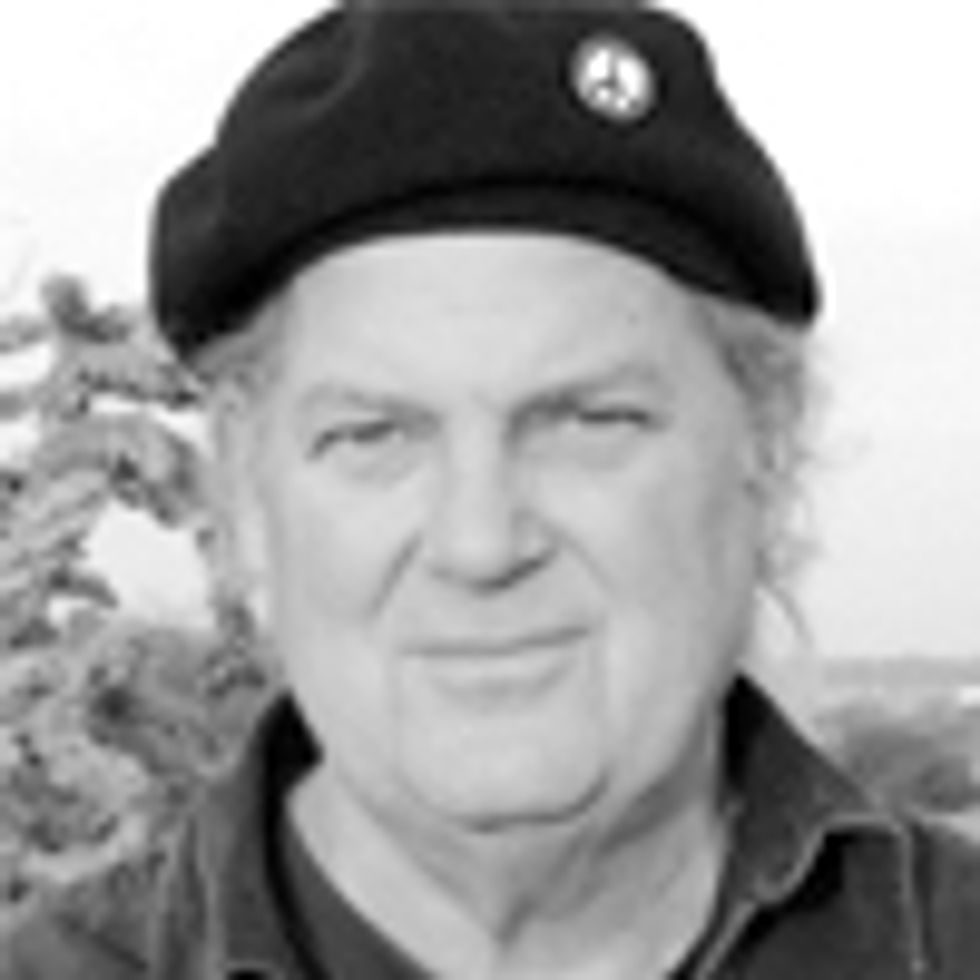 If you think the U.S. government is doing a sub-par job of keeping your food safe, brace yourself. You could soon be eating imported seafood, beef or chicken products that don't meet even basic U.S. food safety standards. Under two new trade agreements, currently in negotiation, the U.S. Food and Drug Administration could be powerless to shut down imports of unsafe food or food ingredients. And if it tries, multinational corporations will be able to sue the U.S. government for the loss of anticipated future profits.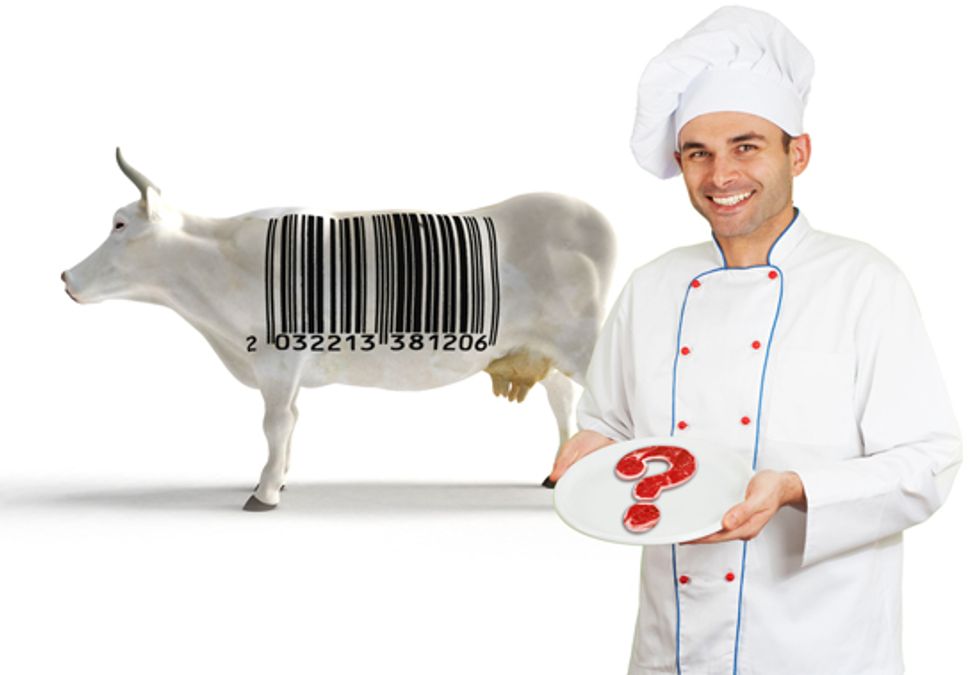 Photo courtesy of Shutterstock
More frightening? Negotiations for both agreements are taking place behind closed doors, with input allowed almost exclusively from the corporations and industry trade groups that stand to benefit the most. And the Obama Administration intends to push the agreements through Congress without so much as giving lawmakers access to draft texts, much less the opportunity for debate.
Designed to grease the wheels of world commerce, the Trans-Atlantic Trade and Investment Partnership (TTIP) and the Trans-Pacific Partnership (TPP) would force the U.S. and other participating countries to "harmonize" food safety standards. That means all countries that sign on to the agreement would be required to abide by the lowest common denominator standards of all participating governments. So for instance, say Vietnam allows higher residues of veterinary antibiotics in seafood than the U.S. allows, and Vietnam and the U.S. both sign on to the TPP. As a trade partner, the U.S. could be forced to lower its standards to allow for imports of seafood from Vietnam—or face a lawsuit by the seafood exporter for depriving the company of future sales of its products in the U.S.
The U.S. has already had a taste of this type of policy under the North American Free Trade Act. In 2005, the Canadian Cattlemen for Fair Trade sued the U.S. the U.S. government for banning imports of beef and live Canadian cattle after a case of mad cow disease was discovered in Canada. In the end, the U.S. prevailed, but not until it had spent millions to defend itself in court. Mexico wasn't so fortunate when three companies (Corn Products International, ADM/Tate & Lyle and Cargill) sued the Mexican government for preventing imports of high fructose corn syrup. Mexico lost all three cases, and was forced to pay out a total of $169.18 million to the three firms.
Among the many gifts to Big Ag contained in the TTIP and TPP include back-door entry for their genetically modified seeds and crops. Countries, including those in the European Union, could find it increasingly difficult to ban, or even require the labeling of, genetically modified organisms (GMOs), if biotech companies determine that those countries' strict policies restrict fair trade and infringe on the companies' "rights" to profit.
The TTIP and the TPP are, individually and combined, two of the largest free trade agreements in world history. According to the Citizens Trade Campaign (CTC), the TPP alone covers 40 percent of the global economy. That percentage will likely grow, because the agreement allows for other countries, besides the 12 currently involved, to "dock on" after the agreement is in place.
Both the TTIP and TPP could have dangerous consequences for food safety in the U.S., and around the world. But they're not limited to food or agriculture policy. Both also contain sweeping policies that could affect everything from the environment and sustainability, to healthcare, Internet freedom and the financial markets. Given the potential of these agreements to shape global policy on so many fronts, it's reasonable to assume that negotiators would actively solicit, and take into careful consideration, input from the affected parties, including consumers, farmers and governments. Instead they've taken the opposite approach. From day one, negotiations for the TTIP and TPP have been shrouded in secrecy. The public and participating governments, including the U.S. Congress, have been shut out of the negotiating process, denied access to everything from early proposals to final draft texts.
Why the secrecy? The Obama Administration wants as little public debate as possible, so it can ram the agreements through Congress using something called "Fast Track." Fast Track, a product of the Nixon presidency, strips Congress of its authority to control the content of a trade deal and hands that authority over to the executive branch. Congress gets a vote, but only after the negotiations have been completed, and the agreements have been signed. No debate. No amendments. Just a fast, forced vote, too late for Congress to have any influence. According to the CTC, two-thirds of Democratic freshmen in the U.S. House of Representatives have expressed serious reservations about the TPP negotiations and the prospect of giving Fast Track authority to the President. And more than 400 organizations representing 15 million Americans have already petitioned Congress to do away with Fast Track in favor of a more democratic approach to trade agreement negotiations. So far those pleas have fallen on deaf ears.
If the public is shut out, and Congress gets no say, who gets a seat at the table? Corporations. That's right. The Obama Administration is trusting corporations like Dow AgroSciences, Cargill and DuPont, and trade groups like the Pork Producers Council and Tobacco Associates, Inc., to write food safety policies. In all, more than 600 corporations have been given access to drafts of various chapters of the TPP. Requests for the same level of access, from members of Congress and from the public, have been denied.
No wonder then that, according to leaked drafts obtained by groups like the CTC, Public Citizen and the Institute for Agriculture and Trade Policy, the TPP contains proposals designed to give transnational corporations "special rights" that go far beyond those possessed by domestic businesses and American citizens, says Arthur Stamoulis, executive director of the CTC. Experts who have reviewed the leaked texts say that TPP negotiators propose allowing transnational corporations to challenge countries' laws, regulations and court decisions, including environmental and food safety laws. Corporations will be allowed to resolve trade disputes in special international tribunals. In other words, they get to do an end run around the countries' domestic judicial systems, effectively wiping out hundreds, if not more, domestic and international food sovereignty laws.
U.S. consumers aren't the only ones who should be up in arms about these trade agreements, the secrecy around their negotiations and the Obama Administration's intent to fast-track them. Under the TTIP and TPP, consumers in countries that have stricter food safety regulations than those in the U.S. will see their standards lowered, too. For instance, Japan prohibits the use of peracetic acid to sterilize vegetables, fruits and meat, while the U.S., Canada and Australia allow it. Japan's health ministry, in anticipation of the TPP, has said the country will add the acid to its approved list. In all, Japan has approved only about 800 food additives, to the more than 3,000 approved in the U.S. Japan's consumers could soon see a sudden reversal of laws enacted to protect their health.
European consumers will also suffer. Europe has long used the precautionary principle to ban ractopamine in meat, chlorine rinses of poultry and the use of rBGH growth hormone in milk production. Under the TTIP, Europe could be forced to allow all three in order to meet the lowest common denominator rule. The precautionary principle removes the burden of proof from policymakers, allowing them to make discretionary decisions in situations where there is the possibility of harm, given the lack of scientific proof to the contrary. But that principle flies out the window under TTIP rules.
The Organic Consumers Association is urging consumers to petition President Obama and U.S. Trade Representative Michael Froman to release the draft texts of the TTIP and TPP, and encourage full and open debate on the policies contained in both agreements. The petition also asks President Obama to end the Fast Track option, and grant Congress the ability to debate and amend the agreements, before voting on them.
With the world's food supply and consumers' health already endangered by chemical-intensive industrial agriculture and climate change, the U.S. and other governments should be looking for ways to promote sustainable food and agriculture policies, not restrict governments' abilities to do so. Instead, the Obama Administration is subverting the principles of democracy in favor of handing a few transnational corporations unprecedented power to put profits above the health and well being of consumers.
Visit EcoWatch's FOOD page for more related news on this topic.

Asia Pacific has surpassed the rest of the world in its consumption of materials and will continue to dominate world material flows, according to a new United Nations Environment Programme (UNEP) report released today.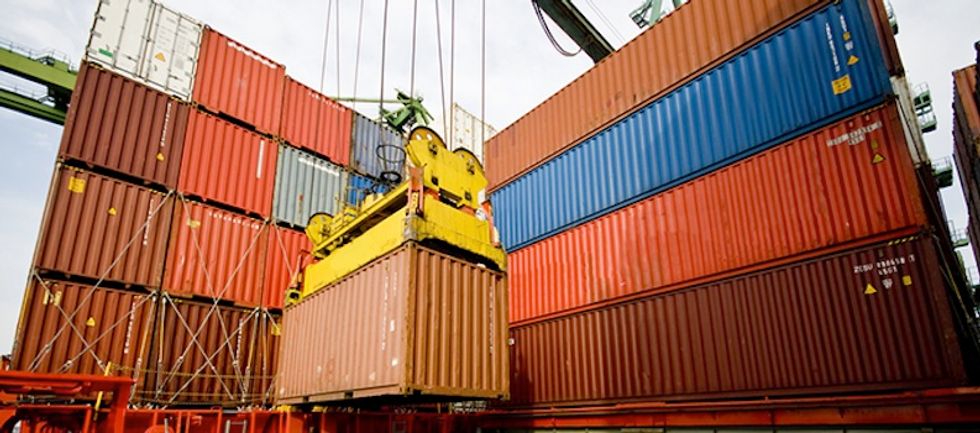 The region's trade balance indicates that the current rate of exploitation of its resource base is no longer sufficient to support the region's fast-growing economies and changing lifestyles. From 1970-2008, consumption of construction minerals increased 13.4 times, metal ores and industrial minerals consumption 8.6, fossil fuels 5.4 and biomass 2.7 times.
The data indicates that, at this rate, the region will be increasingly dependent on imports and unable to sustain its economies and lifestyles. The current rate of consumption is also having a negative impact on the environment.
The report, Recent Trends in Material Flows and Resource Productivity in Asia and the Pacific, presents an insight of the 2011 Resource Efficiency: Economics and Outlook for Asia and the Pacific (REEO) report on material flows and resource productivity in Asia and the Pacific. It brings together data extending the latest reported year up to 2008 and thus includes the onset of the global financial crisis.
The report highlights the region's material intensity—consumption of materials per dollar of Gross Domestic Product (GDP)—as an area of serious concern, as this will increase pressures on the environment and exceed the region's rapid growth. Currently, material intensity for Asia Pacific is three times the rest of the world.
"Each dollar of GDP requires increasing amount of materials," said Dr. Park Young-Woo, regional director of UNEP Regional Office for Asia and the Pacific. "The findings do not give signs of decoupling material consumption and natural resource use from economic growth in the region."
"Resource efficiency needs to increase rapidly to offset material growth in the Asia Pacific region, which needs systems innovations in urban areas, transportation modes, energy production and economic structure," he added.
Almost all of the world's growth in domestic material consumption, from the onset of the global financial crisis in 2008, can be attributed to Asia Pacific, which now shapes the world trajectory on growth in material consumption, according to the report.
Domestic materials consumption increased from 6.2 billion tonnes to 37.5 billion tonnes between 1970 and 2008, an annual growth rate of 4.8 percent. China and India heavily account for consumption by 2008, with China accounting for more than 60 percent of the regional total domestic material consumption, and India contributing more than 14 percent. The regional average per-capita material consumption now stands at 89 percent that of the rest of the world.
China shows the most dramatic trends in recent years: Per-capita material consumption increased by 25 percent between 2005 and 2008. China has reinforced its position as a net importer of materials (in particular petroleum) due to strong domestic demand, contrary to the common perception of China as a mass exporter. 
China has shown good progress in improving resource efficiency since the 1980s, but this has slowed down recently. It is still far less resource-efficient than the Asia Pacific and global averages.
In India, overall material consumption has remained low. However, metal ores and industrial minerals use grew by 8.6 percent each year over the period from 1998 to 2008, which indicates that India is entering a rapid acceleration phase in its transition to an industrialized economy. The insight showed another new development since the launch of the first REEO report: the stagnation since 2004 of the previously impressive improvements in resource efficiency from 1970 to 2004.
The report found that the region is moving from a biomass- to minerals-based economy, indicating that the most-populous countries like China and India are transitioning from agrarian to industrialized economies. Biomass dropped from more than half to 25 percent of the region's domestic extraction, while construction materials grew to 51.4 percent.
Population growth was also found to be the least-important driver of growing extractive pressures on the environment. Growing affluence and material intensity were cited as primary drivers and any effort to stabilize extractive pressure will need to address both, according to the report.
"The findings of the report conclude that countries in Asia and the Pacific face even greater challenges to make the transition of current economic growth patterns towards green growth, and to transform the economies into truly green economy, despite the strong efforts in development of policies and strategies by member countries," said Dr. Park. 
The report also underlined the urgent need for policymakers in the region to be vigilant in using of the latest data when developing their policies. It recommends the establishment of a global harmonized database that shares material use data for all countries as an important step in helping policymakers and businesses anticipate resource issues, and to provide academia with reliable data to support decision makers with the policy relevant science.
Country specific highlights
Australia: Extraction per capita is driven by exports of fossil fuels and metal ores. Australia is increasingly serving as an energy materials supplier to the industrial transformation in the Asia Pacific region. Resource use per capita is five times the regional and global averages. 
China: See above.
India: See above.
Indonesia: Indonesia is a massive exporter of raw materials, in particular fossil fuels. It has been an unusual case since 2005 in that material consumption per capita and material intensity have decreased in recent years, which is normally desirable. This overall trend is largely due to significant fluctuations in use of one resource group in particular: metal ores. 
Japan: Typically characterized as a stable industrialized economy with a relatively high level of resource use per capita considering the near absence of primary industry. Japan has gradually demonstrated a decline in material intensity.
Malaysia: has shown historical volatility in material use per capita. Material intensity is high compared to regional averages, but has been declining in recent years.
Pakistan: The most biomass-based economy (3t biomass/capita out of the total 4.8tmaterials/capita). The slow growth in construction material use per capita reveals the low priority of infrastructure development in this period. 
Republic of Korea (RoK): The historic material use data of the RoK clearly outlines its transition to an industrialized economy since the 1980s.
Thailand: Like many Asian industrializing countries, Thailand's material use patterns are largely dominated by construction materials. In the past years, Thailand showed promising improvements in material intensity, reducing from 4kg/$ in 2004 to 3kg/$ in 2008. 
Viet Nam: The journey from one of the lowest resource users to close to average for the region has been based on a steady acceleration in the use of construction materials (from 0.3t construction materials/cap in 1970 to 5.3t construction materials/cap in 2008). One interesting finding is a sudden decline in the export of fossil fuels from 2007 to 2008. This is partly explained by decreased extraction of fossil fuels, but also due to growing domestic demand of fossil fuels. Viet Nam may be a net importer of fossil fuels in the near future.
Visit EcoWatch's BIODIVERSITY page for more related news on this topic.
——–
Click here to tell Congress to Expedite Renewable Energy.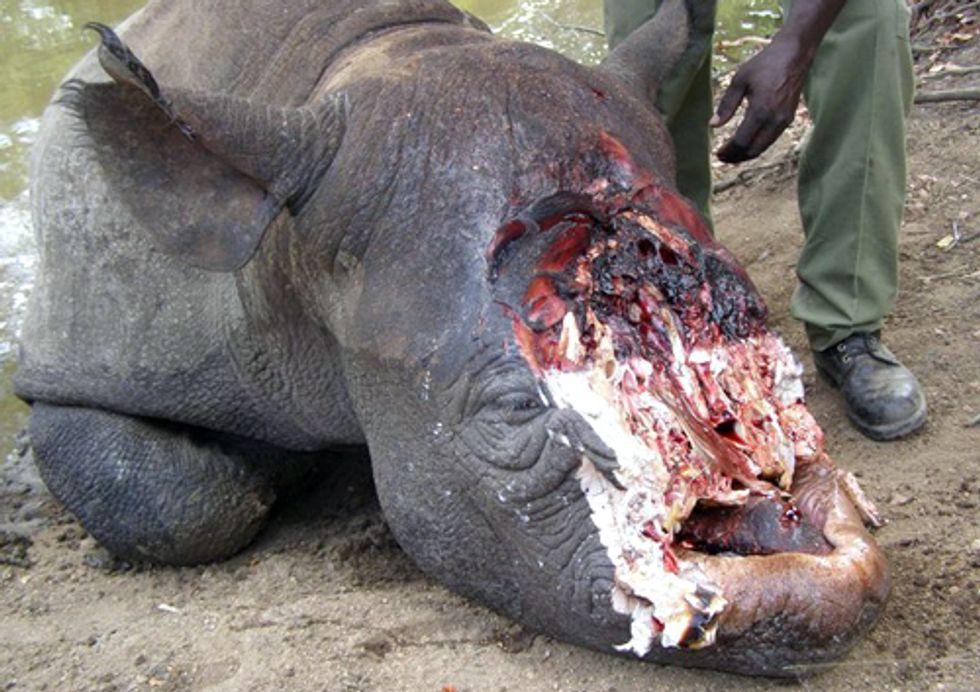 Photo courtesy of Anti-poaching Unit, Zimbabwe
Escalating levels of poaching and illegal trade in rhino horns are seriously undermining rhino conservation efforts, putting the survival of these species at risk—according to a report by International Union for Conservation of Nature (IUCN) and TRAFFIC.
 
The report examines the conservation status and trade in African and Asian rhino species.
 
"The findings of the report are alarming," says Tom Milliken, a rhino expert from TRAFFIC. "Today, rhino poaching and illegal horn trade are at their highest levels in over 20 years, threatening to reverse years of conservation effort, particularly in Africa. There is no doubt that rhino species are facing a serious crisis."
 
According to the report, by the beginning of 2011 there were 20,165 White Rhinoceros (Ceratotherium simum) and 4,880 Black Rhinoceros (Diceros bicornis) in Africa. However, at least 1,997 rhinos were poached between 2006 and September 2012 and over 4,000 rhino horns have been illegally exported from Africa since 2009, with an estimated 92 percent of these coming from rhinos specifically killed to obtain their horn.
 
South Africa, home to 83 percent of Africa's rhinos and 73 percent of all wild rhinos worldwide, is the principal source of rhino horns in illegal trade. A record 668 rhinos were poached there in 2012, according to official government figures released in January 2013.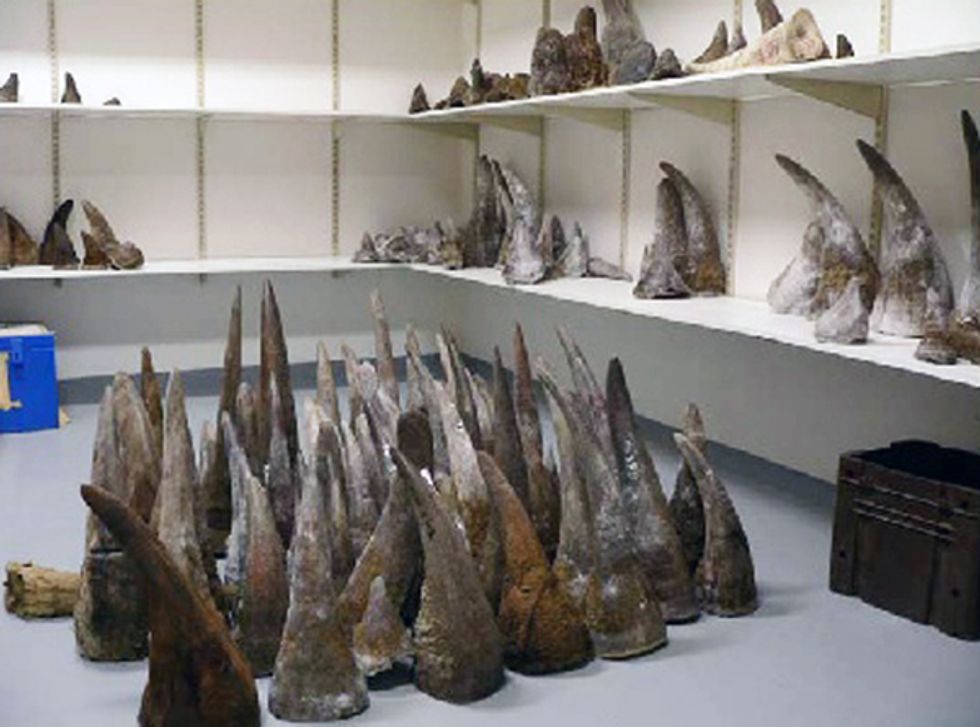 Photo Courtesy of Simon Milledge/TRAFFIC
Illegal trade in rhino horns involves highly organized, mobile and well-financed criminal groups, mainly composed of Asian nationals based in Africa. These networks have recruited pseudo-hunters including Vietnamese citizens, Thai prostitutes and proxy hunters from the Czech Republic and Poland to obtain rhino horns in South Africa on the pretense of trophy hunts for illegal commercial trade. Pseudo-hunting has significantly reduced as a result of a decision to prevent nationals of Vietnam from obtaining hunting licenses and changes to South African law in April 2012. However, there remains a continued need to ensure that only bona fide hunters are granted permits, according to the report.
 
"Rhinos are killed for their horns, which are seen as highly desirable status symbols in parts of Asia, notably Vietnam, but also increasingly in China," says Bibhab Kumar Talukdar, Chair of IUCN Species Survival Commission's (SSC) Asian Rhino Specialist Group. "Horns are also increasingly used for non-traditional purposes such as hangover cure and body detoxifier, especially in Viet Nam."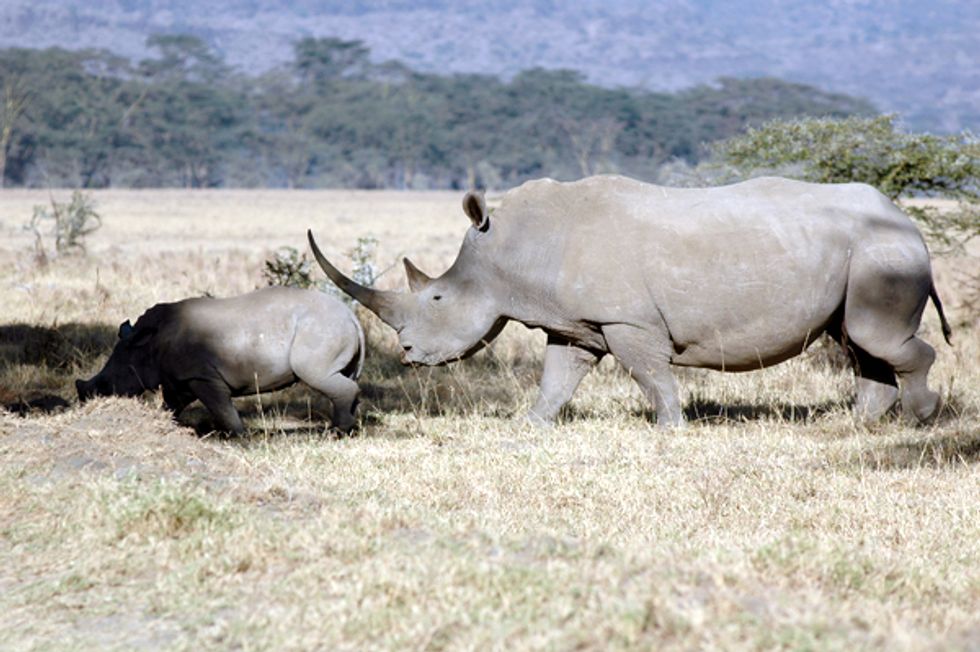 White Rhinoceros (Ceratotherium simum). Photo courtesy of Jean-Christophe Vié
In Asia, although conservation action in Nepal and India has resulted in increased numbers of the Greater One-horned Rhinoceros (Rhinoceros unicornis), the situation in Indonesia and Malaysia remains serious for the world's two rarest rhino species—the Sumatran Rhinoceros (Dicerorhinus sumatrensis) and the Javan Rhinoceros (Rhinoceros sondaicus). The Javan Rhinoceros, with only around 35 to 45 surviving individuals, is confined to a single park in Indonesia after the last animal of its Indochinese subspecies, Rhinoceros sondaicus annamiticus, was found dead, its horn removed, in Vietnam in 2010. The report calls for enhanced protection and biological management of the remaining Sumatran and Javan Rhinoceros to prevent their extinction.
 
Thefts of rhino horns from museums and zoos have increased worldwide, creating the need for improved law enforcement, monitoring and enhanced information management with regards to rhino numbers, sales and translocations, the report finds.
 
"Trade in rhino horns is a global problem that needs to be addressed by the international community by putting pressure on those countries that are driving illegal trade in rhino horn and those with inadequate wildlife legislation, such as Mozambique," says Richard Emslie, from IUCN SSC African Rhino Specialist Group. "At the same time, increased poaching is negatively affecting rhino conservation incentives and budgets, threatening future rhino population growth."
 
The report was compiled by the IUCN SSC African and Asian Rhino Specialist Groups and TRAFFIC, the wildlife trade monitoring network. It was mandated by Convention on International Trade in Endangered Species (CITES) and aims to inform the rhino horn debate at the 16th meeting of the Conference of the Parties to CITES, taking place in March 2013 in Bangkok, Thailand.
Visit EcoWatch's BIODIVERSITY page for more related news on this topic.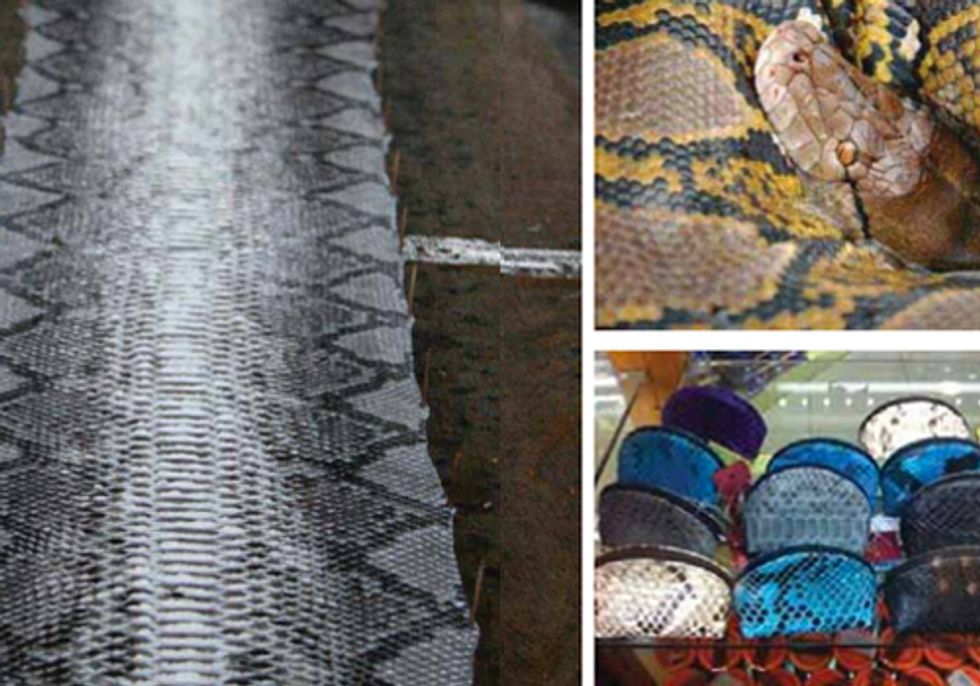 A new study finds that close to half a million python skins are reported as exported annually from Southeast Asia. The main importer is the European fashion and leather industry. The study raises concerns over the illegality in parts of the trade, animal welfare issues and the trade's impact on the conservation of python populations.
The report, Trade in South-East Asian Python Skins, was launched today by the International Trade Centre (ITC), in co-operation with TRAFFIC and the International Union for the Conservation of Nature (IUCN), and reveals that the trade in python skins is worth an estimated U.S. $1 billion annually.
Alexander Kasterine, head of ITC's Trade and Environment Program, said: "The report shows that problems of illegality persist in the trade in python skins and that this can threaten species' survival. The fashion and leather industry has a stronger role to play in supporting Convention on International Trade in Endangered Species of Wild Flora and Fauna (CITES) and developing countries to ensure supply is legal and sustainable."
Indonesia, Malaysia and Vietnam are the main sources of exports of python skins, with European Union countries–in particular Italy, Germany and France–the biggest importers. Around 70 percent of all python skins are re-exported via Singapore. The report notes that a lack of transparency concerning undisclosed stockpiles in Singapore could be facilitating the laundering of illegally sourced skins.
Tomas Waller, the chair of the Boa and Python Specialist Group (BPSG) of IUCN added that "it would appear a substantial proportion of the skins in trade are sourced illegally from wild animals, beyond agreed quotas and using false permits to launder the skins."
"With potentially large mark-ups along the supply chain, there is a strong financial incentive for illegal trade in python skins and considerable scope for traders to issue false permits," said Olivier Caillabet, program officer with TRAFFIC in Southeast Asia and a co-author of the report.
Although more than 20 percent of exports of reticulated python skins from Southeast Asia (mainly Vietnam and Lao PDR) are declared as captive-bred, the report argues that the "commercial case is not convincing and needs to be specifically assessed," noting that the cost of breeding, feeding and maintaining the snakes to reach slaughter size appears much higher than the market price.
The report recommends that the fashion industry implements a traceability system to demonstrate to consumers that its sourcing is legal and sustainable. The system would complement the existing CITES permitting system, to allow identification of skins along the length of the supply chain.
An additional concern regards the possible lack of sustainability of sourcing. Large numbers of wild pythons are slaughtered before they reach the reproductive stage, meaning harvest quotas may have been set at unsustainable levels. The report recommends a precautionary approach is applied to harvesting, with legally binding minimum skin size limits to ensure protection of immature snakes.
The report highlights previously unknown slaughter methods, yet argues that trade bans are not an effective or fair way to address illegality and animal welfare issues.
Visit EcoWatch's BIODIVERSITY pages for more related news on this topic.