This website uses cookies to ensure you get the best experience while browsing it. By clicking 'Got It' you're accepting these terms.


The best of EcoWatch, right in your inbox. Sign up for our email newsletter!
Vancouver is set to join cities and countries worldwide in banning single-use items made from plastic. George Rose / Getty Images
People in Canada discard about 57 million plastic drinking straws every day. In my hometown of Vancouver, we toss out 2.6 million disposable cups every week. It's a global problem. Plastic products are choking landfills and waterways and causing devastation in the oceans. In 2014, scientists even found a new kind of stone in Hawaii, made of sand, shells, coral, volcanic rock and plastic.
Vancouver aspires to be the world's greenest city.
Maxpixel / CC0 Public Domain
Vancouver has become the first major Canadian city to adopt a ban on a range of single-use plastics.
Starting June 1, 2019, the distribution of plastic drinking straws and polystyrene foam cups and take-out containers will be prohibited.
EcoWatch Daily Newsletter
Farmed salmon is an industry shrouded in secrecy, producing more questions than answers and threatening the native salmon population, according to Sea Shepherd Conservation Society's Operation Virus Hunter.
If there's a global list of the greenest cities, there's a good chance Vancouver is included.
Green jobs, eco-friendly modes of transport and urban food security landed the British Columbian (B.C.) city at the top of the United Nations Warsaw 19th Conference of the Parties' list of cities taking action against climate change. Vancouver was also named the 2013 Earth Hour capital and was hailed as the world's greenest city by Siemens, GlobalPost and more. That reputation could get a lot dirtier if the B.C. government follows through on Premier Christy Clark's aggressive plan to make the province a world leader in fracking for liquefied natural gas (LNG).
The province's ministry of energy has issued an LNG strategy, and The Canadian Press reports that Clark is "poised to develop a trillion-dollar LNG industry."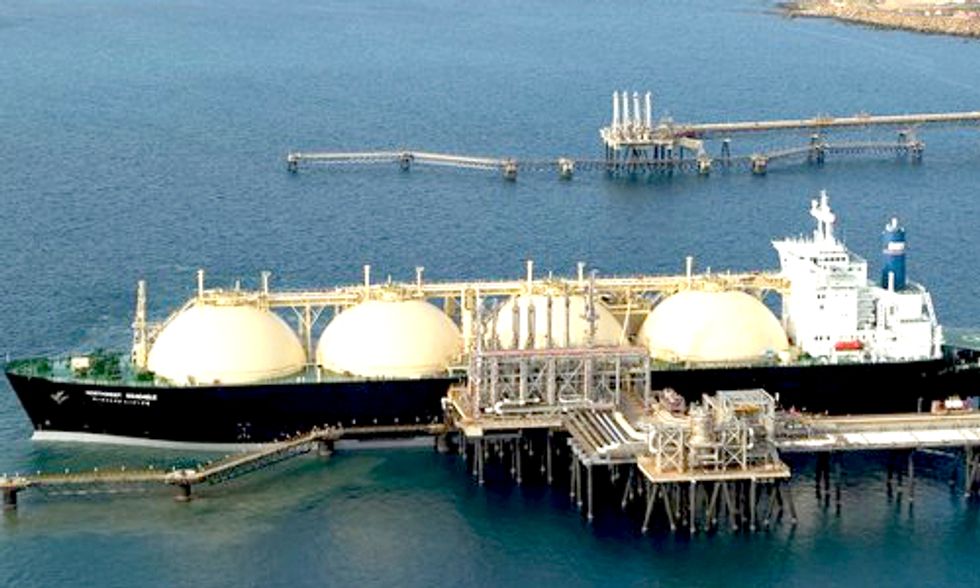 "We've always relied on natural resources to fuel our economy. Now, with [LNG], we have a rare and exciting opportunity to build a whole new industry and use its development to spur other positive changes, such as growth in our clean-energy sector," Clark wrote in her opening memo within the LNG strategy.
Clark maintains that view despite warnings from Canadian scientists that expanding the gas boom would accelerate emissions at an alarming rate. Matt Horne, B.C. regional director for the Pembina Institute told Al Jazeera that adding three LNG facilities by 2020, as Clark wants to, would add at least 73 million more tons of greenhouse gas (GHG) emissions per year. Tides of Canada, a nonprofit, says that number could climb to 82 million tons by 2020.
The plan has been discussed for years, but only now is the call for fracking getting louder. That's because Clark wants in on the increased trade of LNG exports and additional jobs. In her report, she says that global LNG trade doubled from 2000 to 2010.
Marc Lee, a senior economist with the Canadian Center for Policy Alternatives, said methane—and its heat-trapping potential that is 86 times greater than carbon dioxide's over 20 years—only makes matters more dangerous.
"Increased global emissions would be equivalent to putting 24 to 64 million cars on the roads of the world," Lee said. "Leakages of methane in the extraction and processing phase of unconventional gas development could mean that, on a life-cycle basis, natural gas from unconventional sources is equivalent to or even worse than coal per unit of energy. It is estimated that if 3.2 percent of gas leaks, that wipes out any GHG advantage relative to coal."
Both proponents and detractors of LNG expansion in B.C. are pointing to the U.S. as an example for different reasons. Environment Minister Mary Polak previously warned Clark that U.S. research exposed that fugitive methane emissions likely elevate the numbers that are actually reported. Meanwhile, Ezra Levant, who will soon publish a book on fracking, told Al Jazeera that fracking is moving the U.S. closer to energy independence and has made it "one of the greatest reducers of greenhouse gas emissions." He made no mention of the impacts on those who live in the areas near fracking sites.
"Fracked natural gas is not the greenhouse-gas-friendly fossil fuel lite that conventional natural gas is reputed to be," said Elizabeth May, leader of the Canadian Green Party, said. "You talk about B.C.'s relatively good reputation, but once people pull back the curtain on Christy Clark and look a bit into the carbon intensity of fracked natural gas, that good reputation won't last."
——–
YOU ALSO MIGHT LIKE
Do You Live in One of the 25 Greenest Cities?
414 Cities Take Action Against Climate Change
Large LNG Explosion Displaces Hundreds in Washington
——–
Four modern day explorers from Vancouver, BC, began a world-first expedition on July 1, to row the 3,000 kilometer Northwest Passage in a specially commissioned human-powered boat—a feat only possible now due to the melting ice in the Arctic. Global wind and solar company Mainstream Renewable Power is sponsoring the expedition to bring awareness to the profound effects climate change is having on the environment.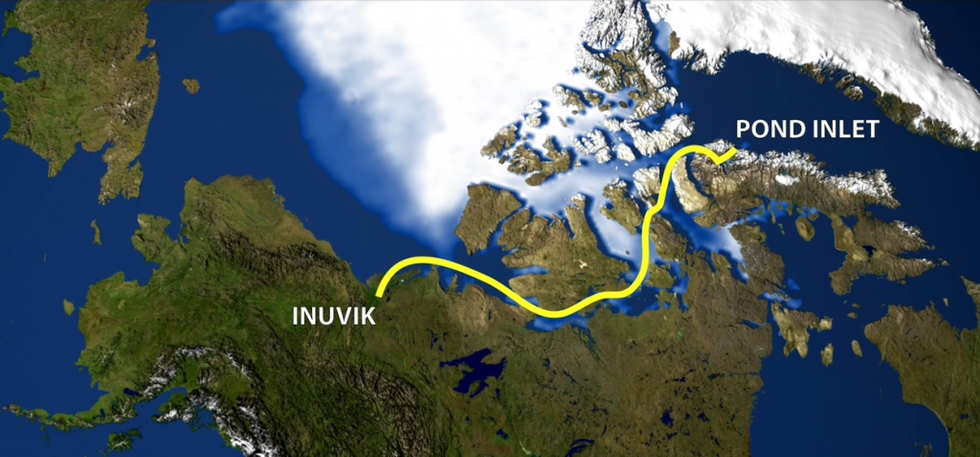 The team of Kevin Vallely, Paul Gleeson, Frank Wolf and Denis Barnett are seasoned adventurers who, between them, have rowed the Atlantic Ocean, canoed across Canada and skied to the South Pole in world record time. They departed from Inuvik in the Northwest Territories in their 25-foot long, specially built rowing boat, The Arctic Joule.
The four men are rowing in continuous shifts, 24 hours a day, seven days a week as the route will be in constant daylight for the majority of the journey. They hope to arrive at their destination in Pond Inlet, Nunavut on the east coast of Baffin Island in early fall, some 75 to 90 days after their start.
This area once represented a closed door for mariners who attempted to navigate the sea route, due to impassable sea ice. This passage has only become semi-navigable for about three months a year in the summer months when the ice of the Arctic Ocean breaks up and melts before refreezing for the winter. The four men have taken advantage of that short window to row the ice-strewn passage.
"It wasn't long ago that the Northwest Passage was the sole domain of steel-hulled ice-breakers but things have changed," said Kevin Vallely, lead rower.
"Climate change is transforming the Arctic and the world. By traversing the Northwest Passage completely under human power in a rowboat, without sail or motor, the Mainstream Last First team will be able to demonstrate first-hand the dramatic effects climate change is having on our planet. Something like this has never been done before. It is only now possible due to the increase in seasonal sea ice melt and deterioration due to climate changes."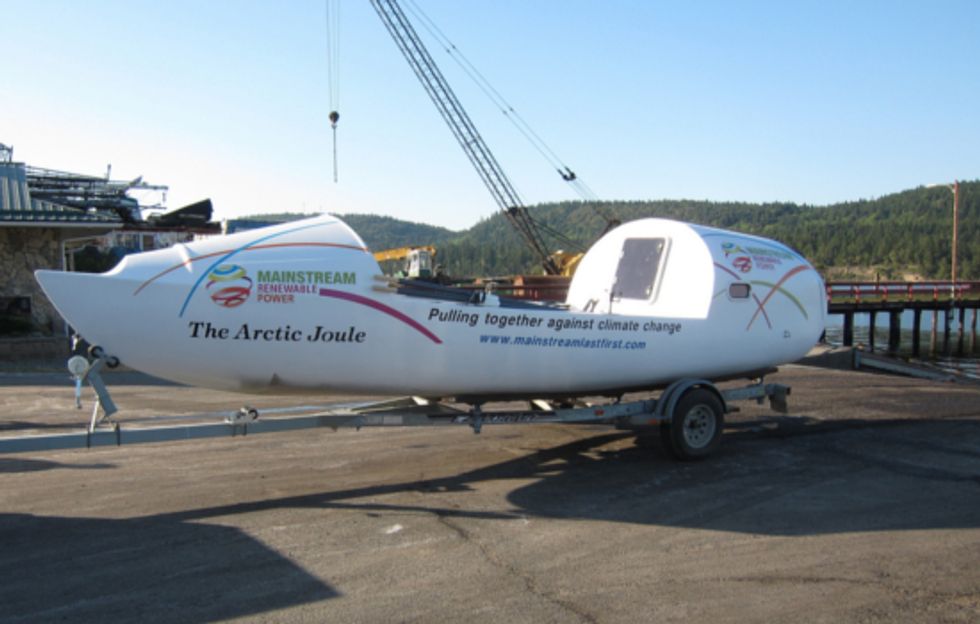 The rowers' challenge is of global significance as both a pioneering maritime adventure and an environmental expedition. The team is working with scientific research partners at Vancouver Aquarium, Fisheries and Oceans Canada and the Canadian Rangers on a unique and promising collaboration known as the Canadian Rangers Ocean Watch program (CROW) to collect and deliver environmental data about the Arctic Ocean.
In addition, the team is documenting their journey on their blog and through social media, and have an award-winning documentary videographer to film the trip as well as. They are also engaging with the broader public while away, using their adventure to publicize the melting Arctic and climate change's detrimental impact.
"With atmospheric [carbon dioxide] CO2 concentrations hitting 400 ppm last month for the first time in 2-4 million years, Mainstream is sponsoring this expedition to highlight the immediate disasters of climate change," said Sherra Zulerons, country manager for Canada at Mainstream Renewable Power. "This expedition will show people around the world a real-life example of what climate change is doing today. It's real."
The melting ice is only the start of the problem, she explained. As the ice melts, it causes massive amounts of harmful gases to be released into the atmosphere. Enormous amounts of methane hydrate have been trapped in the ice for many thousands of years and now that the ice is melting, the gas is being released, causing a huge knock-on effect."That is why we are sponsoring this expedition," said Zulerons.
"In the latest International Energy Agency report it states that if we wait to act until 2020, we will be headed down a path to temperature rises of between 3.6 and 5.3 degrees Celsius before 2100," continued Zulerons. "Switching from fossil fuels to renewable energy will make a big difference in terms of keeping climate change below two degrees."
"There seems to be a disconnect between what's actually happening with climate change and what's being done about it. We hope that our expedition will show the world through a real-life example of what climate change is doing today," added Vallely.
"We believe, as Barry Lopez echoed in his book Arctic Dreams, that mankind has '...the intelligence to grasp what is happening, the composure to not be intimidated by its complexity, and the courage to take steps that may bear no fruit in our lifetimes'," concluded Vallely.
The sea ice of the arctic has decreased by 50 percent in the last three years alone and in about 15 years this region will be ice-free. According to scientists, this permafrost to perm-melt scenario will trigger numerous feedback loops that will put climate change beyond human control.
Visit EcoWatch's CLIMATE CHANGE page for more related news on this topic.
——–

DOES THE FACT THAT REVERSING CLIMATE CHANGE WILL HAVE NO PRONOUNCED BENEFITS IN OUR LIFETIME HINDER US FROM ACTING TO ALLEVIATE IT?