A new analysis released today by Ceres shows that many of the nation's largest electric utilities and their local subsidiaries are moving toward lower carbon fuel sources and that ambitious state policies and strong corporate demand for renewable energy are key drivers of this trend.
The 2016 Benchmarking Utility Clean Energy analysis ranks the 30 largest electric utility holding companies and their 119 subsidiary companies, which collectively account for about 60 percent of U.S. retail electricity sales. The results show overall advances on renewable energy and energy efficiency in 2014, the latest year for which data is available, with some utilities producing 25 to 35 percent of their electricity from wind, solar and other renewables.
Wide disparities in the utilities' clean energy performance remain, however, underscoring the need for swift implementation of the U.S. Environmental Protection Agency's Clean Power Plan. The plan reduces carbon emissions from electric power plants by 32 percent by 2030.

"Renewable energy and energy efficiency, key building blocks of the Clean Power Plan, are increasingly cost-effective options for electric utilities looking to lower their carbon emissions," said Dan Bakal, director of electric power programs at Ceres, a nonprofit sustainability advocacy organization.
"Our analysis shows that the U.S. electric sector is in the midst of an unprecedented shift toward clean energy resources and that state policies are critical for continued progress in achieving national and international climate goals."
Utilities with the strongest results were typically in states with strong clean energy policies, such as Colorado, Minnesota, Massachusetts and California. The lowest-ranked utilities were mostly in southeast states, such as Alabama and Mississippi, which have weak state policies.
Top and Bottom Ranked U.S. Investor-Owned Electric Utilities on Clean Energy Deployment
Among the 30 holding companies, Sempra, PG&E, Edison International and Xcel ranked the highest for renewable energy sales, accounting for more than half of the total sales. Renewable resources made up more than 20 percent and in Sempra's case, nearly 36 percent, of the companies' sales in 2014. FPL, American Electric Power, ConEdison and PPL Corp ranked at the bottom, with renewable energy sales accounting for less than two percent of their total retail electricity sales.

Sempra Energy's renewable energy sales grew by more than 55 percent between 2013 and 2014 alone and Pinnacle West's grew by nearly 50 percent, while Eversource and DTE Energy demonstrated growth of more than 25 percent.
"Xcel Energy's positive ranking results from more than a decade of working with our states on clean energy policies," said Frank Prager, vice president, policy and federal affairs for Xcel Energy. "We continue to focus on our customers' growing desire for clean, renewable energy while demonstrating that we can successfully integrate these resources reliably and at a reasonable cost. It's an approach that is significantly reducing emissions and ensuring a more sustainable energy future for our communities."
"Californians care a lot about clean energy and we want to be an active partner in making the transition to a low-carbon economy as quickly as possible," said Melissa Lavinson, chief sustainability officer and vice president of federal affairs for PG&E. "Our showing in the Ceres rankings reflects our commitment to addressing the urgent challenge of climate change, while also helping our customers to use less energy and save money."
Energy efficiency top performers among the holding companies include Eversource Energy, PG&E, Portland General Electric, National Grid and Pinnacle West. Each achieved annual savings of at least 1.5 percent of their total retail electric sales, while also helping their customers save on their energy bills. Dominion Resources, FPL, Entergy and Southern Co and OGE Energywere among the weakest performers.
"Continued investment in energy efficiency and zero-carbon energy is central to Exelon's effort to build the next generation energy grid and drive the transition to clean energy," said Chris Gould, Exelon's senior vice president, corporate strategy and chief innovation and sustainability officer. "Exelon continuously works to identify new innovations and smart technologies to give customers greater access to clean energy and tools to help them use energy more efficiently."
Among the report's other key findings:
The Clean Power Plan's key approaches to compliance, energy efficiency and renewable energy, are increasingly economically feasible options for electric utilities. Energy efficiency is the lowest-cost energy resource and renewable energy costs continues to decline dramatically.
State policies are no longer the only driver of utility clean energy deployment. Companies with ambitious renewable energy sourcing goals are using their voice as major energy users to encourage utilities to offer more renewable energy. A consortium of major companies pledged not only to promote 60 gigawatts of new renewables development, but also to help overcome the barriers that complicate clean energy procurement. Companies are sourcing ever-greater amounts of clean energy directly from utilities.
Performance is not the only measure of clean energy leadership, which should include utility support for clean energy policies. For example, National Grid and PG&E have been outspoken supporters of energy efficiency, while FirstEnergy has been a vocal critic of Ohio's energy efficiency policy and supported efforts to freeze the state's goals.
"Seeing the leaps the renewable energy leaders have made in just two years has been amazing," said Ron Pernick, managing director of Clean Edge, a clean-tech research and advisory firm, which co-authored the report with Ceres. "Governments, corporations and individual customers continue to demand clean, efficient energy and some utilities are answering that call."
YOU MIGHT ALSO LIKE
'Three Amigos' Vow to Get Half Their Electricity From Clean Power by 2025
DNC Platform Calls for Fossil Fuel Investigations, 100% Renewable Energy
TransCanada Files NAFTA Suit Demanding More Than $15 Billion for Keystone XL Rejection
EcoWatch Daily Newsletter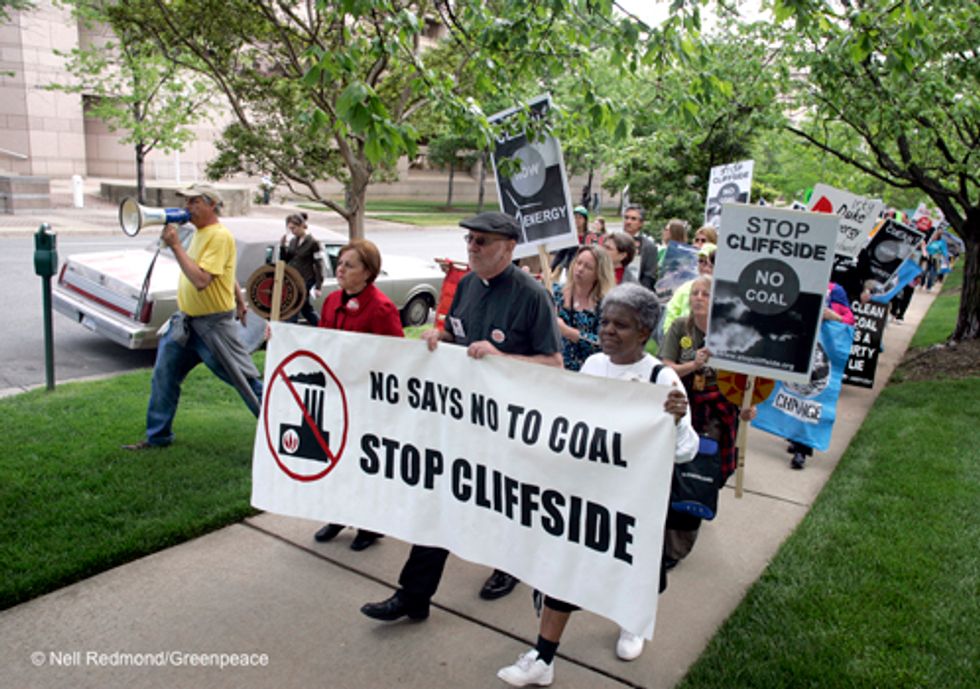 Conservation groups announced a settlement Jan. 17 with Duke Energy that will cut pollution by phasing out more than 1600 mega watts of dirty, old coal-fired power while still meeting customers' energy needs.
The groups reached the settlement in an administrative challenge to the state-issued air pollution permit for construction and operation of a new coal-fired unit at Duke Energy's Cliffside power plant near Shelby, N.C. The Southern Environmental Law Center negotiated the settlement on behalf of Environmental Defense Fund, National Parks Conservation Association, Sierra Club and Southern Alliance for Clean Energy.
Under the settlement terms, Duke Energy will retire old coal-fired units that lack modern pollution control technology, totaling about 1667 megawatts or more than twice the capacity of the new unit at the Cliffside facility. Duke had previously included these coal-plant retirements in its non-binding, long-range plan submitted each year to the state utilities commission. The settlement agreement makes the planned retirements enforceable, thereby locking in reductions in air and water pollution that harms the health of children and families in the Carolinas.
As a result of advocacy by the conservation groups and other clean energy advocates, the new Cliffside unit will operate under the most stringent acid gas controls in the U.S., with a 99.9 percent reduction in such pollution. Acid gases, such as sulfur dioxide and hydrochloric acid, from coal-fired power plants can cause eye, nose, and respiratory tract irritation and inflammation, chest pain, coughing, nausea, impaired lung function, asthma attacks, and chronic bronchitis.
The settlement also tightens a permit provision that Duke Energy must demonstrate best practices to decrease toxic air pollution emitted during malfunction, shut down and start up situations.
Many old power plants operate today without modern pollution controls that are overdue since the Clean Air Act Amendments of 1990. More than 400 coal- and oil-fired power plants nationwide release in excess of 386,000 tons of hazardous air pollutants into the atmosphere each year that are linked to cancer, heart disease, birth defects, asthma attacks and even premature death.
Statements from the attorney and groups involved follow:
"This settlement phases out some of the oldest, dirtiest, and most inefficient coal plants in the Carolinas," said John Suttles, a senior attorney at the Southern Environmental Law Center who represented the groups in court. "In addition to protecting people's health and saving lives, it also will save ratepayers' money by paving the way for a more efficient and sustainable energy future."
"This settlement ends another chapter in the history of polluting coal generation that jeopardizes our health, air and water," said Michael Regan, director of energy efficiency for Environmental Defense Fund. "In the future, energy conservation and new technologies will provide North Carolina with reliable energy while protecting our families and economy."
"The air quality improvements that will result from this settlement will provide present and future generations with substantially cleaner air in the region," said Don Barger, National Parks Conservation Association's Southeast regional director. "The health of our people and parks, including Great Smoky Mountains National Park in particular, will long bear witness to the benefits realized from transitioning away from coal."
"North Carolina has long been a clean air leader, and today's settlement is another important step forward for the Tarheel State. This settlement is critical for the health of North Carolina's families. Coal-fired electricity is the primary source of toxic mercury pollution and is a leading trigger of asthma attacks. These retirements will allow North Carolina to move beyond coal, and focus on clean energy solutions like solar and offshore wind," said Mary Anne Hitt, director of Sierra Club's Beyond Coal campaign.
"We are pleased to finally have a settlement agreement with Duke Energy to offset the enormous amount of carbon dioxide that the Cliffside coal plant will emit over its lifespan," stated Stephen Smith, executive director of Southern Alliance for Clean Energy. "Duke's old coal plants need to come offline to reduce the company's contribution to climate change while making room for cleaner, more sustainable energy sources."
For more information, click here.
—————

Environmental Defense Fund, a leading national nonprofit organization, creates transformational solutions to the most serious environmental problems. EDF links science, economics, law and innovative private-sector partnerships. See twitter.com/EnvDefenseFund and facebook.com/EnvDefenseFund 

Since 1919, the nonpartisan, non-profit National Parks Conservation Association has been the leading voice of the American people in protecting and enhancing our National Park System. NPCA, its 340,000 members, and partners work together to protect the park system and preserve our nation's natural, historical, and cultural heritage for our children and grandchildren.

Sierra Club is the nation's largest grassroots environmental organization with over 17,000 members in North Carolina and more than 1.4 million members and supporters nationwide. Since 2002, Sierra Club's Beyond Coal campaign has successfully stopped 161 new coal plant proposals from moving forward, and is working to move our nation beyond coal to a clean, safe energy economy.

Southern Alliance for Clean Energy is a nonprofit organization that promotes responsible energy choices that create global warming solutions and ensure clean, safe, and healthy communities throughout the Southeast.

The Southern Environmental Law Center is a regional nonprofit using the power of the law to protect the health and environment of the Southeast (Virginia, Tennessee, North and South Carolina, Georgia, and Alabama). Founded in 1986, SELC's team of more than 40 legal and policy experts represent more than 100 partner groups on issues of climate change and energy, air and water quality, forests, the coast and wetlands, transportation, and land use.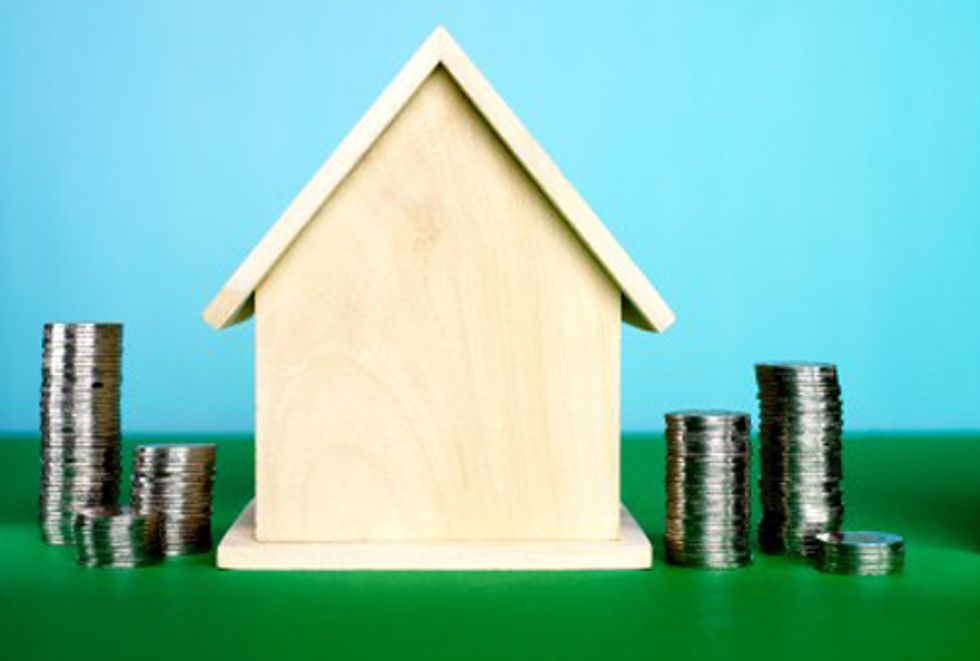 On-bill financing, an innovative tool that allows customers to pay for energy efficiency investments though their utility bills, is becoming more widely available across the country and extending opportunities to historically underserved markets, according to a study released Dec. 8. The study, On-Bill Financing for Energy Efficiency Improvements: A Review of Current Program Challenges, Opportunities, and Best Practices, was released by the American Council for an Energy-Efficient Economy (ACEEE) and profiles 19 existing on-bill financing programs in 15 states. The study finds that these programs are poised to address financing gaps that have not been historically addressed by other energy efficiency financing mechanisms.
On-bill financing generally refers to a financial product that is serviced by, or in partnership with, a utility company for energy efficiency improvements, and repaid by customers on their monthly utility bills. In many cases, energy savings are sufficient to cover the monthly payments for the financing so that the total monthly charge on utility bills is less than or equal to the pre-investment amount. Programs can be tailored to meet the needs of industrial, commercial and residential customers.
"The great thing about on-bill repayment is that it can serve a broad array of markets with diverse needs. It is a versatile financing tool that can be combined with a variety of different sources of capital and implementation strategies," observed Casey Bell, lead author of the report.
"On-bill financing programs can leverage a utility's unique relationship with energy customers improving access to funding for energy efficiency investment, especially for historically underserved markets such as rental, multifamily buildings and small businesses," said ACEEE Executive Director Steven Nadel. There is also potential for traditionally credit-constrained customers to gain access to financing through modified underwriting that takes bill payment history into account.
Energy efficiency loan programs are a low-risk investment according to a recent ACEEE report, and on-bill financing is no exception. Default rates for on-bill programs are frequently less than 2 percent. There is evidence to suggest that customers tend to prioritize the payment of utility bills, which contributes to low default rates, and some program administrators are exploring the potential of bundling on-bill loans with other financial products and creating a secondary market for capital. Creating a secondary market could help bring programs to scale, since many of these programs have participation rates of less than 1 percent of eligible customers.
On-bill programs are still generally in their infancy. These programs are facing some challenges to adoption and scalability, including funding the upfront costs for utilities with a need to modify their billing systems, a perception by some that utilities need to behave like a financial institution to participate in on-bill financing, and the need for more information on the performance of energy efficiency financing as an asset class.
"As the number of on-bill programs grows, we anticipate many opportunities to learn from experience," said Bell. Important considerations for augmenting and implementing on-bill programs include understanding underlying financial incentives, and applicable laws and regulations, as well as how risks are distributed amongst stakeholders.
This report is the third in an ACEEE series on energy efficiency financing. Prior reports include Energy Efficiency Finance 101: Understanding the Marketplace and What Have We Learned from Energy Efficiency Financing Programs? This report can be downloaded by clicking here.
For more information, click here.
—————
The American Council for an Energy-Efficient Economy acts as a catalyst to advance energy efficiency policies, programs, technologies, investments, and behaviors.