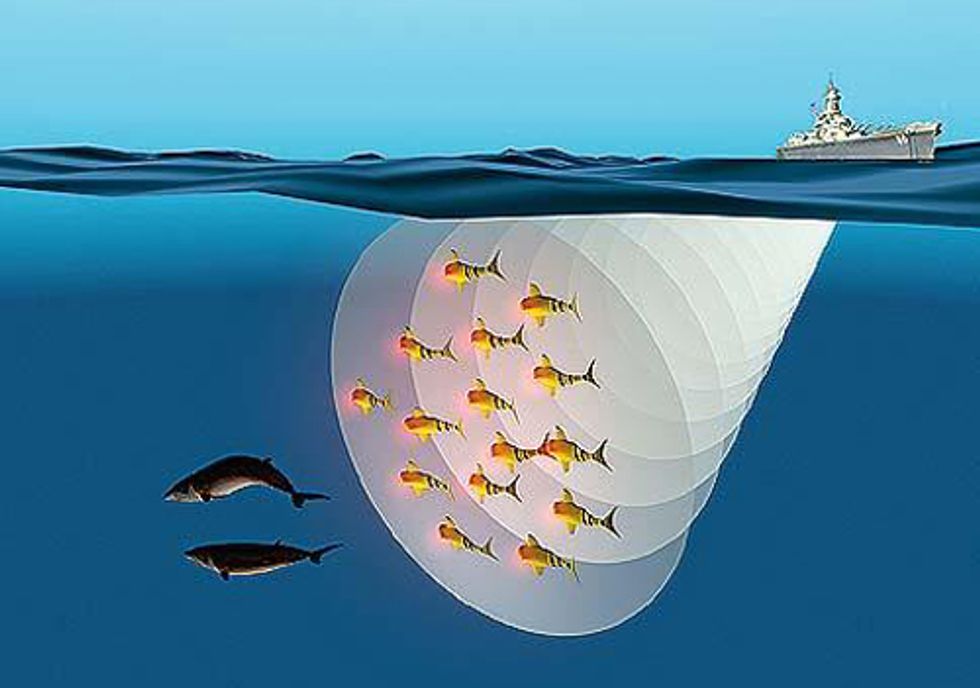 A coalition of conservation and American Indian groups sued the National Marine Fisheries Service (NMFS) Jan. 26 for failing to protect thousands of whales, dolphins, porpoises, seals and sea lions from U.S. Navy warfare training exercises along the coasts of California, Oregon and Washington.
Earthjustice, representing InterTribal Sinkyone Wilderness Council, Center for Biological Diversity, Friends of the Earth, Friends of the San Juans, Natural Resources Defense Council (NRDC) and People For Puget Sound, filed a lawsuit Jan. 26 in U.S. District Court for the District of Northern California challenging NMFS's approval of the Navy's training activities in its Northwest Training Range Complex. The lawsuit calls on NMFS to mitigate anticipated harm to marine mammals and biologically critical areas within the training range that stretches from Northern California to the Canadian border.
"These training exercises will harm dozens of protected species of marine mammals—Southern Resident killer whales, blue whales, humpback whales, dolphins, and porpoises—through the use of high-intensity mid-frequency sonar," said Steve Mashuda, an Earthjustice attorney representing the groups. "The Fisheries Service fell down on the job and failed to require the Navy to take reasonable and effective actions to protect them."
The Navy uses a vast area of the West Coast for training activities including anti-submarine warfare exercises involving tracking aircraft and sonar; surface-to-air gunnery and missile exercises; air-to-surface bombing exercises; sink exercises; and extensive testing for several new weapons systems.
"Since the beginning of time, the Sinkyone Council's member Tribes have gathered, harvested and fished for traditional cultural marine resources in this area, and they continue to carry out these subsistence ways of life, and their ceremonial activities along this Tribal ancestral coastline. Our traditional cultural lifeways, and our relatives such as the whales and many other species, will be negatively and permanently impacted by the Navy's activities," said Priscilla Hunter, chairwoman and co-founder of the InterTribal Sinkyone Wilderness Council. "Both NMFS and the Navy have failed in their obligations to conduct government-to-government consultation with the Sinkyone Council and its member Tribes regarding project impacts."
In late 2010, NMFS gave the Navy a permit for five years of expanded naval activity that will harm or "take" marine mammals and other sealife. The permit allows the Navy to conduct increased training exercises that can harm marine mammals and disrupt their migration, nursing, breeding or feeding, primarily as a result of harassment through exposure to the use of sonar.
"The Navy's Northwest Training Range is the size of the State of California, yet not one square inch is off-limits to the most harmful aspects of naval testing and training activities," said Zak Smith, staff attorney for NRDC. "We are asking for common-sense measures to protect the critical wildlife that lives within the training range from exposure to life-threatening effects of sonar. Biologically rich areas like the Olympic Coast National Marine Sanctuary should be protected."
The Navy's mid-frequency sonar has been implicated in mass strandings of marine mammals in, among other places, the Bahamas, Greece, the Canary Islands and Spain. In 2004, during war games near Hawai'i, the Navy's sonar was implicated in a mass beaching of up to 200 melon-headed whales in Hanalei Bay. In 2003, the USS Shoup, operating in Washington's Haro Strait, exposed a group of endangered Southern Resident killer whales to mid-frequency sonar, causing the animals to stop feeding and attempt to flee the sound.
"In 2003, NMFS learned firsthand the harmful impacts of Navy sonar in Washington waters when active sonar blasts distressed members of J pod, one of our resident pods of endangered orcas," said Kyle Loring, staff attorney for Friends of the San Juans. "Given this history, it is particularly distressing that NMFS approved the Navy's use of deafening noises in areas where whales and dolphins use their acute hearing to feed, navigate, and raise their young, even in designated sanctuaries and marine reserves."
"Whales and other marine mammals don't stand a chance against the Navy," said Miyoko Sakashita, oceans director at the Center for Biological Diversity.
The Navy's mitigation plan for sonar use relies primarily on visual detection of whales or other marine mammals by so-called "watch-standers" with binoculars on the decks of ships. If mammals are seen in the vicinity of an exercise, the Navy is to cease sonar use.
"Visual detection can miss anywhere from 25-95 percent of the marine mammals in an area," said Heather Trim, director of Policy for People For Puget Sound. "It's particularly unreliable in rough seas or in bad weather. We learn more every day about where whales and other mammals are most likely to be found—we want NMFS to put that knowledge to use to ensure that the Navy's training avoids those areas when marine mammals are most likely there."
The litigation is not intended to halt the Navy's exercises, but asks the Court to require NMFS to reassess the permits using the latest science and to order the Navy to stay out of biologically critical areas at least at certain times of the year.
Marcie Keever, legal director at Friends of the Earth, noted, "It has become increasingly clear from recent research that the endangered Southern Resident killer whale community uses coastal waters within the Navy's training range to find salmon during the fall and winter months. NMFS has failed in its duty to assure that the Navy is not pushing the whales closer to extinction."
Read the complaint filed Jan. 26 against the National Marine Fisheries Service by clicking here.
For more information, click here.
EcoWatch Daily Newsletter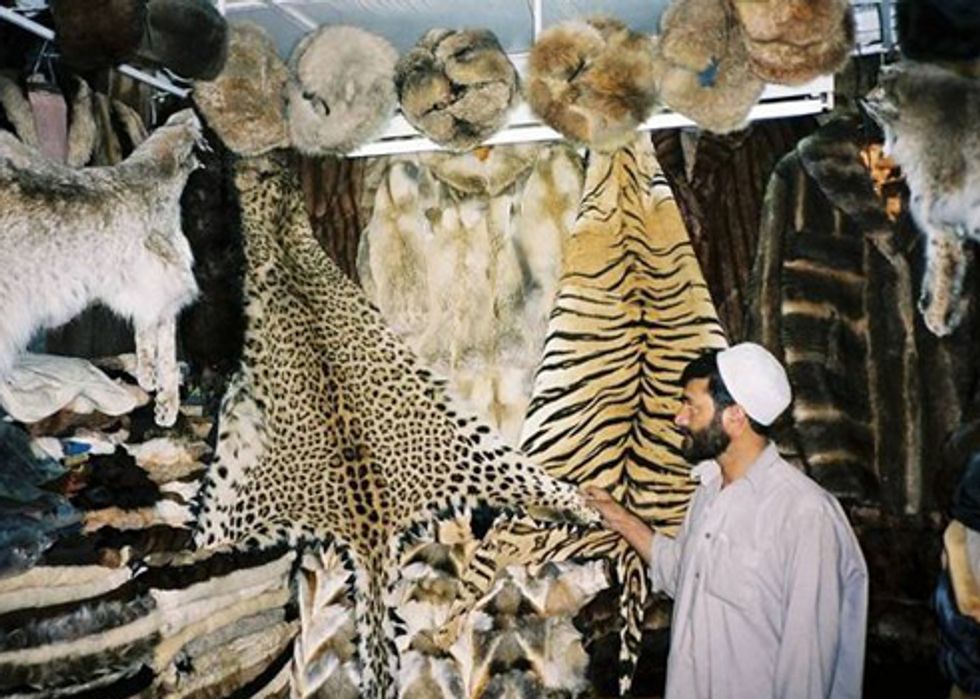 The Wildlife Conservation Society (WCS) announced on Dec. 22 the release of Caught in the Crosshairs: Combating the Illegal Wildlife Trade in Iraq and Afghanistan—a new video aimed at informing U.S. military personnel about the consequences of buying illegal wildlife products when deployed or stationed overseas.
The video, seen here, is the latest outreach tool in an ongoing initiative supported by the Department of Defense (DoD) Legacy Program that began in 2007 when WCS staff first noticed illegal items for sale on military bases near Kabul, Afghanistan. A subsequent survey of 395 soldiers at Fort Drum in June 2008 revealed that more than 40 percent of those surveyed had purchased or seen someone else in the military purchase products made from wildlife while stationed overseas.
Launched during the holiday season, it is hoped that the new video will educate and remind military personnel returning home to not purchase and transport these products as gifts for family and friends.
Many of the wildlife products available that end up on bases in Afghanistan and Iraq are from locally or globally threatened or endangered species such as snow leopard, Eurasian wolf, and Asiatic black bear. The purchase and transport of such products violates military regulations, U.S. laws such as the Endangered Species Act, national laws of Afghanistan, and obligations to international agreements such as the Convention on International Trade in Endangered Species of Wild Fauna and Flora (CITES).
"Only a small fraction of respondents to our 2008 survey knew about the various laws regulating trade in illegal wildlife," said WCS North America Program Livelihoods coordinator Dr. Heidi Kretser. "The video highlights the potential consequences for soldiers purchasing wildlife products and illustrates how demand for these items can put species at risk and contribute to local, regional, and global extinctions."
Caught in the Crosshairs from MP on Vimeo.
Military personnel and affiliates stationed overseas have significant buying power that influences local markets—including driving the demand for wildlife products. This is bad news for iconic wildlife such as snow leopards in Afghanistan that are endangered, yet are sometimes poached for their beautiful coat and other body parts. By demonstrating this cause and effect relationship to military personnel, the video looks to end demand for these products, and therefore, the incentive for dealers to carry them and support poaching.
The video, narrated by actor/director and United Nations Goodwill Ambassador for Biodiversity Edward Norton, also alerts the viewer to other dangers of purchasing and transporting illegal wildlife products. These include threats associated with zoonotic disease (pathogens that occur in wildlife that are potentially transmissible to people), the depletion of scarce and/or culturally significant natural resources, and the inadvertent support of organized crime.
The video notes that law enforcement authorities are finding that organized crime groups that smuggle weapons and drugs are increasingly involved with the trade of illegal wildlife—a trade estimated to reach into the billions of dollars.
"We believe the video helps the message resonate with military personnel on several levels, said Katherine Hammack, assistant secretary of the Army, Installations, Energy & Environment. "If something is seized and it is understood that it has been intentionally purchased with the intent of transporting it back to the United States, then they are subject to the Uniform Code of Military Justice and their command is notified. So it could jeopardize a soldier's entire career."
WCS Deputy Director of Asia Programs Peter Zahler said, "We are proud to be advising the DoD on this important project to reduce demand for wildlife products, protect military personnel from inadvertently breaking the law, and protect globally significant wildlife. This video will go a long way in helping both WCS and DoD achieve their missions."
For more information, click here.
—————
The Wildlife Conservation Society saves wildlife and wild places worldwide. We do so through science, global conservation, education and the management of the world's largest system of urban wildlife parks, led by the flagship Bronx Zoo. Together these activities change attitudes towards nature and help people imagine wildlife and humans living in harmony. WCS is committed to this mission because it is essential to the integrity of life on Earth.
Like many other plant-based foods and products, CBD oil is one dietary supplement where "organic" labels are very important to consumers. However, there are little to no regulations within the hemp industry when it comes to deeming a product as organic, which makes it increasingly difficult for shoppers to find the best CBD oil products available on the market.
<p>Here you can learn about the importance of organic hemp oil, why it's better for the environment, and which CBD companies actually make trustworthy products with sustainable farming processes. origins which weigh heavily on many consumers who want to buy a product that's produced in the best way possible for not only themselves to ingest, but for the environment as well through sustainable farming methods. </p><h2>What Is CBD Oil?</h2><p>First things first, CBD stands for cannabidiol, and it's a cannabinoid found within cannabis sativa plants. This plant compound is believed to have many potential benefits, and it is primarily derived from hemp plants via a CO2 extraction process. </p><p>Since CBD is extracted from industrial hemp, which contains only trace amounts of THC (the psychoactive component in cannabis plants), this means that CBD won't make you feel high like marijuana, which has much higher levels of THC that causes psychoactive effects. Instead, the effects of CBD are much more subtle and promote a general sense of calm and relaxation in most users.</p><h2>What Makes a CBD Oil Organic?</h2><p>In terms of organic labels, perhaps the most important (and prominent) certification comes from the United States Department of Agriculture (USDA). This government organization has been labeling foods as "organic" for many years, but what exactly does this certification entail? Essentially, a label indicating that a product is "USDA Organic" or "Certified Organic" means that at least 95% of the ingredients are obtained from organic sources.</p><p>For a crop to be considered organic by the USDA, it must be grown without the use of industrial solvents, irradiation, genetic engineering (GMOs), synthetic pesticides, or chemical fertilizer. Instead, farmers rely on natural substances and <a href="https://www.usda.gov/media/blog/2012/03/22/organic-101-what-usda-organic-label-means" rel="noopener noreferrer" target="_blank">mechanical, physical, or biologically based farming</a> techniques to cultivate healthy and organic crops.</p><p>Before the passage of the 2018 Farm Bill, no hemp-derived products could be dubbed as "certified organic" since the hemp plant and its extracts were still categorized as a Schedule I Controlled Substance. However, it's still difficult for CBD companies to obtain a USDA certified organic label for their products due to the legal grey area that still surrounds CBD extracts. </p><p>Because of these challenges, and due to the fact that industrial hemp has only recently become an agricultural crop, very few CBD oils are USDA certified organic. Rather, many CBD products contain hemp extracts from plants that were grown in organic conditions but may not be federally certified.</p><h2>What are the Best Organic CBD Oil Brands?</h2><p><em>Each product featured here has been independently selected. If you make a purchase using the links included, we may earn commission.</em></p>