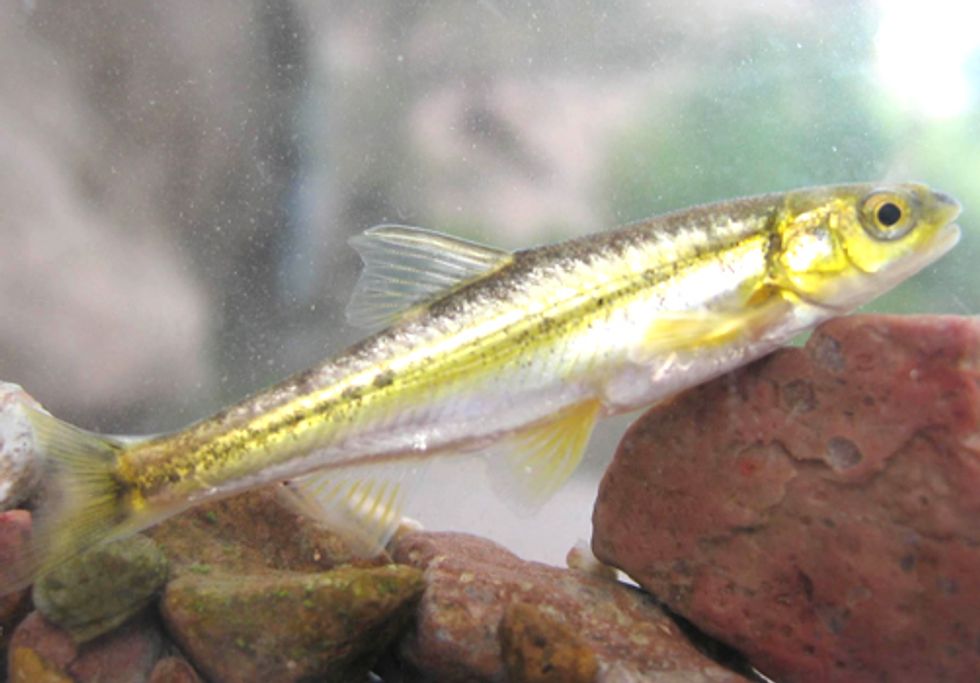 In response to a lawsuit brought by the Center for Biological Diversity, the U.S. Fish and Wildlife Service on Feb. 22 finalized designation of 710 river miles of protected critical habitat for the spikedace and loach minnow—two southwestern fish that have been eliminated from more than 80 percent of their historic ranges in Arizona and New Mexico. The agency also uplisted the two fish from "threatened" to "endangered"—a government acknowledgment that they both need, and will receive, more federal protection. The fish, whose populations are declining, are being driven toward extinction by habitat loss and the spread of invasive species.
"Federal recognition of the precarious status of these two fish species should raise a general alarm—we need to take emergency action to protect Southwest rivers and streams," said Noah Greenwald, endangered species director at the Center. "These two fishes aren't an isolated example; there's an extinction crisis across the board in southwestern rivers. Habitat destruction and invasive species are putting nearly all the native fish, frog and other aquatic species at risk."
The Center petitioned to have the spikedace and loach minnow uplisted to endangered in 1993. At that time, the Fish and Wildlife Service found the species "warranted" a change in status, but deemed the change "precluded" by listing of other species. Following litigation by Catron County and the New Mexico Cattle Growers' Association against previous designations of critical habitat, the Bush administration protected just 522 river miles in 2005. The Center challenged this designation, resulting in the Feb. 22 designation of 710 river miles, including portions of the Verde, Blue, Black, San Francisco and Gila rivers and Eagle, Bonita, Aravaipa and Tonto creeks.
"Saving endangered species means protecting the places they live," said Greenwald. "Critical habitat will let these two small fish survive, yes, but it'll also benefit the people of the Southwest, who will still have the chance to see living rivers."
A number of areas were excluded from the critical habitat despite being essential to the fishes' survival, including portions of the San Pedro, Verde, White and San Francisco rivers and Eagle Creek, based on argued conflicts with national security on Fort Huachuca and management by tribes and the mining company Freeport-McMoRan.
"Even though they're not officially part of the fishes' critical habitat, we're really hoping these rivers will be maintained and recovered—both for spikedace and loach minnows and also for the many other rare species that depend on these waters for survival," said Greenwald.
For more information, click here.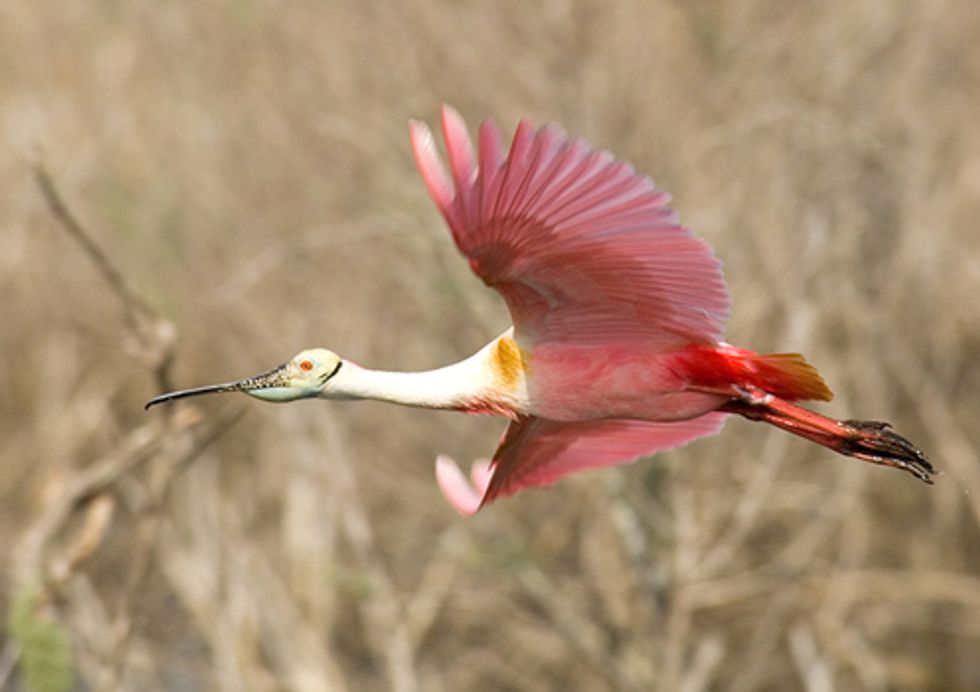 The Conservation Fund and the U.S. Fish and Wildlife Service (FWS) on Feb. 21 announced the purchase of 4,471 acres of unique Columbia Bottomlands habitat near West Columbia. This acquisition will permanently protect a diverse freshwater wetland and the Brazos River floodplain forest surrounding Eagle Nest Lake for wildlife, public recreation and education.
"The service is excited about the opportunity that conservation of Osceola Plantation will provide for wildlife and visitors; including restoring the emergent marsh to provide freshwater habitat for thousands of wintering ducks and geese and restoring one thousand acres of diverse native prairie habitat where one day an Attwater's prairie chicken may once again be heard," said Jennifer Sanchez, refuge manager of the Texas Mid-Coast NWR Complex, which includes San Bernard National Wildlife Refuge (NWR).
The property, known as the Osceola Plantation, features one of the largest natural lakes in the coastal region. The tract's unique and diverse habitat features coastal prairie, river bottom forests, freshwater wetland and open water. The habitat is a magnet for migratory land birds, wintering sparrows, shorebirds and waterfowl, including the Mottled Duck, a species in sharp decline.
The Conservation Fund has conveyed the tract to the FWS for incorporation into the San Bernard NWR as part of the FWS's Austin's Woods/Columbia Bottomlands Conservation Plan—an effort to conserve 70,000 acres of bottomland hardwood forests and other associated habitats vital for approximately 29 million migrant birds. As one of the "birdiest" spots in the world, the Texas Gulf Coast brought in $2.9 billion in revenue for the state from wildlife watching in 2006. These low-lying forests loved by birds also help to clean the water on its way through to the Gulf of Mexico, improving conditions for aquatic life and the multimillion-dollar seafood industry.
The U.S. Department of Agriculture's Natural Resources Conservation Service designated funds for the protection of the property with a conservation easement through its Wetlands Reserve Program. In 2009, the U.S. Congress approved funding for the purchase of the property through the Land and Water Conservation Fund. A North American Wetlands Conservation Act grant and $3 million from the Migratory Bird Conservation Commission's Federal Duck Stamp program were also approved for this conservation effort. In addition, generous private donations from Houston Endowment, Inc.; The Brown Foundation, Inc.; The Trull Foundation; Malcolm C. Damuth Foundation; The Jacob and Teresa Hershey Foundation; George and Mary Josephine Hamman Foundation and the Great Texas Birding Classic helped make this acquisition possible.
"The San Bernard National Wildlife Refuge has attracted visitors from around the world," said U.S. Sen. Kay Bailey Hutchinson (R-TX). "Today's welcome announcement assures that this wildlife refuge and its unique habitat are protected for future generations to enjoy."
"This project attracted the attention of so many partners because of its beauty, habitat diversity, recreational potential and proximity to the Houston metroplex," said Julie Shackelford, Texas programs director of The Conservation Fund. "With key support from the National Fish and Wildlife Foundation and all of our partners, we were finally able to facilitate its permanent protection."
 For more information, click here.
—————
The San Bernard NWR is one of three refuges that make up the Texas Mid-Coast National Wildlife Refuge Complex and form a vital area of coastal wetlands harboring more than 300 bird species. The complex serves as an end point of the Central Flyway for waterfowl in winter, and an entry point for neotropical migratory songbirds tired from a 600-mile Gulf crossing from Mexico's Yucatan Peninsula. Located just south of Houston, the refuge complex offers a haven for both wildlife and people. The public is welcome at several locations across San Bernard NWR, providing opportunities to encounter marsh, prairie and forest ecosystems.
At The Conservation Fund, we combine a passion for conservation with an entrepreneurial spirit to protect your favorite places before they become just a memory. A hallmark of our work is our deep, unwavering understanding that for conservation solutions to last, they need to make economic sense. Top-ranked, we have protected nearly 7 million acres across America.
EcoWatch Daily Newsletter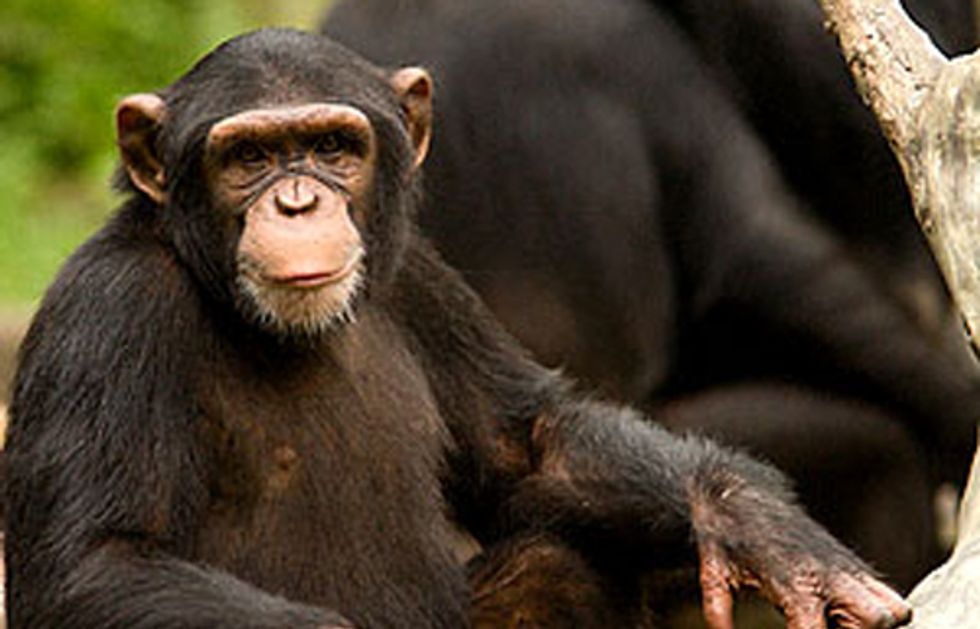 Speak up today to protect chimpanzees who can't defend themselves.
The worldwide population of wild chimpanzees has fallen by nearly 70 percent in the past 30 years. Wild chimpanzees have been protected under the Endangered Species Act since 1976, but a special rule exempting captive chimpanzees from protections is compromising conservation efforts.
Chimpanzees are endangered everywhere due to habitat loss, poaching and illegal trafficking. Wild chimpanzees are captured and sold for use as entertainment, as pets and as test subjects. The loophole in the Endangered Species Act creates a vicious cycle of supply and demand—Chimpanzees are exploited for entertainment, giving people the misconception that the species is common in the wild, which creates a demand for pet chimpanzees, which in turn leads to more poaching.
The exemption in the U.S. also undermines international chimpanzee conservation efforts. African nations see the animals being commercially exploited in America and have little incentive to protect them in their home range.
This loophole is preventing the recovery of chimpanzees in the wild by encouraging their illegal trade.
The U.S. Fish and Wildlife Service is now considering whether to extend full protection to captive chimpanzees. Take action now in support of protecting all chimpanzees, both wild and captive, as an endangered species.
Click here to find out more and take action.

For more information, click here.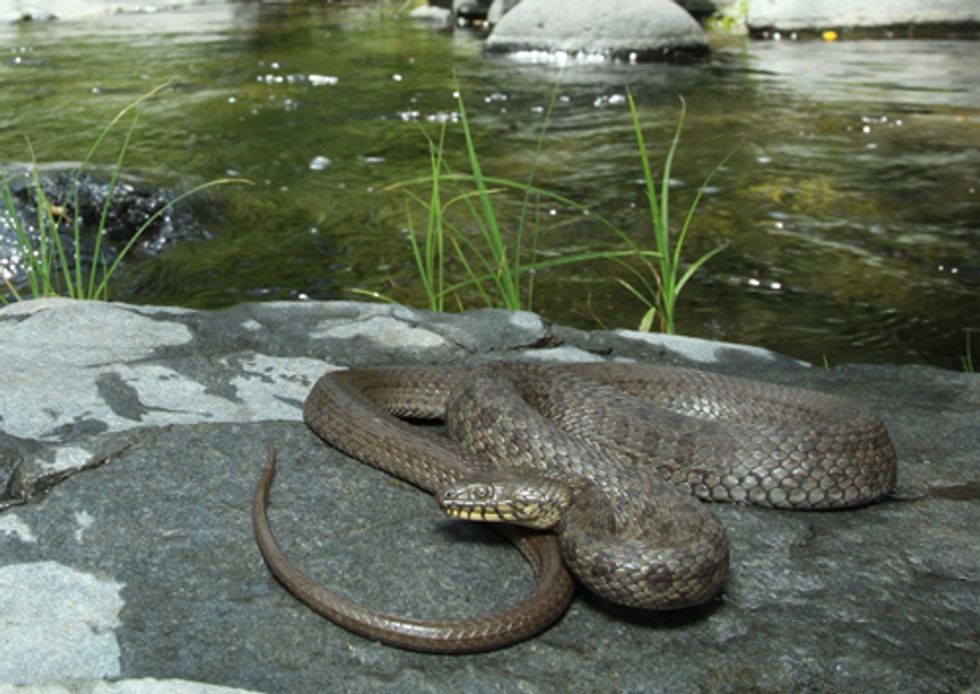 [Editor's note: On Dec. 28, the Endangered Species Act (ESA) celebrated its 38th birthday. The ESA was enacted on Dec. 28, 1973, to prevent the loss or harm of endangered and threatened species,  and to preserve the ecosystems upon which these species depend. Thanks to the many grassroots environmental organizations that work hard every day to protect this historic legislation.]
Arizona's narrow-headed garter snake is rapidly disappearing and needs Endangered Species Act protection in order to avoid extinction, according to a status report submitted Dec. 28 by the Center for Biological Diversity and two Arizona herpetologists. The report responds to an announcement by the U.S. Fish and Wildlife Service last month that the agency is preparing a proposed rule to protect the northern Mexican garter snake and is also evaluating whether the narrow-headed garter snake warrants federal protection.
"Declines of the northern Mexican garter snake and the narrow-headed garter snake are symptomatic of widespread declines in the aquatic fauna of the Southwest," said Collette Adkins Giese, an attorney at the center who focuses on protection of imperiled amphibians and reptiles. "These snakes depend on native fish and amphibians as prey, and the widespread loss of these snakes and their prey reflects a severe collapse of the food web in Southwest rivers and streams."
The introduction and spread of nonnative species, such as sunfish, bass and crayfish—as well as the destruction of their streamside habitats due to livestock grazing, water withdrawal, and agricultural and urban sprawl—are the main culprits in the decline of the Mexican and narrow-headed garter snakes. Collection and killing by humans is also driving their declines.
"We're pleased that the service is taking steps toward federal protection for these highly imperiled snakes," said Giese. "Endangered Species Act protection will put these snakes on the path toward recovery, but the window of opportunity is closing fast."
The northern Mexican and narrow-headed garter snakes have undergone dramatic range-wide declines in the U.S. and are now almost entirely limited to small, isolated populations that are at risk of extirpation. The center petitioned for the Mexican garter snake in 2003, and it has been a candidate for Endangered Species Act protection since 2008. Under a historic settlement agreement with the Center for Biological Diversity, the U.S. Fish and Wildlife Service must make a decision about protection for the Mexican garter snake in fiscal year 2013.
If the service concludes that Endangered Species Act protection is warranted for the narrow-headed garter snake, the agency expects to publish a combined rule to list both snakes as threatened or endangered throughout their ranges and designate proposed critical habitat by the end of 2012.
For more information, click here.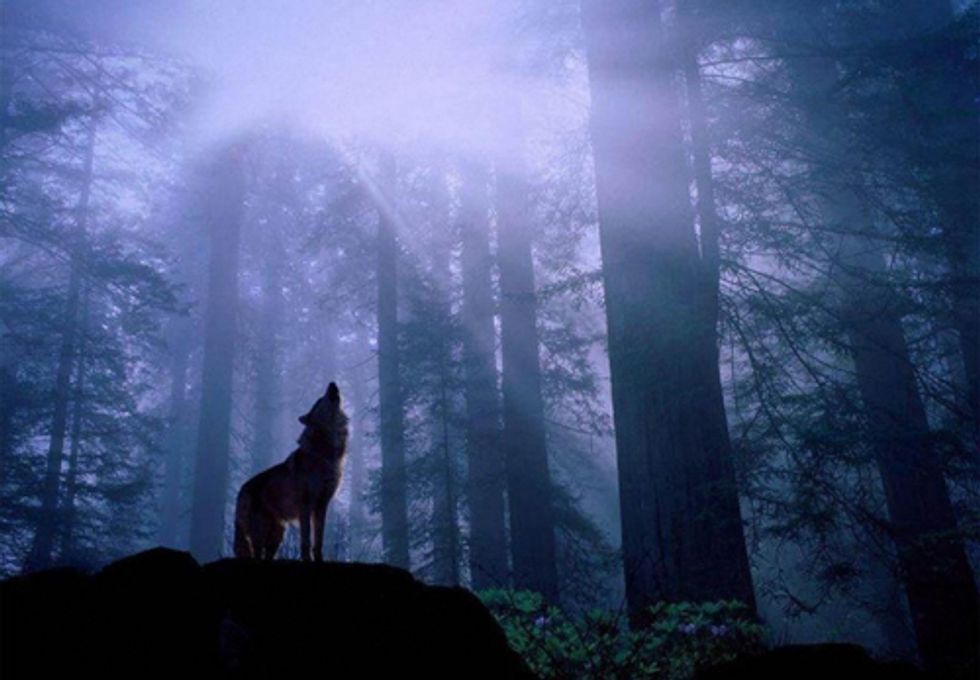 The U.S. Fish and Wildlife Service issued a rule Dec. 21 prematurely removing Endangered Species Act protections from gray wolves in the Great Lakes region. But the agency's rule retains protections for wolves in the Northeast, an important development for any current or future wolves in that region. That change came after the Center for Biological Diversity and others urged the agency to reconsider its scientifically controversial decision to remove wolf protections from 29 eastern states.
"Wolf recovery in the Midwest has been a tremendous success, but the job is far from complete," said Collette Adkins Giese, a staff attorney at the center. "The three Great Lakes states with wolves all plan to kill more wolves and to reduce populations through hunts and other means. Wolves remain threatened by human intolerance and persecution. More should be done to help people live with wolves and increase tolerance before protections are removed."
For now, any wolves in the Northeast will remain protected under the Endangered Species Act, which reflects a substantive change from the service's proposed rule released in May. But the service has not yet made a final decision on whether to maintain protections for wolves in the Northeast. The center has urged the agency to kick-start moribund wolf-recovery efforts in the region, where scientists have identified suitable wolf habitat.
"We are so relieved that wolves in the Northeast will retain their protections," said Adkins Giese. "The service now needs to develop a recovery plan so that wolves can once again thrive in the Northeast, feeding on abundant deer herds and restoring natural balance to the region."
The rule removes protection from wolves in the Great Lakes region, even though they remain threatened by disease and human persecution. The rule turns management of wolves over to state agencies that plan to drastically reduce wolf populations—Minnesota's plan resurrects a version of the old bounty system by paying state-certified predator controllers $150 for each wolf killed. The Wisconsin plan seeks to reduce the state population by half to reach a target of 350 wolves. State agencies are expected to move quickly to open wolf hunting seasons across the Great Lakes region.
"Wolves have been an integral part of North American landscapes for millions of years and are cherished, iconic animals that deserve a certain future in this country," said Adkins Giese. "The service should use its legal authority to chart a new course that focuses on national wolf recovery."
Background
Like two previous rules struck down by court orders, the Dec. 21 rule defines and delists a "Western Great Lakes distinct population" of gray wolves in Minnesota, Wisconsin and Michigan, as well as portions of North Dakota, South Dakota, Iowa, Illinois, Indiana and Ohio.
The center has called for a national plan that will provide a roadmap for recovering wolves in suitable habitat across the U.S., including places within the Pacific Northwest and California, the deserts and canyons of the Colorado Plateau and Colorado's Rocky Mountains, and the Northeast.
For more information, click here.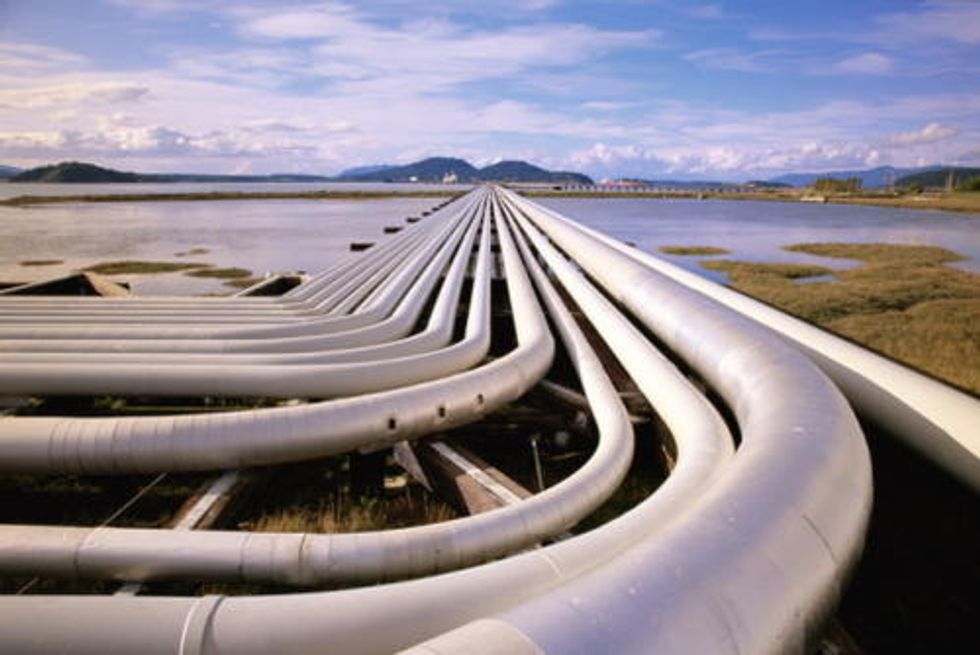 The oil and gas industry seems to think it deserves to have its own set of rules. We see far too many instances of projects being fast-tracked and approved without consideration of impacts on the environment and the species that live there. Even this hands-off regulatory approach is, according to at least one pipeline company, unduly burdensome.
NiSource, the operator of a 15,000 mile pipeline in 14 states, is seeking a permit to legally kill endangered species anywhere along the route of their pipeline. Threatened and endangered species like the Louisiana black bear, Eastern bog turtle, and "Ginny"—the West Virginia Northern flying squirrel—would lose federal protections anywhere within a one-half mile zone on either side of their pipeline.
Tell the U.S. Fish and Wildlife Service that granting permits this vague and far-reaching is an unprecedented weakening of the Endangered Species Act (ESA) that you do not support.
The size and scope of the requested exemption is worrisome enough, but on top of that NiSource wants the permit to last 50 years. This is an unprecedented attempt on the part of NiSource to escape its responsibilities under the ESA. The nearly 10 million acres impacted by this decision are home to more than 75 endangered or threatened species. Putting them at risk to increase the profits of the oil and gas industry is in conflict with the spirit of the ESA and would open the door to future blanket exemptions, further weakening the ESA.
The U.S. Fish and Wildlife Service is giving members of the public until Dec. 13 to voice their concerns. Tell them that NiSource's request is too broad and long-lasting and puts too many species at risk to be approved.
For more information, or to send a letter to the U.S. Fish and Wildlife Service, click here.