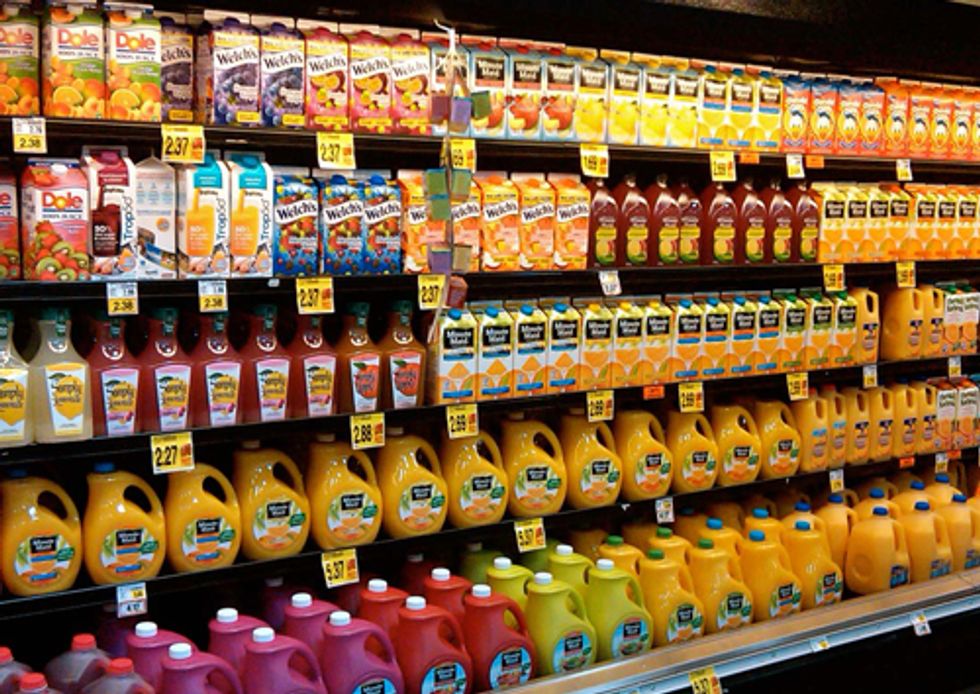 The U.S. Food and Drug Administration (FDA) says it will step up testing for a fungicide not registered for use in the U.S. that has been found in low levels in orange juice. The fungicide, carbendazim, does not have any food tolerances and thus its presence in orange juice is unlawful under the Federal Food, Drug, and Cosmetic Act. Despite this, FDA does not intend to take action to remove from domestic commerce orange juice containing the reported low levels of carbendazim, but will deny future imports.
FDA said in a letter to the Juice Products Association that an unnamed juice company (later identified as Coca-Cola, maker of Minute Maid and Simply Orange), contacted the agency in late December and said it had detected low levels of carbendazim, a fungicide, in the company's own orange juice and also its competitors' juice. Carbendazim is not currently approved for use on citrus in the U.S., but is used in Brazil, which exports orange juice to the U.S. Testing found levels up to 35 parts per billion (ppb) of the fungicide, far below the European Union's maximum residue level of 200 ppb. The U.S. does not have an established maximum residue level (tolerance level) for carbendazim in oranges.
According to the FDA letter, the U.S. Environmental Protection Agency (EPA) conducted a preliminary risk assessment based on the recent report of carbendazim in orange juice, and concluded that consumption of orange juice with carbendazim at the low levels that have been reported does not raise safety concerns. However, when carbendazim was evaluated along with its parent chemical—thiophanate-methyl—also a fungicide, by EPA in 2004, both were determined to cause liver and thyroid effects in animal studies and have been classified as probable human carcinogens. Repeated exposure to carbendazim causes spermatogenic effects in rats and hepatic tumours in mice. The liver and thyroid are the primary target organs in several species following subchronic or chronic dietary exposures and the testes are the main known target organ for carbendazim. Carbendazim is also listed as a potential endocrine disruptor in the European Union.
Section 408 of the Federal Food Drug and Cosmetic Act (FFDCA) authorizes EPA to establish, modify or maintain tolerances or tolerance exemptions for pesticide residues in or on food. According to the law, any food with pesticide residues not covered by a tolerance or tolerance exemption, and any food with residues in excess of the tolerance, may be subject to regulatory action, including seizure, by the U.S. government. Pesticide tolerances and exemptions are enforced by FDA (for most foods), the U.S. Department of Agriculture (for meat, poultry and some egg products), and the individual states. According to EPA's 2004 registration documents for thiophosphate-methyl and its degradate carbendazim, there are no registered food uses in the U.S., nor import tolerances for carbendazim. Food with pesticide residues cannot be imported to the U.S. without an established food tolerance (the legal maximum pesticide residue allowed in or on food.)
FDA states it is sampling import shipments of orange juice and will deny entry to shipments that test positive for carbendazim. FDA does not intend to take action to remove from domestic commerce orange juice containing the reported low levels of carbendazim. The discovery comes after the agency said it would also step up testing for arsenic in apple juice. FDA officials said last year that the agency is considering tightening restrictions for the levels of arsenic allowed in the juice after consumer groups pushed the agency to crack down on the contaminant. Studies show that apple juice has generally low levels of arsenic, and the government says it is safe to drink. But consumer advocates say the FDA is allowing too much of the chemical.
Carbendazim is a systemic benzimidazole fungicide that plays a role in plant disease control with the global market worth more than $200 million, and is an approved fungicide in many countries. According to an FDA notification, it "learned from a juice company that it had detected low levels of carbendazim (in the low parts per billion range) in its and competitors' currently marketed finished products, and in certain orange juice concentrate that is not on the market." It is thought that the chemical was in the juice because it had been imported from Brazil, where the chemical is legal and used against black spot.
The use of hazardous chemicals in food production, especially chemicals not allowed for use in the U.S. and Europe, is still a common practice in much of the developing world where food is routinely imported into the U.S. By purchasing food commodities with legal tolerances for pesticides no longer used or restricted in the U.S., consumers inadvertently support agricultural production practices in other countries that are associated with the range of adverse effects as noted in the Pesticide Induced-Disease Database, including poor labor practices and environmental degradation. The Eating with a Conscience database, based on legal tolerances (or allowable residues on food commodities), describes a food production system that enables toxic pesticide use both domestically in the U.S. and internationally, and provides a look at the toxic chemicals allowed in the production of the food we eat and the environmental and public health effects resulting from their use.
To avoid potentially dangerous chemical residues in food, whose origins may be domestic or international, choose organic. The most important organic food products to purchase, especially for children, are those that are consumed in great quantity, such as juice. Purchasing organic juice is particularly important to reduce their pesticide exposure. Research has shown that switching children to an organic diet drastically reduces their exposure. For more information, visit our Organic Food page.
For more information, click here.
By Andrew Gunther
Forgive me if you don't see me jumping for joy at the U.S. Food and Drug Administration's (FDA) recent announcement that it intends to limit the use of a specific group of antibiotics in livestock production.
While the FDA's decision to curb the use of cephalosporins in food animal production beginning April 2012 has been hailed as positive step in the right direction, I'd say it's more a shuffle forwards—and a very reluctant one at that.
"We believe this is an imperative step in preserving the effectiveness of this class of important antimicrobials that takes into account the need to protect the health of both humans and animals," said Michael R. Taylor, the FDA's deputy commissioner for foods, in the FDA press release. Now, as regular readers of my post will already know, I am passionate about the urgent need to curb the misuse of antibiotics in intensive farming systems. So what's my problem with the FDA's recent actions? After all, surely this is good news?
As various commentators—including Tom Philpott and Mary McKenna—have already pointed out, I am afraid that cephalosporins are nothing but small fry when it comes to overall antibiotic use in intensive farming. During 2009 alone, the FDA revealed that 80 percent of all antibiotics produced in the U.S. were used for animals—that's an incredible 28,820,000 pounds out of the 36,080,000 pounds produced. Yet cephalosporins amounted to just over 91,000 pounds of this total—less than half of one percent of all antibiotics used in the U.S. The FDA's latest figures also reveal that cephalosporin use has decreased even further during 2010 to just over 51,000 pounds. To make matters even worse, the FDA's announcement is actually a (less strict) rehash of proposals that were first announced in 2008, and which were immediately recalled after the usual uproar from the intensive farming industry lobby.
So what's the real outcome of the FDA's recent action? Well, certainly some positive media fluff for the FDA for appearing to take a stand by banning a minor antibiotic that was clearly already losing favor within the industry, yet a minimal impact on the day-to-day workings of the intensive farming industry. A cozy coincidence? I wish it was.
This rather insignificant move forward comes after a preemptive, giant leap backwards made Dec. 22, 2011, just as most of us were focusing on the upcoming holiday period. Notably without any accompanying press release or media fanfare in this instance, the FDA quietly announced in the Federal Register that it was withdrawing its long-standing intention to compel intensive farms to limit certain uses of the key antibiotics penicillin and tetracyclines for food-producing animals—an objective originally set in motion more than 30 years ago when government FDA scientists first began to fully appreciate the risks to human health from the laissez-faire non-therapeutic use of antibiotics in industrial farming.
We all know the story since then—over the years, the FDA has time and again cowed down to powerful political and legal pressure from the multi-billion dollar intensive farming industry lobby and its paid-up politicians, as antibiotic use in farming continued to spiral out of control in the pursuit of ever-cheaper protein and ever-increasing profit—not to mention the impact of intensification on animal welfare, our health and the environment. In its recent announcement the FDA warns that while it has not "ruled out" future regulatory action, it will instead "focus its efforts for now on the potential for voluntary reform and the promotion of the judicious use of antimicrobials in the interest of public health." I bet Big Ag's CEOs are quaking in their boots.
Voluntary reform? Call me a cynic, but the FDA has got to be kidding. Despite decades of mounting evidence and the emergence of a global scientific consensus that the routine non-therapeutic use of medicinally important antibiotics on industrial farms across the world is leading to the development of life-threatening multiple antibiotic-resistant bacteria, the powerful U.S. intensive farming lobby continues to aggressively dismiss the science and deny any possible risks to human health—just as the tobacco industry did in the 1970s.
While the FDA's announcement of limitations for the use of cephalosporins in food animal production might well be a small step in the right direction, the FDA continues to show that it has no teeth when it comes to ensuring that the intensive farming industry puts human health before profit, so that these vital medicines can remain effective for as long as possible. Even the Government Accountability Office recently concluded that key government agencies—including the FDA—are simply not doing enough to combat the growing threat of antibiotic resistant bacteria to public health, and that "antibiotic use in food animals contributes to the emergence of resistant bacteria that may affect humans." Far from being the proud industry watchdog working on behalf of U.S. citizens, the sad reality is that the FDA is happy to play the role of Big Ag's lapdog.
For more information, click here.
EcoWatch Daily Newsletter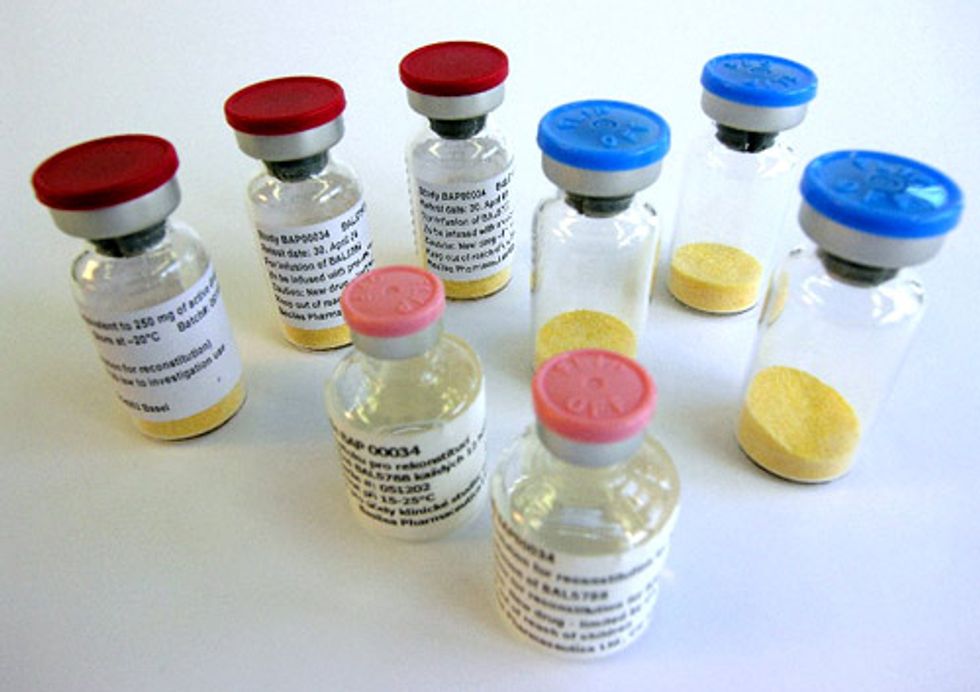 The Center for Food Safety (CFS) applauded the U.S. Food and Drug Administration (FDA) Jan. 4 for pre-releasing its long awaited prohibition on the extra-label use of cephalosporin drugs in food-producing animals. Cephalosporin drugs are an essential tool in both human and animal medicine, but mounting evidence has linked extra-label use of these drugs to the development and spread of cephalosporin-resistant organisms.
"This is a critical win for consumers, food safety advocates and the medical community," said Andrew Kimbrell, executive director for the Center for Food Safety. "But it's high time that FDA wakes up to the dangers that non-therapeutic uses of all antibiotics pose to our health and the safety of our food supply," Kimbrell said.
Cephalosporins are a vitally important class of antibiotics used most often in the treatment of serious Salmonella infections but also used to treat many other serious infections. The announcement Jan. 4 comes more than three years after the FDA first published an order prohibiting for the extra-label uses in food-producing animals of these drugs. That order was then withdrawn by the FDA before it could go into effect, citing the need for additional review of the public comments it received.
In its notice Jan. 4, FDA said that it plans to publish the Final Rule in the Federal Register on Jan. 6 announcing the prohibition of the extra-label use of cephalosporin drugs in food-producing animals. The Final Rule will go into effect 90 days from being published in the Federal Register and FDA will accept public comments for 60 days following the Federal Register notice. FDA's Final Rule will continue to allow approved label uses of these drugs for food producing animals as long as they are done in a safe and effective manner.
"The extra-label ban is just the first of many actions that FDA must make in order to better protect the public from the dangers of antibiotic-resistance," said Paige Tomaselli, staff attorney for the CFS. "Losing the effectiveness of critically important antibiotics as a result of our own misuse would be a catastrophic loss for modern medicine," added Tomaselli.
In August 2010, more than 180,000 citizens sent letters to the FDA responding to the agency's request for comments on rules governing the judicious use of antibiotics on industrial farms. Those letters joined dozens of scientific experts and public interest organizations calling on FDA to tighten oversight and curtail misuse and overuse of antibiotics on industrial farms. In its comments to the FDA, CFS thanked FDA for initiating discussion on the critical issue but expressed deep concern that its measures would not be voluntarily implemented and that regulation mandating immediate action is required instead. Further, in the absence of a clear timeline and strict goals, CFS stressed that the agency's approach lacked the urgency that this critical issue demands.
For more information, click here.