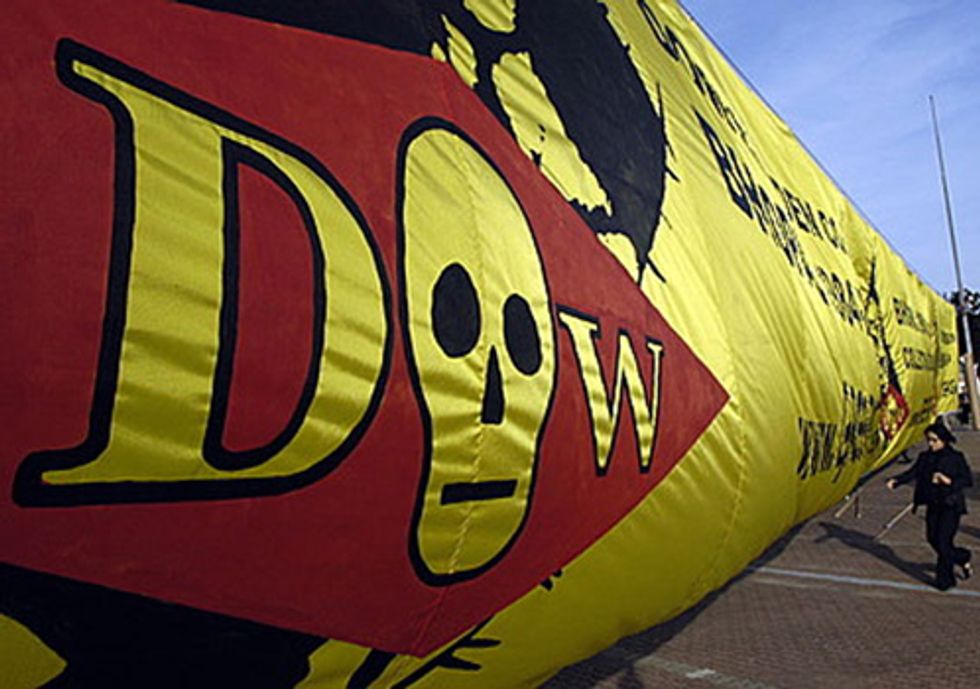 Dow Chemical is currently requesting unprecedented approval from the U.S. Department of Agriculture (USDA) to market a genetically engineered (GE) version of corn that is resistant to 2,4-D, a major component of the highly toxic Agent Orange. Agent Orange was the chemical defoliant used by the U.S. in Vietnam, and it caused lasting ecological damage as well as many serious medical conditions in both Vietnam veterans and the Vietnamese.
Exposure to 2,4-D has been linked to major health problems that include cancer (especially non-Hodgkin's lymphoma), lowered sperm counts, liver disease and Parkinson's disease. A growing body of evidence from laboratory studies shows that 2,4-D causes endocrine disruption, reproductive problems, neurotoxicity and immunosuppression. Furthermore, tests within the industry show that 2,4-D is contaminated with dioxins, a group of highly toxic chemical compounds that bioaccumulate, so even a minute amount can accumulate as it goes up the food chain, causing dangerous levels of exposure. Dioxins in Agent Orange have been linked to many diseases, including birth defects in children of exposed parents—and, according to the U.S. Environmental Protection Agency (EPA), 2,4-D is the seventh largest source of dioxins in the U.S.
USDA approval of Dow's GE corn will trigger a big increase in 2,4-D use—and our exposure to this toxic herbicide. Yet the USDA has not assessed how much exposure will increase, nor analyzed the resulting impacts on public health, the environment or neighboring farmers (2,4-D is prone to drift and cause damage to nearby crops). Instead, the agency has once again bowed to the pesticide industry by giving preliminary approval to still another pesticide-promoting crop that will likely harm people and their children, including farmers, and the environment. The USDA claims to be adhering to a scientific process, yet they are blatantly ignoring the science on 2,4-D.
Tell the USDA to reject 2,4-D resistant GE corn—Sign the petition today.
For more information, click here.
EcoWatch Daily Newsletter

On Jan. 11, 2012, the U.S. Environmental Protection Agency (EPA) submitted its comments on New York State's revised draft Supplemental Generic Environmental Impact Statement (dSGEIS) and the proposed state regulations and general permit for horizontal drilling and high-volume hydraulic fracturing—better known as fracking—to develop the Marcellus Shale and other low-permeability gas reservoirs.
The U.S. EPA found that the emerging plan to regulate natural gas drilling in the gas-rich Marcellus Shale needs to go further to safeguard drinking water, environmental sensitive areas and gas industry workers. According to the New York State Department of Environmental Conservation (DEC), the U.S. EPA's comments were among an estimated 40,000 received during a four-month comment period on its proposed plan to regulate the environmental risks of drilling.
According to the comments submitted by the U.S. EPA, to free the gas trapped in the Marcellus and other shale formations, drillers pump millions of gallons of water mixed with sand and chemicals deep underground under pressure. The wastewater can get into drinking water by being disposed of at sewage treatment plants. The comments go on to say, that New York's current permitting system for water treatment plants doesn't include limits on pollutants frequently contained in drilling wastewater, such as radionuclides, which can cause cancer at high levels.
The U.S. EPA said it needs to be more closely involved in analyzing and approving any treatment plant's application to accept drilling wastewater. And while the DEC's proposed rules suggest limits on radioactive elements such as radium, the U.S. EPA said it's not clear who would be "responsible for addressing the potential health and safety issues" related to radiation exposure.
The DEC listed a number of out-of-state treatment plants as potential recipients, but due to capacity limits, the U.S. EPA warned that these plants can't handle more wastewater.
What to do with this wastewater is a problem in many states. In Pennsylvania, the Monongahela River, which provides drinking water to 350,000 people, became contaminated in 2009 after the state greatly increased its high-volume hydraulic fracturing industry without a secure plan on how to manage the wastewater.
In Ohio, the chemical-laced fracking wastewater generated in Ohio and other states, including New York and Pennsylvania, is being injected into wells about 9,000 feet deep. On New Year's Eve, the Youngstown, Ohio area, home to many of these injection wells, experienced a 4.0 magnitude earthquake that is believed by experts to be caused by high-pressure liquid injection of fracking wastewater. The Dec. 31 earthquake was the eleventh that region had experience since March 2011.
Health risks to workers close to wastewater and other potentially radioactive materials, including the large amounts of soil and mud unearthed by drilling, concerns the U.S. EPA. "At a minimum, the human health risks to the site workers from radon and its decay products should be assessed along with the associated treatment technologies such as aeration systems or holding for decay," the agency wrote.
Right now all eyes are on the DEC as their final ruling will greatly impact what other states decide to do concerning regulation of this highly-controversial industry. According to Judith Enck, the U.S. EPA regional administrator who issued the agency comments, New York "will help set the pace for improved safeguards across the country."
Stay tuned to EcoWatch.org and our Fracking Page as we'll keep you up-to-date on the DEC ruling and other fracking news.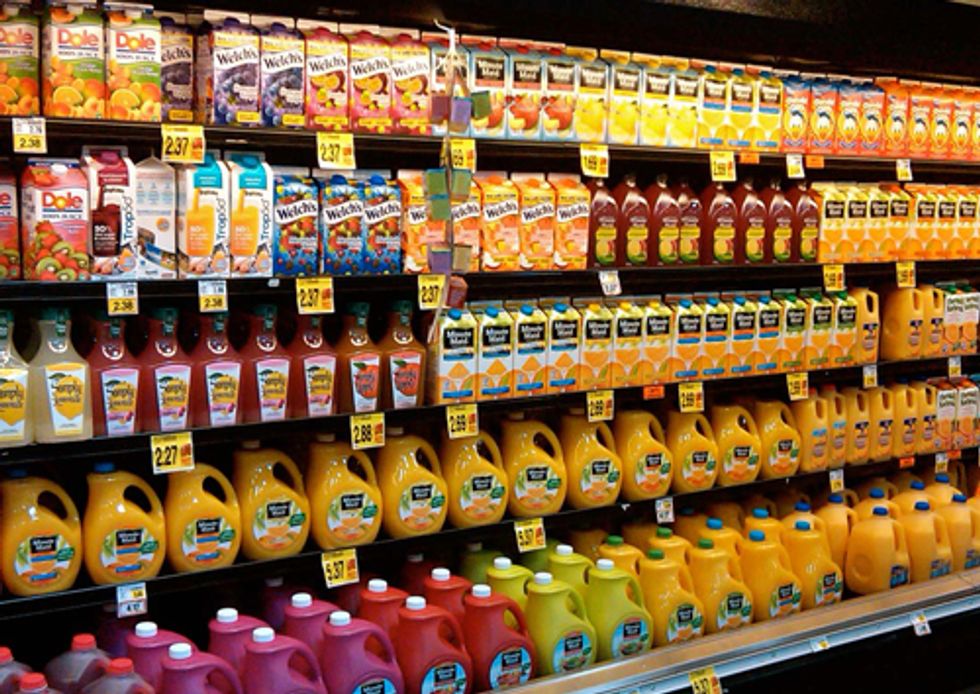 The U.S. Food and Drug Administration (FDA) says it will step up testing for a fungicide not registered for use in the U.S. that has been found in low levels in orange juice. The fungicide, carbendazim, does not have any food tolerances and thus its presence in orange juice is unlawful under the Federal Food, Drug, and Cosmetic Act. Despite this, FDA does not intend to take action to remove from domestic commerce orange juice containing the reported low levels of carbendazim, but will deny future imports.
FDA said in a letter to the Juice Products Association that an unnamed juice company (later identified as Coca-Cola, maker of Minute Maid and Simply Orange), contacted the agency in late December and said it had detected low levels of carbendazim, a fungicide, in the company's own orange juice and also its competitors' juice. Carbendazim is not currently approved for use on citrus in the U.S., but is used in Brazil, which exports orange juice to the U.S. Testing found levels up to 35 parts per billion (ppb) of the fungicide, far below the European Union's maximum residue level of 200 ppb. The U.S. does not have an established maximum residue level (tolerance level) for carbendazim in oranges.
According to the FDA letter, the U.S. Environmental Protection Agency (EPA) conducted a preliminary risk assessment based on the recent report of carbendazim in orange juice, and concluded that consumption of orange juice with carbendazim at the low levels that have been reported does not raise safety concerns. However, when carbendazim was evaluated along with its parent chemical—thiophanate-methyl—also a fungicide, by EPA in 2004, both were determined to cause liver and thyroid effects in animal studies and have been classified as probable human carcinogens. Repeated exposure to carbendazim causes spermatogenic effects in rats and hepatic tumours in mice. The liver and thyroid are the primary target organs in several species following subchronic or chronic dietary exposures and the testes are the main known target organ for carbendazim. Carbendazim is also listed as a potential endocrine disruptor in the European Union.
Section 408 of the Federal Food Drug and Cosmetic Act (FFDCA) authorizes EPA to establish, modify or maintain tolerances or tolerance exemptions for pesticide residues in or on food. According to the law, any food with pesticide residues not covered by a tolerance or tolerance exemption, and any food with residues in excess of the tolerance, may be subject to regulatory action, including seizure, by the U.S. government. Pesticide tolerances and exemptions are enforced by FDA (for most foods), the U.S. Department of Agriculture (for meat, poultry and some egg products), and the individual states. According to EPA's 2004 registration documents for thiophosphate-methyl and its degradate carbendazim, there are no registered food uses in the U.S., nor import tolerances for carbendazim. Food with pesticide residues cannot be imported to the U.S. without an established food tolerance (the legal maximum pesticide residue allowed in or on food.)
FDA states it is sampling import shipments of orange juice and will deny entry to shipments that test positive for carbendazim. FDA does not intend to take action to remove from domestic commerce orange juice containing the reported low levels of carbendazim. The discovery comes after the agency said it would also step up testing for arsenic in apple juice. FDA officials said last year that the agency is considering tightening restrictions for the levels of arsenic allowed in the juice after consumer groups pushed the agency to crack down on the contaminant. Studies show that apple juice has generally low levels of arsenic, and the government says it is safe to drink. But consumer advocates say the FDA is allowing too much of the chemical.
Carbendazim is a systemic benzimidazole fungicide that plays a role in plant disease control with the global market worth more than $200 million, and is an approved fungicide in many countries. According to an FDA notification, it "learned from a juice company that it had detected low levels of carbendazim (in the low parts per billion range) in its and competitors' currently marketed finished products, and in certain orange juice concentrate that is not on the market." It is thought that the chemical was in the juice because it had been imported from Brazil, where the chemical is legal and used against black spot.
The use of hazardous chemicals in food production, especially chemicals not allowed for use in the U.S. and Europe, is still a common practice in much of the developing world where food is routinely imported into the U.S. By purchasing food commodities with legal tolerances for pesticides no longer used or restricted in the U.S., consumers inadvertently support agricultural production practices in other countries that are associated with the range of adverse effects as noted in the Pesticide Induced-Disease Database, including poor labor practices and environmental degradation. The Eating with a Conscience database, based on legal tolerances (or allowable residues on food commodities), describes a food production system that enables toxic pesticide use both domestically in the U.S. and internationally, and provides a look at the toxic chemicals allowed in the production of the food we eat and the environmental and public health effects resulting from their use.
To avoid potentially dangerous chemical residues in food, whose origins may be domestic or international, choose organic. The most important organic food products to purchase, especially for children, are those that are consumed in great quantity, such as juice. Purchasing organic juice is particularly important to reduce their pesticide exposure. Research has shown that switching children to an organic diet drastically reduces their exposure. For more information, visit our Organic Food page.
For more information, click here.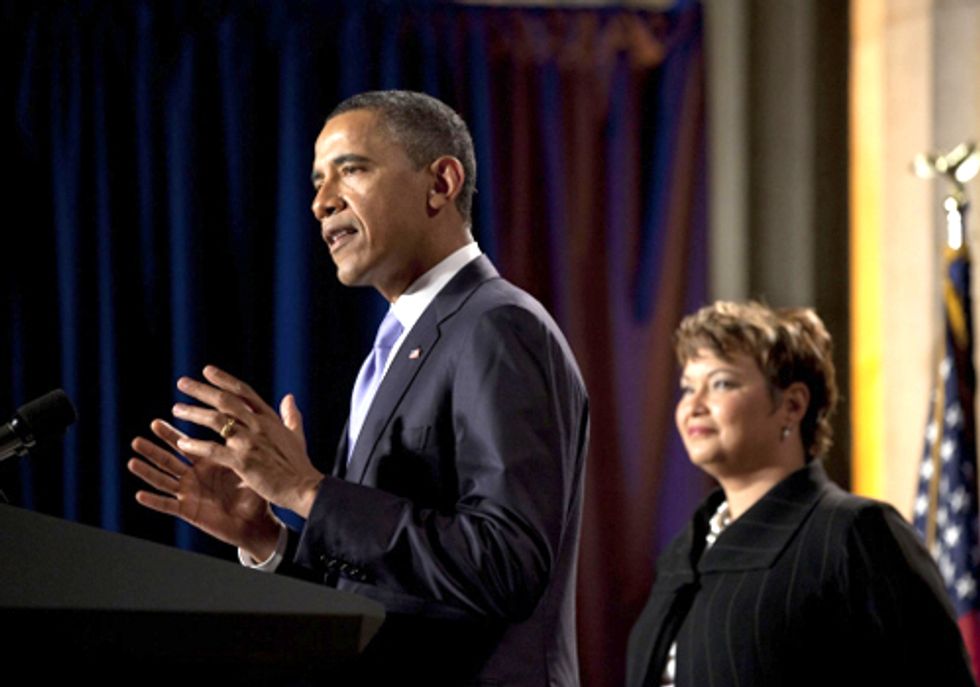 On Jan. 10, President Obama applauded the U.S. Environmental Protection Agency's (EPA) work to protect the environment and human health. As Republicans ramp up attacks on federal oversight of the natural environment in order to gain influence in the Republican primaries, President Obama's speech praises the EPA's work while attacking the notion that vital environmental regulations stand in the way of a robust economy.
Read the complete transcript of President Obama's speech below:
President Obama:
Thank you! Thank you, EPA! (Applause.) Thank you, everybody. Thank you so much. It is wonderful to see you. It is great to see you. Thank you, thank you.
Now, everybody can have a seat. I know Lisa is making you guys all stand up. (Laughter.) But you can all relax.
It is wonderful to be here with all of you. Thank you so much for all the great work you do. I want to first acknowledge your outstanding Administrator, Lisa Jackson. (Applause.) She has done an extraordinary job leading this agency. But here's what I want all of you to know: Not only is she good on policy, not only is she tough and able to present the EPA's mission so effectively to the public, but she also has your back. (Applause.) She is an advocate on behalf of all the people who work so hard here at the EPA. And so you should know that your boss loves you, even if she doesn't always show it, I don't know. (Laughter.)
The main reason I'm here is simple: I just want to say thank you. I want to say thank you to each and every one of you, because the EPA touches on the lives of every single American every single day. You help make sure that the air we breathe, the water we drink, the foods we eat are safe. You protect the environment not just for our children but their children. And you keep us moving towards energy independence.
And it is a vital mission. Over the past three years, because of your hard work, we've made historic progress on all these fronts. Just a few weeks ago, thanks to the hard work of so many of you, Lisa and I was able to announce new common-sense standards to better protect the air we breathe from mercury and other harmful air pollution. And that was a big deal. (Applause.) And part of the reason it was a big deal was because, for over 20 years, special interest groups had successfully delayed implementing these standards when it came to our nation's power plants. And what we said was: "Enough." It's time to get this done.
And because we acted, we're going to prevent thousands of premature deaths, thousands of heart attacks and cases of childhood asthma.
There are families that are going to be directly impacted in a positive way because of the work that you do. Because you kept fighting—and some of you have been fighting this fight for a long time, long before I was here and long before Lisa was here. And so your tenacity and stick-to-itness is making a difference.
Because of you, across the board, we're cutting down on acid rain and air pollution. We're making our drinking water cleaner and safer. We're creating healthier communities. But that's not all. Safeguarding our environment is also about strengthening our economy. I do not buy the notion that we have to make a choice between having clean air and clean water and growing this economy in a robust way. I think that is a false debate. (Applause.)
Think about it—We established new fuel economy standards, a historic accomplishment that is going to slash oil consumption by about 12 billion barrels, dramatically reduces pollution that contributes to climate change, and saves consumers thousands of dollars at the pump, which they can then go spend on something else.
As part of the Recovery Act, you cleaned up contaminated sites across the country, which helped to rid neighborhoods of environmental blight while putting Americans back to work.
We don't have to choose between dirty air and dirty water or a growing economy. We can make sure that we are doing right by our environment and, in fact, putting people back to work all across America. That's part of our mission.
When we put in place new common-sense rules to reduce air pollution, we create new jobs building and installing all sorts of pollution-control technology. When we put in place new emissions standards for our vehicles, we make sure that the cars of tomorrow are going to be built right here in the United States of America, that we're going to win that race.
When we clean up our nation's waterways, we generate more tourists for our local communities. So what's good for the environment can also be good for our economy.
Now, that doesn't mean that there aren't going to be some tensions. That doesn't mean that there aren't going to be legitimate debates that take place. That doesn't mean that it's not important for every single one of us to think about how can we make sure that we are achieving our goals in the smartest way possible, in the most efficient ways possible, in the least bureaucratic ways possible, in the clearest ways possible. That's also part of our mission.
There's not a federal agency that can't get better and be smarter in accomplishing our mission, and we have an obligation every single day to think about how can we do our business a little bit better. How can we make sure the taxpayers are getting every dime's worth that they're paying in order to achieve these important common goals that we have?
But I believe we can do it, and you've shown me that we can do it over these last three years. So I could not be prouder of the work that you all do every single day as federal employees. I know the hours can be long. I know that sometimes spending time getting these policies right means less time at home than you'd like, and you're missing birthday parties, or you're missing a soccer game, and the spouse is not happy with you. I know a little bit about that sometimes. (Laughter.) I know these jobs are demanding.
But I also know what compelled you to enter public service in the first place—and that's the idea that you could make a difference; that you could leave behind a planet that is a little cleaner, a little safer than the one we inherited.
And I have to tell you that part of why I get excited when I see some of the work that you're doing is because our next generation is so much more attuned to these issues than I was when I was growing up. I can tell you when I sit down and I talk to my kids, probably the area where they have the most sophisticated understanding of policy is when it comes to the environment. They understand that the decisions we make now are going to have an impact on their lives for many years to come. And their instincts are right. So your mission is vital.
And just think of what this agency has been able to do over the last four decades. There's so many things we now take for granted. When I hear folks grumbling about environmental policy, you almost want to do a Back to the Future—(laughter)—kind of reminder of folks of what happens when we didn't have a strong EPA. The year before President Nixon created the EPA, the Cuyahoga River was so dirty from industrial pollution and oil slicks that it literally caught on fire. In my hometown, the Chicago River—you probably could not find anything alive in there—(laughter)—four decades ago. Now it's thriving—to the benefit of the city. Today, because of your work, 92 percent of Americans have access to clean water that meets our national health standards.
Before the EPA was created, our cars were spewing harmful lead pollution into the air, with all sorts of impacts, especially on children. Today, because of your work, air pollution is down by more than half, and lead pollution is down more than 90 percent from a generation ago.
So all of you, and all of those who served before you, have made a difference. Our environment is safer because of you. Our country is stronger because of you. Our future is brighter because of you. And I want you to know that you've got a President who is grateful for your work and will stand with you every inch of the way as you carry out your mission to make sure that we've got a cleaner world. (Applause.)
So, thank you. God bless you. God bless the United States of America. Thank you. (Applause.)
For more information, click here.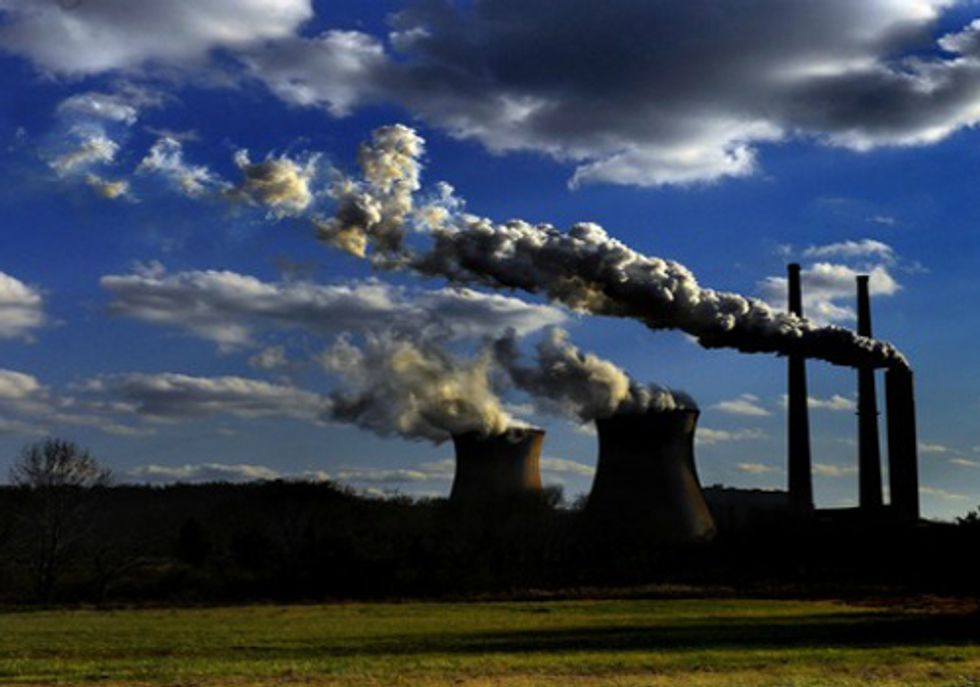 For the first time, comprehensive greenhouse gas (GHG) data reported directly from large facilities and suppliers across the country are now easily accessible to the public through the U.S. Environmental Protection Agency's (EPA) GHG Reporting Program. The 2010 GHG data released Jan. 11 includes public information from facilities in nine industry groups that directly emit large quantities of GHGs, as well as suppliers of certain fossil fuels.
"Thanks to strong collaboration and feedback from industry, states and other organizations, today we have a transparent, powerful data resource available to the public," said Gina McCarthy, assistant administrator for EPA's Office of Air and Radiation. "The GHG Reporting Program data provides a critical tool for businesses and other innovators to find cost- and fuel-saving efficiencies that reduce greenhouse gas emissions, and foster technologies to protect public health and the environment."
EPA's online data publication tool allows users to view and sort GHG data for calendar year 2010 from more than 6,700 facilities in a variety of ways—including by facility, location, industrial sector and the type of GHG emitted. This information can be used by communities to identify nearby sources of GHGs, help businesses compare and track emissions, and provide information to state and local governments.
GHG data for direct emitters show that in 2010:
Power plants were the largest stationary sources of direct emissions with 2,324 million metric tons of carbon dioxide equivalent (mmtCO2e), followed by petroleum refineries with emissions of 183 mmtCO2e.

CO

2

accounted for the largest share of direct GHG emissions with 95 percent, followed by methane with 4 percent, and nitrous oxide and fluorinated gases accounting for the remaining 1 percent.

100 facilities each reported emissions over 7 mmtCO2e, including 96 power plants, two iron and steel mills and two refineries.
Mandated by the Fiscal Year 2008 Consolidated Appropriations Act, EPA launched the GHG Reporting Program in October 2009, requiring the reporting of GHG data from large emission sources across a range of industry sectors, as well as suppliers of products that would emit GHGs if released or combusted. Most reporting entities submitted data for calendar year 2010. However, an additional 12 source categories will begin reporting their 2011 GHG data this year.
Find information on the GHG Reporting Program by clicking here.
Find information on the U.S. Inventory of Greenhouse Gas Emissions Sources and Sinks by clicking here.
For more information, click here.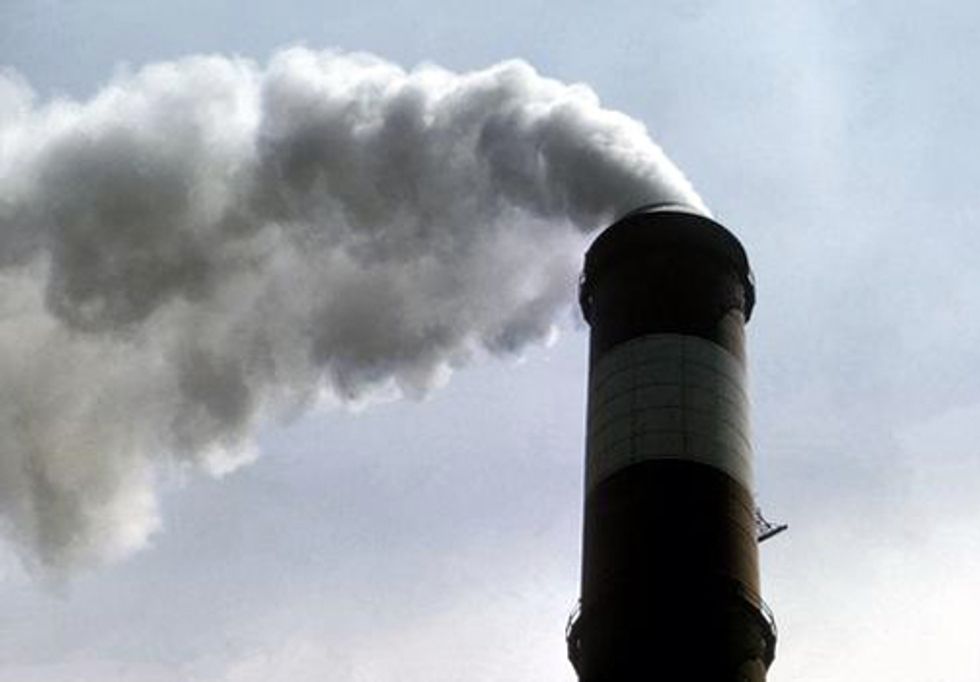 A three-judge panel of the U.S. Appeals Court in Washington ruled on Dec. 30 that the U.S. Environmental Protection Agency (EPA) must delay implementation of pending regulations aimed at limiting harmful power plant pollution that crosses state lines. The cross-state air pollution rule would have put new limits on sulfur dioxide (SO2) and nitrogen oxide (NOx) emissions from power plant smokestacks in 27 Eastern states starting Jan. 1.
In the first two years, the U.S. EPA estimates that the regulation and some other steps would have slashed sulfur dioxide emissions by 73 percent from 2005 levels, and nitrogen oxides will be cut by more than half.
Sulfur dioxide and nitrogen oxide pollution from power plant smokestacks can be carried long distances by the wind. As they drift, the pollutants react with other substances in the atmosphere to form smog and soot, which have been linked to various illnesses, including asthma, and have prevented many states and cities from complying with health-based air standards set by federal law.
More than a dozen electric power companies, municipal power plant operators and states had petitioned the court to halt the rules until litigation plays out, arguing the rules will harm the economy and threaten the reliability of the power grid.
The decision deals a blow to environmental groups and the Obama U.S. EPA, which announced the cross-state air pollution rule in July.
"Today's judicial decision temporarily halts implementation of life-saving clean air protections for 240 million Americans pending full review of the facts and the law," Vickie Patton, general counsel for the Environmental Defense Fund, said in a statement.
"The pollution reductions at stake are some of the single most important clean air protections for children, families and communities across the Eastern half of the U.S."
The U.S. EPA has said that the regulations will prevent 34,000 premature deaths, 15,000 heart attacks and 400,000 cases of asthma starting in 2014, which would amount to $280 billion a year in health benefits.
The court is asking that oral arguments take place by April 2012.
Stay tuned to EcoWatch.org for follow-up on this issue.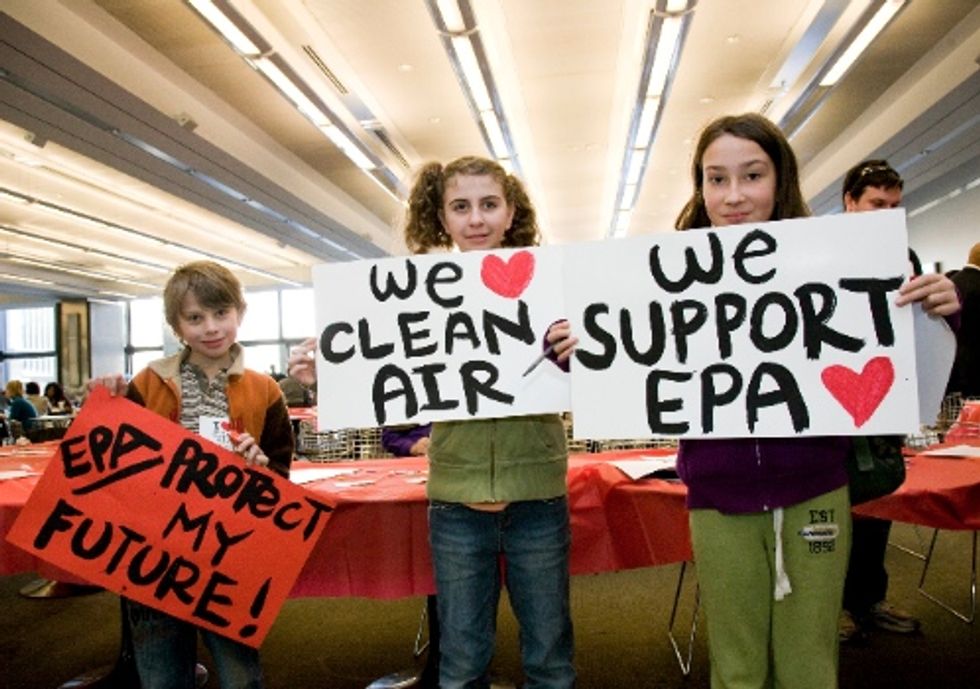 The Ohio Environmental Council (OEC) applauds the recent U.S. Environmental Protection Agency (EPA) power plant regulations that will reduce dangerous pollution such as mercury and fine particulates linked to asthma attacks, developmental disorders and preventable deaths.
"The U.S. EPA stood up against big polluter interests and did the right thing," states David R. Celebrezze, director of air and water special projects for the OEC.
The new U.S. EPA air toxic rule means that power plants will have to reduce their mercury emissions by 90 percent in three to four years. The new rules will also require scrubbers on power plants. Scrubbers are pollution reduction technology that will reduce harmful emissions of mercury, arsenic, chromium, nickel and acid gases.
Ohio's archaic fleet of power plants emit so much mercury and other pollutants, that Ohio ranks in the top five states in health impacts due to mercury and other emissions.
According to a study commissioned by the Clean Air Task Force, Ohio ranks second in the nation in state health impacts with 1,221 deaths, 835 hospital admissions and 1891 heart attacks. Additionally, Ohio ranks third in the country for state per capita mortality risk (2010 est).
"Industry will ballyhoo that this will close plants. What they don't tell you are some of these plants were probably going to close anyway," states Celebrezze.
Many Ohio metro areas rank near the top in the country in terms of city health impacts:
• #8 Cleveland-Elyria-Mentor
• #10 Cincinnati-Middletown
• #13 Columbus
In terms of metro area per capita mortality risk (est. 2010):
• #3 Steubenville-Weirton
• #5 Sandusky
• #7 Youngstown-Warren-Boardman
• #8 Mansfield
• #9 Springfield
Top power plants for health impacts (annual 2010)
• #3 in the country is the W H Sammis (Jefferson) County: 163 deaths, 124 hospital admissions, 268 heart attacks.
Mercury emissions harm public health. After mercury is emitted from power plants, it settles on plants and in our waterways. While in the water it turns into methyl mercury and is consumed by fish. Some of those fish are then consumed by people.
In Ohio, it is recommended that people eat less of certain fish species—such as smallmouth bass, walleye and largemouth bass—from many bodies of water due to high levels of mercury. In some bodies of water, it is recommended that none of the species be eaten due to elevated levels of PCBs, mercury and other contaminants. The full list can be found on the Ohio EPA's website.
People exposed to (elemental) mercury through breathing can experience harmful effects. According to the U.S. EPA "Symptoms include these: tremors; emotional changes (e.g. mood swings, irritability, nervousness, excessive shyness); insomnia; neuromuscular changes (such as weakness, muscle atrophy, twitching); headaches; disturbances in sensations; changes in nerve responses, and performance deficits on tests of cognitive function. At higher exposures, there may be kidney effects, respiratory failure and death."
Further research has demonstrated that exposing infants and children to mercury can impair their neurological development. Symptoms of methylmercury poisoning can include: peripheral vision reduction; disturbances in sensations ("pins and needles" feelings, usually in the hands, feet and around the mouth); lack of coordination of movements; impairment of speech, hearing and walking, and muscle weakness, according to the U.S. EPA.
Mercury emissions from Ohio power plants (sampling-2010):
• W.H. Sammis: 424lbs.
• Kyger Creek : 420 lbs.
• Cardinal Plant: 407 lb.
• Conesville plant: 318 lb.
• Muskingum Plant: 321 lb.
• Gavin plant: 829 lb.
• Eastlake plant: 301 lb.
• Avon Lake plant: 246lbs
Overall, Ohio power plants emitted 4,208 pounds of mercury in 2010.
The new U.S. EPA rule will prevent 130,000 child asthma attacks and 11,000 premature deaths yearly in the U.S. Additional health care savings will be $37 billion to $90 billion each year by 2016.
"Once these rules are fully implemented, Santa Claus will have fewer asthma attacks as he moves through Ohio," states Celebrezze.
For more information, click here. To learn more about the EPA's Mercury and Air Toxics Standards, click here.

--------
The mission of the Ohio Environmental Council (OEC) is to secure healthy air, land and water for all who call Ohio home. The OEC is Ohio's leading advocate for fresh air, clean water and sustainable land use. The OEC has a 40-year history of innovation, pragmatism and success. Using legislative initiatives, legal action, scientific principles and statewide partnerships, the OEC secures a healthier environment for Ohio's families and communities.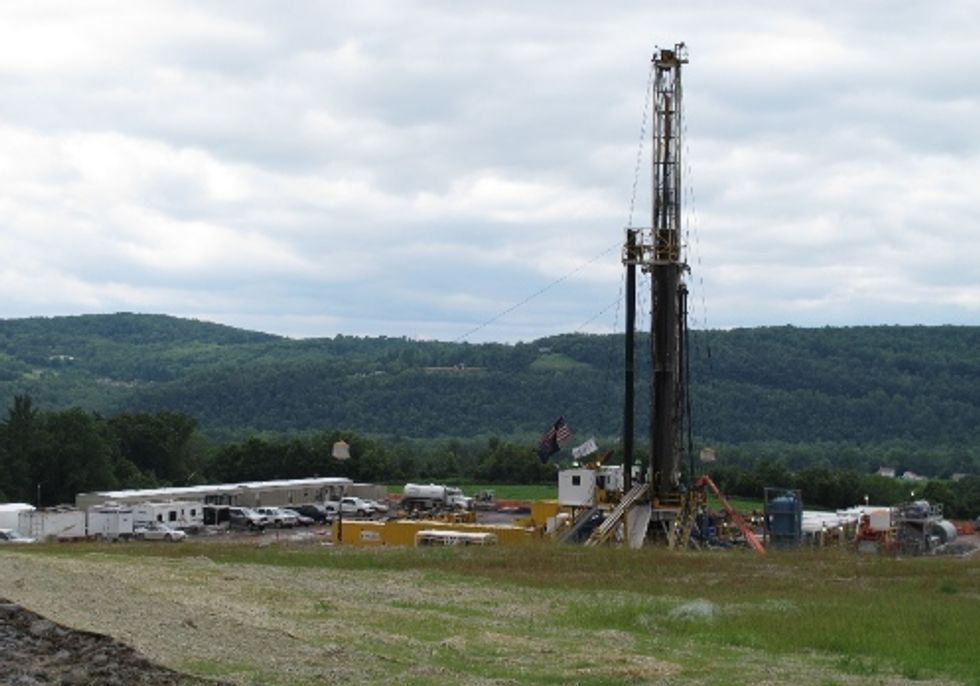 by Grant Maki
This spring, the Ohio Environmental Council (OEC) and 50 fellow environmental and community organizations sent a letter to state legislators urging them to issue a moratorium on horizontal fracturing until its impacts on the environment and public health are thoroughly studied and effective, science-based regulations can be put in place. The U.S. Environmental Protection Agency (EPA) is conducting a study on these impacts—at a minimum we should wait for the study to be completed, then pass regulations based on sound science and then go ahead with drilling.
These efforts led to a bill currently before the General Assembly. However, the state seems ready to embrace the drilling boom first and do its due diligence second. Horizontal fracturing has already commenced at 20 sites around the state and 65 more have received a full go-ahead from the Ohio Department of Natural Resources.
So even while we push for a moratorium, we are working to ensure that the regulations that are put in place today are as strong as possible. These efforts ran on all cylinders last week, as OEC and its allies submitted comments to both the U.S. EPA and the Ohio EPA on their proposed regulations regarding air pollution emissions from natural gas drilling.
U.S. EPA' s Proposed Air Regulations
The U.S. EPA proposed a very broad set of rules aimed at the entire oil and natural gas sector. Although the proposal involved many issues, our comments focused on just two of them. Our first priority was to defend the proposed requirement that all new natural gas wells be constructed using a method called "reduced emissions completions."  To understand this requirement, you have to know a little bit about shale gas drilling.
Shale gas wells are "drilled" primarily by forcing special fluids into shale rock formations at high pressure, which fractures the shale (hence the term: "hydrofracturing"). After fracturing, operators release the water pressure, causing large amounts of fluid to flow back to the surface. This flowback fluid contains a significant amount of natural gas, in addition to other potential pollutants. Standard gas collection equipment can't handle the flowback fluid, so it often sits in storage tanks for days while the gas is either vented into the atmosphere or burned off with a flare—either option causes significant air pollution. A "reduced emissions completion" uses separator equipment that can handle the flowback fluid and also capture (and sell) the natural gas that would otherwise be vented or flared.
We defended the U.S. EPA's proposal to require "reduced emissions completion" against arguments from industry that it was too expensive or unduly burdensome. We also focused on an issue that was flying under the radar: the U.S. EPA's idea of using industry-funded third parties to do some of the oversight and monitoring. Although we recognize potential benefits if third-party verifiers are truly independent, such a system could lead to serious conflicts of interest. Thus we suggested ways for the U.S. EPA to minimize conflicts of interest.
Ohio EPA's Air Pollution General Permit
At the same time that the federal regulations were coming down the pipe, the Ohio EPA sought public comments on a proposed general permit that will allow companies to start drilling whenever they meet certain qualifying criteria and agree to abide by certain emissions and operational standards.
Given that the state has decided to go ahead with drilling before learning from the mistakes of other states, we are pleased to see that the Ohio EPA is at least showing willingness to start regulating using the knowledge we have. Unfortunately, the Ohio EPA's proposed general permit had a number of holes in it that could mean a lot of pollution in Eastern Ohio. OEC, the Buckeye Forest Council, the Center for Health Environment & Justice, and the Group Against Smog and Pollution (GASP) submitted two rounds of comments to the Ohio EPA, addressing a number of issues. GASP's expertise and experience with the same issues in Western Pennsylvania we hope will educate the Ohio EPA to learn from hiccups to our east, and fix the deficiencies with the proposed permit.
Revisions are Necessary for the Final General Permit
The draft general permit puts no requirements on well completions. We urged the Ohio EPA to require reduced emissions completions. The U.S. EPA has come under fire from industry for their proposal to require reduced emissions completions, and the requirement might be struck from the final federal rule. The Ohio EPA should play it safe and enact the same requirement, especially in a general permit that specifies conditions where a drilling proposal can be approved with no stakeholder input and no further scrutiny from the Ohio EPA.
For another thing, the draft general permit is silent on produced water storage tanks. "Produced water" is a saline fluid that occurs naturally in the shale formations and flows to the surface during fracking. Produced water storage tanks produce emissions that can't be overlooked, as states like Colorado and Wyoming have recognized.
Another issue we had is that the general permit would allow significant drilling operations to commence without stakeholder input. We pushed the agency to give the public an opportunity to be heard when industry proposes large-scale drilling operations, and for proposals to drill near "urbanized areas" which is defined as a town of more than 5,000 in Ohio Administrative Code 1501:9-1-01(A).
Among other comments, we also pushed the agency to require drillers to notify them before undertaking any action that would produce significant emissions, in order to help the agency develop better information about the fracking industry.
Click on the links to read OEC's comments to the Ohio EPA on its general permit, GASP's comments on the general permit and comments to the U.S. EPA's Air Proposed Regulations
The numbers listed above are current as of Nov. 28, 2011. Lists of Utica and Marcellus shale permits are available at http://www.ohiodnr.com/portals/11/oil/pdf/Utica.pdf and http://www.ohiodnr.com/portals/11/oil/pdf/Marcellus.pdf.
For more information and updates, click here.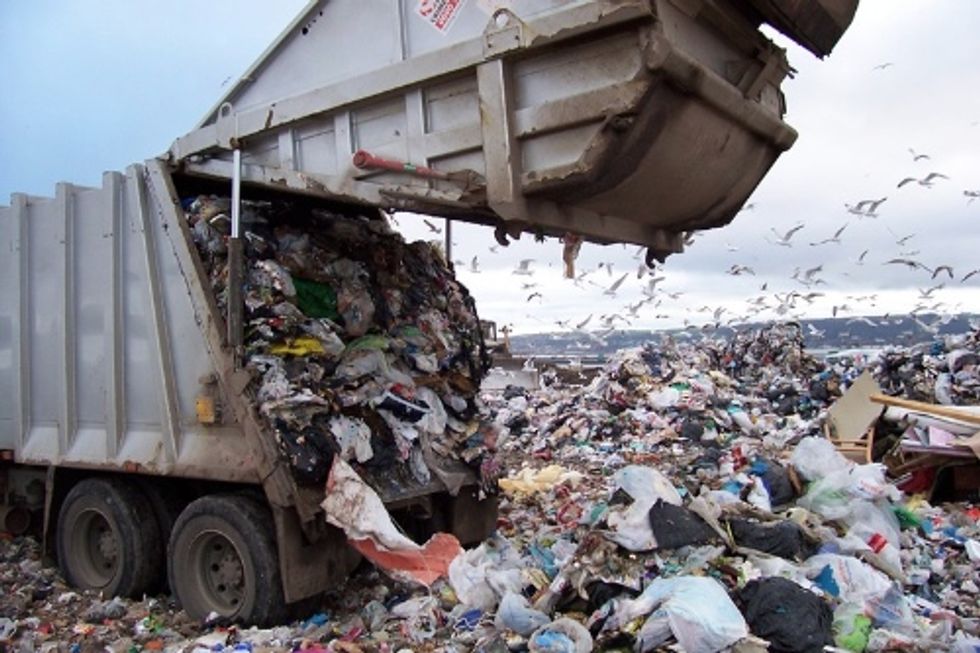 by Sandy Buchanan
Six environmental and community organizations have asked the U.S. Environmental Protection Agency (EPA) to undertake a formal review of the City of Cleveland's draft air permit for its proposed garbage incinerator on Ridge Road, citing deficiencies in the Ohio EPA's draft permit and the City of Cleveland's conflict of interest as both the proponent and reviewer of the permit.
As mentioned in an earlier article on EcoWatch.org, Cleveland's city-owned electric company, Cleveland Public Power, is proposing to bring in garbage from the city and Northeast Ohio region to be "gasified" by using a type of incineration technology new to the U.S. Cleveland Public Power has applied to the Ohio EPA for an air pollution permit for the facility. According to the application, the incinerator would become one of the largest sources of air pollution in Cleveland, especially for soot and mercury.
The groups—Environmental Health Watch, Earth Day Coalition, Northeast Ohio Sierra Club, Ohio Citizen Action, Center for Health Environment and Justice and Natural Resources Defense Council—asked the U.S. EPA for an environmental justice designation for the community, which would require additional scrutiny of the proposal. They also asked the Ohio EPA for a 60-day extension on the public comment period for the draft permit, which now expires on Jan. 13, 2012.
For more information, click here.
On Dec. 16, the Obama administration is expected to finally release new standards for protecting us from mercury and other toxic heavy metals from power plant emissions. All of us have reason to be glad, but parents (and anyone who might ever want to be a parent) should especially welcome this long overdue protection. My wife Mary and I co-authored a column for Sierra magazine that explains why:
It started before we even brought our first child home from the hospital. Electrical sockets needed to be covered, cabinet doors secured, knives stowed out of the reach of tiny hands. We live in earthquake country, so we finally got around to bolting our bookshelves to the wall.
Like any parents, we'll do anything in our power to keep our kids safe. We know that our power has its limits, but that doesn't stop us from trying.
Getting the house ready was just the beginning. We were also determined to protect our daughter from less-obvious dangers. Well aware of the toxic chemicals that increasingly find their way into our bodies, we shopped for the healthiest foods we could find—and still do.
Of course, not all Americans have the same easy access to fresh, organic and healthy foods that we do. In lots of neighborhoods it can be hard to find decent produce. But even so, you'd think there'd still be plenty of nutritious alternatives to fast food, like the humble tuna sandwich.
Not anymore. Tuna, like many types of fish, is often contaminated with mercury, a neurotoxin that damages the brain and nervous system, particularly in fetuses and young children. Mercury in the bloodstreams of pregnant and nursing women can result in birth defects like learning disabilities, reduced IQ and cerebral palsy.
We've known about the dangers of mercury for a century. (It's what made the Mad Hatter mad.) We've also known how the fish get contaminated—primarily via coal-fired power plants, whose smokestacks spew almost 50 tons of mercury annually into the air we breathe.
A heavy metal like mercury does not stay in the atmosphere for long. It eventually falls to Earth, inexorably working its way up the food chain until it winds up in the tuna sandwich in some kid's lunch box—or on the sushi platter ordered by a young woman who's just become pregnant.
And that's where we get mad—both as environmentalists and as parents. There is absolutely no reason our kids should be exposed to this poison. The U.S. Environmental Protection Agency (EPA) was first charged with limiting toxic air pollutants like mercury more than 20 years ago, during the George H. W. Bush administration. The technology to filter mercury from coal-plant smokestacks is widely available. But there's still no national limit on how much mercury a coal-fired power plant can release into the air. It's like debating what kind of childproof latches to put on the cabinets while the kids are playing with the knives.
This past March, the U.S. EPA finally proposed a standard that would require coal plants to keep more than 90 percent of their mercury emissions out of the atmosphere. The new rule would also apply to such cancer-causing metals as arsenic, chromium and nickel. Filtering out these poisons would prevent hundreds of thousands of illnesses and up to 17,000 premature deaths each year. It would be the single biggest measure to save American lives in a generation.
Incredibly, it might not happen. As we write this, the U.S. EPA is under attack by politicians whose first allegiance is not to American children but to the polluters who don't want to clean up their dirty power plants. Possible reason: The polluters shelled out nearly $30 million to these members of Congress who continue to vote for dirty air.
We know that it's impossible to protect our children from every possible harm. Inevitably, knees will get scraped and probing fingers will get pinched in cabinet doors, and that giant leap off the porch might end in a tumble. But to endanger our kids solely for the sake of polluters' bottom line? As parents, and as Americans, that's something we can never accept.
Urge President Barack Obama to stand up to corporate polluters and issue strong Mercury and Air Toxics Standards for Power Plants by clicking here.