By the year 2020, the City of Paris wants to add 100 hectares of vertical gardens and roofs, with a third dedicated to urban agriculture. Photo credit: The Vertical Gardens by Patric Blanc / Flickr
Earlier this summer, Paris quietly passed a new law encouraging residents to help green the City of Light by planting their own urban gardens.
Although the measure was adopted on July 1, the news has only recently made headlines in France and on U.S. sites such as Inhabitat and Condé Nast Traveler.
The initiative, "permis de végétaliser" (or "license to vegetate"), is part of Paris Mayor Anne Hidalgo's 2020 target of adding 100 hectares (247 acres) of vegetation on the city's walls and roofs, with a third dedicated to urban agriculture.
To encourage citizens to become "gardeners of the Parisian public space," any resident can now apply for a renewable three-year permit to start their own urban garden project. Participants can green the capital in various ways, from planting fruit trees to creating living walls to a rooftop garden. Upon request, the city will also provide a planting kit that includes topsoil and seeds.

Gardeners can get as creative as they want with their greenery, but they are instructed to maintain their installations sustainably and to keep the city's aesthetics in mind. They are not allowed to use pesticides and can plant only local species. Also, as Condé Nast Traveler noted, "the city has also expressed the need for 'local honey plants,' presumably to help grow the world's diminishing bee population."
The city of Paris says that its new urban gardening program is designed to encourage biodiversity, meet the need for green spaces, mitigate "heat island" effect and climate change, improve air quality and improve the thermal and acoustic comfort of buildings.

Penelope Komitès, who is in charge of green spaces, nature and biodiversity for the city of Paris, said the initiative allows Parisians to help beautify the city while improving their own quality of life at the same time.
The urban garden initiative is only one part of Hidalgo's ambitious plans of greening the French capital. The greening program also involves the creation of 30 hectares (74 acres) of public gardens, the planting of 20,000 new trees, 200 revegetation projects and the development of educational farms, orchards and vegetable gardens in schools.

In its continued efforts to fight pollution, the first Sunday of every month is a car-free day in Paris. In March, French Parliament passed a new law mandating that all new buildings constructed in commercial zones must be partially covered by plants or solar panels. France also recently banned plastic plates and cutlery, making it the first country in the world to take this step.
EcoWatch Daily Newsletter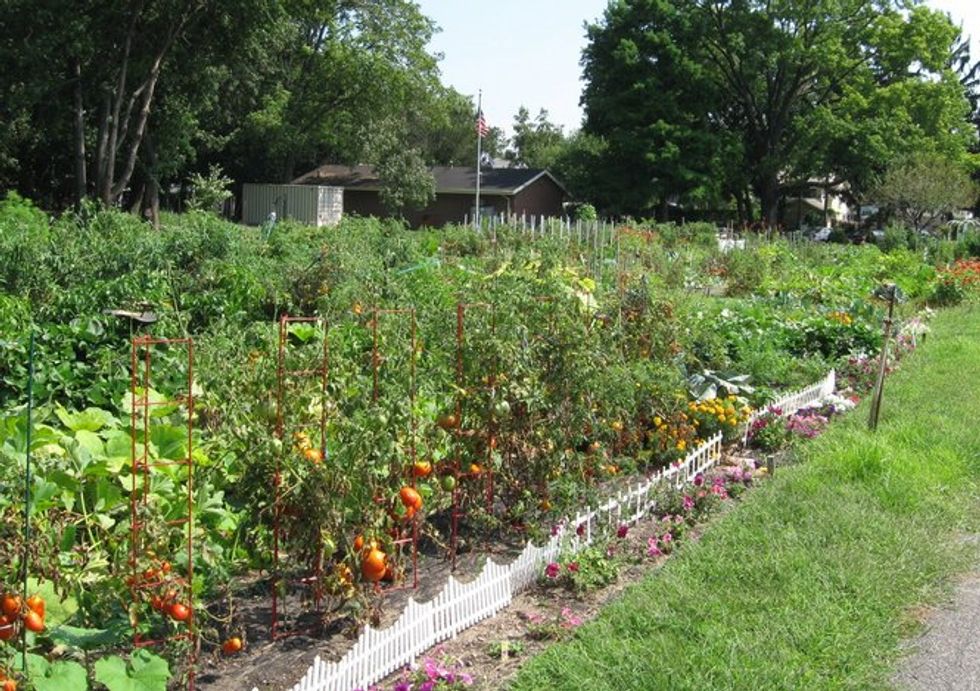 Agriculture Deputy Secretary Kathleen Merrigan visited a community garden in Baltimore Nov. 10 to announce 10 grants to support 155 People's Gardens in neighborhoods from Maryland to Hawaii, continuing the U.S. Department of Agriculture's (USDA) efforts to combat malnutrition while supporting local and regional food systems. These sustainable community gardens will give residents direct access to fresh fruits and vegetables in underserved neighborhoods. A lack of access to fresh and nutritious food fuels obesity and domestic food insecurity—a condition where households experience limited or uncertain access to adequate food.
"The simple act of planting a garden can help unite neighborhoods around a common effort and inspire communities to find solutions to challenges facing our country—from hunger to the environment," said Merrigan. "The People's Garden Initiative has demonstrated that one direct and effective way of improving food access is to plant a garden. Since establishing our People's Garden Initiative, we're excited to see more and more people working together to create nurturing communities around these sources of nutritious food."
USDA's National Institute of Food and Agriculture (NIFA) manages the People's Garden Grant Program (PGGP), with funding from the Agriculture Marketing Service, Animal and Plant Health Inspection Service, Food and Nutrition Service, U.S. Forest Service, and the Natural Resources Conservation Service. The grants announced Nov. 10, totaling $725,000, are the first awards given under the PGGP. USDA received more than 360 proposals requesting more than $4 million.
PGGP was designed to invest in urban and rural areas identified as food deserts or food insecure areas, particularly those with persistent poverty. In addition, PGGP seeks to address health issues closely related to malnutrition, including food insecurity, obesity, diabetes and heart disease, through onsite education programs.
Projects were funded in Alaska, Arizona, California, Colorado, Connecticut, Hawaii, Maryland, Michigan and Ohio. Grants were awarded to:
Homer Soil and Water Conservation District, Alaska, $110,500
Arizona Board of Regents, University of Arizona, Arizona, $5,000
Los Angeles Neighborhood Land Trust, California, $29,000
Denver Urban Gardens, Colorado, $70,000
Knox Parks, Inc., Connecticut, $50,000
Heritage Ranch, Inc., Hawaii, $110,500
Alliance for Community Trees, Inc., Maryland, $150,000
Towson University, Maryland, $60,000
Calhoun Conservation District, Michigan, $70,000
Youngstown Neighborhood Development Corporation, Ohio, $70,000
The People's Garden Initiative is a grassroots effort to grow healthy food, people and communities. There are more than 1,400 People's Gardens across the nation, three U.S. territories and nine foreign countries. USDA is working with more than 600 local organizations to create school gardens, community gardens and small-scale agriculture projects in urban and rural areas, collectively referred to as community-based agriculture.
People's Gardens are located at faith-based centers, on federal leased or owned property, at schools and other places within communities. All produce grown at a People's Garden on USDA owned or leased property is donated to help those in need. To date, the People's Garden has donated more than 1 million pounds of produce to local food banks, food kitchens and other charitable organizations through their 'Share Your Harvest' campaign, whereby USDA invites partners to share their harvests with neighborhood food pantries, kitchens and shelters, which helps improve access to healthy, affordable food at a local level. Search the People's Gardens Interactive Map to find out where our gardens are located. To learn more or to register your community garden as a People's Garden, click here.
For more information, click here.
Like many other plant-based foods and products, CBD oil is one dietary supplement where "organic" labels are very important to consumers. However, there are little to no regulations within the hemp industry when it comes to deeming a product as organic, which makes it increasingly difficult for shoppers to find the best CBD oil products available on the market.
<p>Here you can learn about the importance of organic hemp oil, why it's better for the environment, and which CBD companies actually make trustworthy products with sustainable farming processes. origins which weigh heavily on many consumers who want to buy a product that's produced in the best way possible for not only themselves to ingest, but for the environment as well through sustainable farming methods. </p><h2>What Is CBD Oil?</h2><p>First things first, CBD stands for cannabidiol, and it's a cannabinoid found within cannabis sativa plants. This plant compound is believed to have many potential benefits, and it is primarily derived from hemp plants via a CO2 extraction process. </p><p>Since CBD is extracted from industrial hemp, which contains only trace amounts of THC (the psychoactive component in cannabis plants), this means that CBD won't make you feel high like marijuana, which has much higher levels of THC that causes psychoactive effects. Instead, the effects of CBD are much more subtle and promote a general sense of calm and relaxation in most users.</p><h2>What Makes a CBD Oil Organic?</h2><p>In terms of organic labels, perhaps the most important (and prominent) certification comes from the United States Department of Agriculture (USDA). This government organization has been labeling foods as "organic" for many years, but what exactly does this certification entail? Essentially, a label indicating that a product is "USDA Organic" or "Certified Organic" means that at least 95% of the ingredients are obtained from organic sources.</p><p>For a crop to be considered organic by the USDA, it must be grown without the use of industrial solvents, irradiation, genetic engineering (GMOs), synthetic pesticides, or chemical fertilizer. Instead, farmers rely on natural substances and <a href="https://www.usda.gov/media/blog/2012/03/22/organic-101-what-usda-organic-label-means" rel="noopener noreferrer" target="_blank">mechanical, physical, or biologically based farming</a> techniques to cultivate healthy and organic crops.</p><p>Before the passage of the 2018 Farm Bill, no hemp-derived products could be dubbed as "certified organic" since the hemp plant and its extracts were still categorized as a Schedule I Controlled Substance. However, it's still difficult for CBD companies to obtain a USDA certified organic label for their products due to the legal grey area that still surrounds CBD extracts. </p><p>Because of these challenges, and due to the fact that industrial hemp has only recently become an agricultural crop, very few CBD oils are USDA certified organic. Rather, many CBD products contain hemp extracts from plants that were grown in organic conditions but may not be federally certified.</p><h2>What are the Best Organic CBD Oil Brands?</h2><p><em>Each product featured here has been independently selected by the writer. If you make a purchase using the links included, we may earn commission.</em></p><em><br></em>