This website uses cookies to ensure you get the best experience while browsing it. By clicking 'Got It' you're accepting these terms.


The best of EcoWatch, right in your inbox. Sign up for our email newsletter!
The urban farms sprouting up and across cities around the world aren't just feeding mouths—they are "critical to survival" and a "necessary adaptation" for developing regions and a changing climate, according to a new study.
Urban farms—which include plain ol' allotments, indoor vertical farms and rooftop gardens nestled amongst busy streets and skyscrapers—have become increasingly popular and important as the world's population grows and more and more people move to cities.
Who would think that one of the world's largest cities, New York City, would be a major hub for urban agriculture? Well, it is.
Food Tank has compiled a list of 10 urban farming projects providing New Yorkers fresh, local produce.
1. Eagle Street Rooftop Farm, 44 Eagle St., New York, NY
A 6,000-square-foot organic vegetable garden, the Eagle Street Rooftop Farm operates its own seasonal farmers market and provides produce to local restaurants, including Anella's, Spritzenhaus and Marlow & Sons. Visitors can volunteer and learn about urban agriculture from the site's Growing Chefs-trained education team. Co-created by Broadway Stages and Good Green, the garden overlooks Manhattan from across the East River.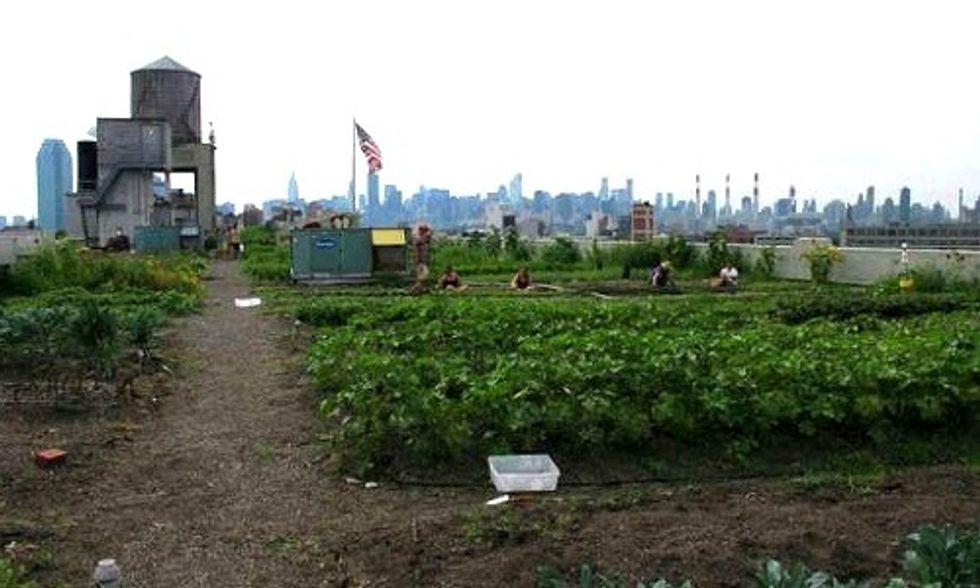 2. Battery Urban Farm, Battery Park, Lower Manhattan, NY
This one-acre educational farm inside Battery Park was founded in 2011 by the Battery Conservancy and students from Millennium High School. Students from local schools can visit and learn by cultivating their own plots in the farm's outdoor classroom space. Volunteers are welcome every Wednesday and one Saturday a month for Battery Urban Farm Saturday events.
3. Bell Book and Candle Restaurant Rooftop Garden, 141 W. 10th St., New York, NY
In keeping with the establishment's commitment to "local, organic, sustainable and overall responsible procurement," Bell Book and Candle operates its own aeroponic rooftop tower garden. Diners can choose garden-sourced items from the restaurant's seasonal rotating menu.
4. Hell's Kitchen Farm Project, 410 W. 40th St., New York, NY
This volunteer-run rooftop garden was founded in 2010 by local community members and partners and provides the community's local food pantry with fresh produce. The garden organizes and runs a community supported agriculture (CSA) program and community nutrition education programs. Visitors can volunteer at the garden every Tuesday for Open Farm and the first Saturday of each month.
5. Randall's Island Urban Farm, 20 Randall's Island, New York, NY
Founded in 2010 by GrowNYC and Randall's Island Park Alliance, Randall's Island Urban Farm is part of the GrowNYC Open Space Greening Project. It operates as an agricultural space for schools and groups in need of open areas for environmental and nutritional education. Schools and community members can visit the farm to participate in free hands-on learning programs.
6. Brooklyn Grange Rooftop Farms, 37-18 Northern Blvd., Long Island City, NY
Brooklyn Grange operates three different rooftop farms within New York City. At these sites, the program grows produce, operates the city's largest bee yard and hosts a weekly market. Visitors can shop for local produce at the Brooklyn Navy Yard farm stand on Wednesdays, or the Long Island City farm stand on Saturdays. Visitors can also volunteer with Brooklyn Grange on Saturdays from May through October.
7. Bushwick Campus Farm and Greenhouse, 400 Irving Ave., Brooklyn, NY
Bushwick Campus Farm and Greenhouse is an outdoor classroom space and agriculture center for the four high schools located on the Bushwick Campus in Brooklyn. It was founded by a partnership among the Campus, Boswyck Farms and EcoStation:NY. Visit the farm and participate in programs through organizations such as Just Food, Brooklyn Botanic Gardens and GrowNYC/Grow to Learn.
8. Whole Foods Rooftop Greenhouse, Gowanus, Brooklyn, NY
Whole Foods Market is partnering with Gotham Greens to operate the nation's first commercial-scale rooftop greenhouse. The produce from the greenhouse will serve as the produce source for the Whole Foods Gowanus store as well as eight other Whole Foods stores throughout New York City. Shoppers and visitors can also participate in educational programs that Whole Foods and Gotham Greens plan to offer about greenhouses, farming and other agriculture-related topics.
9. La Finca del Sur, 138th St. and Grand Concourse, Bronx, NY
Meaning "Farm of the South" in Spanish, La Finca del Sur is a farming cooperative and nonprofit organization in the South Bronx founded by community members in 2009. While the project's main mission is to empower minority women through economic and food sustainability, the farm and organization welcome all volunteers and participants. Visitors to La Finca del Sur can rent a bed or volunteer to work on the community farm.
10. Farms in the NYC Parks GreenThumb Program, more than 600 sites throughout New York, NY
The GreenThumb Program of the New York City Parks & Recreation Office operates agricultural spaces in all of the city's five boroughs. Each garden or urban farm is volunteer-run and supported by the GreenThumb program. Visitors can volunteer at any of these 600-plus sites and participate in the largest community gardening program in the nation.
Visit EcoWatch's AGRICULTURE page for more related news on this topic.

EcoWatch Daily Newsletter
City dwellers are raising animals, growing fruits and vegetables, and even beekeeping to improve their food security and safety, reduce their carbon footprint and improve their intake of nutritious food.
Urban farmers have to think creatively to maximize space and fit their operations into the urban environment.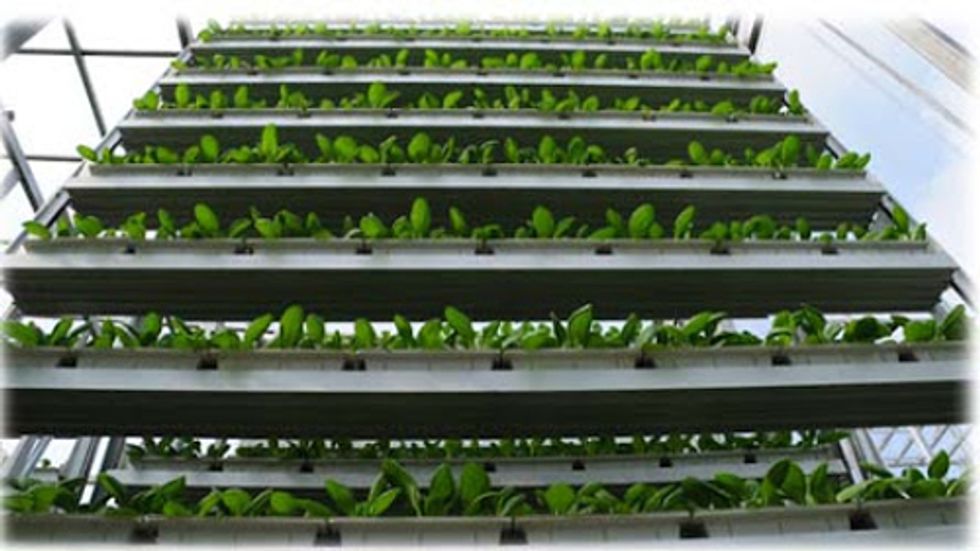 These five examples from Food Tank illustrate the innovative forms of urban agriculture around the world.
1. Food Field, Detroit, MI
Food Field offers a Community Supported Agriculture (CSA) that provides nutritious food and economic opportunities for the neighborhood. Noah Link and Alex Bryan created Peck Produce in 2011 and converted the former site of an elementary school into a revitalized farm. Food Field produces food that the local community asks for, including farm favorites like salad greens and mulberries. Food Field is expanding with a new aquaponics system to raise fish, such as catfish and blue gill, in addition to collecting eggs from chickens and ducks.
2. FARM:shop and FARM:London, London, UK
The self-proclaimed first urban farming hub, FARM:shop offers the neighborhood small-scale farming, aquaponic fish farming, a rooftop chicken coop, workspaces and a café inside a former neglected storefront.
3. Sky Greens, Singapore
Sky Greens, the world's first low-carbon hydraulic water-driven urban vertical farm, reduces the amount of energy and land needed for traditional farming techniques. The vertical systems, which are three stories high and located within a greenhouse, produce five to 10 times more per unit area compared to conventional farms. The greenhouse and low-carbon hydraulic system grows lettuces and cabbages year-round using less energy and water.
4. The Distributed Urban Farming Initiative, Bryan, TX
Distributed Urban Farming Initiative (DUFi) builds gardens in otherwise empty spaces, prompts neighbors to eat healthy food, and drives entrepreneurship and tourism. This past winter, DUFI grew broccoli, cauliflower, cabbage and lettuce in a raised bed and pallet gardens.
5. Sharing Backyards, throughout Canada, U.S. and New Zealand
Sharing Backyards offers a solution for people who lack land but want to grow their own food locally by linking them with people who have unused yard space. Through a website, those with unused property can post their approximate location, while those looking for space to grow food locally can search locations nearby at no cost.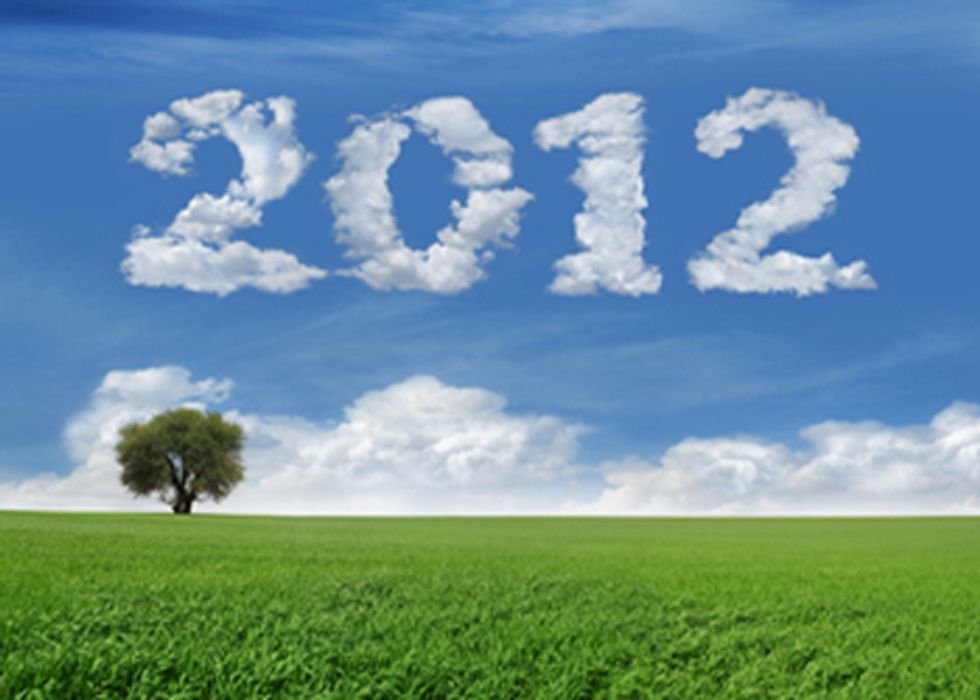 As we head into 2012, many of us will be resolving to lose those few extra pounds, save more money, or spend a few more hours with our families and friends. But there are also some resolutions we can make to make our lives a little greener. Each of us, especially in the U.S., can make a commitment to reducing our environmental impacts.
"The global community, and particularly people living in industrialized societies, have put unsustainable demands on our planet's limited resources," says Robert Engelman, president of the Worldwatch Institute, a global environmental research organization based on Washington, D.C. "If we expect to be able to feed, shelter and provide even basic living conditions to our growing population in years to come, we must act now to change."
The United Nations has designated 2012 as the International Year of Sustainable Energy for All. Broadening access to sustainable energy is essential to solving many of the world's challenges, including food production, security and poverty. "With so many hungry and poor in the world, addressing these issues is critical," says Danielle Nierenberg, director of Worldwatch's Nourishing the Planet project. "Fortunately, the solutions to these problems can come from simple innovations and practices." 
The Nourishing the Planet team recently traveled to 25 countries in sub-Saharan Africa, and will be soon traveling to Latin America, to research and highlight such solutions. The project shines a spotlight on innovations in agriculture that can help alleviate hunger and poverty while also protecting the environment. These innovations are elaborated in Worldwatch's flagship annual report, State of the World 2011: Innovations that Nourish the Planet.
Hunger, poverty and climate change are issues that we can all help address. Here are 12 simple steps to go green in 2012:
(1) Recycle
Recycling programs exist in cities and towns across the U.S., helping to save energy and protect the environment. In 2009, San Francisco became the first U.S. city to require all homes and businesses to use recycling and composting collection programs. As a result, more than 75 percent of all material collected is being recycled, diverting 1.6 million tons from the landfills annually—double the weight of the Golden Gate Bridge. According to the U.S. Environmental Protection Agency (EPA), for each pound of aluminum recovered, Americans save the energy resources necessary to generate roughly 7.5 kilowatt-hours of electricity—enough to power a city the size of Pittsburgh for six years.
What you can do:
Put a separate container next to your trash can or printer, making it easier to recycle your bottles, cans and paper.
(2) Turn off the lights
On the last Saturday in March—March 31 in 2012—hundreds of people, businesses and governments around the world turn off their lights for an hour as part of Earth Hour, a movement to address climate change.
What you can do:
Earth Hour happens only once a year, but you can make an impact every day by turning off lights during bright daylight, or whenever you will be away for an extended period of time.
(3) Make the switch
In 2007, Australia became the first country to "ban the bulb," drastically reducing domestic usage of incandescent light bulbs. By late 2010, incandescent bulbs had been totally phased out, and, according to the country's environment minister, this simple move has made a big difference, cutting an estimated 4 million tons of greenhouse gas emissions by 2012. China also recently pledged to replace the 1 billion incandescent bulbs used in its government offices with more energy efficient models within five years.
What you can do:
A bill in Congress to eliminate incandescent in the U.S. failed in 2011, but you can still make the switch at home. Compact fluorescent lamps (CFLs) use only 20–30 percent of the energy required by incandescents to create the same amount of light, and LEDs use only 10 percent, helping reduce both electric bills and carbon emissions.
(4) Turn on the tap
The bottled water industry sold 8.8 billion gallons of water in 2010, generating nearly $11 billion in profits. Yet plastic water bottles create huge environmental problems. The energy required to produce and transport these bottles could fuel an estimated 1.5 million cars for a year, yet approximately 75 percent of water bottles are not recycled—they end up in landfills, litter roadsides, and pollute waterways and oceans. And while public tap water is subject to strict safety regulations, the bottled water industry is not required to report testing results for its products. According to a study, 10 of the most popular brands of bottled water contain a wide range of pollutants, including pharmaceuticals, fertilizer residue and arsenic.
What you can do:
Fill up your glasses and reusable water bottles with water from the sink. The U.S. has more than 160,000 public water systems, and by eliminating bottled water you can help to keep nearly 1 million tons of bottles out of the landfill, as well as save money on water costs.
(5) Turn down the heat
The U.S. Department of Energy estimates that consumers can save up to 15 percent on heating and cooling bills just by adjusting their thermostats. Turning down the heat by 10 to 15 degrees Fahrenheit for eight hours can result in savings of 5–15 percent on your home heating bill.
What you can do:
Turn down your thermostat when you leave for work, or use a programmable thermostat to control your heating settings.
(6) Support food recovery programs
Each year, roughly a third of all food produced for human consumption—approximately 1.3 billion tons—gets lost or wasted, including 34 million tons in the U.S. according to the United Nations Food and Agriculture Organization (FAO). Grocery stores, bakeries and other food providers throw away tons of food daily that is perfectly edible but is cosmetically imperfect or has passed its expiration date. In response, food recovery programs run by homeless shelters or food banks collect this food and use it to provide meals for the hungry, helping to divert food away from landfills and into the bellies of people who need it most.
What you can do:
Encourage your local restaurants and grocery stores to partner with food rescue organizations, like City Harvest in New York City or Second Harvest Heartland in Minnesota.
Go through your cabinets and shelves and donate any non-perishable canned and dried foods that you won't be using to your nearest food bank or shelter.
(7) Buy local
"Small Business Saturday," falling between "Black Friday" and "Cyber Monday," was established in 2010 as a way to support small businesses during the busiest shopping time of the year. Author and consumer advocate Michael Shuman argues that local small businesses are more sustainable because they are often more accountable for their actions, have smaller environmental footprints, and innovate to meet local conditions—providing models for others to learn from.
What you can do:
Instead of relying exclusively on large supermarkets, consider farmers markets and local farms for your produce, eggs, dairy and meat. Food from these sources is usually fresher and more flavorful, and your money will be going directly to these food producers.
(8) Get out and ride
We all know that carpooling and using public transportation helps cut down on greenhouse gas emissions, as well as our gas bills. Now, cities across the country are investing in new mobility options that provide exercise and offer an alternative to being cramped in subways or buses. Chicago, Denver, Minneapolis and Washington, D.C. have major bike sharing programs that allow people to rent bikes for short-term use. Similar programs exist in other cities, and more are planned for places from Miami, Florida, to Madison, Wisconsin.
What you can do:
If available, use your city's bike share program to run short errands or commute to work. Memberships are generally inexpensive (only $75 for the year in Washington, D.C.), and by eliminating transportation costs, as well as a gym membership, you can save quite a bit of money.
Even if without bike share programs, many cities and towns are incorporating bike lanes and trails, making it easier and safer to use your bike for transportation and recreation.
(9) Share a car
Car sharing programs spread from Europe to the U.S. nearly 13 years ago and are increasingly popular, with U.S. membership jumping 117 percent between 2007 and 2009. According to the University of California Transportation Center, each shared car replaces 15 personally owned vehicles, and roughly 80 percent of more than 6,000 car-sharing households surveyed across North America got rid of their cars after joining a sharing service. In 2009, car-sharing was credited with reducing U.S. carbon emissions by more than 482,000 tons. Innovative programs such as Chicago's I-GO are even introducing solar-powered cars to their fleets, making the impact of these programs even more eco-friendly.
What you can do:
Join a car share program. As of July 2011, there were 26 such programs in the U.S., with more than 560,000 people sharing over 10,000 vehicles. Even if you don't want to get rid of your own car, using a shared car when traveling in a city can greatly reduce the challenges of finding parking (car share programs have their own designated spots), as well as your environmental impact as you run errands or commute to work.
(10) Plant a garden
Whether you live in a studio loft or a suburban McMansion, growing your own vegetables is a simple way to bring fresh and nutritious food literally to your doorstep. Researchers at the FAO and the United Nations Development Programme estimate that 200 million city dwellers around the world are already growing and selling their own food, feeding some 800 million of their neighbors. Growing a garden doesn't have to take up a lot of space, and in light of high food prices and recent food safety scares, even a small plot can make a big impact on your diet and wallet.
What you can do:
Plant some lettuce in a window box. Lettuce seeds are cheap and easy to find, and when planted in full sun, one window box can provide enough to make several salads worth throughout a season.
(11) Compost
And what better way to fertilize your garden than using your own composted organic waste. You will not only reduce costs by buying less fertilizer, but you will also help to cut down on food and other organic waste.
What you can do:
If you are unsure about the right ways to compost, websites such as HowToCompost.org and organizations such as the U.S. Composting Council, provide easy steps to reuse your organic waste.
(12) Reduce your meat consumption
Livestock production accounts for about 18 percent of all human-caused greenhouse gas emissions and accounts for about 23 percent of all global water used in agriculture. Yet global meat production has experienced a 20 percent growth rate since 2000 to meet the per capita increase of meat consumption of about 42 kilograms.
What you can do:
You don't have to become a vegetarian or vegan, but by simply cutting down on the amount of meat you consume can go a long way. Consider substituting one meal day with a vegetarian option. And if you are unable to think of how to substitute your meat-heavy diet, websites such as Meatless Monday and Eating Well offer numerous vegetarian recipes that are healthy for you and the environment.
The most successful and lasting New Year's resolutions are those that are practiced regularly and have an important goal. Watching the ball drop in Times Square happens only once a year, but for more and more people across the world, the impacts of hunger, poverty and climate change are felt every day. Thankfully, simple practices, such as recycling or riding a bike, can have great impact. As we prepare to ring in the new year, let's all resolve to make 2012 a healthier, happier and greener year for all.
For more information, click here.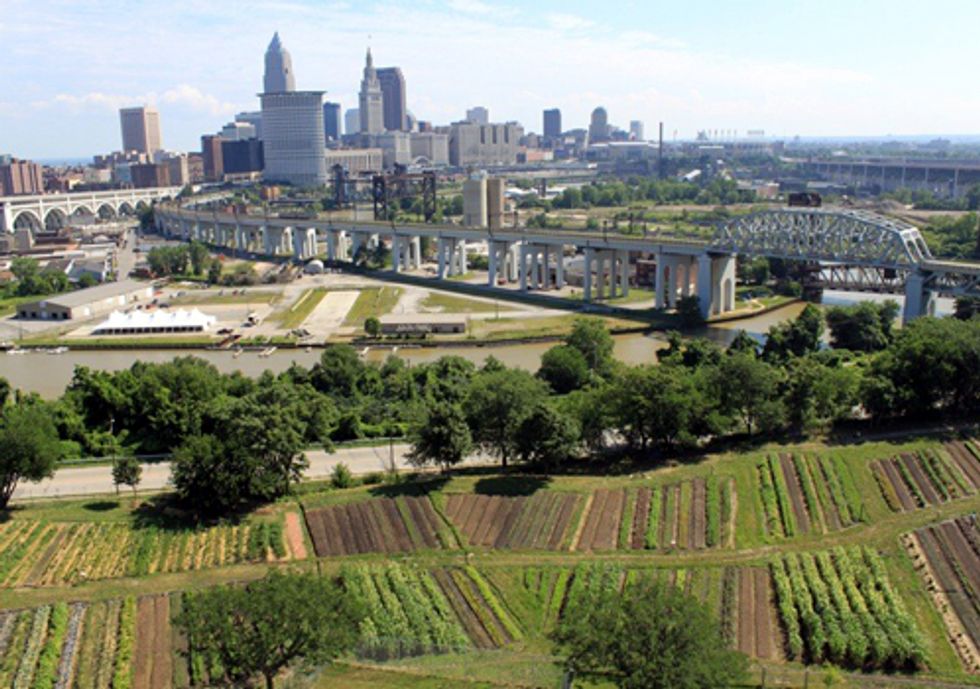 The Turner Environmental Law Clinic at the Emory University School of Law, in partnership with Georgia Organics, has released one of the most comprehensive looks at urban agriculture policy in the U.S. The study provides a look at urban agriculture policies implemented by many of Sustain Lane's top ranking sustainable cities.
Urban agriculture has become a national phenomenon as vacant lots and downsizing cities struggle to make efficient use of abandoned land, generate jobs, boost property values, promote community engagement and expand access to fresh, locally grown food. Urban agriculture can take many forms—from a community garden where multiple neighbors grow on land they share to full-scale farms that provide robust production of crops as well as educational opportunities and jobs for residents.
This report represents one of the most comprehensive, objective presentations of current urban agriculture policies being implemented across the country. Some cities have reacted in a nimble manner, creating conditions that have allowed urban food production to thrive. Other cities are struggling to identify the best mechanisms to spur urban agriculture. What is evident is that there is no one-size fits all policy to address urban agriculture. Each community needs its own nuanced approach to balance the land it has available with the needs of its residents.
Mindy Goldstein, acting director of the Turner Environmental Law Clinic, was overwhelmed at her student's interest in this topic. "We prepared this report to highlight some of the best practices being employed across the country. Our goal is to build upon these practices and prepare recommendations that will work best for the city of Atlanta and other urban areas in the state. The clinic's students dove right into this work. They were eager to lend their legal expertise to this exciting social re-innovation."
Alice Rolls, executive director of Georgia Organics and member of the Atlanta Local Food Initiative, is excited about using the report to inform the organization's work on urban agriculture issues. "It will greatly inform Georgia Organics' advocacy efforts. Land use policy can be a powerful tool to expand agricultural activity and increase access to locally grown food. With so much momentum and innovation happening to address food deserts and improve public health, food policy is a critical piece of the puzzle in solving our food security and access issues."
Both Ms. Rolls and Ms. Goldstein stated that the analysis will be shared with the city of Atlanta, among others, to inform the policy discussions currently happening. In 2010, the city of Atlanta announced an aggressive goal that 75 percent of residents would have access to fresh, locally grown food within 10 minutes of their homes by 2020.
For a full copy of the report, click here.
For more information, click here.
—————
The Turner Environmental Law Clinic provides free legal assistance to individuals, community groups, and non-profit organizations seeking to protect and restore the natural environment for the benefit of the public. Through its work, the Clinic offers students an intense, hands-on introduction to sophisticated environmental law and regulatory practice.
An outgrowth of a grower's association established in the 1970s, Georgia Organics is a member-supported not-for-profit organization devoted to promoting sustainable foods and local farms in Georgia. A sustainable local food system is critical to the future of Georgia's health, environment, and economy. Recognizing this vital need, Georgia Organics builds and strengthens a sustainable local food system that cultivates healthier Georgians, a cleaner environment, and stronger local economies. Georgia Organics builds supply through comprehensive grower education and outreach programs, and catalyzes demand on the consumer and business end by fostering market opportunities for local food. This combination creates powerful relationships that lead the state's communities toward local, sustainably grown food.