This website uses cookies to ensure you get the best experience while browsing it. By clicking 'Got It' you're accepting these terms.


The best of EcoWatch, right in your inbox. Sign up for our email newsletter!
By Gail Koffman
"The fox guarding the hen house" aptly describes the inner workings of the U.S. Environmental Protection Agency (EPA) under the Trump administration.
A major case in point: The EPA official tasked to head up the Chemical Safety and Pollution Prevention office, Nancy Beck, came to the job after working as a former high-level official for a chemical industry association. She was charged with updating the Toxic Substances Control Act (TSCA), which addresses the production, use and disposal of such chemicals as polychlorinated biphenyls (PCBs), asbestos, radon and lead-based paint.
By Juan Lopez
350BayArea.org, joined by local groups and unions, last week announced plans for a massive protest Aug. 3 at California's Chevron Richmond oil refinery.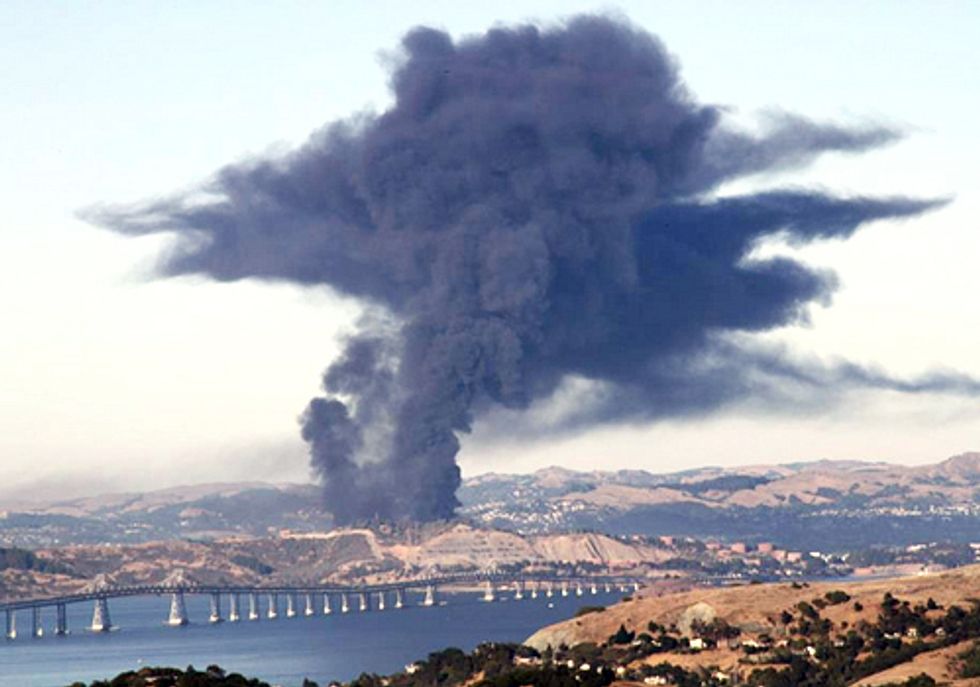 The largest greenhouse gas polluter in the state, Chevron, along with the other four Bay Area refineries, is already refining tar sands oil from Canada, brought into the area by rail.
Chevron is among industry giants pressing for presidential approval of the controversial Keystone XL pipeline project that would exponentially increase the flow of "dirty" tar sands oil into refineries, locally and throughout the nation.
The protest announcement came a day after President Obama's precedent-setting speech reframing the national debate on climate change, including measures he intends to take despite strong opposition from oil and coal industrial giants and their congressional "deniers" and apologists.
This summer's protest will take place three days ahead of the anniversary of the Richmond Chevron refinery explosion and fire last August that sent 15,000 workers and local residents to area hospitals.
In response to persistently lax company health and safety practices that led to last year's fire and Chevron's stubborn disregard for the environment, 350BayArea.org and the Bay Area climate movement brought together 5,000 people on Feb. 17, in the biggest climate protest in Northern California history—second only to the Washington, DC, rally that drew 40,000 people.
Meanwhile, thanks to the persistent work of the Richmond Progressive Alliance (RPA), labor, environmental groups, progressive Richmond Mayor Gayle McLaughlin, several progressive City Council members and others, Chevron has made modest concessions including upping its contributions to non-profits and West County Education and taking steps to make it possible for Richmond residents to get more of the relatively good paying jobs at the refinery.
Mayor McLaughlin and the grassroots campaign led by RPA won the election in 2010 despite Chevron and casinos contributing heavily to the opposition's coffers.
Mayor McLaughlin, RPA and other progressives have put together a comprehensive set of demands requiring Chevron to improve safety and health procedures as well as strengthening the unions' and community's say on Chevron conduct in the plant and towards the community.
The public plan would require Chevron to increase investment in emissions monitoring and control equipment, advanced refining processes and solar energy with a goal of bringing down total emissions by 40 percent by the end of the decade.
Meanwhile, earlier this year a coalition of labor, community and environmental groups came together in Richmond under the banner of the Collaborative on Refinery Safety and Community Health.
It includes United Steelworkers Local 5 representing about 1,500 Bay Area refinery workers, the national labor-environmental coalition BlueGreen Alliance, and the Labor Occupational Health Program at the University of California Berkeley. Also participating are one national and two Bay Area-based environmental groups: Natural Resources Defense Council, Communities for a Better Environment (CBE) and the Asian Pacific Environmental Network.
The collaborative has drawn the attention of the Chemical Safety Board, Cal/OSHA and Governor Jerry Brown, who put together a state-level refinery safety task force last year following the August fire. The task force met with collaborative representatives several times to discuss "regulatory and statutory changes" regarding government oversight of the refinery industry.
The August fire in Richmond "provided some opportunities for our immediate focus," Greg Karras, senior scientist at CBE, told Richmond Confidential earlier this year.
"But its scope is regional," Karras added. "We're talking about all of the Bay Area refineries directly—and indirectly, about all refineries in the country."
The union and local community initiatives could well serve as an example adaptable to the particular conditions and needs of local communities in other parts of the country.
This could enhance grassroots support for national environmental initiatives like those of the President and other government officials and entities, and for the labor-community-environmental alliances vital to meaningful advances.
Of energy industry-inspired claims that environmental concerns cost jobs, CBE organizer Andres Soto said, "That's not the case. Part of the point of this collaborative is to destroy that myth."
Charlotte Brody, national associate director of the BlueGreen Alliance, explained that stricter safety and maintenance regulations for European refineries are far more effective in terms of accidents and fires.
In some cases, the European refineries are owned by the same companies that operate unsafely in the U.S., Brody said. "And they're not taking huge losses for doing that."
"This is a known universe," Brody added. "We know how to make refineries safer."
Movements with a local focus like in Richmond—when added to others elsewhere in the country along with national and state level efforts—could potentially contribute to defeating Republican climate change deniers and energy company apologists in swing races in the 2014 and 2016 elections.
They could also potentially influence Democratic office holders beholden to energy companies in regions dominated by energy industry giants and, in some cases, possibly even lead to their replacement by more environmentally friendly and people-friendly Democrats.
Visit EcoWatch's TAR SANDS page for more related news on this topic.
——–

EcoWatch Daily Newsletter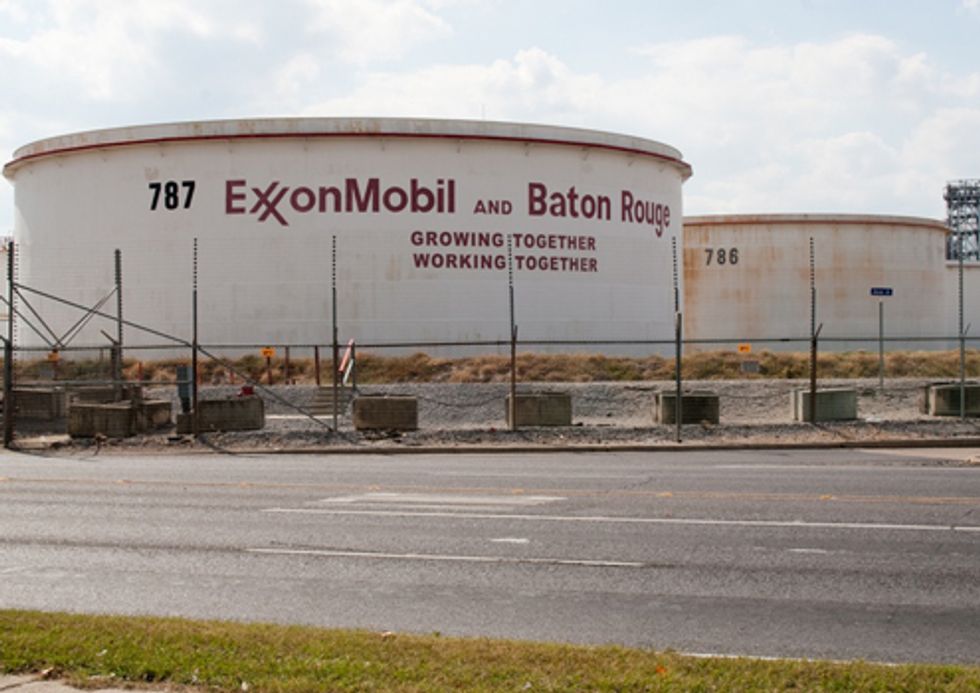 Beleaguered ExxonMobil refinery Manager Steven Blume received letters from 1,363 residents across south Louisiana urging reduced accidents at his refinery. Citing the troubled refinery's ongoing accident problem, especially during storms, the letters urge Mr. Blume to upgrade equipment, hire more workers, improve emergency alerts and implement proper shut downs of the refinery in advance of storms.
"ExxonMobil's profit last year was $30 billion and they can afford to do better," said Anne Rolfes, director of the Louisiana Bucket Brigade. "Hiring more workers—not contractors—would be a good start."
The letters delivered Dec. 21 were presented in front of the Louisiana Mid Continent Oil and Gas Association, an industry trade group that frequently defends ExxonMobil at the expense of Louisiana residents. The letters were collected via door-to-door outreach about ExxonMobil's accidents. Mr. Blume has refused to meet to receive the letters, continuing a pattern of refusing to meet to discuss his beleaguered refinery's accidents. This delivery of the letters occurred two years after the first invitation to talk about accidents was extended in November 2009.
At issue are both accident reduction and the need to hire more full time union workers to prevent those accidents.
"Refiners have a duty to their workers and the community to operate their refineries safely and be prepared for any storms that may come," said United Steelworkers International Vice President Gary Beevers. "ExxonMobil can do better in terms of maintaining its equipment, being ready for storms and hiring more employees to ensure safe operation of its facilities. Too often contractors are hired and they lack the knowledge, experience and training of a full-time employee."
From 2005-2010, the ExxonMobil refinery reported 672 accidents—an average of more than two each week—to the state Department of Environmental Quality. Thirty percent of the air emissions from these accidents were due to storms. The storms' significant cause of accidents as well as the feasibility of preventing these accidents is the reason that the letters are focused on storm preparation. "We are in south Louisiana and we know it will rain," said Ms. Rolfes. "Residents are expected to be prepared and refineries should be too."
Hurricane Gustav in 2008 was a particular problem for ExxonMobil. The refinery released 1.25 million pounds of toxic air emissions during a 12-day span.
The management at ExxonMobil has consistently minimized concerns about accidents by saying that many accidents are "below reportable quantities." However, such accidents can be serious as shown by an April 14, 2010 fire that had no release above reportable quantities but did send three workers to the hospital.
Additional arguments by the refinery include the need to operate during storms to ensure the nation's supply of gasoline. The refinery, however, has never provided evidence to support this claim. Louisiana residents assembled Dec. 21 believe that the refusal to properly prepare for storms is instead about a relentless drive for profits.
For more information, click here.
—————
Community Empowerment for Change's mission is to improve the quality of life in East Baton Rouge Parish by fighting environmental racism and improving environmental health.
The United Steelworkers has 1.2 million active and retired members strong. You'll find us fighting for a better life for all workers in union halls, at the work place, in the courts and in legislatures.
The Louisiana Bucket Brigade is an environmental health and justice organization supporting neighborhoods' use of grassroots action to create informed, sustainable communities free from industrial pollution.