Production of the official fruit of Florida continues to plummet as the first forecast from the U.S. Department of Agriculture (USDA) for the 2016-2017 growing season indicates a 14 percent drop in the state's orange crop.
On Wednesday, the USDA predicted farmers will have enough oranges to fill 70 million boxes for the season. Last season, Florida produced 81.5 million boxes, a 52-year low. This latest forecast shows that the region is in the midst of the worst orange harvest crisis since records began in 1913, according to The Guardian.
After the announcement, Florida Commissioner of Agriculture Adam Putnam said that the forecast is disheartening and further proof of the difficult times facing Florida's citrus industry which has been dealing with citrus greening, an incurable bacterial disease that can kill a tree within two years.
Citrus greening disease on mandarin oranges.T.R. Gottwald and S.M. Garnsey / USDA
"Production of our state's signature crop is down 70 percent from 20 years ago, and the future of Florida citrus depends on a breakthrough in the fight against greening," Putnam said. "We must continue to support our growers and provide them with every tool available to combat greening."

The state has set aside $8 million in the budget to help fight against greening, in addition to $14.7 million for a citrus health response program within the Florida Department of Agriculture and Consumer Services, reports The Tampa Bay Times. Farmers themselves have put $100 million into fighting the disease that is spread through hurricanes and storms that hit the state.
#Climate Denial Collides With #ExtremeWeather https://t.co/h7aGlrnPFU @MichaelEMann @BillNye @greenpeaceusa @billmckibben #HurricaneMatthew

— EcoWatch (@EcoWatch)1476477747.0
"Farmers are giving up on oranges altogether," Judith Ganes, president of the commodities research firm J Ganes Consulting, told The Guardian. "Normally after a freeze or a hurricane [which both kill lots of trees], the growers would replant 100% of their plants. But the disease has been spread all over by hurricanes, and made it totally uncontrollable. Farmers are giving up and turning to other crops or turning land over to housing."

This, in turn, is causing the steep rise in wholesale prices and companies are getting more creative in how they sell their juice in stores either by making the cartons smaller or blending the juice with other fruits or water.
So far, The Guardian reports that these methods have kept prices from increasing in grocery stores for now, in addition to the fact that demand for orange juice is down.
"U.S. consumers have it in their mind that orange juice is high in sugar, which it is, but it's natural sugars that don't contribute to obesity," John Michalik, a beverages expert at the Canadian division of the market research group Global Data, said. "People are not having the full breakfast at home like they used to. Now almost all breakfasts are a coffee and sandwich or snack on the go."
While some farmers may be abandoning the orange industry, Michael Sparks, vice president and CEO of grower group Florida Citrus Mutual, which represents many of the 62,000 people employed in the state's citrus industry, said Wednesday that their farmers are not giving up yet.
"The 2016-17 citrus season is here and we are cautiously optimistic heading into it," he said. "The all Florida orange forecast number of 70 million boxes is about what we expected, and although it's low, Florida growers will again use their trademark resilience to bring consumers the best citrus in the world."
The Chinese government has just announced its work plan to manage and clean up contaminated groundwater in North China Plains, a region where many are completely dependent on groundwater for drinking water.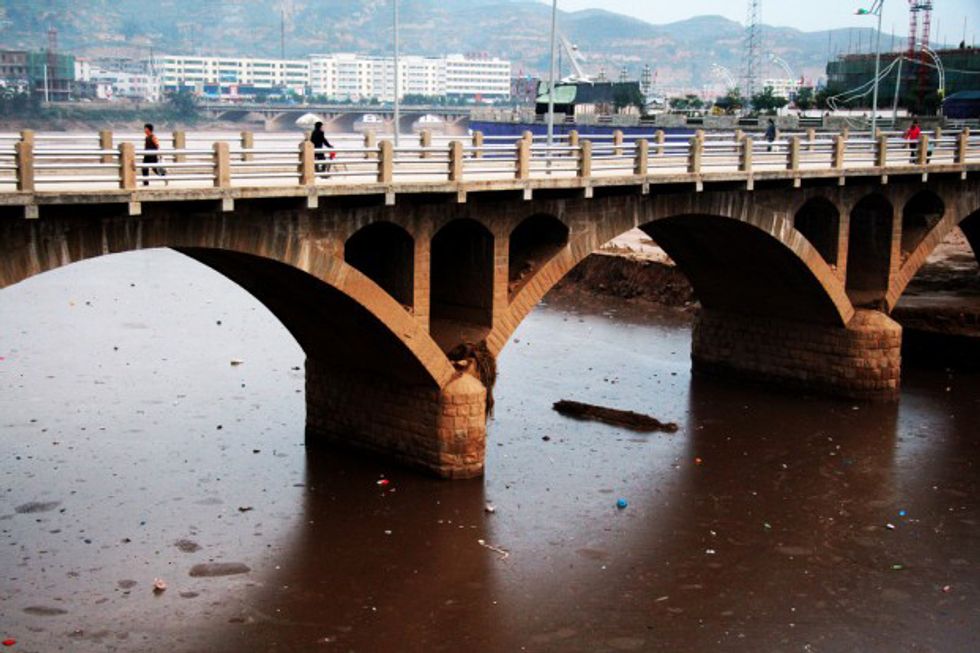 Eighteen percent of water use in China is groundwater. Unfortunately, the report indicates this groundwater is highly contaminated with pesticides, fertilizers and irrigation waste water from agricultural expansion, as well as petrochemical industry wastewater, and domestic and industrial waste. Considering 400 of the approximately 655 cities in China are completely reliant on groundwater for drinking, the plan could not come sooner.
Likely though, "It will be very expensive to clean up, if it is even possible," said Sun Ge, PhD, research hydrologist of the U.S. Department of Agriculture's Forest Service Southern Research Station. Many of the chemicals are extremely persistent, remaining in the environment years after they were released.
The plan marks progress made after a massive government investigation launched in 2006, which found that groundwater of the North China Plains, home to nearly 130 million people, was almost irreparably contaminated. After six years of investigation and a year of planning, the Chinese Ministry of Land and Resources has finally announced its work plan to manage and clean up contaminated waters.
While the results of the 2006 survey have not been made public, the government has acknowledged that water contamination levels are quite serious. Previous data released by the Land Ministry revealed that 41 percent of the groundwater monitoring sites across the country had poor water quality, including 4,929 monitoring sites spread out over 198 administrative regions. Iron, manganese, fluoride, nitrites, nitrates, ammonium and heavy metals were just some of the contaminants found, with some of them reaching levels above state safety levels.
The report builds on academic research conducted by Zhang Zhaoji, PhD, a hydrogeologist at the Chinese Academy of Geological Sciences' Institute of Hydrology and Environmental Geology in Hebei and project leader for the 2006 survey. Published in the Journal of Jilin University, the results indicated that 35.5 percent of shallow groundwater samples were contaminated by human activities.
The levels of water pollution are "not a surprise, as China is under rapid urbanization and industrialization that bring problems of water pollution for both surface and groundwater," said Dr. Ge to the journal Nature. Regardless, the effects are already being seen in China. This summer agricultural runoff caused the largest algal bloom ever recorded in China, which has grown twice the size from the previous record years' bloom. Additionally, fluoride exposure caused almost 38.8 million recorded cases of tooth-enamel damage and 2.84 million cases of bone disease. Humans are exposed to a wide range of fluoride-based compounds from agricultural sources, many of which leach into the groundwater or run off into local streams. While fluoride is often added to water sources to protect from tooth decay, it is also found in almost 150 fluoridated pesticide products. Three of the most widely used herbicides include triflualin, flumeturon, and benefin. Others include sodium fluoride, used as a rodenticide and insecticide; superphosphate fertilizer, used as a fertilizer and animal feed supplement, which contains up to five percent fluoride); and cryolite, used in fruit and vegetable crops against leaf eating pests but as an aluminofluoride ion.
Although it is difficult to directly link fluoride exposure from water contamination as the primary cause of fluoride-related ailments, undoubtedly, "These diseases are closely related to environ­mental and geological factors [and are] especially associated with contaminated groundwater," says Yang Linsheng, PhD, director of the Department of Environmental Geography and Health at the Institute of Geographic Sciences and Natural Resources Research.
The government work plan states that it intends to divide the North China Plain into 30 units for pollution prevention and control, while simultaneously ranking each by severity levels, from serious to good. The journal Nature reports that they will also commit almost 500 million renminbi (U.S. $81 million) between 2013 and 2020 to increase water pollution assessments, limit agricultural water pollution and point source pollution from industry and landfill, treat polluted waters and conduct further water clean-up research. As of now, details of the plan are unavailable to the public.
However, the plan is expected to be a boon for the environment, requiring a harsher approval process for new industry products and stricter regulations for industrial and agricultural wastes. Last week, Chinese authorities announced that courts were now able to hand down the death penalty in cases of serious pollution.
WHAT WILL IT TAKE FOR THE U.S. TO CLEAN UP ITS WATER SUPPLY? COMMENT BELOW:
Visit EcoWatch's WATER page for more related news on this topic.
——–

WHAT WILL IT TAKE FOR THE U.S. TO CLEAN UP OUR WATER SUPPLY? COMMENT BELOW:

EcoWatch Daily Newsletter
By Will Fantle
From the U.S. Department of Agriculture (USDA) to foreign policy, Congress, state governments, elections and the courts, the feverish politics of genetically modified foods (GMOs) have infected decision making and dramatically tilted policies towards the desires of Monsanto and the biotech industry.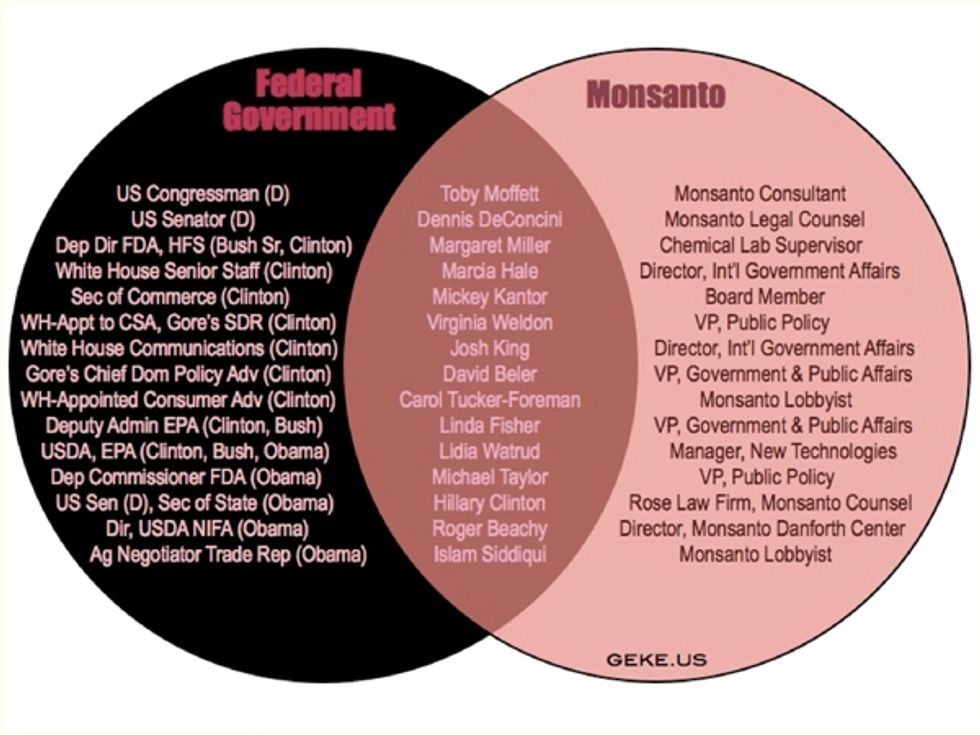 Candidate Barack Obama in 2008 promised change. However, when he came to Washington he appointed former Iowa Governor Tom Vilsack as USDA Secretary. The one-time award winning "Biotech Governor of the Year" has presided over a rapid roll out of new GMO crops and foods. Change he implemented included a series of agency adjustments designed to speed up the approval process for GMOs. Under Vilsack's watch, the agency has never denied the approval of one GMO crop.
Yes, the USDA also brought more attention to the National Organic Program—professional, knowledgeable management, more staffing, more resources. But it's small potatoes compared to the attention afforded biotech. And Vilsack's team has pushed hard for the organic community to swallow a policy of co-existence, the strange view that pollen and DNA recognize fence rows, that rain, winds, birds, insects and other natural forces will refrain from carrying GMO contaminants to non-GMO plants and crops.
Millions of Americans are suspicious of GMO foods for assorted health and environmental reasons. Polling conducted last year by the Mellman Group indicated that nearly 90 percent of Americans would like GMO foods labeled so they can make a choice about what kinds of foods they purchase in the marketplace. Sixty other countries require such labeling.
But Vilsack says no, telling the Farm Bureau at their annual meeting in January, "I know of no health reason connected to GMOs that would require labeling under our current labeling philosophy."
Monsanto and the biotech industry allies spent mightily to narrowly defeat last November's state referendum calling for the labeling of GMO foods sold in California. While labeling advocates decried the misleading and deceptive advertising conducted against the referendum, they were unable to weather the deluge of dollars. Still, the seeds of discontent are spreading. Washington state's voters will have a labeling referendum on the ballot later in 2013. Vermont has passed GMO labeling legislation; Connecticut's Senate overwhelmingly did so as well, as has Maine. Nearly 20 other state legislatures have similar proposals in the works.
"To try to oppose this state by state, that is unsustainable," says Cathy Enright, the executive vice president for food and agriculture for the Biotechnology Industry Organization (BIO), of which Monsanto, DuPont, and Dow Chemical are members.
Seeking to douse the prairie fire, Monsanto—which spends about $6 million annually on lobbying—and its allies are working the fields in Washington, D.C. Their target? The nation's reauthorization of the Farm Bill. Currently winding its way through Congress (as of this writing), an amendment attached to the House Agriculture committee's version, and authored by Rep. Steve King (R-IA), would strip the rights of states to enact labeling laws. The Farm Bill is an essential piece of national legislation that is reauthorized every five years. Once an item gets in the bill, it becomes very difficult to remove. The House and Senate will reconcile differences in their bills, but it is far from certain that either will consider the amputation of state's GMO labeling rights a deal breaker. [Since this was written, the Farm Bill failed to pass the U.S. House.]
Monsanto and their allies also prevailed in a vote in the Senate on an amendment by Sen. Bernie Sanders (I-VT), who wanted to make it clear that states "have the authority" to require the labeling of foods produced through genetic engineering. Sanders' amendment failed 71-27.
While some of the no-votes in the Senate may have come from officials who believe that a national-level regulation is more appropriate, the effort to have the Food and Drug Administration (FDA) do just that is mired axle deep in the muck. The FDA has already said that genetic modification does not materially change the food. But when the deadline passed last year for the agency to respond to a petition requiring GMO food labeling—a petition that contained the signatures of well over a million citizens—their response was that they needed more time to study the matter. Fourteen more months have since passed.
And just so no stone goes unturned, Monsanto is actively pushing state-level legislation in Oregon and elsewhere to override any labeling laws passed by county and municipal governments.
The suppression of dissent in the fertile ground of Washington, D.C., yielded another reward for Monsanto when they snuck a policy rider into an essential appropriations bill earlier this year. Dubbed the Monsanto Protection Act, it swatted down the ability of Monsanto's pesky critics to use judicial review as a brake on questionable regulatory decisions. It allows full speed ahead on the unrestricted sale and planting of genetically modified seeds even when a court finds that they were not properly examined for their impact on farmers, the environment, and human health.
Sen. Roy Blunt (R-MO), from Monsanto's home state of Missouri, authored the controversial rider and then blocked efforts by Sen. Jon Tester (D-MT) and Sen. Jeff Merkley (D-OR) to remove it from the critical governmental operations funding bill.
Tester later told a reporter, "Not only does this ignore the constitutional idea of separation of powers, but it also lets genetically modified crops take hold across this country, even when a judge finds it violates the law." He added that giant multinational agribusiness corporations are treating farmers as "serfs."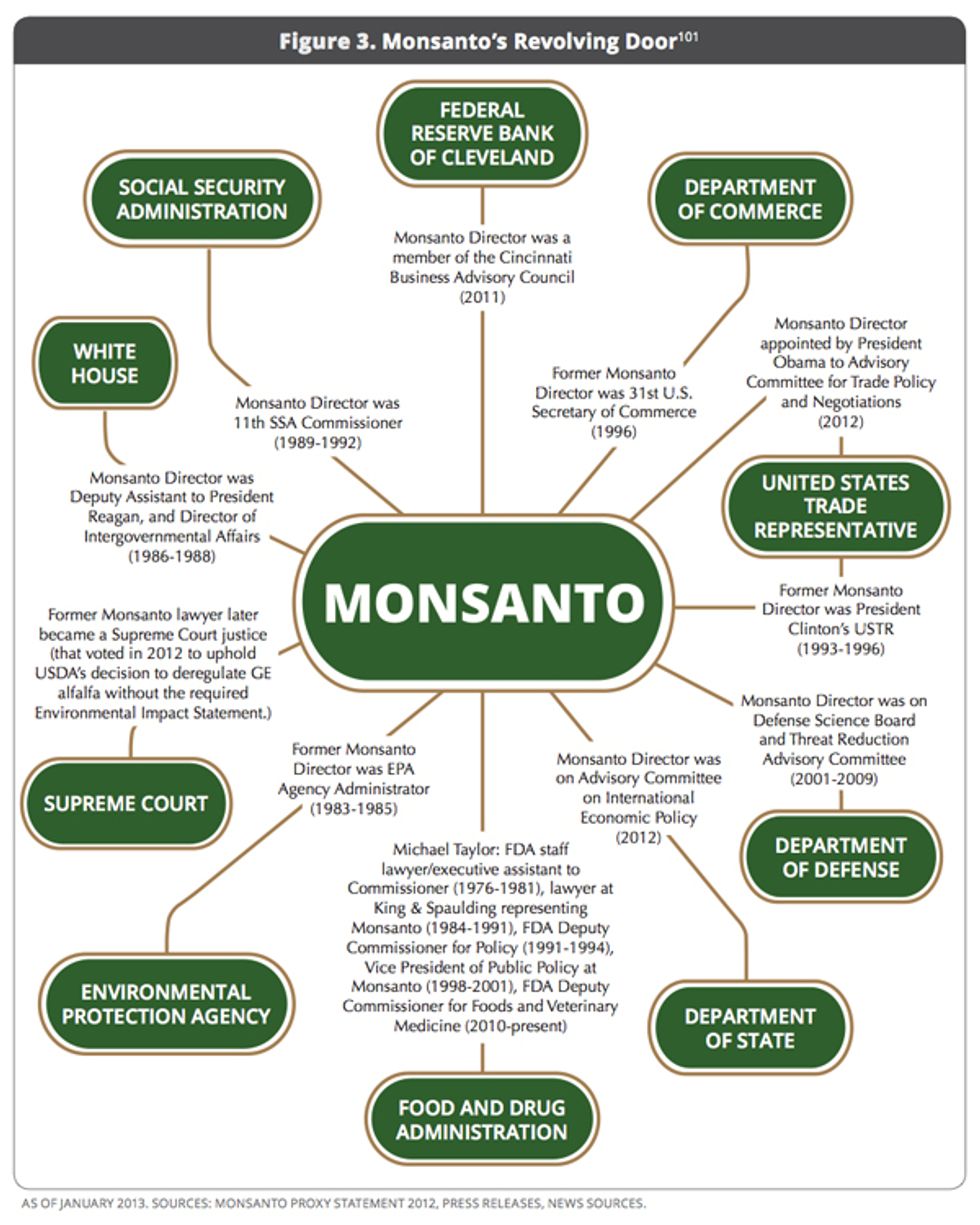 Perhaps it should come as no surprise that Monsanto's power at the federal level is so pervasive. As a recent Food & Water Watch report detailed, board members from the $12 billion company "have worked for the EPA, advised the U.S. Department of Agriculture [USDA] and served on President Obama's Advisory Committee for Trade Policy and Negotiations." Company staff and former employees enjoy a revolving door relationship with jobs and advisory positions in the federal government, at public universities and with trade groups. Even one sitting Supreme Court justice, Clarence Thomas, once worked for Monsanto.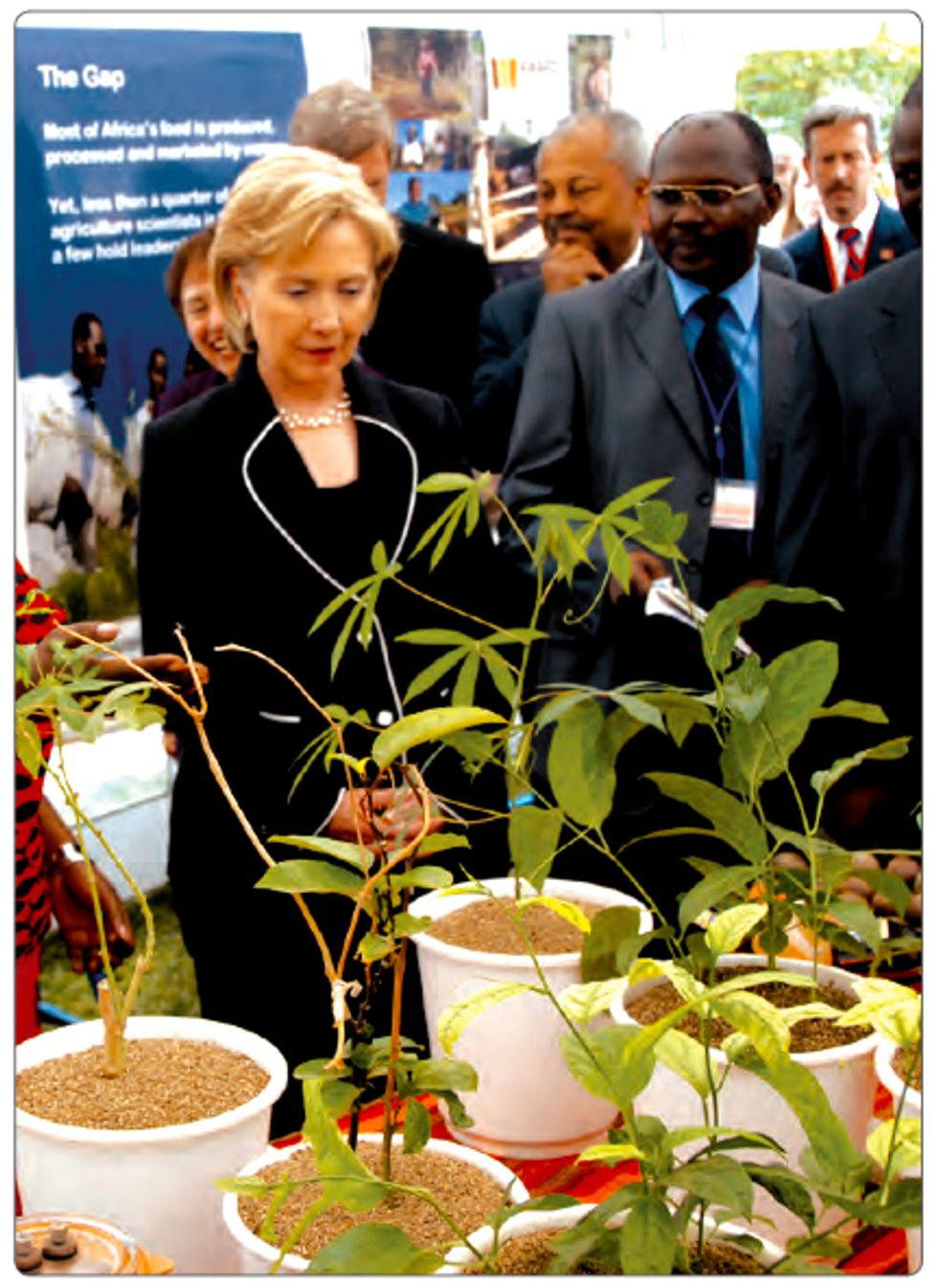 Former Secretary of State Hillary Clinton listens to a presentation on the "genetic improvement" of local crops hosted by the Kenya Agriculture Research Institute. Photo credit: USAID.
Their reach extends far beyond America's shores. Again, according to Food & Water Watch, the State Department works with trade officials to promote GMO crop exports and to force unwilling nations to accept GMO crops and foods. The State Department has engaged in pro-GMO lobbying campaigns in foreign countries, promoted foreign cultivation of GMOs and targeted foreign opinion-makers and reporters with junkets and public events.
Yet signs of cracks in the GMO empire are visible. On May 25, two million people joined March Against Monsanto rallies that were held in more than 400 cities in 52 countries. The growing consumer awareness of GMO foods and crops in the U.S. has sprouted vigorous labeling campaigns across the country with widespread public support for labeling. Even though 90 percent of all corn and soy grown in the U.S. is GMO, with a variety of other crops in the ground or under development, much of the rest of the world has yet to fall under the influence. In fact, just five countries account for 90 percent of total GMO crop production—the U.S., India, Canada, Argentina and Brazil.
The USDA also recently reversed itself and decided to conduct a full environmental impact statement assessing the health and environmental impacts of the next generation of GMO crops. These include, as proposed by Dow and Monsanto, 2,4-D-resistant corn and soybeans and Dicamba-tolerant soy and cotton crops. Still, notes the Center for Food Safety's Andrew Kimbrell, "it remains to be seen whether the agency will undertake the required hard-look analysis of the environmental and economic impacts of these crops."
Reflecting on the importance of a true choice in the marketplace for consumers, the Cornucopia Institute's Codirector Mark Kastel says that "organic food and agriculture offers the only available and verifiable alternative with regulatory oversight from seed to table prohibiting genetically modified organisms in farming and food production."
"Given the astounding influence of Monsanto and their GMO allies on all aspects of our government, it makes Cornucopia's work protecting the integrity of the organic label even more imperative," adds Kastel.
Visit EcoWatch's GE FOODS page for more related news on this topic.
——–

Here we go again. After the 2012 fiasco in which Congress failed to pass a Farm Bill at the eleventh hour, the Senate rallied early this month to pass its version of the national food and farming legislation—which is up for debate and renewal every five years.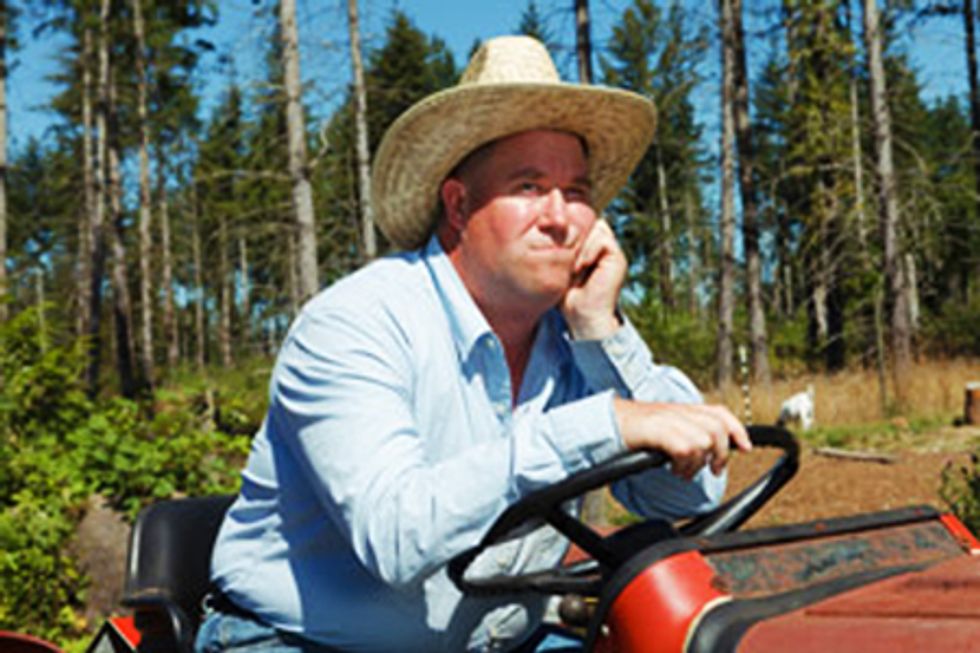 Ten days later, the Farm Bill died again when the House failed to pass its own version of the 2013 bill. It's not clear exactly what's up next. But we're rolling up our sleeves—again—to press for the best legislation possible, and we fully hope and expect that Congress will pass a Farm Bill this year. 
So what happened last week?
Here's the scoop. House Democrats resoundingly opposed dramatic cuts to the Supplemental Nutrition Assistance Program (SNAP, also known as food stamps) included in the proposed bill. The proposed bill would have severely narrowed this aspect of our nation's social safety net, knocking two million current recipients out of the SNAP program.
What Will it Take?
Since we can expect Tea Party Republicans to oppose any bill without even greater SNAP cuts, the other Republicans and Democrats will need to work together.
And there are clear signs this is possible. Before the bill failed, the House passed a historic amendment limiting commodity payments. As policy analysts for the National Sustainable Agriculture Coalition (NSAC) explain, this may be the key—along with agreement on SNAP—to revival of the Farm Bill.
And several amendments with bipartisan co-sponsorship included important limits on government payments for insurance premiums. Unfortunately many of those amendments were among the 100+ that never made it to the floor for debate and vote.
So, creating a Farm Bill that could pass in the House means making less draconian cuts to the SNAP program, keeping reforms to commodity payment programs that were agreed to in the floor debate and making substantive reforms to crop insurance programs—which have surpassed the commodity programs in terms of government expenditure.
It will also mean including bipartisan amendments for rural economic development, local and regional food systems, organic agriculture and fair competition.  
Meanwhile, On the Budget Side ...
In a separate process, both the House and Senate have to pass agriculture budgets every year to fund agriculture, rural development, nutrition and food safety programs. The huge gap in priorities between the House and Senate on the Farm Bill is also reflected in their budget proposals. They differ from one another by about $1.43 billion.
This week and last, the relevant Senate and House committees wrote up their proposal for agriculture spending for the 2014 fiscal year that begins Oct. 1. The full House is expected to take up the proposal next week. The full Senate will then follow.
While both House and Senate budgets allow for continued support of the important Conservation Stewardship Program, many conservation programs face cuts—including the Environmental Quality Incentives Program, the Wildlife Habitat Incentives Program and the Agricultural Management Assistance Program. Funding levels remain inadequate, even in the Senate bill, for the U.S. Department of Agriculture (USDA) to fully deliver the conservation programs. 
We're happy to report that both budgets continue support for some key rural development programs including the Value-Added Producer Grants. The Senate budget also continues to fund important sustainable agriculture research, education and extension including the Sustainable Agriculture Research and Education program—the cornerstone program that has funded research on sustainable agriculture systems over the past 25 years.
A Long Haul That Isn't Over
Following the Fourth of July holiday, Congress will pick up where they left off and will—for better or for worse—decide the fate of U.S. agriculture for the next five years.
We won't let our guard down, and will continue to let readers know when opportunities arise to put the pressure on policymakers in Congress to pass smart legislation that is responsible to taxpayers, farmers and consumers—now and for future generations.
Visit EcoWatch's FARM BILL and SUSTAINABLE AGRICULTURE pages for more related news on this topic.