By Mitch Jones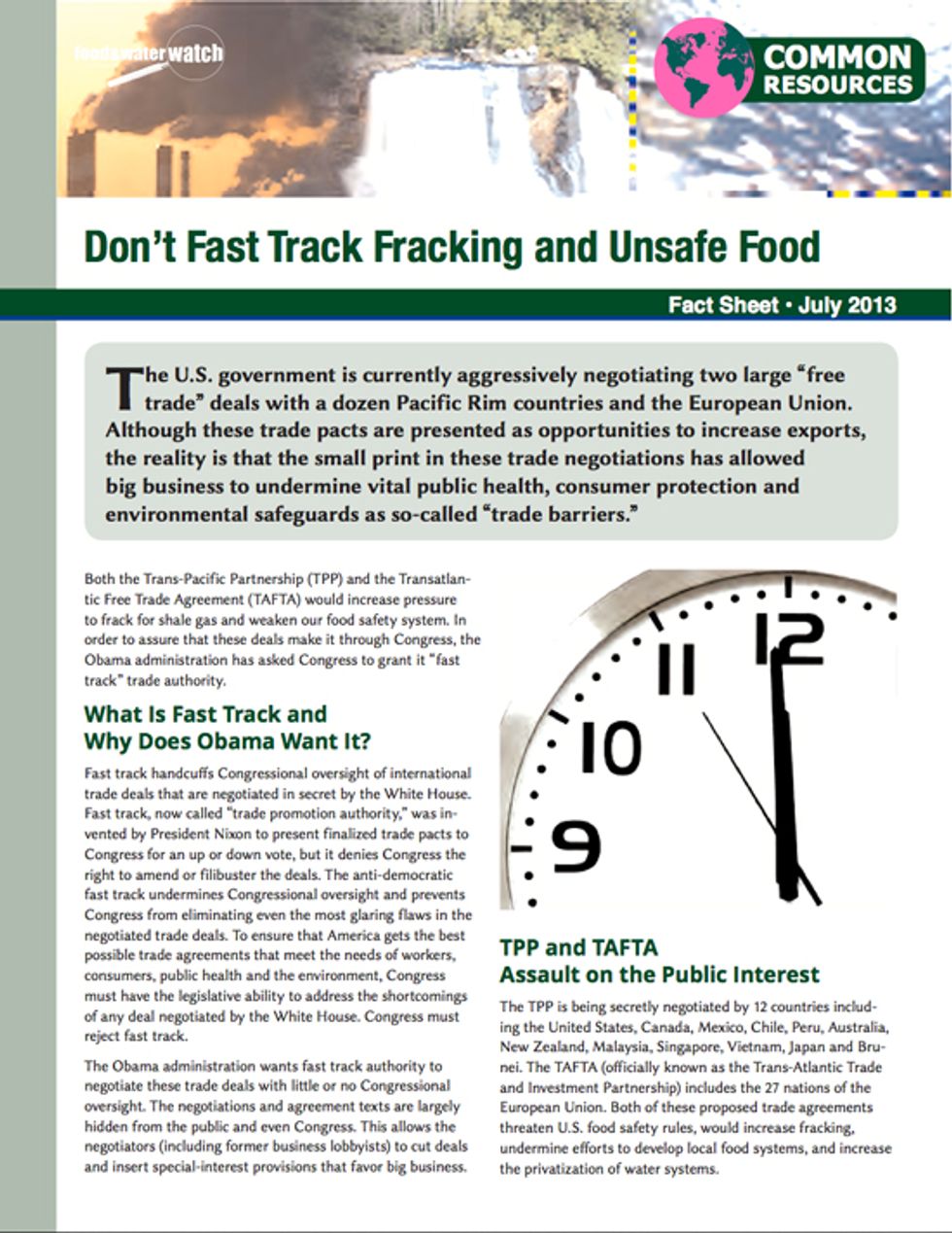 We've all seen the results in states across the country of the influence that the American Legislative Exchange Council and the Koch Brothers have amassed. And if you think the results of their agenda to hand more and more power to corporations at your expense are bad, you should really hate the new "trade" deals being negotiated to hand even more power to corporations at our expense.
The Transpacific Partnership (TPP) is being secretly negotiated by 12 countries, including the U.S., Canada, Mexico, Chile, Peru, Australia, New Zealand, Malaysia, Singapore, Vietnam, Japan and Brunei. The Trans Atlantic Free Trade Agreement (TAFTA) includes the 27 nations of the European Union. Both of these proposed trade agreements threaten U.S. food safety rules, infringe upon public and private land with an increased push for fracking, undermine efforts to develop local food systems and increase the privatization of water systems.
While its supporters talk about them as "trade" deals, in reality the TPP and TAFTA would be a permanent power grab by corporations and their financiers that would make it impossible for future generations to choose what laws and rules they want to live under. They would permanently enshrine the very economic system that has lead to greater imbalances in income and wealth and increasing economic crises. These deals would also allow foreign corporations to sue the federal, state and local governments over laws and policies that violate the "trade" deal, but protect us from unsafe food, dirty water and dangerous fracking. It's outrageous!
How do we know that these deals will give more power to corporations and leave our children, our air and water, and our food safety at greater risk? Because while the American people aren't being told what's in the deal, and while members of Congress are being shut out of the negotiations, representatives from more than 600 corporations and corporate interests are able not only to see the text of the agreement, but also are able to help influence what goes into it.
We need to stop these trade deals before they give even more power to corporations. Food & Water Watch just published a new fact sheet, Don't Fast Track Fracking and Unsafe Food, with extensive details on these trade agreements and provides information on how to contact your representatives to oppose these corporate giveaways.
Visit EcoWatch's FOOD and FRACKING pages for more related news on this topic.
——–
SHARE YOUR THOUGHTS BELOW: What do you think would be the result of these trade deals in the U.S.?

——–

EcoWatch Daily Newsletter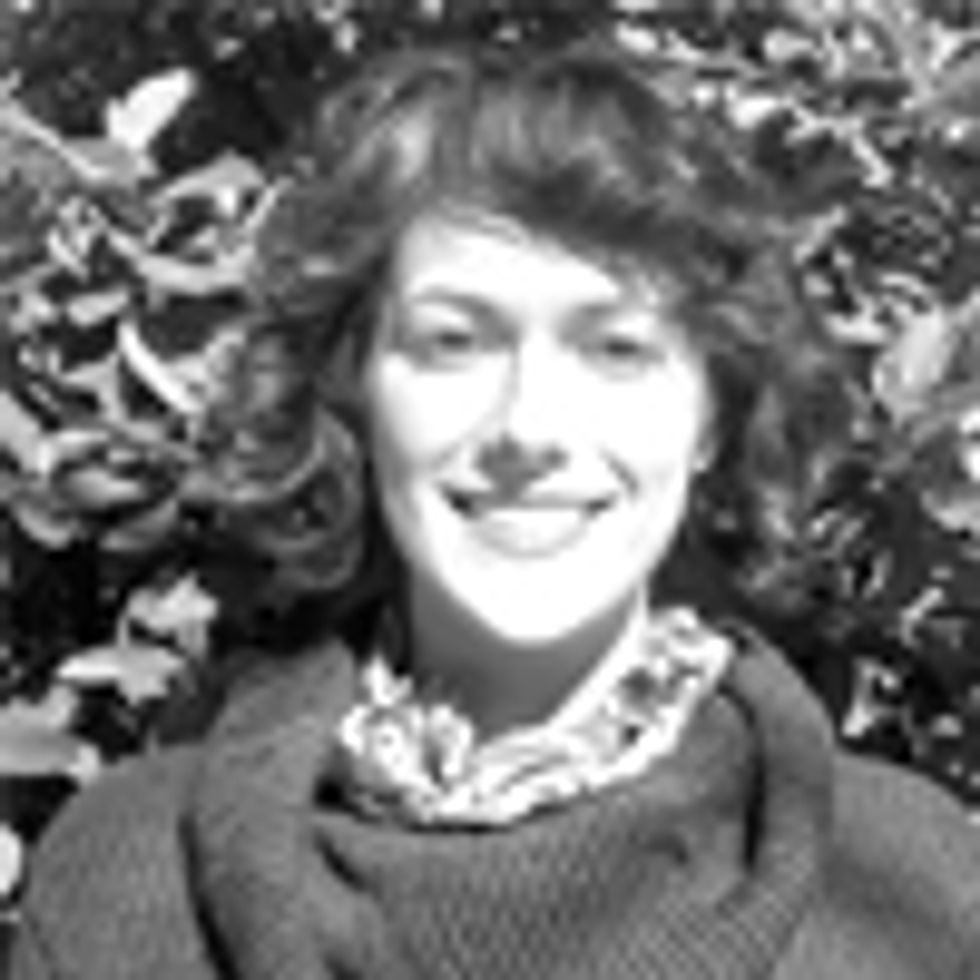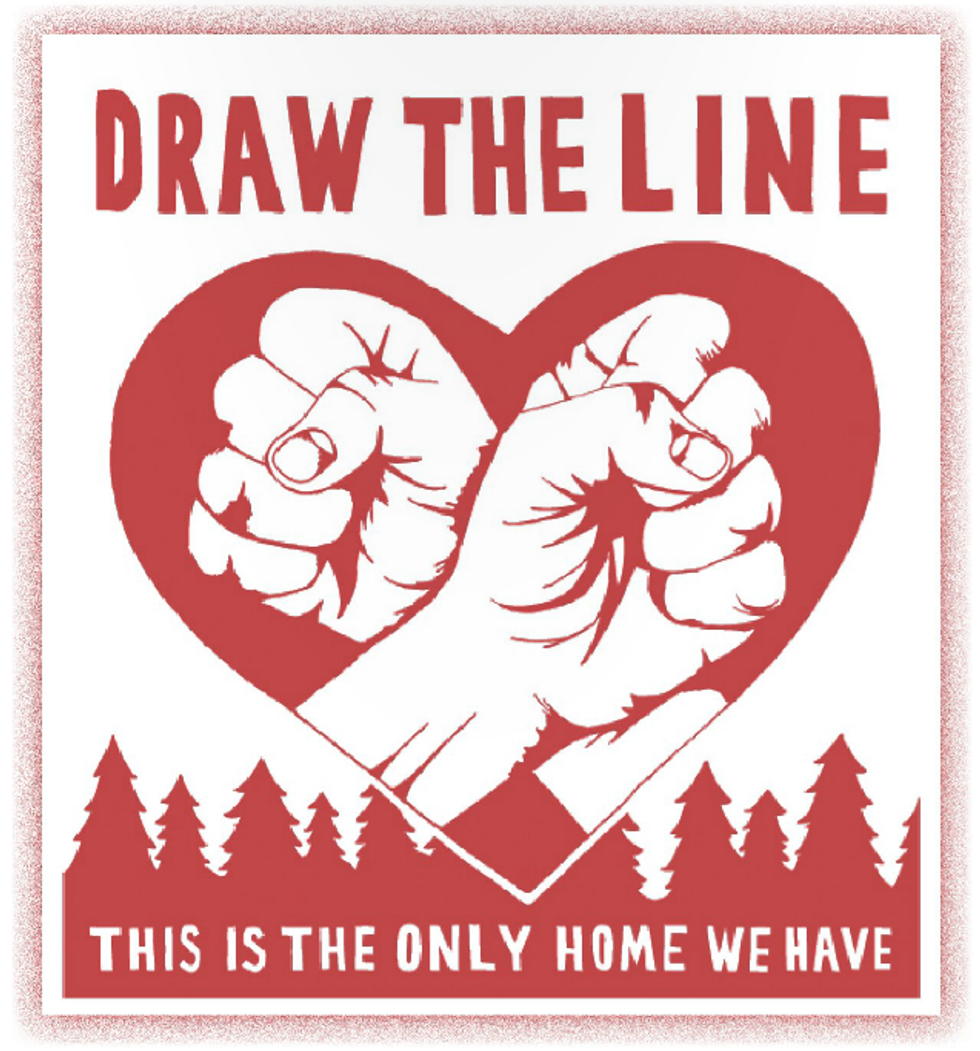 As the summer heats up, awareness is quickly escalating across the world as different direct action campaigns target a common denominator: the fossil fuel industry.
Earlier this year, organizers including 350.org launched the Summer Heat and Fearless Summer campaigns, calling for a global uprising to "peacefully but firmly" stand up to the industry that is wrecking our future.
As people are joining together to embrace non-violent direct action on behalf of the climate, 350.org  published the Creative Action Cookbook to encourage cohesive thoughtful action based on the variety of resources and skill sets of those involved. As humanity faces the uncertainties of the damage already done by pollution, this tenacious movement is focused on building a world that values the principles of "empathy, mutual aid and love."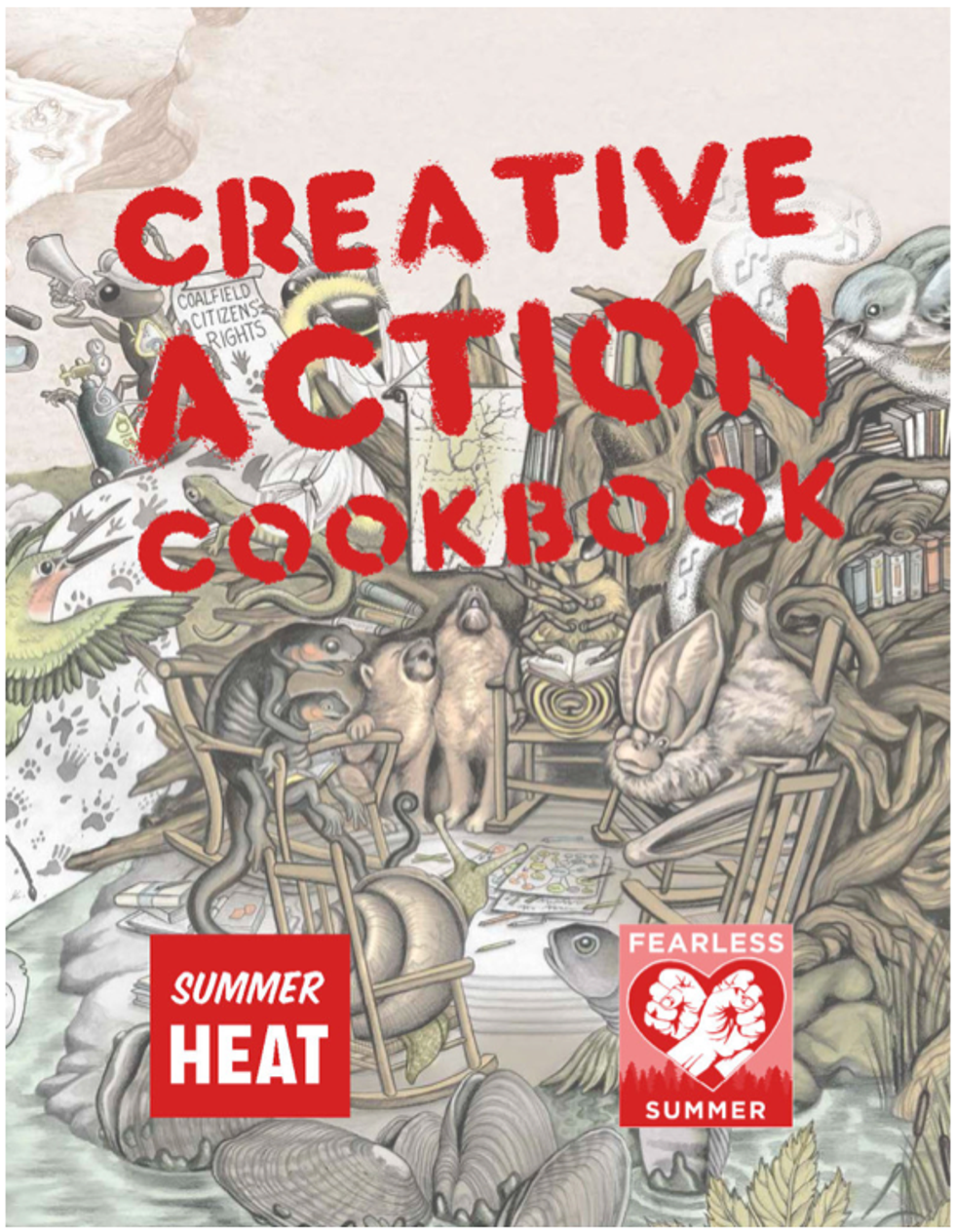 Over the past several weeks, direct actions challenging fossil fuel infrastructure have brought to light some of the most imminent hazards of this dangerous industry, while at the same time promoting a sustainable and renewable future.
According to Tar Sands Blockade, Swamp Line 9, a group dedicated to keeping Enbridge from modifying their 240,000 barrel/day Line 9 pipeline to carry tar sands bitumen, kicked off the first day of summer with a powerful action at a pump station on Haudenosaunee Six Nations land near Hamilton, Ontario, Canada.
Blockaders occupied the site and held strong for six days as activists with Great Plains Tar Sands Resistance in Oklahoma were disrupting the construction of another pump station for the controversial Keystone XL pipeline the same week. On the dramatic final day of the Swamp Line 9 blockade, four people who were locked to machinery and 16 others were arrested.
The action kicked off Idle No More's Sovereignty Summer with a righteous display of the movement's strength and determination, highlighting the involvement and solidarity of First Nations whose lands are being targeted as "energy sacrifice" zones across North America.
On June 29, Greenpeace, Friends of the Earth International, Sierra Club and other organizational allies demonstrated during an international day of solidarity with the youth activists attending Global Power Shift. Actions all over the world were calling for an end to the age of coal and promoting a clean energy future just days after four people locked themselves outside the UBS headquarters in Connecticut to protest the bank's continued funding of mountaintop removal coal mining.
On Canada Day, more than 500 gathered in Southampton, Ontario, to oppose a proposed nuclear waste dump less than a mile from the shores of Lake Huron, bringing this grave issue some necessary attention.
Other early Fearless Summer actions across the U.S. include a blockade that stopped trucks attempting to dump tar sands waste alongside the Detroit River; a flash mob that included activists from Occupy Wall St and Occupy the Pipeline protesting the Spectra and Rockaway fracked gas pipelines during lunchtime in one of Manhattan's busiest neighborhoods; and a confrontation by the Utah Tar Sands Resistance of road construction crews who are in the process of clear cutting, leveling and paving the way for tar sands, oil shale and fracking across the Colorado River Basin.
A week and a half before the tragic train explosion in Quebec last Saturday, 350 Maine and Maine Earth First! teamed up to bring attention to the hazards of transporting fracked oil by blockading a train carrying 70,000 barrels of crude coming from the Bakken oil fields in North Dakota.
Earlier this week, hundreds of Earth First! activists and allies brought attention to Momentive (headquarterd in Columbus, OH), one of the largest suppliers of fracking fluids, by blockading the shipping entrance to one of their facilities in North Carolina and successfully shutting down operations for the day.
Yesterday, Greenpeace activists bravely scaled Europe's tallest skyscraper in London to bring attention to the Shell's plans to drill in the Arctic.
As the number of direct actions grow across the Earth, communities are uniting to pressure their elected officials and other entities to acknowledge that we must divest from the fossil fuels and move toward a renewable energy future. This fearless movement to defend our future is just getting started—with much more to come.
Visit EcoWatch's CLIMATE CHANGE page for more related news on this topic.
——–
SHARE YOUR THOUGHTS BELOW: After reading the Creative Action Cookbook, what inspires you to act?
——–

waterlust.com / @tulasendlesssummer_sierra .
Each product featured here has been independently selected by the writer. If you make a purchase using the links included, we may earn commission.
The bright patterns and recognizable designs of Waterlust's activewear aren't just for show. In fact, they're meant to promote the conversation around sustainability and give back to the ocean science and conservation community.
Each design is paired with a research lab, nonprofit, or education organization that has high intellectual merit and the potential to move the needle in its respective field. For each product sold, Waterlust donates 10% of profits to these conservation partners.
Eye-Catching Designs Made from Recycled Plastic Bottles
waterlust.com / @abamabam
The company sells a range of eco-friendly items like leggings, rash guards, and board shorts that are made using recycled post-consumer plastic bottles. There are currently 16 causes represented by distinct marine-life patterns, from whale shark research and invasive lionfish removal to sockeye salmon monitoring and abalone restoration.

One such organization is Get Inspired, a nonprofit that specializes in ocean restoration and environmental education. Get Inspired founder, marine biologist Nancy Caruso, says supporting on-the-ground efforts is one thing that sets Waterlust apart, like their apparel line that supports Get Inspired abalone restoration programs.
"All of us [conservation partners] are doing something," Caruso said. "We're not putting up exhibits and talking about it — although that is important — we're in the field."
Waterlust not only helps its conservation partners financially so they can continue their important work. It also helps them get the word out about what they're doing, whether that's through social media spotlights, photo and video projects, or the informative note card that comes with each piece of apparel.
"They're doing their part for sure, pushing the information out across all of their channels, and I think that's what makes them so interesting," Caruso said.
And then there are the clothes, which speak for themselves.
Advocate Apparel to Start Conversations About Conservation
waterlust.com / @oceanraysphotography
Waterlust's concept of "advocate apparel" encourages people to see getting dressed every day as an opportunity to not only express their individuality and style, but also to advance the conversation around marine science. By infusing science into clothing, people can visually represent species and ecosystems in need of advocacy — something that, more often than not, leads to a teaching moment.

"When people wear Waterlust gear, it's just a matter of time before somebody asks them about the bright, funky designs," said Waterlust's CEO, Patrick Rynne. "That moment is incredibly special, because it creates an intimate opportunity for the wearer to share what they've learned with another."
The idea for the company came to Rynne when he was a Ph.D. student in marine science.
"I was surrounded by incredible people that were discovering fascinating things but noticed that often their work wasn't reaching the general public in creative and engaging ways," he said. "That seemed like a missed opportunity with big implications."
Waterlust initially focused on conventional media, like film and photography, to promote ocean science, but the team quickly realized engagement on social media didn't translate to action or even knowledge sharing offscreen.
Rynne also saw the "in one ear, out the other" issue in the classroom — if students didn't repeatedly engage with the topics they learned, they'd quickly forget them.
"We decided that if we truly wanted to achieve our goal of bringing science into people's lives and have it stick, it would need to be through a process that is frequently repeated, fun, and functional," Rynne said. "That's when we thought about clothing."
Support Marine Research and Sustainability in Style
To date, Waterlust has sold tens of thousands of pieces of apparel in over 100 countries, and the interactions its products have sparked have had clear implications for furthering science communication.
For Caruso alone, it's led to opportunities to share her abalone restoration methods with communities far and wide.
"It moves my small little world of what I'm doing here in Orange County, California, across the entire globe," she said. "That's one of the beautiful things about our partnership."
Check out all of the different eco-conscious apparel options available from Waterlust to help promote ocean conservation.
Melissa Smith is an avid writer, scuba diver, backpacker, and all-around outdoor enthusiast. She graduated from the University of Florida with degrees in journalism and sustainable studies. Before joining EcoWatch, Melissa worked as the managing editor of Scuba Diving magazine and the communications manager of The Ocean Agency, a non-profit that's featured in the Emmy award-winning documentary Chasing Coral.
By Sharon Kelly
The key takeaway from President Obama's major climate change announcement last week was his intent to batten down on coal. But if history is any indication, the man Mr. Obama selected to run the Department of Energy may have different plans.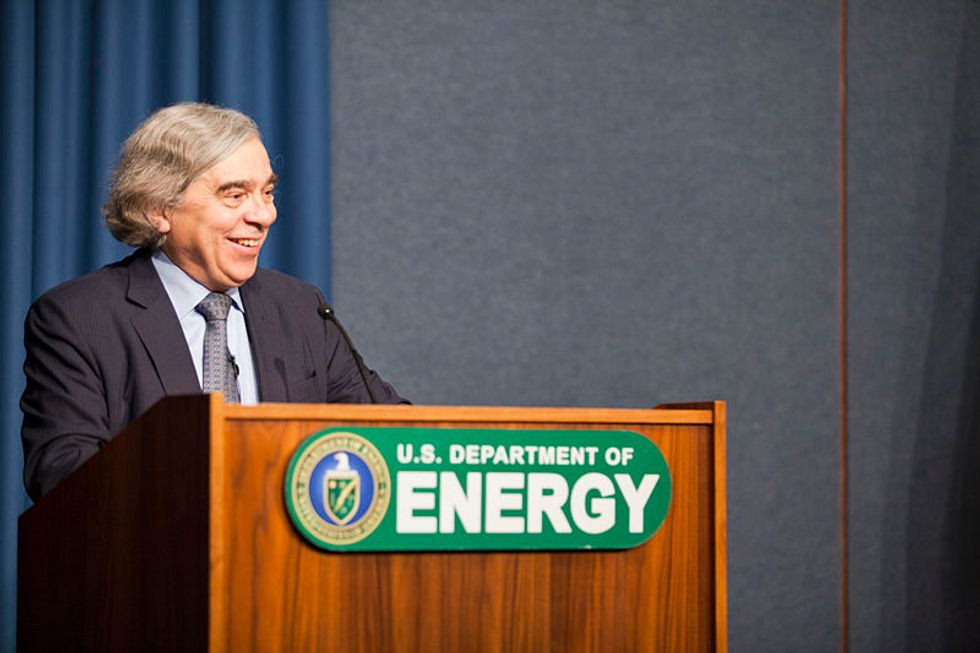 Ernest J. Moniz has a long history of supporting coal-powered electricity, staking his arguments in favor of coal on a technology that remains entirely unproven: carbon capture and sequestration (CCS).
Mr. Moniz will be in a uniquely influential position when it comes to confronting these problems. President Obama announced that he would rely on executive agencies instead of Congress, so Mr. Moniz's Energy Department will play a crucial role in determining precisely how Obama's strategy is administered.
The day after Obama's speech, Moniz told Congress "the President advocates an all-of-the-above energy strategy and I am very much in tune with this."
What's wrong with an all-of-the-above strategy? It extends reliance on fossil fuels, at a time when scientists warn that we can only burn 20 percent of current reserves before the world tips past the crucial 2 degree Celsius point. Beyond two degrees, some of the most devastating impacts of global warming will be felt. Keep in mind that, if all of the world's coal is burned, global temperatures could rise by a jaw-dropping 15 degrees Celsius, a study published in the prestigious journal Nature last year concluded.
The stakes, when it comes to controlling American greenhouse gas emissions, are huge.
In May, carbon dioxide levels in the Earth's atmosphere reached 400 parts per million—the highest level of carbon dioxide ever recorded in human history. Last year, the continental U.S. experienced its hottest year on record, and the Natural Resources Defense Council estimates that climate-related disasters like crop loss, wildfires and floods cost the nation roughly $140 billion last year alone, with much of the tab picked up by taxpayers.
Power plants are the single largest source of American carbon dioxide emissions, accounting for a third of the nation's total greenhouse gases. So focusing on power plants is key if emissions are to be reduced.
Coal currently supplies about 40 percent of American electricity, according to Energy Information Administration statistics, down from 50 percent in 2005. Coal's decline comes as natural gas from fracking (which has its own worrisome climate impacts, measured in methane rather than carbon dioxide), wind and solar, have risen in their share of the U.S. electric portfolio. Since the beginning of 2010, 145 coal-fired power plants announced plans to retire.
But the Department of Energy is focused not on retiring more of these plants, pinning its hopes instead on developing new technologies to make coal cleaner. The plan in rough form, involves collecting carbon dioxide emitted by power plants and burying it, forever, underground.
If that sounds like a heck of a challenge, that's because it is.
There's not a single large commercially-operating carbon sequestration plant anywhere in the world.
That's despite over $25 billion in government subsidies worldwide from 2008 to 2012.
Nevertheless, Mr. Moniz told Congress that "the Administration has already committed about $6 billion to [carbon capture and sequestration] demonstrations, and success of the forthcoming projects will be a critical step toward meeting the President's climate goals."
The $8 billion in total subsidies adds up to more than the wind and solar industries combined receive—and those are industries that have proven themselves to be commercially viable.
Undaunted, Moniz told The New York Times that CCS was a vital part of the country's climate change strategy. He called for CCS to be commercialized first for coal-fired power plants. He added that natural gas' carbon emissions, though half those of coal, are still too high to meet Obama's long-term goal of slashing emissions 80 percent from 1990 levels by 2050—so he called for the same speculative technology to resolve that problem as well.
The transition to an electric industry that captures its greenhouse gases instead of releasing them into the atmosphere makes the challenges associated with developing renewables like wind and solar look easy in comparison.
Professor Vaclav Smil, author of Energy Myths and Realities: Bringing Science to the Energy Policy Debate has calculated that to sequester just a fifth of current carbon dioxide emissions:
"... we would have to create an entirely new worldwide absorption-gathering-compression-transportation-storage industry whose annual throughput would have to be about 70 percent larger than the annual volume now handled by the global crude oil industry whose immense infrastructure of wells, pipelines, compressor stations and storages took generations to build."
Carbon capture is also grossly inefficient. "By some estimates, 40 percent of the energy generated has to go to the carbon capture and sequestration process," Josh Galperin, associate director of the Yale Center for Environmental Law and Policy, said after the climate strategy was released. DeSmog's Kevin Grandia describes some further technical hurdles that carbon sequestration has yet to overcome.
In a key indication of how shaky the science is behind carbon sequestration, not even the World Bank will fund it. Concerns about climate change led the Bank to restrict its financial support for coal projects except in "rare circumstances," a draft strategy leaked to the press last week indicates. In a glaring omission, the strategy says nothing about carbon capture and sequestration as an alternative.
None of this seems to matter to Mr. Moniz, whose support of the coal industry and faith in sequestration has been longstanding.
A 2009 report he helped produce focused on how to reduce carbon dioxide from coal plants, touting the potential for so-called "clean coal."
"It's cheap," he told Scientific American when the report was released, "there's lots of it and there's lots of it in places with high demand, namely the U.S., China and India."
In 2007, Moniz co-authored an Massachusetts Institute of Technology report titled The Future of Coal that aimed to examine "how the world can continue to use coal, an abundant and inexpensive fuel, in a way that mitigates, instead of worsens, the global warming crisis."
Moniz's faith in carbon sequestration has remained unshaken up to the present day.
"It's not going to happen tomorrow, but I believe in this decade we will have demonstrated the viability of large-scale storage" of carbon dioxide from industrial operations, he told the Associated Press recently. "The president made clear that we anticipate that coal and other fossil fuels are going to play a significant role for quite some time on the way to a very low carbon economy," he added.
Meanwhile, broader concerns about the President's climate plans remain.
"We're happy to see the president finally addressing climate change" said Bill Snape, senior counsel for the Center for Biological Diversity, "but the plain truth is that what he's proposing isn't big enough, and doesn't move fast enough, to match the terrifying magnitude of the climate crisis."
And if the clean coal technology Mr. Moniz is counting on doesn't pan out, prospects may be even dimmer.
Visit EcoWatch's CLIMATE CHANGE page for more related news on this topic.
——–

DO YOU THINK ERNEST MONIZ MAY HAVE A CONFLICT OF INTEREST IN THE HEAVILY SUBSIDIZED CARBON CAPTURE AND SEQUESTRATION INDUSTRY?

Storebrand, a major Norwegian pension fund and life insurance firm, has announced it has divested from 19 fossil fuel companies.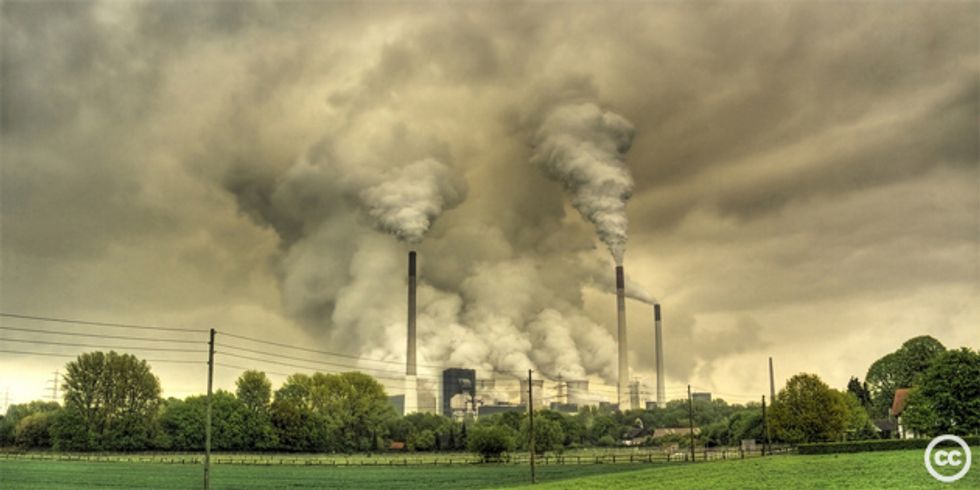 Announcing the move, the group's head of sustainable investment, Christine Tørklep Meisingset, said it had gone down the divestment route to "reduce fossil fuel and CO2 [carbon dioxide] exposure and ensure long-term stable returns" for its members—as these stocks, it says, will be "worthless financially" in the future.
She said:
"[As] the stated climate goals become reality, these resources are worthless financially, but it is also true that they do not contribute to sustainable development in the extent and the pace we want. Exposure to fossil fuels is one of the industry's main challenges, and for us it is essential to work purposefully to take our share of responsibility."
Its decision to divest comes after the publication of Carbon Tracker's latest Unburnable Carbon report, which said some 60-80 percent of fossil fuel reserves need to be left in the ground if the worst effects of climate change are to be avoided.
In total, it has pulled out of 13 coal extractors and six firms that are heavily exposed to tar sands oil.
Bold moves like this that channel finance away from carbon-intensive assets towards clean renewable energy projects gained a ringing endorsement from Barack Obama last week.
The divestment and clean investment movement appears to be gaining momentum.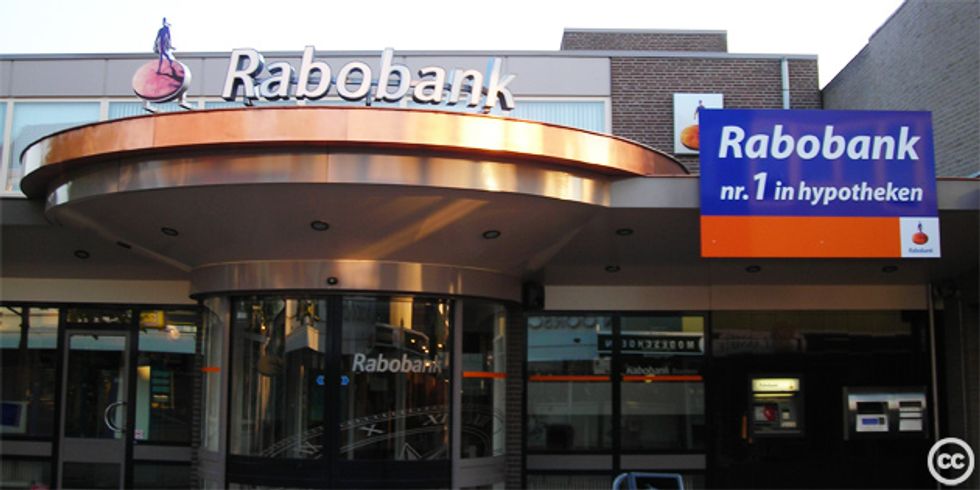 In Europe, the Dutch bank Rabobank recently took the extraordinary step of enforcing a blanket ban on loans to firms involved with oil sands and fracking for shale gas.
In both cases, it claimed the financial and environmental risks were too great for it to lend money.
While in the U.S., where the movement has been strongest, the United Church of Christ is the latest notable organization to follow the trend and approve a fossil fuel divestment strategy, becoming the first national and religious body in the U.S. to do so.
Visit EcoWatch's CLIMATE CHANGE page for more related news on this topic.
——–

DO YOU THINK IT IS TIME TO COMPLETELY DIVEST FROM FOSSIL FUELS?
Early scientific analysis predicted that the risks associated with hazardous waste injection wells would be negligible. Unfortunately, experience has indicated that disposing of hazardous waste deep underground has been linked to water contamination, destroyed ecosystems, toxic leaks and earthquakes.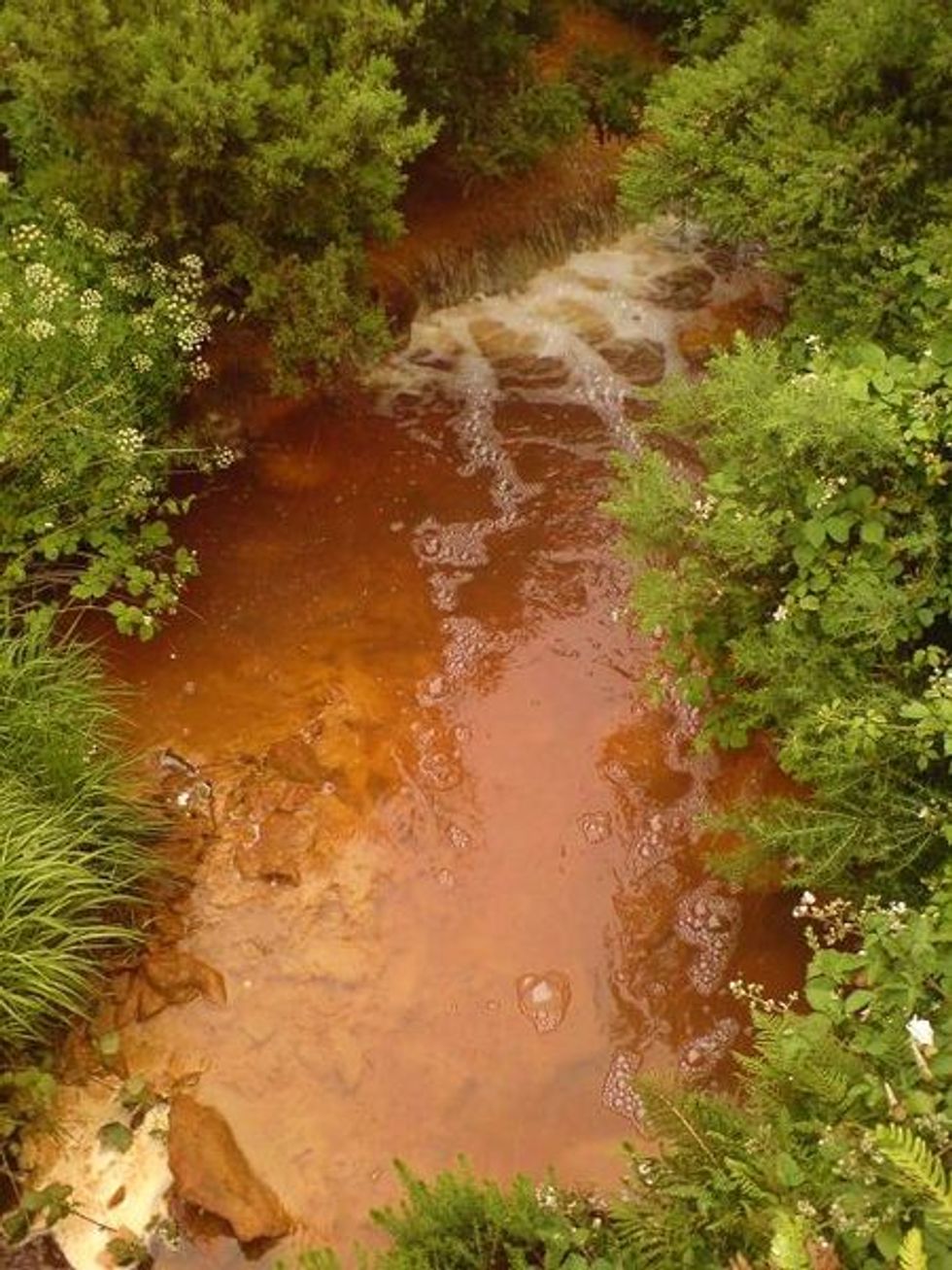 Now we are learning that there is a difference between scientific analysis and scientific evidence.
In a recent extensive report by ProPublica, John Apps, leading geoscientist, who advises the Department of Energy for Lawrence Berkeley National Labs, said that the science used to go forward with disposal wells was not sound.
"Every statement is based on a collection of experts that offer you their opinions. Then you do a scientific analysis of their opinions and get some probability out of it. This is a wonderful way to go when you don't have any evidence one way or another ... But it really doesn't mean anything scientifically," said Apps.

Perhaps the scientific projections behind the disposal well operations would be sound under ideal conditions: uniform rock structure, stability of toxic materials, predictable reactions and seismic activity. But, scientists say, no amount of speculation can take into account all of the variables of deep underground environments.
"Geology," according to geologist Ronald Reese, "is never what you think it is."
Only practical data and experimental research can offer any insight into the possible risks of hazardous waste injection wells. And since many disposal wells have gone unmonitored for years, regulators are unable to make informed decisions about their safety.
According to ProPublica, the U.S. Environmental Protection Agency (EPA) "has not counted the number of cases of waste migration or contamination in more than 20 years."
Up until the 1960s, most toxic waste was deposited in lakes and rivers, which led to obvious, unbearable pollution of ecosystems and drinking water in the U.S. As an answer to this pressing problem, oil companies developed hazardous waste injection wells as a solution.
Disposal wells use high-pressure pumps to force toxic and non-toxic waste down cement and steel pipelines to dumping zones about two kilometers deep in the Earth. Wells can be shallower if the waste is less offensive. The waste is then released into the porous rock beneath several layers of Earth. 
The idea, according to a recent report in the Scientific American, is that "underground waste is contained by layer after layer of impermeable rock. If one layer leaks, the next blocks the waste from spreading before it reaches groundwater. The laws of physics and fluid dynamics should ensure that the waste can't spread far and is diluted as it goes."
Each disposal well could deposit more than millions of gallons of waste into the ground using tremendous force. Once the waste is deposited, it is not tracked and scientists have no real idea of how far it can travel.
The ProPublica report points out that, "rock layers aren't always neatly stacked as they appear in engineers' sketches. They often fold and twist over on themselves. Waste injected into such formations is more likely to spread in lopsided, unpredictable ways."
In light of recent research and evidence of leakage, hydrologist Tom Myers says that more knowledge is needed to understand the implications of deep disposal wells as "natural faults and fractures are more prevalent than commonly understood."
Scientific projections were unable to foresee the ways that injection wells would impact the environment. The three major ways are:
Water
In many cases, liquid waste has traveled horizontally and migrated up to ground water through abandoned water and oil wells. This unanticipated phenomenon has been linked to hundreds of water contamination cases throughout the U.S. and Canada. 
There are currently thousands of unplugged and abandoned wells in the U.S. and Canada. In 1989, the U.S. General Accounting Office (GAO) investigated and concluded that current safeguards aren't preventing contamination from injected oil and gas wastes. Their report states specifically that "brines from Class II wells can enter drinking water supplies directly, through cracks and leaks in the well casing, or indirectly through nearby wells."
Canada, too, has had its share of disposal well-related contamination due to insufficient research. The Canadian government blames events like the contamination of groundwater in Lambton Count, Ontario, in 1977 on a "lack of knowledge." According to Environment Canada, "[d]isposal wells were constructed and waste injected following the regulations and best knowledge at the time. However, it was not realized that waste fluids would migrate to the surface through abandoned oil and groundwater wells, causing a major problem that still exists today."
Earthquakes
Even basic regulations are supposed to include a seismic survey within a two-mile radius of the designated drilling area. Yet, "in 1961, a 12,000-foot well was drilled at the Rocky Mountain Arsenal, northeast of Denver, [CO], for disposing of waste fluids from the Arsenal's chemical weapons operations. Injection commenced March 1962, and an unusual series of earthquakes erupted in the area shortly after." According to the U.S. Geological Survey, over the course of time that the Rocky Mountain Arsenal waste dumping practice went on, the area sustained a dozen earthquakes.
The earthquakes were prompted by the destabilization of a seismic fault line due to the drilling of the well and the pressure of materials being forced into the ground. The Arsenal stopped injection operations Nov. 26, 1967, after a 5.0 magnitude earthquake rocked the area a few months earlier.
This isn't an isolated case.
In 2011, A magnitude 5.7 earthquake rocked the area surrounding Prague, OK. Scientists say the "largest earthquake in Oklahoma history was likely triggered by a waste injection well." According to a report in National Geographic, "[a]s pressure builds in these disposal wells, it pushes up against geological faults, sometimes causing them to rupture, setting off an earthquake."
In a report released by the scientific journal Geology earlier this year, "Significant earthquakes are increasingly occurring within the continental interior of the United States." These quakes are being directly linked with injection well operations.
Land Value
In Texas, many farmers are unable to use their land for farming or livestock due to contamination. Texas is riddled with abandoned and unplugged oil wells, which play a role in the leaks caused by injection wells.
The abandoned wells present a pathway for injected wastes to migrate upward into ground water and onto farmland. If a field is flooded by an injection well leak, the land is not suitable for farming of any kind. The resale value of the land is also affected.
As ProPublica reports, in 2003, "Ed Cowley of the EPA got a call to check out a pool of briny water in a bucolic farm field outside Chico, TX. Nearby, he said, a stand of trees had begun to wither, their leaves turning crispy brown and falling to the ground." 
The pool of water was due to a salt-water leak from a nearby injection well. Salt-water brine is used in various oil production techniques [fracking] and is known to contain dangerous chemicals like benzene. "It was frustrating," Crowley said. "If your water goes, what does that do to the value of your land?"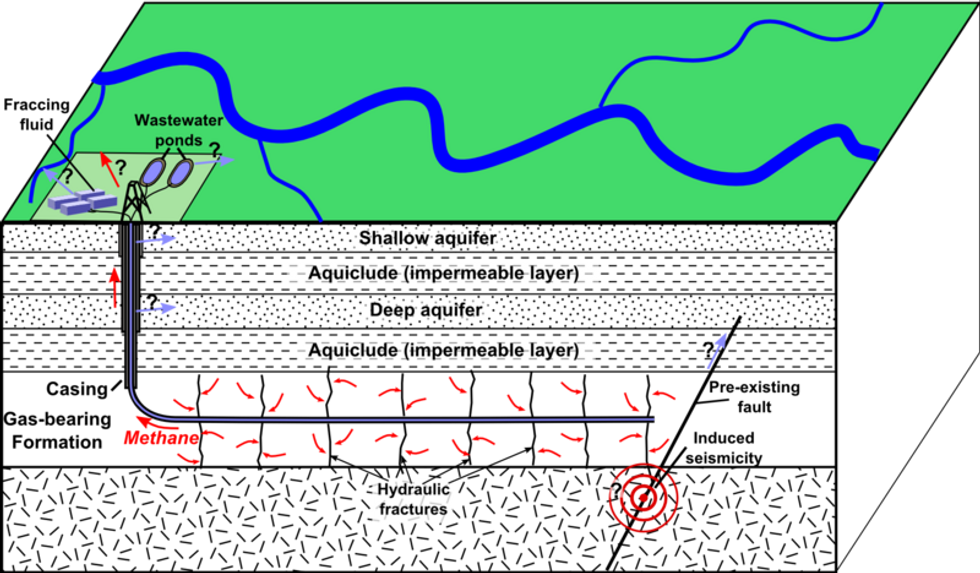 A major contributor to the deficit of knowledge surrounding waste injection wells could be the lack of sufficient monitoring and documentation. And this negligence doesn't appear to be accidental. In the 1980's, an abundance of leak and water contamination reports brought waste injection well regulations into consideration with federal regulators proposing stricter rules. At the time the oil and gas industry complained they couldn't afford to uphold such high standards of inspection. The amount of money needed to conduct the inspections would force them to close down they said.
Oil and gas exploration and production waste is now exempt from federal hazardous wastes regulations in the U.S. 
According to ProPublica, "[o]perators are required to do so-called 'mechanical integrity' tests at regular intervals, yearly for Class 1 wells and at least once every five years for Class 2 wells. In 2010, the tests led to more than 7,500 violations [in the U.S.], with more than 2,300 wells failing. In Texas, one violation was issued for every three Class 2 wells examined in 2010."
In some cases, operators aren't required to comply with what regulations do exist. Many operational wells were built before current regulations were put into place. These "grandfathered" wells are not, and will not be, subject to the same regulations as new wells.
Even with new wells, the standards are not being met. According to the GAO, new permits are being issued "without evidence that the pressure tests were conducted."
Inspection regulations in place are habitually ignored or sidestepped. Perhaps because regulations are, according to some experts, "outdated at this point."
Visit EcoWatch's FRACKING WASTEWATER page for more related news on this topic.
——–

HOW IS YOUR COMMUNITY'S WATER IS SOURCED?
By Will Fantle
From the U.S. Department of Agriculture (USDA) to foreign policy, Congress, state governments, elections and the courts, the feverish politics of genetically modified foods (GMOs) have infected decision making and dramatically tilted policies towards the desires of Monsanto and the biotech industry.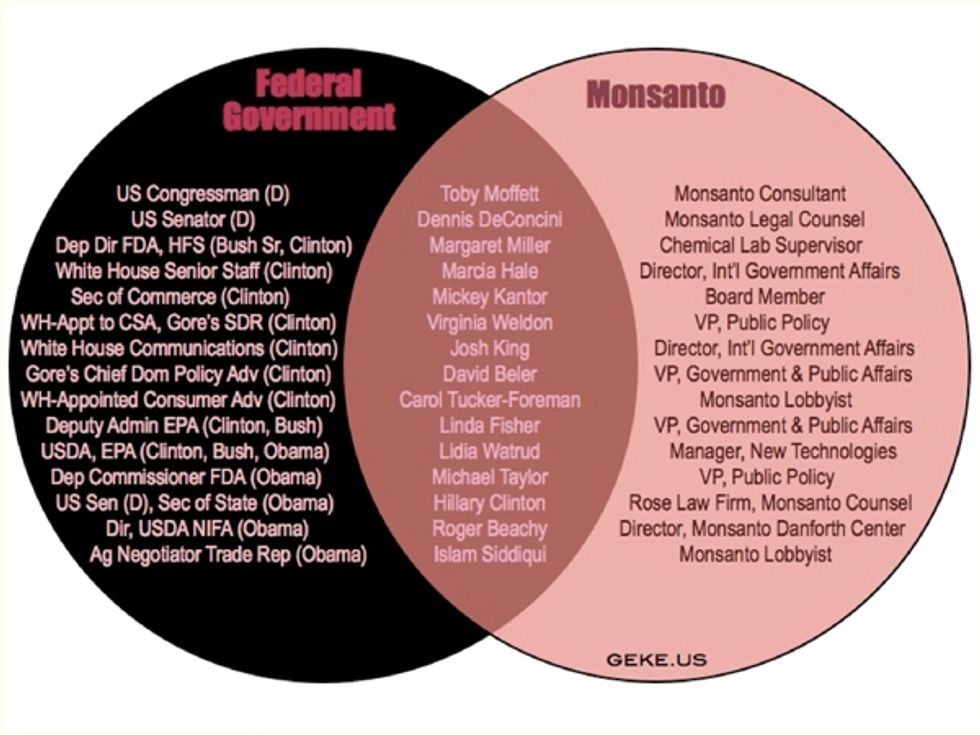 Candidate Barack Obama in 2008 promised change. However, when he came to Washington he appointed former Iowa Governor Tom Vilsack as USDA Secretary. The one-time award winning "Biotech Governor of the Year" has presided over a rapid roll out of new GMO crops and foods. Change he implemented included a series of agency adjustments designed to speed up the approval process for GMOs. Under Vilsack's watch, the agency has never denied the approval of one GMO crop.
Yes, the USDA also brought more attention to the National Organic Program—professional, knowledgeable management, more staffing, more resources. But it's small potatoes compared to the attention afforded biotech. And Vilsack's team has pushed hard for the organic community to swallow a policy of co-existence, the strange view that pollen and DNA recognize fence rows, that rain, winds, birds, insects and other natural forces will refrain from carrying GMO contaminants to non-GMO plants and crops.
Millions of Americans are suspicious of GMO foods for assorted health and environmental reasons. Polling conducted last year by the Mellman Group indicated that nearly 90 percent of Americans would like GMO foods labeled so they can make a choice about what kinds of foods they purchase in the marketplace. Sixty other countries require such labeling.
But Vilsack says no, telling the Farm Bureau at their annual meeting in January, "I know of no health reason connected to GMOs that would require labeling under our current labeling philosophy."
Monsanto and the biotech industry allies spent mightily to narrowly defeat last November's state referendum calling for the labeling of GMO foods sold in California. While labeling advocates decried the misleading and deceptive advertising conducted against the referendum, they were unable to weather the deluge of dollars. Still, the seeds of discontent are spreading. Washington state's voters will have a labeling referendum on the ballot later in 2013. Vermont has passed GMO labeling legislation; Connecticut's Senate overwhelmingly did so as well, as has Maine. Nearly 20 other state legislatures have similar proposals in the works.
"To try to oppose this state by state, that is unsustainable," says Cathy Enright, the executive vice president for food and agriculture for the Biotechnology Industry Organization (BIO), of which Monsanto, DuPont, and Dow Chemical are members.
Seeking to douse the prairie fire, Monsanto—which spends about $6 million annually on lobbying—and its allies are working the fields in Washington, D.C. Their target? The nation's reauthorization of the Farm Bill. Currently winding its way through Congress (as of this writing), an amendment attached to the House Agriculture committee's version, and authored by Rep. Steve King (R-IA), would strip the rights of states to enact labeling laws. The Farm Bill is an essential piece of national legislation that is reauthorized every five years. Once an item gets in the bill, it becomes very difficult to remove. The House and Senate will reconcile differences in their bills, but it is far from certain that either will consider the amputation of state's GMO labeling rights a deal breaker. [Since this was written, the Farm Bill failed to pass the U.S. House.]
Monsanto and their allies also prevailed in a vote in the Senate on an amendment by Sen. Bernie Sanders (I-VT), who wanted to make it clear that states "have the authority" to require the labeling of foods produced through genetic engineering. Sanders' amendment failed 71-27.
While some of the no-votes in the Senate may have come from officials who believe that a national-level regulation is more appropriate, the effort to have the Food and Drug Administration (FDA) do just that is mired axle deep in the muck. The FDA has already said that genetic modification does not materially change the food. But when the deadline passed last year for the agency to respond to a petition requiring GMO food labeling—a petition that contained the signatures of well over a million citizens—their response was that they needed more time to study the matter. Fourteen more months have since passed.
And just so no stone goes unturned, Monsanto is actively pushing state-level legislation in Oregon and elsewhere to override any labeling laws passed by county and municipal governments.
The suppression of dissent in the fertile ground of Washington, D.C., yielded another reward for Monsanto when they snuck a policy rider into an essential appropriations bill earlier this year. Dubbed the Monsanto Protection Act, it swatted down the ability of Monsanto's pesky critics to use judicial review as a brake on questionable regulatory decisions. It allows full speed ahead on the unrestricted sale and planting of genetically modified seeds even when a court finds that they were not properly examined for their impact on farmers, the environment, and human health.
Sen. Roy Blunt (R-MO), from Monsanto's home state of Missouri, authored the controversial rider and then blocked efforts by Sen. Jon Tester (D-MT) and Sen. Jeff Merkley (D-OR) to remove it from the critical governmental operations funding bill.
Tester later told a reporter, "Not only does this ignore the constitutional idea of separation of powers, but it also lets genetically modified crops take hold across this country, even when a judge finds it violates the law." He added that giant multinational agribusiness corporations are treating farmers as "serfs."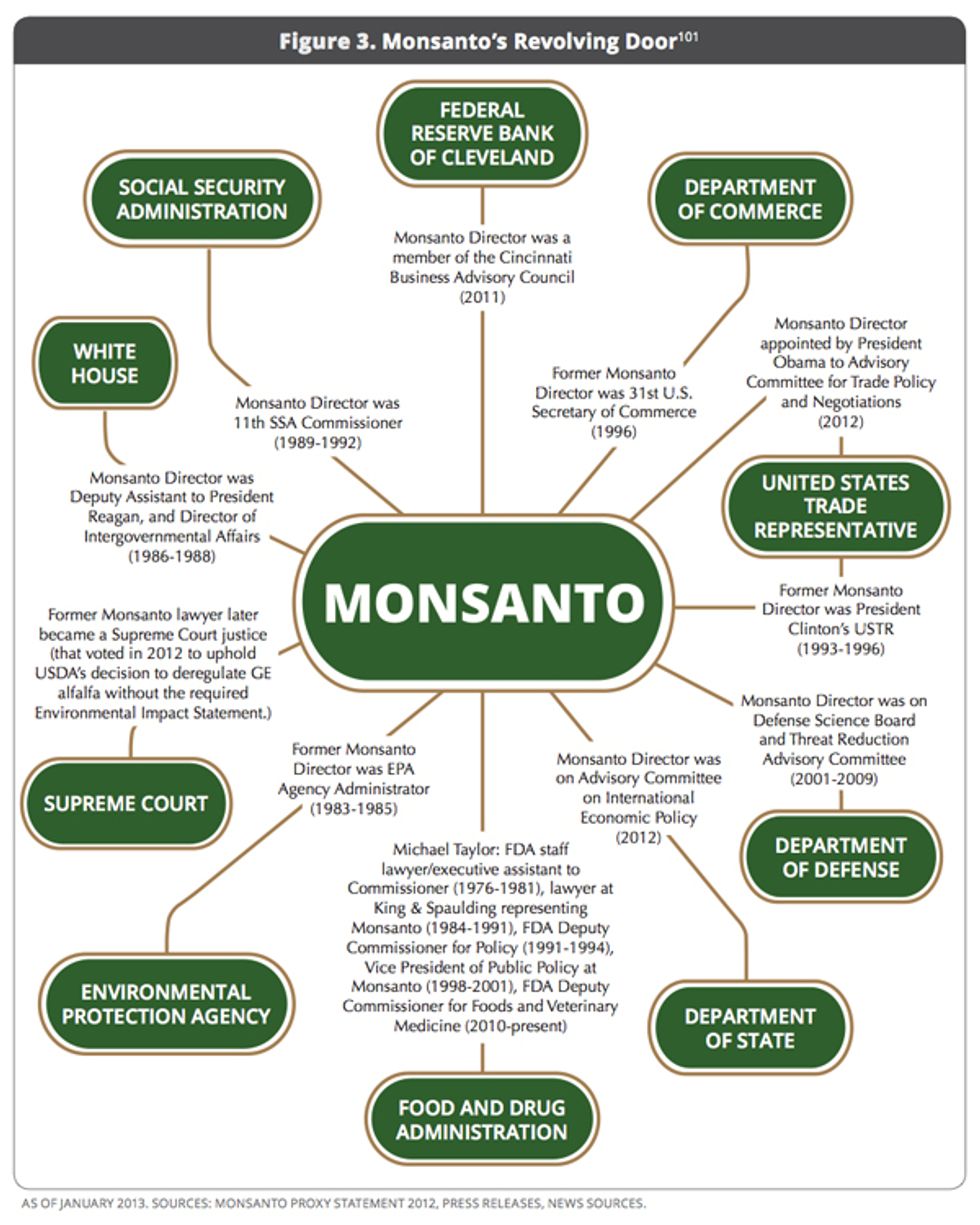 Perhaps it should come as no surprise that Monsanto's power at the federal level is so pervasive. As a recent Food & Water Watch report detailed, board members from the $12 billion company "have worked for the EPA, advised the U.S. Department of Agriculture [USDA] and served on President Obama's Advisory Committee for Trade Policy and Negotiations." Company staff and former employees enjoy a revolving door relationship with jobs and advisory positions in the federal government, at public universities and with trade groups. Even one sitting Supreme Court justice, Clarence Thomas, once worked for Monsanto.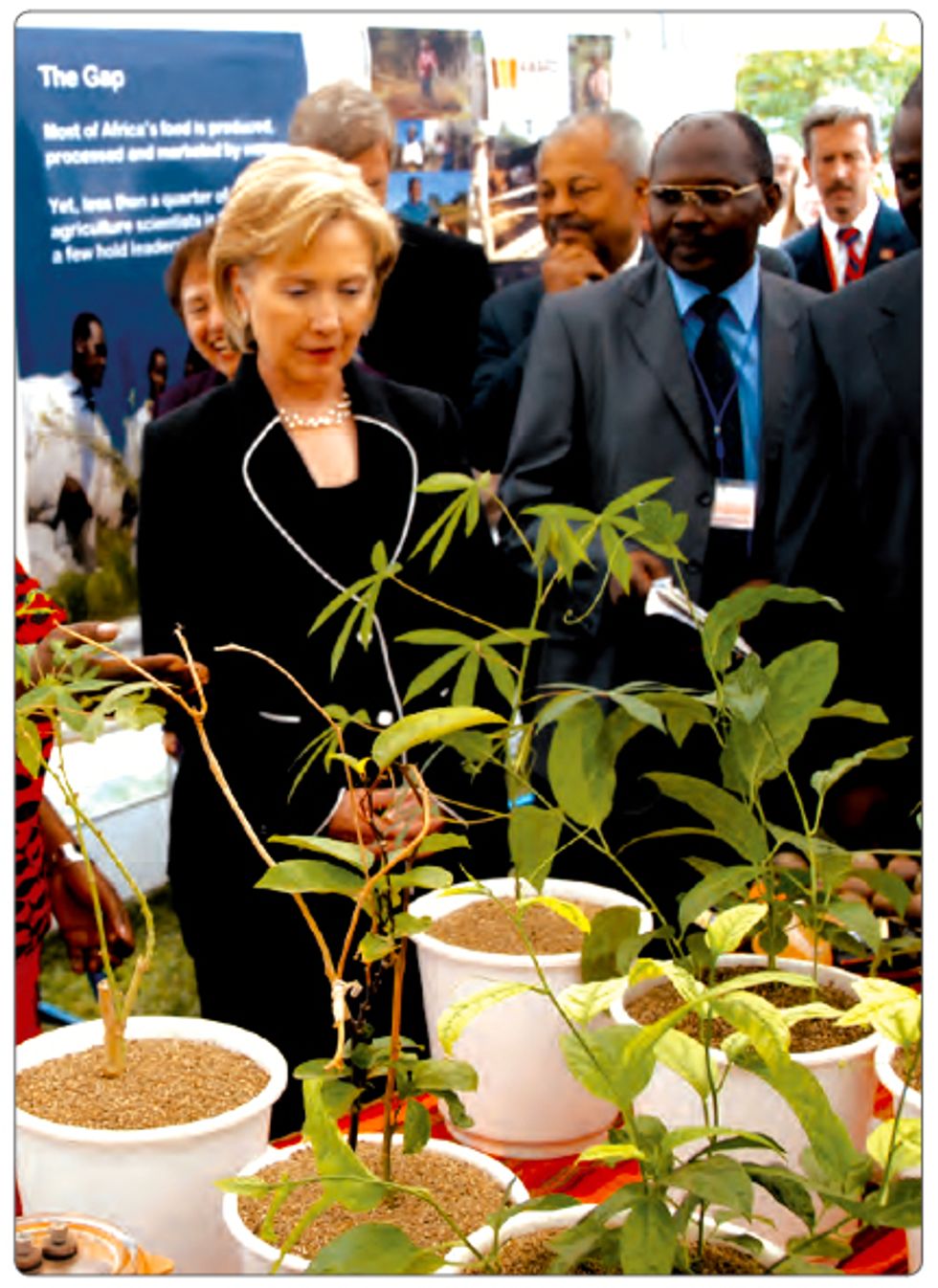 Former Secretary of State Hillary Clinton listens to a presentation on the "genetic improvement" of local crops hosted by the Kenya Agriculture Research Institute. Photo credit: USAID.
Their reach extends far beyond America's shores. Again, according to Food & Water Watch, the State Department works with trade officials to promote GMO crop exports and to force unwilling nations to accept GMO crops and foods. The State Department has engaged in pro-GMO lobbying campaigns in foreign countries, promoted foreign cultivation of GMOs and targeted foreign opinion-makers and reporters with junkets and public events.
Yet signs of cracks in the GMO empire are visible. On May 25, two million people joined March Against Monsanto rallies that were held in more than 400 cities in 52 countries. The growing consumer awareness of GMO foods and crops in the U.S. has sprouted vigorous labeling campaigns across the country with widespread public support for labeling. Even though 90 percent of all corn and soy grown in the U.S. is GMO, with a variety of other crops in the ground or under development, much of the rest of the world has yet to fall under the influence. In fact, just five countries account for 90 percent of total GMO crop production—the U.S., India, Canada, Argentina and Brazil.
The USDA also recently reversed itself and decided to conduct a full environmental impact statement assessing the health and environmental impacts of the next generation of GMO crops. These include, as proposed by Dow and Monsanto, 2,4-D-resistant corn and soybeans and Dicamba-tolerant soy and cotton crops. Still, notes the Center for Food Safety's Andrew Kimbrell, "it remains to be seen whether the agency will undertake the required hard-look analysis of the environmental and economic impacts of these crops."
Reflecting on the importance of a true choice in the marketplace for consumers, the Cornucopia Institute's Codirector Mark Kastel says that "organic food and agriculture offers the only available and verifiable alternative with regulatory oversight from seed to table prohibiting genetically modified organisms in farming and food production."
"Given the astounding influence of Monsanto and their GMO allies on all aspects of our government, it makes Cornucopia's work protecting the integrity of the organic label even more imperative," adds Kastel.
Visit EcoWatch's GE FOODS page for more related news on this topic.
——–

By Katherine Paul and Ronnie Cummins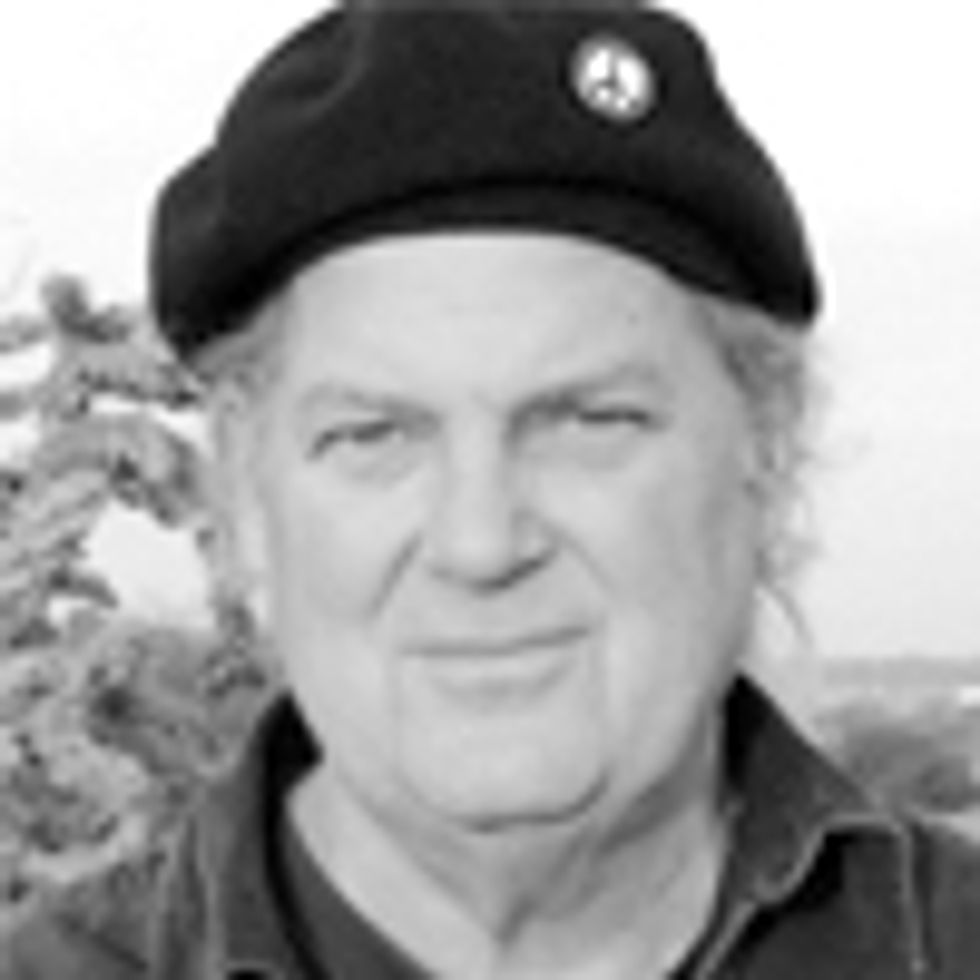 If you think the U.S. government is doing a sub-par job of keeping your food safe, brace yourself. You could soon be eating imported seafood, beef or chicken products that don't meet even basic U.S. food safety standards. Under two new trade agreements, currently in negotiation, the U.S. Food and Drug Administration could be powerless to shut down imports of unsafe food or food ingredients. And if it tries, multinational corporations will be able to sue the U.S. government for the loss of anticipated future profits.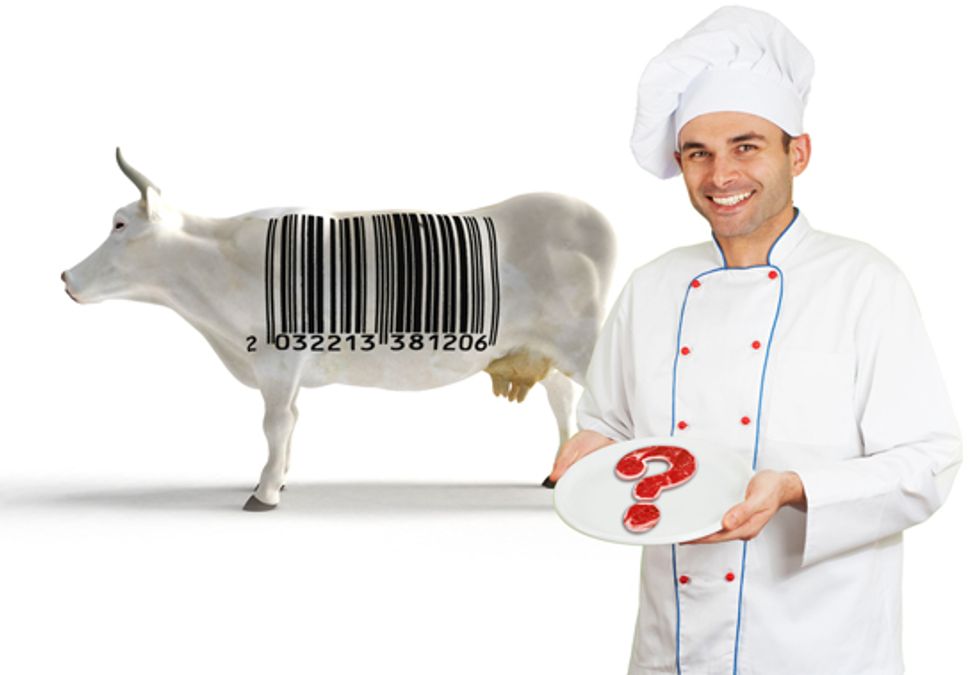 Photo courtesy of Shutterstock
More frightening? Negotiations for both agreements are taking place behind closed doors, with input allowed almost exclusively from the corporations and industry trade groups that stand to benefit the most. And the Obama Administration intends to push the agreements through Congress without so much as giving lawmakers access to draft texts, much less the opportunity for debate.
Designed to grease the wheels of world commerce, the Trans-Atlantic Trade and Investment Partnership (TTIP) and the Trans-Pacific Partnership (TPP) would force the U.S. and other participating countries to "harmonize" food safety standards. That means all countries that sign on to the agreement would be required to abide by the lowest common denominator standards of all participating governments. So for instance, say Vietnam allows higher residues of veterinary antibiotics in seafood than the U.S. allows, and Vietnam and the U.S. both sign on to the TPP. As a trade partner, the U.S. could be forced to lower its standards to allow for imports of seafood from Vietnam—or face a lawsuit by the seafood exporter for depriving the company of future sales of its products in the U.S.
The U.S. has already had a taste of this type of policy under the North American Free Trade Act. In 2005, the Canadian Cattlemen for Fair Trade sued the U.S. the U.S. government for banning imports of beef and live Canadian cattle after a case of mad cow disease was discovered in Canada. In the end, the U.S. prevailed, but not until it had spent millions to defend itself in court. Mexico wasn't so fortunate when three companies (Corn Products International, ADM/Tate & Lyle and Cargill) sued the Mexican government for preventing imports of high fructose corn syrup. Mexico lost all three cases, and was forced to pay out a total of $169.18 million to the three firms.
Among the many gifts to Big Ag contained in the TTIP and TPP include back-door entry for their genetically modified seeds and crops. Countries, including those in the European Union, could find it increasingly difficult to ban, or even require the labeling of, genetically modified organisms (GMOs), if biotech companies determine that those countries' strict policies restrict fair trade and infringe on the companies' "rights" to profit.
The TTIP and the TPP are, individually and combined, two of the largest free trade agreements in world history. According to the Citizens Trade Campaign (CTC), the TPP alone covers 40 percent of the global economy. That percentage will likely grow, because the agreement allows for other countries, besides the 12 currently involved, to "dock on" after the agreement is in place.
Both the TTIP and TPP could have dangerous consequences for food safety in the U.S., and around the world. But they're not limited to food or agriculture policy. Both also contain sweeping policies that could affect everything from the environment and sustainability, to healthcare, Internet freedom and the financial markets. Given the potential of these agreements to shape global policy on so many fronts, it's reasonable to assume that negotiators would actively solicit, and take into careful consideration, input from the affected parties, including consumers, farmers and governments. Instead they've taken the opposite approach. From day one, negotiations for the TTIP and TPP have been shrouded in secrecy. The public and participating governments, including the U.S. Congress, have been shut out of the negotiating process, denied access to everything from early proposals to final draft texts.
Why the secrecy? The Obama Administration wants as little public debate as possible, so it can ram the agreements through Congress using something called "Fast Track." Fast Track, a product of the Nixon presidency, strips Congress of its authority to control the content of a trade deal and hands that authority over to the executive branch. Congress gets a vote, but only after the negotiations have been completed, and the agreements have been signed. No debate. No amendments. Just a fast, forced vote, too late for Congress to have any influence. According to the CTC, two-thirds of Democratic freshmen in the U.S. House of Representatives have expressed serious reservations about the TPP negotiations and the prospect of giving Fast Track authority to the President. And more than 400 organizations representing 15 million Americans have already petitioned Congress to do away with Fast Track in favor of a more democratic approach to trade agreement negotiations. So far those pleas have fallen on deaf ears.
If the public is shut out, and Congress gets no say, who gets a seat at the table? Corporations. That's right. The Obama Administration is trusting corporations like Dow AgroSciences, Cargill and DuPont, and trade groups like the Pork Producers Council and Tobacco Associates, Inc., to write food safety policies. In all, more than 600 corporations have been given access to drafts of various chapters of the TPP. Requests for the same level of access, from members of Congress and from the public, have been denied.
No wonder then that, according to leaked drafts obtained by groups like the CTC, Public Citizen and the Institute for Agriculture and Trade Policy, the TPP contains proposals designed to give transnational corporations "special rights" that go far beyond those possessed by domestic businesses and American citizens, says Arthur Stamoulis, executive director of the CTC. Experts who have reviewed the leaked texts say that TPP negotiators propose allowing transnational corporations to challenge countries' laws, regulations and court decisions, including environmental and food safety laws. Corporations will be allowed to resolve trade disputes in special international tribunals. In other words, they get to do an end run around the countries' domestic judicial systems, effectively wiping out hundreds, if not more, domestic and international food sovereignty laws.
U.S. consumers aren't the only ones who should be up in arms about these trade agreements, the secrecy around their negotiations and the Obama Administration's intent to fast-track them. Under the TTIP and TPP, consumers in countries that have stricter food safety regulations than those in the U.S. will see their standards lowered, too. For instance, Japan prohibits the use of peracetic acid to sterilize vegetables, fruits and meat, while the U.S., Canada and Australia allow it. Japan's health ministry, in anticipation of the TPP, has said the country will add the acid to its approved list. In all, Japan has approved only about 800 food additives, to the more than 3,000 approved in the U.S. Japan's consumers could soon see a sudden reversal of laws enacted to protect their health.
European consumers will also suffer. Europe has long used the precautionary principle to ban ractopamine in meat, chlorine rinses of poultry and the use of rBGH growth hormone in milk production. Under the TTIP, Europe could be forced to allow all three in order to meet the lowest common denominator rule. The precautionary principle removes the burden of proof from policymakers, allowing them to make discretionary decisions in situations where there is the possibility of harm, given the lack of scientific proof to the contrary. But that principle flies out the window under TTIP rules.
The Organic Consumers Association is urging consumers to petition President Obama and U.S. Trade Representative Michael Froman to release the draft texts of the TTIP and TPP, and encourage full and open debate on the policies contained in both agreements. The petition also asks President Obama to end the Fast Track option, and grant Congress the ability to debate and amend the agreements, before voting on them.
With the world's food supply and consumers' health already endangered by chemical-intensive industrial agriculture and climate change, the U.S. and other governments should be looking for ways to promote sustainable food and agriculture policies, not restrict governments' abilities to do so. Instead, the Obama Administration is subverting the principles of democracy in favor of handing a few transnational corporations unprecedented power to put profits above the health and well being of consumers.
Visit EcoWatch's FOOD page for more related news on this topic.

Activists from across the world came together this past Saturday to be part of a global movement calling for an end to the age of coal and standing together for a clean energy future.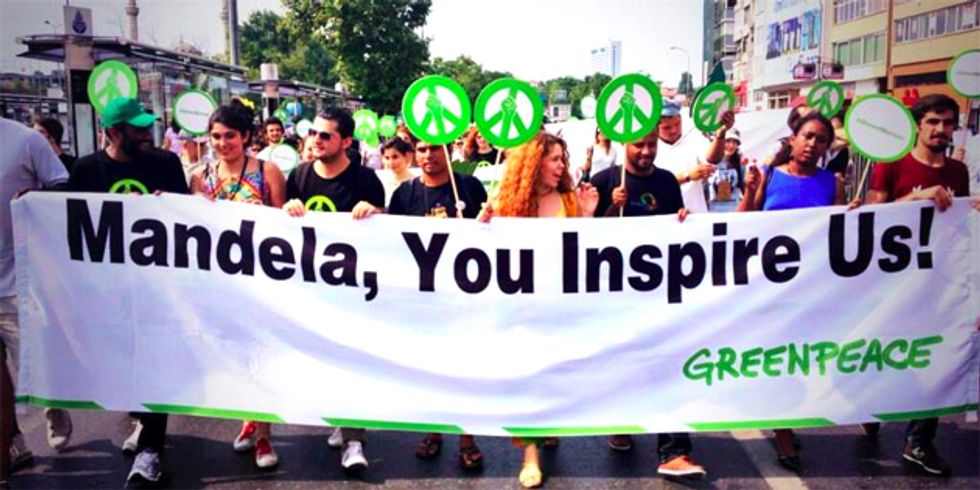 From the U.S. to the Philippines, Australia to Turkey and South Africa to Italy; Local, national and international organizations came together with individuals in the streets to stand against the world's dirtiest form of energy, which has dominated the energy sector for too long.
In Turkey, youth activists from across the globe attending Global Power Shift, joined with local groups in Istanbul, carrying a banner which read "Mandela, You Inspire Us" in tribute to the former South African president, they marched through the city's streets.
Meanwhile in South Africa, more than 100 activists met in Johannesburg's Gandhi Square with a symbolic anti-coal installation calling on the government to unplug coal power.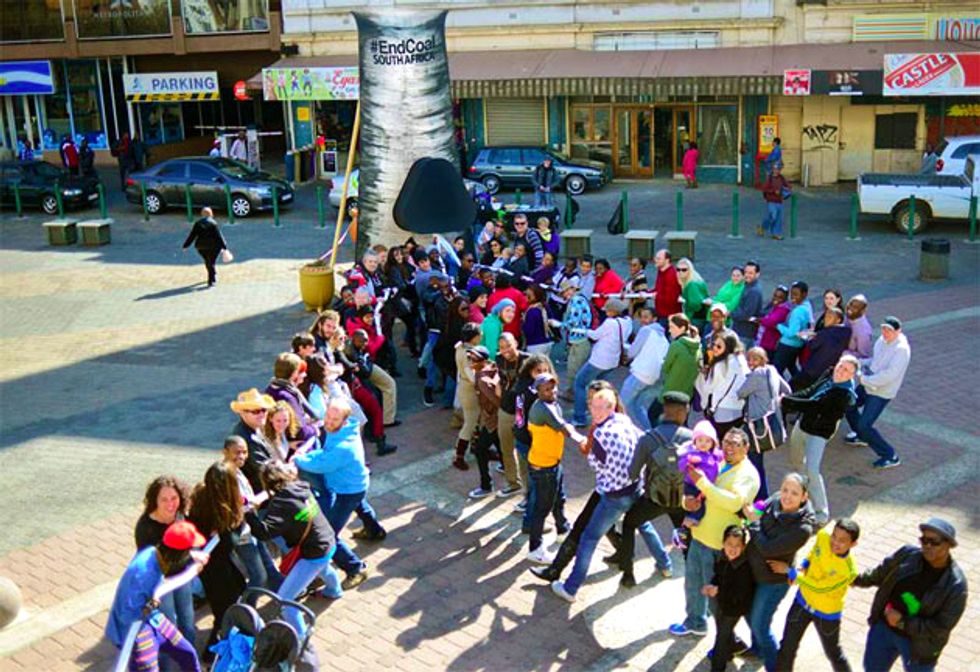 In Italy, Greenpeace activists displayed a huge floating banner reading "No Carbone—Quit Coal" in the sea alongside the Enel coal power station in Civitapvecchia, close to Rome, while an installation on dry land aimed to highlight the human impacts of the coal industry.
And in India, the day of action brought groups together from across the Vidharbha region affected by coal mining to share their frustrations, and come up with ideas on how to help each other to end the age of coal in their communities.
Burning coal remains the biggest contributor to climate change, which is already causing devastation and human suffering around the globe as intense storms, droughts and water shortages hit.
This year, the world passed a historic milestone, as concentrations of greenhouse gases passed the 400 parts per million threshold—reaching levels not seen for 3 million years.
Meanwhile, organizations from the World Bank to the International Energy Agency have warned against the impact that continued investments in fossil fuels would have on the planet, and health professionals continue to warn about the health impacts of coal—what they have named, "the silent epidemic."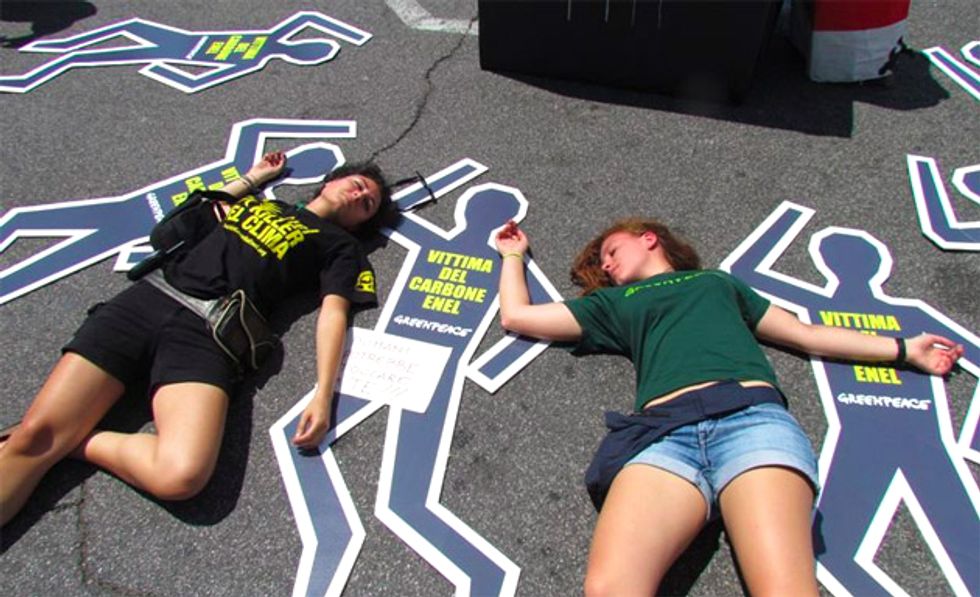 Despite such warnings, 1,200 new coal plants and mega coal mines are planned in countries across the world including China, India, Australia, Indonesia, the U.S., Poland and Germany. If allowed to go ahead, these could push the planet beyond the point of no return.
This weekend, activists showed they would not longer stand by allow the advancement of coal to threaten their futures. Standing together, they called for an end to the use of the dirty fuel and to put pressure on governments to switch to clean, sustainable, renewable energy.
The day of action was supported by a coalition of more than 50 national and international organizations that span the globe, including Greenpeace, 350.org, Avaaz, CoalSwarm.org, Environmental Justice Organisations, Liabilities and Trade, Friends of the Earth International and Sierra Club's International Climate Program.
Visit EcoWatch's COAL and RENEWABLES pages for more related news on this topic.

Shenanigans at the front door of the U.S. Chamber of Commerce yesterday reveal that the Chamber has dropped its lawsuit against The Yes Men, the activist duo famous for their elaborate prime-time pranks against Dow Chemical, Chevron, World Trade Organization and other giant entities known for putting their profit margins before people and the planet.
The Yes Men went to the Chamber yesterday morning in attempts to convince the business front group not to drop the lawsuit. Here's some footage of the announcement and confusion over who does and doesn't work for the Chamber:
That's right. The Yes Men want to be sued by the U.S. Chamber of Commerce. According to their press release:
"Just as their case against us was finally heating up again, the Chamber decided to drop it," said former defendant Andy Bichlbaum of The Yes Men. "The Chamber knew this was our chance to challenge their silly claims and, since they claimed we had 'damaged' them, investigate the details of their finances through the discovery process. It's the height of rudeness to deprive us of this great opportunity."

"The Chamber's lawsuit represented the only time in 17 years that anyone has been stupid enough to sue us," said former defendant Mike Bonanno. "This was the chance of a lifetime, and we profoundly deplore the Chamber's about-face."
Apparently, revenge isn't a strong enough reason for the Chamber to to cough up information on their secret financial backers or their obstruction on solving the critical issue of global climate change, the issue which sparked the original Yes Men parody press event and ensuing lawsuit.
The Chamber sued The Yes Men in 2009 for holding a press conference at the National Press Club on the Chamber's behalf, announcing a reversal on the Chamber's efforts to block climate change legislation. The false event was interrupted by an actual Chamber official named Eric Wohlschlegal, who told attending press, "This guy is a fake! He's lying!" See this video:
The stunt threw the Chamber off balance as it had to clarify it would not stop obstructing national climate change policy. The following lawsuit was unprecedented for Yes Men hijinks. Even Dow Chemical didn't sue them, despite losing $2 billion worth of stock when Yes Man Andy Bichlbaum posed as a Dow official on a live BBC interview and took responsibility for the Bhopal chemical disaster—which Dow still won't own up to despite the death of 20,000 people).
Yes Lab has a summary of the announcement at the Chamber's front steps in Washington, DC, including a list of questions The Yes Men wish the lawsuit's discovery process could have answered:
Some of the things we could have asked in court had they not withdrawn their lawsuit:
PolluterWatch has more on the U.S. Chamber of Commerce and its anti-environmental practices.
Visit EcoWatch's CLIMATE CHANGE page for more related news on this topic.