This website uses cookies to ensure you get the best experience while browsing it. By clicking 'Got It' you're accepting these terms.
The turkey ranch in Sonora is where Diestel keeps its pasture-raised birds. Jeanne Cooper
By Katherine Paul
Diestel Turkey, sold by Whole Foods and other retailers at premium prices, says on its website that its "animals are never given hormones, antibiotics or growth stimulants."
But Diestel Turkey samples tested by the U.S. Department of Agriculture (USDA) suggest otherwise, leading consumers to wonder: Can these companies be trusted?
In what's being deemed the worst mining disaster in Turkey's history, more than 240 miners have been killed and countless more are still missing following a power transformer explosion that triggered a blazing underground fire at a Soma Komur Isletmeleri mine in Western Turkey.
In the hours following the devastating accident, families of the missing, injured and killed miners have been anxiously awaiting any news about their missing loved ones. But Energy Minister Taner Yildiz recently declared, "Regarding the rescue operation, I can say that our hopes are diminishing."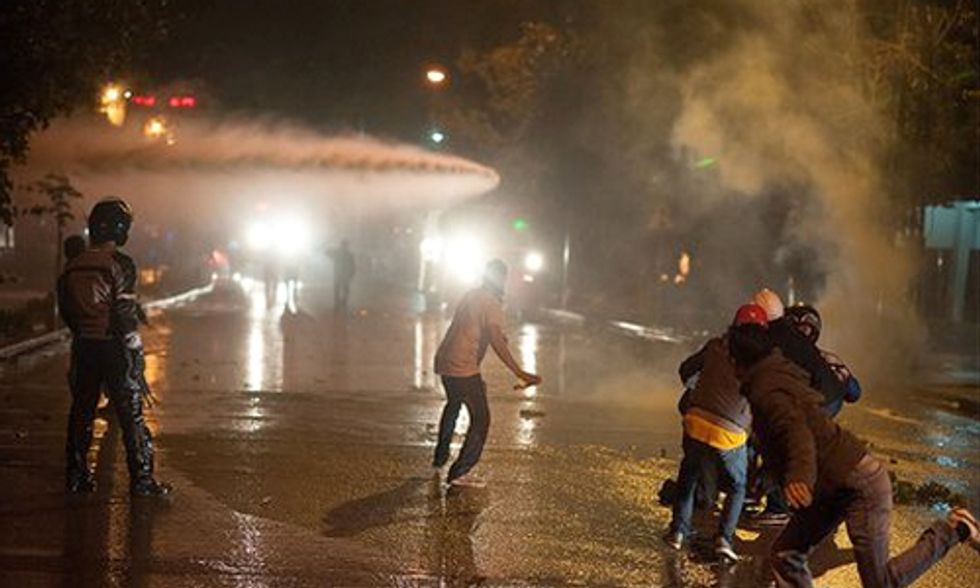 Its an anguishing time for those touched by this tragedy in Turkey and across the globe. Unfortunately, this most recent disaster is also the latest in a long line of incidents reflecting a painful reality—coal is a deadly fuel source that has no place in the twenty-first century. That's a big part of the reason why many international financial institutions (IFIs) have moved quickly and decisively away from financing new coal plant expansions around the world over the past few weeks. From the World Bank to the European Investment Bank to the U.S. Export-Import Bank, public financial institutions have overwhelmingly decided that dangerous coal investments should no longer receive public support.
One of these institutions, the European Bank for Reconstruction and Development (EBRD), has made the transition beyond coal a cornerstone of their work in Turkey—and the importance of that step forward is only amplified by this week's coal mining tragedy.
Straddling the Eastern and Western worlds, Turkey is home to dynamic economic growth that is driving a wave of new energy investment second only to China's power sector. While currently dependent on fossil fuels—mainly natural gas—and home to the fourth largest pipeline of new coal plants in the world, Turkey is also home to fast growing efficiency, wind and solar markets.
At the same time, the struggle to transition from fossil fuels has run head on into the struggle against an increasingly repressive and authoritarian government led by Recep Tayyip Erdoğan that has clamped down on environmental protests and free speech of all kinds time and time again. The historic—and violently repressed—wave of public demonstrations that spread across the country in May of 2013 was initially sparked by Turkish citizens speaking out against the removal of green space in Istanbul's Gezi Park. Now, in the aftermath of this tragedy, protesters demanding safe workplaces have been met with tear gas and water cannons.
The situation underscores a dramatic choice. Which of these divergent paths—either a continued reliance on dirty and deadly nineteenth century fossil fuels or a new clean energy future—Turkey heads down will reflect investment priorities, the chance for a healthy future for its citizens and workers, and, in many ways, the global energy transition. This is an important decision that will not only affect Turkey's energy industry but also its environment and the people of this vibrant country. The choice should be clear: by transitioning away from fossil fuels, the people of Turkey will have cleaner air and water and will no longer be at risk of tragic accidents like Tuesday's mine disaster.
Prior to this tragedy, I sat down with EBRD's Director for Turkey, Michael Davey, to learn more about one of the international finance world's most surprising transitions beyond coal to becoming a potential clean energy leader and the dynamics of this change on the ground. For this conversation, we were also joined by energy expert, Hasan Pehlivan, the principal advisor for the Investment Support and Promotion Agency of Turkey (ISPAT).
Justin Guay: EBRD recently made headlines with its new coal finance restrictions—restrictions that were applauded by organizations around the world. What's the future for EBRD energy investments in Turkey now that coal is off the table?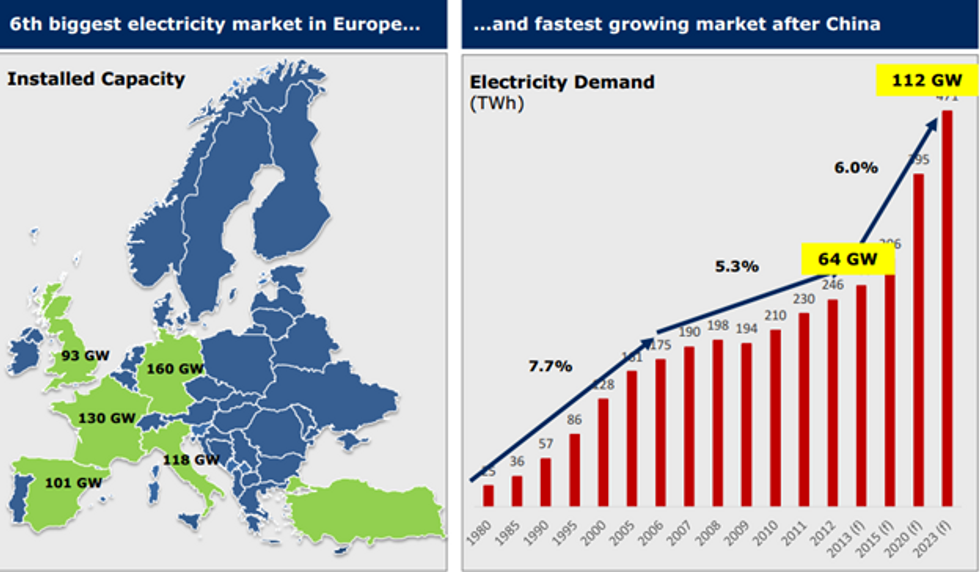 Michael Davey: Energy was a high priority from day one, but the focus was on sustainable energy. There have been a number of requests for coal, particularly in northern parts of Turkey, who have a desire to privatize and rehabilitate lignite plants. That meant a number of requests to be involved in coal. But we turned them down. There is simply so much we could do with gas, efficiency or renewables in Turkey. So in reality, this recent change in policy has made no difference to the operations in Turkey.
JG: Many IFIs claim to be demand-driven when justifying new dirty coal investments yet fail to support clean energy. Why are you so bull-ish on renewable energy and energy efficiency?
MD: It's not just our energy investment portfolio either. We've had deep engagement on sustainable energy policy development in the country—thanks to strong demand from the Turkish government. We've provided a number of background studies and technical assistance and helped with the regulatory reforms required for promoting sustainable energy. For example, we undertook a review of geothermal potential in Turkey as well as a review of potential for WTE (waste to energy), and pioneering climate change studies. Much of this is driven by the EU accession process and requirements to bring the country in line with EU norms on energy.
Shortly after we started working in Turkey, we worked on regulations to finalize feed-in tariffs and the environment for investing in renewable energy. We also created another initiative: mid-size sustainable energy and financing facility that has deployed about a billion euros of long-term money, under a securitization structure, at fairly good interest rate. We've also created finance facilities through local banks that have helped them develop lending for sustainable energy to SMEs and businesses. Although they're relatively complex facilities, banks have come back after second and third rounds.
On the energy efficiency side, there's been quite a lot. We built a framework (300-400 million euros) to get banks to engage in lending. It's taken work to get investments moving but it's now starting to bite. We've also been going around in a systematic way, offering free energy audits and using that as a basis for loan intervention to support EE investments at enterprise level.
JG: What role do you see for shale gas?
Hasan Pehlivan: Not in Turkey, no. But further potential shall be explored. There has been drilling for shale—a couple of holes to take a look at the availability of shale gas. In a country where there is no oil, likelihood of having shale gas will be a question. We won't see a shale gas boom in Turkey. We do not expect a shale gas boom like in USA.
JG: Back to the EBRD portfolio—Turkey has a big pipeline of wind projects, but solar is just getting off the ground. What's next for the Turkish solar market? Do you have any projections for the size of the market? Do you see distributed gen or utility scale driving investment?
MD: The solar market is starting to emerge. We've been sitting back and waiting. But we do expect to see a lot of solar in the future.
From the government's perspective solar is being supported carefully. They monitor Europe and what happens in Europe, including recent experience with feed-in tariffs. There were issues when solar companies have had difficulties when government cuts feed-tariffs so they want to be careful. The relatively modest feed-in tariffs reduce the prospect of any negative regulatory change.
HP: For instance, the government started with 600-megawatts of solar in June, and there were 500 applications—a huge demand. Since then, we finalized new policies for distributed solar that eliminates the requirement for a license for new plants up to one-megawatt. That means people can install their homes, industrial zones much faster and easier so long as they're not selling back to the grid. This has proven very popular. Since this was put in place in October, 20-megawatts have already applied.
You have to remember that in Turkey, people love solar. On top of every house, solar water-heating systems exist. Culture is there. Turkey has the highest solar energy potential within Europe. In next 10 years, we expect to see 3,000-megawatts with an additional capacity of 2,000-3,000-megawatts just from distributed generation.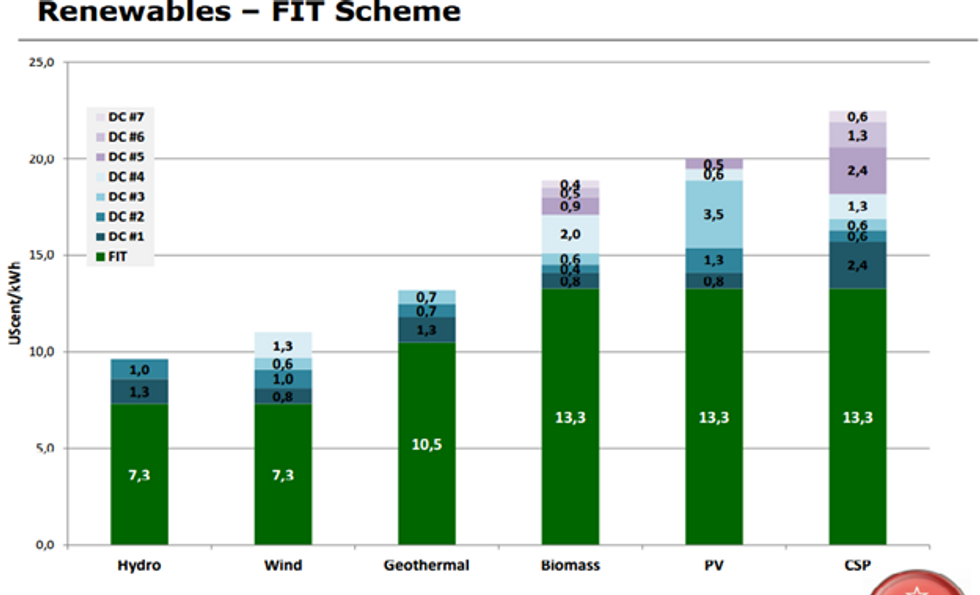 JG: So does that mean they don't need government approvals for establishing distributed solar systems? What about net metering?
HP: If they don't have any ambition to sell to the grid, they can install on top of the roof. No permission needed. If they need to connect to the grid, they need to apply to their distribution company. They must agree to sell to, to provide it to the grid. In organized industrial zones, there are usually large transformer stations.
Connection to the grid is usually not an issue. For the residences, there needs to be work done (technology-wise). Metering needs to be replaced by a distribution company. There is time for the residences to sell to the grid, but if you're not interested in selling to the grid, no worries.
Some companies want to develop large solar farms, but there is a limited availability of licenses. So companies are applying for the one-megawatt licenses –individually as separate entities, but also in aggregate, forming solar arrays as big as five to 10-megawatts. They connect to the grid, and it's an interesting development. It is a market solution that is fine and not beating any rules.
JG: Any Final thoughts?
HP: We expect investment to double the capacity over 10 years. That'll create a huge economy. Turkey has already received a lot of foreign direct investment—30 percent coming from energy. Many of these sustainable energy projects are now becoming feasible, and even better things are clear on the ground.
MD: In Turkey, the underlying demand dynamics are strongly supportive of long-term healthy demand for clean energy, and its climatic and geographic elements also provide significant opportunity for substantial on-going investment into wind, solar and geothermal.
We're also impressed with extent and depth of engagement with the Ministry of Environment on sustainable energy issues. That combined with a very strong banking system and appetite for working on complex products like mid-sized sustainable energy is positive. All told, we have to be fairly pleased at what we've done in Turkey.
--------
YOU MIGHT ALSO LIKE
How China's Coal Addiction Could Make Fighting Climate Change 'Almost Impossible'
Report Rules Out Industry Myth That Coal Will Alleviate Poverty in the Developing World
It's Time to Double Down on Renewable Energy and Move Beyond Coal
--------
EcoWatch Daily Newsletter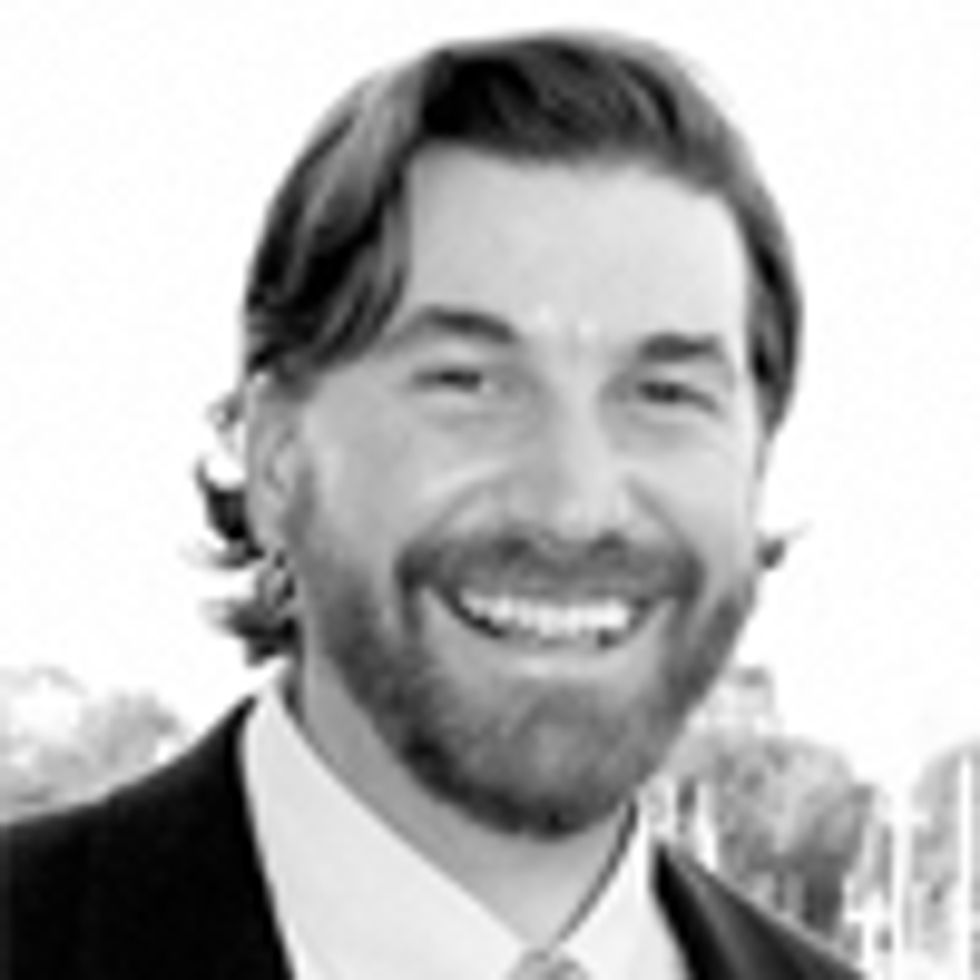 Nature Iraq Foundation, Nature Iraq and Waterkeepers Iraq officially launched the Tigris River Flotilla outside of Hasankeyf, Turkey on Sept. 15. The launch was the first leg in the Flotilla of traditional Mesopotamian boats that will journey down the Tigris River on an historic voyage of celebration, education and data collection to bring awareness to the importance of the Tigris River to the communities of Turkey and Iraq.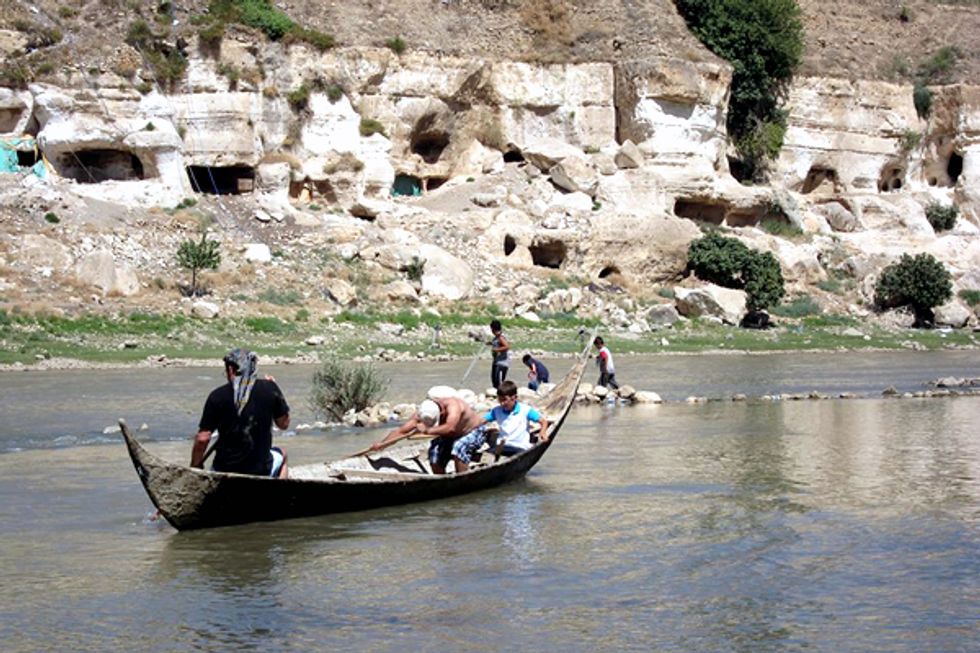 Participants in the launch included local citizens, boat builders and Iraqi Sheiks who made the long journey from Bosra near the southern marshlands of Iraq, an area that relies heavily on the waters of the Tigris for its survival. As the Flotilla entered into the ancient village of Hasankeyf, a city threatened by the construction of a nearby dam, crowds of citizens cheered the participants and admired the traditional boats built specifically for this journey.
 
As the Flotilla continues from Turkey into Iraq, participants from different countries will float down the river using modern and traditional boats. The traditional boats—a tarada, guffa and kalak—were built by local communities in both Turkey and Iraq in celebration of the unique cultural heritage of these communities and unite their people through common tradecraft. Using these traditional boats, Nature Iraq and its partners will host a combination of presentations on water quality and vulnerable ecosystems, environmental clean-up events and community-based art projects to raise awareness about the mounting threats to the Tigris River and the cultural and environmental resources it provides.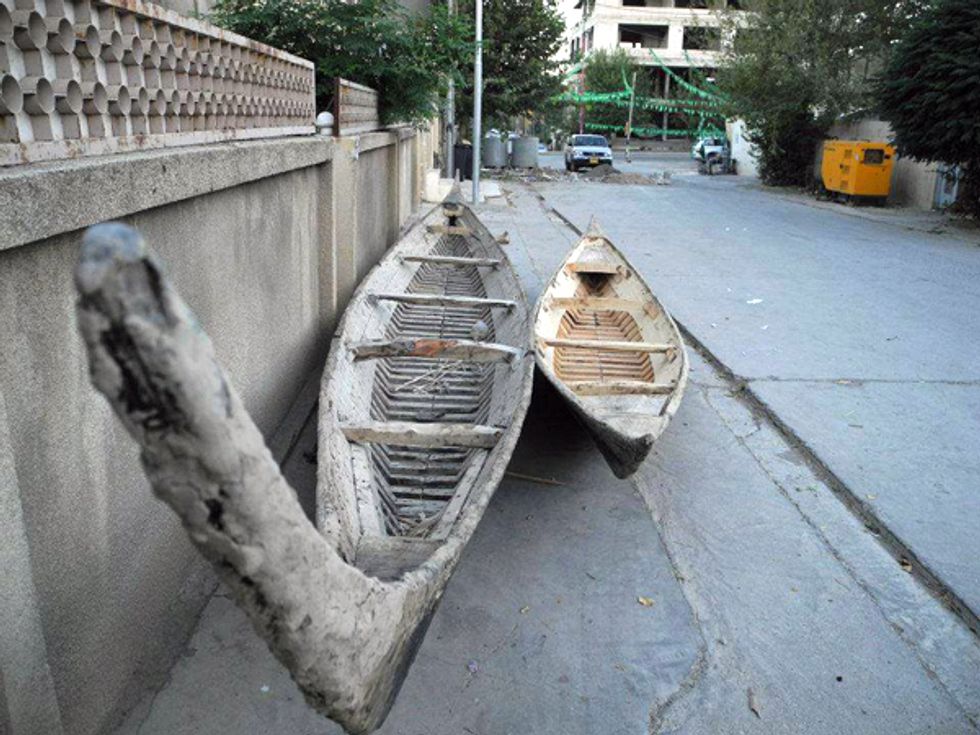 With scheduled events in Hasankeyf, Turkey, and Feys Khabor, Baghdad and Chibaish, Iraq, in the Mesopotamian Marshlands, the Flotilla will connect water conservation issues with local peoples' daily lives and raise global awareness of this endangered ecosystem. Along the way, Nature Iraq and its partners will use local media, interactive maps, Tigris River Flotilla blog, Tigris River Flotilla Facebook page and Nature Iraq Foundation website to bring the world on board for this historic voyage.
Visit EcoWatch's WATER page for more related news on this topic.
——–

Activists from across the world came together this past Saturday to be part of a global movement calling for an end to the age of coal and standing together for a clean energy future.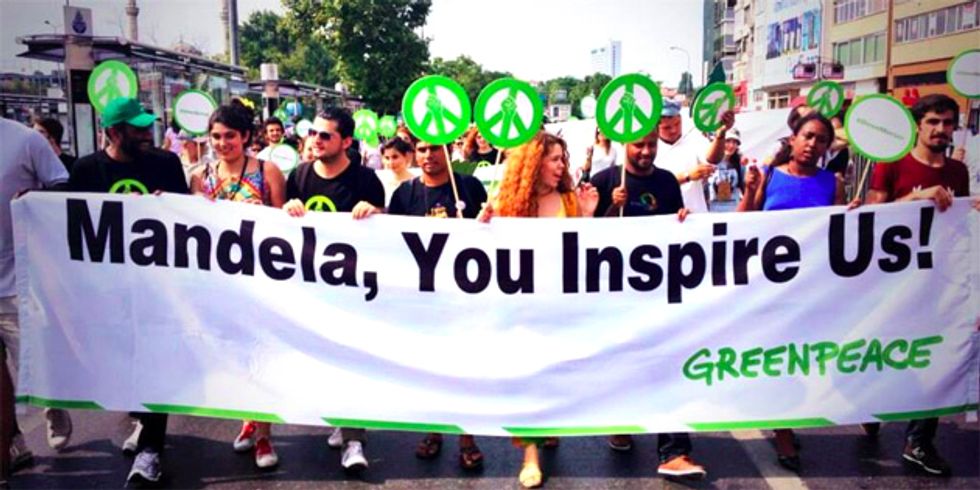 From the U.S. to the Philippines, Australia to Turkey and South Africa to Italy; Local, national and international organizations came together with individuals in the streets to stand against the world's dirtiest form of energy, which has dominated the energy sector for too long.
In Turkey, youth activists from across the globe attending Global Power Shift, joined with local groups in Istanbul, carrying a banner which read "Mandela, You Inspire Us" in tribute to the former South African president, they marched through the city's streets.
Meanwhile in South Africa, more than 100 activists met in Johannesburg's Gandhi Square with a symbolic anti-coal installation calling on the government to unplug coal power.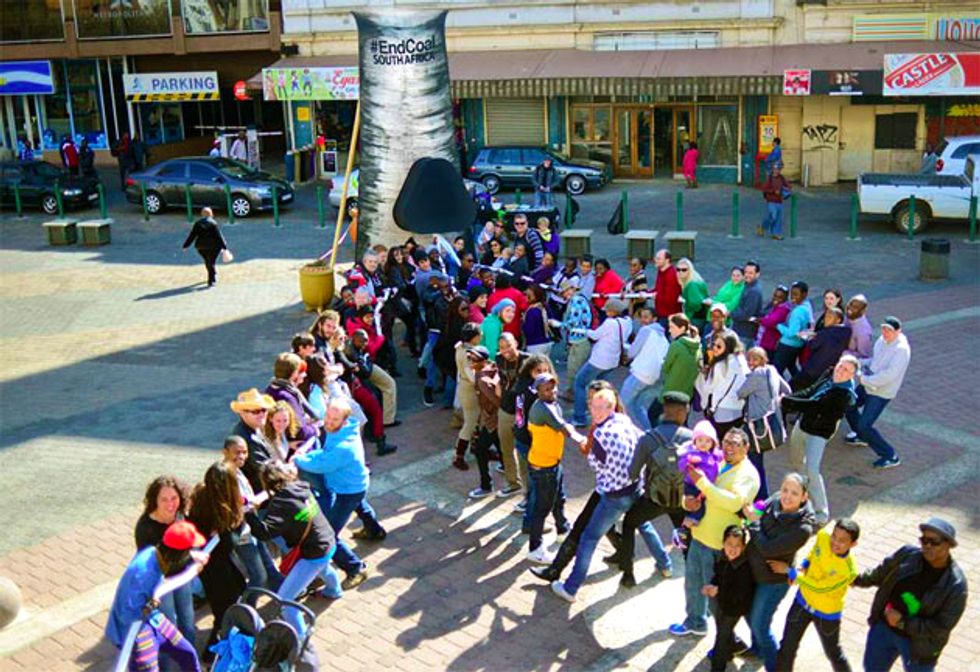 In Italy, Greenpeace activists displayed a huge floating banner reading "No Carbone—Quit Coal" in the sea alongside the Enel coal power station in Civitapvecchia, close to Rome, while an installation on dry land aimed to highlight the human impacts of the coal industry.
And in India, the day of action brought groups together from across the Vidharbha region affected by coal mining to share their frustrations, and come up with ideas on how to help each other to end the age of coal in their communities.
Burning coal remains the biggest contributor to climate change, which is already causing devastation and human suffering around the globe as intense storms, droughts and water shortages hit.
This year, the world passed a historic milestone, as concentrations of greenhouse gases passed the 400 parts per million threshold—reaching levels not seen for 3 million years.
Meanwhile, organizations from the World Bank to the International Energy Agency have warned against the impact that continued investments in fossil fuels would have on the planet, and health professionals continue to warn about the health impacts of coal—what they have named, "the silent epidemic."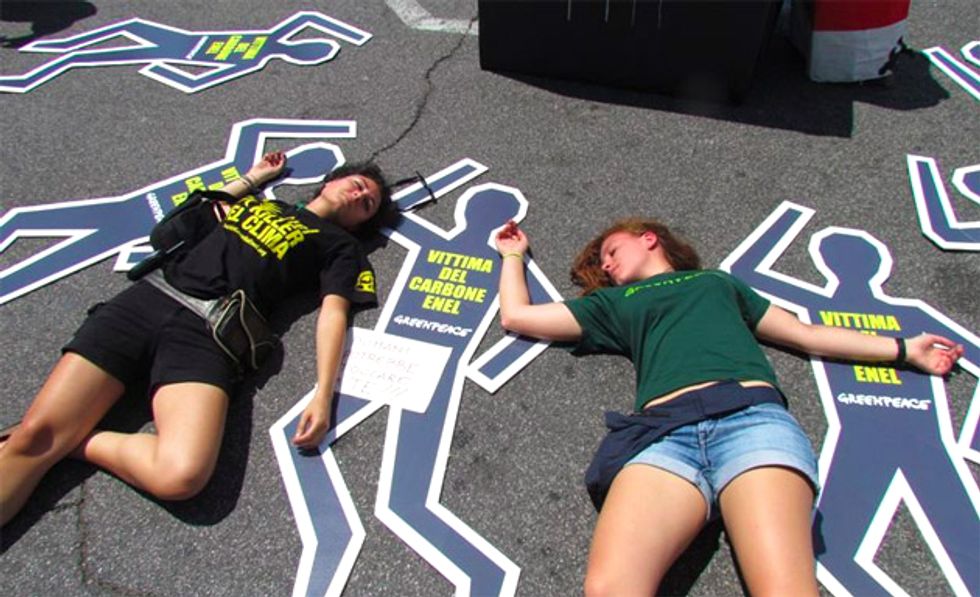 Despite such warnings, 1,200 new coal plants and mega coal mines are planned in countries across the world including China, India, Australia, Indonesia, the U.S., Poland and Germany. If allowed to go ahead, these could push the planet beyond the point of no return.
This weekend, activists showed they would not longer stand by allow the advancement of coal to threaten their futures. Standing together, they called for an end to the use of the dirty fuel and to put pressure on governments to switch to clean, sustainable, renewable energy.
The day of action was supported by a coalition of more than 50 national and international organizations that span the globe, including Greenpeace, 350.org, Avaaz, CoalSwarm.org, Environmental Justice Organisations, Liabilities and Trade, Friends of the Earth International and Sierra Club's International Climate Program.
Visit EcoWatch's COAL and RENEWABLES pages for more related news on this topic.

By Rex Weyler
The citizens of Istanbul now appear in control of Gezi Park, protecting one of the last and most treasured green spaces from conversion to a shopping mall.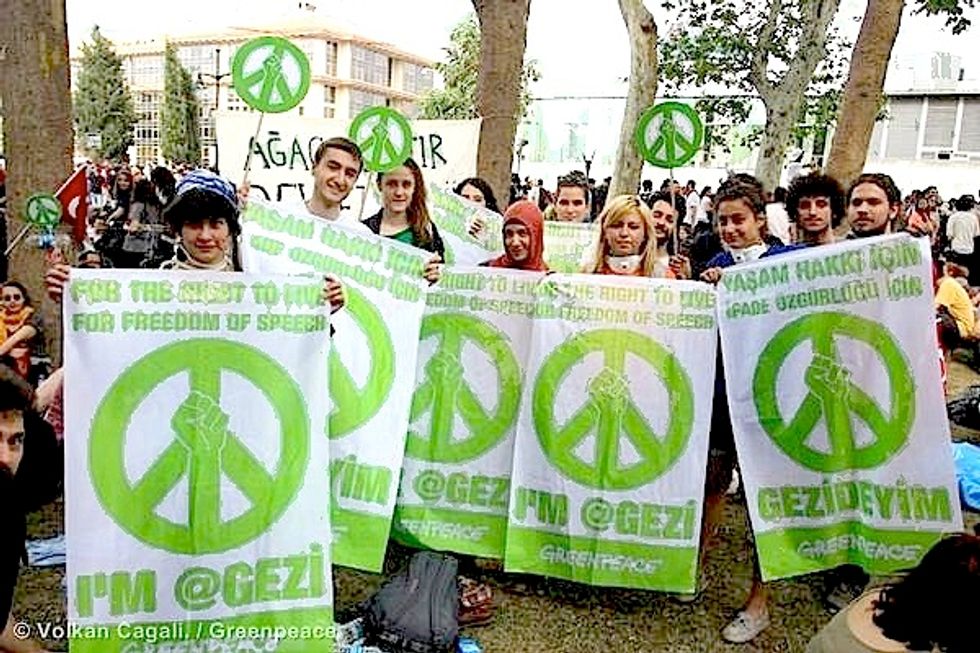 The protest, which began to save the park, became a rally for genuine democracy in Turkey. Prime Minister Recep Tayyip Erdogan's government responded with police violence—beatings, pepper spray, water cannons and tear gas—but could not stop the protests from spreading, exposing Erdogan's persecution of opposition and media censorship. The Gezi Park uprising has become a model of genuine democracy for the world, a line of defiance in the battle to preserve nature and democracy.
When Governments Over-React
Last fall, the Turkish government closed roads into Istanbul center, and announced plans to convert Gezi Park to a shopping mall and military artillery barracks. When construction began in May, Taksim Solidarity activists blockaded bulldozers. Sırrı Süreyya Önder, a Peace & Democracy Party deputy, joined the blockade, invoking parliamentary immunity.
Erdogan dismissed protesters as "marginal extremists."
At dawn on May 30, police raided the park with tear gas and water cannons. They drove about 1,000 citizens from the park, and then burned their tents and possessions.
Calls went out on social media, and 10,000 people arrived at Gezi Park. Police attacked again, injuring hundreds of citizens and three reporters from Reuters, the Hürriyet Daily News and Birgün newspaper. Citizens opened their homes to injured protesters. By evening, 100,000 people had re-occupied the park. That night, the public occupied the historic Bosphorus Bridge that links Europe to Asia.
The uprising spread beyond Istanbul to Ankara, Izmir and more than 70 Turkish cities. Izmir police detained 29 people for sending Twitter messages. The Turkish Doctors' Union reported 4,177 people injured during protests and two deaths.
On Tuesday, June 4, Turkey's Deputy Prime Minister Bülent Arınç apologized for police violence and met with opposition leader Önder, who called the uprising "historic" and announced that "the democratic process would start."
The following day, Arınç met with the original protest group platform, Taksim Solidarity, which delivered the public's demands: Cancel the Gezi park demolition, release arrested citizens, ban tear gas and allow free public assembly and free expression.
Censorship in Turkey
The citizens of Istanbul have now occupied Gezi Park and Taksim Square, staged music and political speakers, and insisted on a new era of genuine democracy in Turkey. Twenty-two year old protester Yesim Polat told Al Jazeera,"Prime Minister Erdogan thinks that he is a sultan. He thinks he can do whatever he wants."
Turkey once represented a modern, secular state that offered religious freedom. Erdogan and his conservative Justice and Development Party (AKP) advocate a return to an Islamic state. Once elected in 2003, Erdogan began arresting opposition voices, Kurdish leaders and journalists and harassing private couples for kissing in public.
Mustafa Akyol, a columnist with the Hürriyet newspaper, told Al Jazeera that journalists are being arrested under an abuse of Turkey's anti-terrorism law. "The great majority of the journalists in jail are people who wrote positive things about the PKK [Kurdish Party]."
In January 2013, Erdogan's police arrested 11 journalists attending an opposition political party meeting, and sentenced five of them to jail, increasing the number of jailed journalists in Turkey to 75. Prior to Gezi Park, freedom of the media had virtually vanished in Turkey.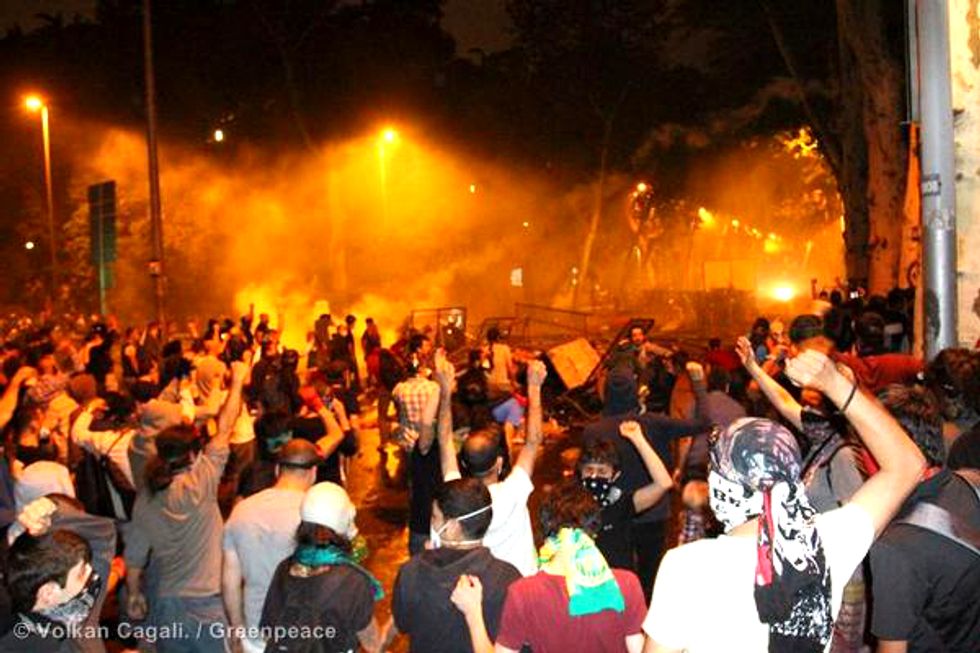 Parks and People
From Amsterdam's Vondelpark and California's People's Park in the 1960s, to Prague's Wenceslas Square and Beijing's Tiananmen Square in 1989, to Cairo's Tahrir Square in 2011, protecting public parks has provided the backdrop for democracy around the world.
In 1970, a group of citizens in Vancouver, Canada—the "Don't Make a Wave Committee," which later became Greenpeace—rallied to save a park entrance in Vancouver. At that time, the Four Seasons Hotel chain announced a plan to construct six towers at the entrance to Vancouver's magnificent, 400 hectare Stanley Park, a waterfront meadow that opened onto a lagoon, where swans nested in the bulrushes and families gathered for picnics.
The story appeared on Vancouver television and in newspapers. Occupiers demanded a public referendum, and Vancouver citizens voted 56 percent in favor of keeping the park entrance, but the by-law required 60 percent for approval. The stand-off continued until the wealthy father of a protestor offered to purchase the property for $4 million. The entrance to Stanley Park was saved and remains a part of Vancouver and Greenpeace heritage to this day.
Solidarity
The Greenpeace office in Istanbul stands on Istiklal Street, leading to Gezi Park. Police officers confronted demonstrators with tear gas and water cannons directly below the office, which remained open night and day, providing shelter to injured protestors. Doctors and medics arrived to offer medical assistance.
On Saturday, June 8, protesters witnessed an unprecedented expression of solidarity as Turkey's rival football fans—from Fenerbahce, Galatasaray, Besiktas and other sports clubs barred from watching matches together because of stadium violence—walked through Istanbul arm-in-arm, wearing each others' team colors.
Gezi Park and the World
Today, Gezi Park has become a mindbomb for the world. The protest over a park became a referendum for democracy. "We are here for our freedom," Nihan Dinc, a 26-year-old publicist, told Al Jazeera. "We are here for a space to breathe."
Journalist Pepi Escobar explains in an Asia Times story why Gezi Park is significant beyond Turkey. Escobar describes the Syria revolution as a "proxy war" between NATO and a new Russia/China alliance. Turkey sits at a strategic point between Europe and Asia, where NATO and western oil companies want a pipeline from the United Arab Emirates, through Saudi Arabia, Syria and Turkey, into Europe. Escobar explains that NATO and the U.S. want Turkey to support their military efforts in Syria to win the pipeline war.
But Gezi Park is important for another reason: The people of Istanbul have shown the world that citizens can stand up to military and police violence with peaceful solidarity.
By Noam Chomsky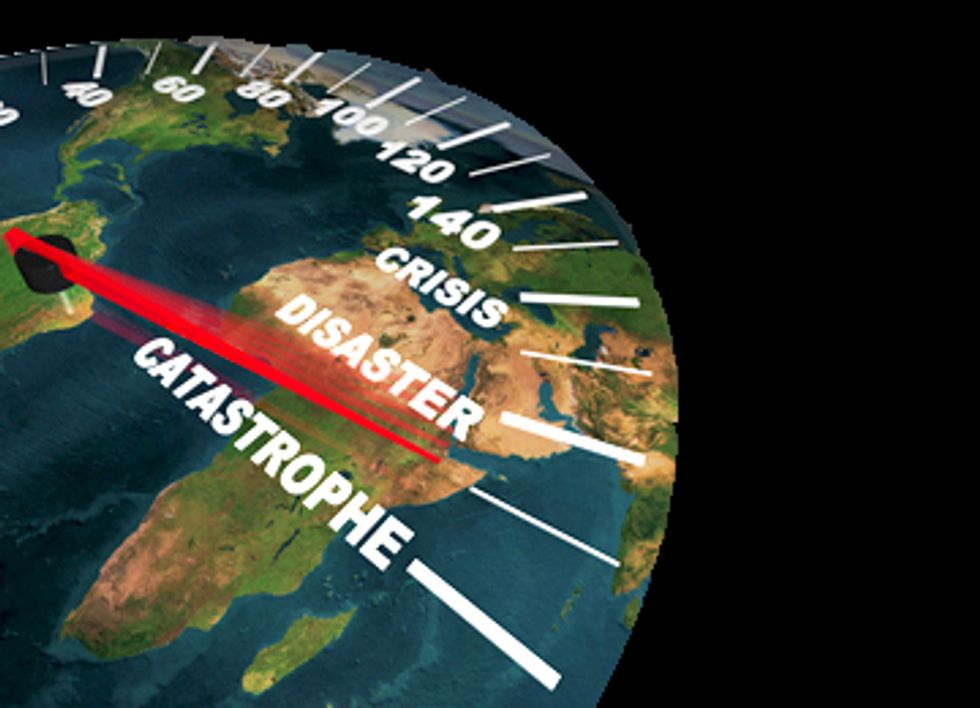 What is the future likely to bring? A reasonable stance might be to try to look at the human species from the outside. So, imagine that you're an extraterrestrial observer who is trying to figure out what's happening here or, for that matter, imagine you're an historian 100 years from now—assuming there are any historians 100 years from now, which is not obvious—and you're looking back at what's happening today. You'd see something quite remarkable.
For the first time in the history of the human species, we have clearly developed the capacity to destroy ourselves. That's been true since 1945. It's now being finally recognized that there are more long-term processes like environmental destruction leading in the same direction, maybe not to total destruction, but at least to the destruction of the capacity for a decent existence.
And there are other dangers like pandemics, which have to do with globalization and interaction. So there are processes underway and institutions right in place, like nuclear weapons systems, which could lead to a serious blow to, or maybe the termination of, an organized existence.
How to Destroy a Planet Without Really Trying
The question is: What are people doing about it? None of this is a secret. It's all perfectly open. In fact, you have to make an effort not to see it.
There have been a range of reactions. There are those who are trying hard to do something about these threats, and others who are acting to escalate them. If you look at who they are, this future historian or extraterrestrial observer would see something strange indeed. Trying to mitigate or overcome these threats are the least developed societies, the indigenous populations, or the remnants of them, tribal societies and first nations in Canada. They're not talking about nuclear war but environmental disaster, and they're really trying to do something about it.
In fact, all over the world—Australia, India, South America—there are battles going on, sometimes wars. In India, it's a major war over direct environmental destruction, with tribal societies trying to resist resource extraction operations that are extremely harmful locally, but also in their general consequences. In societies where indigenous populations have an influence, many are taking a strong stand. The strongest of any country with regard to global warming is in Bolivia, which has an indigenous majority and constitutional requirements that protect the "rights of nature." 
Ecuador, which also has a large indigenous population, is the only oil exporter I know of where the government is seeking aid to help keep that oil in the ground, instead of producing and exporting it—and the ground is where it ought to be.
Venezuelan President Hugo Chavez, who died recently and was the object of mockery, insult and hatred throughout the Western world, attended a session of the United Nations General Assembly a few years ago where he elicited all sorts of ridicule for calling President George W. Bush a devil. He also gave a speech there that was quite interesting. Of course, Venezuela is a major oil producer. Oil is practically their whole gross domestic product. In that speech, he warned of the dangers of the overuse of fossil fuels and urged producer and consumer countries to get together and try to work out ways to reduce fossil fuel use. That was pretty amazing on the part of an oil producer. You know, he was part Indian, of indigenous background. Unlike the funny things he did, this aspect of his actions at the UN was never even reported.
So, at one extreme you have indigenous, tribal societies trying to stem the race to disaster. At the other extreme, the richest, most powerful societies in world history, like the U.S. and Canada, are racing full-speed ahead to destroy the environment as quickly as possible. Unlike Ecuador, and indigenous societies throughout the world, they want to extract every drop of hydrocarbons from the ground with all possible speed. 
Both political parties, President Obama, the media and the international press seem to be looking forward with great enthusiasm to what they call "a century of energy independence" for the U.S. Energy independence is an almost meaningless concept, but put that aside. What they mean is: We'll have a century in which to maximize the use of fossil fuels and contribute to destroying the world.
And that's pretty much the case everywhere. Admittedly, when it comes to alternative energy development, Europe is doing something. Meanwhile, the U.S., the richest and most powerful country in world history, is the only nation among perhaps 100 relevant ones that doesn't have a national policy for restricting the use of fossil fuels, that doesn't even have renewable energy targets. It's not because the population doesn't want it. Americans are pretty close to the international norm in their concern about global warming. It's institutional structures that block change. Business interests don't want it and they're overwhelmingly powerful in determining policy, so you get a big gap between opinion and policy on lots of issues, including this one.
So that's what the future historian—if there is one—would see. He might also read today's scientific journals. Just about every one you open has a more dire prediction than the last.
"The Most Dangerous Moment in History"
The other issue is nuclear war. It's been known for a long time that if there were to be a first strike by a major power, even with no retaliation, it would probably destroy civilization just because of the nuclear-winter consequences that would follow. You can read about it in the Bulletin of Atomic Scientists. It's well understood. So the danger has always been a lot worse than we thought it was.
We've just passed the 50 year anniversary of the Cuban Missile Crisis, which was called "the most dangerous moment in history" by historian Arthur Schlesinger, President John F. Kennedy's advisor. Which it was. It was a very close call, and not the only time either. In some ways, however, the worst aspect of these grim events is that the lessons haven't been learned.
What happened in the missile crisis in October 1962 has been prettified to make it look as if acts of courage and thoughtfulness abounded. The truth is that the whole episode was almost insane. There was a point, as the missile crisis was reaching its peak, when Soviet Premier Nikita Khrushchev wrote to Kennedy offering to settle it by a public announcement of a withdrawal of Russian missiles from Cuba and U.S. missiles from Turkey. Actually, Kennedy hadn't even known that the U.S. had missiles in Turkey at the time. They were being withdrawn anyway, because they were being replaced by more lethal Polaris nuclear submarines, which were invulnerable.
So that was the offer. Kennedy and his advisors considered it—and rejected it. At the time, Kennedy himself was estimating the likelihood of nuclear war at a third to a half. So Kennedy was willing to accept a very high risk of massive destruction in order to establish the principle that we—and only we—have the right to offensive missiles beyond our borders, in fact anywhere we like, no matter what the risk to others—and to ourselves, if matters fall out of control. We have that right, but no one else does.
Kennedy did, however, accept a secret agreement to withdraw the missiles the U.S. was already withdrawing, as long as it was never made public. Khrushchev, in other words, had to openly withdraw the Russian missiles while the U.S. secretly withdrew its obsolete ones; that is, Khrushchev had to be humiliated and Kennedy had to maintain his macho image. He's greatly praised for this: Courage and coolness under threat, and so on. The horror of his decisions is not even mentioned—try to find it on the record.
And to add a little more, a couple of months before the crisis blew up, the U.S. had sent missiles with nuclear warheads to Okinawa, Japan. These were aimed at China during a period of great regional tension.
Well, who cares? We have the right to do anything we want anywhere in the world. That was one grim lesson from that era, but there were others to come.
Ten years after that, in 1973, Secretary of State Henry Kissinger called a high-level nuclear alert. It was his way of warning the Russians not to interfere in the ongoing Israel-Arab war and, in particular, not to interfere after he had informed the Israelis that they could violate a ceasefire the U.S. and Russia had just agreed upon. Fortunately, nothing happened.
Ten years later, President Ronald Reagan was in office. Soon after he entered the White House, he and his advisors had the Air Force start penetrating Russian air space to try to elicit information about Russian warning systems, Operation Able Archer. Essentially, these were mock attacks. The Russians were uncertain, some high-level officials fearing that this was a step towards a real first strike. Fortunately, they didn't react, though it was a close call. And it goes on like that.
What to Make of the Iranian and North Korean Nuclear Crises
At the moment, the nuclear issue is regularly on front pages in the cases of North Korea and Iran. There are ways to deal with these ongoing crises. Maybe they wouldn't work, but at least you could try. They are, however, not even being considered, not even reported.
Take the case of Iran, which is considered in the West—not in the Arab world, not in Asia—the gravest threat to world peace. It's a Western obsession, and it's interesting to look into the reasons for it, but I'll put that aside here. Is there a way to deal with the supposed gravest threat to world peace? Actually, there are quite a few. One way, a pretty sensible one, was proposed a couple of months ago at a meeting of the non-aligned countries in Tehran. In fact, they were just reiterating a proposal that's been around for decades, pressed particularly by Egypt, and has been approved by the UN General Assembly.
The proposal is to move toward establishing a nuclear-weapons-free zone in the region. That wouldn't be the answer to everything, but it would be a pretty significant step forward. And there were ways to proceed. Under UN auspices, there was to be an international conference in Finland last December to try to implement plans to move toward this. What happened? 
You won't read about it in the newspapers because it wasn't reported—only in specialist journals. In early November, Iran agreed to attend the meeting. A couple of days later President Obama cancelled the meeting, saying the time wasn't right. The European Parliament issued a statement calling for it to continue, as did the Arab states. Nothing resulted. So we'll move toward ever-harsher sanctions against the Iranian population—it doesn't hurt the regime—and maybe war. Who knows what will happen?
In Northeast Asia, it's the same sort of thing. North Korea may be the craziest country in the world. It's certainly a good competitor for that title. But it does make sense to try to figure out what's in the minds of people when they're acting in crazy ways. Why would they behave the way they do? Just imagine ourselves in their situation. Imagine what it meant in the Korean War years of the early 1950s for your country to be totally leveled, everything destroyed by a huge superpower, which furthermore was gloating about what it was doing. Imagine the imprint that would leave behind.
Bear in mind that the North Korean leadership is likely to have read the public military journals of this superpower at that time explaining that, since everything else in North Korea had been destroyed, the Air Force was sent to destroy North Korea's dams, huge dams that controlled the water supply—a war crime, by the way, for which people were hanged in Nuremberg. And these official journals were talking excitedly about how wonderful it was to see the water pouring down, digging out the valleys, and the Asians scurrying around trying to survive. The journals were exulting in what this meant to those "Asians," horrors beyond our imagination. It meant the destruction of their rice crop, which in turn meant starvation and death. How magnificent! It's not in our memory, but it's in their memory.
Let's turn to the present. There's an interesting recent history. In 1993, Israel and North Korea were moving towards an agreement in which North Korea would stop sending any missiles or military technology to the Middle East and Israel would recognize that country. President Clinton intervened and blocked it. Shortly after that, in retaliation, North Korea carried out a minor missile test. The U.S. and North Korea did then reach a framework agreement in 1994 that halted its nuclear work and was more or less honored by both sides. When George W. Bush came into office, North Korea had maybe one nuclear weapon and verifiably wasn't producing any more. 
Bush immediately launched his aggressive militarism, threatening North Korea—"axis of evil" and all that—so North Korea got back to work on its nuclear program. By the time Bush left office, they had eight to 10 nuclear weapons and a missile system, another great neocon achievement. In between, other things happened. In 2005, the U.S. and North Korea actually reached an agreement in which North Korea was to end all nuclear weapons and missile development. In return, the West, but mainly the U.S., was to provide a light-water reactor for its medical needs and end aggressive statements. They would then form a nonaggression pact and move toward accommodation.
It was pretty promising, but almost immediately Bush undermined it. He withdrew the offer of the light-water reactor and initiated programs to compel banks to stop handling any North Korean transactions, even perfectly legal ones. The North Koreans reacted by reviving their nuclear weapons program. And that's the way it's been going.
It's well known. You can read it in straight, mainstream American scholarship. What they say is: It's a pretty crazy regime, but it's also following a kind of tit-for-tat policy. You make a hostile gesture and we'll respond with some crazy gesture of our own. You make an accommodating gesture and we'll reciprocate in some way.
Lately, for instance, there have been South Korean-U.S. military exercises on the Korean peninsula which, from the North's point of view, have got to look threatening. We'd think they were threatening if they were going on in Canada and aimed at us. In the course of these, the most advanced bombers in history, Stealth B-2s and B-52s, are carrying out simulated nuclear bombing attacks right on North Korea's borders. 
This surely sets off alarm bells from the past. They remember that past, so they're reacting in a very aggressive, extreme way. Well, what comes to the West from all this is how crazy and how awful the North Korean leaders are. Yes, they are. But that's hardly the whole story, and this is the way the world is going.
It's not that there are no alternatives. The alternatives just aren't being taken. That's dangerous. So if you ask what the world is going to look like, it's not a pretty picture. Unless people do something about it. We always can.
Visit EcoWatch's ENERGY page for more related news on this topic.
——–
Click here to tell Congress to Expedite Renewable Energy.

By J. Matthew Roney
Even amid policy uncertainty in major wind power markets, wind developers still managed to set a new record for installations in 2012, with 44,000 megawatts of new wind capacity worldwide. With total capacity exceeding 280,000 megawatts, wind farms generate carbon-free electricity in more than 80 countries, 24 of which have at least 1,000 megawatts. At the European level of consumption, the world's operating wind turbines could satisfy the residential electricity needs of 450 million people.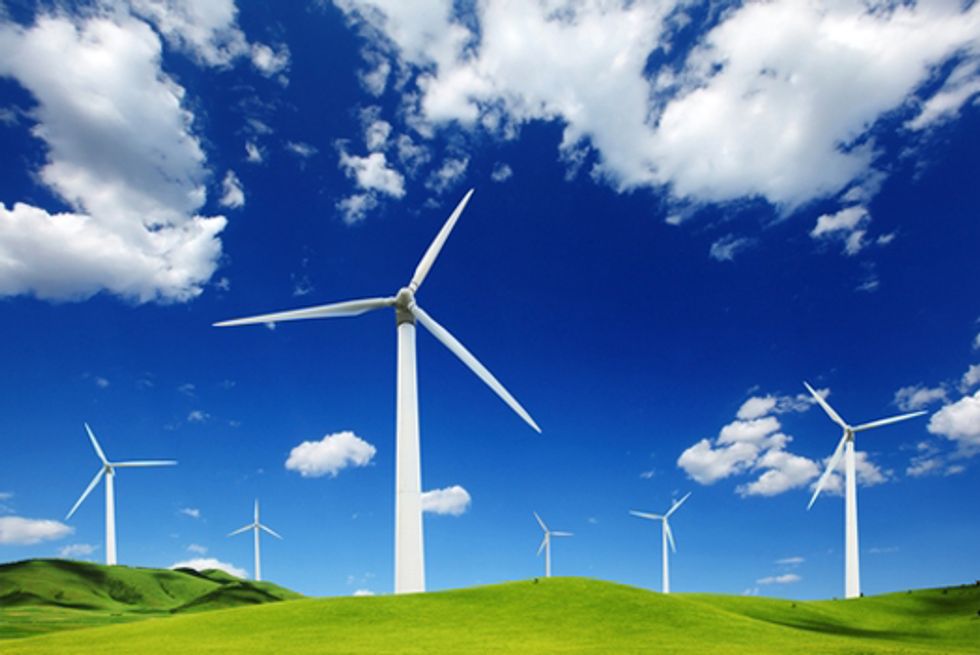 Photo courtesy of Shutterstock
China installed some 13,000 megawatts of wind in 2012, according to the Global Wind Energy Council (GWEC). This was a marked slowdown from the previous two years, when new installations averaged 18,000 megawatts annually. Reasons for the drop-off include concerns about project quality and inadequate electricity transmission and grid infrastructure, which prompted the government to approve fewer projects and to restrict lending. Still, all told, China leads the world with 75,000 megawatts of wind capacity: more than a quarter of the world total.
In a country more readily associated with coal-fired electricity and nuclear power ambitions, wind reached some impressive milestones in China's energy mix in 2012. Wind-generated electricity increased more than coal-fired electricity did for the first time. Even more remarkable, the electricity produced by wind farms over the course of the year exceeded that produced by nuclear power plants. And this is just the beginning: with massive wind projects under development across its northern and eastern provinces, and 19 ultra-high-voltage transmission projects connecting windy rural areas to population centers (all to be completed by 2014), more milestones lie ahead in China. Consulting firms GTM Research and Azure International project that China will reach 140,000 megawatts of wind by 2015 and nearly 250,000 megawatts by 2020.
The U.S. wind industry made headlines too. More new wind electricity generating capacity was added in 2012 than any other generation technology, including natural gas—a record 13,100 megawatts. An incredible 5,200 megawatts, spread among 59 wind farms, came online in December alone as developers raced to qualify for the federal production tax credit before it was set to expire at the end of the year. The U.S. remains second only to China, with 60,000 total megawatts of wind capacity—enough to power more than 14 million U.S. homes.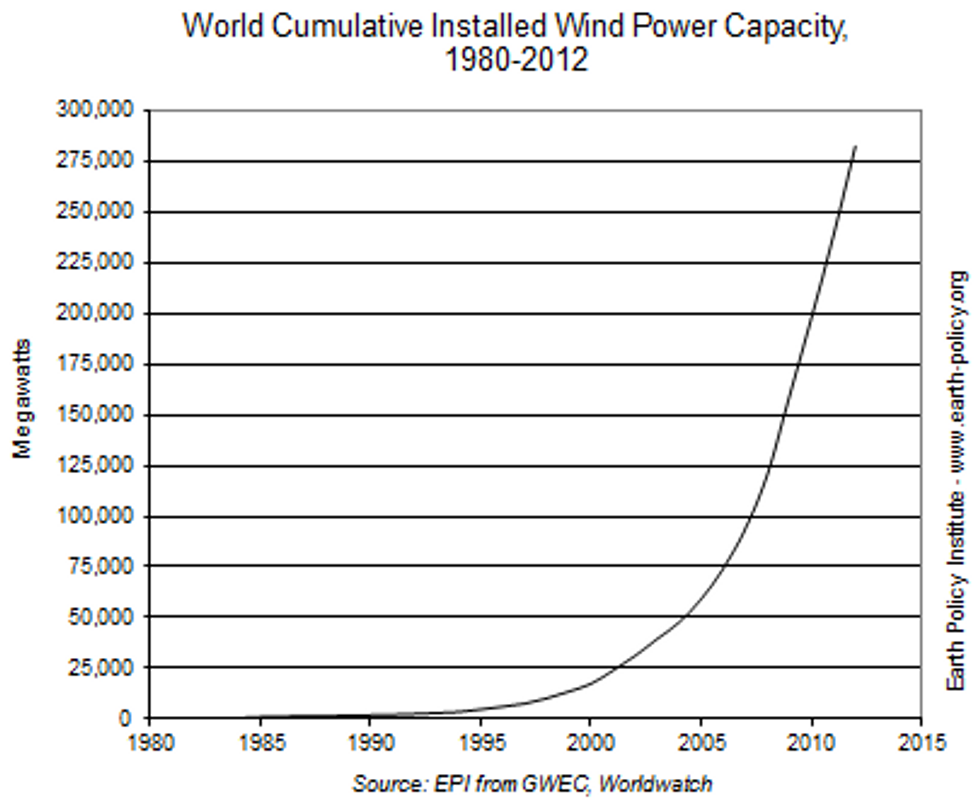 Several U.S. states have more installed wind capacity than most countries do. The 12,200 megawatts in Texas and the 5,500 megawatts in California, for example, would rank them sixth and eleventh, respectively, on the world wind power list. In Texas, a further 21,000 megawatts of wind projects are under consideration, much of which could be accommodated by the "Competitive Renewable Energy Zones" high-voltage transmission projects scheduled for completion by the end of 2013. These new lines will connect wind-rich West Texas and the panhandle with high-demand markets to the east. (See data).
Wind farms generated at least 10 percent of the electricity produced in nine states in 2012, up from five states the year before. Iowa and South Dakota got nearly a quarter of their electricity from wind. Oregon's 845-megawatt Shepherd's Flat wind farm, commissioned in 2012, is North America's largest. But in Carbon County, Wyoming, a project of up to 3,000 megawatts is under development.
To the north, Canada's 6,500 megawatts of wind power are sufficient to meet the electricity needs of nearly 2 million households. As Ontario, the country's most populous province, works to phase out coal-fired power by 2014, its wind generation is growing—in fact, Ontario's wires carried more electricity from wind than from coal for the first time in 2012.
The European Union (EU) added more megawatts of wind in 2012 than it did natural gas, coal, or nuclear, even as fiscal austerity measures cut renewable energy incentives. Several EU member states lead the world in the share of electricity they get from wind farms. Spain and Portugal typically have a 16 percent wind share. In Germany, whose 30,000 megawatts of wind capacity are the third highest in the world, the national wind share is 11 percent. Four of Germany's northern states now get roughly half of their electricity from wind.
But it is Denmark that sets the bar for wind's role in electricity production. The Danish Wind Industry Association reports that wind farms generated 30 percent of Denmark's electricity in 2012, up from 28 percent in 2011. The government pledged in late 2011 to boost this share to 50 percent by 2020.
Looking eastward, Romania and Poland each added roughly 900 megawatts of wind in 2012, reaching 2,500 and 1,900 megawatts, respectively. Turkey's goal is to reach 20,000 megawatts of wind in the next 10 years, nearly 10 times its current capacity.
Aside from China, India is the other big Asian wind market. With more than 18,000 megawatts installed, India ranks fifth worldwide in wind capacity. The government plans to spend roughly $8 billion on grid and transmission upgrades by 2017 through its "green energy corridors" plan. This is sorely needed in a country where nearly 300 million people do not have access to electricity.
Latin America, Africa, the Middle East and Oceania have enormous wind potential but little actual development thus far. Activity in each of these regions, however, indicates seriousness about harnessing the wind. In Latin America, Mexico more than doubled its wind capacity to almost 1,400 megawatts in 2012. Brazil, where wind installations grew 75 percent in 2012, could add another 1,500 megawatts in 2013 to reach 4,000 megawatts total.
Just 100 megawatts of wind were installed in all of Africa in 2012, split between Ethiopia and Tunisia. Kenya's long-awaited 310-megawatt Lake Turkana wind farm, which could generate more than 10 percent of national electricity, has suffered multiple setbacks but may begin construction in 2013. No new wind projects came online in the Middle East. Jordan is looking to grow its currently negligible wind power to 1,200 megawatts by 2020, however, and plans are also under way in Israel and Saudi Arabia.
In Australia, the goal is to get 20 percent of electricity from renewable sources by 2020. Half of the country's current 2,600 megawatts of wind is in the state of South Australia, where wind farms generated 24 percent of all electricity in 2012. The January 2013 commissioning of the 420-megawatt Macarthur wind farm in the state of Victoria gets the country halfway to its expected 30 percent wind growth for the year.
Most of the world's installed wind capacity is land-based; just 2 percent—roughly 5,400 megawatts—has been built offshore. Recently, however, offshore development has accelerated, more than tripling over the last five years. Ten of the 12 countries with offshore wind farms are European. The United Kingdom hosts more than half of the world's offshore capacity and aims for 18,000 megawatts of offshore wind by 2020; its offshore wind resources are actually estimated to be 16 times larger than its electricity consumption. In Denmark, some 15 percent of electricity is expected to come from offshore wind farms by 2014.
China and Japan are the only offshore wind producers outside of Europe, hosting 390 megawatts and 25 megawatts, respectively. With 130 megawatts installed in 2012 alone, China has quickly amassed the world's third largest offshore capacity figure; the country's near-term offshore targets are 5,000 megawatts by 2015 and 30,000 by 2020. In the wake of the 2011 disaster at the Fukushima nuclear power plant, Japan is looking to harness more of its offshore wind, a resource plentiful enough to meet national electricity needs nearly three times over. And in South Korea, numerous offshore projects are under way, as the country's wind industry aims to reach 23,000 megawatts of wind power by 2030.
According to Navigant Research, new wind installations worldwide will fall to some 40,000 megawatts in 2013. This would be the first instance in at least 17 years when annual additions did not increase year-to-year. Much of this deceleration will likely be the result of a slowdown in U.S. development. Still, the annual market is expected to rebound in 2014 as costs continue to fall, as major players recover, and as newcomers in Africa, the Middle East and the Baltic region begin to realize their wind ambitions. GWEC and Greenpeace International project at least 425,000 megawatts of wind capacity worldwide by 2015—enough to generate electricity for all of Central and South America. The world is starting to realize that wind's potential is almost without limit.
Visit EcoWatch's RENEWABLES page for more related news on this topic.
——–
Click here to tell Congress to Expedite Renewable Energy.

By Eddie Fleisher
[Editor's note: Once again, EcoWatch is thrilled to be a media sponsor of the world-renowned Cleveland International Film Festival (CIFF). As always, we are promoting the films in CIFF's It's Easy Being Green sidebar sponsored by Great Lakes Brewing Company. We will showcase all 10 eco-films this week and continue to promote them during the festival, April 3 - 14. Each film does an incredible job illustrating our most daunting environmental issues and providing solutions to ensure the well-being of future generations. I encourage you to see these films at CIFF, or at your local film festival or theatre. Documentaries are a great way to educate and motivate people to action.]
Many of us worry about pollution. But probably not as much as the people of Camburnu, Turkey, do. Ten years ago the government allowed a garbage dump to be built in the hills above the small Turkish Black Sea town. As time passed, the citizens saw their beautiful land destroyed by a faulty facility that leaks toxic waste into their drinking water and causes a ghastly odor that often makes it hard to breathe. Their complaints have gone unheard by an incompetent government that doesn't seem to grasp what's driving their people to sickness and causing the population to dwindle. The things we take for granted have become a constant frustration for a people who aren't asking for much. Will they have to abandon the homes they've lived in for so long? Will they be able to make money when their crops have been ruined? And will Camburnu's heritage and traditions be lost in a sea of trash? POLLUTING PARADISE is an eye-witness account of one village's heartbreaking struggle for dignity.
This film is showing at the CIFF at Tower City Cinemas, 230 W Huron Rd., Cleveland, Ohio 44113 on:
Sunday, April 7 at 9:40 p.m.
Monday, April 8 at 11:35 a.m.
Visit EcoWatch's BIODIVERSITY page for more related news on this topic.
——–
A new report released on the sidelines of the World Future Energy Summit today, shows that even if all electricity is to be generated through renewable energy (RE) sources, and with solar photovoltaics (PV) alone, it would take up only an insignificant amount of total land area, contrary to common perception.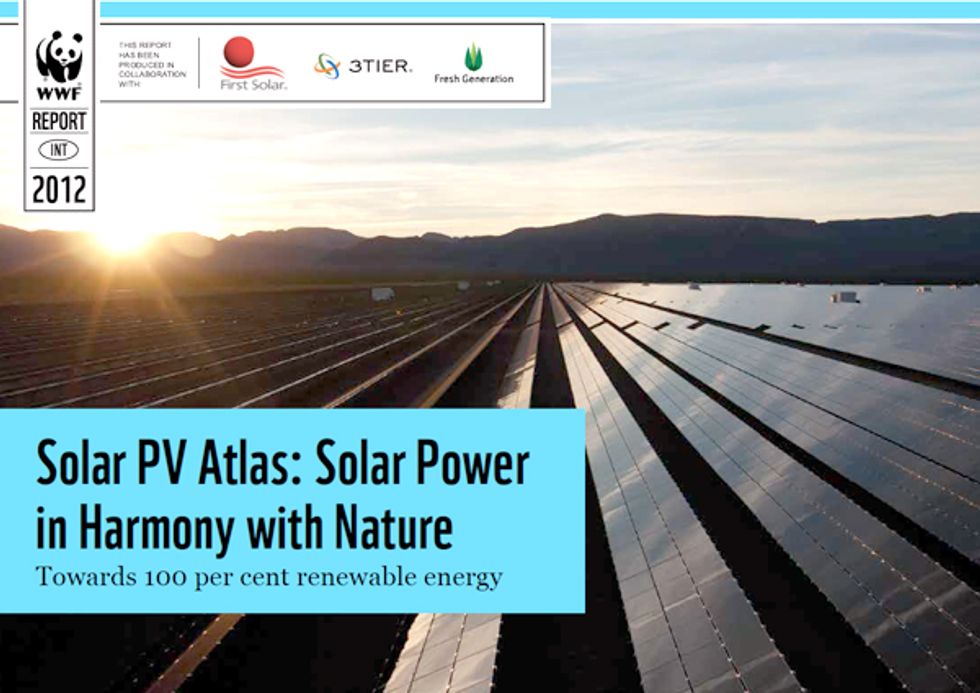 The report, Solar PV Atlas: solar power in harmony with nature, shows through seven cases—six countries and one region—less than 1 percent of the total land mass would be required to meet 100 percent of projected electricity demand in 2050, if generating electricity only with solar PV .
World Wildlife Fund (WWF) teamed up with First Solar, 3TIER and Fresh Generation to develop the report. It looks at Indonesia, Madagascar, Mexico, Morocco, South Africa, Turkey and the Indian state of Madhya Pradesh.
The regions represent diverse geographies, demographics, natural environments, economies and political structures. They receive different but good average levels of sunshine, and all show vast potential for widespread development of solar PV, a well-established, commercially available and reliable technology today.
The report illustrates that PV technology, when well-planned, does not conflict with conservation goals and clarifies that no country or region must choose between solar PV and space for humans and nature.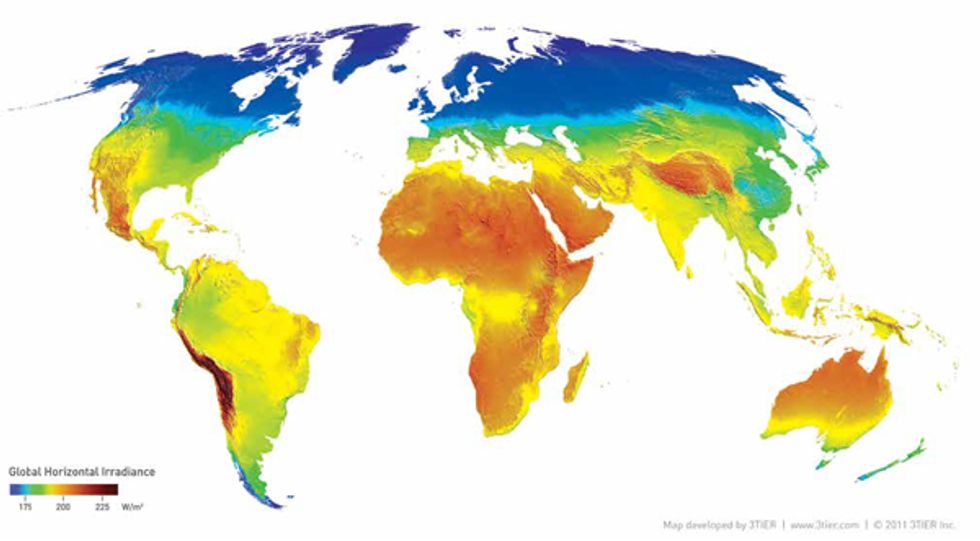 "Research has found that PV power plants provide considerable environmental benefits, including a low carbon footprint and a short energy pay-back time. Replacing existing grid electricity with PV arrays significantly reduces greenhouse gas and heavy metal emissions as well water usage," says Lettemieke Mulder, First Solar vice president for sustainability.
This new report supports WWF's vision of 100 perecent RE by 2050. "We are actively promoting investments and measures in renewable energy technologies that help to make this happen," according to Jean-Philippe Denruyter, WWF's manager Global Renewable Energy Policy.
"As climate change increasingly threatens people and the natural world, it is more important than ever to work for the rapid and wide-scale adoption of well sited, responsibly operated renewable energy power facilities. Environmental protection and renewable energy can and are developing in parallel," says Samantha Smith, leader of the WWF's Global Climate & Energy Initiative.
Visit EcoWatch's RENEWABLES and ENERGY pages for more related news on this topic.
——–
Click here to tell Congress to Expedite Renewable Energy.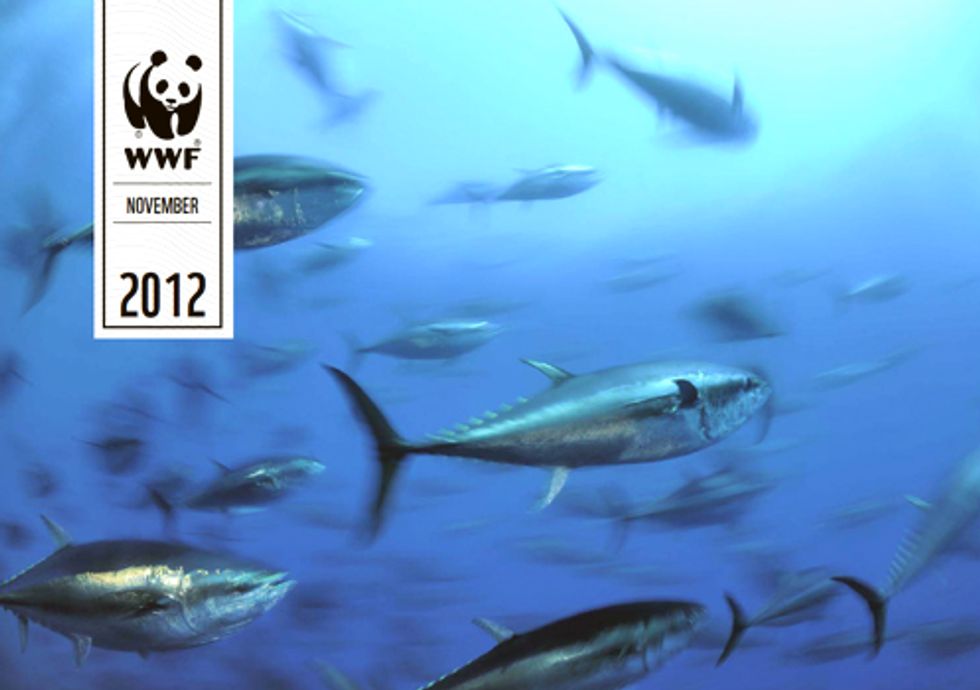 A new study commissioned by the World Wildlife Fund (WWF) uncovers that between 2000 and 2010, the equivalent of 18,704 tons of  live bluefin tuna were traded via Panama without being reported to the International Commission for the Conservation of Atlantic Tunas (ICCAT)—the international body managing the fishery.
Besides Panama, Mediterranean countries including Spain, Italy, Morocco, Tunisia and Turkey were involved, as well as Japan.
WWF calls on ICCAT and the concerned countries to urgently investigate further.  
 
"This is the first ever study on this issue and it probably shows only the tip of the iceberg. We finally managed to get the proof of a situation that has been acknowledged for many years even by ICCAT itself", said Dr. Sergi Tudela, head of WWF Mediterranean Fisheries Program. 
 
Based on official trade and customs databases, it has been revealed that over a decade as much as 14,327 tons of processed Atlantic bluefin was traded via Panama. This volume of trade corresponds to an estimated weight of 18,704 tonnes of live fish. 
 
Bluefin tuna has been exported to Panama from Mediterranean countries including Spain, Italy, Morocco, Tunisia, Turkey and Panama, in turn, re-exported to Japan as much as 13,730 tons of processed bluefin. 
 
The trade detected peaked in 2003 and 2004, with 3000-4000 tons per year, but was still on-going at a lesser extent as late as in 2010.
 
"According to available records, not a single shipment identified by the report was ever reported to ICCAT," added Tudela. "If confirmed, it would fully qualify as illegal, unreported and unregulated (IUU) fishing according to the United Nations' FAO standards and would equal environmental crime."
 
All involved countries mentioned in the study were ICCAT Contracting Parties at the time the unreported trade operations were detected. According to ICCAT rules in force during all the study period, any international trade of Atlantic bluefin tuna had to be duly reported, to enable cross-checking with catch quotas. 
 
The unreported trade of bluefin tuna through Panama, not even recorded in Panama customs, could have happened without the fish having been physically shipped to Panama. Simply, Panamanian-flagged transport vessels and the involvement of intermediary Panama-based companies could have mediated between producer countries and the final market in Japan.
 
According to ICCAT, IUU activities in the bluefin tuna fishery peaked in 2007 with an estimated catch at 61,000 tons, worth more than twice the legal quotas. There is consensus that recent catches have significantly reduced, but strong doubts still exist as to the real amount of fish being caught. 
 
WWF calls on ICCAT, the countries identified in the study and the European Union, to urgently launch a serious investigation that would allow to either ruling out or endorsing the suspicions of IUU activities pinpointed by the study.