This website uses cookies to ensure you get the best experience while browsing it. By clicking 'Got It' you're accepting these terms.


The best of EcoWatch, right in your inbox. Sign up for our email newsletter!
Triclosan and 18 other chemicals have been banned from soaps and washes.
AP Photo / Kiichiro Sato
By Erica Hartmann
This year marks 20 years since Hasbro was fined for false advertising, claiming their Playskool toys laden with the antimicrobial chemical triclosan would keep kids healthier. It is also the year when soap manufacturers will finally have to remove the chemical from their products.
Any antimicrobial chemicals in there? Shutterstock
Triclosan is one example of a potentially hazardous chemical used in some antimicrobial products. The U.S. Food and Drug Administration (FDA) recently banned it, along with 18 others chemicals, from hand soaps because of unacceptable risks to humans and the environment. Exposure to triclosan in general is linked with disruption of hormone function and the development of antibiotic resistance in bacteria.

The FDA asked manufacturers to demonstrate that these chemicals are safe for long-term use and more effective than regular soap. Neither has been proven.
But these same chemicals are still used in many other products—including plush toys, pool wings, pacifier pockets, building blocks and even craft supplies like markers and scissors—without any label required. Some of these products are marketed as being antimicrobial, but many aren't.
Because these products are not under the purview of the FDA, they aren't subject to the ban and companies aren't required to reveal what makes them antimicrobial. This means it is hard for consumers to know what products contain these chemicals.
Why Was Triclosan Banned in Soaps?
Manufacturers failed to demonstrate that antimicrobial soaps were any more effective than regular soaps. Essentially, there are no reported benefits of antimicrobial soaps to outweigh the risks of using antimicrobial chemicals. So, are these chemicals any more effective in other products?
Overall, peer-reviewed research showing that household products and building materials containing antimicrobial chemicals, such as cutting boards and industrial flooring, harbor fewer bacteria is scant. Research further demonstrating that these products protect human health is essentially nonexistent. This indicates that, much like in soaps, triclosan in other products isn't doing much good.
The FDA's decision applies only to over-the-counter soaps sold to consumers and not to soaps used in health care settings or any other consumer products or building materials not under the purview of the FDA.
But some health care providers are deciding to skip the antimicrobials. For example, Kaiser Permanente, a major health care system, stopped purchasing soaps containing triclosan several years ago. And in 2015 the system announced it would no longer use paint and interior building products containing antimicrobial chemicals, citing a lack of evidence that they actually prevent disease along with safety concerns.
Not only does research suggest that antimicrobial products are ineffective at reducing microbes on the product, but several studies also suggest they may be causing an increase in antibiotic resistance. Antibiotic-resistant infections, such as MRSA, cause an estimated 23,000 deaths every year in the U.S..
Research that I conducted at the Biology and the Built Environment Center at the University of Oregon demonstrated a troubling link, finding higher concentrations of triclosan and antibiotic resistance genes in dust in an athletic and educational facility. We are currently investigating how these antibiotic resistance genes can get into bacteria.
At the moment, it's unclear how much of the triclosan we find in dust comes from soaps or other products, but triclosan has been found in almost every dust sample assayed worldwide. This suggests that the more antimicrobial chemicals we use in our homes, classrooms and offices, the more antibiotic-resistant bacteria we see there.
Again, it is worth noting that we have no evidence that using any antimicrobial products other than toothpaste, whether they are soaps or other household goods, makes us any healthier. There is even some evidence to the contrary: Without adequate exposure to the right microbes, our children may be at a higher risk of developing conditions like allergies and asthma.
Why It's Hard to Know What Products Contain These Chemicals
Let's say, then, that we want to avoid products that contain triclosan or any of the other 18 antimicrobials banned in soap by the FDA. Should be fairly easy, right? Not so: Manufacturers are not required to tell us what makes their products antimicrobial.
Soaps are personal care products, which means they fall under the FDA's jurisdiction. The agency requires that active ingredients such as triclosan be listed. For instance, triclosan is also found in some toothpastes, in which it has been proven effective against plaque and it is listed on the label.
If you want to avoid buying soaps containing these chemicals before the ban goes into effect on Sept. 6 you just need to read the label. But products that are not under the agency's jurisdiction are subject to different requirements and don't have to list the chemicals they contain. It is incredibly difficult—if not impossible—to find out exactly which products contain which antimicrobial chemicals.
Products that are marketed as being antimicrobial, for instance, often contain these chemicals. But not all products that contain antimicrobial chemicals are advertised as such.
Concerned consumers can get recommendations from advocacy groups like the Environmental Working Group and Beyond Pesticides. However, that information is focused largely on triclosan and not the additional 18 chemicals banned from soap. And as manufacturers reformulate products without making public announcements, information may be incomplete or out of date.
Consumers looking for a simple way to get comprehensive information about antimicrobial products are out of luck. But one consumer with an awful lot of resources is actually starting to collect this information: Google. The tech giant went to such great lengths to uncover the ingredients for products used in their facilities that it developed an online tool called Portico. Unfortunately for us, Portico isn't yet available to the public.
It would help if regulators adopted consistent standards requiring common labeling practices and if manufacturers were required to disclose hazardous ingredients. We need to know what chemicals are in the products, especially when those chemicals could have adverse effects on our health and our environment.
What can consumers do? We can apply pressure by calling on retailers to carry antimicrobial-free products and to require clear labels on products that contain chemicals banned by the FDA.
Erica Hartmann is an assistant professor at Northwestern University. Reposted with permission from our media associate The Conversation.
EcoWatch Daily Newsletter
The Federal Food and Drug Administration (FDA) announced today that triclosan, a toxic chemical ingredient associated with hormone disruption in people, will no longer be allowed in antibacterial hand soaps, which the Environmental Working Group (EWG) noted as a significant success.
The FDA announced today that triclosan, a toxic chemical ingredient associated with hormone disruption in people, will no longer be allowed in antibacterial hand soaps.iStock
"This decision by the FDA is a huge victory on behalf of human health and the environment," Ken Cook, co-founder and president of EWG, said. "EWG has been conducting research and advocating for this exact federal government action for nearly a decade and our work, as well as that of other public interest groups and many of our supporters, has finally paid off."

"EWG research found industry adding this sketchy, endocrine-disrupting germ killer to all kinds of soaps and even to toothpaste. Nine years ago we found it at disturbing levels in San Francisco Bay," Cook added. "Worse yet, EWG studies detected the stuff in breast milk and in bodies of teenage girls. Clearly this is an industry that needed a good, swift kick in the triclosan. It took far too long, but today the FDA delivered."
In a first-of-its kind study, in 2008, EWG found triclosan and 15 other toxic chemicals in blood and urine of 20 teen girls from eight states and the District of Columbia.

In a separate report from 2008, EWG scoured industry documents and government databases to assemble a list of all the products in which triclosan was approved for use.
As the Skin Deep database was launched in 2004, EWG highlighted a number of products that contained triclosan. Today, many of the personal care products that once contained the toxic chemical, no longer include it as an ingredient.
"FDA's decision marks another important victory for the tens of millions of shoppers who come to EWG for advice every year," Cook said. "They want companies to clean up consumer goods—from personal care products to food—by getting rid of questionable and unnecessary ingredients. And they want full transparency so they know all the ingredients contained in the products they buy."
Consumer antibacterial soaps with triclosan and triclocarban were put on the market without data demonstrating clinically significant health benefits from their use in a non-hospital setting, noted EWG in comments submitted to the FDA in 2014.
In recent years the cosmetics and cleaning sectors have largely replaced triclosan in hand soaps, although it is still found in some acne products, body washes and Colgate Total toothpaste. The FDA is taking an additional year to review the safety of another antibacterial ingredient, benzalkonium chloride, which is also used in some hand sanitizers.
Several years ago, major corporations, including Johnson & Johnson and Proctor & Gamble moved to phase out triclosan from personal care and cleaning products.
By Diane Vukovic
We've all heard it before: you need to wash your hands with soap and water to prevent the spread of germs. So, it would seem logical that washing your hands with antibacterial—germ-killing—soap would do a better job. It turns out that this is not only false, but those antibacterial soaps (and hand sanitizers, sponges and other antibacterial products) could be downright dangerous. Here is why.
It would seem logical that washing your hands with antibacterial—germ-killing—soap would do a better job. It turns out that this is not only false, but those antibacterial soaps (and hand sanitizers, sponges and other antibacterial products) could be downright dangerous.
1. Antibacterial Soap Contributes to the Rise of Antibiotic-Resistant Bacteria

Maybe you've heard now about how the overuse of antibiotics is causing the rise of antibiotic-resistant "superbugs." Well, the same can be said of antibacterial products like soap.
As epidemiologist Allison Aiello explains to Scientific American, most antibacterial soaps contain the ingredient triclosan. When the bacteria are exposed to triclosan, they can undergo genetic mutations. These same mutations not only protect them from triclosan (or whatever other antibacterial product you are using), but can make them more difficult to kill with antibiotics.
2. Antibacterial Soap May Disrupt Hormones
In animal studies like this one at the Journal of Toxicological Sciences it was found that triclosan altered the hormones in rats, causing an estrogenic effect. The Food and Drug Administration says that animal studies aren't always indicative of what will happen to humans, but even they recommend reviewing the risks further and say that concerned consumers should use regular soap instead.
3. Antibacterial Soap May Impair Muscle Function
The list of risks associated with triclosan go on! A study, reported in Smithsonian Magazine, found that triclosan "hinders human muscle contractions at the cellular level and inhibits normal muscle functioning in both fish and mice." The researchers weren't even exposing cells to super-high dosages during the study. They used levels of triclosan similar to what we experience every day.
4. Antibacterial Soap Increases Risk of Allergies
There are a lot of theories about why allergies are on the rise and one is that the overly-sanitized environment that we live in is harming the development of our immune system. A study published in the Journal of Allergy and Clinical Immunology furthers this theory. It found that the triclosan commonly found in antibacterial products causes mutations, which may lead to food allergies.
5. Antibacterial Soap is Bad for the Environment
When you rinse your hands of antibacterial soap, it doesn't just disappear down the drain. It gets into our environment and could have disastrous consequences. As Eco Watch reported, the antibacterial chemicals in soap aren't completely removed by wastewater treatment facilities. The chemicals get transferred into sludge, which is then put on agricultural land and could contaminate surface water.
Why is this so worrisome? Because both triclosan and triclocarban (another common ingredient in antibacterial products) degrade into carcinogens! If these get into the food and water systems, then we could have a massive health problem on our hands. And it seems like they already have gotten into our systems since studies found traces of triclosan in breast milk and also the urine of 75 percent of Americans over the age of five!
6. Antibacterial Soap Isn't Any More Effective Than Regular Soap
The icing on the cake is that antibacterial soap doesn't do any better of a job at preventing disease than regular soap.
Several studies, like this one at the Journal of Antimicrobial Chemotherapy and this one at the Oxford Journal of Infectious Disease, have looked into the effectiveness of antibacterial soaps. They've found that there was "no significant difference" and antimicrobial soap was "no more effective than plain soap" at preventing infectious illness. This shouldn't be too surprising considering that most diseases are caused by viruses and not bacteria, so antibacterial soap isn't effective!
YOU MIGHT ALSO LIKE
San Francisco Bans Styrofoam, Passes Nation's Toughest Anti-Styrofoam Law
Mother-of-Three Sues Monsanto Claiming Roundup Caused Her Cancer
4 Ways to Get Rid of Seasonal Allergies
Lawsuit Filed Against 3M for Dumping Toxic Chemicals Into the Tennessee River
Half of newborns in a Brooklyn-based study were exposed in the womb to triclosan, a germ-killing chemical widely used in consumer products, researchers reported Sunday at an annual meeting of chemists.
"Our study suggests that expectant mothers may be highly exposed to these compounds, which have endocrine-disrupting capabilities," said study coauthor Laura Geer, an environmental health scientist at SUNY-Downstate Medical Center in New York.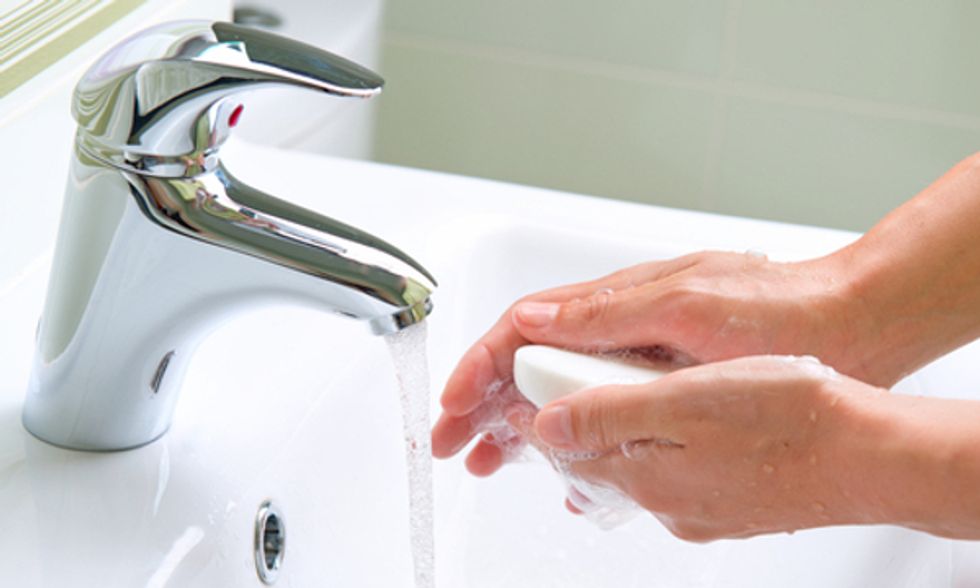 Triclocarban is found in some bar soaps. Photo courtesy of Shutterstock
In addition to triclosan, about one-quarter of the newborns were exposed to traces of triclocarban, another germ-killing chemical in some bar soaps.
The researchers also reported that pregnant women with higher levels of butylparaben, a cosmetics germ-killing preservative, gave birth to shorter babies than women with lower levels. It's not clear what health effects, if any, the shorter lengths would have on a child, Geer said. Those findings are preliminary and have not yet been published, so Geer declined to reveal details on the length differences.
"Shifts in birth size may be an indication of endocrine disruption," she said. "We hope to address the question of adverse health outcomes associated with these chemicals in future research."
The findings are being presented at the American Chemical Society's annual meeting in San Francisco. They add to growing debate about the safety of antimicrobial chemicals in consumer products. Triclosan and triclocarban are used in more than 2,000 items, including some toothpastes, liquid soaps, detergents, clothing and toys.
Last year, the U.S. Food and Drug Administration (FDA) announced that antibiotic hand soaps and body washes containing the two chemicals were no more effective than regular soap and water. The FDA is reviewing their safety and possible health effects, with a ruling expected in 2016. Earlier this year, Minnesota became the first state to ban triclosan in some household products.
Studies have reported that triclosan and triclocarban may add to the spread of antibiotic-resistant bacteria, disrupt development of the brain and reproductive system and accumulate in plants and animals. Parabens, identified as estrogen mimics, have been linked to reproductive problems in lab animals, as well as allergies and skin irritation.
In the Brooklyn study, all of the 184 pregnant women tested had traces of triclosan in their urine, while 86 percent had triclocarban, according to the study by Geer and Arizona State University researchers. Umbilical cord blood from 33 of the women was tested. It was the first time triclocarban had been studied in pregnant women and fetuses.
The women had higher levels of the chemicals, on average, than the general U.S. population. Most of the women tested were black.
"If you cut off the source of exposure, eventually triclosan and triclocarban would quickly be diluted out, but the truth is that we have universal use of these chemicals, and therefore also universal exposure," Rolf Halden, the study's lead investigator and director of Arizona State's Center for Environmental Security, said in a statement.
Paul DeLeo, an associate vice president of the American Cleaning Institute, which represents the U.S. cleaning products industry, said the traces found are too small to have any effect.
"Everything around us gets into us. But the levels they are finding are extremely small. There's a wide margin of safety between these levels and the levels deemed unsafe based on standard toxicology testing," he said.
However, experts say that standard toxicological tests do not detect many effects, especially ones related to hormone disruption.
Geer said pregnant women who want to reduce their exposures should scan the active ingredients listed on the back of products. "Avoid products labeled 'antimicrobial,' since these products likely contain triclosan or triclocarban as active ingredients," she said.
Big-name manufacturers Proctor & Gamble and Johnson & Johnson have announced they are phasing out triclosan from their products. Many cosmetics companies market paraben-free products.
You Might Also Like
Antibacterial Agent Triclosan Linked to Growth of Breast Cancer Cells
Dateline TV Producer Tested for Chemicals—What She Finds Will Shock You!
The U.S Food and Drug Administration (FDA) today proposed a federal rule that, if finalized, would remove the potentially hazardous chemical triclosan from antibacterial body washes and hand soaps.
Under the proposed rule, the FDA will require manufacturers to prove their antibacterial soaps and body washes are safe and more effective than plain soap and water. If companies cannot demonstrate the safety and effectiveness of their products, they would have to be reformulated, relabeled or possibly removed from the market.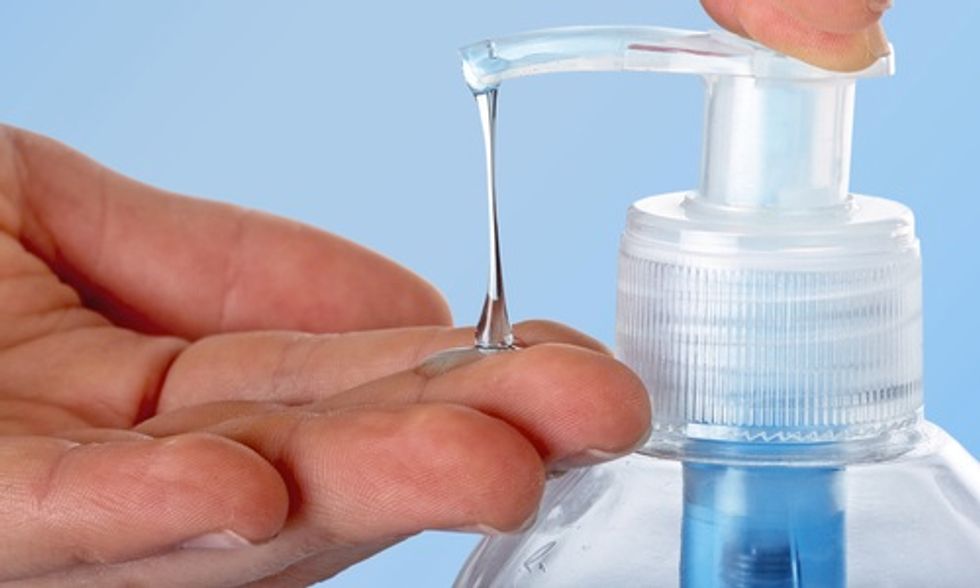 Shutterstock
FDA first proposed to remove triclosan from certain consumer products in 1978. The chemical, a suspected endocrine disruptor, has been linked to reproductive and developmental harm in laboratory studies.
The agency took no final action, however, and triclosan has been widely used in antimicrobial soaps sold in the U.S. In April 2010, the FDA acknowledged soaps containing triclosan offer no additional benefit over regular soap and water. 
In 2010, the Natural Resources Defense Council (NRDC) sued the FDA to force the agency to issue a final rule. As part of a settlement signed last month, the agency proposed a new final rule today and committed to taking final action by 2016.
"This is a good first step toward getting unsafe triclosan off the market," Mae Wu, an attorney in the NRDC health program, said in a media release. "The FDA is finally taking concerns about triclosan seriously. Washing your hands with soap containing triclosan doesn't make them cleaner than using regular soap and water and can carry potential health risks."
The growing use of triclosan in products during the past few decades has led to widespread residues in the environment and in people. Bio-monitoring results found residues of triclosan in 75 percent of Americans older than age of six. The chemical is absorbed through contact with the skin and tests have found it in human blood, urine and even breast milk.
Laboratory studies have shown that triclosan is an endocrine disruptor capable of interfering with hormones critical for normal development and reproduction. Such hormonal interference has the potential to cause long-term health problems including poor sperm quality and infertility and damage to the developing brain leading to poor learning and memory.
Several studies suggest that triclosan also may contribute to the development of antibiotic-resistant bacteria, may exacerbate allergies and may weaken muscle function.
Visit EcoWatch's HEALTH page for more related news on this topic.