This website uses cookies to ensure you get the best experience while browsing it. By clicking 'Got It' you're accepting these terms.
iStock
The Trump administration released its objectives Monday for renegotiating the North American Free Trade Agreement (NAFTA). The objectives suggest a repeat of labor and environmental provisions from the Trans-Pacific Partnership (TPP)—a deal whose demise Donald Trump widely took credit for—that were deemed too weak by virtually all leading labor and environmental groups. On other critical questions, the ostensibly "detailed" negotiating objectives provide no details, such as whether corporations will continue to be able to use NAFTA to sue governments over environmental protections in unaccountable tribunals of corporate lawyers.
After years of campaigning against the fatally flawed Trans-Pacific Partnership (TPP), the deal appears dead.
The TPP represented the latest in a string of trade deals that put corporate interests ahead of communities, workers, public health and the environment. The broad-based, cross-border campaign tirelessly pressed elected officials to reject the TPP, preventing Congress from passing it this year. Without the environmental, labor, consumer, farm, faith, development and so many other groups that highlighted TPP's shortcomings and organized in their neighborhoods and communities, the TPP would have sailed through Congress before the early presidential primary ballots were cast.
EcoWatch Daily Newsletter
Hillary Clinton sits down for an interview with Zach Galifianakis on his web comedy series, Between Two Ferns. Funny or Die / YouTube
In the latest episode of Zach Galifianakis' web comedy series, the comedian and star of The Hangover trilogy invited Democratic presidential nominee Hillary Clinton to sit Between Two Ferns to answer some questions no one else would dare ask her on camera.
The show is anything but serious and gave Clinton the opportunity to showcase a playful side to her personality.
By Ryan Schleeter

Monday marked the beginning of the Democratic National Convention (DNC), where the party will—in theory—come together around what it's calling the "most progressive platform in party history." And if that platform is any indication, climate change will figure heavily in the discussion this week.
Hillary Clinton poses with a supporter at a campaign rally in Manchester, New Hampshire earlier this year.Andrew Lichtenstein / Greenpeace
The Dems have come a long way since embracing a deeply flawed "all of the above" energy strategy in 2012.
Their new platform places renewable energy at the center of economic growth and job creation. It recognizes the intersections of social and environmental justice, with specific references to the Flint water crisis and the impacts of climate change on communities of color and indigenous populations. And it empowers the Department of Justice to investigate fossil fuel companies for their role in spreading climate denial.
This places them in stark contrast to Republicans, who groaned at the mere mention of climate change at their convention last week.
This week should tell us even more about the direction the Dems are heading on climate change, including how they'll address some of the platform's shortcomings. Here's what to watch for:
1. Where Does the Party Stand on Fracking and Natural Gas?
Well, it's complicated.
Fracking has no place in the platform of a party that wants to "lead the fight against climate change around the world." By not advocating a national ban on fracking, the Dems are falling short of the action we need to avoid its catastrophic health, climate and public safety impacts.
Instead, they're shirking responsibility by stating that fracking "should not take place where states and local communities oppose it." Translation: everyday people will have to go head to head with the fossil fuel industry to keep their communities frack-free. For an indication of just how difficult that is, look at Colorado right now.
On top of tepid regulations, the party leadership's problematic history with fracking is cause for concern. Both presumptive presidential candidate Hillary Clinton and her vice presidential pick Tim Kaine have a long record of supporting fracking and pushing the false narrative of natural gas as a "bridge fuel."
As the Democrats try to position themselves as climate leaders, pay particular attention to how how this presumptive Democratic ticket talks about fracking or if they choose to skirt the issue.
2. Will Support for the Trans-Pacific Partnership (TPP) Erode?
The Dems have chosen not to oppose the TPP, the secretly negotiated trade deal that would open the door to increased corporate influence over environmental decision-making.
It's a curious decision, as President Obama is the only high profile Democrat left in favor of the deal. Both Clinton and Bernie Sanders have opposed it since last year, citing concerns over how it would outsource jobs overseas.
But that's not all that the TPP would do. It also makes it easier for fossil fuel companies to export natural gas with little to no environmental review, creating economic incentive for even more fracking (see above for why that's a terrible idea).
Look to see which side of the aisle party leaders fall on this week and if there any notable changes in position, like Kaine coming out in opposition earlier this week after voting in favor earlier this year.
3. When Can We Expect Some Actual Commitments to Keep Fossil Fuels in the Ground?
Unlike people across the country, the Democrats have yet to fully embrace the keep it in the ground movement, but they seem to be inching closer.
Their platform would protect the Arctic and Atlantic Oceans from offshore drilling, but not the Gulf of Mexico. It calls for "reform[ing] fossil fuel leasing on public lands" and "phas[ing] down extraction," but gives little detail as to what that actually means. And of course, fracking.
The Dems should listen to communities calling for an end to new fossil fuel infrastructure, like those organizing against oil exploitation in the Gulf South and those protesting fossil fuel leasing in the Mountain West. And they won't have to look far for cues—thousands joined a march for clean energy and an end to the fossil fuel era in downtown Philadelphia on Sunday.
This week, keep an eye on how far progressive members of the party—like Keep It in the Ground Act authors Jeff Merkley (Senate) and Jared Huffman (House)—are able to push their more moderate colleagues on fossil fuel extraction.
And now for some perspective.
At this point, it's also worth a friendly reminder that the official Republican energy platform is literally terrible, Donald Trump thinks climate change is a "myth" (ever the ticket of nuance, his running mate Mike Pence prefers "hoax") and the GOP is the only conservative party in the world to deny the science of climate change.
That just feels relevant right now.
I have to admit that for a few days I felt really angry and depressed about the outcome of the Democratic Party Platform Committee meeting in Orlando. Despite a letter from more than 200 party delegates calling for a ban on fracking in the platform, more than 100,000 public petitions demanding the same and a recent Gallup poll showing that a vast majority of Democrats (not to mention a clear majority of Americans at large) are opposed to fracking, the committee failed to stand up to the corporate power of the oil and gas industry. In the end, the fracking ban proposal wasn't even allowed to come up for a vote.
Although this is disappointing, our work doesn't change. We must organize, organize, organize and build a grassroots movement so strong and diverse we are able to elect national leaders that reflect our progressive ideals and will fight for worthy policies. And of course we must then hold these individuals accountable.
In the meantime, progress is being made. Democratic Platform Committee members voted in favor of an historic amendment categorizing climate change as a global emergency requiring a World War II-scale mobilization. It's our job to keep fighting for policies that will keep fossil fuels in the ground and end the fracking nightmare. It will be up to each of us to keep demanding that those in power—regardless of political party—take the needed steps to seriously address our impending climate crisis.

To be clear, here's what the Democratic Party platform needed to do that it didn't do:
These Democratic Party failures clearly explain why I will be marching in the streets of Philadelphia on July 24, on the eve of the Democratic National Convention, to raise up clear, bold, urgent demands—demands that must be met if we are to avoid the worst and most disruptive climate consequences. We want fracking banned, fossil fuels left in the ground, the TPP rejected, environmental justice for all and a quick, just transition to 100 percent renewable energy.
That's what the Clean Energy Revolution requires and we demand that it happen now. Join me in Philadelphia.
The Trans-Pacific Partnership is a bad deal for our country and our climate—here's how we can stop it.
Climate
By Sarah Rasmussen
Right now, Congress is considering approving an international trade agreement that would lead to more fracking here in the U.S., more burning of rainforests for palm oil and fewer protections for American workers.
Activists rally to stop the TPP.SumOfUs / Flickr
That international trade agreement is the Trans-Pacific Partnership (TPP), which was negotiated in extreme secrecy.

But now there is a groundswell of opposition to the TPP, with hundreds of thousands of people speaking out. Both Hillary Clinton and Bernie Sanders already oppose it.
And if the Democratic Party opposes the TPP in its official platform, that may truly be the end of the road.

We can stop this destructive trade deal.
We told Congress to reject it and all the presidential candidates oppose it. Now we must tell the leadership of the Democratic Party to oppose the TPP in its official platform.
The TPP is not about trade. It's about giving global corporations even more loopholes to overcome democracy.

Companies like Exxon want the power to sue our government in order to eradicate environmental and labor protections that discourage their profits—and the TPP would expand this power.
This international trade pact was negotiated in extreme secrecy among Pacific Rim nations like the U.S., Canada, Mexico, Australia, Malaysia, Vietnam and Japan. Corporate executives were at the table, but environmental and labor groups were not—and of course, citizens of these countries had absolutely no say.
Just a few years ago, the TPP seemed like a done deal. But now it's floundering and looking less and less likely to pass thanks to grassroots organizing around the country. With your help, we can put it to bed once and for all.
Tell the Democratic Party: listen to the voice of the people and take a stand against the TPP.
By Lukas Ross, Friends of the Earth Action

The same day TransCanada sued the U.S. government for $15 billion, the Democratic Party's platform drafting committee met in Missouri. Between the two, there is a lesson to be learned about free trade and the climate crisis.
The lawsuit was the anticipated result of President Obama rejecting the Keystone XL pipeline.Using a notorious provision in the North America Free Trade Agreement (NAFTA), the Canadian oil giant is hoping to claim $15 billion in lost future profits by dragging the U.S. before an international tribunal. These sorts of extra-judicial forums, where corporations can sue governments for enforcing their own laws, are a hallmark of established free trade deals like NAFTA and looming ones like the Trans Pacific Partnership (TPP).
Forty environmental groups signed a letter urging Congress to reject the TransPacific Partnership. Dylan Petrohilos / Think Progress
The meeting in Missouri was to finalize a draft of the 2016 Democratic Party platform, a usually sleepy and symbolic process that this year has exploded into a proxy fight between presumptive nominee Hillary Clinton and Sen. Bernie Sanders. Pipelines like Keystone XL and free trade writ large were both on the agenda—and the votes cast reflect a growing divide between the party establishment and the grassroots.

Within hours of TransCanada filing its lawsuit under NAFTA, the platform committee had the chance to officially oppose the proposed Trans Pacific Partnership, a Pacific Rim trade deal that would allow hundreds of new fossil fuel companies access to provisions similar to those used by TransCanada. The motion was rejected. Despite both candidates being on record opposing the current TPP, the motion was rejected in a 10-5 vote. It was supported by appointees from Sanders and opposed by appointees from Clinton and the Democratic National Committee. Compromise language was offered instead, calling for trade deals that protect workers and the environment without mentioning the TPP by name.
Talking about responsible trade but refusing to be clear about the TPP isn't a good look, for the DNC or anyone else. If the TPP and its European counterpart, the Transatlantic Trade and Investment Partnership, were both enacted, it would radically expand the power of fossil fuel companies to sue the U.S. for laws and regulations that hurt their expected future profits. The power to launch lawsuits like TransCanada's would be put on steroids and everything fromlocal fracking bans to renewable energy mandates could be litigated in trade tribunals run overwhelmingly by corporate lawyers.
Besides missing the boat on trade, the committee managed a few other favors for the TransCanadas of the world. Jane Kleeb, the founder of Bold Nebraska and the newly elected Chair of Nebraska Democrats, supported a motion calling for ending the use of eminent domain in support of fossil fuel projects. It was unceremoniously voted down. Another rejected motion was an endorsement of the so-called "climate test," the principle that infrastructure and other projects shouldn't be approved if they worsen carbon emissions. Applying this standard was what led President Obama to reject Keystone XL in the first place.
In fact, Friday turned out to be a bad night for serious climate policy all around. Motions pushed by Sanders's appointee Bill McKibben supporting a carbon tax and a national frackingban were both rejected. So too was a motion to keep fossil fuels in the ground by ending new leasing on our public lands and waters.
Even the ambitious energy target supported by both Clinton and Sanders—100 percent clean energy by 2050—wasn't an unqualified success. The language is vague enough that it could include everything from wind and solar to dangerous false solutions like biomass, carbon capture and sequestration and nukes.
The concern about what exactly counts as clean energy isn't unfounded. If Bill McKibben was chosen by Sanders as a progressive voice on climate, his alter ego appointed by Clinton is Carol Browner, a one-time Environmental Protection Agency administrator who splits her time these days between professional lobbying and pro-nuclear advocacy.
The good news is that Missouri isn't the end. The platform still needs to be approved by the full platform committee next month in Orlando and after that by the full convention in Philadelphia. When it comes to pushing back on trade and climate, there are still two more shots.
As philosopher Dr. Cornel West, another Sen. Sanders appointee, said as he abstained from the final vote, "Take it to the next stage."
YOU MIGHT ALSO LIKE
Oakland Bans Coal Exports, Huge Win for Local Residents
Kochs Dump Trump to Fund Climate-Denying Senators in Ohio and Nevada
'Three Amigos' Vow to Get Half Their Electricity From Clean Power by 2025
DNC Platform Calls for Fossil Fuel Investigations, 100% Renewable Energy
By Karen Hansen-Kuhn and Ben Lilliston
Congress is quietly considering legislation that would speed the passage of two mega trade agreements, and seeks to specifically eliminate government programs that favor "localization." The bill would give the Obama Administration what is known as "fast track" authority—meaning Congress would surrender its constitutional authority to shape trade agreements negotiated by the President and instead can only vote up or down on the deal.
Why should those working for a fair, sustainable food system care? Perhaps no area of policy has undermined local food systems around the world more than the slew of trade agreements passed over the last several decades. These trade rules cover everything from tariffs, food safety and intellectual property to enshrining corporate rights. They place restrictions on what is allowed in national policies, like the Farm Bill, as well as the state and local level. These deals have heavily tilted the playing field from farmers and consumers toward global agribusiness and food giants like Cargill, Monsanto and Wal-Mart.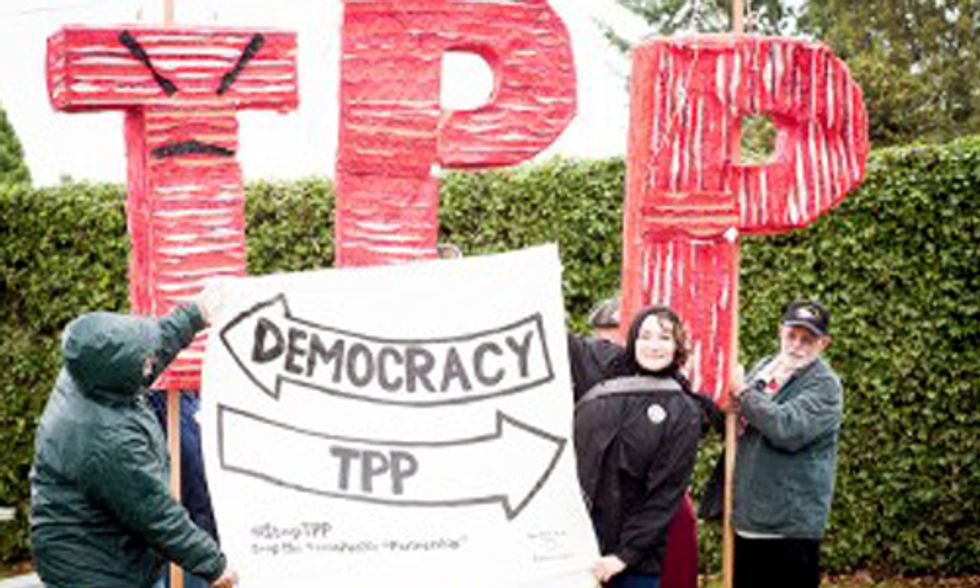 Because these trade deals, like NAFTA and CAFTA, have been so blatantly negotiated on behalf of multinational corporations and have contributed to growing income inequality, they've been extremely unpopular. This is why the Obama Administration has decided to negotiate these two new trade agreements in secret. That's right, the Trans-Pacific Partnership (TTP) (including more than a dozen countries) and the Transatlantic Trade and Investment Partnership (TTIP) (with our biggest trading partner, the EU) is being negotiated entirely behind closed doors. The negotiating text has not been made public, and, amazingly, even many members of Congress are in the dark about what's happening.
Aside from putting these secret trade deals on a fast track, the bill introduced by Sens. Max Baucus (D-MT) and Orrin Hatch (R-UT) and Rep. Dave Camp (R-MI) includes a new negotiating priority objective to eliminate what it calls "localization barriers." Local content requirements have been a stated target of the U.S. Trade Representative (USTR) in other countries like India. But of course, any agreement to undermine local content rules in another country would also apply to U.S. programs that give preference to locally sourced food or energy.
Here are 5 issues on the negotiating table in these trade agreements that local food activists should be worried about:
Procurement policies and local foods: A variety of policies at the municipal, state and federal level give purchasing preferences to local farmers, including U.S. Farm to School programs. Other procurement requirements like "Buy American" or preferences to small or mid-sized companies could also be affected.
Labeling (genetically engineered foods and country-of-origin): Both the U.S. and EU are using trade rules to strike back against consumers right to know about their food. The USTR recently pressured Peru over their mandatory labeling of GE foods, and has consistently attacked EU regulations of GE crops through the World Trade Organization (WTO). The EU supported a WTO ruling striking down country-of-origin labeling (COOL) in the U.S. Fortunately, the USDA has since revised the rule, and that version will face another challenge at the WTO. Rules on labeling established in these trade agreements will affect both national and state-level efforts for more consumer information about their food.
Food safety: Food safety standards have been the subject of trade disputes between the U.S. and EU for years. The U.S. has targeted strong EU restrictions on GE crops, growth hormones, such as ractopamine and chlorinated rinses of poultry carcasses. The EU, for its part, is seeking to overturn U.S. limits on EU beef related to controls to prevent Mad Cow Disease. The EU also is concerned about elements of the recently passed U.S. Food Modernization Act. Food safety rules established under these trade agreements will again limit what additional steps can be taken at the national and state level to protect consumers.
Chemical policy reforms: Trade rules on the use of potentially toxic chemicals, which often find their way into the food supply, could undermine the EU's Regulation on Registration, Evaluation, Authorization and Restriction of Chemicals (REACH), a process firmly grounded in the Precautionary Principle. USTR has been pushing back against REACH since its inception. But, like food safety, a trade agreement could also block efforts at the state and national level in the U.S. to strengthen regulation of toxic chemicals.
Investor-state dispute resolutions: Finally, proposals in TPP and TTIP create a private "dispute resolution mechanism" that would allow corporations to challenge any public "measure"—including food safety laws and court rulings—that threaten their future bottom line by bringing national governments to court. A government that lost before a tribunal of three trade lawyers would either have to change the offending "measure" or pay the plaintiff corporation lost anticipated revenues. Yes, it's as incredible as it seems. Phillip Morris has used this provision to challenge cigarette health warnings. Cargill has used it to challenge trading regulations on high fructose corn syrup. Chevron to gain access to oil deposits. These corporate rights provisions, known as investor-state dispute resolution (ISDR), are a hallmark of U.S. trade agreements.
There is too much at stake for Congress to pass fast track and open the door for the speedy passage of mega trade deals that threaten to undermine much of the important work being done to build more sustainable, healthy and fair food systems. The good news is that we can prevent this from happening. There is growing opposition to Fast Track in Congress. More than 150 House members have expressed their opposition to the bill. Now is the time for the local and sustainable food community needs to tell their member of Congress to oppose fast track. Institute for Agriculture and Trade Policy is a member of the Citizens Trade Campaign; go to their action center and let your member of Congress know your concerns.
Visit EcoWatch's FOOD page for more related news on this topic.