Colgates new toothpaste is certified by The Vegan Society. Colgate-Palmolive Company
Colgate has launched a new line of toothpaste in a fully recyclable tube, a first for toothpaste, as The Guardian reported.
Colgate's Smile For Good brand, which is only available in Europe right now, has been certified by The Vegan Society and comes in a tube made from high-density polyethylene (HDPE), which is the same plastic used for milk containers, according to The Guardian.
EcoWatch Daily Newsletter
Popular toothpastes, even many marketed as "natural," contain harmful ingredients including endocrine disruptors, inflammatory agents and carcinogens, according to a new report from The Cornucopia Institute, an organic industry watchdog.
Popular toothpastes, even many marketed as "natural," contain harmful ingredients including endocrine disruptors, inflammatory agents and carcinogens.Shutterstock
Behind the Dazzling Smile: Toxic Ingredients in Your Toothpaste, describes how the quality of "natural" toothpastes varies significantly between brands and how these personal oral care products commonly include nonessential ingredients that may be harmful. Cornucopia blames regulatory loopholes for allowing the use of endocrine disruptors, inflammatory agents and suspected carcinogens in toothpastes.
"The cosmetics industry is no different and may be worse, than leading food companies when it comes to gimmicky ingredients and misleading health claims," asserted lead report author Jerome Rigot, PhD, a policy analyst at The Cornucopia Institute. "However, we have created a useful web-based scorecard to help discriminating consumers see through marketing hype and make the best decision for their family when buying toothpaste."
Cornucopia spotlights the most problematic ingredients to be avoided, which are common in some of the most popular "natural" and premium brands as well as familiar mass-market brands like Colgate and Crest. These include synthetic preservatives like sodium benzoate and potassium sorbate, surfactants like sodium laureth sulfate, which may contain a toxic, cancer-causing contaminant and artificial flavors and colors tied to behavioral problems in children.
The report emphasizes that the mouth's oral mucosa "is one of the most absorbent areas of the body" and raises questions about putting in your mouth potentially toxic contaminants that may pass directly into the bloodstream.
The watchdog shared its study with Senators Dianne Feinstein (D-California) and Susan Collins (R-Maine). The Senators have introduced The Personal Care Products Safety Act that would require the Food and Drug Administration (FDA) to evaluate the safety of ingredients in everyday personal care items, like deodorant, shampoo and toothpaste.
Currently all cosmetics and personal care products like toothpaste remain essentially unregulated, something the FDA readily admits:
"Firms and individuals who market cosmetics have a legal responsibility to make sure their products and ingredients … are safe under labeled and customary conditions for use and that they are properly labeled. Under U.S. law, cosmetics products and ingredients do not need FDA approval before they go on the market. The one exception is color additives, … which must be approved for their intended use."
Rigot unpacks the impact of this gaping loophole. "It means," he said "that the FDA does not require impurities, including several potential contaminants such as the carcinogens 1,4-dioxane or ethylene oxide, to be listed as ingredients on the labels of personal care products because these toxic chemicals are produced during manufacturing. Even though technology exists to remove these contaminants (such as vacuum striping) many companies don't use it because regulators do not force them to do so."
The FDA restricts or prohibits just 11 synthetic ingredients in cosmetics. In contrast, the European Union (EU) prohibits more than 1,300 ingredients and restricts an additional 250 ingredients for use in personal care products. As a result, the U.S. lags significantly behind other countries on cosmetics safety, allowing many hazardous chemicals that are banned in Canada, Japan and Europe.
Passage of the Chemical Safety Bill Is a Murky Milestone for Children's Health https://t.co/iuGpiPSCsn @Healthy_Child @ewg

— EcoWatch (@EcoWatch)1466807104.0
In fact, many toothpastes sold in Europe and other countries by American corporations are created with different, safer formulations for international markets than the same products sold in the U.S., to accommodate stricter cosmetics laws.
"If a company truly cared about the health of its customers, it would formulate its products not according to a given country's regulations, but rather to ensure the safest possible product with the highest quality ingredients regardless of where the products are sold," stated Mark Kastel, senior policy analyst at Cornucopia.
Slick packaging and misleading health claims are among a variety of marketing ploys used to induce customers to purchase oral care products that, in reality, may be detrimental to their health. Furthermore, a majority of "natural" brands—a term used by many companies to portray their products as healthier and safer—don't' include any certified organic ingredients in their formulations.
"How 'natural' is a flavor when it is obtained by concentrating ingredients obtained from pesticide-intensive agriculture?" asked Terry Shistar, PhD, member of Beyond Pesticides' board of directors.
Cornucopia found that a majority of well-known "natural" toothpaste brands, such as Tom's of Maine, Jason, Desert Essence and Kiss My Face, contain carrageenan, a non-nutritive thickening and emulsifying agent extracted from seaweed. "Peer-reviewed published research has established that food-grade carrageenan has the potential to cause intestinal inflammation, diabetes and even cancer," said Linley Dixon, PhD, scientist with Cornucopia.
Cornucopia's scorecard rated Dr. Bronner's line of toothpaste at the top of the "five-brush" category (on a scale of 1-5), finding it to be among the best and safest products available in the market. "In addition to Dr. Bronner's, whose formulation is based on certified organic coconut oil, there are a number of other excellent products that depend primarily on organic ingredients and/or natural clay, that would contribute to oral health without posing unnecessary risks," concluded Rigot.
From Your Site Articles
Related Articles Around the Web
waterlust.com / @tulasendlesssummer_sierra .
Each product featured here has been independently selected by the writer. If you make a purchase using the links included, we may earn commission.
The bright patterns and recognizable designs of Waterlust's activewear aren't just for show. In fact, they're meant to promote the conversation around sustainability and give back to the ocean science and conservation community.
Each design is paired with a research lab, nonprofit, or education organization that has high intellectual merit and the potential to move the needle in its respective field. For each product sold, Waterlust donates 10% of profits to these conservation partners.
Eye-Catching Designs Made from Recycled Plastic Bottles
waterlust.com / @abamabam
The company sells a range of eco-friendly items like leggings, rash guards, and board shorts that are made using recycled post-consumer plastic bottles. There are currently 16 causes represented by distinct marine-life patterns, from whale shark research and invasive lionfish removal to sockeye salmon monitoring and abalone restoration.

One such organization is Get Inspired, a nonprofit that specializes in ocean restoration and environmental education. Get Inspired founder, marine biologist Nancy Caruso, says supporting on-the-ground efforts is one thing that sets Waterlust apart, like their apparel line that supports Get Inspired abalone restoration programs.
"All of us [conservation partners] are doing something," Caruso said. "We're not putting up exhibits and talking about it — although that is important — we're in the field."
Waterlust not only helps its conservation partners financially so they can continue their important work. It also helps them get the word out about what they're doing, whether that's through social media spotlights, photo and video projects, or the informative note card that comes with each piece of apparel.
"They're doing their part for sure, pushing the information out across all of their channels, and I think that's what makes them so interesting," Caruso said.
And then there are the clothes, which speak for themselves.
Advocate Apparel to Start Conversations About Conservation
waterlust.com / @oceanraysphotography
Waterlust's concept of "advocate apparel" encourages people to see getting dressed every day as an opportunity to not only express their individuality and style, but also to advance the conversation around marine science. By infusing science into clothing, people can visually represent species and ecosystems in need of advocacy — something that, more often than not, leads to a teaching moment.

"When people wear Waterlust gear, it's just a matter of time before somebody asks them about the bright, funky designs," said Waterlust's CEO, Patrick Rynne. "That moment is incredibly special, because it creates an intimate opportunity for the wearer to share what they've learned with another."
The idea for the company came to Rynne when he was a Ph.D. student in marine science.
"I was surrounded by incredible people that were discovering fascinating things but noticed that often their work wasn't reaching the general public in creative and engaging ways," he said. "That seemed like a missed opportunity with big implications."
Waterlust initially focused on conventional media, like film and photography, to promote ocean science, but the team quickly realized engagement on social media didn't translate to action or even knowledge sharing offscreen.
Rynne also saw the "in one ear, out the other" issue in the classroom — if students didn't repeatedly engage with the topics they learned, they'd quickly forget them.
"We decided that if we truly wanted to achieve our goal of bringing science into people's lives and have it stick, it would need to be through a process that is frequently repeated, fun, and functional," Rynne said. "That's when we thought about clothing."
Support Marine Research and Sustainability in Style
To date, Waterlust has sold tens of thousands of pieces of apparel in over 100 countries, and the interactions its products have sparked have had clear implications for furthering science communication.
For Caruso alone, it's led to opportunities to share her abalone restoration methods with communities far and wide.
"It moves my small little world of what I'm doing here in Orange County, California, across the entire globe," she said. "That's one of the beautiful things about our partnership."
Check out all of the different eco-conscious apparel options available from Waterlust to help promote ocean conservation.
Melissa Smith is an avid writer, scuba diver, backpacker, and all-around outdoor enthusiast. She graduated from the University of Florida with degrees in journalism and sustainable studies. Before joining EcoWatch, Melissa worked as the managing editor of Scuba Diving magazine and the communications manager of The Ocean Agency, a non-profit that's featured in the Emmy award-winning documentary Chasing Coral.
Reposted with permission from Rodale News.
"Brush three times a day!" You probably grew up hearing that conventional oral-hygiene wisdom, but unfortunately, doing so today could pose an unnecessary threat to your health, thanks to certain bad-actor ingredients cropping up in popular toothpaste brands. The kicker? Some of the worst ingredients don't even help keep your teeth cleaner. "Does the risk outweigh the benefits?" asks Linda A. Straub-Bruce, BS Ed, RDH, author of Dental Herbalism. "It's what I always ask my patients to consider."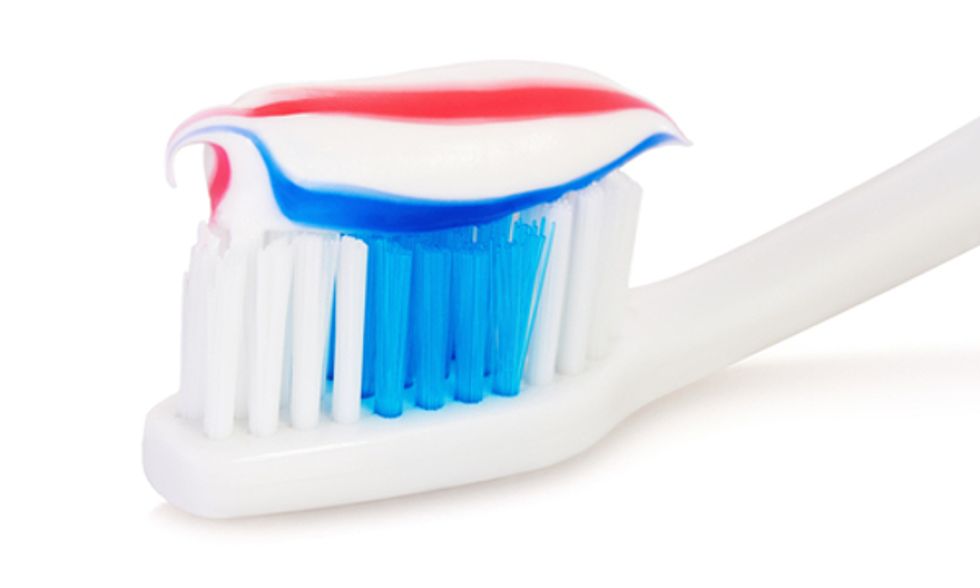 The "benefit" of these dyes is pretty obvious: They color the toothpaste. That's it. Photo courtesy of Shutterstock
She recommends avoiding these six ingredients that just aren't worth the risk:
1. Sodium Laurel Sulfate (SLS)
SLS seems to fuel canker sores. Researchers have linked SLS to higher numbers of canker sore outbreaks. As if that's not enough, SLS also seems to cause more frequent outbreaks that last longer, too, Straub-Bruce says. She also points out that there is a definite correlation with cold sensitivity as well. No one likes canker sores or sensitive teeth, so manufacturers must have a really good reason to justify its inclusion, right?
Nope.
"All it does is foam," explains Straub-Bruce. "There is no other viable purpose other than the experience. This doesn't translate into better health or lower microbial load, but people associate foaming with clean." In fact, she suggests that you get more cleaning power from the scraping action of brushing or flossing (or even just eating a carrot) than you do from SLS.
2. Triclosan 
"About 15 years ago, triclosan came to oral care because it fights the bacteria in plaque for up to 12 hours," says Straub-Bruce. Unfortunately, research is now showing that, much like BPA, triclosan is a hormone disruptor.
"And now that it's been out for a long time and it's been going down the drain, we're starting to see the environmental impacts," says Straub-Bruce. She points out that not only is it a hormone disruptor for people, but it's also a food-chain disruptor because it affects algae.
3. Blue #1 and #2
The "benefit" of these dyes is pretty obvious: They color the toothpaste. That's it. Unfortunately, the fun color is offset by some pretty serious health concerns. "When swallowed it's a respiratory irritant, digestive tract irritant, and there have been correlational studies between blue #1 and behavioral problems in children," says Straub-Bruce.
4. Flavoring
Sure, we love the minty-fresh taste, but what do the toothpaste companies add to make their pastes palatable? "No matter what it says on the front, you have to read the back," says Straub-Bruce. It's important to watch out for flavoring agents like aspartame.  If you're making the jump to natural herbal rinses and need help getting used to the new taste, she recommends looking for natural sweeteners like xylitol or stevia.
5. Hydrated Silica 
This chemical is used for stain removal, but Straub-Bruce explains that it doesn't break down over time. "This means that it can damage your enamel," she says. She recommends using baking soda instead. You'll get sparkling teeth—without destroying them.
6. Alcohol
Straub-Bruce points out that alcohol is a false friend when it comes to mouth rinses: "Alcohol is an antimicrobial, but it's also a drying agent," she says. "So while it freshens your breath initially, it flips back twofold later because the bacteria thrive in a dry mouth."
Instead, Straub-Bruce suggests making a tea of herbs (and letting it cool) as a rinse. To freshen your breath, try brewing a 2:1:1:0.5 ratio of cardamom, cumin, fennel and orange peel in water. After it's cooled, rinse as you would with your regular mouthwash.
Want to control what's going into your toothpaste? Try making it yourself.
You Might Also Like
What to Avoid in Toothpaste, and How to Make Your Own
Fluoride, Deemed Toxic by Harvard Doctor, Under Fire in U.S. Federal Court