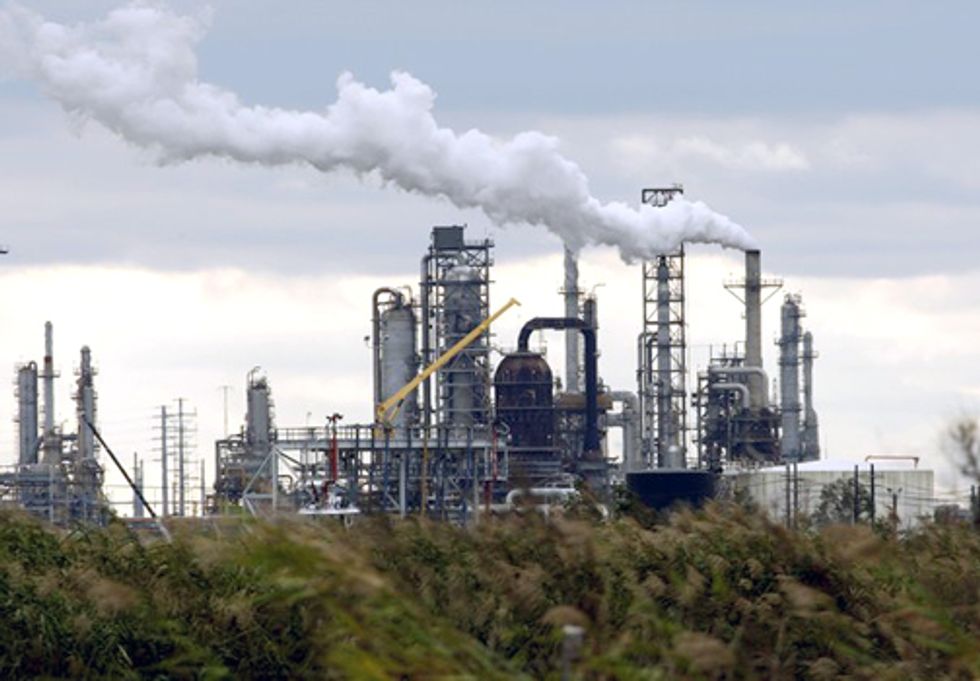 Renewable energy advocate Tom Weis ended his 2,150-mile Keystone XL "Tour of Resistance" at the fence line community of West Port Arthur, Texas, in the shadow of giant oil refineries spewing toxic air emissions. Weis launched the tour 10 weeks ago at the U.S./Canada border and has pedaled the entire U.S. length of the proposed tar sands pipeline in his "rocket trike" in support of landowners and communities in six states fighting Keystone XL. Pipeline opponents joined him in demanding that President Obama reject TransCanada's presidential permit without delay.
Ride endorser Paul Hawken, author of The Ecology of Commerce and Blessed Unrest, joined Weis in characterizing Obama's November announcement to delay a decision on Keystone XL until after the 2012 election as "dangerous." Hawken joined the call for Obama to immediately reject TransCanada's permit, or be challenged on the campaign trail until he does. "If America does not draw the carbon line in the Athabasca tar sands, then the question is: who are we, and why are we here? Of all the environmental follies that have occurred in time, surely this is the greatest."
"President Obama has shown zero leadership on Keystone XL," said Weis, president of Climate Crisis Solutions. Calling for Americans to relentlessly challenge the president on the campaign trail until he rejects TransCanada's presidential permit, Weis said, "Keystone XL is not only un-American, it is a direct threat to our nation. Every day the president fails to deny this pipeline permit, he is failing to protect America and her people. He must be called out on this."
Texas landowner and founder of Stop Tarsands Oil Pipelines, David Daniel, who has been fighting TransCanada for more than three years, called the pipeline project "illegal, unregulated, untested and a gross human rights violation with no public use justification." "My message to every politician, from President Obama on down, is if you plan to put my family's life and water at risk by supporting this pipeline, you need to be the first one to step foot on my property to try to take it," said Daniel.
Nebraska fourth generation rancher, Teri Taylor, who met with Weis during the ride to share how the fight against TransCanada has totally consumed their lives, said, "Keystone XL is not right for America. It puts America in danger." She appealed to President Obama as a mother and a grandmother, "Deny this permit for your daughters and my grandchildren."
Port Arthur resident Hilton Kelley, who received the 2011 Goldman Prize for fighting to protect his fence line community from the dangers of surrounding oil refineries, said, "The people of West Port Arthur have suffered enough. We cannot tolerate the additional toxic emissions Keystone XL would rain down on our community. Poor people also have a right to clean air and water." The U.S. EPA has openly criticized the U.S. State Department for not fully assessing the potential impacts of increased refinery emissions on the community of Port Arthur and its air and groundwater. TransCanada's Keystone XL pipeline could transport up to 830,000 barrels a day of toxic tar sands slurry to be processed in Gulf Coast oil refineries.
"President Obama faces a truly historical moment," said Oglala Lakota matriarch and 2011 Indigenous Woman of the Year award winner Debra White Plume. "The world will soon see if he caves in to the tyranny of big oil, or if he is a sensible human being with a heart on fire for life, for the future generations. I hope he denies the permit right away, as game over for big oil, and the first stroke of painting a beautiful path for our generations to walk on."
Endorsers of the Ride for Renewables: No Tar Soil On American Soil! include Daryl Hannah, Lester Brown, Ed Begley, Jr., Paul Hawken, Patagonia and others. Principal sponsors include AllEarth Renewables, Inc. and EcoWatch.
For more information, click here.
EcoWatch Daily Newsletter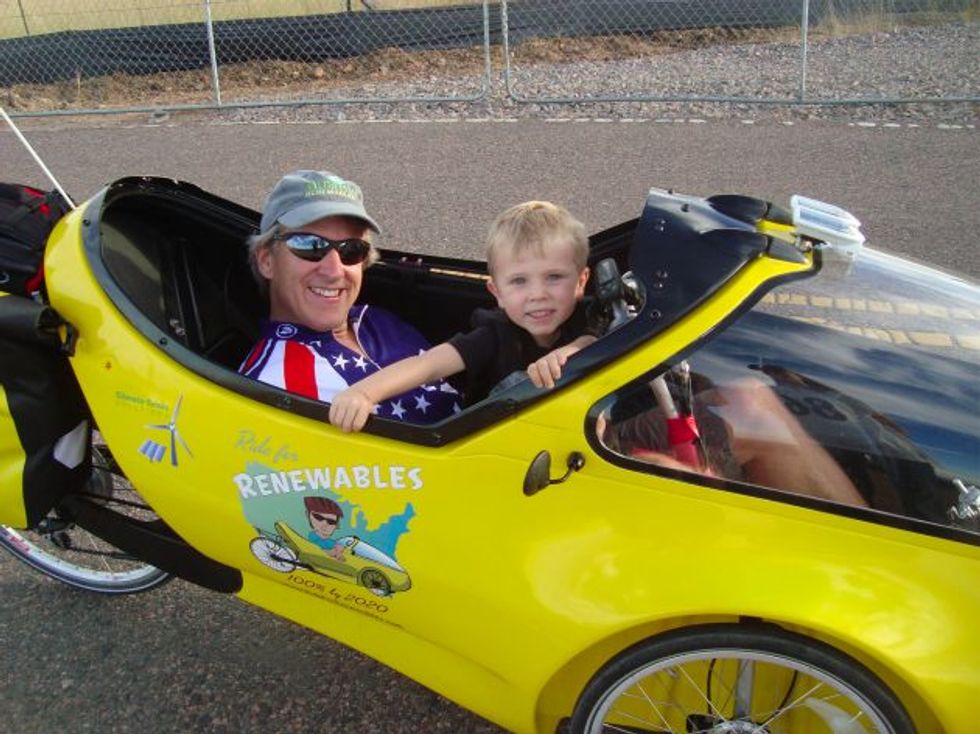 Renewable Rider Tom Weis concludes his 10-week, 2,150-mile, Keystone XL "Tour of Resistance" along the six-state path of the proposed route of TransCanada's Keystone XL pipeline. He has pedaled the entire U.S. route of the proposed pipeline in his "rocket trike" in support of landowners and communities fighting Keystone XL. Pipeline opponents will join him today in demanding that President Obama reject TransCanada's permit without delay. Weis will be joined by Goldman Prize winner Hilton Kelley in denouncing the pipeline.
The tour ends in Port Arthur, Texas, a Gulf Coast refinery town near the Louisana-Texas border, and the proposed end-point of the pipeline, which would start in Alberta, Canada, and travel through Montana, South Dakota, Nebraska, Kansas and Oklahoma to reach oil refineries in Texas before being exported to China, Latin America or Europe.
Keystone XL threatens to contaminate the Ogallala Aquifer—the fresh drinking water supply of nearly two million people and the source of one-third of America's farmland irrigation water—by pumping up to 830,000 barrels a day of tar sands sludge through the pipeline.
I know a lot of people working to educate American's about the issues concerning the Keystone XL pipeline and why building it will only continue our addiction to oil and head us and the climate down a path of no return, but few people are as dedicated as Weis. We all owe him a huge amount of gratitude for his work, which greatly impacts the future of our planet. I can't think of anything more important then the job he is doing.
I encourage you to visit the Ride For Renewables website and YouTube channel to get an amazing overview of this incredible adventure.
And, please join me today in support of Weis's efforts by signing his petition to prevent tar sands oil on American soil.
Here's Weis's post from last night that provides a flavor of the person behind this brave and inspiring journey.
Day 69: Pedaled the final real leg of the journey today, a flat and fairly quick 21 miles from Beaumont to Port Arthur. A few miles outside of Beaumont, a large hawk appeared seemingly out of nowhere and alighted on a utility wire not 20 feet away, wings spread wide and looking right down at me. Reminded me of the hawk in Boulder that suddenly appeared and helped inspire my ride last year. Very auspicious sign. A light rain was falling as I pedaled, which seemed to intensify the sulfur smell of the surrounding oil refineries. Made it to downtown West Port Arthur, with only a mile or two now left to go.
Today was dedicated to a group of West Port Arthur children who Goldman Prize winner Hilton Kelley had lined up to see the trike and learn about the Keystone XL pipeline. We met in a community room at the Prince Hall government housing project—overshadowed by the nation's largest cluster of oil refineries and chemical plants—where people have been suffering in silence for far too long. Where we met was right next door to the Carver Terrace housing project, where Hilton was born in a back bay room. We had about 20 local kids there, a group small enough that each one got to take a short ride in the trike. VERY fun. One of the big "kids" even took the trike for a spin. Look for a wonderful YouTube video of Hilton Kelley showing how it's done.
Afterwards, we went inside and did some Q & A with the children. Not surprisingly, most of the questions were about the rocket trike, but I think some of what Hilton and I said about why we don't want tar sands coming to their community also sunk in. One of the older kids, Jeremiah Williams, said he wanted to talk to me, so I pulled up a chair. With a look of disbelief on his face, he quietly asked me why I did it (that is, rode from Canada to West Port Arthur). He listened with rapt attention as I told him, then handed me a wrist bracelet that read "LAUGH." I'm wearing it now. Balances out well with the jail wrist bracelet I've been wearing since I was arrested outside the White House this summer, along with 1,252 others, protesting against Keystone XL.
Then Hilton and his wife, Marie, generously treated me to a wonderful Cajun-style dinner at one of their favorite restaurants, where we learned that we shared a mutual friend in common, one of my ride sponsors, Graham Hill, from Boulder. So of course we had to give him a call. The older I get, the smaller the world seems to get, and I really like that.
Am writing this around 1 a.m.—one last late night preparing for tomorrow's end of ride media event. I want to thank Bruce Walker and my amazing friend, Paul Alexander, for their herculean efforts to alert the media. Here's one more newspaper story on the ride that ran in Oklahoma: http://tinyurl.com/7my8nlu.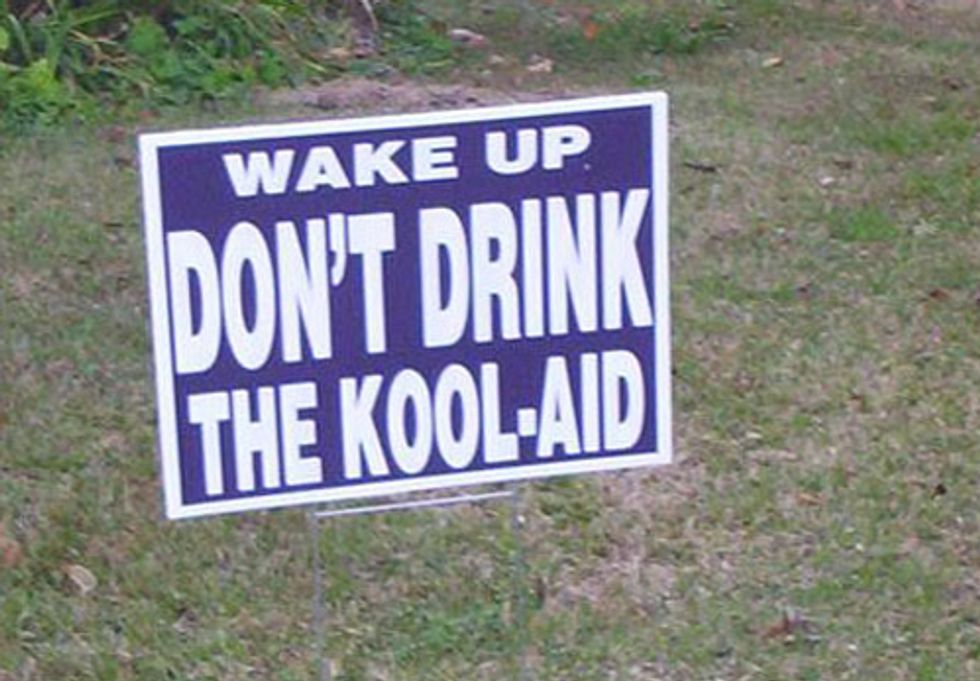 On Nov. 22, Nebraska landowners distributed Kool-Aid to the offices of Gov. Dave Heineman and Nebraska State Senators after legislation was signed to fast-track TransCanada's Keystone XL tar sands pipeline through the state. The legislation, LB 4, requires Nebraska taxpayers to foot the bill on a supplemental environmental impact statement on a pipeline route that may or may not avoid the Sand Hills and that is non-binding on TransCanada.
"Placating the public by moving the route east an insignificant number of miles is disgusting," said Cindy Myers, a lifetime resident of the Sand Hills. "Any route crossing a majority of the Ogallala Aquifer is unacceptable. I foresee a rebellion whichever route is chosen."
Robert Bernt, an organic dairy farmer from Wheeler County, criticized the Nebraska Unicameral for failing to account for the impact of earthquakes on the proposed tar sands oil pipeline. "We've had two earthquakes in Nebraska in just the past two weeks. A catastrophic oil spill would contaminate our water supply. Even the appearance of contaminated food could severely damage Nebraska's economy."
"Keystone XL should not be built at all," said Jim Knopik, a lifelong farmer and Nance County supervisor. "The message this legislation is sending to Washington, D.C. is Nebraskans now support TransCanada's project, when in fact we don't."
The Kool-Aid was delivered to the statehouse by renewable energy advocate Tom Weis, who has pedaled more than 1,000 miles of the proposed pipeline route in his rocket trike to build resistance to Keystone XL. Noting that Kool-Aid was invented in Nebraska, Weis said, "Nebraska's governor and senators drank the TransCanada tar sands Kool-Aid. By supporting TransCanada and Keystone XL, Nebraska's political leaders are failing to protect the Ogallala Aquifer and the agricultural economy it supports," he concluded.
For more information, click here.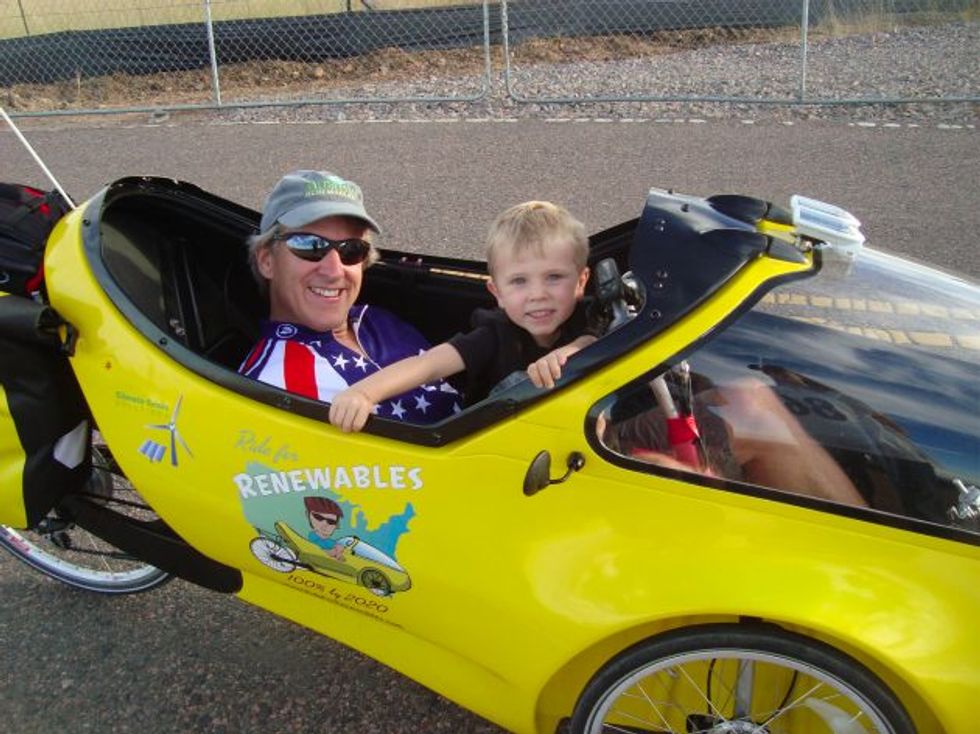 By Tom Weis
Day 27—If you asked me a year ago if I pictured myself sleeping outside in winter-like conditions in a horse pasture behind a gas station in northern Nebraska after pedaling eight straight hours, two and a half of them in the dark cold on a road with almost no shoulder to a town too small to have an inn, I would have told you no. As much as I enjoy riding bikes, I don't really want to be out here. I want to be home, close to my loved ones. Every day proves a challenge, physically, mentally and emotionally. But some things are more important than one's personal comfort. Since President Barack Obama won't do his job (protecting America from international thugs like TransCanada), the American people are going to have to do it for him. That's why I'm out here pedaling the 1,700-mile proposed pipeline route, and why we need reinforcements, and help. As the saying goes, democracy is not a spectator sport.
Fortunately, the gas station I slept behind had a diner inside with great food, so it didn't take long to warm up and feel rejuvinated. Then the one-on-one meetings began. First were ranchers Teri Taylor and John Harter. John and Teri had called others, and soon the dining room was full of opponents of Keystone XL—Todd Cone, Terry Frisch, Byron Steskal, Lynda Buoy (thanks for breakfast) and Myrna Stewart, each with their own compelling personal story to share (look for their interviews to be posted on YouTube soon). Each in their own way shared with me the underhanded ways in which TransCanada has dealt with them and how this pipeline proposal has turned their lives upside down. If Obama goes the wrong way on this, Todd plans to erect a monument to memorialize the individuals in the Obama administration and Nebraska State Senate who contaminated Nebraska's water. Such a Monument of Shame should be erected in every state Keystone XL threatens. Nebraskans are rising up against this travesty.
Later, after taking a group photo with the trike, we heard a loud hissing sound, with all eyes going to the rear tire. Probably a burr from the field had punctured the tube and it was just waiting for an audience before going comically flat. A good laugh was had by all, only problem being now I had to get it fixed and I was already behind schedule. Right about then, the owner of Rock County Tire, Brent Giles, drove by the lot. His friends flagged him down and he cheerfully fixed the tire in almost no time as I finished packing up my gear. Thanks so much, Brent. Then it was back on the road, where I did a roadside interview with Karl Connell, who gave me an earful on TransCanada's shenanigans. A short while later I stopped into The Atkinson Graphic for a quick interview. Just as the reporter was about to take a picture of the trike, three young boys walked up to admire it and shared with me how they were against the pipeline proposal. So the picture included all four of us.
Hopped back on the Cowboy Trail (a bike/pedestrian trail closed to motorized vehicles), for what will probably be my only car-less stretch of the whole ride, soaking up every tranquil moment. Adding to the day's beauty were two hawks who flew with me for short stretches. Ended the 40-mile day shortly after dusk in O'Neill, where I met up with Karl, Susan Loebbe and Ernie Fellows, who were on their way to Lincoln to testify (for the second time in three days) in the Special Session devoted to Keystone XL. Look for their interviews here soon. Am finally getting this all written down at 1:00 a.m., when what I want most is sleep. Some things just have to wait.
How fitting that the man who headed South Africa's Truth Commission has taken such a strong interest in Keystone XL. Check out this powerful editorial by Desmond Tutu, The Devil in the Tar Sands.
For more information, click here.