This website uses cookies to ensure you get the best experience while browsing it. By clicking 'Got It' you're accepting these terms.
Democratic presidential candidate, former Vice President Joe Biden speaks during a campaign town hall meeting at Vista Grande Jan. 28 in Clinton, Iowa. The Iowa caucuses are February 3. Chip Somodevilla / Getty Images
Joe Biden put his hand on the chest of an Iowa voter and told the man to vote for someone else when the voter asked the former vice president about his plans to replace gas pipelines, The Independent reported.
Tom Steyer (L-R), Sen. Elizabeth Warren (D-MA), Sen. Bernie Sanders (I-VT), former South Bend, Indiana Mayor Pete Buttigieg and Sen. Amy Klobuchar (D-MN) listen as former Vice President Joe Biden (3rd L) speaks during the Democratic presidential primary debate at Drake University on Jan. 14 in Des Moines, Iowa. Scott Olson / Getty Images
Six Democratic presidential candidates squared off Tuesday night in Des Moines, Iowa for the seventh primary debate of the season and the last before voting begins with the Iowa caucuses Feb. 3. The climate crisis tied with health care for the No. 1 issue important to Iowa voters when choosing a candidate, according to the latest Des Moines Register/CNN/Mediacom Iowa Poll. So how much attention did it get during the debate?
EcoWatch Daily Newsletter
Tom Steyer speaks during the C40 Cities For Climate: The Future Is Us event in San Francisco, California on Sept. 12, 2018. JOSH EDELSON / AFP / Getty Images
By Jon Queally
Despite repeated assurances he would not do so, billionaire philanthropist and activist Tom Steyer — who has previously pledged his vast fortune to such causes as defeating the Keystone XL pipeline and mounting a national campaign demanding the impeachment of President Donald Trump — officially announced on Tuesday the launch of a 2020 campaign for the Democratic Party presidential nomination.
500 students, faculty, alumni, and community members march though Harvard Yard at the "The Tide Is Turning" rally. 350.org
Kathryn "Kat" Taylor, a member of the Harvard Board of Overseers and wife of billionaire climate activist Tom Steyer, made an unprecedented public call on Harvard University to divest from fossil fuel stocks.
The action comes after the university's $37.1 billion endowment—the world's largest academic fund—reported a lackluster 8.1 percent return that reflected "deep structural problems" that will take years to turn around, its endowment manager said.
The U.S. Senate is beginning the confirmation process today to consider Judge Neil Gorsuch to the U.S. Supreme Court. Gorsuch, nominated by President Trump on Jan. 31, is now a jurist on the 10th U.S. Circuit Court of Appeals in Denver.
Senators will be making their opening statements, with Republicans expected to say that he will be fair-minded on all issues, including those pertaining to the environment by pointing to what they consider an even-handed record. Democrats, though, will be asking targeted questions of the would-be Supreme Court jurist, especially about his thinking on the carbon-cutting Clean Power Plan that now awaits a decision at the appeals court level.
What could happen? "I'm willing … to say, that he's going to come at these things neutral and if he doesn't think an agency's interpretation is credible he's going to say so," Pat Parenteau, a professor at Vermont Law School, told the Associate Press. "Sometimes that's going to cut in favor of the environment and sometimes it's going to cut against the environment and I don't know how much of that concern actually weighs into his decision making."
What cases might environmentalists look at to get a keener insight into Judge Gorsuch's legal mindset? One of the most recent and hotly contested consisted of a Colorado state mandate requiring investor-owned utilities get 30 percent of electricity they sell from renewable sources by 2020—a law that Gorsuch voted to uphold.
According to Heavy:
In 2015, on a three-judge panel, Gorsuch affirmed that Colorado's renewable energy law would remain in place and did not violate the Constitution. The plaintiff had advocated for a free market approach to environmentalism and argued that the law violated the Commerce Clause and unfairly hurt out-of-state businesses, such as coal producers.
Conversely, according to the AP, Gorsuch sided with business interest in a 2010 case in which the U.S. Environmental Protection Agency (EPA) had classified land in New Mexico as Indian territory when a company had wanted to explore there. Gorsuch said that the land in question was not actually on an Indian reservation and thus ruled in favor of the mining company.
By way of background, Neil Gorsuch is the son of Ann Burford Gorsuch, who led the EPA from 1981 to 1983 when President Reagan was in office. Environmentalists had been critical of her back in the day, saying that she had failed to tackle cases important to their cause and that she had tried to loosen existing regulations that had been meant to reduce pollution.
To that end, Democratic senators have expressed concern that Judge Gorsuch naturally favors the interest of big business. Senators worry that this would come at the expense of the environment as well as the most vulnerable Americans.
"The highest court in the land should be reserved only for those who believe that a democracy works for the people—not corporations," Michael Brune, executive director of the Sierra Club, said in a statement. "Unfortunately but not unsurprisingly, Donald Trump's nominee, Neil Gorsuch, does not subscribe to this belief as evidenced by his long record of anti-environment, anti-women and anti-worker decisions."
Progress Now in Colorado believes that the nominee would set back environmental policy. Meantime, NextGen Climate President Tom Steyer said that, when Gorsuch was nominated, the U.S. Senate had owed "no deference" to Trump, who lost the popular vote. "The Supreme Court is one of the last lines of defense at this perilous time for our country," Steyer added.
Environmentalists, for example, point to the Chevron Doctrine, which is encompassed in the case of Chevron U.S.A., Inc v. NRDC. Simply, courts will defer to the federal agencies that have thoroughly analyzed a policy. But green groups, pointing to an earlier immigration case, are fearful that the Supreme Court nominee would give short shrift to the doctrine. That's because it is often associated with EPA regulations.
"It gives them broad authority to regulate certain pollution and it leaves it up to the experts to determine exactly what threshold of pollution is acceptable and what threshold is dangerous," Billy Corriher of the Center for American Progress said, according to the AP. "Judge Gorsuch would want to get rid of that standard and basically allow judges to substitute their own judgment for the judgment of the agency experts."
While some of the high court's current judges have criticized the doctrine—notably Justice Clarence Thomas—it has, in effect, served as a check on judicial activism, Kenneth Reich, an environmental and energy lawyer in Boston, said in an earlier interview. That's particularly relevant with regard to statutes that require a precise expertise—knowledge that the judges cannot possibly have.
The Clean Power Plan is a case-in-point. In 2007, the Supreme Court ruled that carbon dioxide is a pollutant that could be regulated under the Clean Air Act—something that EPA made official in 2009, saying it was a danger to public health and welfare. And in 2014, the high court upheld that so-called endangerment finding. That ruling is the foundation behind President Obama's Clean Power Plan.
But in February 2016, the Supreme Court issued a "stay" to address some concerns of several states before sending the case back to the DC Court of Appeals, where a decision is expected soon. No matter how it rules, it will head back to the high court, which is now evenly split on the Clean Power Plan. The question many are asking is just how would Gorsuch decide and would he respect the Chevron Doctrine?
[EcoWatch will be interviewing many of the speakers today at this event. Click here to watch our Facebook Live videos.]
A landmark climate change conference starts today in Oberlin, Ohio. The conference will bringing together many of the world's leading thinkers, political figures, economists, investors, philanthropists, business leaders, educators and public intellectuals to discuss the changes needed to "spur a successful transition to a sustainable, resilient, prosperous and equitable economy driven by safe, renewable energy." Oberlin College and The Oberlin Project are hosting After Fossil Fuels: The Next Economy from Oct. 6 - 8.
Yesterday at the National Press Club in Washington, DC, clean energy philanthropist Tom Steyer, President of CE Action, unveiled We Love Our Land, a first-of-its-kind digital campaign to engage President Barack Obama's online supporters, including Organizing for America members, in helping the Administration protect the public interest by rejecting the Keystone XL Pipeline.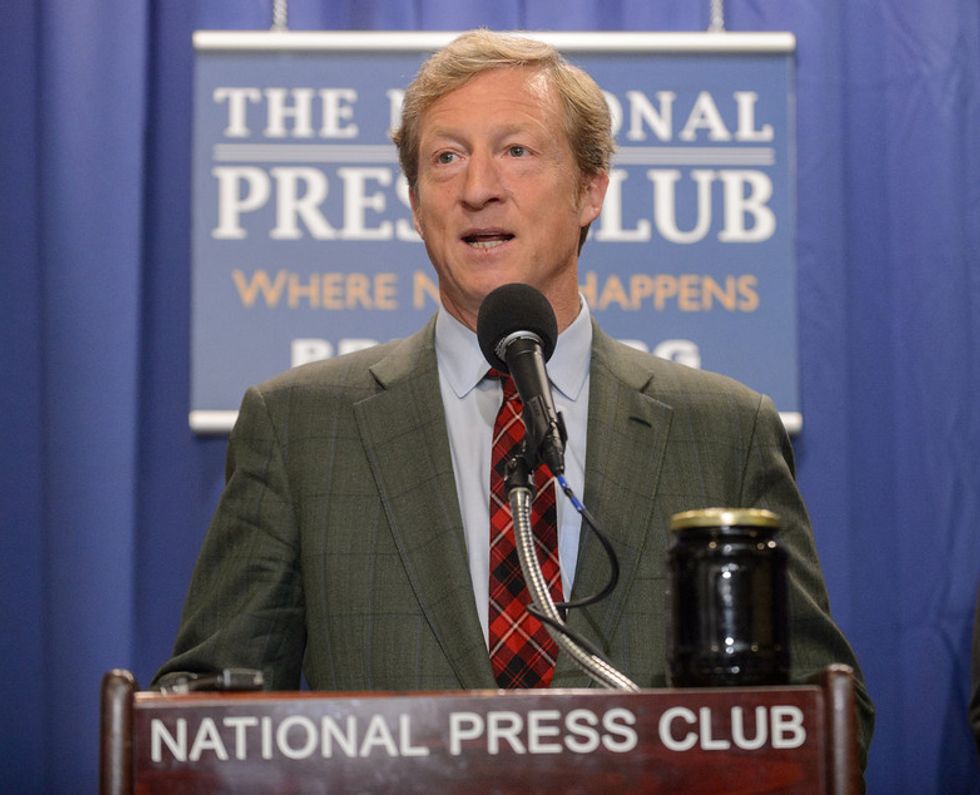 "President Obama is very smart. He understands our energy and climate crisis," said Steyer. "The arguments for Keystone were a house of cards, and that house collapsed weeks ago when local Canadian government officials withdrew their support for a Keystone alternative coming across their lands. We want voters to know the pipeline doesn't stand up against serious scrutiny. We're betting that they can help the President make the right decision and reject Keystone."
The digital campaign, which will run through next Labor Day, will use online petitions, videos and coordinated days of online action led by progressive bloggers who will be joining this effort, to rally the President's core supporters across Facebook and Twitter.
To demonstrate the dangers of the Keystone pipeline to American communities along its proposed route, Steyer commissioned the first-ever chemical analysis of tar sands oil collected from the March 2013 spill in Mayflower, AR. An independent laboratory analysis conducted by Environmental Working Group found seven highly toxic substances: benzene, toluene, ethylbenzene, 1,2,4-trimethylbenzene, xylene, chromium and lead. Rev. Ron Stief of the United Church of Christ poured out a sample of the oil to give attendees an idea of what it might be like to have the thick, sticky noxious-smelling substance spilled in their community.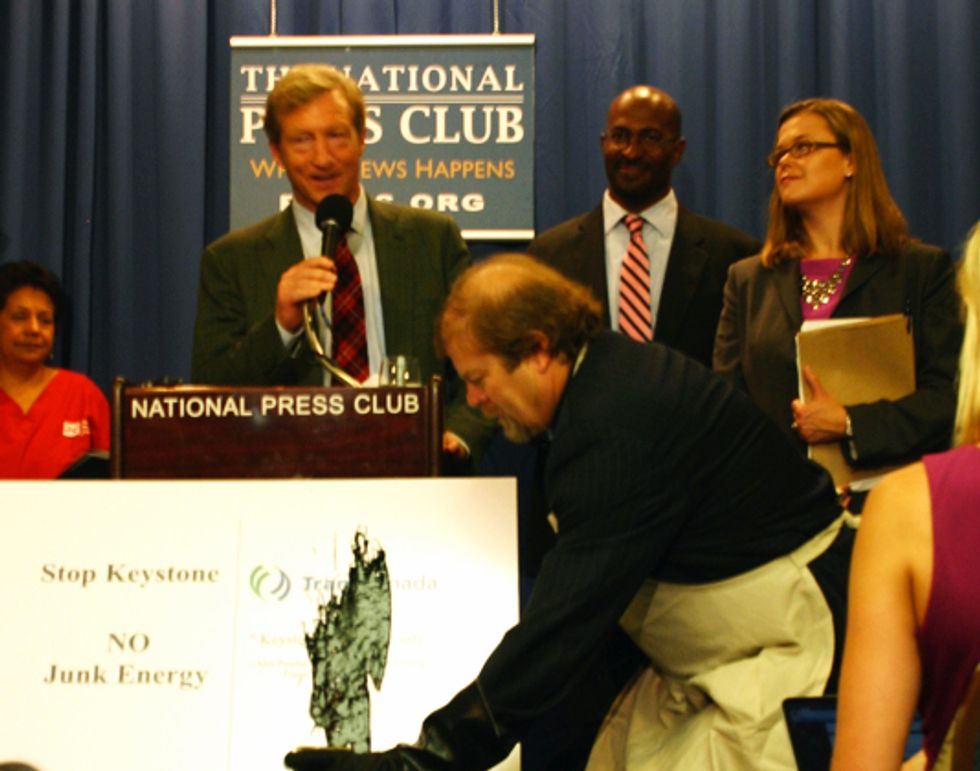 Sierra Club
.
Steyer also premiered a video featuring testimonials from the Mayflower community to highlight the health and environmental damage that spilled tar sands oil has caused to their community.
"We need to let Americans know how much damage pipelines like Keystone can have on our communities, on people's health and our kids' future," said 28-year Mayflower resident Genevieve Long, who originally planned to participate in the event, but had to change plans due to ongoing medical appointments following the March oil spill. "The oil ran right through the middle of Mayflower, past the school and the senior center. It was thick, you could see the chunks of tar sands and it smelled awful. Who's going to want to buy a contaminated property in our town now?"
Steyer was joined by a diverse group of environmental, faith and minority leaders in demonstrating the dangers of the Keystone pipeline and rallying the President's supporters to reject the project: Gene Karpinski, League of Conservation Voters; Susan Casey-Lefkowitz, NRDC Action Fund; Leslie Fields, Sierra Club; Van Jones, Rebuild the Dream; Patrick Carolan, Franciscan Action Network; Rev. Ron Stief, United Church of Christ; Rose Berger, Sojourners Magazine/Sojourners Creation Care Campaign; Former Sen. Timothy E. Wirth; Suzan Shown Harjo, Morning Star Institute; Andrew Nazdin, Power Shift; Rev. Lennox Yearwood, Hip Hop Caucus; Ellen McNulty, National Wildlife Federation; Marianne Comfort, Sisters of Mercy of the Americas; and Conn Nugent, The H. John Heinz III Center.
Visit EcoWatch's KEYSTONE XL and TAR SANDS pages for more related news on this topic.
——-