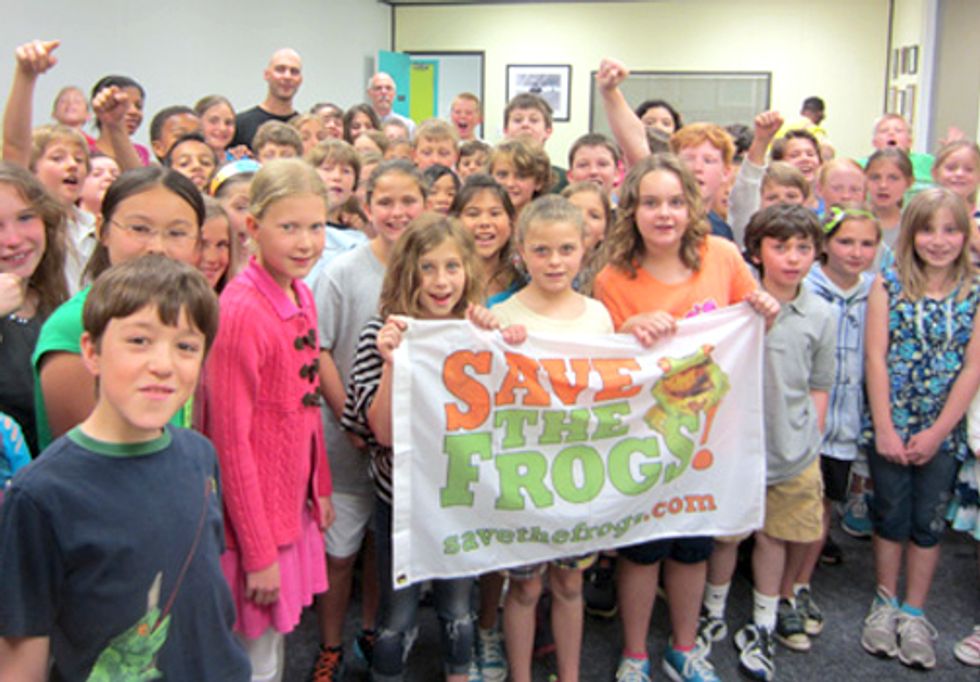 Frog lovers and environmentalists of all ages are gearing up for the 4th Annual Save The Frogs Day, set for Saturday, April 28. The annual celebration of amphibians will be the largest day of amphibian education and conservation action in the planet's history. At least 180 Save The Frogs Day events are happening in 37 countries, including the U.S., Canada, Brazil, Bangladesh, Ghana and Pakistan. The goal is to raise awareness of the rapid disappearance of frog species worldwide. The events are being coordinated by SAVE THE FROGS!, a California-based nonprofit dedicated to amphibian conservation.
Amphibian populations worldwide have been declining at unprecedented rates, and nearly one-third of the world's amphibian species are threatened with extinction. Up to 200 species have completely disappeared in recent years. Amphibians are faced with an onslaught of environmental problems, including climate change, pollution, infectious diseases, habitat loss, invasive species, and over-harvesting for the pet and food trades. "The goal of Save The Frogs Day is to get people worldwide educating their fellow citizens about the plight of amphibians and ways they can help" says Dr. Kerry Kriger, founder & executive director of SAVE THE FROGS!. "Frogs eat mosquitoes, provide us with medical advances, serve as food for birds, fish and monkeys, and their tadpoles filter our drinking water. There are lots of reasons to save them."
Dr. Kriger will be leading a Save The Frogs Day 5K race in downtown Seattle on April 28. Other Save The Frogs Day events include a frog legs protest at the Coney Island, N.Y. location of Nathan's Famous, a nationwide chain restaurant that sells frog legs. Up to a billion frogs are taken out of the wild for use as food by humans each year; protesters hope to raise awareness of the issue and bring an end to frog leg sales at the restaurant. In San Francisco, SAVE THE FROGS! supporters will gather at Sharp Park, a rare coastal wetland that the city pumps out to sea to create dry land for a taxpayer-funded golf course—illegally killing endangered California Red-Legged Frogs in the process.
Outside the U.S. there will be scientific conferences focused on frog conservation in Ghana, Bangladesh and Mexico; frog photo exhibitions in Colombia, Malaysia and Australia; and frog art exhibits in Brazil and India.
Save The Frogs Day 2012 has been officially recognized by Gov. Bev Perdue of North Carolina; Gov. Nikki Haley of South Carolina; Mayor Bob Buckhorn of Tampa, Fla.; Mayor Tom Lowry of Three Rivers, Mich.; and the Michigan House of Representatives.
You can learn more about Save The Frogs Day and events in your area by clicking here.
EcoWatch Daily Newsletter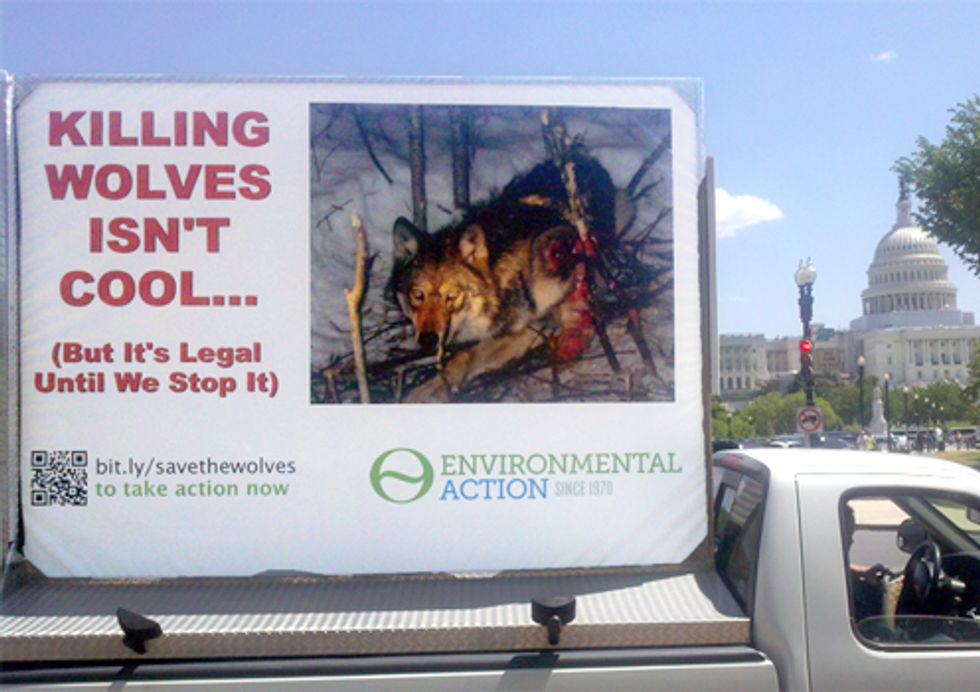 Photos of dead and maimed wolves recently posted online have started a firestorm of controversy over renewed hunting and trapping of the once federally protected animals.
Environmental Action, a national environmental organization founded in 1970 that helped push for passage of the Endangered Species Act decades ago, has been leading an online campaign to build support for protecting wolves again. But this week they took their campaign, including grisly photos of bloodied and trapped wolves, to the streets of Washington, D.C., to provoke a response from politicians and regulators.
"Letting wolves be hunted and killed again was a political decision made by shallow political interests," explained Director Drew Hudson. "We need to confront shallow politics with the real, gut-wrenching photos of what this policy means—that an iconic American species important to our ecosystems and our vision of the west  is being brutally hunted to extinction, again. Anyone who can look at these photos and do nothing is a coward, or worse a politician."
The advertisement was funded by dozens of small donors who chipped in online after signing a petition to the President and Congress asking them to re-list the wolf as an endangered species.
For more information, click here.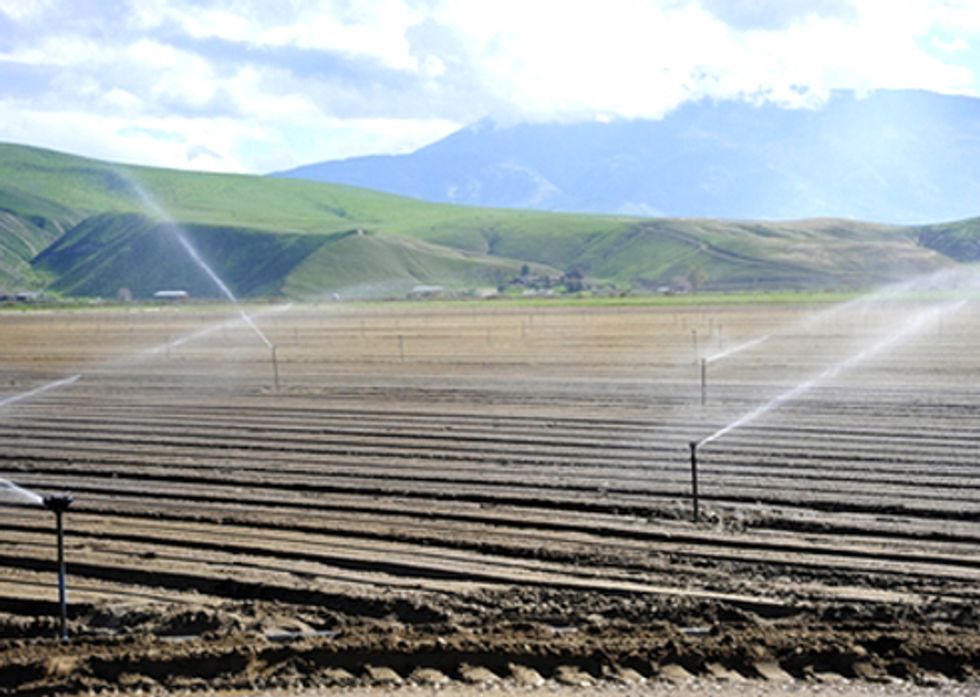 The U.S. House of Representatives will vote this week on an attempted water grab by powerful corporate agribusinesses in California's San Joaquin Valley that threatens to drive salmon runs extinct and reverse decades of laws that protect people, wildlife and water supplies. Among other things, H.R. 1837 would take away 260 billion gallons of water used for saving salmon and other conservation purposes each year and deliver it to water contractors in the Central Valley. It would also eliminate environmental protections for salmon and other endangered species in the San Francisco Bay-Delta and the Sacramento and San Joaquin rivers. The bill goes before the House rules committee on Feb. 28. A vote in the House is expected on Feb. 29.
"This bill is about pure greed and boosting corporate profits for some of the world's wealthiest agribusinesses. In exchange, we'd be sacrificing Central Valley salmon runs and overturning laws that protect water, the environment and ultimately California's people," said Bill Snape, senior counsel at the Center for Biological Diversity. "These water tycoons finally have their dream bill—to get rid of environmental protections and flush the last decade of salmon restoration efforts and water allocation down the drain."
The legislation would nullify existing water rights to guarantee water for politically connected corporations; end restoration of the San Joaquin River and prevent revival of its salmon runs; overturn broadly supported water-use agreements; and threaten California's public water supplies—all to benefit wealthy corporations. It would also likely result in the extinction of economically valuable Central Valley salmon runs.
In a direct threat to state sovereignty, the legislation also proposes to end most of California's authority over the State Water Project and the California Aqueduct, water supply projects funded with bonds approved by California voters and built, managed and regulated by state agencies.
"This bill turns water policies upside down, reversing decades of work by state and federal agencies to restore salmon and other imperiled fish in California," said Snape.
H.R. 1837 is opposed by California's senators, leaders of both state legislative houses, commercial and recreational fishing associations, environmental groups, water districts, local governments and Delta farmers. By preempting and overriding state and federal environmental laws, the bill jeopardizes efforts to restore the Bay-Delta estuary and improve the reliability California's water supplies.
Background
H.R. 1837 would:
Gut the Central Valley Project Improvement Act, requiring 800,000 acre-feet of water per year currently directed to conservation to be delivered instead to Central Valley water contractors (pp. 18 and 20);
Eliminate protections for salmon in the San Francisco Bay-Delta and the Sacramento and San Joaquin rivers while guaranteeing massive water exports from the Delta to politically connected special interests;
Direct any difference in income from selling agricultural water to municipalities to be kept in a "restoration fund" controlled by the contractors, and, for the first time, enable the use of federal funds to construct privately controlled storage facilities;
Invalidate the San Joaquin restoration agreement, a bipartisan, court-approved settlement to restore the San Joaquin that ended 18 years of litigation after the San Joaquin River Restoration Act was approved by Congress in 2009 (p. 25);
Mandate that the Endangered Species Act be considered "fully met" by the project and require new federal permits that can be no more restrictive on water pumping than a 1994 Bay-Delta standard, ignoring 20 years of federal attempts to secure enough water flow to prevent salmon from going extinct (p. 21);
Prohibit the Fish and Wildlife Service from distinguishing between naturally spawned and artificially stocked salmon and steelhead for the purposes of Endangered Species Act compliance (pp. 31-32);
Require the Department of the Interior to approve new water projects and permits within a 45-day window and prohibit the secretary of the Interior from imposing any mitigation for projects harming endangered species, while giving water contracting agencies approval authority (pp. 4-5);
Preempt the state's ability to regulate and control the Central Valley Project and the State Water Project for Endangered Species Act conditions, preempting application of the public trust doctrine for state law as well (p. 22);
Allow privately controlled "joint power authorities," including those involved in water grabs and privatizing public water (such as the Kern Water Bank) to obtain federal funds to build or expand storage projects—a giveaway of taxpayer money to billionaires such as Stewart Resnick and his Kern Water Bank (p. 24);
Rob the Fish and Wildlife Service of restoration funding from money accruing from differences in profit and costs for water transfers between agricultural and municipal users and give it to water contractors (pp. 6, 15 and 31);
Require the Fish and Wildlife Service to provide water contractors with additional 100 percent replacement of "restoration flows" used for fish and wildlife conservation in the San Joaquin river within a year of enactment and prohibit use of any water not from the San Joaquin for that purpose (pp. 28 and 29);
Preempt state authority to regulate water quality in the San Joaquin River beyond the flows and mitigation specified in the new bill (p. 24).
For more information, click here.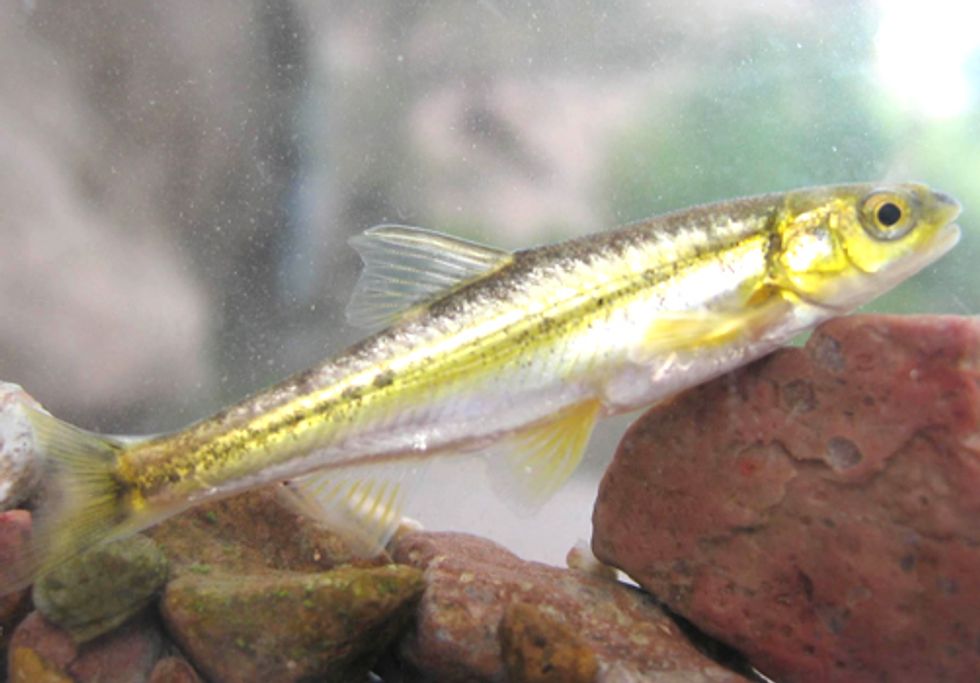 In response to a lawsuit brought by the Center for Biological Diversity, the U.S. Fish and Wildlife Service on Feb. 22 finalized designation of 710 river miles of protected critical habitat for the spikedace and loach minnow—two southwestern fish that have been eliminated from more than 80 percent of their historic ranges in Arizona and New Mexico. The agency also uplisted the two fish from "threatened" to "endangered"—a government acknowledgment that they both need, and will receive, more federal protection. The fish, whose populations are declining, are being driven toward extinction by habitat loss and the spread of invasive species.
"Federal recognition of the precarious status of these two fish species should raise a general alarm—we need to take emergency action to protect Southwest rivers and streams," said Noah Greenwald, endangered species director at the Center. "These two fishes aren't an isolated example; there's an extinction crisis across the board in southwestern rivers. Habitat destruction and invasive species are putting nearly all the native fish, frog and other aquatic species at risk."
The Center petitioned to have the spikedace and loach minnow uplisted to endangered in 1993. At that time, the Fish and Wildlife Service found the species "warranted" a change in status, but deemed the change "precluded" by listing of other species. Following litigation by Catron County and the New Mexico Cattle Growers' Association against previous designations of critical habitat, the Bush administration protected just 522 river miles in 2005. The Center challenged this designation, resulting in the Feb. 22 designation of 710 river miles, including portions of the Verde, Blue, Black, San Francisco and Gila rivers and Eagle, Bonita, Aravaipa and Tonto creeks.
"Saving endangered species means protecting the places they live," said Greenwald. "Critical habitat will let these two small fish survive, yes, but it'll also benefit the people of the Southwest, who will still have the chance to see living rivers."
A number of areas were excluded from the critical habitat despite being essential to the fishes' survival, including portions of the San Pedro, Verde, White and San Francisco rivers and Eagle Creek, based on argued conflicts with national security on Fort Huachuca and management by tribes and the mining company Freeport-McMoRan.
"Even though they're not officially part of the fishes' critical habitat, we're really hoping these rivers will be maintained and recovered—both for spikedace and loach minnows and also for the many other rare species that depend on these waters for survival," said Greenwald.
For more information, click here.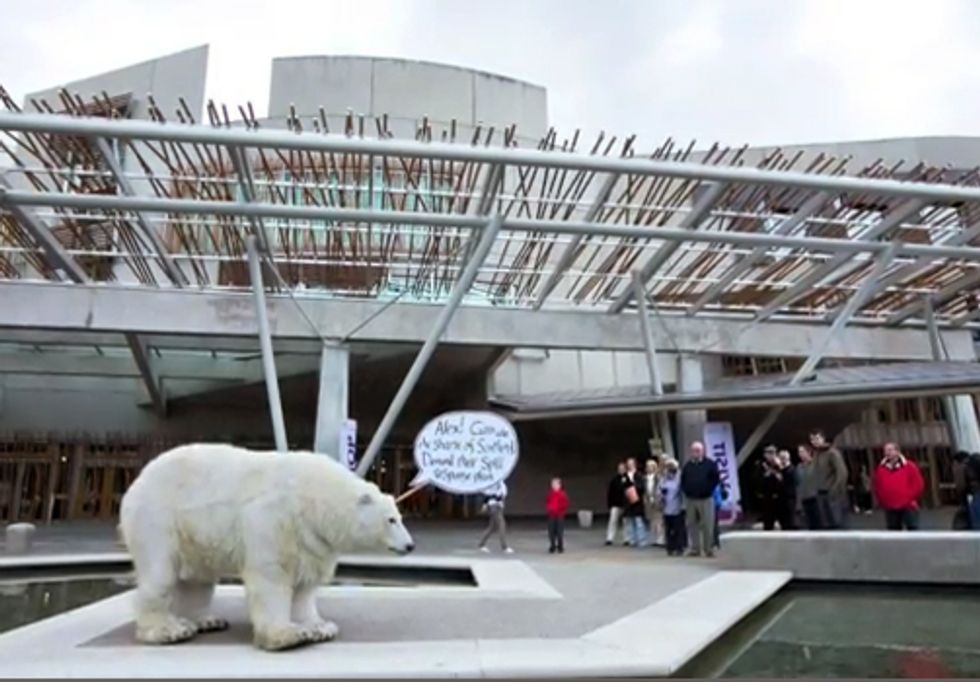 It's official. On Feb. 17, Shell got a step closer to drilling for oil in our planet's last wild ocean—the Arctic.
The company's oil spill response plan for the Chukchi Sea off Alaska was given the all clear by U.S. authorities, even though it's a work of almost complete fantasy.
While Shell prepares to start trashing this stunning wilderness, putting it at risk of catastrophic oil spills and more melting ice caps as a result of climate change, its PR people are getting busy. This evening—Feb. 21—they've invited influential guests to an event at the National Gallery in London, in the hope that those guests will lend the Shell brand a veneer of respectability.
We've decided to tell their guests the truth—this year Shell is planning to drill for oil in the pristine waters of the Arctic, and its plans will change this fragile wilderness forever.
So our climbers have made sure that guests at the National Gallery are met with an unexpected picture when they arrive. A short while ago, they evaded security and are preparing to unfurl a huge banner with the words "It's no oil painting." Our climber Hannah is tweeting from the rooftop using the hashtag #SaveTheArctic. 
Meanwhile, Paula Bear has emerged from her wintry den to mingle with the crowds in Trafalgar Square, where dozens of Greenpeace volunteers are talking to curious passers-by.
Polar bears—like other Arctic species including beluga whales, narwhals and walruses—are already under severe pressure in the Arctic from climate change. In just 30 years, the Arctic has lost 75 percent of its sea ice, and temperatures in the Arctic are rising faster than anywhere else on Earth.
While more and more people recognize the changing face of the Arctic as a stark warning about climate change (earlier today, several scientists gave evidence to this effect to the parliamentary inquiry, Protecting the Arctic), Shell sees the melting ice as a business opportunity—a chance to drill in newly accessible areas to find more of the oil that caused the melt in the first place.
And now Shell plans to create a new threat to the Arctic's stunning—and ecologically fragile—coastlines and oceans: the threat of a catastrophic oil spill, which would be impossible to clean up.
Shell is just first of the so-called 'supermajors'—the big oil companies—to make exploitation of the Arctic a key part of their strategy. But if it strikes oil this summer, other global oil giants may follow.
Shell sees the Arctic as a resource to be exploited for profit. We think it should be protected. What do you think? Join the discussion on our blog and on Twitter: #SaveTheArctic.
For more information, click here.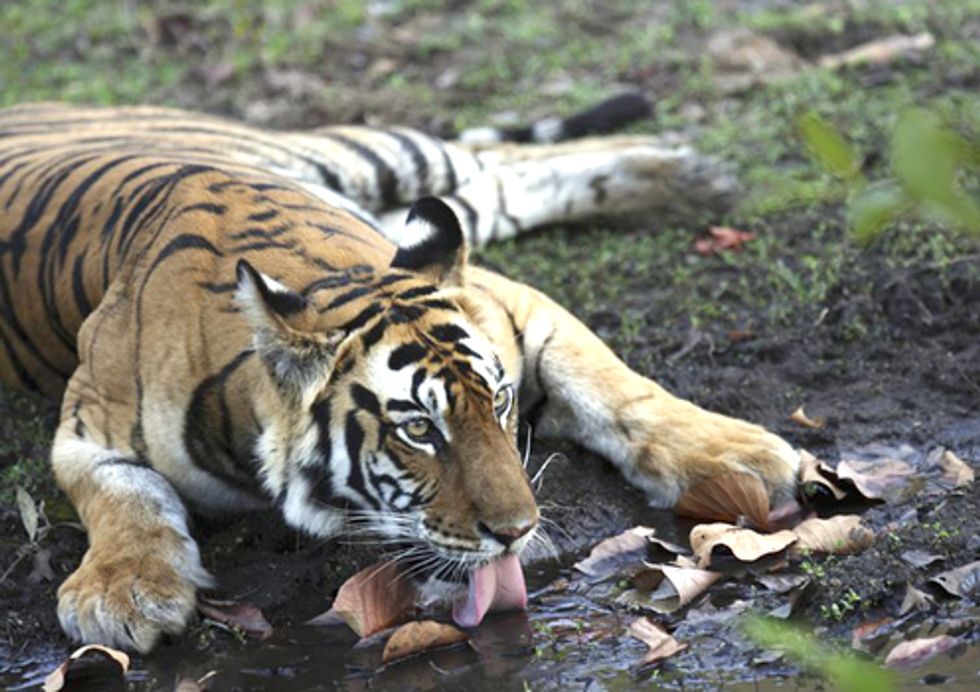 As the infrastructure growth in the "Asian Century" shows no signs of slowing down, Malaysia has taken a first bold step in addressing how this growth will affect tigers and tiger habitats by holding a leadership forum on including priority tiger habitats into land and infrastructure planning. The meeting, entitled Cross-Sectoral Executive Leadership Forum on Mainstreaming Priority Tiger Habitats, is being held in the Malaysian capital Kuala Lumpur on Feb. 20—22. At the forum, the Government of Malaysia is announcing the construction of viaducts that will promote safe passage for tigers and other wildlife along a busy East-West Highway.
"Smart Green Infrastructure is a vital component of any initiative to save tigers and recover their numbers," said Mike Baltzer, head of WWF's Tigers Alive Initiative (TAI). "As we strive towards TX2—doubling the number of wild tigers by 2022—we must immediately engage governments, international institutions and our partners on the ground to ensure that Asia's rapid growth leads to opportunities, as opposed to increasing pressure, for tigers and their habitat." At the forum, the TAI will present Designing a Conservation Landscape for Tigers in a Human Dominated Environment.
Malaysia plans to take its viaduct project one step further by integrating an ambitious forest plan, the Central Forest Spine (CFS) Master Plan, into its national spatial plan. The CFS plan will use smart green infrastructure such as viaducts to create forest linkages, which will lead to a contiguous network of forest through the country's backbone, or spine. Malaysia's implementation of the CFS plan and its National Tiger Conservation Action Plan will lead to further integration with plans at the state and local levels.
In addition to poaching and the illegal tiger trade, habitat loss and degradation represents the most serious threat to tigers. The pressures on the pockets of habitat where tigers are still holding on will only increase as the growth boom in Asia continues push outward, reaching formerly pristine tiger and wildlife habitat. As wildlife and park authorities look to stem the rising tide, they will need new solutions backed by robust government participation.
Northern Peninsular Malaysia's Banjaran Titiwangsa Landscape, which includes the Belum-Temengor Priority Tiger Landscape, is one of the Tigers Alive Initiative's 12 priority landscapes, and where some of the viaducts will be built. The area, which includes Peninsular Malaysia's longest mountain range and largest national park, also harbors the country's largest tiger population. Of the 3,200 wild tigers remaining in 13 countries in Asia and the Russian Far East, Malaysia contains a significant percentage of the population, currently standing at approximately 500.
The forum is hosted by Malaysia's Ministry of Natural Resources and Environment, World Wildlife Fund partners the Global Tiger Initiative and the Smithsonian Conservation Biology Institute, and will also include presentations from the tiger range countries of Indonesia and India
For more information, click here.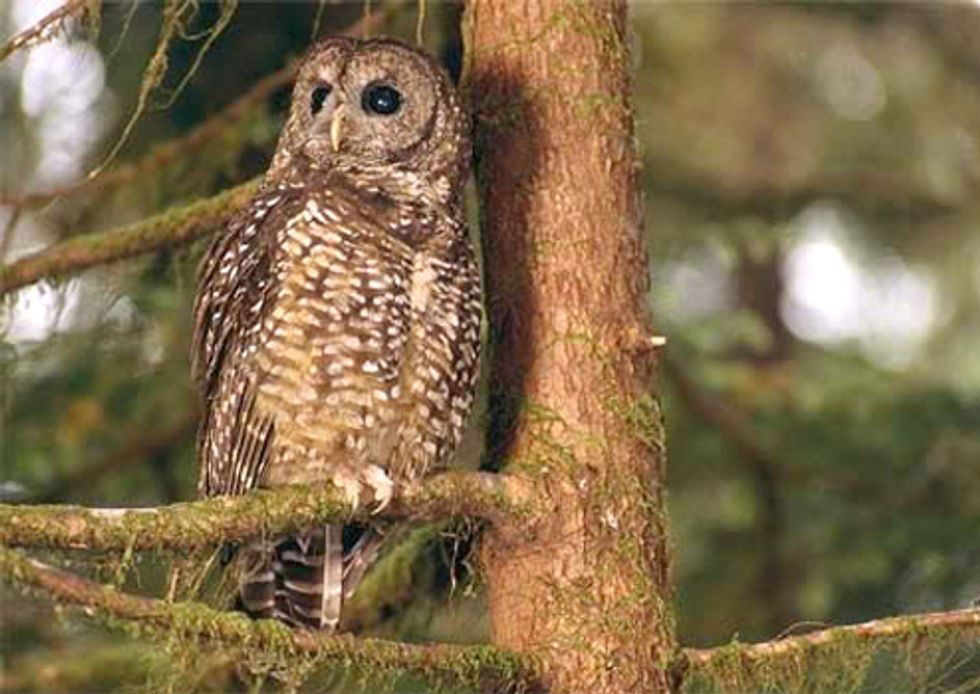 The Wilderness Committee is joining local residents to sound the alarm about cutting permits which could be issued any day for logging near Chilliwack Lake Provincial Park, in a Wildlife Habitat Area (WHA) that is supposed to be set aside for the critically endangered spotted owl.
"I'm horrified that the provincial government is considering allowing logging to proceed in the habitat of a critically endangered species," said Gwen Barlee, policy director with the Wilderness Committee. "We join with concerned local residents in saying that this logging must not proceed—there must be no cutting in this spotted owl habitat."
Nearby residents were surprised to find out that Tamihi Logging applied for a logging permit late last week. Tamihi had previously told people logging wouldn't happen until May 2012. But now the permits, according to staff at the Chilliwack Forest District, are set to be issued this week. The area was set aside as a WHA in 2011 to protect it as spotted owl habitat.
There are now thought to be less than 10 spotted owls in the wild in British Columbia (BC). Both the BC and federal governments have pledged to bring the Canadian population of spotted owls back from the brink of elimination. "This is how you log a species into extinction, not bring it back from the edge. It's incredibly irresponsible to even consider allowing logging of habitat that was specifically set aside for the protection of the spotted owl," said Barlee.
"If this logging goes ahead, it will further fragment spotted owl habitat," said Barlee. "The provincial government has committed to restoring spotted owl populations, and the only way they can honour their own policy is by putting a halt to this logging—now."
Local residents are monitoring the situation, watching for activity in the cutblocks.
For more information, click here.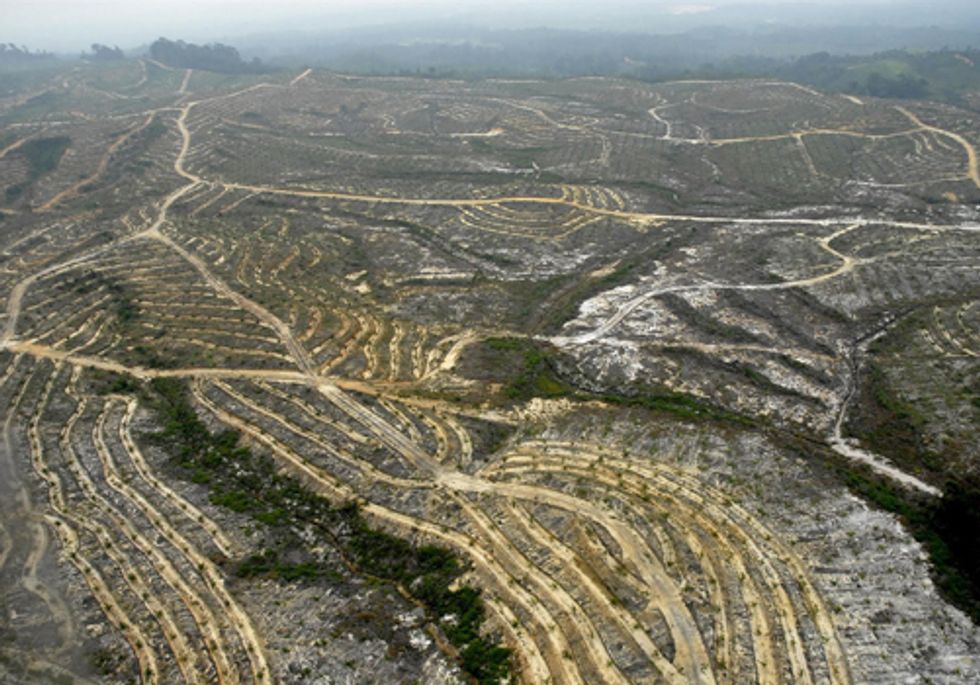 Asia Pulp & Paper (APP) claims of independent sustainability certification for its operations aren't supported by the certification schemes and assessors it has nominated, a World Wildlife Fund (WWF) survey has found.
None of these certifications cover the most controversial operations of the APP's wood suppliers—mass clearing of native forests which are home to critically endangered tigers, elephants and orang-utans and clearing and drainage of peat areas which result in massive greenhouse gas emissions.
The certification schemes cited by APP cover some, but far from all, supplier timber plantations—but none considered whether plantation establishment involved the clearing of high conservation value forest or whether traditional forest owners had given their "free, prior and informed consent" to forest clearance or plantation establishment.
Another blow to APP global greenwash campaign
"None of the certifiers are prepared to back APP's claim that their certifications demonstrate its sustainability. This is another blow to the credibility of APP's massive global greenwash campaign," said WWF International forest programme director Rod Taylor.
On a weekend APP announcement that they would implement measures to ensure U.S. consumers did not have to choose between tigers and toilet paper, Taylor said the company had a long record of broken promises and he would wait for actual evidence of a company halt to natural forest clearing.
"No amount of public relations can change the fact that APP has bulldozed through their own 2004, 2007 and 2009 deadlines to stop feeding Sumatra's natural forests through its pulp mills.
"Recent revelations that APP is developing the world's biggest pulp mill in South Sumatra does not inspire any confidence of the company meeting its 2015 deadline for sustainable sourcing."
Following a recently issued published analysis of the reality behind APP's global greenwash campaign from Sumatra NGO coalition Eyes on the Forest, the company cited several forms of certification and assessment to back its claims of sustainability, stating that—"In fact, APP is regularly assessed and certified by many of the world's leading authorities on sustainable forest management and environmental auditors—including Geneva-based SGS, TUV, AFNOR, the official French auditors for the European ' EcoLabel', PHPL, Indonesian sustainable forest management standard, LEI, Indonesian voluntary sustainable forest management standard, and PEFC Chain-of-Custody, the world's largest forest certification program."
WWF asked the nominated certification schemes and assessors whether they supported the APP claim and also asked for detail of what specific APP products or operations were covered by their certifications. The survey covered the key social and environmental measures of free prior and informed consent by landowners and protection of high conservation value forests for forest operations and forest clearance for plantations.
None of the schemes or assessors endorsed the APP statement, with major certifier SGS noting that "None of the TLTV (legality) evaluations conducted by SGS and the statements issued by SGS provide the company with the right to claim that their operations are 'sustainable forest management' " and "The SGS certificates/statements do not support the claim of 'sustainability."
No certificate or assessment issued evaluated the sustainability of the APP group as a whole. The Indonesian voluntary certification scheme LEI said it "did not have data of all APP operations."
Imported pulp gets certified, Sumatra forests get pulped
Limitations also apply to PEFC Chain-of-Custody certification, often mentioned in APP claims of sustainability. "The PEFC CoC certificates they hold also do not provide any assurance of their own sustainability since these are simply chain of custody and nothing more," said SGS, which conducts the PEFC certifications. "The PEFC certified material they use in their production, thus enabling them to make PEFC certification claims, is all imported from outside Indonesia as by our understanding there are no PEFC certified forests in Indonesia."
Key but neglected dimensions of sustainability were whether conversion to plantation involved the clearing of High Conservation Value (HCV) forest or whether those with traditional forest rights or tenure had given their "free, prior and informed consent" to the conversions. The LEI standard, for example, confirmed that "The decision to establish forest plantation in certain area, either it was converting natural forest with HCV forest or deep peat and how it was conducted in relation to Free, Prior and Informed Consent is beyond LEI's standard coverage."
APP suppliers have a record of clearing areas of HCV forest and of neglecting to recognise or do rigorous HCV assessments. There is also a persistent record of land tenure issues around APP operations.
Sumatra has lost more than half its forests
The WWF survey found that none of the certifications demonstrated the legality of the APP wood supply as a whole. Additionally, SGS noted that some plantations had been established on deep peat (more than three metres deep) but Indonesian law lacked clear definition of the conditions under which this was prohibited.
As well as being legally contentious, clearing and drainage of deep peats is a key factor in elevating Indonesia to the leading ranks of carbon emitters globally and opens coastal areas to the risk of seawater incursions.
Sumatra has lost more than half of its native forests in the last 25 years. The International Union for the Conservation of Nature recently upgraded the Red List of threatened species status of the Sumatra elephant to "critically endangered," citing habitat loss as the main reason. The island's orang-utans and tigers are also under extreme pressure, with recent documented incursions by APP suppliers into reserves for tiger conservation designated by the company itself and featured in its international greenwashing campaign.
"APP's claims of sustainability are not convincing to a host of major companies that have ceased to buy paper products from them," said Taylor. "APP should realise that performance, not promises and propaganda will get the world off its back. A key performance indicator would be for APP pulp mills to immediately halt all use of wood sourced by clearing tropical forests."
For more information, click here.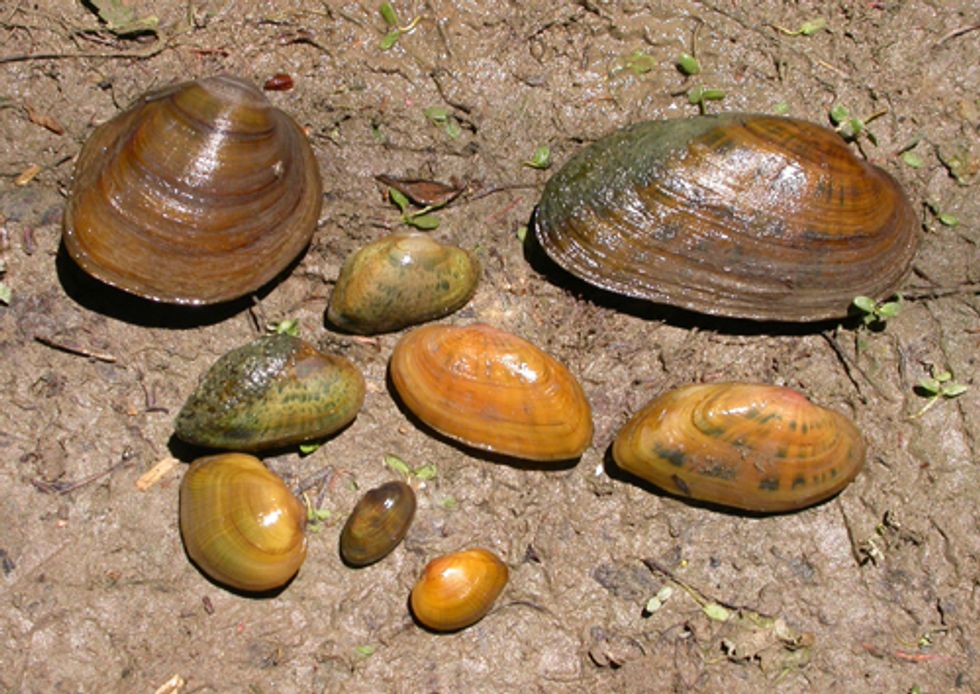 The U.S. Fish and Wildlife Service (FWS) has listed two freshwater mussels—the rayed bean and the snuffbox—as endangered under the federal Endangered Species Act (ESA). The two mussels are found in river systems in the eastern U.S.
The rayed bean is currently found in rivers in Indiana, Michigan, New York, Ohio, Pennsylvania, Tennessee and West Virginia, as well as Ontario, Canada. The snuffbox occurs in Alabama, Arkansas, Illinois, Indiana, Kentucky, Michigan, Minnesota, Missouri, Ohio, Pennsylvania, Tennessee, Virginia, West Virginia, Wisconsin and Ontario, Canada.
In its final rule listing the two species under the ESA, FWS pointed to dramatic declines in their populations. The rayed bean has been eliminated from 73 percent of its historical range, and the snuffbox has disappeared from 62 percent of the streams in which it was historically found. The final rule appears in the Feb. 14, 2012, Federal Register.
Threats to both the rayed bean and the snuffbox include loss and degradation of stream and river habitat due to impoundments, channelization, chemical contaminants, mining and sedimentation. Freshwater mussels require clean water—their decline often signals a decline in the water quality of the streams and rivers they inhabit.
FWS will now work cooperatively with partners to develop recovery plans for the two mussels and coordinate efforts to conserve their habitats.
Under the ESA, "endangered" means a species is in danger of becoming extinct throughout all or a significant portion of its range. It is illegal under the ESA to kill, harm or otherwise "take" a listed species, or to posses, import, export or conduct interstate or international commerce without authorization from FWS. The ESA also requires all federal agencies to ensure actions they authorize, fund or undertake do not jeopardize the existence of listed species.
More information on mussels and endangered wildlife can be found by clicking here.
For more information, click here.
—————
The mission of the U.S. Fish and Wildlife Service is working with others to conserve, protect and enhance fish, wildlife, plants and their habitats for the continuing benefit of the American people. We are both a leader and trusted partner in fish and wildlife conservation, known for our scientific excellence, stewardship of lands and natural resources, dedicated professionals and commitment to public service.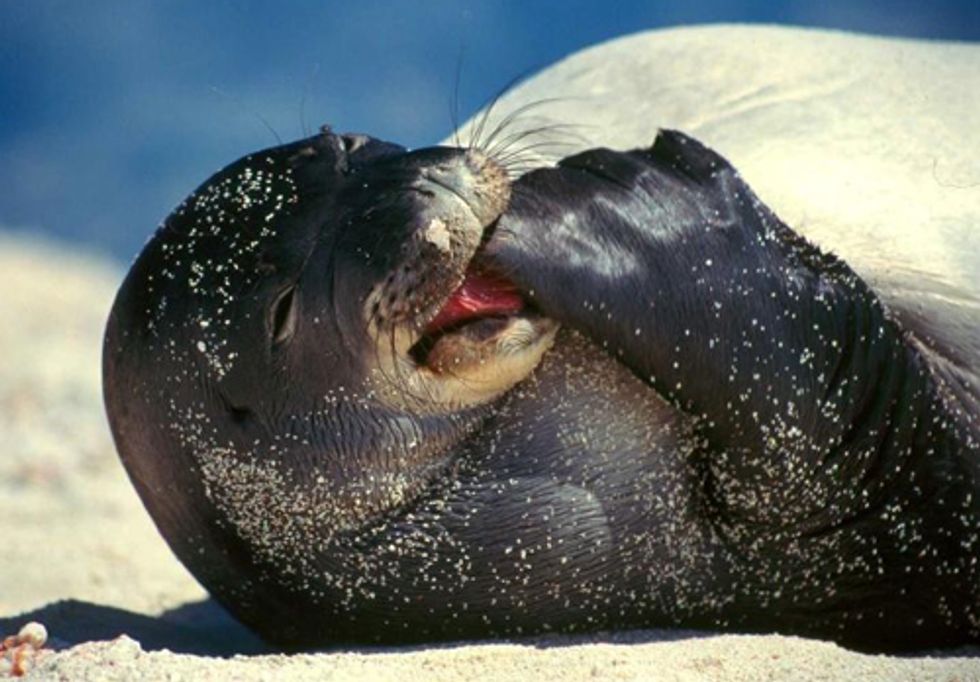 This is an important time for Hawaiian monk seals. Overall, the population is perilously close to extinction, declining from about 1,100 seals. However, as seal numbers decline on Hawaii's northwestern islands, populations on the main islands are growing, and these seals are healthier.
The main islands could be a refuge for the seals, and critical habitat protections can help ensure they have a place to call home—but sadly, Hawaii's officials are hearing vocal opposition to habitat protections and other recovery actions that could save our seals. These concerns are fueled by false statements that monk seals are not native to Hawaii and that the public will lose access to beaches if protections are granted.
To set the record straight—Protecting seals does not close beaches, but it could require limits on coastal development and pollution that would benefit seals and other beachgoers alike.
We have to make a strong show of support for monk seal recovery now. Fill out the form to let Hawaii's officials know you care about monk seals and believe they must not be allowed to go extinct.
For more information, click here.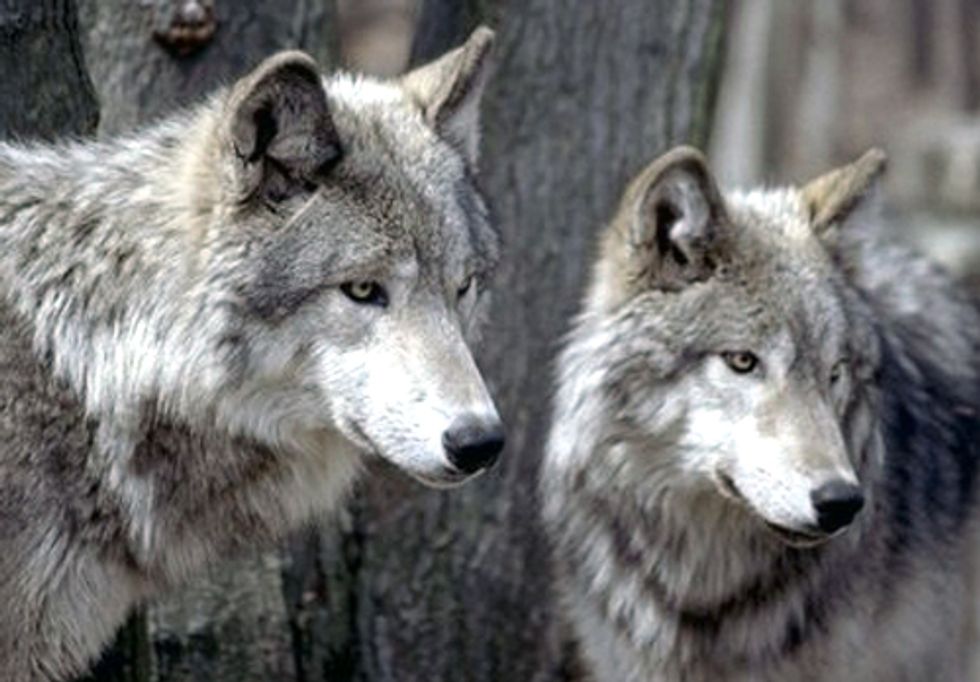 Late last week, internal documents went public showing Canada is fretting over its sullied reputation for unfettered fossil fuel development, while resorting to poisoning wolves rather than fixing the problem. National Wildlife Federation (NWF) released a paper Feb. 6 showing tar sands, oil and gas development in Canada is contributing to the decline in caribou herds. Rather than improve environmental practices to protect and restore caribou habitat, Canadian wildlife officials are poisoning wolves with strychnine-laced bait. The news comes as Alberta and Canadian officials scramble to address environmental monitoring failures that are wreaking havoc up north.
The highly controversial Keystone XL proposal would move this Canadian dirty oil through the heartland of the U.S. to export, making the U.S. complicit in causing excruciating wildlife culling.
Strychnine progresses painfully from muscle spasms to convulsions to suffocation over a period of hours. The NWF paper says the poison will also put at risk animals like raptors, wolverines and cougars that eat the poisoned bait or scavenge on the carcasses of poisoned wildlife.
Here's what Canada's Minister of Environment Peter Kent said in September—"Culling is an accepted if regrettable scientific practice and means of controlling populations and attempting to balance what civilization has developed. I've got to admit, it troubles me that that's what is necessary to protect this species," Kent commented. Simon Dyer of the Pembina Institute estimates that many thousands of wolves could be destroyed over five years.
Instead of resorting to euphemistic descriptions of a repugnant method of killing, Mr. Kent and Canadian officials should work on stopping the habitat destruction in the first place. Destroying and fragmenting caribou habitat to produce one of the dirtiest fuels on the planet means fewer caribou and fewer wolves just to line the pockets of Big Oil.
It's increasingly par for the course in Canada, as the nation continues its slide from "Green to Gray." What's disturbing is that Keystone XL commits the U.S. to a decades long partnerhip in these crimes" against wildlife.
Canada Documents Caribou Decline
Caribou have been inhabitants of the northern hemisphere for 1.6 million years. Some species are declining. Environment Canada classifies the boreal and southern mountain populations of caribou (Rangifer tarandus caribou) in Alberta as threatened.  "The Alberta Caribou Committee notes that three of the province's 18 herds are at immediate risk of disappearing because of loss of habitat. Six are in decline, three are stable, and not enough is known about the remaining six to determine how well they are doing," wrote Canadian author and Arctic specialist Ed Struzik on Oct. 27 in Environment360. "Scientists are confident, however, that they are in decline as well, further fueling efforts to protect caribou by eradicating wolves," he wrote.
Habitat Protection, Restoration Should Be the Focus
Incredibly, the Canadian government actually acknowledges that carving up forests is threatening caribou. "Boreal caribou are primarily threatened by a reduction in the availability and suitability of habitat necessary to carry out the life processes necessary for their survival and reproduction," said Environment Canada's proposed caribou recovery plan. Why then, we have to ask, are they not stopping this destruction? More development means less habitat, fewer caribou and fewer wolves. Both caribou and wolves need a healthy habitat.
If Canada wants to protect caribou herds, they should protect caribou habitat. Scapegoating wolves to produce profits for the oil industry is cruel and wrong.  
We need your help to protect wildlife. Get involved and help us stop this from happening. Visit our tar sands page and learn how to take action.
For more information, click here.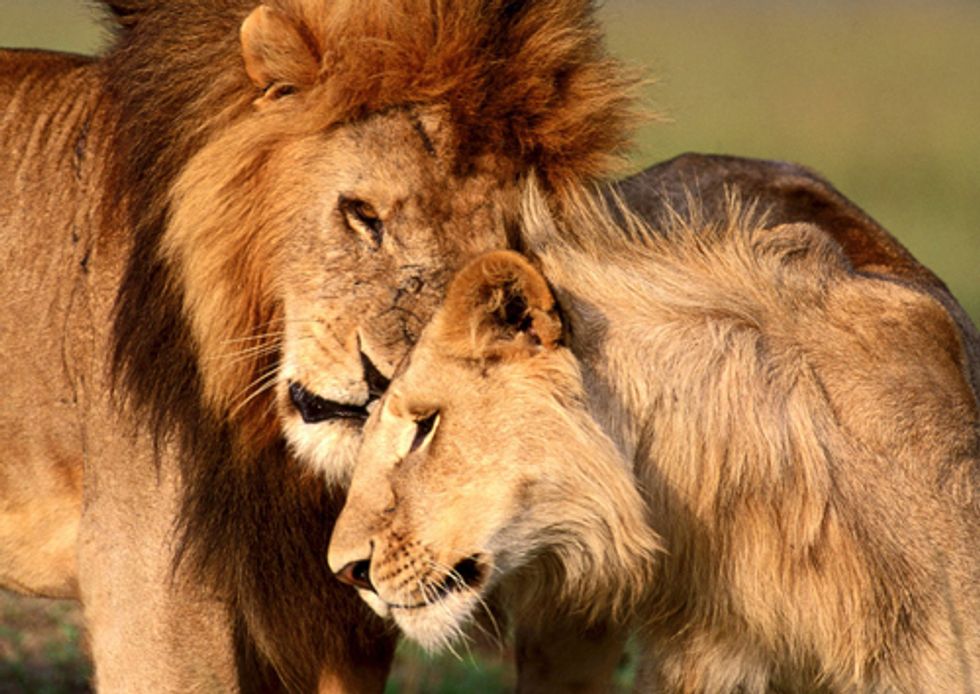 So you think you've had some strange dates? This Valentine's Day, The Nature Conservancy compiled the top 10 most bizarre examples of love in the wild.
"Nature can get pretty wild, especially when love is in the air," said Terry Sullivan, director of The Nature Conservancy in New Mexico.
Unfortunately, many of these creatures are at risk of disappearing forever because of habitat loss, climate change, and other threats.
"Here in New Mexico, the lesser prairie chicken faces an uncertain future because of loss of habitat," said Tish McDaniel, southern short grass project director for New Mexico's Conservancy. "As much as 90 percent of the lesser's habitat has been lost due to fragmentation. We are out of balance."
The lesser prairie chicken is renowned for the extraordinary dance that it performs as part of its mating ritual. To make sure these incredible animals survive in the future, The Nature Conservancy is protecting habitat on the Milnesand Prairie Preserve, the heart of the prairie chicken population. We also collaborate with partners, including landowners, ranchers and farmers, to access funding for habitat restoration projects. Plus, the conservancy, in concert with others, is restoring abandoned oil and gas roads and removing invasive shrubs and non-native trees.
 "Nature is powerful, but for many animals their future depends not only on their mating prowess but on what help we give them," McDaniel added. "If we don't act now to protect the lands these iconic creatures call home, they may not be around for future generations to witness their spectacular mating dances."
In an effort to raise awareness about the importance of protecting prairie chickens, the conservancy partners with the community of Milnesand, the New Mexico Department of Game and Fish Department and Grasslands Charitable Foundation for the 11th Annual High Plains Prairie Chicken Festival on April 20-22. 
In addition to the incredible displays of our own lesser prairie chicken, here are 10 other bizarre mating practices from around the planet:
1) Deep sea angler fish—"Losing yourself in love"
Male anglerfish bite their mates and permanently fuse to their bodies. Over time, the male's brain, eyes and organs dissolve until he turns into a small lump, releasing sperm whenever the female is ready to lay eggs. Scientists first thought the lumps were fins before discovering they were the males. 
2) Prairie Chickens—"Strut Your Stuff"
Male prairie chickens attract females with loud "booming" noises that can be heard miles away. They also perform an elaborate dance—lowering their heads, erecting their neck feathers, inflating orange air sacks, dropping their wings and pointing their tails, all while frantically stamping their feet. 
3) American Burying Beetle—"Family Oriented"
American burying beetles not only are monogamous but also raise their children together. Expectant parents bury dead birds or mice and lay eggs nearby. The parents lie on their backs and use their legs like a conveyor belt to move carcasses up to 200 times their own weight. Once hatched, larvae feed on the carcass or the parents rub their wings together to call the larvae and regurgitate meat into their mouths. 
4) Freshwater mussels—"The bait and switch"
Male mussels release sperm into the water, which females capture downstream. Larvae hatch inside the females' shells but must then attach to a fish to grow. To lure fish, mother mussels wave appendages that look like worms, crayfish or other bait. Some emit a smell of rotting flesh to attract scavenger fish. When fish approach, the mussels shoot the larvae onto the fish. 
5) Prairie Vole—"Born to be Faithful"
Unlike most rodents, prairie voles are monogamous. Scientists have discovered that prairie vole faithfulness is caused by hormone receptors located in their brain's reward centers, giving them the sense of pleasure from monogamy. 
6) Bower birds—"Bachelor Pads"
Male bowers of Australia and New Guinea build large and elaborate bachelor pads on forest floors, decorated with flowers, leaves, shells and even stolen coins—anything they think will attract a mate. Some paint the walls with chewed berries, others build lawns of moss. Drab males build the flashiest pads to compensate for their dull colors. 
7) Lions—"One Track Mind"
When lions mate, the coupling usually lasts only about 20 seconds. But the pair will repeat the act every 20 minutes or so—sometimes up to 40 times a day. This will continue for three to seven days straight, with the male and female neglecting to hunt or eat during the entire time.
8) Tree crickets—"Smooth talker"
Male crickets bite holes in leafs to amplifier their love songs and attract females. Once they mate, however, male sperm packets don't fit inside the females' bodies so a portion hangs out. The ever-ravenous females try to eat the packet before fertilization can occur. To distract her, the male sings and secretes a tasty goo from his back, feeding her until the eggs are fertilized. 
9) Day Octopus—"Keep Your Distance"
Female day octopi are known to eat their partners after mating, so the males keep their distance. When a male finds a female, he extends one arm and waves. If she responds, he uses his arm to place a sperm packet under the female's body covering. The octopi stay at an arm's length—appearing as though they are holding hands. 
10) Little Brown Bats—"Waiting for the Right Time"
Because these bats mate in the autumn—but hibernate during winter—females store sperm for seven months to delay pregnancy until springtime. While bats normally hang upside down, females stand upright to give birth and catch their babies in a membrane between their legs. Newborns cling to their mothers even during nighttime flights as they search for food.
For more information, click here.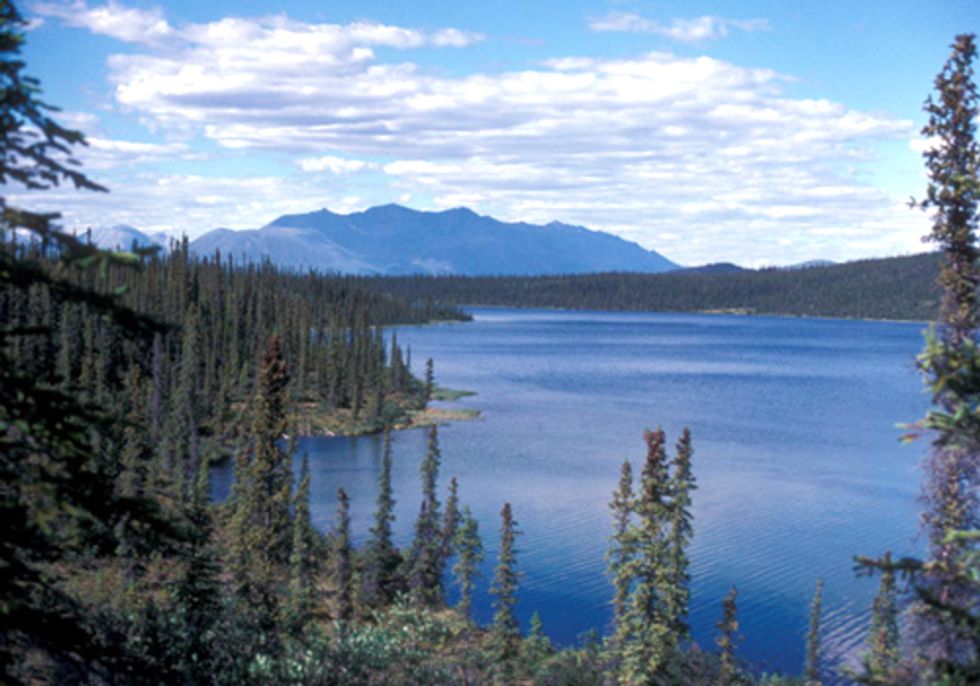 Republican leaders of the House Natural Resources Committee did the bidding of Big Oil once again on Feb. 1 and voted to open up the pristine Arctic National Wildlife Refuge, the Atlantic and Pacific oceans, the protected eastern Gulf of Mexico and Alaska's Bristol Bay to oil drilling all under the pretext of funding this year's transportation bill.
Conservative politicians have always wanted to open the Arctic refuge to drilling for the Big Oil companies. The transportation bill and the professed need for revenue is just the latest excuse to push something they have wanted for a long time.
The funding issue is a scam. Even the most generous revenue estimates from this reckless expansion of drilling will not be enough to fund proposed transportation projects in the bill. In addition, what small amounts of revenue might be generated would not be seen for ten years as oil companies will still need to explore, apply for drilling permits and start development. That's too late to pay for transportation projects starting next year.
This giveaway to Big Oil will expose millions of acres of America's pristine land and water to dirty and dangerous oil and gas development from which they may never recover.
Jamie Rappaport Clark, president and CEO of Defenders of Wildlife, said:
"Just in time for Valentine's Day, House leaders in Congress have come out with a sweetheart deal for their Big Oil allies. Opening the Arctic refuge to drilling has been a long-standing priority of the backwards-looking, drill first crowd and the transportation bill is just the latest excuse to do so. The proposed revenue from this deal won't even materialize for years, making this one of the most disingenuous refuge-drilling schemes we've ever seen, to say nothing of the environmental destruction it would cause.
"Instead of sacrificing some of America's most pristine wilderness and waters for the profit of Big Oil, Congress should focus on coming up with real solutions to fund the transportation projects that will decrease our addiction to oil and keep our country moving."
Take Action.  Ask your representative to oppose this bill and protect the Arctic National Wildlife Refuge and the wildlife that call it home.
Read more about how Defenders is working to protect America's Arctic from the dangers of dirty oil and gas drilling.
For more information, click here.