A Plastic Planet / Twitter
The world's first plastic-free supermarket aisle debuted in Amsterdam on Wednesday.
Shoppers at the Jan Pieter Heijestraat branch of Dutch supermarket chain Ekoplaza will have roughly 700 plastic-free products to choose from, including meat, rice, sauces, dairy, chocolate, cereals, yogurt, snacks, fresh fruit and vegetables. Instead of plastic, items are packed in compostable materials or glass, metal and cardboard.
"Plastic-free aisles are an important stepping stone to a brighter future for food and drink," Ekoplaza chief executive, Erik Does, said in a statement. "We know that our customers are sick to death of products laden in layer after layer of thick plastic packaging."
Ekoplaza, which has 74 stores across the Netherlands, plans to roll out similar aisles across all branches by the end of the year. A second store is expected to be in The Hague by June.
Sian Sutherland, co-founder of A Plastic Planet, the environmental organization behind the initiative, hopes other food retailers will follow.
"There is absolutely no logic in wrapping something as fleeting as food in something as indestructible as plastic," she said in a statement. "Europe's biggest supermarkets must follow Ekoplaza's lead and introduce a plastic-free aisle at the earliest opportunity to help turn off the plastic tap."
Humanity's enormous plastic footprint can be found on all corners of the planet, the deepest parts of our oceans and in the stomachs and cavities of seabirds, turtles and even tiny plankton.
A recent study published in the journal Science Advances found that more than 8.3 billion tonnes (or 9.1 tons) of plastic has been generated, distributed and discarded since the 1950s. Of that total, 6.3 billion tonnes can be classified as waste but only 9 percent of that total is recycled and 12 percent gets incinerated. The rest, about 79 percent of plastic trash, simply accumulates in landfills or pollutes the natural environment.
"Most plastics don't biodegrade in any meaningful sense, so the plastic waste humans have generated could be with us for hundreds or even thousands of years," study co-author Jenna Jambeck, an associate professor of engineering at the University of Georgia, said. "Our estimates underscore the need to think critically about the materials we use and our waste management practices."
"We cannot continue with business as usual unless we want a planet that is literally covered in plastic," added lead author Roland Geyer, a UC Santa Barbara industrial ecologist.
Thankfully, a growing number of retailers and governments are taking action to curb plastic pollution. Earlier this month, Taiwan's Environmental Protection Agency proposed an ambitious 12-year timeline to eliminate four types of single-use plastics—takeaway beverage cups, drinking straws, shopping bags and disposable tableware—by 2030. Chile prohibits the sale of single-use plastic bags in 102 coastal villages and towns. Kenya introduced a serious law that slaps a fine or even a jail sentence on anyone who manufactures, sells or even carries a plastic bag. Scotland has also announced plans to ban the manufacture and sale of plastic-stemmed cotton buds as well as plastic straws.
Two Major Food Companies Announce War on Packaging Waste https://t.co/E9fnRdGRXr @savingoceans @PlasticPollutes @SaveOurShores

— EcoWatch (@EcoWatch)1516141208.0
Related Articles Around the Web
EcoWatch Daily Newsletter
Windmills have powered the Netherlands for hundreds of years and now the age-old technology will help power its future.
The country has officially opened its new 600-megawatt offshore wind park under schedule and under budget, according to its developer Gemini.
The wind farm will deliver 600 megawatts of renewable electricity to the Dutch grid and eventually generate enough power to meet the electricity needs of around 1.5 million people, or around 785,000 households.
The $3 billion project consists of 150 Siemens wind turbines spread across 26 square miles in the North Sea, about 53 miles off the country's northern coast.
Gemini is the second largest offshore wind farm in the world, slightly smaller than the 630-megawatt London Array.
"Now fully operational, Gemini will produce 2.6 TWh of sustainable energy every year, reducing the Netherlands' CO2 emissions by 1.25 million tonnes," the company's managing director Matthias Haag said. "We are proud to make this contribution to the realization of the Netherlands' sustainability targets."

Fossil fuels still make up about 95 percent of The Netherlands' energy supply, but the Dutch government is looking to ramp up the nation's share of renewable energy from 4 percent in 2014 to 16 percent in 2023, with the eventual aim of being carbon neutral by 2050.
The AFP reported that over the next 15 years, the wind park will be able to generate about 13 percent of the country's total renewable energy supply, and about 25 percent of its wind power.
Gemini "is seen as a stepping stone" in The Netherlands, and has "shown that a very large project can be built on time, and in a very safe environment," Haag said.
waterlust.com / @tulasendlesssummer_sierra .
Each product featured here has been independently selected by the writer. If you make a purchase using the links included, we may earn commission.
The bright patterns and recognizable designs of Waterlust's activewear aren't just for show. In fact, they're meant to promote the conversation around sustainability and give back to the ocean science and conservation community.
Each design is paired with a research lab, nonprofit, or education organization that has high intellectual merit and the potential to move the needle in its respective field. For each product sold, Waterlust donates 10% of profits to these conservation partners.
Eye-Catching Designs Made from Recycled Plastic Bottles
waterlust.com / @abamabam
The company sells a range of eco-friendly items like leggings, rash guards, and board shorts that are made using recycled post-consumer plastic bottles. There are currently 16 causes represented by distinct marine-life patterns, from whale shark research and invasive lionfish removal to sockeye salmon monitoring and abalone restoration.

One such organization is Get Inspired, a nonprofit that specializes in ocean restoration and environmental education. Get Inspired founder, marine biologist Nancy Caruso, says supporting on-the-ground efforts is one thing that sets Waterlust apart, like their apparel line that supports Get Inspired abalone restoration programs.
"All of us [conservation partners] are doing something," Caruso said. "We're not putting up exhibits and talking about it — although that is important — we're in the field."
Waterlust not only helps its conservation partners financially so they can continue their important work. It also helps them get the word out about what they're doing, whether that's through social media spotlights, photo and video projects, or the informative note card that comes with each piece of apparel.
"They're doing their part for sure, pushing the information out across all of their channels, and I think that's what makes them so interesting," Caruso said.
And then there are the clothes, which speak for themselves.
Advocate Apparel to Start Conversations About Conservation
waterlust.com / @oceanraysphotography
Waterlust's concept of "advocate apparel" encourages people to see getting dressed every day as an opportunity to not only express their individuality and style, but also to advance the conversation around marine science. By infusing science into clothing, people can visually represent species and ecosystems in need of advocacy — something that, more often than not, leads to a teaching moment.

"When people wear Waterlust gear, it's just a matter of time before somebody asks them about the bright, funky designs," said Waterlust's CEO, Patrick Rynne. "That moment is incredibly special, because it creates an intimate opportunity for the wearer to share what they've learned with another."
The idea for the company came to Rynne when he was a Ph.D. student in marine science.
"I was surrounded by incredible people that were discovering fascinating things but noticed that often their work wasn't reaching the general public in creative and engaging ways," he said. "That seemed like a missed opportunity with big implications."
Waterlust initially focused on conventional media, like film and photography, to promote ocean science, but the team quickly realized engagement on social media didn't translate to action or even knowledge sharing offscreen.
Rynne also saw the "in one ear, out the other" issue in the classroom — if students didn't repeatedly engage with the topics they learned, they'd quickly forget them.
"We decided that if we truly wanted to achieve our goal of bringing science into people's lives and have it stick, it would need to be through a process that is frequently repeated, fun, and functional," Rynne said. "That's when we thought about clothing."
Support Marine Research and Sustainability in Style
To date, Waterlust has sold tens of thousands of pieces of apparel in over 100 countries, and the interactions its products have sparked have had clear implications for furthering science communication.
For Caruso alone, it's led to opportunities to share her abalone restoration methods with communities far and wide.
"It moves my small little world of what I'm doing here in Orange County, California, across the entire globe," she said. "That's one of the beautiful things about our partnership."
Check out all of the different eco-conscious apparel options available from Waterlust to help promote ocean conservation.
Melissa Smith is an avid writer, scuba diver, backpacker, and all-around outdoor enthusiast. She graduated from the University of Florida with degrees in journalism and sustainable studies. Before joining EcoWatch, Melissa worked as the managing editor of Scuba Diving magazine and the communications manager of The Ocean Agency, a non-profit that's featured in the Emmy award-winning documentary Chasing Coral.
By Nicole D'Alessandro
Worldwide, a trillion single-use plastic bags are used each year, nearly 2 million each minute. Usage varies widely among countries, from more than 400 a year for many East Europeans, to just four a year for people in Denmark and Finland. Plastic bags, made of depletable natural gas or petroleum resources, are often used only for a matter of minutes. Yet they last in the environment for hundreds of years, shredding into ever-smaller pieces but never fully breaking down.

Over the last century, plastic has taken over the planet. On the one hand, plastic seems a miracle material, with beneficial uses ranging from medical devices to making vehicles lighter and more fuel-efficient. On the other hand, it is a curse, allowing for the seemingly cheap mass production of disposable materials that fill up landfills, cloud the oceans, choke wildlife and sully vistas. Filled with additives that lack a safety record, plastics have been linked with a slew of health concerns, including certain types of cancer and infertility. While plastics can be used and recycled wisely, the majority of those produced are neither. Perhaps no other item symbolizes the problems of our throwaway culture more than the single-use plastic bag.
Given the multitude of problems associated with plastic bags, many communities around the world have attempted to free themselves from their addictions by implementing bag bans or fees. The oldest existing bag tax is in Denmark. Passed in 1993, this regulation affected plastic bag makers who paid a tax based on the bag's weight. Stores were allowed to pass the cost on to consumers either in bag charges or absorbed into the prices of other items. The initial effect of this system was an impressive 60 percent drop in plastic bag use.
One of the most well-known bag measures is Ireland's national bag tax, adopted in 2002. It was the first to charge consumers directly, starting at a rate of 15 euro cents (20ȼ) per bag. Within five months of the measure's introduction, bag usage fell by more than 90 percent. Litter was greatly reduced as well. Over the years, bag use started to creep up, however, so in 2007 the charge was increased to 22 euro cents, and in 2011 the law was amended with the aim of keeping annual bag use at or below 21 bags per person. Frank Convery of University College Dublin calls Ireland's plastic bag levy "the most popular tax in Europe" and believes that it would be politically damaging to remove it.
Indeed, many communities looking at plastic bag reduction measures hope to emulate the Irish success. Other European countries where consumers pay for plastic shopping bags—either through law or voluntary initiatives—include Belgium, Bulgaria, France, Germany, Latvia and the Netherlands. Throughout the European Union, member states will soon be required to take measures to reduce plastic bag use 80 percent by 2019.
Reducing the amount of plastics in the marine environment has been a major driver of bag regulations in Europe and elsewhere. In a memo on its bag reduction proposal, the European Commission notes that "in the North Sea, the stomachs of 94 percent of all birds contain plastic. Plastic bags have been found in stomachs of several endangered marine species, such as green turtles, loggerhead turtles, leatherback turtles, black footed albatrosses and harbour porpoises." In sum, "at least 267 different species are known to have suffered from entanglement or ingestion of marine litter." The desire to protect the whales that migrate off the coast of Tasmania led to Australia's first local plastic bag ban in 2003. Now half of Australian states and territories ban plastic bags.
Beyond the seas, the reasons for taking action against plastic bags vary from malaria outbreaks associated with bags collecting water in Kenya to sewers clogged with plastic bags exacerbating flooding in Bangladesh, Cameroon, and the Philippines. Cattle choking on plastic bags gave impetus for bag regulations in Texas ranch country and in Indian communities concerned about the sacred cow. In the capital of Mauritania, an estimated 70 percent of cattle and sheep deaths are from plastic bag ingestion; in the United Arab Emirates, the concern is for camels. View additional details on anti-plastic bag initiatives around the world.
The world's strictest anti-plastic bag implementation strategy may be in Rwanda. Since a ban went into effect in 2008, airline passengers arriving from outside the country have recounted being forced to surrender plastic bags on arrival. It is unclear, however, how successful the ban is at reducing overall bag use, particularly in less urban areas, because of an active black market for plastic bags. In South Africa, where plastic bags caught in bushes and trees had become so common that they were called the national flower, a ban on the very thin non-biodegradable bags that tear readily and easily blow away went into effect in 2003. Thicker bags are taxed. Botswana's plastic bag fee, which began in 2007, is credited with cutting bag use in half at major retailers. All told, at least 16 African countries have announced bans on certain types of plastic bags, to varying levels of effectiveness.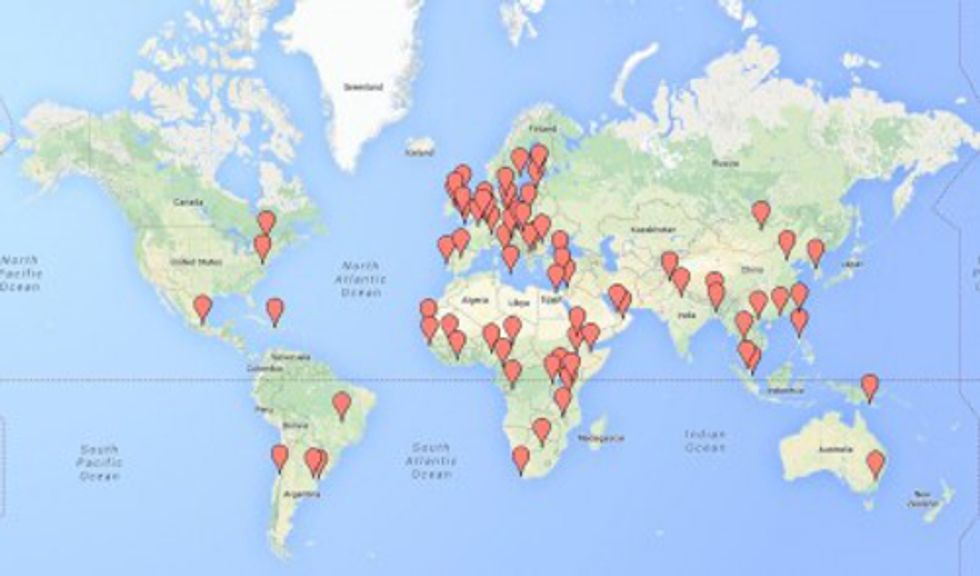 In China, where plastic bag pollution was widespread, a few cities and provinces tried to introduce policies to limit bag use in the 1990s, but poor enforcement led to limited success. Before Beijing hosted the 2008 Olympic Games, a national law went into effect banning extra thin bags and requiring stores to charge a fee for thicker bags. The Chinese government reported that bag use has dropped by more than two-thirds, although compliance appears to be spotty. A number of cities in Southeast Asia, the source of many of the world's plastic bag exports, have come up with legislation to reduce bag use.
In the U.S., 133 city- or county-wide anti-plastic bag regulations have been passed. Bag bans cover one of every three Californians and virtually all Hawaiians. Chicago's city council voted for a bag ban in April. Dallas and Washington, D.C., are among the handful of jurisdictions that charge 5-10ȼ for each plastic or paper bag; in both cities, charges were instituted to reduce the number of bags in local rivers. In Canada, much of the anti-bag action is voluntary, with a number of retailers participating. The provinces of Ontario and Quebec have each halved their plastic bag use through a variety of measures, including store incentives for using reusable bags and retailer-imposed fees. Liquor stores in Manitoba, Quebec and Nova Scotia have tossed out the plastic bag for good.


Latin America also hosts a number of initiatives to reduce plastic bag litter and waste, including bans in the Chilean cities of Pucón and Punta Arenas and in the states of Buenos Aires and Mendoza in Argentina, to name a few. Carryout bags in a couple of Brazilian states are required to be biodegradable. São Paulo state banned free single-use plastic bags starting in January 2012, allowing heavy reusable or biodegradable bags to be sold for 10ȼ, but the measure was removed by an industry-supported court injunction, despite the backing of the supermarket trade association. Similarly, Mexico City banned plastic shopping bags in 2009, but, under pressure from plastics manufacturers, the measure was replaced before enforcement began with a recycling initiative—a common tactic used by industry groups around the world against stricter bans or fees. 


Plastic bags clearly have a cost to society, one that is not yet fully paid. Reducing disposable bag use is one small part of the move from a throwaway economy to one based on the prudent use of resources, where materials are reused rather than designed for rapid obsolescence.