For the past 15 years, Ontario Power Generation—one of the largest producers of electricity in North America—has been working to obtain approval from the Canadian government to build an underground repository near the Great Lakes to store its nuclear waste.
As the approval process for the Deep Geologic Repository (DGR) nears an end, some concerned citizens have started a petition asking lawmakers in Canada, as well as the U.S., to block the approval of the proposed nuclear waste repository near the Bruce Nuclear Power Plant site in Kincardine, Ontario.
Almost 61,000 people have signed the petition so far, including Dr. David Suzuki, a famous Canadian environmentalist.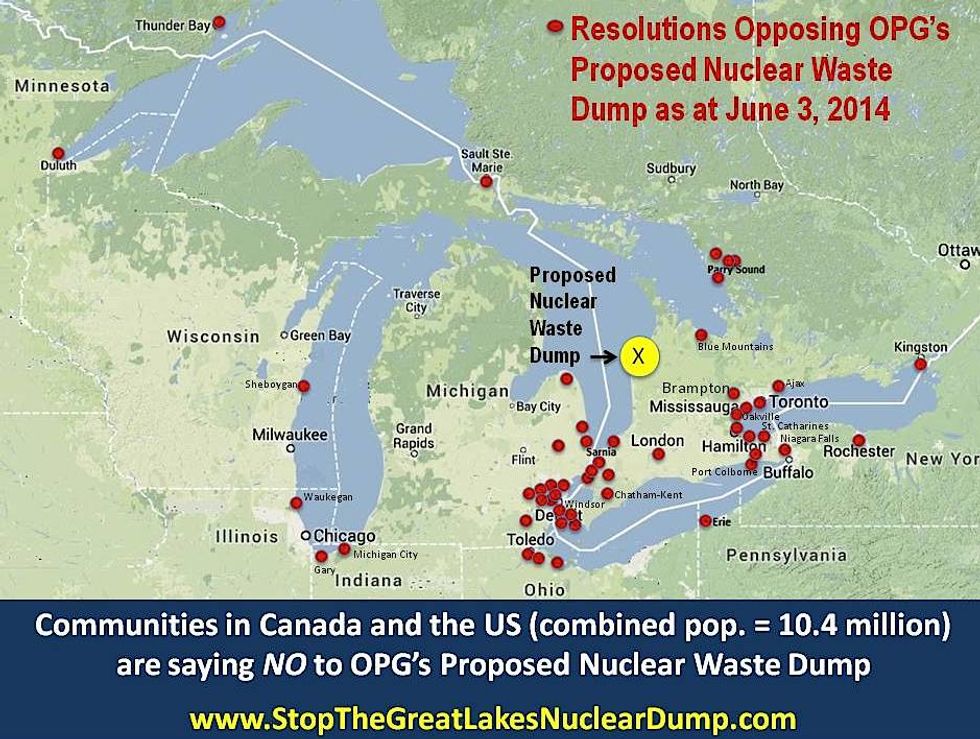 Much of the concern is focused on the proposed repository's location—just about a half mile from the shores of Lake Huron. Groups such as Stop The Great Lakes Nuclear Dump argue that if radioactive nuclear waste leaked into the water, the 40 million Canadians and Americans who depend on the Great Lakes for their drinking water, would find themselves without access to a source of clean freshwater.
Though some are troubled by the idea of underground nuclear waste repositories, Emily Hammond, a law professor at The George Washington University Law School and scholar at the Center for Progressive Reform, says the scientific community has come to the consensus that it's actually the best way to dispose of radioactive material.
Hammond recognizes the concerns regarding the proposed facility—and of nuclear power or waste, in general—but, she said, "Nuclear waste repositories are some of the safest places you could put anything on Earth," as the facilities are "over designed."
She also says that any company building a repository should be transparent and allow scientists and concerned citizens to conduct studies and voice concerns.
Meanwhile, although many activists opposed to the site have expressed their concerns in recent years, numerous scientific studies conducted on the proposed site of the DGR by scientists around the globe have all come to the same conclusion: the site is a safe location for nuclear waste disposal.
Safe Space?
Arguments that the site is safe stem from its location in a seismically stable region. Scientists say the rock formations have hardly moved during the last 450 million years and don't appear to indicate any future movement.
However, not all scientists agree that a glance at a rock formation can clearly determine how safe it may be to store nuclear waste in the area. For instance, William Fyfe, a retired University of Western Ontario professor who worked as an international consultant on nuclear waste before he passed away last fall, voiced his concerns about the project due to the site's close proximity to water.
"It is universally acknowledged that nuclear waste must be kept away from water circulating through the environment of living things," the late Fyfe said, "since water is seen as the main vehicle for eventual dissolution and dissemination of radiotoxic pollutants."
Michigan Congressman Dan Kildee has also expressed concerns about the location of the proposed DGR, especially due to recent issues at facilities that were supposed to be spill-proof—such as the Waste Isolation Pilot Plant (WIPP) in New Mexico.
"These nuclear waste storage sites, although often said to be impenetrable, are not perfect, as this radiation leak shows," Kildee said in February, after a broken drum at the WIPP facility reportedly caused a leak. "I continue to have great concerns with locating a similar nuclear waste site less than a mile from Lake Huron in Ontario."
"Storing nuclear waste so dangerously close to the Great Lakes is just too much of a risk to take," Kildee continued. "Michigan and our shared water basin with Canada would be forever changed if a nuclear radiation leak were to happen. Such contamination would also have a drastic effect on the livelihood and well-being of both Michiganders and Canadians."
Concerns regarding contaminated water have prompted more than 50 cities and towns in Ontario and in the U.S. states bordering the Great Lakes to pass resolutions opposing the DGR.
Beverly Fernandez, spokesperson for Stop The Great Lakes Nuclear Dump, an opposition group formed last year, says the project "defies common sense."
"Would you bury poison beside your well?" she asked rhetorically.
Need for a Nuclear Repository
Plans for the underground repository first began in 2001, when officials from the small town of Kincardine in Ontario, Canada, approached officials at OPG in search of a more permanent storage solution for the nuclear waste materials the Ontario-government owned company has been kept in above-ground containers for the past 40 years or so.
Ontario relies heavily on nuclear power, which is viewed as a clean power source because it doesn't produce smog or contribute to climate change. About 50 percent of Ontario's electricity is currently generated by nuclear power plants, making the province the largest nuclear power jurisdiction in North America.
"We have had nuclear power since the late 1960s," said Neal Kelly, director of media, issues and information management for OPG.
The major benefit to nuclear power, Kelly says, is that it generates large amounts of relatively cheap electricity around the clock, which is used to power homes, businesses, hospitals and more.
But the creation of nuclear energy also creates a need to dispose of the resulting nuclear waste. There are three types of nuclear waste streams produced by nuclear power plants: low-, medium- and high-level wastes. High-level wastes—essentially the fuel bundles in the reactors—would not be put into the DGR, as Kelly says those only disposed at the very nuclear power plants where they were produced and used.
The other two types of radioactive waste materials would be buried in the proposed DGR site, though. The vast majority would be low-level waste —items that are slightly contaminated by nuclear waste, such as gloves, coveralls and mops. For the past 40 years, these low-level materials were moved to Kincardine, where they were incinerated.
Kelly says that OPG will continue to incinerate these items and bury the ash in the depository. Although the resulting ash is radioactive, the material being burned contains such a small amount of radiation that Kelly says the employees who handle it wear minimal protective gear—just coveralls and gloves.
Medium-level waste that would be buried in the DGR includes items like filters and resins that cannot be incinerated because they were located closer to the reactor core. Just like the low-level radioactive items, the medium-level items have been disposed of safely in the area for 40 years, Kelly says.
Scientific Analysis
As both sides argue why the DGR should or should not be built on the shores of Lake Huron, a three-person environmental panel of experts in the fields of geology, science and mining, has been appointed by the Canadian Ministry of the Environment to thoroughly research the geologic structure of the land and hear comments and concerns from members of the public.
Before OPG applied for approval to build the facility near Lake Huron, Kelly says, the company researched the types of facilities used to store nuclear waste around the world and shared the best practices with officials from Kincardine and surrounding municipalities.
The creation of a nuclear waste storage facility in deep rock was the option the municipalities liked best, Kelly says, so OPG moved forward with the project.
Geologists were also called in to analyze the proposed site, which is where a lot of the waste is currently stored above ground. They spent about four years assessing the underground geological formations, studying the current environmental conditions and forecasting what might happen in the future.
Based on an examination of a piece of rock removed from more than three miles underground, geologists and scientists reported that the rock structure was around 450 million years old and hasn't shifted much over the long course of its existence. Because of this, the site was deemed an appropriate and safe place to build the repository.
"We were very lucky with the geology of the site," Kelly said.
OPG had the initial findings peer-reviewed by other scientists, he continued, and has since shared more than 12,000 pages of studies proving the safety of the rock formation to the environmental review panel and the public.
The U.S. Environmental Protection Agency and the Department of Environmental Quality in Michigan have also reviewed the findings. Both bodies concluded that storing the nuclear waste in the rock about 2,230 feet below the surface would not harm the environment.
Despite a plethora of scientists coming to the same conclusion, Allison Macfarlane, chairman of the U.S. Nuclear Regulatory Commission, has argued that geology has not yet advanced to the point in which predictions on future movement can be made based on a study of a rock formation.
Even with the use of computer software that can make predictions, Macfarlane has said that geologists are not able to account for processes or features they may be unaware of. For example, after studying a rock formation, government and industry scientists reported the chance of off-site migration occurring at a nuclear waste facility in Kentucky was "essentially nonexistent." But the plutonium, which scientists believed would travel a half of an inch on-site over a 24,000 year period, actually moved two miles off-site in less than 10 years.
Dr. Frank Greening, a retired OPG chemist, worked in the nuclear industry for more than 30 years. He also expressed concerns about the site in a report, in which he claims OPG has "severely underestimated" the radioactivity of the materials that will be put into the repository, "sometimes by factors of more than 100."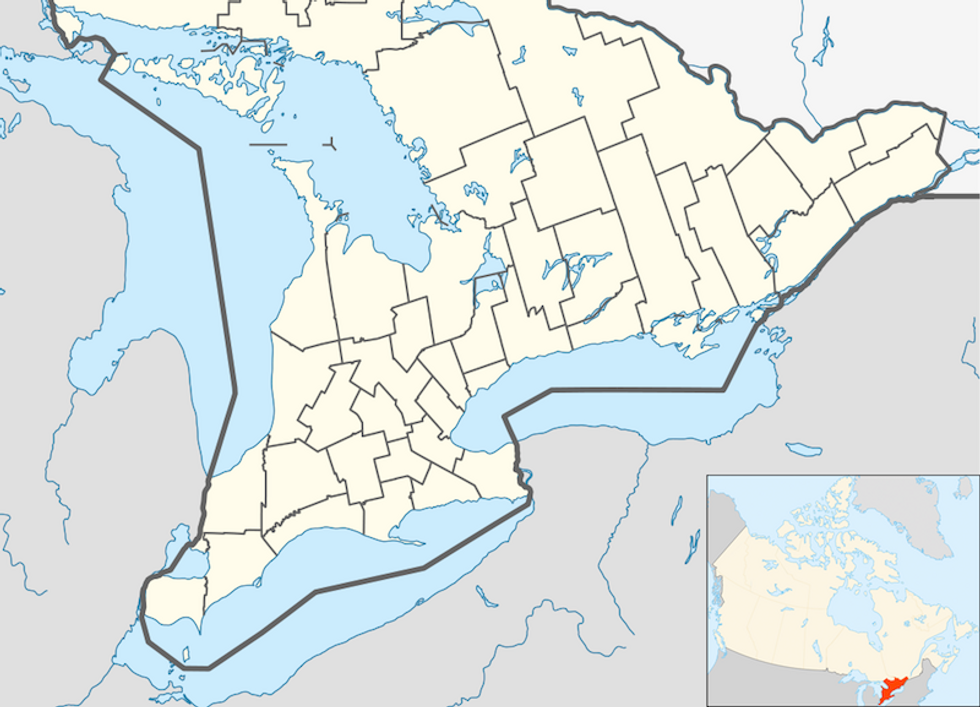 Public Opinion
Although thousands of Americans and Canadians are opposed to the DGR, thousands of others support the plan. Hammond says she must admit that even as an environmentalist, OPG appears to be doing everything properly by following the laws and being completely transparent throughout the democratic process.
Fernandez, of Stop The Great Lakes Nuclear Dump, disagrees that it has been a democratic process. She says OPG has paid around $35.7 million to Kincardine and four other shoreline communities located near the proposed DGR site, claiming that these funds are dispersed with the understanding that officials must support any effort to approve the repository or they'll lose the contributions.
OPG has not denied that it has donated money to local municipalities, which are home to 10,000 OPG employees, and it has been transparent about the donations. While it may be surprising that a company would willingly disclose financial contributions, according to Hammond, these types of donations are legal as long as they are authorized by the government.
Known as "benefits packages," Hammond says companies around the world—including those in the U.S.—often donate sums of money to cities where a project is anticipated in order to persuade people to support it. In the case of a nuclear structure, these funds are also meant to ensure that hospitals are equipped to handle the chemicals and relevant vocational courses are offered in the area that would enable local workforce participation.
But Fernandez remains unconvinced that the process is as democratic as OPG claims. She says the company failed to consult the 40 million people who would find themselves without access to clean drinking water if the DGR leaked or ask them if they approved of the project.
She also says OPG is seeking approval from a town of around 14,000 people—many of whom are OPG employees—for a decision that has implications for millions.
Fernandez suggests the company find another location to store the nuclear waste, such as an area that is not near the Great Lakes or as highly populated, or it should continue storing the material in bomb-proof, above-ground containers.
OPG's Kelly acknowledges the opposition to the project, but says most people change their minds once they learn about all of the research that has gone into the DGR. While OPG seems to be working hard to convince the public that the DGR is the right way to go, he says the company will not proceed without support from the First Nations groups that live in the area.
It should become clearer how indigenous populations and members of the public feel about the project in September, when four weeks of public hearings commence for what is likely the last time before the review panel is expected to make their decision sometime in early 2015.
How the Canadian government will eventually decide is anyone's guess at this point, but as environmental lawyers like Hammond note, this has been a remarkably aboveboard, democratic process—a feat in and of itself.
Long Road to Approval
Though Fernandez and other opponents push members of the public in both countries to block approval for the project, the petition to stop the DGR from being built is arguably a bit premature, as the project has not yet been approved.
Even if the panel does side with OPG, Kelly says the company has only applied for a license to construct the facility. OPG is currently essentially seeking approval to construct a mine to build the underground storage facility.
If the project is approved, Kelly says it would take five to seven years to build the DGR. Upon its completion, OPG would have to undergo another public process in order to obtain an operation license so the company could lawfully transport and store the nuclear waste in the DGR.
OPG expects the DGR to hold about 52,834,470 gallons of nuclear waste—the equivalent of about 35 years worth of nuclear waste. Once the DGR is full, the OPG would submit to another public process in which the company would seek a decommissioning license, which would allow OPG to fill about 2,230 feet of the mine shaft with cement and cap it at the top.
The company would be responsible for monitoring the facility for a period of time to ensure that radioactive material was not leaking, but it would eventually ask to abandon all responsibility for the site. This could occur about 300 years after the DGR had been closed, even though the chemicals remain radioactive for around 100,000 years.
Kelly says he and others at OPG are not concerned about the chemicals getting into the Great Lakes because not only have the rocks not moved in 450 million years, but there are multiple natural barriers—such as shale—that would help insulate the materials and prevent them from leaking into Lake Huron.
When asked about the disaster at the WIPP facility in New Mexico, Kelly explained that the proposed facility in Kincardine is different than the WIPP facility and OPG is studying what happened at WIPP and incorporating lessons learned into their plans to build the repository.
EcoWatch Daily Newsletter
This winter was brutal. Polar vortex brutal. My salt-caked boots and dry skin can attest to the frigid temperatures that covered more than 90 percent of the Great Lakes in ice. Much of that ice is still there—though some of it has run aground in an ice tsunami(!).
Over the decades, ice coverage on the lakes has been on the decline, but for the month of April, an average of 45 percent of lake surface remained ice-covered, according to the Great Lakes Environmental Research Laboratory. That's nearly double the ice coverage of 1996, when the previous record was set, making April the iciest month since recordkeeping began in 1973.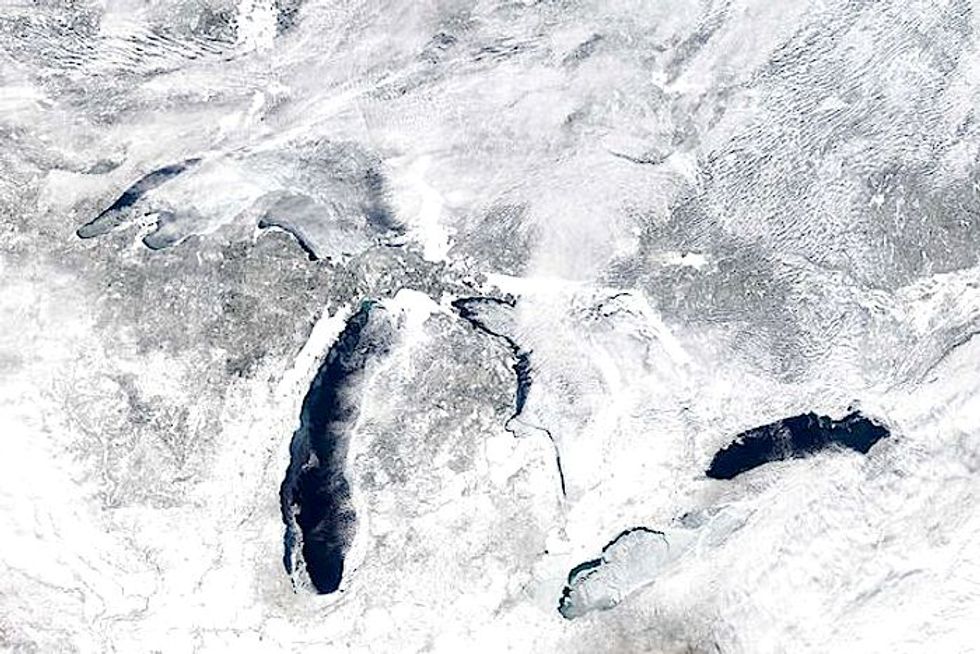 So what does this mean for the lakes themselves? Well, there are a few surprising outcomes of the lakes staying frozen so long (alas, none include a hit from Idina Menzel).
Water Levels
The Great Lakes have been shrinking lately thanks, in part, to climate change. Last year lakes Michigan and Huron hit their lowest levels since 1918, reaching an average of 29 inches below average. (The others are way below average, too.) The logic behind it goes something like this: warmer winters mean less ice cover; less ice cover leads to warmer water temperatures; warmer water temperatures cause more evaporation.
The lakes "sweat" when they cool off, kinda like us, so a lot of the ice we saw this year formed from evaporating water.
This winter's cooler temps will likely keep the water in the lakes for longer, possibly bringing them back to average water levels—at least temporarily. Predictions of how high the water may rise range from 6 to 20 inches. It's hard (if not impossible) to predict how temperature and precipitation will factor in to lake levels. Even so, the U.S. Army Corps of Engineers has an official water level forecast.
Fishing
Cooler water temperatures will cause fish to migrate later in the season. Solomon David, a research scientist at Chicago's Shedd Aquarium, told Michigan Public Radio that northern pike, lake sturgeon, steelhead, rainbow trout, yellow perch and walleye will take longer to get to their spawning grounds. That's because changes in water temperature and light prompt them to get a move on. If those signals get delayed, so do the fish. Unfortunately, if the fish lay their eggs later, their fry will hatch later and have less time to grow up … potentially making them more vulnerable to cold winters.
Wildlife
For the first time since 2008, an ice bridge formed to connect Michigan's Isle Royale to the mainland. The likelihood of temperatures dipping low enough for an ice bridge to form like this are increasingly rare, but when they do happen wildlife like moose and wolves can cross between the island and mainland.
Researchers who have been observing the wolf-moose relationship on Isle Royale for more than 50 years were hoping that new wolves would crossover to boost the island's population. Instead, a five-year-old female left the island and was later shot. (Sigh.) The good news is that during their annual winter survey, the researchers saw last year's pups—and they were alive and well.
Tuesday's National Climate Assessment explains in much greater detail how climate change is affecting the country, including the Midwest and its Great Lakes. And even though temperatures are rising in the region, there's a higher likelihood of extreme weather events like those we saw this winter. So like a good Chicagoan, I'm cleaning off my boots and will be ready for future Arctic blasts. The cold never bothered me anyway…
This article was originally posted in Natural Resources Defense Council's OnEarth.
--------
YOU MIGHT ALSO LIKE
Coal Ash Used to De-Ice Roads Poses Contamination Concerns
Road Salt Contaminates U.S. Waterways in Northern States Year Round
Study Shows Plastic Microbeads in Facial Scrubs Pollute Great Lakes
--------
waterlust.com / @tulasendlesssummer_sierra .
Each product featured here has been independently selected by the writer. If you make a purchase using the links included, we may earn commission.
The bright patterns and recognizable designs of Waterlust's activewear aren't just for show. In fact, they're meant to promote the conversation around sustainability and give back to the ocean science and conservation community.
Each design is paired with a research lab, nonprofit, or education organization that has high intellectual merit and the potential to move the needle in its respective field. For each product sold, Waterlust donates 10% of profits to these conservation partners.
Eye-Catching Designs Made from Recycled Plastic Bottles
waterlust.com / @abamabam
The company sells a range of eco-friendly items like leggings, rash guards, and board shorts that are made using recycled post-consumer plastic bottles. There are currently 16 causes represented by distinct marine-life patterns, from whale shark research and invasive lionfish removal to sockeye salmon monitoring and abalone restoration.

One such organization is Get Inspired, a nonprofit that specializes in ocean restoration and environmental education. Get Inspired founder, marine biologist Nancy Caruso, says supporting on-the-ground efforts is one thing that sets Waterlust apart, like their apparel line that supports Get Inspired abalone restoration programs.
"All of us [conservation partners] are doing something," Caruso said. "We're not putting up exhibits and talking about it — although that is important — we're in the field."
Waterlust not only helps its conservation partners financially so they can continue their important work. It also helps them get the word out about what they're doing, whether that's through social media spotlights, photo and video projects, or the informative note card that comes with each piece of apparel.
"They're doing their part for sure, pushing the information out across all of their channels, and I think that's what makes them so interesting," Caruso said.
And then there are the clothes, which speak for themselves.
Advocate Apparel to Start Conversations About Conservation
waterlust.com / @oceanraysphotography
Waterlust's concept of "advocate apparel" encourages people to see getting dressed every day as an opportunity to not only express their individuality and style, but also to advance the conversation around marine science. By infusing science into clothing, people can visually represent species and ecosystems in need of advocacy — something that, more often than not, leads to a teaching moment.

"When people wear Waterlust gear, it's just a matter of time before somebody asks them about the bright, funky designs," said Waterlust's CEO, Patrick Rynne. "That moment is incredibly special, because it creates an intimate opportunity for the wearer to share what they've learned with another."
The idea for the company came to Rynne when he was a Ph.D. student in marine science.
"I was surrounded by incredible people that were discovering fascinating things but noticed that often their work wasn't reaching the general public in creative and engaging ways," he said. "That seemed like a missed opportunity with big implications."
Waterlust initially focused on conventional media, like film and photography, to promote ocean science, but the team quickly realized engagement on social media didn't translate to action or even knowledge sharing offscreen.
Rynne also saw the "in one ear, out the other" issue in the classroom — if students didn't repeatedly engage with the topics they learned, they'd quickly forget them.
"We decided that if we truly wanted to achieve our goal of bringing science into people's lives and have it stick, it would need to be through a process that is frequently repeated, fun, and functional," Rynne said. "That's when we thought about clothing."
Support Marine Research and Sustainability in Style
To date, Waterlust has sold tens of thousands of pieces of apparel in over 100 countries, and the interactions its products have sparked have had clear implications for furthering science communication.
For Caruso alone, it's led to opportunities to share her abalone restoration methods with communities far and wide.
"It moves my small little world of what I'm doing here in Orange County, California, across the entire globe," she said. "That's one of the beautiful things about our partnership."
Check out all of the different eco-conscious apparel options available from Waterlust to help promote ocean conservation.
Melissa Smith is an avid writer, scuba diver, backpacker, and all-around outdoor enthusiast. She graduated from the University of Florida with degrees in journalism and sustainable studies. Before joining EcoWatch, Melissa worked as the managing editor of Scuba Diving magazine and the communications manager of The Ocean Agency, a non-profit that's featured in the Emmy award-winning documentary Chasing Coral.
The International Joint Commission (IJC) released a report yesterday urging the states of Ohio and Michigan to declare the waters of the western Lake Erie basin impaired from nutrient pollution. The report, A Balanced Diet for Lake Erie: Reducing Phosphorus Loadings and Harmful Algal Blooms, and its 16 recommendations to help address the challenge of deteriorating water quality in Lake Erie.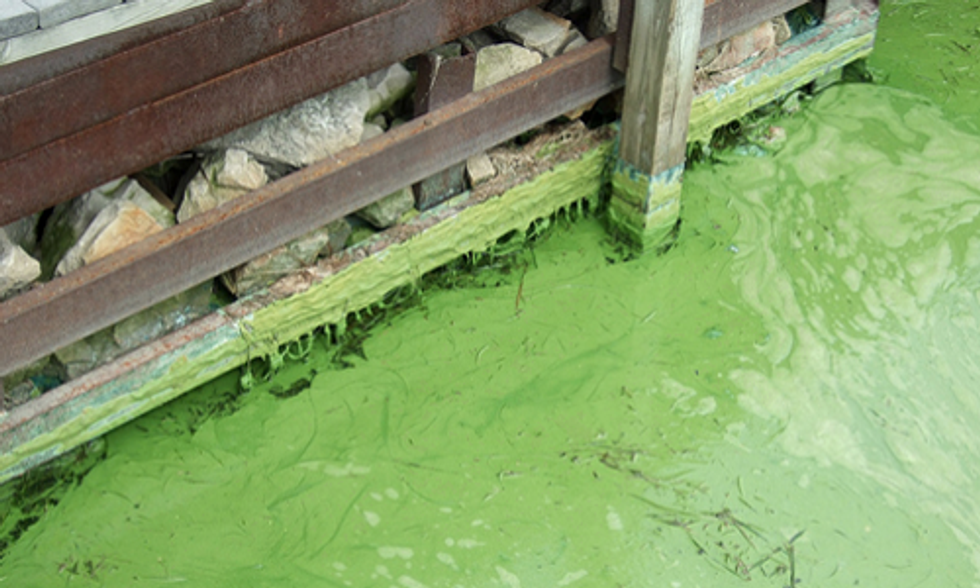 The IJC comprises three appointed Commissioners from the U.S. and three from Canada. Their role is to protect the waters that the U.S. and Canada share.
Declaring impairment from nutrient pollution would trigger a Total Daily Maximum Load (TMDL). A nutrient TMDL would determine the maximum amount of nutrients that the western Lake Erie basin can receive along with a reduction plan aimed at meeting water quality standards for cleaner water.
In 2011, Lake Erie experienced a record harmful algal bloom that stretched from the shores of Monroe, MI, past the shores of Cleveland, OH. The toxins within the bloom were 1,000 times higher than what the World Health Organization (WHO) recommends for recreational contact.
2012 did not produce a large harmful algal bloom due to the drought the region experienced, further confirming that weather plays a large part in how large the bloom grows. In 2013, a whole township was unable to drink or bathe in the water coming from the local plant due to toxins 3.5 times higher than what the WHO recommends for safe drinking water.
"So much is at stake, from our economy to human health," said Kristy Meyer, of the Ohio Environmental Council. "The U.S. Environmental Protection Agency and Environment Canada have a duty to residents to develop a TMDL or TMDL-like plan for nutrient reduction and ensure that states and provinces are implementing the plan."
The Maumee River is prioritized in the report as the major contributor to the reoccurring harmful algal blooms in the western Lake Erie basin, providing 43 percent of the nutrient pollution flowing into the lake. Approximately 4.5 million acres of agricultural land drain into the Maumee River before entering into Lake Erie. While federal and Ohio agencies are focusing on the reduction of nutrient pollution in the Maumee River watershed, to date state agencies have not taken a strategic and focused reduction approach. Rather there has been a buck shot approach to implementing best management practices on agricultural lands.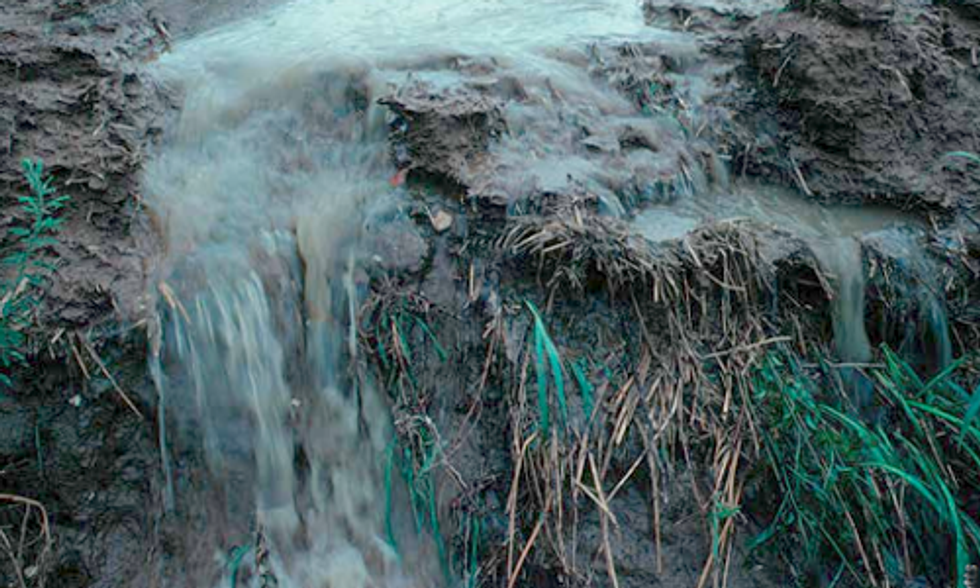 A Balanced Diet for Lake Erie: Reducing Phosphorus Loadings and Harmful Algal Blooms
The report also prioritizes the Detroit River for monitoring to fully understand the amount of phosphorus flowing down the Detroit River from the Detroit Wastewater Treatment Plant and its role in fueling the harmful algal blooms in the western Lake Erie basin. In 2011, 3.2 billion gallons of diluted raw sewage, 44.3 partially treated sewage, and 1.2 million pounds of phosphorus flowed from the Detroit Wastewater Treatment Plant into the Detroit River and then into Lake Erie. While the wastewater plant provides five percent of the total phosphorus, scientists estimate that 13 percent of Lake Erie's dissolved reactive phosphorus—phosphorus that is ready to be used by plants—comes from this single source. In addition the Detroit River is estimated to discharge 42 percent of Lake Erie's total phosphorus and 52 percent of the dissolved reactive phosphorus.
"There seems to be this mystical Ohio/Michigan/Ontario line in the water when it comes to the research, with little understanding of how sources from Ohio, Michigan, Indiana and Ontario collectively play a role," said Sandy Bihn, executive director of the Lake Erie Waterkeeper. "A western basin TMDL would require consideration of waters in Ohio and Michigan, with cooperation from Ontario. The TMDL also would determine the quantity and source of the nutrient pollution, which includes agriculture, manure, wastewater and stormwater runoff."
The report also calls out the need to better understand how the placement of dredged sediments from the Toledo Harbor into the open waters of Lake Erie exacerbates the harmful algal blooms. Each year the U.S. Army Corps of Engineers dredges approximately two Empire State Buildings full of sediment from the Toledo harbor so that tanker ships can utilize the port.
Since the 1980's the Ohio Environmental Protection Agency (EPA) has asserted that this practice lowers water quality. In 2010, the Ohio EPA sent a letter to Lt. Colonel Daniel Snead at the Corps Buffalo District calling for the end to a harmful practice that they believed was exacerbating harmful algal blooms and impacting wildlife.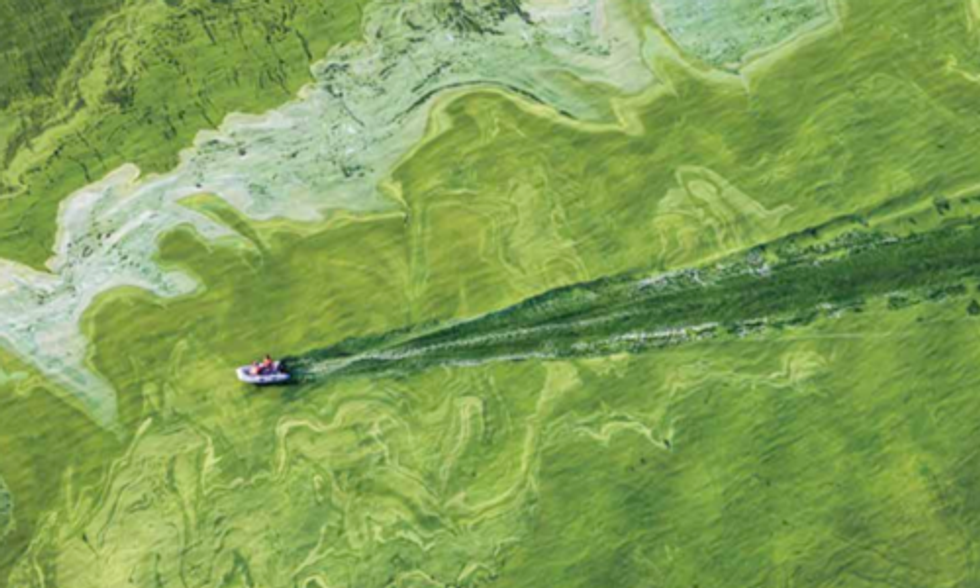 A Balanced Diet for Lake Erie: Reducing Phosphorus Loadings and Harmful Algal Blooms
"This has been a continual battle between the Ohio EPA, the people of the state, and the Army Corps," said Meyer. "We want the port to stay open, but we need to stop this harmful practice which reintroduces phosphorus into the water column, amongst other wildlife impacts."
When dredged sediments are dumped into the open waters of Lake Erie, phosphorus becomes resuspended into the water column—the water that spans from the bottom of the lake to the surface of the lake—smothering habitat as it settles out once again.
A couple of years ago the Ohio EPA started to propose rules that would limit open-lake disposal of dredge materials to no more than 50,000 cubic yards, but the U.S. Army Corps of Engineers stated that they would no longer dredge the Toledo Harbor. Not wanting to stop commerce at this port, the Ohio EPA reluctantly gives permission to dump dredged sediments that are contaminated with phosphorus year after year. In 2013, the U.S. Army Corps of Engineers dumped 1.1 million cubic yards of phosphorus laden sediments into the shallow waters of Lake Erie.
"How all of these sources play a role in fueling HABs in Lake Erie is why a TMDL is so badly needed for western Lake Erie," said Meyer. "Each year is like waiting for the loaded gun to fire."
Visit EcoWatch's WATER page for more related news on this topic.

The U.S. Army Corps of Engineers has identified physically separating the Mississippi River and Great Lakes watersheds as the most effective way to prevent aquatic invasive species like Asian carp from moving between the two iconic waters.
Conservation groups today responded to a congressionally mandated study released Monday that outlines eight ways to prevent the transfer of invasive organisms between the two water bodies via Chicago-area canals built more than 100 years ago to connect the two systems. Of all the options studied, the groups agreed that only one—physical separation—is effective at stopping the transfer of the various invasive fish, parasites, grasses, algae and other organisms.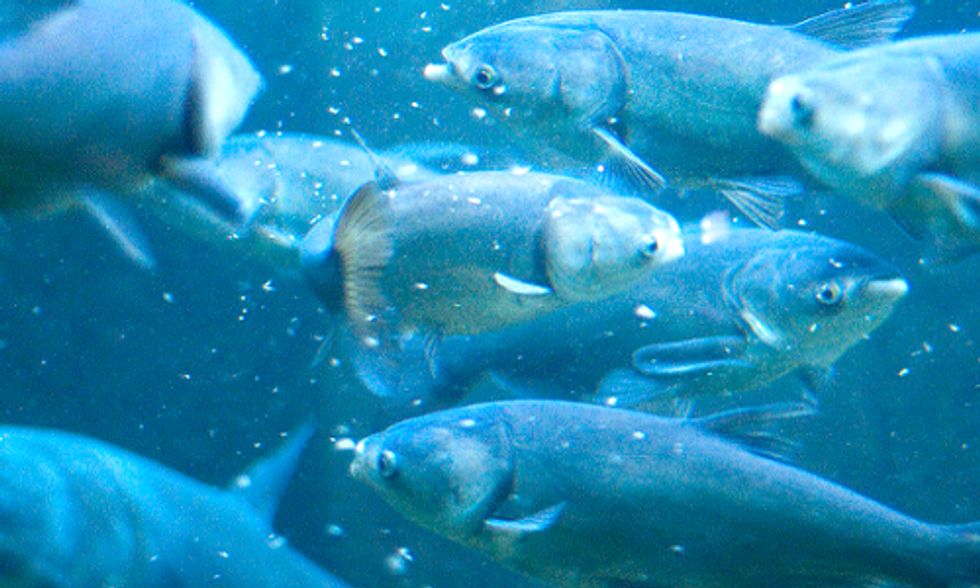 "The U.S. Army Corps of Engineers study leaves no doubt that the most effective way to stop invasive species from wreaking environmental and economic harm on the Great Lakes and Mississippi River communities is through the construction of a physical barrier," said Joel Brammeier, president and CEO of the Alliance for the Great Lakes. "This paves the way for Congress and our region to move from study to action on a permanent solution that will protect the environment, jobs and way of life for millions of people."
The report comes soon after the Army Corps admitted in a report that a series of electrical barriers designed to repel the advancing Asian carp can be breached in a variety of ways, leaving Lake Michigan and the other Great Lakes vulnerable to the destructive non-native fish.
"All evidence points to one conclusion: physical separation is the only defensible solution to the epidemic of invasive species which pose a threat to people, wildlife and our economy," said Robert Hirschfeld, water policy specialist, Prairie Rivers Network. "It's time to get away from Band-Aid approaches and toward a long-term, comprehensive and permanent solution. This report can help us do that."
The Army Corps findings mesh with overwhelming public support for physically separating the two systems. The public has clamored for a long-term solution to the Asian carp crisis ever since environmental DNA of the fish was discovered past the electric fence in 2009.
"More than 25,000 people, many organizations and nearly 90 communities in the Great Lakes region concerned about an Asian carp invasion have communicated to decision makers how we want the Great Lakes separated from the Mississippi River," states Cheryl Kallio, associate director for Freshwater Future. "We are pleased to learn the Army Corps' report identifies how this can be done and confirms that separation is the most protective option."
The Army Corps study pegs the cost of separating the Great Lakes and Mississippi River systems in the billions, a cost that is in-line with large-scale city infrastructure projects in cities across the region. Building a physical barrier would also mean restoring and revitalizing part of the Chicago River and the area's drinking water and wastewater systems. It would also help address flooding.
"This is not a Chicago problem, an Illinois problem, or a regional problem. It is a national issue, that will require appropriate resources for a solution," said Henry Henderson, Natural Resources Defense Council Midwest director. "But the scale of the response creates a tremendous opportunity to revitalize Chicago's failing waterways while taking essential action to protect the Great Lakes. Those don't come often, as evidenced by the sorry state of both the river systems and the lake. This is a chance to do better."
With the release of the study, the region's focus now turns to putting words into action—while there's still time to act.
"The report provides a roadmap for elected officials to move forward to protect the Great Lakes and Mississippi River communities," said Marc Smith, senior policy manager with the National Wildlife Federation. "We look forward to working with Congress to take the next steps to implement the permanent long-term solution. The cost of inaction will be devastating to our environment, economy and quality of life."
Ordered by Congress in 2007, the Great Lakes-Mississippi River Interbasin Study comes two years after an independent analysis by the Great Lakes Commission and Great Lakes and St. Lawrence Cities Initiative found separating the two iconic waters was both feasible and affordable.
"We are pleased the corps has concluded that restoring the historic divide between Lake Michigan and the Illinois-Mississippi River is the most effective option for halting aquatic invaders," said Jack Darin, director of the Sierra Club, Illinois Chapter. "We know this can't be done overnight, but now Illinois leaders can begin designing separation solutions that pay huge dividends for the Chicago region—modernized freight transportation, a much cleaner Chicago River, and new solutions to flooding problems that have plagued neighborhoods for decades."  
"This will not only keep Asian Carp and other aquatic invaders out of Lake Michigan, but also protect the Illinois and Mississippi Rivers from other alien species that can currently enter them from the Great Lakes," Darin said.
Scientists agree that the entry of the bighead and silver carp into the Great Lakes could upend the lakes' ecology and the region's $7 billion fishing industry. The Chicago Waterways System, which feeds into Lake Michigan, has been identified as the most likely route for the carp to enter the Great Lakes.
"Federal investments to restore and protect the Great Lakes are producing results, but those investments are at risk," said Todd Ambs, campaign director for the Healing Our Waters-Great Lakes Coalition. "Allowing the Asian carp to enter the Great Lakes will undermine restoration efforts. This report confirms that we have an effective solution to protect the Great Lakes from these invaders."
"It's now time to act," said Ambs. "Delay will only make the problem more complicated and expensive to solve."
Visit EcoWatch's BIODIVERSITY page for more related news on this topic.

Oil giant Enbridge experienced a major backlash this week after three Democratic senators released a joint letter questioning the integrity of Enbridge's expansion of a crude oil pipeline on the Straits of Mackinac.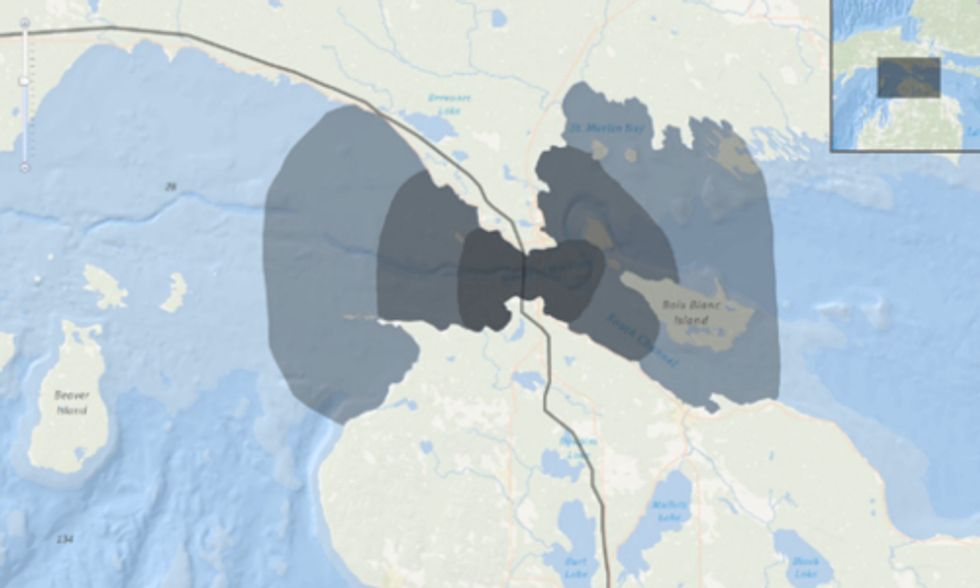 National Wildlife Federation
map simulates a 3, 6 and 12 hour spill from the aging tar sands pipeline, Line 5, based on Enbridge spill response plans, average current speeds and "worse case" discharge estimates.
Line 5, according to the Petosky News, runs from Superior,WI, to Sarnia, Ontario, "passing through Michigan's Upper Peninsula and crossing the Straits of Mackinac, a five-mile-wide area where Lakes Huron and Michigan meet." Earlier this year Enbridge boosted Line 5's capacity by 2.1 million barrels above its previous threshold of 20 million.
The joint letter by Sen. Stabenow (D-MI), Sen. Levin (D-MI) and Sen. Durbin (D-IL) states that the pipeline "passes inland along environmentally sensitive areas and beneath the Straits of Mackinac, which PHMSA [the Pipeline and Hazardous Materials Safety Administration] has identified as a high consequence area. The increase in oil transported adds pressure to the aging pipeline, which has undergone only a few upgrades since it was first installed in 1953 … We are particularly concerned with the risks a leak or break in the pipe could pose to the Straits of Mackinac given this area's strong currents, variable water temperatures and connections to both Lake Michigan and Lake Huron."
"We have worked for over three years on the investigation and levied the highest civil penalty in the agency's history" for an Enbridge spill in the Kalamazoo River, PHMSA spokeswoman Patricia Klinger said. "In addition, PHMSA executed a consent agreement which imposed more stringent safety requirements for the entire Lakehead System, including Line 5."
"When we've had to do any sort of dig on that pipeline for maintenance or repair, we've heard from the crews out on the field that the line still looks brand new," said Janson Manshum, a spokesman for Enbridge, in a press conference.
Despite Enbridge's assurance of the line's integrity, a disastrous pipeline leak that occurred in 2010 where, along with the Kalamazoo spill, loom heavy over the Line 5 project. Coupled with the Mackinac Straits' strong currents and wildly fluctuating temperatures, the growing backlash is beyond reasonable.
Visit EcoWatch's PIPELINES page for more related news on this topic.

Declines of the food resources that feed lake organisms are likely causing dramatic changes in the Great Lakes, according to a new U.S. Geological Survey (USGS) study.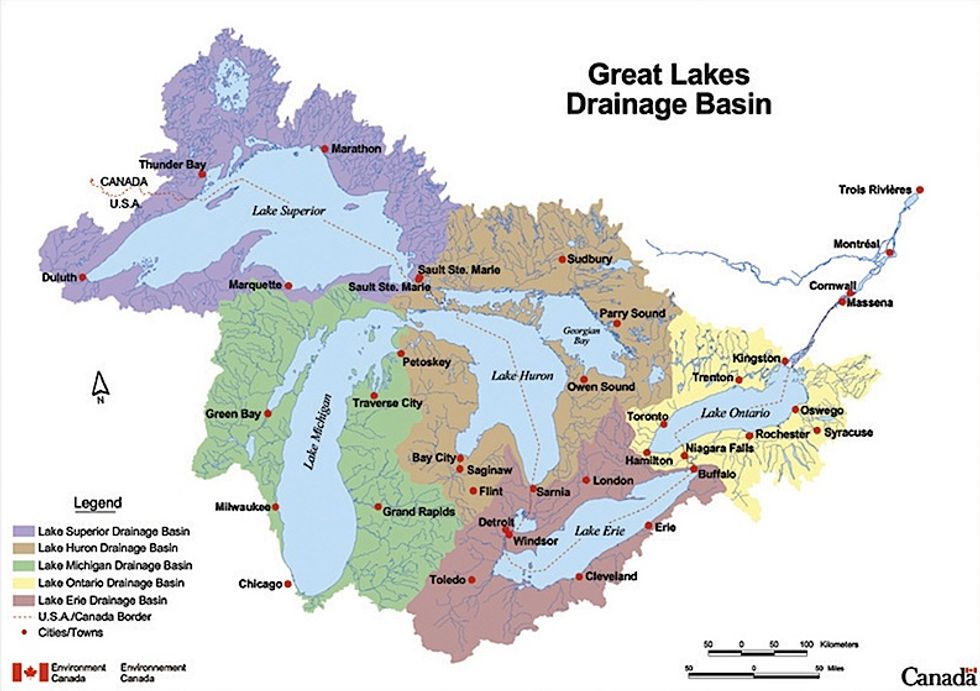 USGS scientists and partners found that since 1998, water clarity has been increasing in a majority of the Great Lakes, while phytoplankton (the microscopic water organisms that feed all other animals), native invertebrates and prey fish have been declining.
These food web changes fundamentally affect the ecosystem's valuable resources and are likely caused by decreasing levels of lake nutrients, and by growing numbers of invasive species such as zebra and quagga mussels.
"These findings provide critical information to help decision-makers understand changes that are affecting the Great Lakes fishery that generates about $7 billion for the economy each year," said Suzette Kimball, acting director of the USGS. "The work is the result of a strong public-private collaboration and greatly contributes to managers' ability to deal effectively with the changes occurring in these unique and vast freshwater ecosystems so important to our nation."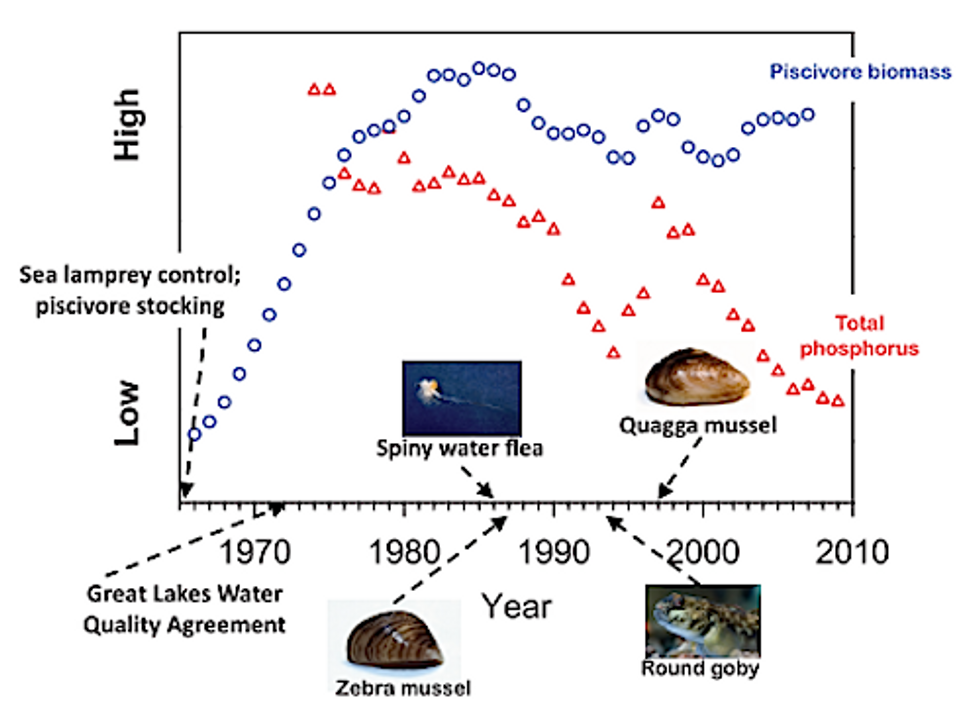 The study found that inputs of phosphorus—the nutrient that limits phytoplankton growth—have declined in the Great Lakes since 1972, when the Great Lakes Water Quality Agreement was signed. The growing numbers of invasive species such as zebra and quagga mussels have caused phosphorus levels to decline further over the last decade in some lakes by filtering out phytoplankton and the nutrients therein. These decreases in nutrients have the potential to affect the smallest organisms up to the top predators: in Lake Huron, for example, plankton and fish appear to be controlled by declining nutrients or food.
"Our study provides a comprehensive ecological report card that highlights existing gaps in scientific understanding and monitoring of the complex Great Lakes ecosystems," said David "Bo" Bunnell, USGS scientist and lead author of the study. "Ideally, it will spur future research to more rigorously test some of the predictions born from our relatively simple analyses."
The Great Lakes provide valuable ecosystem services to the 30 million people that live within the watershed, but portions have been degraded since the industrial era. In 2010, the U.S. government initiated the Great Lakes Restoration Initiative, the largest investment in the Great Lakes in two decades, investing approximately $1 billion over the past four years.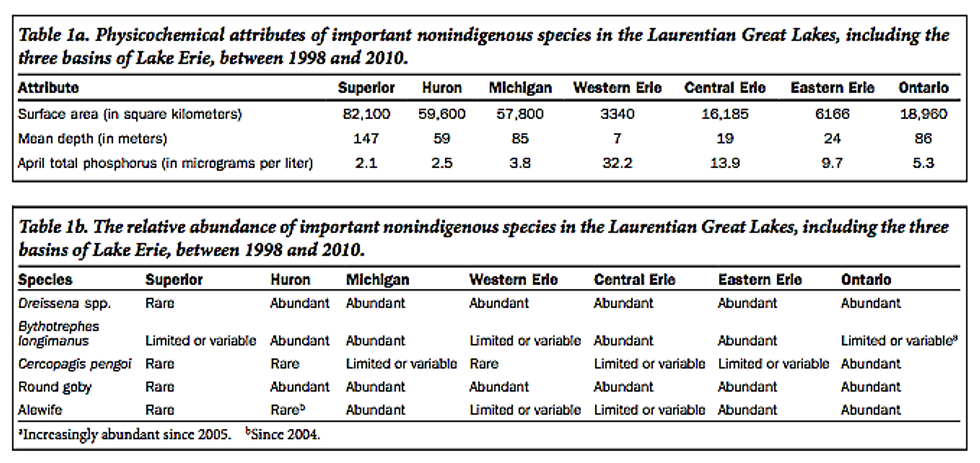 USGS partners in this new study include the CSC information technology firm, U.S. Environmental Protection Agency, Ohio State University, University of Wisconsin-Green Bay, Michigan State University, National Oceanic and Atmospheric Administration, Michigan Department of Natural Resources, University of Michigan, U.S. Fish and Wildlife Service and University of Illinois at Chicago.
The report is published in the journal BioScience.
Visit EcoWatch's BIODIVERSITY and WATER pages for more related news on this topic.

By Brian Bienkowski
Only about half of the prescription drugs and other newly emerging contaminants in sewage are removed by treatment plants. That's the finding of a new report by the International Joint Commission (IJC), a consortium of officials from the U.S. and Canada who study the Great Lakes.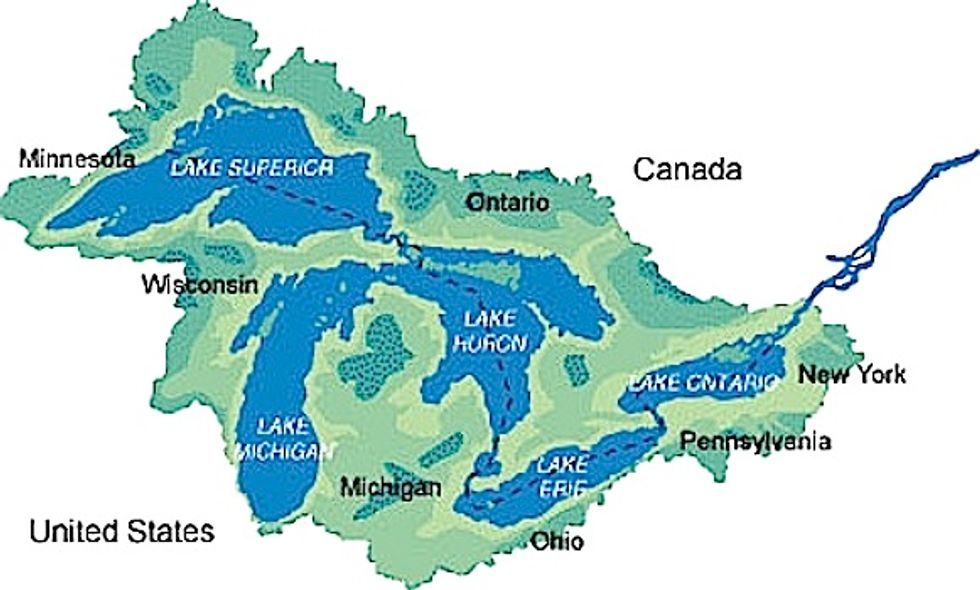 The impact of most of these "chemicals of emerging concern" on the health of people and aquatic life remains unclear. Nevertheless, the commission report concludes that better water treatment is needed.
"The compounds show up in low levels—parts per billion or parts per trillion—but aquatic life and humans aren't exposed to just one at a time, but a whole mix," said Antonette Arvai, physical scientist at the IJC and the lead author of the study. "We need to find which of these chemicals might hurt us."
More than 1,400 wastewater treatment plants in the U.S. and Canada discharge 4.8 billion gallons of treated effluent into the Great Lakes basin every day, according to the study.
The scientists reviewed 10 years of data from wastewater treatment plants worldwide to see how well they removed 42 compounds that are increasingly showing up in the Great Lakes.
Six chemicals were detected frequently and had a low rate of removal in treated effluent: an herbicide, an anti-seizure drug, two antibiotic drugs, an antibacterial drug and an anti-inflammatory drug. Caffeine, acetaminophen and estriol (a natural estrogen) also were frequently detected in sewage but had high removal rates.
The wastewater plants had a low removal rate (less than 25 percent chance of removing 75 percent or more) for 11 of the 42 chemicals.
"The weight of evidence suggests that at least half of the 42 substances examined in the present study are likely to be removed in municipal wastewater treatment plants," the authors wrote.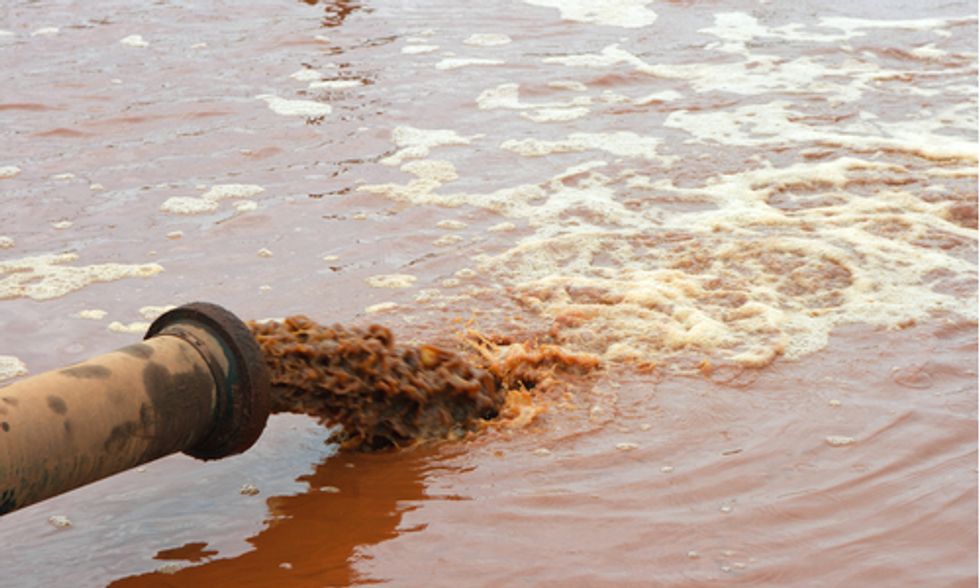 Photo courtesy of Shutterstock
Triclosan, an antibacterial and antifungal compound found in some soaps, toothpastes and other consumer products, has proven acutely toxic to algae and can act as a hormone disruptor in fish. Triclosan was found frequently, according to the new report and plants had "medium removal efficiency."
Also, the anti-inflammatory drug diclofenac bioaccumulates in fish, but its impact is unclear, said Diana Aga, a chemistry professor and researcher at the University of Buffalo who studies emerging chemicals in the Great Lakes.
Aga said even without knowing exact impacts, consistently seeing antibiotics show up in effluent is concerning.
"Even at low levels you don't want to have people ingest antibiotics regularly because it will promote resistance," she said.
Chemicals' showing up in wastewater effluent doesn't necessarily mean they will be found in drinking water. But some studies have found prescription drugs in drinking water at parts-per-trillion levels. A federal study of 74 waterways used for drinking water in 25 states found 53 had traces of one or more pharmaceuticals.
There are currently no federal regulations of pharmaceuticals in waste or drinking water. However, 12 pharmaceuticals are currently on the Environmental Protection Agency's list of chemicals under consideration for drinking water standards.
Most researchers expected that the large lakes would dilute pharmaceuticals quickly, but a study this summer found the drugs contaminating Lake Michigan two miles from Milwaukee sewage outfalls. 
It's important to not place blame squarely on wastewater treatment plants, said Michael Murray, a scientist with the National Wildlife Federation's Great Lakes Regional Center who is on the IJC's board.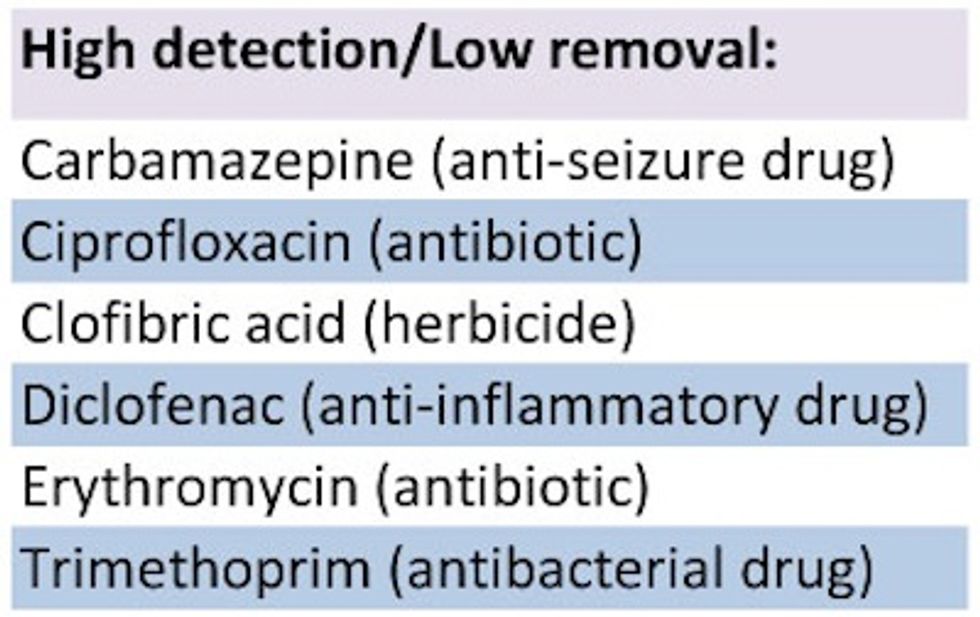 "They weren't designed to handle these types of chemicals," Murray said. "And most municipalities in the Great Lakes are under tight budgets and they're just doing what they can to meet requirements."
Most plants use activated sludge treatment, which uses bacteria to break down solids that come in from the wastewater. Since the chemicals come into the plants at such low levels, many of them readily break down, said Allison Fore, a spokesperson for the Metropolitan Water Reclamation District of Greater Chicago.
Other newer technologies, such as ozonation or carbon filters, also are effective at removing pharmaceuticals and other new chemicals but are expensive, Arvai said.
Previous research has linked other drugs in fish to slower reaction times to predators, altered eating habits and anxiety.
Visit EcoWatch's WATER page for more related news on this topic.

By Laura Beans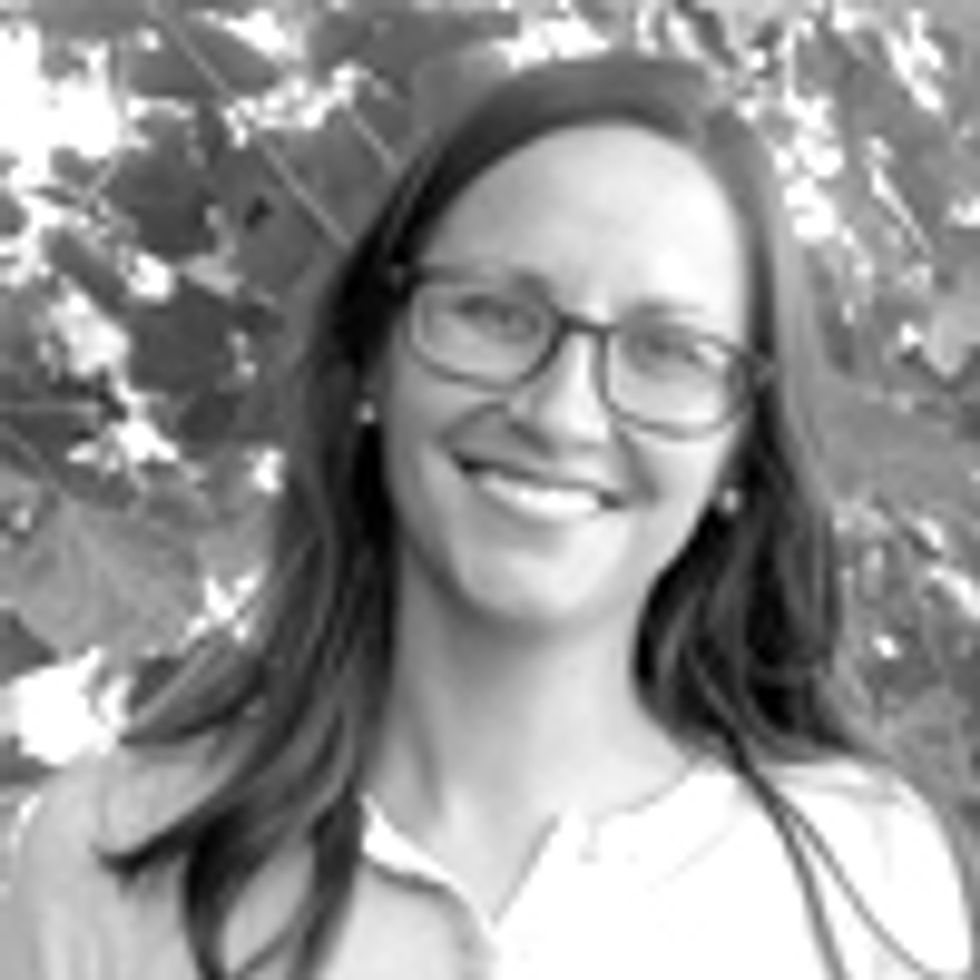 The House Appropriations Subcommittee on Interior, Environment and Related Agencies introduced legislation today to cut funding for the Fiscal Year 2014 Interior and Environment Appropriations budget by 18 percent.
The bill includes the Great Lakes Restoration Initiative, which would be slashed by nearly 80 percent, according to the Healing Our Waters-Great Lakes Coalition. The initiative funds successful projects in and around the Great Lakes, from cleaning up toxic contamination and reducing runoff from cities and farms, to controlling invasive species and restoring fish and wildlife habitat. The vote would slash program financing from $285 million to $60 million for fiscal year 2014.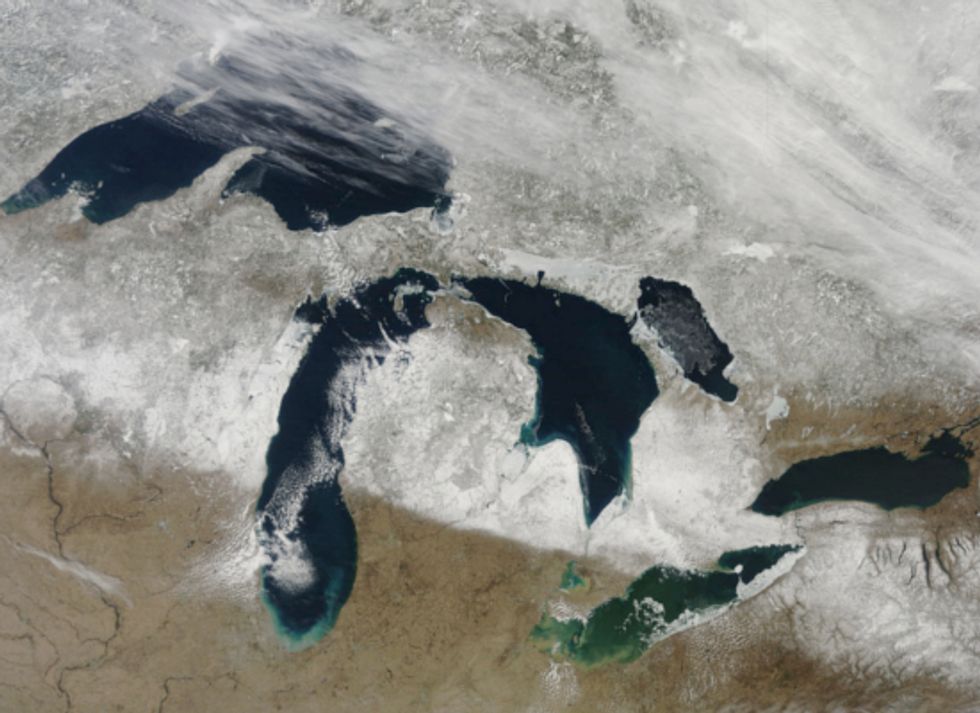 "Great Lakes restoration efforts are producing results," said Gildo Tori, director of public policy at Ducks Unlimited. "But there's more work to do. Now is not the time to pull the plug on restoration efforts. We need to stay the course and maintain our federal investment in the Lakes."
The Healing Our Waters-Great Lakes Coalition has developed an interactive map, charting the achievements of restoration projects on the Great Lakes.
The Great Lakes are the largest system of freshwater lakes in the entire world. They contain almost one-fifth of the fresh surface water found on Earth and span more than 750 miles from west to east. The lakes contain a variety of habitats, including wetlands, dunes and forests, which are home to thousands of plant and animal species.
The fresh waters of our Great Lakes are precious and finite—on average, less than one percent is renewed annually to the lakes from rainfall, runoff and groundwater. More than 30 million people depend on them for their drinking water, jobs, health and way of life.
The proposed bill guts the rehabilitation efforts of the four-year, $1.3 billion investment plan implemented by Congress and President Obama, which pays dividends to the states surrounding the Great Lakes for restoration and recovery.
"Cuts of this magnitude would bring Great Lakes programs to a halt," said Joel Brammeier, co-chair of the Healing Our Waters-Great Lakes Coalition and President and CEO of the Alliance for the Great Lakes. "At a time when communities are facing a staggering backlog of work to keep sewage out of our lakes and rivers, the nation needs to increase—not cut—these investments, which are critical for the environment and economy."
According to Environment New York, the bill also zeroes in on the Land and Water Conservation Fund—a program designed to protect and expand parks—while falling short of restoring years of budget cuts to the National Park Service.
"The Land and Water Conservation Fund has been consistently underfunded," stated Eric Whalen, a field organizer for Environment New York. "In last year's budget, this enormously successful program was only funded at one-third of its intended budget, leaving many park improvements and expansions unfinished. Enough is enough. It's time to give our parks the resources they deserve."
The Clean Water State Revolving Loan fund—a national program that helps communities protect municipal water supplies and fix old sewers to prevent combined overflows—is also getting hit hard, with a proposed cut of more than 80 percent.
"The nation is at a crossroads," said Todd Ambs, campaign director for the Healing Our Waters-Great Lakes Coalition. "We urge public officials to keep restoration efforts on track by restoring funding to successful Great Lakes efforts and embracing a plan that puts the Lakes on a path toward recovery."
The Great Lakes have long been a haven of bipartisan support, the importance of these water sources surpassing political conflict. This past spring, 38 Republicans and Democrats in the U.S. House of Representatives signed on to a letter urging colleagues to support $300 million in funding for the Great Lakes Restoration Initiative in the fiscal year 2014 budget.
"It's hard to imagine a worse attack on our parks, waterways and the future of our planet." Whalen continued.
"Cutting successful Great Lakes programs will not save the nation one penny. It will only cost taxpayers more, because projects will only become more difficult and expensive the longer we wait," concluded Ambs.
Visit EcoWatch's WATER page for more related news on this topic.
——–