By Alina Petre
Yerba mate is a traditional South American drink that's gaining worldwide popularity.
It's said to have the strength of coffee, the health benefits of tea and provide the joy of chocolate.
This is a detailed review of yerba mate and its top eight health benefits.
Yerba mate is a traditional South American drink that's gaining worldwide popularity.Juan M. Haran / Flickr
What is Yerba Mate?

Yerba mate is a tea made from the leaves and twigs of the Ilex paraguariensis plant.
The leaves are typically dried over fire, then steeped in hot water to make the tea.
Yerba mate is traditionally consumed from a container called a "gourd" and sipped with a metal straw that has a filter at its lower end to strain out the leaf fragments.
Sharing it from this traditional gourd is said to be a sign of friendship and bonding.
Bottom Line: Yerba mate is a type of tea made from the dried leaves and twigs of the Ilex paraguariensis plant.
1. Rich in Antioxidants and Nutrients
Yerba mate contains several beneficial plant nutrients, including (1):
Xanthines: These compounds act as stimulants. They include caffeine and theobromine, which are also found in tea, coffee and chocolate.
Caffeoyl derivatives: These compounds are the main health-promoting antioxidants in the tea.
Saponins: These bitter compounds have certain anti-inflammatory and cholesterol-lowering properties.
Polyphenols: This is a large group of antioxidants, linked to a reduced risk of many diseases.
Interestingly, the antioxidant power of yerba mate tea seems to be slightly higher than that of green tea (2).
What's more, yerba mate may contain seven out of nine essential amino acids, in addition to nearly every vitamin and mineral your body needs (1, 3).
However, the tea contains very small amounts of these nutrients, so mate alone is unlikely to make a large contribution to your diet.
Bottom Line: Yerba mate is an antioxidant powerhouse that contains many beneficial plant nutrients.
2. Can Boost Energy and Improve Mental Focus
At 85 mg of caffeine per cup, yerba mate contains less caffeine than coffee but more than a cup of tea (4).
Therefore, just like any other caffeinated food or beverage, it has the ability to increase your energy levels and make you feel less tired.
Caffeine can also affect the levels of certain signaling molecules in the brain, making it particularly beneficial for your mental focus (5, 6).
Several human studies observed improved alertness, short-term recall and reaction time in participants who consumed between 37.5 and 450 mg of caffeine (7).
Additionally, those who regularly consume yerba mate tea often rave that it enhances alertness like coffee, but without the jittery side effects.
However, these testimonials have not yet been scientifically proven.
Bottom Line: Thanks to its caffeine content, yerba mate can help increase your energy levels and boost your mental focus.

3. May Enhance Physical Performance
Caffeine is also known to improve muscle contractions, reduce fatigue and improve sports performance by up to 5 percent (8, 9, 10, 11).
Since yerba mate contains a moderate amount of caffeine, those drinking it can expect similar physical performance benefits.
In fact, a recent study tested the effects on healthy men and women. Those given one 1-gram capsule of yerba mate right before exercise burned 24 percent more fat during moderate-intensity exercise (12).
A higher reliance on fat for fuel during exercise spares your carb reserves for critical high-intensity moments, such as cycling up a hill or sprinting towards the finish line. This could translate into better sports performance.
There is currently no recommended amount of yerba mate to drink before exercise.
Bottom Line: Yerba mate increases the reliance on fat for fuel during exercise. It may also improve muscle contractions and reduce fatigue, all of which may contribute to better physical performance.
4. May Protect Against Infections
Yerba mate may help prevent infections from bacteria, parasites and fungi.
One study found that a high dose of yerba mate extract deactivated E. coli, a bacteria that causes food poisoning symptoms like stomach cramps and diarrhea (13, 14).
Compounds in yerba mate may also prevent the growth of Malassezia furfur, a fungus responsible for scaly skin, dandruff and certain skin rashes (15).
Finally, research suggests that compounds in it may provide some protection against intestinal parasites (1).
Nevertheless, most of these studies were done on isolated cells. It's currently unclear if these benefits are the same for humans and more research is needed (16, 17).
Bottom Line: Yerba mate may have some anti-bacterial, anti-parasitic and anti-fungal properties. However, more research is needed.
5. May Help You Lose Weight and Belly Fat
Animal studies show yerba mate may reduce appetite and boost metabolism, which can help with weight loss (18).

It seems to decrease the total number of fat cells and reduce the amount of fat they hold (19).
Human research suggests that it can also increase the amount of stored fat that's burned for energy (12, 20).
Furthermore, a recent 12-week study in overweight people found that those given 3 grams of yerba mate per day lost an average of 1.5 lbs (0.7 kg). They also reduced their waist-to-hip ratio by 2 percent, which indicates that they lost belly fat (21).
In comparison, the participants given a placebo gained an average of 6.2 lbs (2.8 kg) and increased their waist-to-hip ratio by 1 percent over the same 12-week period (21).
Bottom Line: Yerba mate may reduce appetite, boost metabolism and increase the amount of fat burned for fuel. This could help you lose weight.
6. May Boost Your Immune System
Yerba mate contains saponins, which are natural compounds with anti-inflammatory properties (1, 22).
In addition, it contains small amounts of vitamin C, vitamin E, selenium and zinc. These antioxidants can strengthen the immune system and promote health (23, 24).
However, researchers have not yet investigated the direct effects of yerba mate on the human immune system.
Bottom Line: Yerba mate has anti-inflammatory and antioxidant properties that may boost the immune system.

7. Lowers Blood Sugar Levels
Yerba mate may help lower blood sugar and reduce the complications often seen in diabetes.

In fact, a recent study reports that it may improve insulin signaling in animals (25).
It may also prevent the formation of advanced glycation end-products (AGEs), which are involved in the development and worsening of many diseases (26, 27).
However, research on humans is currently lacking.
Bottom Line: Yerba mate may improve insulin signaling and blood sugar control. However, more research is needed in humans.
8. May Lower the Risk of Heart Disease
Yerba mate contains antioxidant compounds, such as caffeoyl derivatives and polyphenols, which may protect against heart disease.
Cell and animal studies also report that mate extract may provide some protection against heart disease (28, 29).
In humans, yerba mate seems to reduce cholesterol levels.
In one 40-day study, participants who drank 11 oz (330 ml) of yerba mate each day lowered their LDL cholesterol levels by 8.6–13.1 percent (30).
That being said, more studies are needed before strong conclusions can be reached.
Bottom Line: Yerba mate's antioxidant, anti-inflammatory and cholesterol-lowering properties may help protect against heart disease.
How to Prepare Yerba Mate
Yerba mate is traditionally served in a container called a gourd, also known as a calabash.

It's commonly sipped through a metal straw that has a filter on its lower end to strain out the leaf fragments.
To prepare mate, fill the bottom third of the calabash with fire-burned or toasted mate leaves prior to adding hot water.
If you do not own a calabash, you can prepare mate tea in a French press.
The tea is often served with burnt sugar, lemon juice or milk and it can be topped off with hot water several times before using new leaves to make a new batch.
Although it's traditionally consumed hot, some people prefer to serve yerba mate cold, especially in hot climates.
Bottom Line: Yerba mate can be consumed hot or cold and is prepared similarly to other loose teas. It's traditionally served in a gourd or calabash.
Safety and Side Effects
Yerba mate is unlikely to cause harm to healthy adults who drink it occasionally.
However, those who drink it regularly may be at increased risk of the following:
Cancer
Studies show that drinking large amounts of yerba mate for a long time may increase the risk of upper respiratory and digestive tract cancers (1, 31, 32, 33).
One possible explanation is that mate contains polycyclic aromatic hydrocarbons (PAHs), known carcinogens also found in tobacco smoke and grilled meat (1).
It's also often consumed at very hot temperatures. This could damage respiratory and digestive tract lining, increasing the risk of cancerous cell formation (31, 34).
However, some compounds in it may protect against other types of cancer (1, 35).
Caffeine-Related Side Effects
Yerba mate contains caffeine. Too much caffeine can cause headaches, migraines and high blood pressure in some individuals (36, 37).
Pregnant women should limit mate intake to a maximum of three cups per day. Too much caffeine may increase the risk of miscarriage and low birth weight (38, 39).
Medication Interactions
Studies show that certain compounds in yerba mate have monoamine oxidase inhibitor (MAOI) activity. MAOIs are often prescribed as medications for depression and Parkinson's disease (1).
Therefore, individuals taking MAOI drugs should use yerba mate with caution.
Finally, due to its caffeine content, it may also interact with the muscle relaxant Zanaflex or the antidepressant Luvox. Individuals taking these drugs should avoid yerba mate, as it can increase the effects of the drugs (40).
Bottom Line: Frequent consumption of very hot yerba mate may increase the risk of certain cancers. Pregnant women and individuals sensitive to caffeine or taking certain prescribed medications should drink it with caution.
Anything Else?
Yerba mate may not be suitable for everyone and drinking it regularly at very hot temperatures may increase the risk of certain cancers.
However, this beverage also contains various beneficial compounds linked to impressive health benefits.
If you'd like to give yerba mate a try, start slowly and make sure to let it cool a little before drinking it.
Reposted with permission from our media associate Authority Nutrition.
Tea anyone? I'm a self confessed "queen of tea"–preferably green and, if I can get it, especially green chai. All the healthy properties of green tea spiced with the flavors and traditions of India, one of the world's greatest tea inspirations and an important tea producer.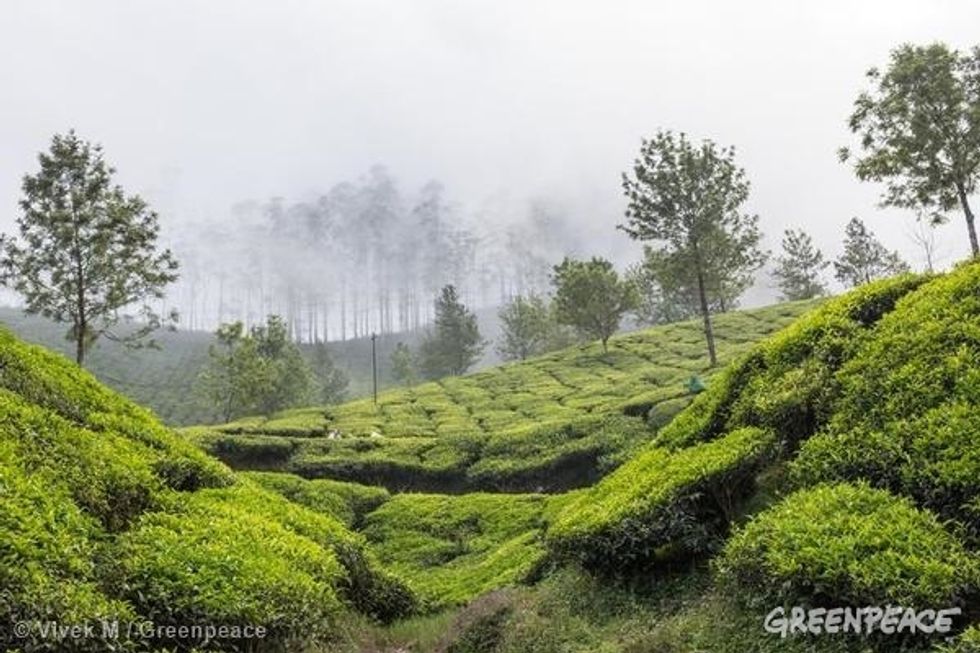 But I wasn't so sure about my green chai after I read the new report "Trouble Brewing" released today by Greenpeace India.
The report reveals the systematic presence of mixtures of multiple pesticides, many classified as highly or moderately hazardous by the World Health Organisation (WHO), in tea grown and sold in India as well as exported abroad [1] by leading international and national brands such as Tetley, Lipton and Twinings. These brands belong to companies like Tata Global Beverages, Hindustan Unilever and Twinings, among others.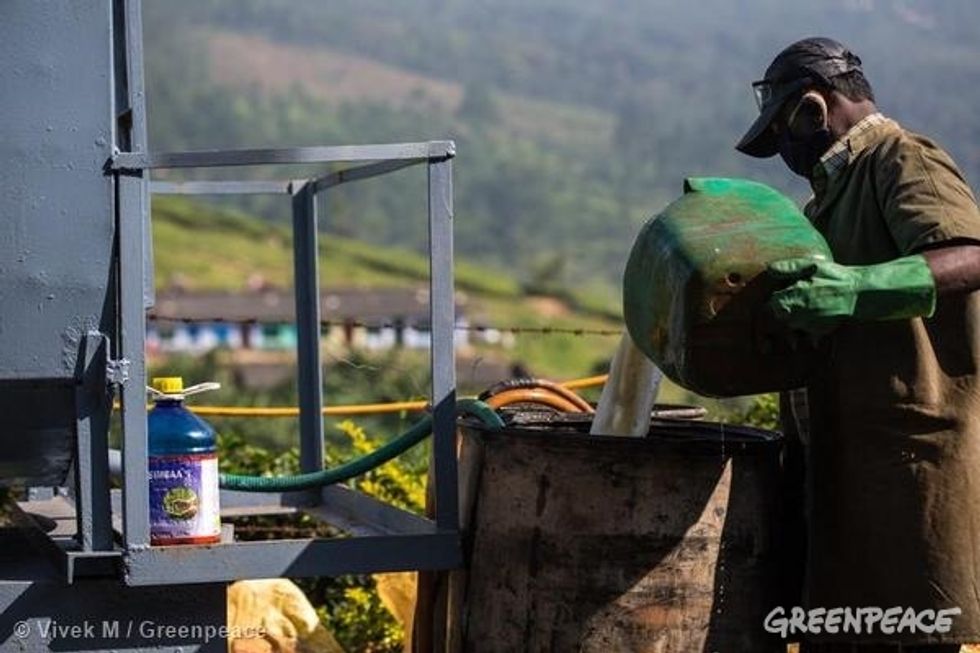 Practically all the samples taken from packaged tea purchased on the Indian market over the last year contained residues of at least one pesticide, and more than half of them contained "cocktails" of more than 10 different pesticides, including one sample, which contained residues of 20 different pesticides!
Overall a total of 34 different pesticides were found including the highly hazardous monocrotophos (the pesticide linked to the Bihar mid-day meal tragedy when 23 school children died from acute poisoning due to misuse of pesticide containers) and neoniconitoid insecticides such as imidacloprid (associated with reproductive or developmental impacts in animals, as well as affecting bees and other beneficial insects). 
It appears that 23 of these 34 pesticides are not even registered for use in the cultivation of tea in India. The research also uncovered the frequent presence of DDT, despite the fact that it is no longer registered for use in agriculture in India and was banned in such applications as long ago as 1989. Although it is still in use for control of disease carrying insects and may be present as a contaminant of other pesticides.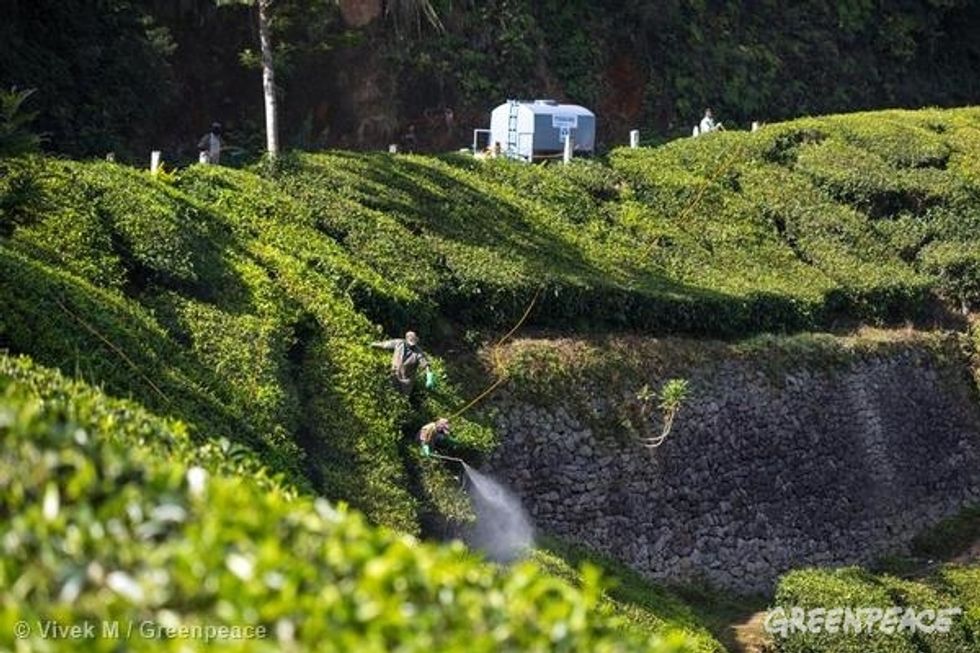 This is in fact not completely unexpected. These findings are similar to previous Greenpeace investigations on pesticides—in Chinese tea (2012) and in Chinese herbal products (2013).
However, close to 60 percent of the samples also contained residues of at least one pesticide above the Maximum Residue Levels set by the EU (EU-MRLs), with almost 40 percent of the tea samples exceeding these levels by more than 50 percent.
That's a little worrying seeing as India is responsible for supplying just over 11 percent of world tea exports; with top export markets for Indian tea including Russia, U.S., UK and Germany.
As the report points out, it's really not clear why these big brands are still supporting tea farming that is stuck on the old outdated pesticide treadmill when—especially in places like India—alternative ecological pest control practices are already being used very successfully, saving farmers money and getting away from dependence on costly and environmentally destructive chemicals.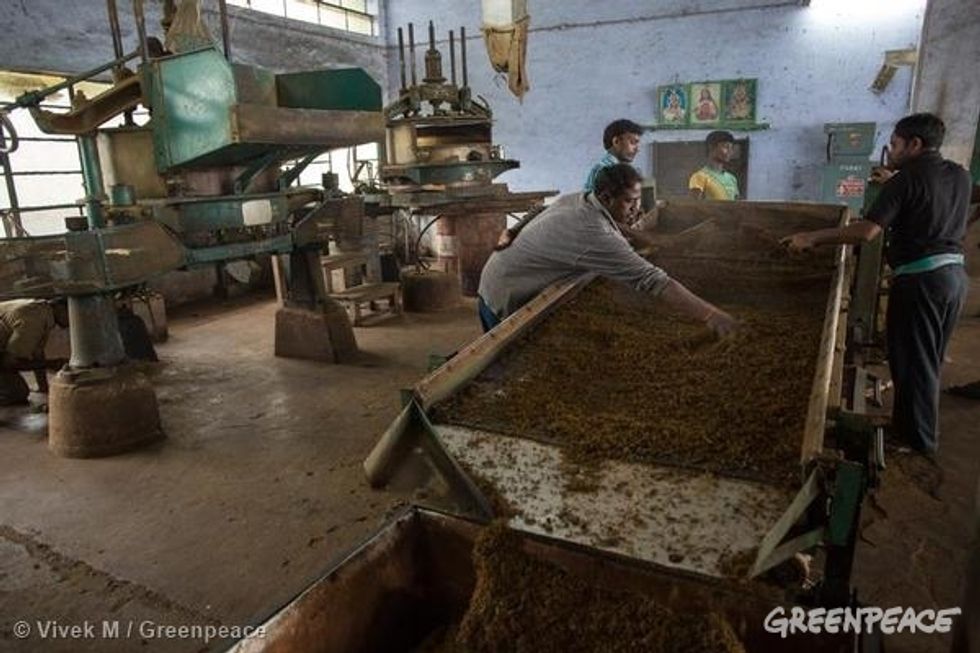 Ecological pest control and farming can grow tea without relying on toxic chemicals that contribute to our intake of pesticides and potentially expose us and tea workers to completely unnecessary health risks.
Ecological farming makes full use of natural functions and the diversity of nature. It not only makes environmental sense but can make sure tea farms—and farmers—are here to stay in changing markets and climates.
It's really about time the big brands got their act together and moved the tea sector into ecological tea farming. They should push their own supply chains and the large tea estates to urgently phase out pesticides and shift to ecological tea cultivation.
Tea companies should also help to ensure government bodies in India develop support systems and funds for small tea growers (already responsible for 26 percent of Indian tea cultivation) to move away from pesticides.
Unilever already agreed to some of Greenpeace India's demands. Will other tea companies follow their example and clean our chai (tea) too?
You can also give your contribution for pesticide-free tea by signing the petition to the largest tea companies in India. Join the movement to Clean Chai Now.
Melissa Shinn is a senior ecological farming campaigner at Greenpeace International.
Notes: [1] Further testing would be needed to determine whether the export product contains the same residues.
You Might Also Like
10 Darn Good Reasons to Drink Green Tea
Banned Pesticides Found in Popular Chinese Tea Brands
11 Universal Truths in Nutrition That Are Actually Agreed On
EcoWatch Daily Newsletter