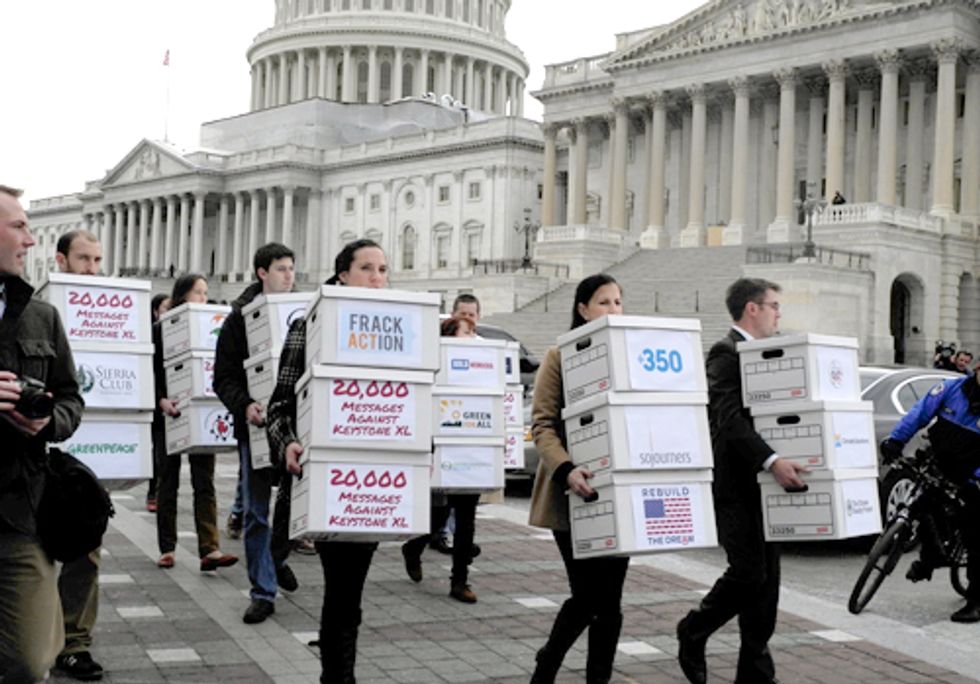 Over the last 24-hours, environmental and progressive groups flooded the Senate with more than 800,000 messages opposing the Keystone XL tar sands pipeline. The surge in online activism came as Senate Republicans tried to saddle the transportation bill with an amendment that would reverse President Obama's decision to block the controversial project.


The petition drive was organized by a group of more than 30 organizations and businesses with the goal of sending the Senate half a million messages in under 24 hours. The online drive quickly went viral, powered in part by blogs and online advertising, tweets from celebrities (including the founder of Twitter, Evan Williams), and a shout-out from Stephen Colbert, who interviewed 350.org founder Bill McKibben on Monday night.


The online push inspired offline action as well. In Kentucky, more than 2,000 people gathered at a rally opposing mountaintop removal mining picked up their cell phones and called Sen. McConnell to tell him to stop pushing Keystone XL. In New York City, dozens of people visited Sen. Schumer's office and got him on the record opposing the pipeline. Petition deliveries also took place in Ohio, Maine, North Carolina, New Mexico and elsewhere.


Fifteen of the nation's top climate scientists also added their names to the effort by sending a personal letter to the Senate, urging leadership to abandon the tar sands pipeline because of its impact on the environment and climate. "We can say categorically that this pipeline is not in the nation's, or the planet's best interest," wrote the group, which included Dr. James Hansen of NASA, Dr. Michael Mann at Penn State, and Dr. Ralph Keeling at Scripps Institution of Oceanography.


Representatives from the coalition delivered the 800,000 messages directly to Senator Reid and Senator McConnell on Tuesday afternoon. Many of the groups involved in the effort are pledging to keep up the fight against Keystone XL as long as Republicans continue to try and bring measures designed to resurrect the project. Click here for 

photos of the petition delivery.
Leaders of the effort issued the following statements:


Michael Brune, Sierra Club Executive Director: "The voice of three quarters of a million Americans is a force that the Senate will ignore only at great peril. Big Oil is spending millions on political influence to force approval of this dangerous and unnecessary pipeline. But Congress shouldn't be in the business of permitting oil industry projects, and they shouldn't be promoting oil profits above the health and safety of Americans."


Susan Casey-Lefkowitz, Natural Resources Defense Council International Program Director:
 "It's time for lawmakers to start heeding people across the country who are saying no to the Keystone XL tar sands pipeline and other dirty energy projects. Americans know that we can do better for our climate, water and farmlands than expansion of destructive and expensive Canadian tar sands."


Gene Karpinski, League of Conservation Voters President:
 "In only 24 hours, hundreds of thousands of people stood up to Big Oil and demanded that the Senate do the same by opposing all efforts to approve the harmful Keystone XL tar sands pipeline that the Obama administration wisely rejected.  Americans across the country refuse to let Big Oil's congressional allies threaten our country with this toxic tar sands pipeline, and whether it's 24 hours, days or months LCV will continue working with them to block efforts to resurrect it."


Michael Kieschnick, CREDO President:  
"The Senate should consider this one day of action as a warning. The American people are watching very closely whether the Senate represents Big Oil or the public health. If the Keystone XL pipeline is forced through, we will do much, much more until it is permanently blocked."


Jane Kleeb, BOLD Nebraska Executive Director:
 "Congressional Republicans might make sweetheart deals with Big Oil, but the grassroots hearts and souls are focused on keeping this pipeline from risking Americans water supply, our climate, and our clean energy future."


Bill McKibben, 350.org Founder: 
"The last 24 hours were the most concentrated blitz of environmental organizing since the start of the digital age. Over 800,000 Americans made it clear that Keystone XL is the environmental litmus test for Senators and every other politician in the country. It's the one issue where people have come out in large numbers to put their bodies on the line, and online too: the largest civil disobedience action on any issue in 30 years, and now the most concentrated burst of environmental advocacy perhaps since the battles over flooding the Grand Canyon back in the glory days."


Participating groups included:
 350.org, Alliance for Climate Education, Avaaz, BOLD Nebraska, Brighter Planet, Center for Biological Diversity, Chesapeake Climate Action Network, Climate Reality Project, Climate Solutions, CREDO, Democracy for America, Environmental Action, Energy Action Coalition, Environmental Defense, Frack Action/Water Defense, Friends of the Earth, FUSE, Global Exchange, Green America, Green for All, Indigenous Environmental Network, League of Conservation Voters, Labor Network for Sustainability, MoveOn.org Political Action, National Wildlife Federation, Natural Resources Defense Council, Oil Change International, Other 98%, Public Citizen, Patagonia, The North Face, Rainforest Action Network, Rebuild the Dream, Sierra Club, Solar Mosaic, Sojourners, Sungevity, Tar Sands Campaign, U.S. Climate Action Network and Vote Solar
EcoWatch Daily Newsletter