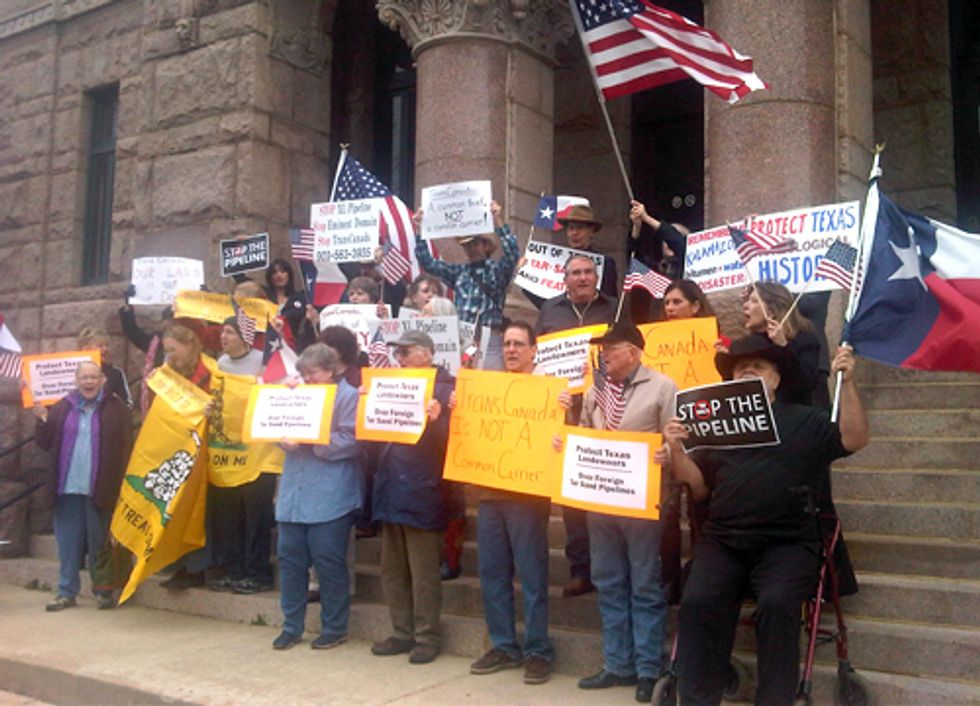 By Jamie Henn
The latest attempts to revive the Keystone XL zombie were announced the afternoon of Feb. 27, and like previous resurrection efforts, this revival attempt will be met with fierce opposition.
In a press release, the Canadian pipeline company TransCanada said that it will move forward with construction of the southern half of the Keystone XL tar sands pipeline from Cushing, Okla., to Texas refineries and reapply for a cross-border permit for the northern half of the pipeline from the Alberta tar sands down to the mid-west.
"Transcanada's decision to build its pipe from Oklahoma to Texas is a nifty excuse to steal some land by eminent domain. It doesn't increase tar sands mining because there's still no pipe across the Canadian border, but it's the usual ugly power grab and land grab by the fossil fuel industry—we'll do what we can to stand by our allies in that arid and beautiful land," said Bill McKibben, founder of 350.org.
While TransCanada does not require a presidential permit for the southern half of the pipeline, it still must secure land along the proposed route. Since few people are eager for a pipeline carrying corrosive tar sands oil to run through their backyard, the company has resorted to using eminent domain to grab land away from property owners.
"I'm looking out my window every hour," Julia Trigg Crawford, 53, of Lamar County, Texas told Talking Points Memo. "While they don't have a permit to build anything, they have the right to start construction…. A foreign for profit pipeline was allowed to condemn my land without my being allowed to talk to a judge."
Stories like Julia's have inspired a grassroots rebellion against the company. The fight is creating some unique bedfellows—environmentalists, Tea Partiers, libertarians, ranchers, and more. And just as fights over land rights and local concerns have stalled the Northern Gateway pipeline that would run from the Alberta tar sands to the coast of British Columbia, it looks like TransCanada could be facing months, if not years, of local fights along its proposed route.
As for the northern half of the Keystone XL pipeline, TransCanada is also facing a difficult route to approval.
"Transcanada's second decision, to reapply for a permit to bring tar sands oil across the border, puts us back where we were this time last year," explained Bill McKibben. "Since their first application was outright rejected, this one will have to start all over again—the White House has made clear for months that it will be 2013 at the earliest before any decision is reached. If this time the process proceeds without influence-buying at the State department, and if the administration honors its promise to fully evaluate climate impacts, that permit will never be granted. Those, of course, are big ifs."
Which is why we have to keep the pressure up over the coming months. In this case, the best defense against the Keystone XL zombie is going to be a good offense. Instead of spending the next 12 months fighting over a single pipeline, we want to expand our grassroots battle against the fossil fuel industry in a number of important directions. First, we're going to take up new iconic fights, supporting efforts to stop everything from a fracking to coal export terminals. Second, we're going to blow the whistle on the dirty money that's corrupting our political system, turning up the heat on every politician in America, from presidential candidates to members of Congress, and demanding that they side with the people, not the polluters. And third, we're going to go after the billions in subsidies the fossil fuel industry receives each year. Ending these taxpayer handouts will help stop projects like Keystone XL by leveling the playing field for renewable energies to beat fossil fuels.
As Bill wrote last week, Keystone XL is just the beginning.
For more information, click here.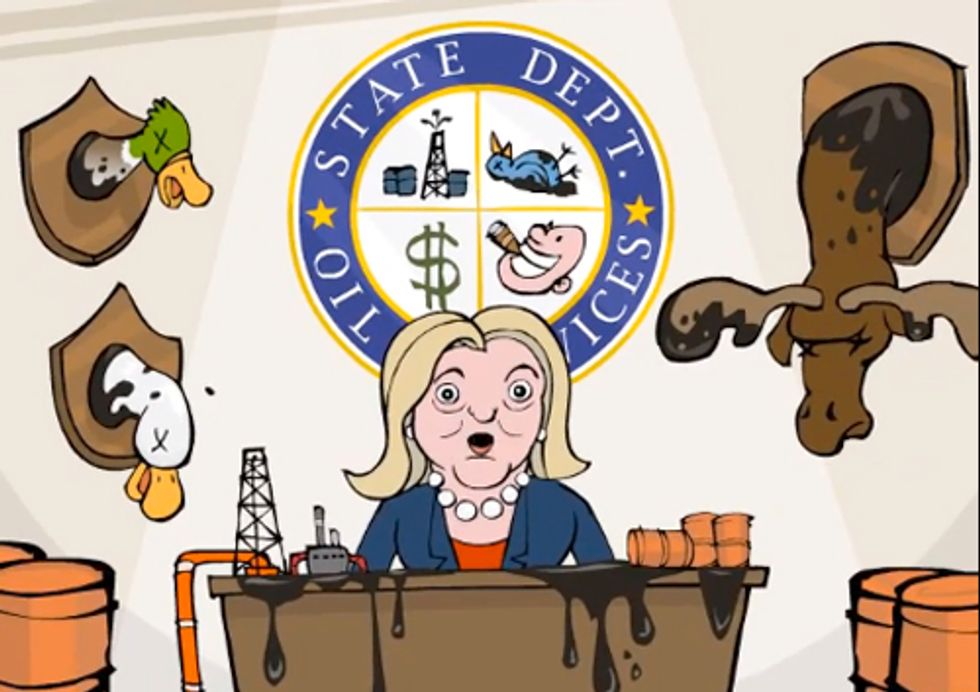 Environmental group Friends of the Earth sued the State Department on Feb. 23 to gain access to communications between the department and a broad web of lobbyists promoting the Keystone XL tar sands pipeline.
Friends of the Earth, represented by Earthjustice, filed a Freedom of Information Act (FOIA) request in October 2011, asking the State Department to release communications between the department and employees of TransCanada, the Canadian oil company seeking to build the Keystone XL pipeline, or between the department and employees of pro-pipeline lobbying firms McKenna Long & Aldridge, Bryan Cave LLP and DLA Piper.
Two of the lobbyists named on this FOIA request, Gordon Giffin with McKenna, Long & Aldridge and James Blanchard with DLA Piper, were fundraising bundlers for Secretary of State Hillary Clinton's 2008 presidential bid. DLA Piper was also the largest single corporate source of employee and PAC contributions to Hillary Clinton's campaign. The campaign connections also extend to President Obama. Jeff Berman, a lobbyist listed on Bryan Cave's Keystone XL lobbying account, was director of delegate selection in Obama's primary campaign and was called the "unsung hero" of his victory.
"Despite the administration's recent rejection of the Keystone XL permit, TransCanada is forging full-speed ahead on a new permit application, and pro-pipeline lobbyists are keeping the pressure on the State Department to approve this controversial and misguided pipeline," said Damon Moglen, climate and energy project director at Friends of the Earth. "The communications we seek are key to ensuring that the State Department isn't letting lobbyists' personal connections to Secretary Clinton or President Obama bias its decision-making."
Friends of the Earth filed a previous lawsuit against the State Department for failure to respond to a December 2010 FOIA request, leading to the release of correspondence between State Department officials and Paul Elliott, TransCanada's lead Washington, D.C. lobbyist, who was formerly one of Hillary Clinton's presidential campaign managers. Revelations about other lobbyists with close ties to Secretary of State Hillary Clinton and their potential influence on the review process for the Keystone XL permit led the environmental groups to file this FOIA request for those additional lobbyists' communications. The State Department has ignored that request.
"Emails released in response to our first Keystone XL FOIA request revealed an inappropriately cozy and accommodating relationship between TransCanada and State Department officials," said Moglen. "From conflicts of interest, to insider advice, to outright cheerleading from within the department, those FOIA documents revealed a corrupted and broken process. With TransCanada continuing to push for a permit for this controversial project, the public deserves to know the full details of oil lobbyist relationships fueling this project. The State Department must not hide documents from the public that could shed further light on serious problems in the initial review of the Keystone XL pipeline—problems that contributed to the biased and incomplete environmental review of the pipeline the first time around."
"The billions of oil dollars backing this pipeline should not interfere with government transparency. The public has a right to know how our government is making decisions that have potentially grave consequences for our environment," said Earthjustice attorney Abby Rubinson.
The complaint filed on Feb. 23 against the State Department is available by clicking here.
For more information, click here.
EcoWatch Daily Newsletter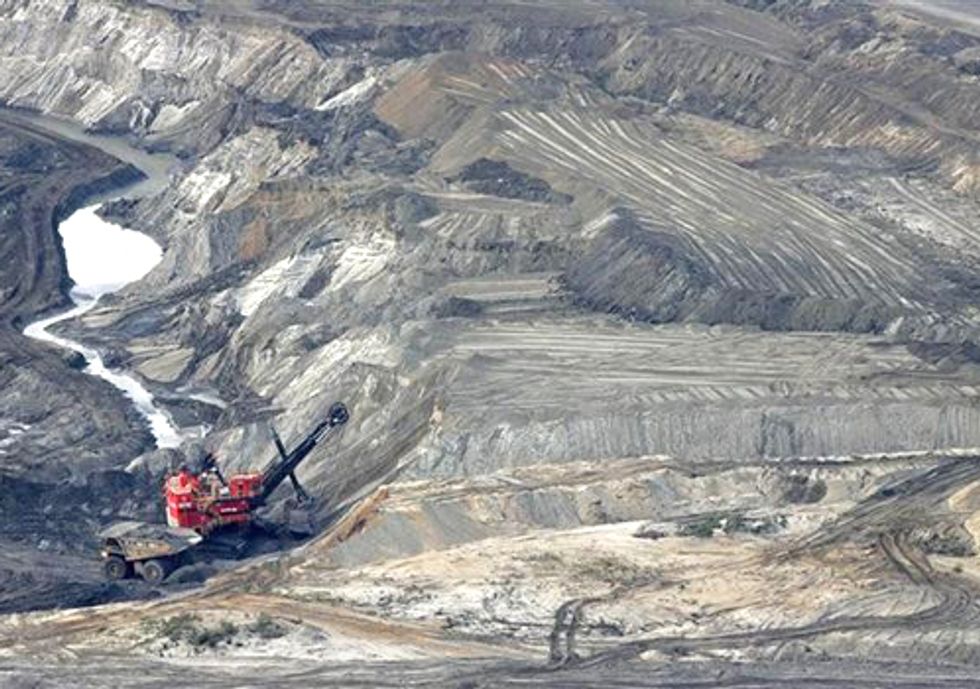 A meeting on Feb. 23 of European Union (EU) country representatives to decide on an effective ban of climate-wrecking fuels, such as those produced from tar sands, has ended in stalemate, said Greenpeace. The decision to implement the EU's fuel quality directive and its agreed objective of cutting carbon emissions from fuels by 6 percent by 2020 now lies with European environment ministers, who are expected to vote on the matter in June.
The issue has been the subject of a furious back-room lobby offensive by the government of Canada, backed by global oil companies, which are set to profit from environmentally destructive tar sands extraction. Canada sits on what is probably the world's third biggest oil reserve, but most of it is locked up in tar sands.
Tar sands oil produces 23 percent more climate emissions than conventional fuels, Stanford University found in a report for the European Commission.
"Now that the tar sands issue is finally in the hands of publicly accountable ministers, we will see who's pulling the strings in Europe," said Greenpeace EU transport policy adviser Franziska Achterberg. "The evidence is clear—tar sands are the world's dirtiest fuels. The decision is even clearer—ministers should stand up to the oil industry and ban them from Europe."
For more information, click here.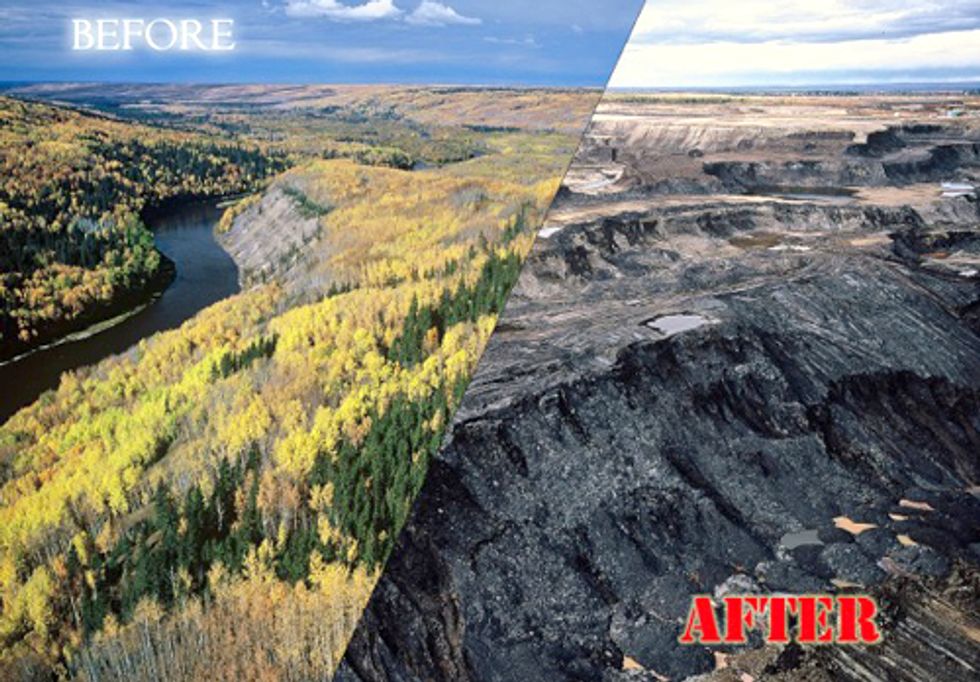 The European Commission—the executive branch of the European Union (EU)—will be voting in the next couple days whether to designate Canada's tar sands as being "highly polluting." Given tar sands' terrible ecological impacts upon our shared global atmosphere—and Canadian boreal forests, water, and indigenous peoples—the answer should be painfully obvious, and a resounding yes.
Such a designation would be a significant setback for tar sands growth.
Yet given the power of the ecocidal oil oligarchy which rules Canada and much of the world, empowered global citizens need to let the EU know the world expects, indeed demands, the EU do the right thing in condemning tar sands—in order to establish a level playing field for a renewable, efficient, and conservation based energy future.
Send a message to the EU to let them know you don't support tar sands development by clicking here.
For more information, click here.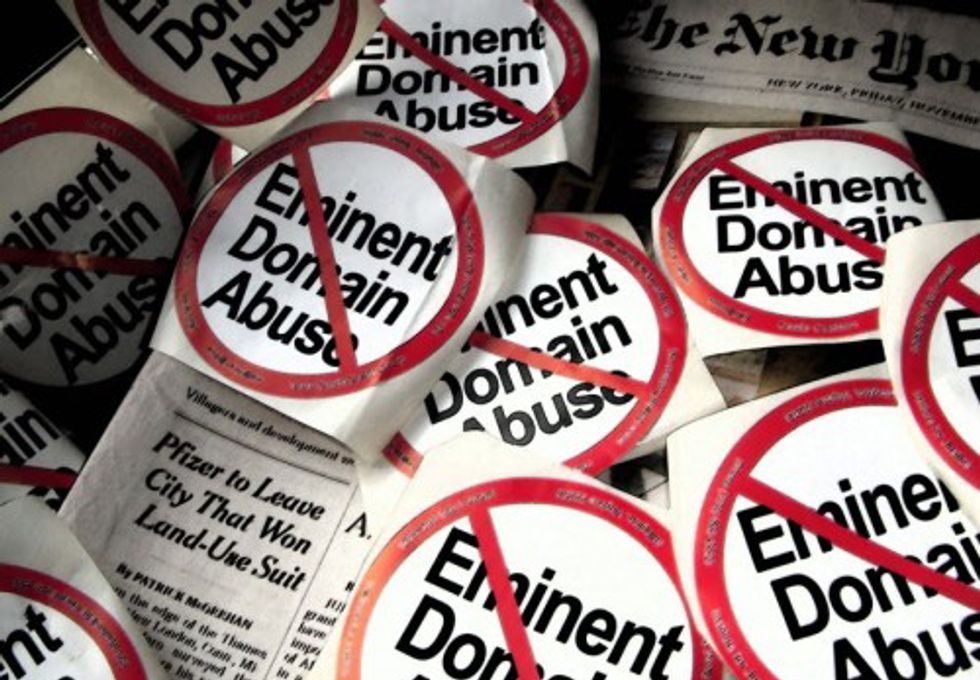 As Republicans in Congress try to use any means possible to do the bidding of their Big Oil backers and construct the Keystone pipeline at any cost, they seem to be losing many of their Tea Party constituents to eminent domain concerns. On the morning of Feb. 17, Texas Tea Party groups joined environmental activists in protest of TransCanada's eminent domain claims to land for the Keystone XL tar sands pipeline.
Texas landowner Julia Trigg Crawford has been at the center of eminent domain issues—but isn't letting go of her land without a fight. On Monday, Feb. 13, Ms. Crawford obtained a restraining order against TransCanada to protect her property. Within 24 hours, TransCanada in turn filed for the restraining order to be dissolved. Judge Bill Harris held a hearing in Paris, Texas on Feb. 17—but not before hundreds of activists from both sides of the aisle had time to rally in support of Ms. Crawford and her right to private property.
The groups demonstrated their Texas pride at the rally and hearing with their boots on and their Texas and American flags held high telling this private, foreign company—"Don't Mess with Texas." The message from both Tea Party members and landowners was clear—this is private property, and you can't take it without our permission.
"This is a private company taking land for private use and foreign profit. They are cloaking themselves in common carrier regalia and exercising eminent domain against Texas citizens but there is no evidence that they have the legal authority to seize property in Texas," said Debra Medina, former Republican gubernatorial candidate and director of We Texans.
Though TransCanada's permit was denied, the company continues to bully landowners and execute eminent domain condemnation proceedings. Groups are questioning this company's right to take land via eminent domain. The Railroad Commission has stated that it does not have the authority to grant the power of eminent domain to TransCanada.
"Everyone wants to know, by what authority or permit does this private, foreign company have the right to condemn property and start construction? We are going to tell TransCanada, don't mess with Texans, don't mess with our landowners," said Linda Curtis of Independent Texans.
For more information, click here.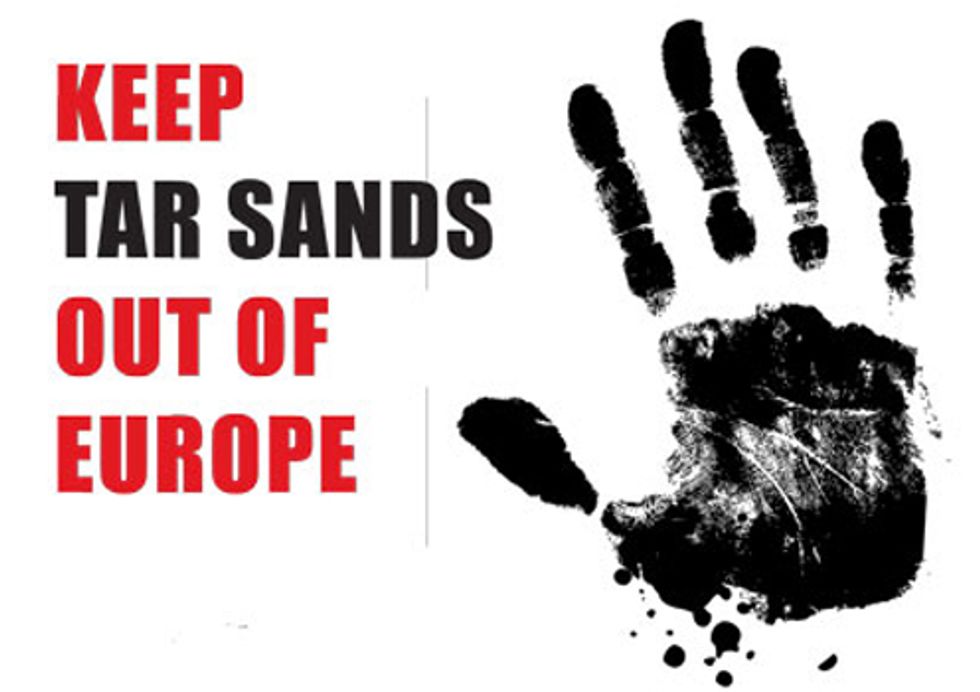 Eight Nobel Peace Prize laureates have written to European Heads of State and Ministers of the Environment urging them to tackle the most climate polluting sources of transport fuel, notably tar sands.
Oil produced from highly polluting sources, such as tar sands and coal-to-liquids, causes far more climate damaging emissions than conventional oil. Tar sand extraction in Canada has destroyed pristine wilderness areas and has had devastating impacts on local communities and aboriginal groups.
A copy of the letter is available by clicking here.
"Tar sands oil is the dirtiest of all, it emits 23 percent more greenhouse gas emissions than conventional oil," said Darek Urbaniak, extractive industries campaigner for Friends of the Earth Europe. "Tar sands also do untold damage to the environment and wildlife and threaten indigenous communities around the globe. If the EU doesn't put the proper policies in place it will be equally responsible for the damage caused by tar sands."
EU government representatives will vote next week (Feb. 23) whether to force fuels such as tar sands to clean up or face an effective ban from the EU market under the bloc's Fuel Quality Directive.
The law was approved in 2009 but still has to be implemented. Canada, a major tar sands producer, has lobbied extensively against the proposal that is being put to the vote next week, together with oil companies.
"If Europe doesn't act now, our addition to oil is going to turn into a much more damaging dependence on high carbon oil," said Nusa Urbancic of Transport & Environment. "The science shows that tar sands oil does lead to higher emissions than other sources. The EU's plan to make these fuels clean up is the right one and member states should support it."
"Even oil-obsessed America refused to take the gamble and shelved plans for a tar sands pipeline this winter," said Greenpeace EU transport policy adviser Franziska Achterberg. "The question is whether Europe is prepared to say 'no' to the oil lobby and to tar sands, which represent the exact opposite of the clean, climate-friendly future that we urgently need."
For more information, click here.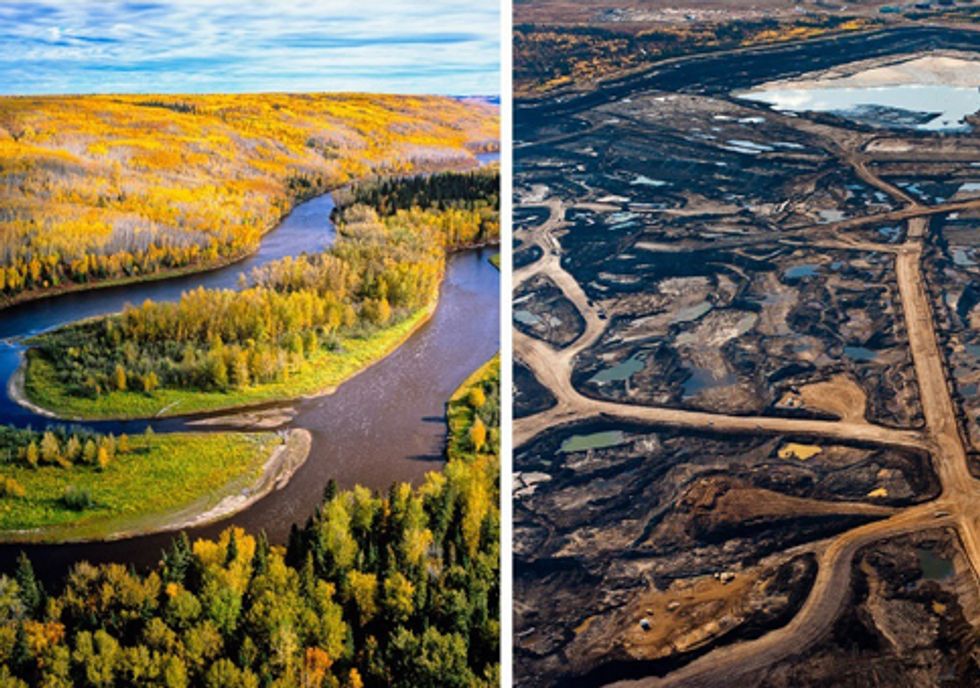 By Jill Fitzsimmons & Emilee Pierce
In the media storm surrounding TransCanada's proposed Keystone XL pipeline, news outlets have largely focused on the employment impacts of the project, often parroting discredited industry statistics in the process. But jobs are only a part of the story. A review of recent testimonies, tax records and local news reports shows that, on many other important issues at stake, TransCanada has been advertising one thing to its stakeholders and delivering another. What follows is a list of stories that many national news outlets missed:
1. TransCanada Used Aggressive Tactics With Landowners. TransCanada touts a commitment to "treating all landowners who may be affected by our project honestly, fairly and with mutual respect." But while the permit application for the Keystone XL pipeline was still pending, TransCanada sent letters to landowners along the pipeline route threatening to use eminent domain to seize their land if they did not agree to sign easements within 30 days. Landowners reportedly found this approach to be "very intimidating" and felt "bullied" by TransCanada. The Nebraska Farmers Union has repeatedly spoken out against TransCanada's "less than ethical" tactics, and, according to The New York Times, East Texas landowners said "they had never seen a company behave as aggressively as has TransCanada." Additionally a U.S. government official called the use of eminent domain "presumptuous" because the pipeline had not yet been approved. This story has been reported by the local press but largely ignored by the national media.  
2. TransCanada Didn't Deliver On Previously Promised Tax Revenue. TransCanada has promised that Keystone XL will generate $5.2 billion in property tax revenue for the U.S. states located along its route. But the company made similar promises about the first leg of the Keystone pipeline, and 2010 tax records show that it failed to deliver. In its first year of operation, Keystone 1 generated less than half ($2.2 million) of the $5.5 million projected for Nebraska, and only a third ($2.9 million) of the estimated $9 million in state property taxes for South Dakota. In Kansas, TransCanada is exempt from property taxes for a decade, which will cost the state $50 million in public revenue, according to local officials.

3. TransCanada Reversed Its Position On Rerouting. In response to concerns about the environmental impact of the Keystone XL pipeline on Nebraska's ecologically sensitive Sandhills region, TransCanada initially claimed that rerouting the project would be "impossible." But the next month, following the Obama administration's announcement that a decision on the pipeline would be delayed, TransCanada changed its tune. On Nov. 14, TransCanada announced that "the route will be changed and Nebraskans will play an important role in determining the final route."
4. TransCanada Will Import Much Of The Steel For The Pipeline. TransCanada has claimed that the Keystone XL pipeline would create 7,000 manufacturing jobs in the U.S. But an independent analysis called that figure "unsubstantiated and misleading" because TransCanada has already signed contracts to purchase "almost half" of the pipeline materials from companies abroad. TransCanada has acknowledged that it has already spent $1.9 billion on 100 miles of pipe, which is now being stored in yards and warehouses. After receiving information from pipeline company Welspun Tubular that some of the steel pipe for the project was produced in India, Democrats on the House Energy and Commerce Committee asked TransCanada to "immediately disclose where the steel to be used in Keystone XL is manufactured." Citing TransCanada's history of using low-quality, foreign-made steel to build U.S. pipelines—even as unemployed American manufacturers sat idly by—the United Steelworkers union also said it would only support TransCanada's application for the Keystone XL pipeline if steps were taken to ensure "a domestic supply chain." 
5. TransCanada Said Its Pipeline Would Increase Oil Prices In The Midwest. In the U.S., TransCanada has advertised the Keystone XL pipeline as a path to energy security. But a 2010 analysis prepared for the Department of Energy concluded that the Keystone XL pipeline will not have a significant impact on U.S. dependence on oil from the Middle East. Furthermore, even if the oil stayed here it would not protect the U.S. from price volatility since "the oil market is globally integrated," in the words of the Congressional Research Service. In fact, despite promises of a stable, affordable U.S. energy supply, TransCanada told Canada's National Energy Board that the pipeline would increase crude oil prices in the Midwest. "The resultant increase in the price of heavy crude is estimated to provide an increase in annual revenue to the Canadian producing industry in 2013 of U.S. $2 billion to U.S. $3.9 billion," TransCanada said.
For more information, click here.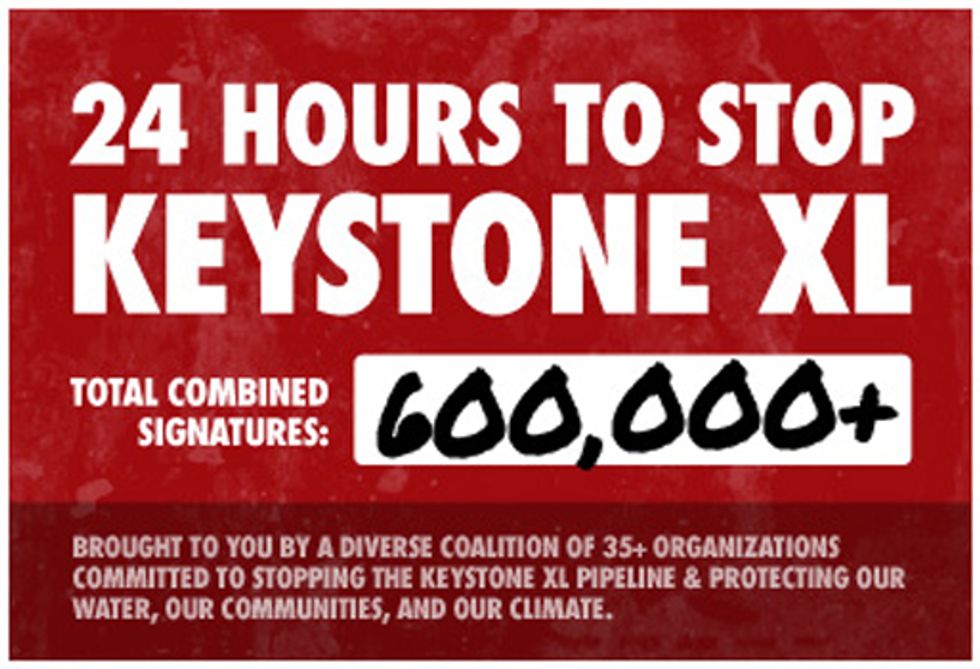 By Andy Rowell
Once again it is the many versus the money. Starting at noon on Feb. 13, a coalition of thirty or so environmental organizations, including Oil Change International (OCI) and 350.org set out to gather at least 500,000 signatures with 24 hours to stop the controversial Keystone XL pipeline.
The initiative came as a response to moves within the Senate to vote as early as Feb. 14 on a deal that would give the green light to the construction of the pipeline.
As Steve Kretzmann, the director of OCI said on Feb. 13, "After President Obama rejected Keystone XL last month, many Senators are rushing to resurrect it in order to protect their friends—Big Oil. As you read this, the oil industry is tightening the screws on the remaining senators they need to get this thing passed."
The Washington Post reports that the bill currently has the backing of 44 Republicans and one Democrat, although Senate Democratic leaders oppose it.
The Post argues that "the amendment indicates the debate over TransCanada's Keystone XL pipeline—which would transport heavy crude from Canada's oil sands to Gulf Coast refineries—will continue to help define the two parties this election."
In an amazing show of strength against the KXL, the goal of 500,000 signatures was reached just before 7 p.m. on Feb. 13. It currently stands at more than 600,000 signatures.
These will be delivered later today to the offices of Senate Majority Leader Harry M. Reid (D-NV) and Minority Leader Mitch McConnell (R-KY). Gene Karpinsky, who heads the League of Conservation Voters, told ENS Newswire that handing over 50 giant boxes each holding 10,000 signatures would be a "unified show of our power: our voices against the dollars of Big Oil."
"Anyone who thought environmentalists were graying into irrelevance was wrong," added Bill McKibben, the co-founder of 350.org, and one of the leading opponents of the pipeline.
McKibben continued, "The arguments by now are clear. This pipeline won't create jobs (that's why the biggest labor unions in the country support the president). It puts the heartland of the country at risk from spills—the kind of leaks that devastated the Yellowstone and Kalamazoo Rivers in the year past. And after the year with the most weather disasters in the nation's history, and amidst this weird and out-of-kilter winter, the fight against climate change must start here."
So if you haven't already, go here and sign the petition that says, "Senators—Block any efforts to revive the dangerous Keystone XL tar sands pipeline."
So why take the time to do it? As Steve Kretzmann says, the petition "will be a unified show of our power—our voices against the dollars of the fossil fuel industry."
For more information, click here.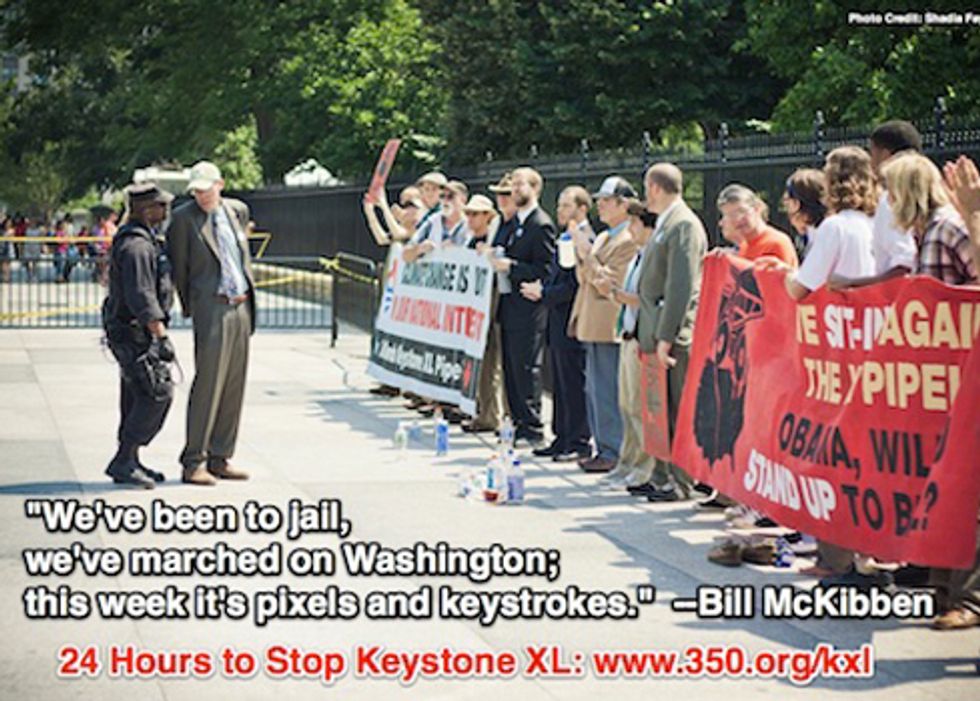 By Jamie Henn
It's Feb. 13, and just over an hour ago 350.org and a coalition of more than 30 progressive groups, environmental campaigns, businesses and blogs launched a 24-hour drive to send more than 500,000 messages to the Senate opposing the Keystone XL tar sands pipeline. The timing is crucial—starting today, oil-soaked Republicans are going to be attempting to saddle a transportation bill with an amendment that would override President Obama's decision to reject Keystone XL and push approval of the project.
The push is off to an incredible start. In just the first hour of emails and Facebook posts, we've rocketed by 100,000 signatures. Dozens of groups have yet to go out with their email blasts yet and social media is just beginning to light up.
"The environmental movement is well wired and well connected, and it's got lots and lots of young people who are ready to use social media in powerful ways," 350.org founder Bill McKibben told reporters on a conference call this morning. "More than any day before, the next 24 hours will take the environmental movement deep into the wired age."
Earlier this morning, Robert Redford put up a post on Huffington Post that caught on like wildfire. Activist Naomi Klein has been rallying her 100,000+ Twitter followers for hours. Blogs like Grist.org have gotten in on the fight, with multiple posts and graphics to inspire the cause. Donors have stepped in to sponsor online ads at places like Daily Kos and other progressive sites.
"It's really moving to see what's going on," said Bill. "We're up against the most profitable enterprise on earth and they have all the money they could ever want, so we've had to find different currencies to work in all year. We've spent our bodies—some of us on this call have been off to jail. We've spent our time and energy—tens of thousands have surrounded the White House last fall and protested in every Congressional district in the country. Now, for the next 24 hours we're spending our pixels and our keystrokes."
While the next 24-hours' concentrated burst of online activism is a new development for the Keystone XL fight, social media has been key to the struggle since the very beginning. The fight against the pipeline sprang onto the national landscape last summer, when Bill McKibben and a group of other indigenous and environmental leaders wrote a letter inviting people to come to Washington, D.C. during the last two weeks of August and take part in a sit-in at the White House. The letter quickly spread across Facebook and Twitter and sign-ups began flowing in. As Linda Capato, one of the national organizers of the sit-in, has said, the sign-ups for the sit-in practically took care of themselves. People soon started ride-boards to coordinate travel to Washington, D.C. A Facebook group of arrestees soon sprang up. Videos and photos from the protest spread like wildfire. And by the end of August, when the last of 1,253 people had been taken away from the White House in handcuffs, Keystone XL had become the most prominent environmental fight in a generation.
"The Keystone XL fight has galvanized our 2.5 million members more than any other issue," the President of CREDO Mobile, Michael Kieschnick told reporters on the call this morning. "That's because they know the stakes."
Michael Brune, the executive director of the Sierra Club, echoed the point. "Our members are fired up about this. When we've been sending out Keystone XL emails, we've been seeing higher response and open rates than about anything we've been doing on any issue over the last couple years."
The levels of enthusiasm led to more powerful offline action last fall. Pipeline protestors, largely coordinating over twitter and small email list-serves that sprung up across the country, managed to meet President Obama at every campaign event he did after August. In Colorado, a Native American leader interrupted the president's speech and pushed him on the pipeline. "I hear your concerns and we're looking at them closely," the president responded, in a video that quickly spread far and wide. The offline action culminated on Nov. 6, when more than 12,000 people completely surrounded the White House to protest Keystone XL. A few days later, President Obama did what months ago had seemed unthinkable—he rejected the permit and sent the pipeline back to the drawing board.
Now, environmentalists are mobilizing to protect that victory as Senate Republicans team up with Big Oil to try and resurrect the project. The latest online surge came together in just a few days and is a powerful show of force, as well as nimbleness on the part of environmental and progressive groups.
"In a sense, this push is representative of some of the generational transition that's underway in the environmental movement," explained McKibben. "There's a generation that's savvy in all sorts of different ways to make politics work and bring new voices to the floor. The young people across these organizations have made this thing happen over the last 72 hours, which is when we started sending out the call about this. It's amazing the coordination they've had underway. At some level, it's not surprising, the motivation is not that different than what led to the fight against PIPA and SOPA a few weeks ago. This is the environmental movement's equivalent and it's going to be large."
There's no guarantee the effort will work, but it's an amazing thing to watch unfold.
As Bill put it, "It's important to remember that we've been behind since the very beginning of this fight. The National Journal ran a poll of its 'energy insiders' last summer and 97 percent of them said there was no way the president would reject the pipeline, but he did. No kidding, we're at a disadvantage in the Senate. That's because we don't have as much money as the other side and can't make campaign contributions and so forth. But what we do have is numbers. Money power may still find itself on the short end of the stick against people power."
For more information, click here. To email your Senators, click here.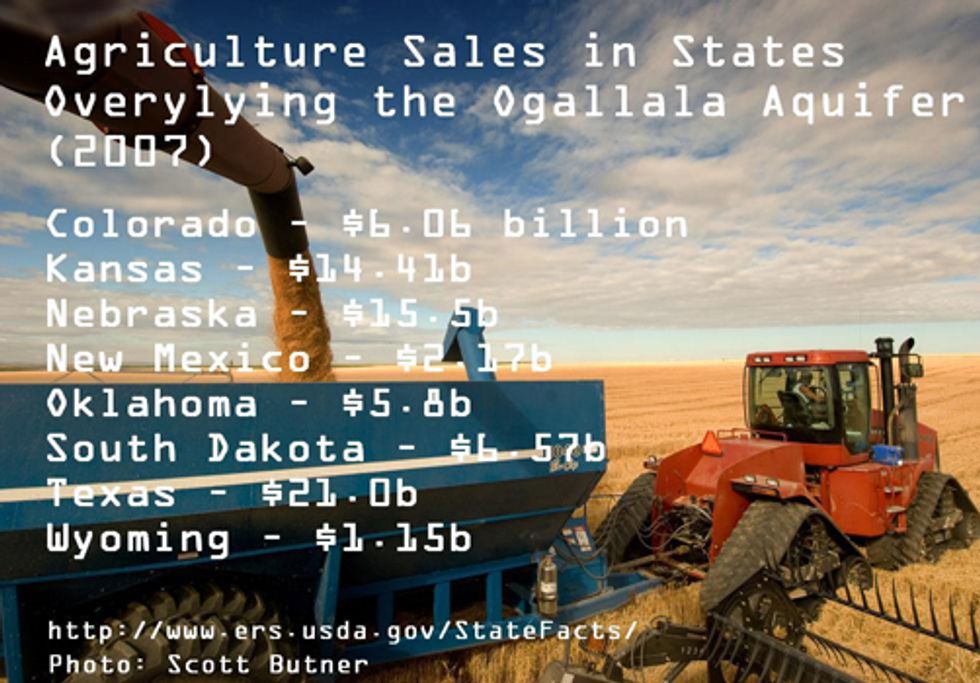 By Peter LaFontaine
Until recently, pipeline safety wasn't an issue that consumed a lot of oxygen on Capitol Hill. But the nationwide storm over the Keystone XL pipeline has thrust this subject front and center, with a tremendous amount riding on the outcome.
The Ogallala Aquifer—America's Reservoir
In its original application for a Presidential permit, TransCanada Corp. (the company behind the KXL pipeline) planned a route that would have cut through the sensitive Sandhills region of Nebraska. Fierce opposition from farmers, ranchers and citizens of every political stripe forced the company to scrap that idea, and now TransCanada is trying to identify a new route.
But though the oil industry was forced to make this concession to public health, a much vaster resource is still threatened—the Ogallala aquifer, which provides 30 percent of the water used for irrigation in the U.S., and drinking water for 2 million people. Almost any feasible pipeline route through Nebraska will still run over this aquifer.
It would be hard to overemphasize how vital the Ogallala is to our national economy. As Nebraska's Republican Gov. Dave Heineman stressed in a letter to the White House, "This resource is the lifeblood of Nebraska's agriculture industry." The aquifer's enormous stores of fresh water are the only reason the "Breadbasket of America" can exist—it irrigates farms that harvest nearly 20 percent of our wheat and cotton, and 15 percent of the U.S. corn—and makes possible a booming cattle industry across the plains states.
Tar Sands Pipelines—A Disaster in Waiting
Oil spills happen all the time—a dirty secret that's not so secret anymore, thanks to the scrutiny faced by the industry the last few years. And tar sands pipelines in particular have been in the news for all the wrong reasons—a 1.1 million gallon spill in Michigan's Kalamazoo River; a 42,000 gallon spill in the pristine Yellowstone River in Montana; a 21,000 gallon eruption in North Dakota on TransCanada's first Keystone 1 pipeline—which has been plagued by at least twelve spills since it was completed in 2010.
TransCanada is doing its best to hide these risks, even going so far as to manipulate data submitted to the U.S. State Department. An independent analysis by the University of Nebraska found that the worst-case spill scenarios were much higher than TransCanada's estimates, with up to "91 major spills over a 50 year design life of the pipeline" and even the potential for benzene contamination of drinking water for hundreds of thousands of people. A study after the Kalamazoo spill found that nearly 60 percent of area residents experienced gastrointestinal, respiratory or neurological symptoms from exposure.
An Easy Choice
It's obvious that tar sands pose an enormous risk to the Ogallala aquifer and the crops that feed Americans from coast to coast. Public polling on the issue reflects this concern—According to a Feb. 3 poll conducted by Hart Research Associates, 64 percent of voters think that the risk of a toxic oil spill in the Ogallala aquifer was a "very convincing" or "somewhat convincing" reason to block construction of Keystone XL. And after hearing pro and con arguments, a wide plurality of voters supported the White House's decision to deny the permit (47 percent support, 36 percent oppose, and 17 percent undecided or no opinion).
Randy Thompson, a rancher whose land KXL would cut through, put it in plain terms—"Perhaps it's just my Nebraska logic, but from my perspective it appears that the United States is getting the short end of the stick on this deal. Canada and the big oil companies are reaping the rewards while Americans are being left to fix the fence."
When you hear it like that, you realize that this debate boils down to a pretty simple question—Do we decide to protect Americans' food supply and drinking water, or pad the profits of foreign oil companies that want to cut through our farmland on the way to overseas markets? It should be an easy choice.
For more information, click here.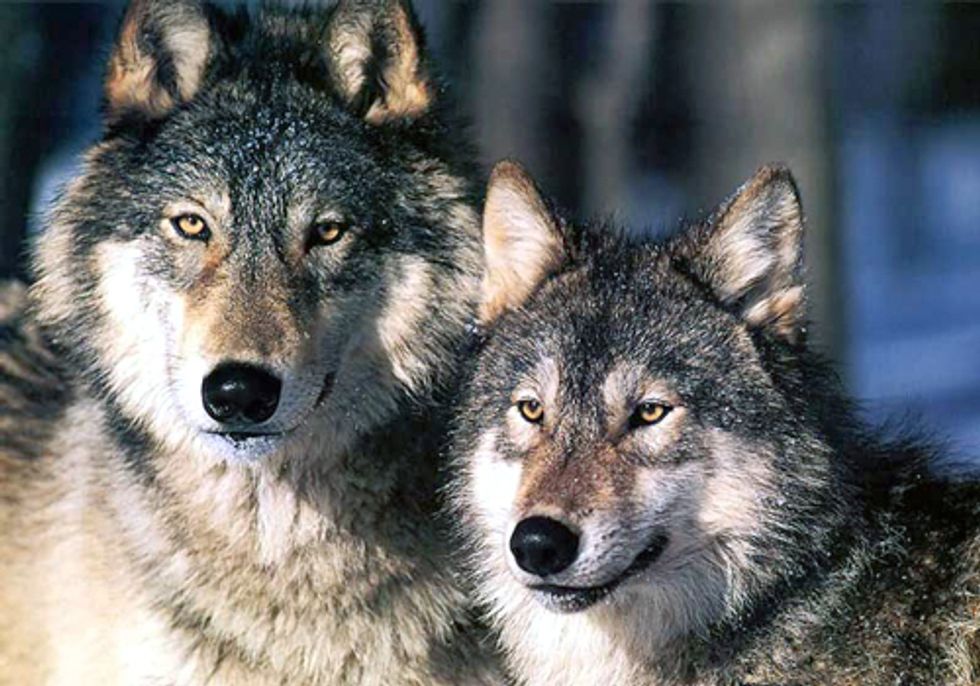 To make up for the fact that rapid tar sands oil mining is threatening caribou herds by destroying vast swaths of rainforest habitat in Alberta, the Canadian government has called for strychnine poisoning and aerial shooting of thousands of wolves in areas of tar sands mining.1
If Alberta Canada's tar sands oil fields are fully developed, an area of boreal rainforest the size of Florida will be eviscerated, leaving in its wake only giant ponds of toxic wastewater.2
It's obvious why this would pose a massive threat to all wildlife species who reside there, including birds, caribou and the iconic spirit bear.
But instead of preserving the habitat caribou need for their survival, the Canadian government's answer is to blaze ahead with tar sands oil extraction, and kill thousands of wolves who would naturally prey on the caribou. The Ministry of the Environment's plan calls for aerial shooting, and poisoning with bait laced with strychnine—a particularly painful type of poison.
This plan to kill wolves is a misguided, cruel response that does nothing to alleviate the greater problem—Tar sands development is a huge threat to wildlife, local communities, and all of our futures.
But despite the clear negative consequences, the Canadian government continues working to rapidly expand tar sands production and sales, including with the Keystone XL Pipeline to export tar sands oil all over the world.
Understandably, this has begun to earn Canadian prime Minister Stephen Harper and many in the country's government a negative reputation, to which they are becoming increasingly sensitive.2
The Ministry of the Environment has not yet moved forward with this planned wolf kill. And with enough public pressure, we can get them to abandon the plan, and build the case for Canada to stop their devastating race to expand tar sands oil fields.
Tell Prime Minister Harper to stop Canada's planned wolf killings today.
For more information, click here.
—————
1. "Tar Sands Development to Lead to Poisoning of Wolves," National Wildlife Federation, Feb. 6, 2012
2. "Tar Sands," Friends of the Earth
3. "Monitoring plan would bolster oilsands image, federal documents show," Vancouver Sun, Feb. 3, 2012