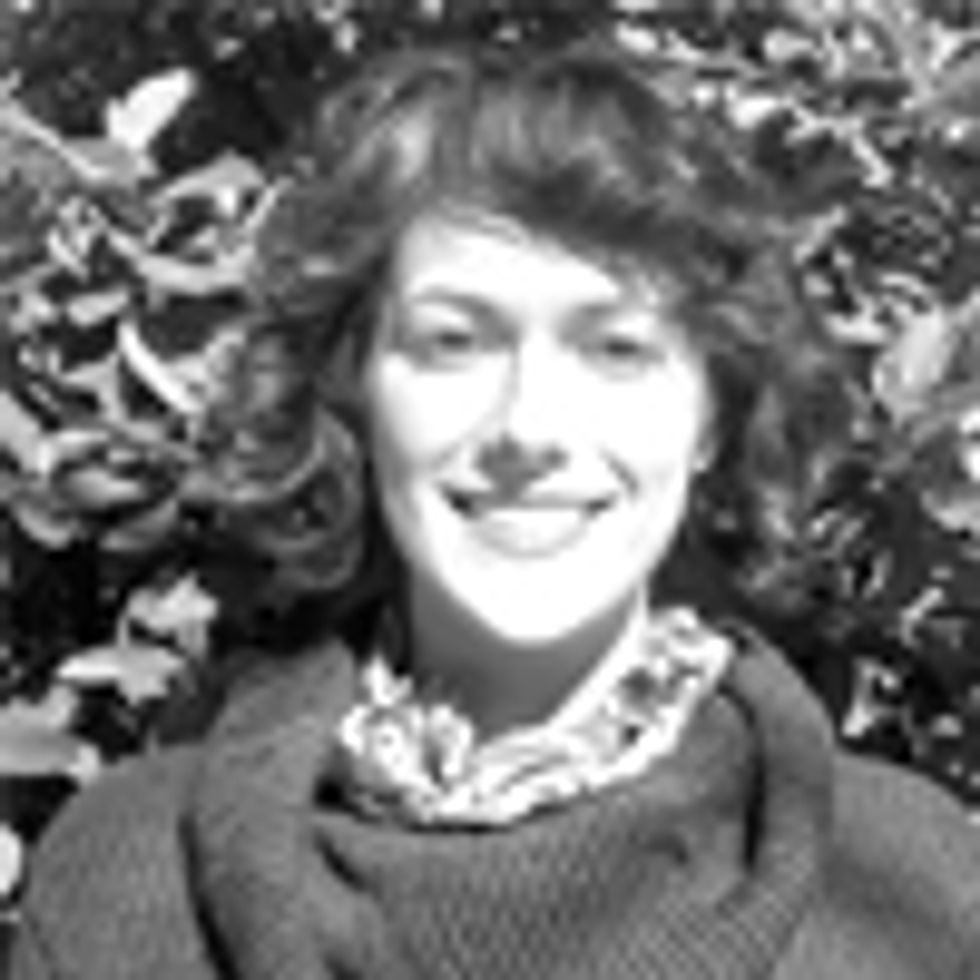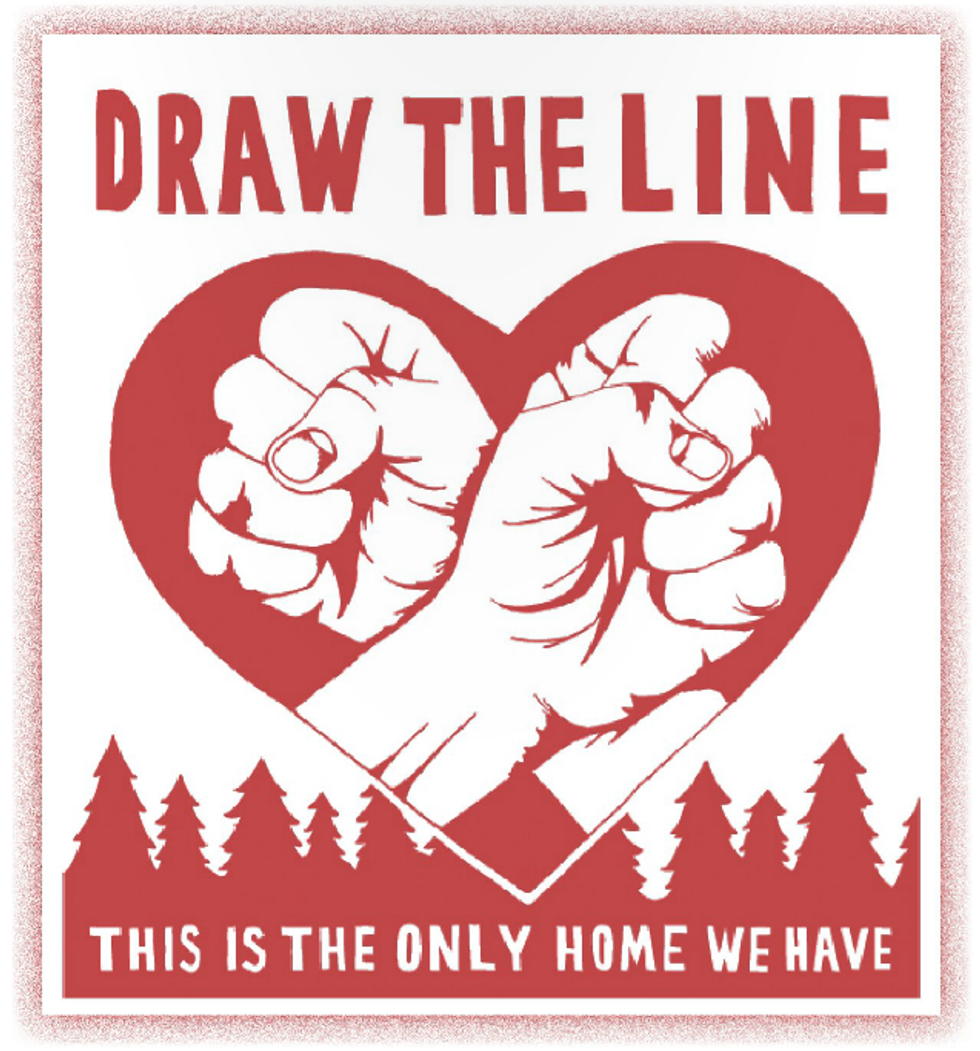 As the summer heats up, awareness is quickly escalating across the world as different direct action campaigns target a common denominator: the fossil fuel industry.
Earlier this year, organizers including 350.org launched the Summer Heat and Fearless Summer campaigns, calling for a global uprising to "peacefully but firmly" stand up to the industry that is wrecking our future.
As people are joining together to embrace non-violent direct action on behalf of the climate, 350.org  published the Creative Action Cookbook to encourage cohesive thoughtful action based on the variety of resources and skill sets of those involved. As humanity faces the uncertainties of the damage already done by pollution, this tenacious movement is focused on building a world that values the principles of "empathy, mutual aid and love."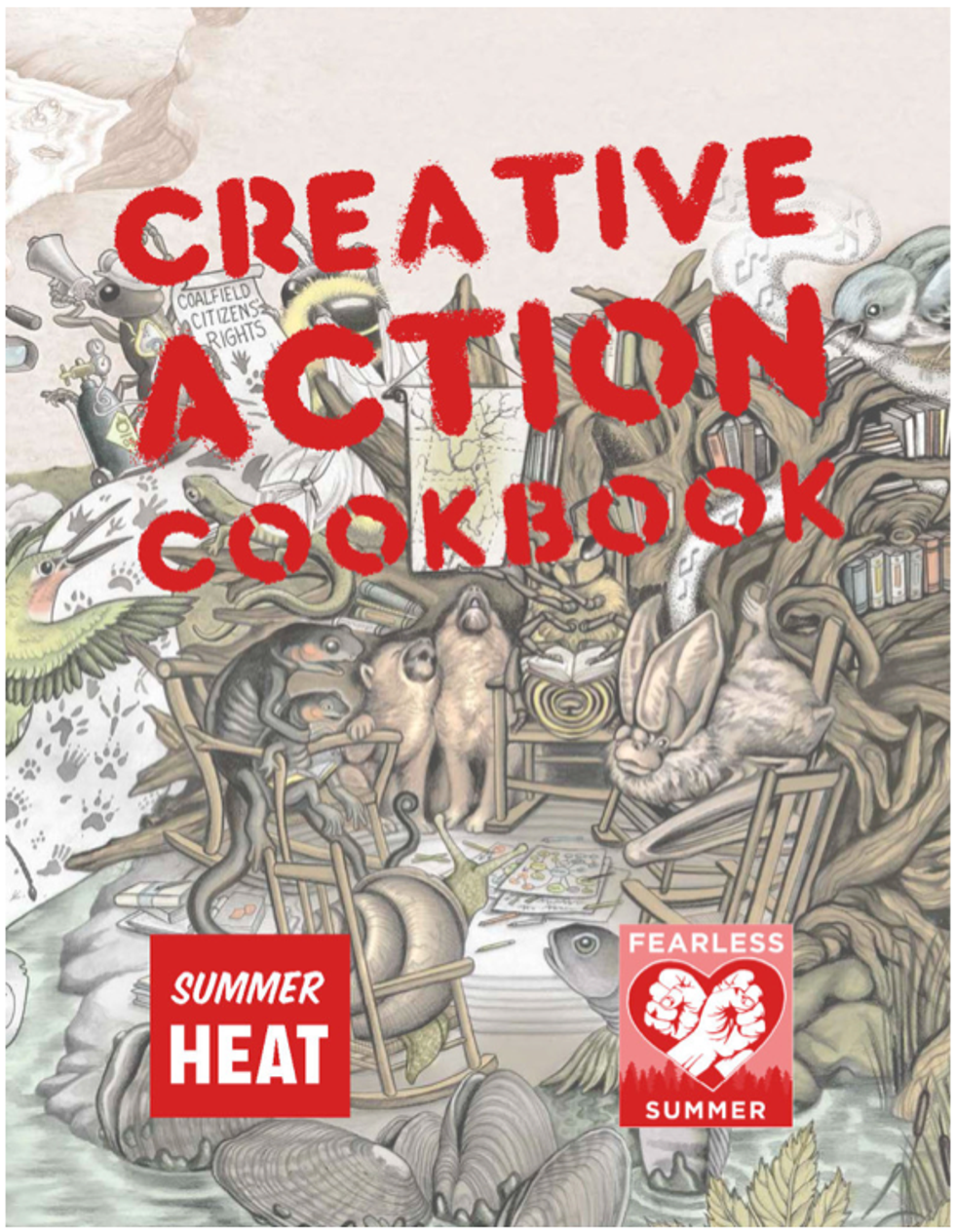 Over the past several weeks, direct actions challenging fossil fuel infrastructure have brought to light some of the most imminent hazards of this dangerous industry, while at the same time promoting a sustainable and renewable future.
According to Tar Sands Blockade, Swamp Line 9, a group dedicated to keeping Enbridge from modifying their 240,000 barrel/day Line 9 pipeline to carry tar sands bitumen, kicked off the first day of summer with a powerful action at a pump station on Haudenosaunee Six Nations land near Hamilton, Ontario, Canada.
Blockaders occupied the site and held strong for six days as activists with Great Plains Tar Sands Resistance in Oklahoma were disrupting the construction of another pump station for the controversial Keystone XL pipeline the same week. On the dramatic final day of the Swamp Line 9 blockade, four people who were locked to machinery and 16 others were arrested.
The action kicked off Idle No More's Sovereignty Summer with a righteous display of the movement's strength and determination, highlighting the involvement and solidarity of First Nations whose lands are being targeted as "energy sacrifice" zones across North America.
On June 29, Greenpeace, Friends of the Earth International, Sierra Club and other organizational allies demonstrated during an international day of solidarity with the youth activists attending Global Power Shift. Actions all over the world were calling for an end to the age of coal and promoting a clean energy future just days after four people locked themselves outside the UBS headquarters in Connecticut to protest the bank's continued funding of mountaintop removal coal mining.
On Canada Day, more than 500 gathered in Southampton, Ontario, to oppose a proposed nuclear waste dump less than a mile from the shores of Lake Huron, bringing this grave issue some necessary attention.
Other early Fearless Summer actions across the U.S. include a blockade that stopped trucks attempting to dump tar sands waste alongside the Detroit River; a flash mob that included activists from Occupy Wall St and Occupy the Pipeline protesting the Spectra and Rockaway fracked gas pipelines during lunchtime in one of Manhattan's busiest neighborhoods; and a confrontation by the Utah Tar Sands Resistance of road construction crews who are in the process of clear cutting, leveling and paving the way for tar sands, oil shale and fracking across the Colorado River Basin.
A week and a half before the tragic train explosion in Quebec last Saturday, 350 Maine and Maine Earth First! teamed up to bring attention to the hazards of transporting fracked oil by blockading a train carrying 70,000 barrels of crude coming from the Bakken oil fields in North Dakota.
Earlier this week, hundreds of Earth First! activists and allies brought attention to Momentive (headquarterd in Columbus, OH), one of the largest suppliers of fracking fluids, by blockading the shipping entrance to one of their facilities in North Carolina and successfully shutting down operations for the day.
Yesterday, Greenpeace activists bravely scaled Europe's tallest skyscraper in London to bring attention to the Shell's plans to drill in the Arctic.
As the number of direct actions grow across the Earth, communities are uniting to pressure their elected officials and other entities to acknowledge that we must divest from the fossil fuels and move toward a renewable energy future. This fearless movement to defend our future is just getting started—with much more to come.
Visit EcoWatch's CLIMATE CHANGE page for more related news on this topic.
——–
SHARE YOUR THOUGHTS BELOW: After reading the Creative Action Cookbook, what inspires you to act?
——–

EcoWatch Daily Newsletter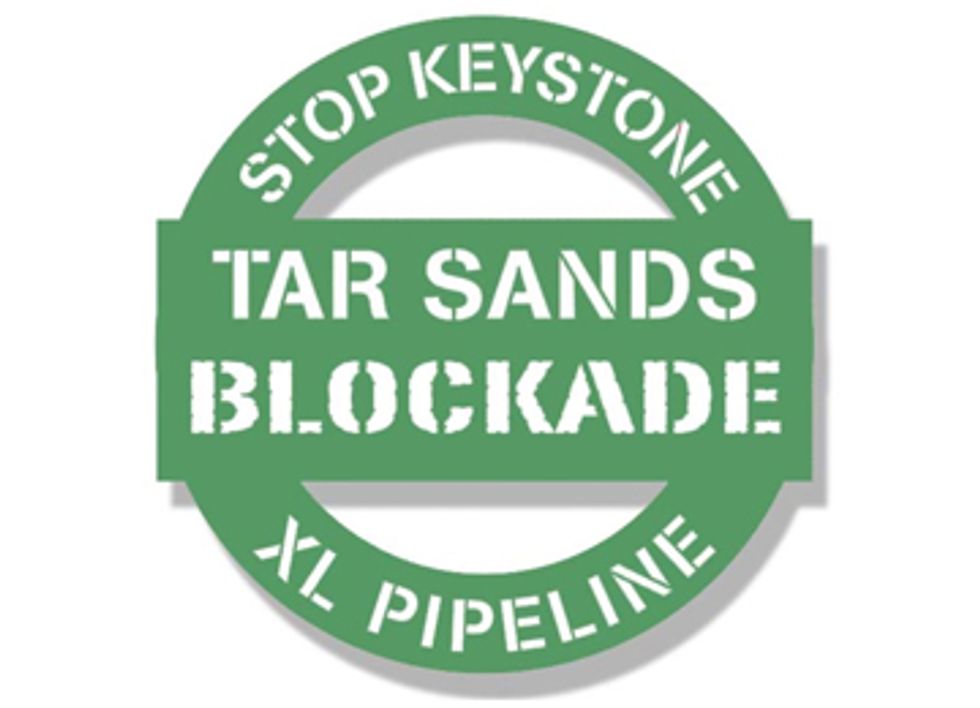 This morning, a fake press release was sent from an email address at yourtdbank.com, to a parody website designed to look like TD Bank's press page announcing the bank's divestment from Keystone XL and tar sands. The fake release cited President Obama's recent climate speech and a host of economic problems for the tar sands industry as reasons for TD Bank's decision to sell its $1.6 billion stake in Keystone XL and live up to their motto to be "As Green As Our Logo."
The media stunt was claimed by the Texas-based nonviolent direct action organization, Tar Sands Blockade, who over the last year has successfully caused major delays to the construction of the southern segment of the Keystone XL tar sands pipeline. The fake story was published by media sources such as International Business Times, before later realizing it was a hoax.
Today's hoax was part of a sustained campaign to encourage financial institutions bankrolling Alberta's tar sands industry to divest from toxic projects like Keystone XL and highlight TD Bank's blatant hypocrisy on environmental issues.
Yesterday, TD Bank touted their eco-consciousness by announcing a partnership with the Nature Conservancy to preserve 107 acres of Florida forests. The tar sands mega-project, which analysts say will only be economically viable if Keystone XL and other pipelines are built, would destroy or degrade 34 million acres of the world's largest, most pristine forest and the largest terrestrial carbon sink.
"Today's media stunt was intended to hold TD Bank accountable for bankrolling the most ecologically devastating project on planet Earth. If TD Bank wants to be 'as green as its logo,' then it must immediately divest from tar sands exploitation and Keystone XL, which will have devastating climate impacts," said Ron Seifert, a Tar Sands Blockade spokesperson.
"TD Bank's green-washing of its preservation of 107 acres in Florida while simultaneously investing in the destruction of a forest the size of the entire state of Florida is downright absurd and must be brought to light."
Visit EcoWatch's KEYSTONE XL and TAR SANDS pages for more related news on this topic.

waterlust.com / @tulasendlesssummer_sierra .
Each product featured here has been independently selected by the writer. If you make a purchase using the links included, we may earn commission.
The bright patterns and recognizable designs of Waterlust's activewear aren't just for show. In fact, they're meant to promote the conversation around sustainability and give back to the ocean science and conservation community.
Each design is paired with a research lab, nonprofit, or education organization that has high intellectual merit and the potential to move the needle in its respective field. For each product sold, Waterlust donates 10% of profits to these conservation partners.
Eye-Catching Designs Made from Recycled Plastic Bottles
waterlust.com / @abamabam
The company sells a range of eco-friendly items like leggings, rash guards, and board shorts that are made using recycled post-consumer plastic bottles. There are currently 16 causes represented by distinct marine-life patterns, from whale shark research and invasive lionfish removal to sockeye salmon monitoring and abalone restoration.

One such organization is Get Inspired, a nonprofit that specializes in ocean restoration and environmental education. Get Inspired founder, marine biologist Nancy Caruso, says supporting on-the-ground efforts is one thing that sets Waterlust apart, like their apparel line that supports Get Inspired abalone restoration programs.
"All of us [conservation partners] are doing something," Caruso said. "We're not putting up exhibits and talking about it — although that is important — we're in the field."
Waterlust not only helps its conservation partners financially so they can continue their important work. It also helps them get the word out about what they're doing, whether that's through social media spotlights, photo and video projects, or the informative note card that comes with each piece of apparel.
"They're doing their part for sure, pushing the information out across all of their channels, and I think that's what makes them so interesting," Caruso said.
And then there are the clothes, which speak for themselves.
Advocate Apparel to Start Conversations About Conservation
waterlust.com / @oceanraysphotography
Waterlust's concept of "advocate apparel" encourages people to see getting dressed every day as an opportunity to not only express their individuality and style, but also to advance the conversation around marine science. By infusing science into clothing, people can visually represent species and ecosystems in need of advocacy — something that, more often than not, leads to a teaching moment.

"When people wear Waterlust gear, it's just a matter of time before somebody asks them about the bright, funky designs," said Waterlust's CEO, Patrick Rynne. "That moment is incredibly special, because it creates an intimate opportunity for the wearer to share what they've learned with another."
The idea for the company came to Rynne when he was a Ph.D. student in marine science.
"I was surrounded by incredible people that were discovering fascinating things but noticed that often their work wasn't reaching the general public in creative and engaging ways," he said. "That seemed like a missed opportunity with big implications."
Waterlust initially focused on conventional media, like film and photography, to promote ocean science, but the team quickly realized engagement on social media didn't translate to action or even knowledge sharing offscreen.
Rynne also saw the "in one ear, out the other" issue in the classroom — if students didn't repeatedly engage with the topics they learned, they'd quickly forget them.
"We decided that if we truly wanted to achieve our goal of bringing science into people's lives and have it stick, it would need to be through a process that is frequently repeated, fun, and functional," Rynne said. "That's when we thought about clothing."
Support Marine Research and Sustainability in Style
To date, Waterlust has sold tens of thousands of pieces of apparel in over 100 countries, and the interactions its products have sparked have had clear implications for furthering science communication.
For Caruso alone, it's led to opportunities to share her abalone restoration methods with communities far and wide.
"It moves my small little world of what I'm doing here in Orange County, California, across the entire globe," she said. "That's one of the beautiful things about our partnership."
Check out all of the different eco-conscious apparel options available from Waterlust to help promote ocean conservation.
Melissa Smith is an avid writer, scuba diver, backpacker, and all-around outdoor enthusiast. She graduated from the University of Florida with degrees in journalism and sustainable studies. Before joining EcoWatch, Melissa worked as the managing editor of Scuba Diving magazine and the communications manager of The Ocean Agency, a non-profit that's featured in the Emmy award-winning documentary Chasing Coral.
In the midst of recent national controversy surrounding government surveillance of the public, a recent Freedom of Information Act request to the Nebraska State Patrol has exposed evidence that TransCanada provided training to federal agents and local Nebraska police to suppress nonviolent activists protesting the Keystone XL tar sands pipeline by arresting them on "anti-terrorism statutes." The presentation slides, obtained by grassroots landowner advocacy group Bold Nebraska, target Tar Sands Blockade activists by name.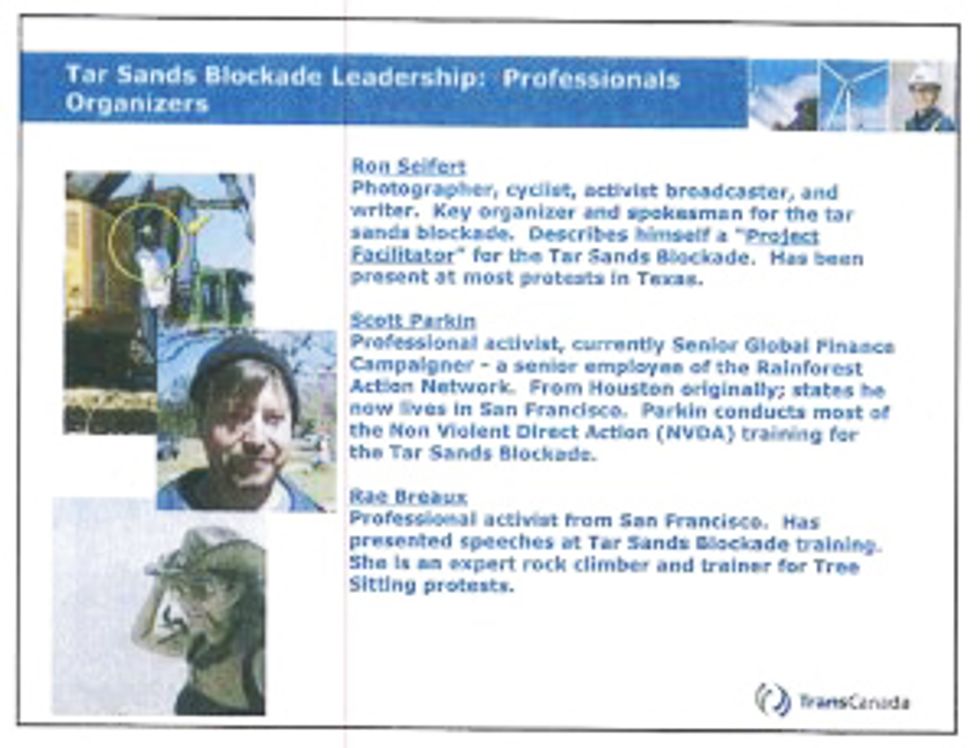 "This is clear evidence of the collusion between TransCanada and the federal government assisting local police to unlawfully monitor and harass political protestors," said Lauren Regan, legal coordinator for Tar Sands Blockade and executive director of the Civil Liberties Defense Center. "These documents expose the truth that the government is giving the nod to unlawful corporate spying. By slinging false allegations against peaceful activists in this presentation, TransCanada puts them at risk of unwarranted prosecution."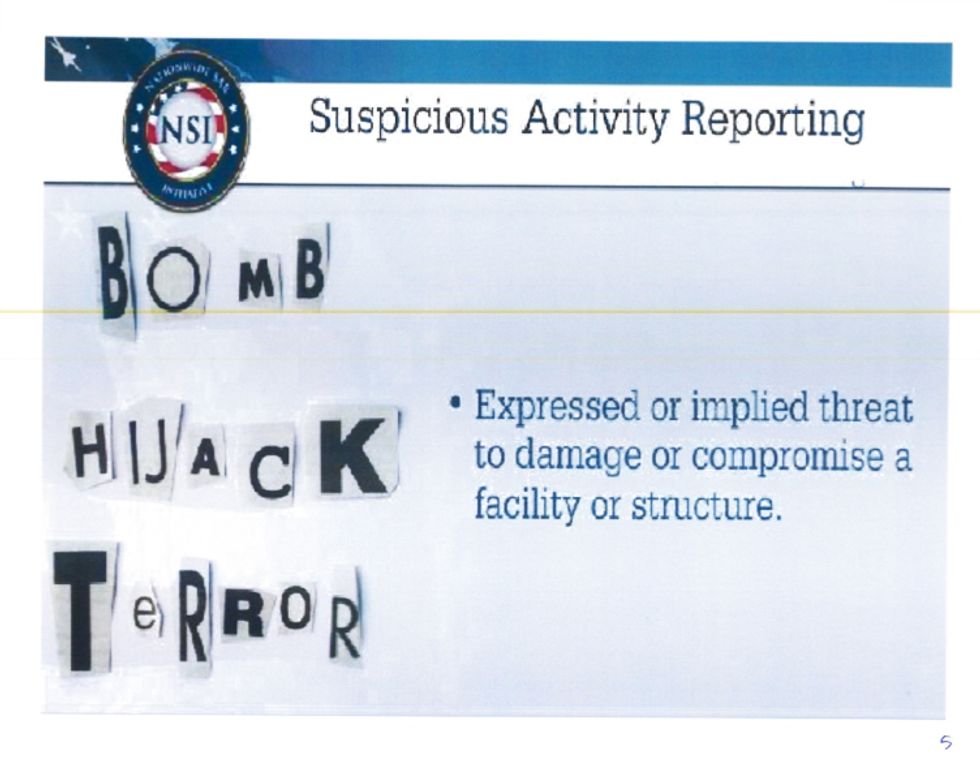 Although TransCanada's presentation to authorities contains information about property destruction, sabotage and booby traps, police in Texas and Oklahoma have never alleged, accused or charged Tar Sands Blockade activists of any such behaviors. Since August 2012, Tar Sands Blockade has carried out dozens of successful nonviolent direct actions to physically halt construction of the Keystone XL pipeline in Texas and Oklahoma. All of these acts, as well as every pipeline protest in Nebraska, have maintained strict commitments to nonviolence.
"Try as TransCanada might to slander Tar Sands Blockade and our growing grassroots movement, we know who the real criminals are," said Ron Seifert, a spokesperson with Tar Sands Blockade who was pictured in the slideshow. "The real criminals are those profiting from this deadly tar sands pipeline by endangering families living along the route and pumping illegal levels of air toxins into fence-line communities."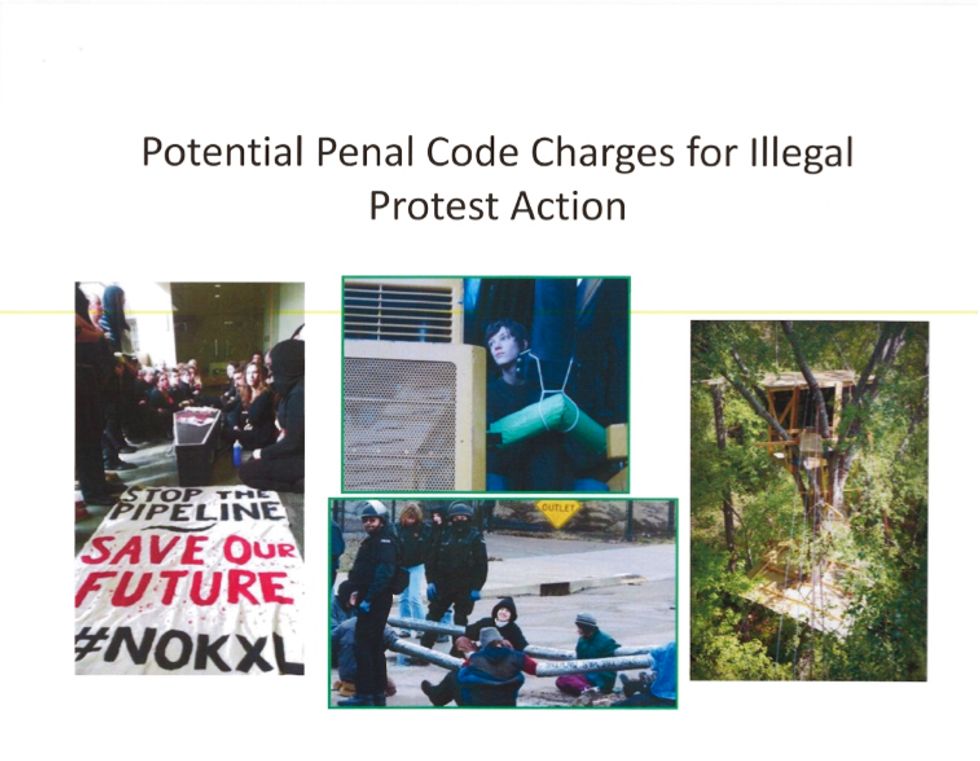 "If anything, this shows the effectiveness of campaigns to stop the Keystone XL pipeline and fossil fuel extraction as a whole," said Scott Parkin, an organizer with Rising Tide North America and a non-violence trainer also pictured in the slideshow. "We've been fighting coal, oil and natural gas for a long time using these time-honored tactics and strategies. We'll continue to use them precisely because they have been so effective in making change throughout American history."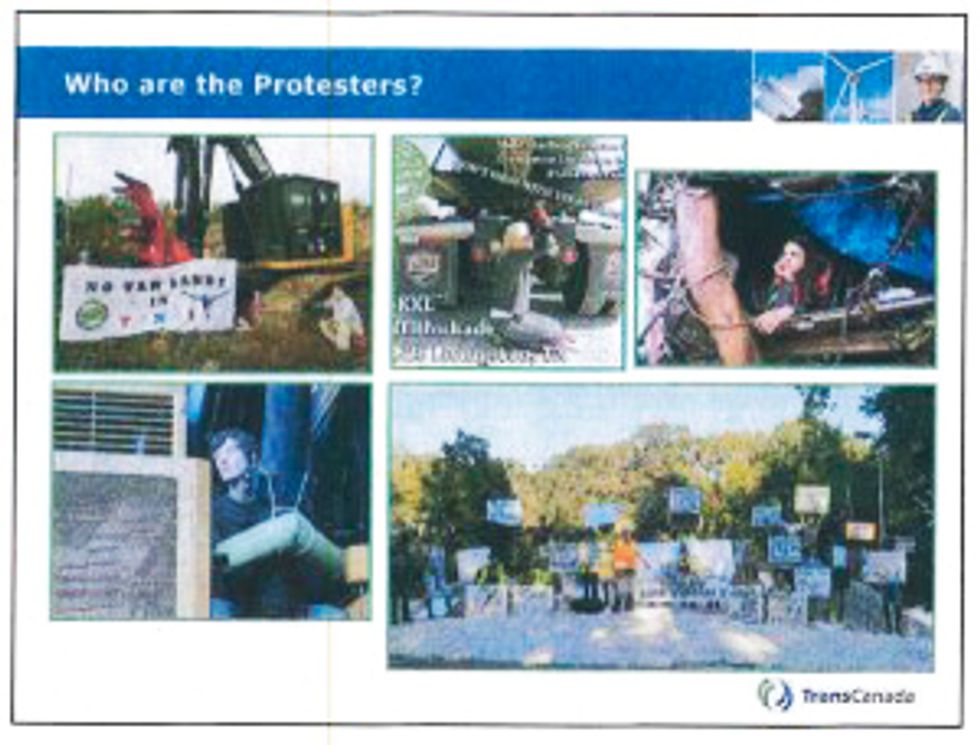 Grassroots resistance to Keystone XL is growing in Texas and Oklahoma where TransCanada is currently digging up freshly laid sections of the pipeline that failed integrity inspections. The East Texas Observer reports that at least 70 "anomalies," including dents and shoddy welds in the pipe, were identified in a 60 mile span, and in some areas these imperfections occur at a rate of three per mile.    
"A discovery like this presentation reveals that TransCanada has no problem lying to authorities and intentionally misleading the public in pursuit of its own private gain," says Seifert. "If TransCanada officials cannot be trusted to tell the truth about the peaceful nature of Keystone XL protestors, why should we believe they've told the truth about the integrity of their pipeline and the real threats it poses to the hundreds of rivers and creeks that it crosses?"
The full slideshows are available at Tar Sands Blockade's website.
Visit EcoWatch's KEYSTONE XL page for more related news on this topic.
——-