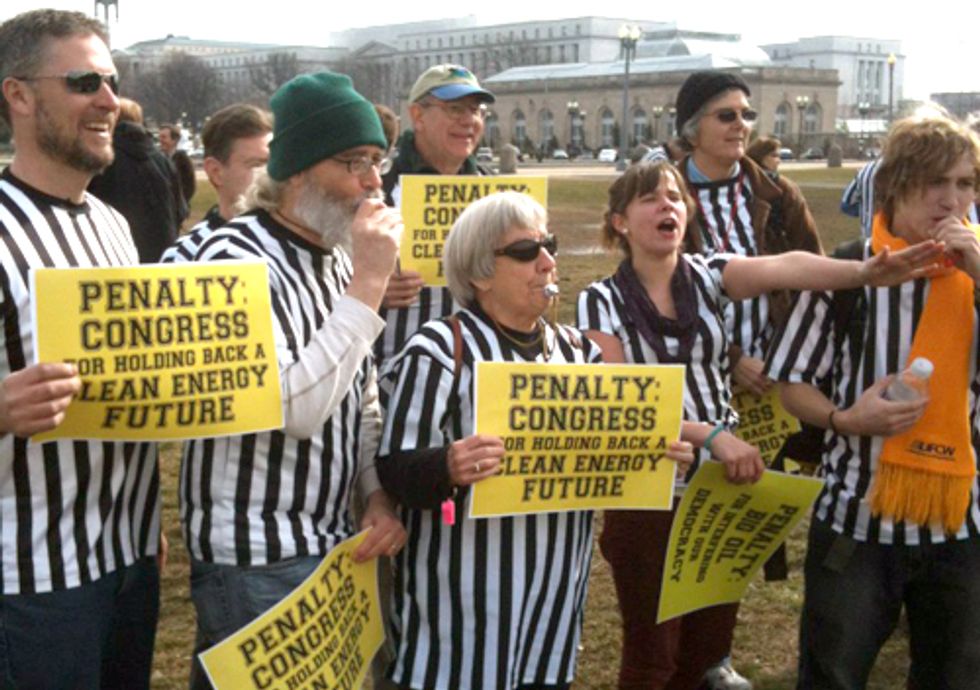 By Steve Kretzmann
On Tuesday, Jan. 24, as Washington readies for the annual State of the Union address, more than 500 people in referee outfits are converging on Capitol Hill to "blow the whistle" on Congress. Why? Consider these two facts:
1. The American people believe (rightly) that Members of Congress are more responsive to their campaign donors than to their own constituents.
2. Americans of all affiliations clearly favor ending fossil fuel industry handouts.
Americans are sick of watching Congress receive bribes from the fossil fuel industry to vote for scams like the Keystone XL pipeline and fossil fuel subsidies.  We see what's happening, and we're declaring it out of bounds and unsportsmanlike from this point forward.
The five biggest oil companies alone have made more than $1 trillion in profits over the last decade. It's absurd that these companies still demand, and still receive, handouts from Congress paid for by taxpayers. This isn't about energy or jobs—it's about greed and corruption.
Listed below is some useful information about the cycle of dirty energy money corruption going on in Congress.
Money In—Campaign Finance
(All data is from Oil Change International's Dirty Energy Money campaign which uses public data made available by the Center for Responsive Politics.)
Since 1999, the coal, oil and gas industries have shelled out more than $93 million to current members of Congress.
The trend is increasing with each election cycle, and current members of Congress took more than $25 million in campaign contributions from the oil, coal and gas industries in 2009-2010.
Through October of 2011, dirty energy interests had given this Congress $7.8 million in this cycle alone.
Speaker Boehner has received the most money from the fossil fuel industry during this term, with more than $287,000 received from the oil, gas and coal industries.
It is worth noting that direct contributions to candidates are only one way that the fossil fuel industry exerts influence. Substantially larger sums of money are mobilized by SuperPacs and other entities.
Money Out—Subsidies
Each year that the president has submitted a budget, it has included eliminating $4 billion in annual subsidies to the dirty energy industry. Each year Congress has been unable to eliminate the subsidies.
In a vote in May of 2011, the reason was clear. Senators who voted to preserve subsidies took an average of five times more dirty energy money than those who voted to stop handouts to the oil industry.
In October of 2011 a large coalition called on the Super Committee to eliminate $12 billion annually in fossil fuel subsidies.
Our tax dollars also fund billions in fossil fuel projects around the world, via institutions like the World Bank and the US Export-Import Bank.
Dirty Energy Money and the Keystone XL Pipeline
Earlier this month, American Petroleum Institute President Jack Gerard threatened President Obama with "huge political consequences" if he rejected the Keystone XL pipeline. This threat was unusual only because it was public, but the industry clearly continues to implicitly threaten all of our elected Representatives.
In July, the House of Representatives voted on the Keystone XL pipeline. Those Representatives who voted for the pipeline received 513 percent more from the oil and gas industry than those who voted against it.
In total, those who voted for the pipeline have received $10,922,161 from the oil and gas industry while those who voted against the pipeline have received only $717,552. In other words, those that voted for the pipeline have received 15 times more money from the oil and gas industry.
In December, the House held another vote with similar results. Members of Congress who supported the measure have received $41 million from the fossil fuel industry, while those who voted against the bill have received only about $8 million from oil, gas and coal interests.
An analysis by ThinkProgress of lobbying disclosure records for the first, second, and third quarters of 2011 suggests that the lobbying expenses of the 20 or more business and labor interests who backed the project was $60 million compared to $1 million by the seven organizations that actively opposed the measure.
TransCanada's lobbying efforts alone over the first three quarters of 2011 totalled $920,000, just under the total amount spent by its opponents..
Political Return on Investment
Buying Congress is a great investment for the oil, gas and coal industries.  During the last two year cycle, they put in $25 million, and they got out at least $4 billion annually—$8 billion. In other words, for every $1 that the fossil fuel industry invests in Congress, they get at least $320 back.
For more information, click here.
EcoWatch Daily Newsletter
With the 2012 presidential election rapidly approaching, the oil lobby is pushing harder than ever to frame the Keystone XL Pipeline (KXL) as a "job creator." However, TransCanada (the Canadian company behind the pipeline), the American Petroleum Institute (API) and the U.S. Chamber of Commerce have used massively inflated statistics. In fact, KXL would create few permanent jobs.
BIG LIE: KXL Will Create 20,000-465,000 Jobs
U.S. Chamber Of Commerce: KXL Will Create "Up To 250,000" Jobs. In a Jan. 12, 2012, speech, Thomas J. Donohue, President of the U.S Chamber of Commerce, said: "Labor unions and the business community alike are urging President Obama to act in the best interests of our national security and our workers and approve the pipeline. We can put 20,000 Americans to work right away and up to 250,000 over the life of the project." [Donohue Remarks, 1/12/11, via USChamber.com]
American Petroleum Institute: KXL Will Enable "More Than A Half A Million New U.S. Jobs By 2035." In a Jan. 4, 2012, speech API President Jack Gerard said: "We've seen it in the continued delay of the Keystone XL pipeline - the largest shovel-ready project promising 20,000 construction-related jobs over the next two years, enabling more than half a million new U.S. jobs by 2035." [Gerard Remarks, 1/4/12, via API.org]
TransCanada: KXL Will Create 20,000 Jobs In Construction And Manufacturing And 465,000 Jobs Throughout the U.S Economy. In a Jan. 10, 2012, press release, TransCanada claimed: "The $7 billion oil pipeline is the largest infrastructure project on the books in the U.S. right now. It would create 20,000 jobs: 13,000 in construction, 7,000 in manufacturing. [...] As Keystone XL supports oil sands development, the impact on jobs in America becomes even more pronounced. The Canadian Energy Research Institute (CERI) predicts a $521 billion increase in the U.S. gross domestic product and the creation of 465,000 U.S. jobs." [TransCanada, 1/10/12]
FACT 1: Experts Say Those Numbers Are "Meaningless" And "Dead Wrong"
Energy Expert: The Analysis Supporting TransCanada's Claims Is "Dead Wrong." On Oct. 27, 2011, the Council on Foreign Relations' Michael Levi wrote: "The 'economic impact study' [on which the claim of 250,000 permanent jobs is based] in question appears to be a widely cited report by The Perryman Group. ... The Perryman report has been criticized for the claim of 20,000 jobs along the pipeline route. I've seen less criticism of the far more impressive 250,000 number. ... That's a shame, since while the number is being invoked prominently, the analysis upon which it's based is dead wrong. [Council on Foreign Relations, 10/27/11]
Environmental Economist: "These Gross Employment Figures Are Meaningless." On Sept. 9, 2011, environmental economist Andrew Leach wrote: "Sorry, TransCanada—the number which matters and on which decisions should be made is not how many people will be employed building the pipeline and supplying all of the services associated with building it, or the employment tied to the use of the oil transported. These gross employment figures are meaningless. As with GHG's, only net impacts relative to the most likely alternative matter." [Andrew Leach's blog, 9/9/11, emphasis added]
Cornell University Global Labor Institute: TransCanada's Estimate Is "So Opaque As To Make Meaningful Review Impossible." A September 2011 analysis by the Cornell University Global Labor Institute states:
Perryman states that he received this data from TransCanada, but nowhere in the report does he provide the TransCanada input data (for construction expenditures and sourcing of inputs). Perryman does not even present summary detail as to the essentials regarding inputs (such as a breakdown of expenditures into major categories and assumptions regarding whether major inputs such as steel pipe are imported or sourced domestically or imported). Nor does the Perryman report provide adequate detail as to the nature of the job impacts estimated (such as a breakdown between direct, indirect, and induced). In fact, the lack of adequate data and detail render the report so opaque as to make meaningful review impossible. [Cornell University Global Labor Institute, September 2011, emphasis added]
FACT 2: Independent Assessment Found That KXL Jobs Would Create As Few As 50 Permanent Jobs
Cornell University Global Labor Institute: Based On TransCanada's Numbers, "The Project Will Create No More Than 2,500-4,600 Temporary Direct Construction Jobs." From Cornell University Global Labor Institute's report: "A calculation of the direct jobs that might be created by KXL can begin with an examination of the jobs on-site to build and inspect the pipeline. The project will create no more than 2,500-4,650 temporary direct construction jobs for two years, according to TransCanada's own data supplied to the State Department." [Cornell University Global Labor Institute, September 2011]
Cornell: "Almost All" KXL Jobs Will Be Temporary - Permanent U.S. Jobs Could Be "As Few As 50." From Cornell University Global Labor Institute's report: "[I]t is also important to consider that almost all of the jobs (direct, indirect and induced) associated with Keystone XL will, of course, also be temporary. The operating costs for KXL are very minimal, and based on the figures provided by TransCanada for the Canadian section of the pipeline, the new permanent US pipeline jobs in the US number as few as 50. The other operating expenditures (for materials, supplies, services, electric power, property taxes, etc.) would comprise the bulk of operating expenses and would also have some job impacts. So considering a broad range of spin-offs, operating expenditures would have job impacts in the order of around 1,000 per year." [Cornell University Global Labor Institute, September 2011, internal citations removed]
ThinkProgress Graphic Compares TransCanada's Stats With Independent Figures: The following chart from ThinkProgress compares the high-end estimate of Cornell Global Labor Institute's report and the TransCanada-commissioned Perryman Group's estimate: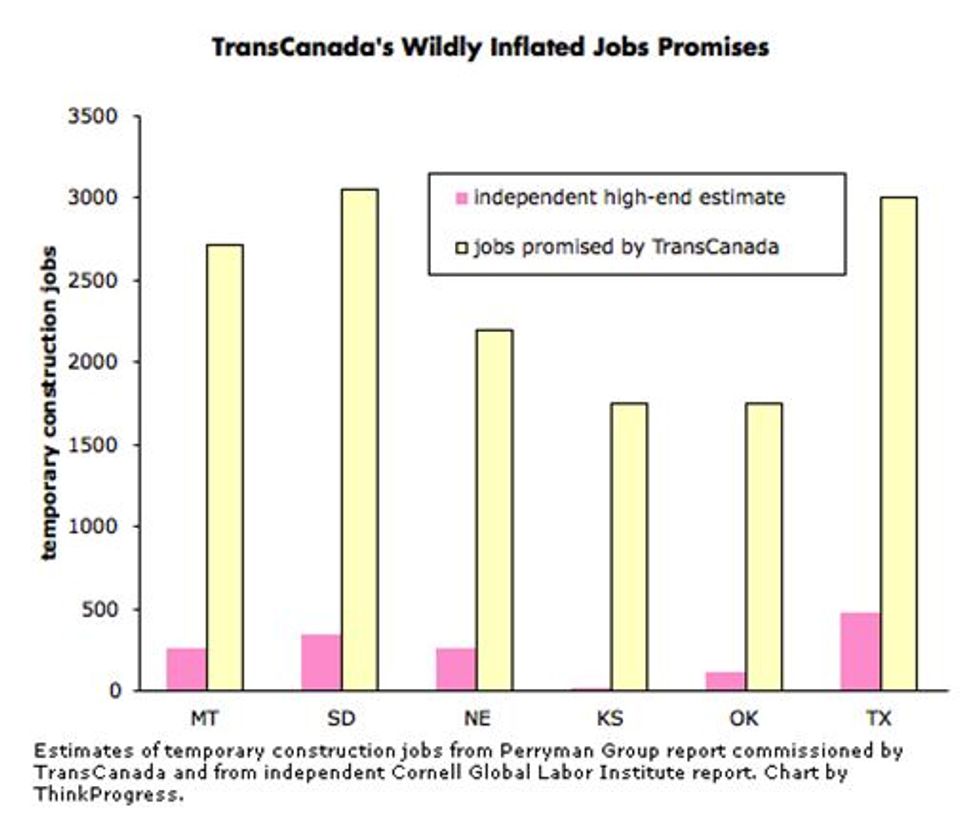 FACT 3: TransCanada's Estimates Include Jobs In Other Countries
CNN: TransCanada's Estimates "Include Jobs In Canada." From a December 14 CNNMoney article:
TransCanada numbers count each job on a yearly basis. If the pipeline employs 10,000 people working for two years, that's 20,000 jobs by the company's count.

The estimates also include jobs in Canada, where about a third of the $7 billion pipeline would be constructed. [CNNMoney,12/14/11]
FACT 4: Even TransCanada Acknowledges That Each Construction Job Will Only Last "One Year."
TransCanada's CEO Acknowledges That Each Job Will Only Last "One Year." According to the Washington Post: "[TransCanada chief executive Russ] Girling that the 13,000 figure was "one person, one year," meaning that if the construction jobs lasted two years, the number of people employed in each of the two years would be 6,500." [Washington Post, 11/5/11]
TransCanada VP: Permanent Jobs "In The Hundreds." On the Nov. 11 edition of CNN's The Situation Room, TransCanada Vice President Robert Jones stated: "We will have an integrated operation with the existing pipeline, so, you know, the numbers are literally technicians and such up and down the line. So you're probably looking in the field from Montana to Houston in the hundreds, certainly not in the thousands, because those are construction jobs." [CNN, The Situation Room, 11/11/11]
FACT 5: TransCanada Admitted They Already Purchased Much Of The Equipment
TransCanada CEO Admitted That $1.9 Million Worth Of Pipe And Equipment Has Already Been Manufactured—And Is Sitting In A Warehouse. According to the Washington Post:
TransCanada chief executive Russ Girling said Friday that the three-year review process has already imposed costs on his company, including $1.9 billion on pipe and other equipment stored in warehouses. [...]

As for the 7,000 indirect supply chain jobs, the $1.9 billion already spent by TransCanada would reduce the number of jobs that would be created in the future. The Brixton Group, a firm working with opponents of the project, has argued that many of the indirect supply jobs would be outside the United States because about $1.7 billion worth of steel will be purchased from a Russian-owned mill in Canada. [Washington Post, 11/5/11]
Cornell Analysis: "About 25 percent Of The KXL Budget Has Already Been Expended." From Cornell University Global Labor Institute's report:
Construction has not yet started on KXL, but there have already been several years of activities preparing for possible construction. According to TransCanada's interim financial statement released on July 28, 2011, the capital cost of the larger Keystone project (made up of the segments already completed and KXL) is $13 billion. Of this $13 billion, $7.9 billion had already been invested by June 30, 2011. Of the $7.9 already invested, U.S. $1.7 billion is related to KXL. So prior to any actual construction, about 25 percent of the KXL budget has already been expended for activities including design, permitting, and materials procurement. [...]

Money already spent in the past few years, plus money budgeted for the Canadian part of KXL, should not be presented as though it were part of future U.S.-related spending pending the approval of the project. The money is gone and the work has been done (or soon will be). This spending will lead to few if any new jobs in the US. Likewise, some (and possibly all) of the money committed, but not yet spent, will be spent even if KXL is not built and should therefore not be considered in the analysis of the incremental spending that will occur should the project be approved. [Cornell University Global Labor Institute, September 2011, emphasis added, internal citations removed]

This piece is reposted with permission from PoliticalCorrection.org.
Westend61 / Getty Images
Residential solar energy companies are helping more and more homeowners upgrade their properties to clean energy sources. Solar energy companies can equip you with the technology you need to harness the amazing power of the sun and reduce your need for fossil fuels. In this article, we'll review some of the most trustworthy providers and installers of solar power.
Our picks for the best solar companies
The first step in the process is researching some of the top companies in the solar industry. Here are the ones that stood out in our research.

Each product featured here has been independently selected by the writer. If you make a purchase using the links included, we may earn commission.
How we chose the best solar energy companies
How did we determine which solar power companies to recommend?

To begin with, we took a deep dive into each company's offerings, assessing them for the following criteria:
Range of services offered
Pricing/affordability and financing options
Extent of service area
Solar panel efficiency
Warranty
Temperature coefficient (e.g., how much high temperatures affect efficiency)
Additionally, we weighed membership and certification by professional associations like the Solar Energy Industries Association (SEIA). Affiliation with these groups is a good indicator that a solar energy company is reputable, and that their work is up to the highest standards within the industry.
The best solar energy companies
schmidt-z / Getty Images
With these criteria in mind, consider our picks for the best solar panel providers and installers in the industry.

If you're looking for a company that can walk you through the process of upgrading to solar power for an easy and convenient experience, look no further than to SunPower. The company offers:
A "design studio" app, allowing you to safely and seamlessly design your own solar power system so that you can see a visual of what the finished product will look like once installed.
Online calculators that make it easy for you to determine about how much electricity you will save once you upgrade to solar panels.
Virtual consultations, allowing you to chat one-on-one with a solar power expert and to ask any questions you might have.
SunPower offers leading solar panels and energy storage technology to homeowners across dozens of states. And, they are also the preferred solar partner of many major businesses, including Walmart, FedEx, and Lowes.

Why buy: SunPower is a reliable solar energy company with an impressive tech portfolio and an extremely easy, intuitive process.
Upgrading to solar power can seem a little intimidating, but SunRun is out to bring simplicity. Their approach makes it extremely straightforward to select a custom solar energy plan for your household. Here's what to know about SunRun:
They offer virtual consultations with solar energy experts, making it simple to explore your options and determine which solar set-up is right for your home energy needs.
Each system they design is completely customized to address the customer's needs. SunRun doesn't do "one size fits all" solar equipment options.
Their guarantee, the best in the industry, offers extraordinary peace of mind that your solar system will prove durable and reliable.
SunRun also leads in terms of flexible financing options, making solar power accessible and affordable.
Why buy: With SunRun, the name of the game is customization. This is one of the best solar installation companies to turn to for solar power solutions that are truly made with you in mind.
You probably associate Tesla with their electric vehicles, but did you know that the company also produces high-efficiency solar panels? Depending on your needs and your budget, Tesla can hook you up with an array of solar panels or even a solar roof, making it easy to cut electricity costs and power your home via the sun's vital energy.
Some fast facts about choosing solar power from Tesla:
They offer a price match guarantee and affordable financing options.
Their advanced solar panel technology offers a low profile, a sleek style, and long-term durability.
Home battery backups allow you to save solar power and then access it on demand, whenever you need it.
Why buy: Tesla offers sophisticated solar products for what the company claims is the lowest price of any national provider, which they back with a price-match guarantee. Plus, all of their solar panels come with a solid 25-year performance guarantee.
LG is another well-known tech company that is also a leader in solar energy. Some of their solar panels use a bifacial solar module that captures energy from two directions to increase their efficiency. While they are a solar panel manufacturer, they can also help you with the installation process by finding an LG Pro installer in your area.
They offer an online "solar concierge" service that allows you to evaluate your home energy needs and to compare different options for going solar.
LG offers a 25-year warranty, not only on their technology but also on the work their of their solar installers.
They offer a range of solar panels and supporting products, and they supply you with plenty of information to make a fully informed choice.
Why buy: LG is a company that knows technological innovation. Their award-winning solar energy products are reliably efficient, well-priced, and designed for maximum efficiency.
Panasonic has one of the most impressive tech portfolios in the solar energy industry. Their products boast some of the highest conversion efficiency rates, along with the lowest degradation rates. And they back everything with a generous warranty.
Some additional reasons to choose Panasonic:
They offer a range of solar panels to choose from. With Panasonic, you'll find that you have plenty of options.
They also provide a lot of great online support and consumer education, ensuring you'll get the most out of your solar technology.
Why buy: Panasonic is a solar panel company with products that are tough to beat. Both their pricing and warranties are very appealing, and their HIT high-performance solar panels offer some of the best power conversion rates of any product.
Vivint is a company that offers a full spectrum of services, including solar power consultation, design, and installation. A few reasons why homeowners trust their solar power needs to the Vivint team:
Everything Vivint does is customized. They tailor everything to fit your roof and to help you achieve your home energy goals.
They make the entire process simple, handling all of the little details for you. This includes securing permits, filing the right paperwork, etc.
They emphasize safety, using only the highest caliber of solar panels and backing everything with a world-class warranty.
Why buy: Vivint is noteworthy for their focus on customization, their commitment to safety, and their one-stop-shop solar power solutions. In addition to solar panel installation, they also offer other specialized technology, including solar-powered electric vehicle chargers.
Enphase is another company that stands out, both for their robust technology as well as for their commitment to customization. Their microinverter technology makes their solar system safer by reducing the likelihood of arc fault fires.
They design their solar technology with safety in mind, including fire safeguards that other companies can't match.
Their solar panels are built for durability and can hold up even through the most extreme kinds of weather.
Enphase uses smart technology to update itself; all you need to do is connect it to your home Internet.
They also have one of the best apps in the solar industry, making it simple to monitor your home energy use.
Why buy: Enphase is a company of innovators, and their solar portfolio has a lot to offer. Their system is also modular, meaning you can easily add more panels to your system as you need them.
This solar power provider has won recognition not just for their excellent technology, but also for their sincere commitment to sustainability and to ecological stewardship. And don't let the name throw you off: Though Canadian Solar is based in Canada, they provide solar power solutions in the U.S. and other countries.
Some additional facts about Canadian Solar:

They offer a wide range of products, from energy converters to storage solutions.
Their solar panels boast exceedingly high energy efficiency rates.
Canadian Solar has won a number of awards for its first-class innovations, and one of their products even set a world record for conversion efficiency in 2020.
Why buy: This company has a proven track record of technological excellence, plus a real commitment to ecological stewardship. They also closely monitor their supply chain to ensure that no goods or materials used in their products come from prohibited forms of labor.
First Solar boasts an impressive track record of advocacy for solar power and for renewable energy sources. And, thankfully, they back their advocacy with some excellent solar technologies.
A few reasons to choose First Solar solar panels:
Their technology offers an outstanding temperature coefficient, meaning they won't lose performance during high temperatures.
Their solar cells are among the most reliable and most efficient in the clean energy sector.
First Solar also offers a lot of post-purchase, post-installation help, as needed.
Why buy: First Solar is a great option for anyone who's serious about renewable energy, and who wants the best performance from their solar panels.
The biggest drawback to Go Solar is that, right now, their work is limited to just a few states. But if you happen to live in that part of the country, you're in luck. Go Solar's panels are uniquely calibrated to take advantage of the western region's abundant sunlight. Some additional reasons to pick Go Solar include:
They offer free home solar assessments.
They custom-design solar systems to meet the needs of your home.
They have some of the most trusted installers in the solar power industry.
Why buy: For solar solutions that are tailored to the climate of the American West, definitely consider Go Solar. Plus, with their Give Solar International partnership, they give an equivalent solar panel system to a family in Uganda for each system sold.
How does a solar energy system work?
schmidt-z / Getty Images
As you explore the different options for embracing solar power, it may be helpful to have a baseline understanding of how solar energy systems actually function.

Generally speaking, solar energy systems involve solar panels installed on your roof. These panels absorb the sun's energy, storing it in what are known as photovoltaic cells. These cells convert the solar energy into direct current (DC) energy, then use an inverter to convert that DC energy into alternate current (AC) electricity. AC electricity is what you need to power all your home appliances.

It's important to note that, before you purchase solar panels, it's worthwhile to meet with a solar energy consultant who can tell you more about how many panels your home will require, and also to let you know how those panels should be ideally positioned on the roof.
One more note: If you're concerned about the affordability of solar power, it's important to remember that most solar energy companies provide a host of options, including flexible financing and solar lease options for a system rather than purchase it outright. As you talk with different solar energy companies, don't hesitate to inquire about these leasing and financing options.

Benefits of solar energy
Installing solar panels on your home can yield a number of benefits. Here are just a few examples.
Cleaner energy
One of the main reasons why homeowners choose to install solar cells is that it allows them to truly embrace clean energy sources. Rather than depend on fossil fuels and power plants, you can power your home with renewable energy that comes straight from the sun. This can be a highly effective way to minimize your environmental footprint.
Solar tax credits and rebates
There are a number of ways in which choosing renewable energy can save you money, starting with the fact that there are so many rebates and tax credits available. Essentially, both the federal government and many state governments want to encourage people to "go green" as much as possible, and they will make it worth your while by allowing you to claim these important tax incentives. Some utility companies also offer rebates that can help pay for the upfront costs of solar projects.
Lower electricity bills
Of course, embracing solar power will also help you save money by slashing your electricity bills. Most solar energy companies offer online calculators that allow you to see for yourself how much money you'll save over time, simply by changing to a renewable energy source. There is also an option called a power purchase agreement (PPA) that can allow you to host a solar or renewable energy system from a utility provider in exchange for lowered energy rates. If your solar panel system generates excess energy, the utility will then purchase that energy from you in the form of a net metering credit on your bill.
Make a smart choice about solar power
There are obviously a lot of perks to choosing solar energy for your home. And yet, it can also be a rather daunting process, simply because there are so many solar energy companies to choose from.

Using our guidelines and rankings, start doing your due diligence, seeking the solar power company that's right for you. Remember to look for a company that's well-regarded within the industry and get a consultation before you buy. Always be sure to ask some direct questions about the financing options that are available to you.
Josh Hurst is a journalist, critic, and essayist. He lives in Knoxville, TN, with his wife and three sons. His writing on natural health, nutrition, and supplements has appeared in Health, Shape, and Remedy Review.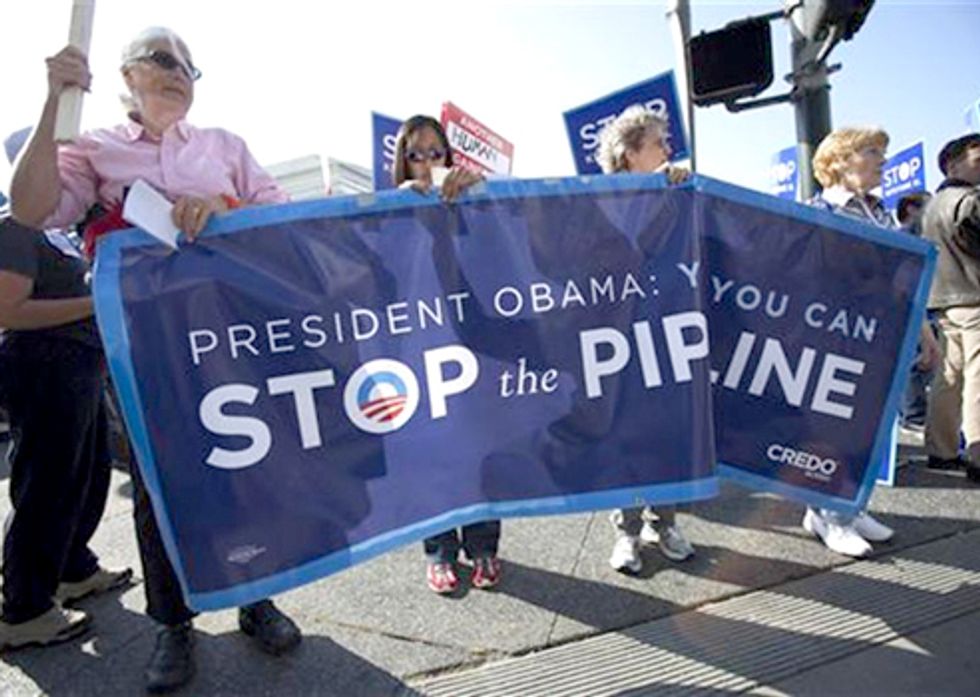 Just in case you thought there was anything subtle about the Keystone battle, you need to hear what Jack Gerard, president of the American Petroleum Institute—the oil industry's #1 front group—said Jan. 5. If the president doesn't approve the project there will be "huge political consequences."
That's as direct a threat as you're ever going to hear in Washington D.C., and it shows just how mad you made the oil industry last year by exposing Keystone for the climate-killing danger it is. And the oil industry can obviously make good on their threats—they've got all the money on Earth, and thanks to Citizens United they can use it without restriction in our elections. They're not used to ever losing.
So far the Obama administration is standing firm in the face of Big Oil's bullying—the White House made it completely clear last month that if the oil industry and its harem in Congress forced a speeded-up review, it would lead to an outright rejection of the permit for the pipeline. We expect they'll keep their word.
Here's what I think we need to do.
1. Let the president know you've got his back when he rejects the pipeline. Tell him that addressing climate change is the key to our future, and that you're glad he's not bending.
2. Take the offensive against the oil industry. If they're going to try and ram Keystone down our throats, we're going to try and take away something they hold dear, the handouts that Congress gives them each and every year. They're the richest industry on earth, they're doing great damage to the planet—and they expect us to pay for it with our tax dollars.
Can you send a quick note to President Obama covering those two key points?
To send a message to President Obama, click here.
Here's the note I'm sending:
President Obama,
Thank you for opposing the rushed Keystone XL pipeline permit. Responding to climate change is critical to preserving our collective future, and I hope this is a first step towards the dramatic changes we need to avoid catastrophe. P.S.—Please take handouts for the fossil fuel industry out of next year's budget. There are people in America who need that money more.
There's lots more to be done, of course. In the slightly longer run, we've got to take on the greatest subsidy of all—the special privilege that Congress gives the fossil fuel industry to use the atmosphere as an open sewer into which to dump its carbon for free.
But today—right now, in the face of this kind of straight-up bullying—it's time to punch back. We're nonviolent, but we're not wimps.
For more information, click here.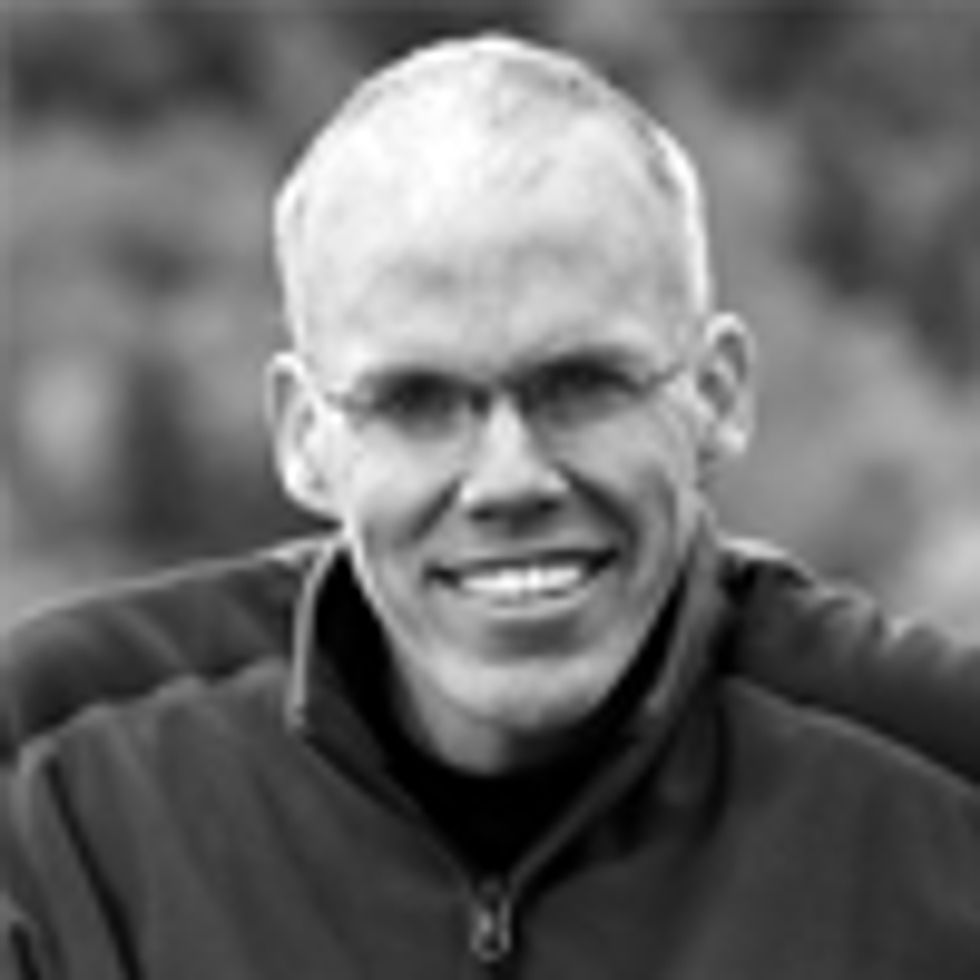 We've been doing our best the last couple of weeks to keep you up-to-date on the machinations about Keystone in Washington. "Our best" in this case has only been so-so, because the whole process has been incredibly confusing.
But it seems to be getting a little clearer now. On Dec. 3, the House agreed to legislation for a payroll tax cut that also includes language forcing the president to decide one way or the other on the Keystone pipeline in the next 60 days.
Our hope is that the president will use the opportunity to deny the permit, and sooner rather than later. His administration has made it clear many times over the past few weeks that the demand for quick approval attached to this legislation would result in the rejection of the pipeline.
As White House communications director Dan Pfeiffer tweeted a few days ago: the bill "simply shortens the review process in a way that virtually guarantees that the pipeline will NOT be approved." No one could responsibly approve such a project under the gun; even the Canadian government announced this month that they would delay the review of proposed pipelines to the Pacific for a year because of environmental concerns.
You have patiently and firmly explained to the president for the last six months why this pipeline is a bad idea—and by "you" I mean the twenty top scientists who sent a letter explaining the climate impacts, the ten Nobel Peace Prize laureates, the dozens of tribal leaders who signed the Mother Earth Accord, the 1,253 people who got arrested, the 12,000 who circled the White House, the 500,000 who filed public comments on the plan, the many many more who sent letters and emails and made phone calls to the White House and Congress.
You've done an amazing job; we'll know before long whether we need you to make one more grand push, and as soon as we know you'll know.
In the meantime, please enjoy the holidays. We're getting our first small snowfall of the season in Vermont, which I'm taking as a good omen.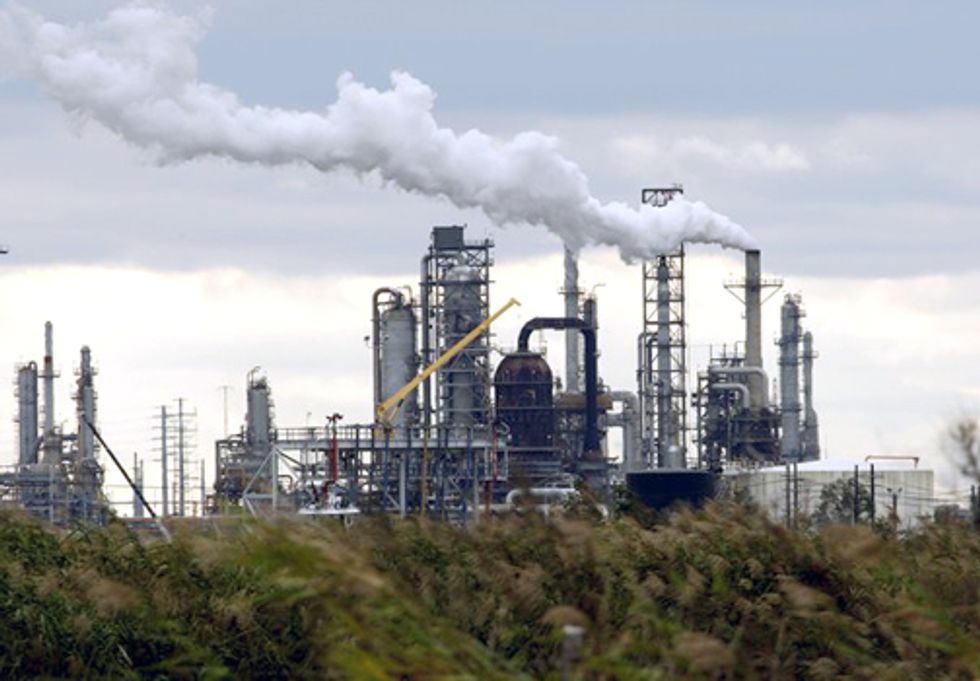 Renewable energy advocate Tom Weis ended his 2,150-mile Keystone XL "Tour of Resistance" at the fence line community of West Port Arthur, Texas, in the shadow of giant oil refineries spewing toxic air emissions. Weis launched the tour 10 weeks ago at the U.S./Canada border and has pedaled the entire U.S. length of the proposed tar sands pipeline in his "rocket trike" in support of landowners and communities in six states fighting Keystone XL. Pipeline opponents joined him in demanding that President Obama reject TransCanada's presidential permit without delay.
Ride endorser Paul Hawken, author of The Ecology of Commerce and Blessed Unrest, joined Weis in characterizing Obama's November announcement to delay a decision on Keystone XL until after the 2012 election as "dangerous." Hawken joined the call for Obama to immediately reject TransCanada's permit, or be challenged on the campaign trail until he does. "If America does not draw the carbon line in the Athabasca tar sands, then the question is: who are we, and why are we here? Of all the environmental follies that have occurred in time, surely this is the greatest."
"President Obama has shown zero leadership on Keystone XL," said Weis, president of Climate Crisis Solutions. Calling for Americans to relentlessly challenge the president on the campaign trail until he rejects TransCanada's presidential permit, Weis said, "Keystone XL is not only un-American, it is a direct threat to our nation. Every day the president fails to deny this pipeline permit, he is failing to protect America and her people. He must be called out on this."
Texas landowner and founder of Stop Tarsands Oil Pipelines, David Daniel, who has been fighting TransCanada for more than three years, called the pipeline project "illegal, unregulated, untested and a gross human rights violation with no public use justification." "My message to every politician, from President Obama on down, is if you plan to put my family's life and water at risk by supporting this pipeline, you need to be the first one to step foot on my property to try to take it," said Daniel.
Nebraska fourth generation rancher, Teri Taylor, who met with Weis during the ride to share how the fight against TransCanada has totally consumed their lives, said, "Keystone XL is not right for America. It puts America in danger." She appealed to President Obama as a mother and a grandmother, "Deny this permit for your daughters and my grandchildren."
Port Arthur resident Hilton Kelley, who received the 2011 Goldman Prize for fighting to protect his fence line community from the dangers of surrounding oil refineries, said, "The people of West Port Arthur have suffered enough. We cannot tolerate the additional toxic emissions Keystone XL would rain down on our community. Poor people also have a right to clean air and water." The U.S. EPA has openly criticized the U.S. State Department for not fully assessing the potential impacts of increased refinery emissions on the community of Port Arthur and its air and groundwater. TransCanada's Keystone XL pipeline could transport up to 830,000 barrels a day of toxic tar sands slurry to be processed in Gulf Coast oil refineries.
"President Obama faces a truly historical moment," said Oglala Lakota matriarch and 2011 Indigenous Woman of the Year award winner Debra White Plume. "The world will soon see if he caves in to the tyranny of big oil, or if he is a sensible human being with a heart on fire for life, for the future generations. I hope he denies the permit right away, as game over for big oil, and the first stroke of painting a beautiful path for our generations to walk on."
Endorsers of the Ride for Renewables: No Tar Soil On American Soil! include Daryl Hannah, Lester Brown, Ed Begley, Jr., Paul Hawken, Patagonia and others. Principal sponsors include AllEarth Renewables, Inc. and EcoWatch.
For more information, click here.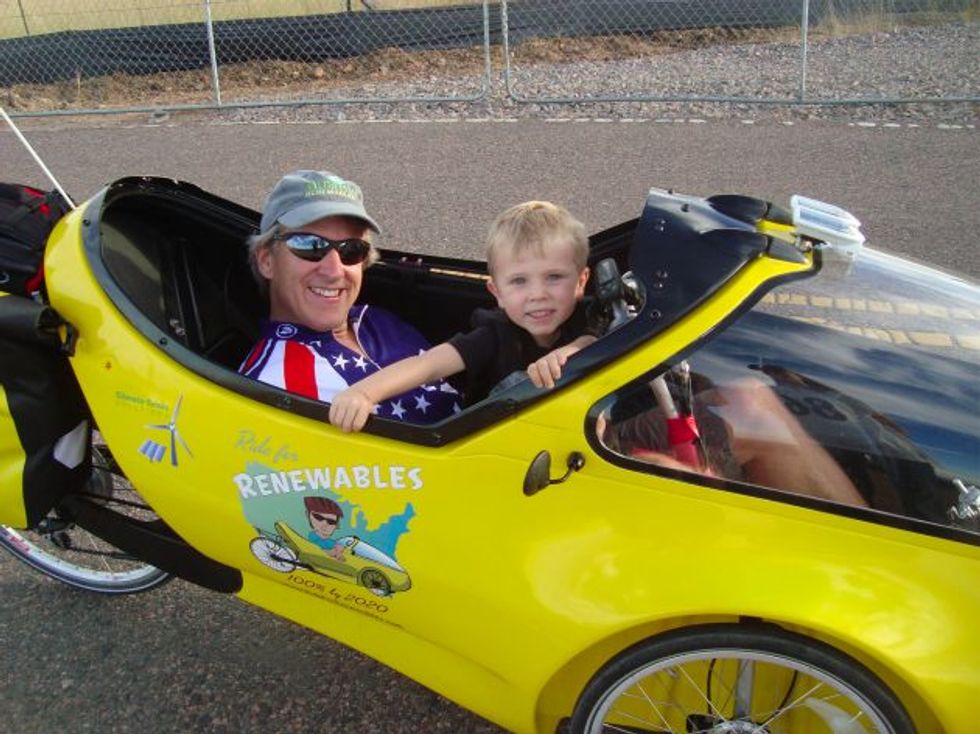 Renewable Rider Tom Weis concludes his 10-week, 2,150-mile, Keystone XL "Tour of Resistance" along the six-state path of the proposed route of TransCanada's Keystone XL pipeline. He has pedaled the entire U.S. route of the proposed pipeline in his "rocket trike" in support of landowners and communities fighting Keystone XL. Pipeline opponents will join him today in demanding that President Obama reject TransCanada's permit without delay. Weis will be joined by Goldman Prize winner Hilton Kelley in denouncing the pipeline.
The tour ends in Port Arthur, Texas, a Gulf Coast refinery town near the Louisana-Texas border, and the proposed end-point of the pipeline, which would start in Alberta, Canada, and travel through Montana, South Dakota, Nebraska, Kansas and Oklahoma to reach oil refineries in Texas before being exported to China, Latin America or Europe.
Keystone XL threatens to contaminate the Ogallala Aquifer—the fresh drinking water supply of nearly two million people and the source of one-third of America's farmland irrigation water—by pumping up to 830,000 barrels a day of tar sands sludge through the pipeline.
I know a lot of people working to educate American's about the issues concerning the Keystone XL pipeline and why building it will only continue our addiction to oil and head us and the climate down a path of no return, but few people are as dedicated as Weis. We all owe him a huge amount of gratitude for his work, which greatly impacts the future of our planet. I can't think of anything more important then the job he is doing.
I encourage you to visit the Ride For Renewables website and YouTube channel to get an amazing overview of this incredible adventure.
And, please join me today in support of Weis's efforts by signing his petition to prevent tar sands oil on American soil.
Here's Weis's post from last night that provides a flavor of the person behind this brave and inspiring journey.
Day 69: Pedaled the final real leg of the journey today, a flat and fairly quick 21 miles from Beaumont to Port Arthur. A few miles outside of Beaumont, a large hawk appeared seemingly out of nowhere and alighted on a utility wire not 20 feet away, wings spread wide and looking right down at me. Reminded me of the hawk in Boulder that suddenly appeared and helped inspire my ride last year. Very auspicious sign. A light rain was falling as I pedaled, which seemed to intensify the sulfur smell of the surrounding oil refineries. Made it to downtown West Port Arthur, with only a mile or two now left to go.
Today was dedicated to a group of West Port Arthur children who Goldman Prize winner Hilton Kelley had lined up to see the trike and learn about the Keystone XL pipeline. We met in a community room at the Prince Hall government housing project—overshadowed by the nation's largest cluster of oil refineries and chemical plants—where people have been suffering in silence for far too long. Where we met was right next door to the Carver Terrace housing project, where Hilton was born in a back bay room. We had about 20 local kids there, a group small enough that each one got to take a short ride in the trike. VERY fun. One of the big "kids" even took the trike for a spin. Look for a wonderful YouTube video of Hilton Kelley showing how it's done.
Afterwards, we went inside and did some Q & A with the children. Not surprisingly, most of the questions were about the rocket trike, but I think some of what Hilton and I said about why we don't want tar sands coming to their community also sunk in. One of the older kids, Jeremiah Williams, said he wanted to talk to me, so I pulled up a chair. With a look of disbelief on his face, he quietly asked me why I did it (that is, rode from Canada to West Port Arthur). He listened with rapt attention as I told him, then handed me a wrist bracelet that read "LAUGH." I'm wearing it now. Balances out well with the jail wrist bracelet I've been wearing since I was arrested outside the White House this summer, along with 1,252 others, protesting against Keystone XL.
Then Hilton and his wife, Marie, generously treated me to a wonderful Cajun-style dinner at one of their favorite restaurants, where we learned that we shared a mutual friend in common, one of my ride sponsors, Graham Hill, from Boulder. So of course we had to give him a call. The older I get, the smaller the world seems to get, and I really like that.
Am writing this around 1 a.m.—one last late night preparing for tomorrow's end of ride media event. I want to thank Bruce Walker and my amazing friend, Paul Alexander, for their herculean efforts to alert the media. Here's one more newspaper story on the ride that ran in Oklahoma: http://tinyurl.com/7my8nlu.

In approving a payroll tax cut extension plan in an 89-10 vote on Saturday, the U.S. Senate included a provision that requires President Obama to make a decision within 60 days on whether to move forward with the proposed Keystone XL pipeline project. To make it even worse, the vote failed to include the Production Tax Credit that allows companies who invest in renewable energy to receive a grant in lieu of a tax credit, and cut the budget of the U.S. Environmental Protection Agency by $8.4 billion, a 6 percent cut from the president's request.
 If the American people understood the implications of yesterday's vote, where the majority of our elected officials are willing to continue to lead our country down a detrimental path in support of extreme energy extraction and refuse to support investment in renewable energy, we would have hundreds of thousands of people protesting in the streets in every state of our great nation.
Republicans rallied behind the Keystone XL inclusion in the bill, saying they wouldn't vote for any payroll extension without the provision. Earlier this month, Obama issued a veto threat if the Keystone XL provision was tied to the payroll tax cut, but the White House recently said they would accept the wording of the provision that passed Dec. 17.
The bill will now be sent to the House of Representatives for final passage for a vote most likely on Monday. If the House passes the bill, it will be sent to Obama for his signature.
For the last six months, Bill McKibben and the folks at 350.org, Tar Sands Action and many other grassroots environmental organizations and activists, have been working day and night to educate Americans about the injustice this pipeline would bring to our country.
From exposing the inflated numbers of jobs proponents of this project are claiming it will create; to explaining the issues related with this energy intensive, extremely corrosive tar sands oil that highly paid politicians from the oil and gas industry want to pipe nearly 2,000 miles from Alberta, Canada to Texas port to be shipped overseas; to the impact the pipeline eruptions will have on the rivers, streams and aquifers of America's heartland; to highlighting the environmental injustice concerns to nearly a dozen tribal nations in Canada and the U.S., people who understand the long-term impacts of building this pipeline will continue to do whatever is necessary to save our democracy, slow the impacts of global warming and protect our natural resources.
For too long we've needed to create an energy policy that eliminates our need for foreign oil; mandates the transition to relying on cleaner, renewable sources of energy, and supports the necessary infrastructure, and research and development that is needed to lead us on a path toward a sustainable energy system. There's no doubt these issues are complex, however solutions are available. But we need to stop subsidizing the fossil fuel industry, that continues to show record profits at the expense of the American people, and get money out of politics so our elected officials can't be bought by corporations.
I encourage those who are already involved with these issues to not give up and keep working to educate your family, friends, neighbors and co-workers. Those who are just learning about these concerns, stay connected with EcoWatch.org to learn how you can get involved.
As Bill McKibben says, "All eyes are on Obama," so lets be sure he know how you feel about the proposed Keystone XL pipeline. You can reach Obama's office on weekdays by calling 202-456-1111 or email him through the white house comment page, asking him to cancel the Keystone XL pipeline project. Your voice truly matters, so take action today.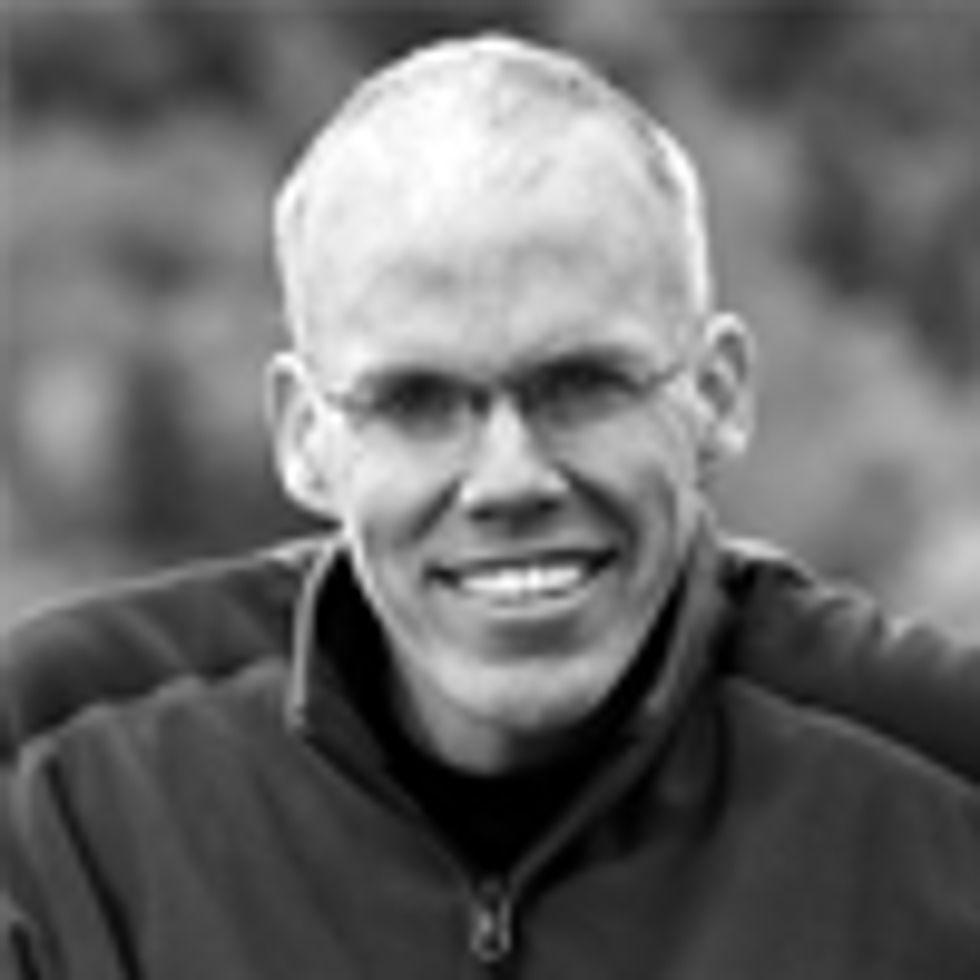 As you might know, the Keystone tar sands pipeline is back in play.
This morning, the Senate passed a bill that requires a 60-day, expedited approval process for the pipeline in return for a payroll tax cut, and President Barack Obama has said he will sign it.
The news has been swirling around Washington the last few days, with one report after another of deals and deadlines. (It's a little weird to think that six months ago, when we started the campaign to stop this pipeline, almost no one had even heard of this thing and now it's the center of frantic bargaining—that's a real tribute to your efforts).
Here's what we do know:
1. The dirty energy industry wants the pipeline fast-tracked, and is demanding that the President grant or deny a permit within two months. They're going to do all they can to make that happen.
2. The administration knows that Americans don't want that permit granted. They know because many of you encircled the White House in November, and submitted more public comments than on any energy project in history, and because yesterday the climate movement flooded the White House switchboard with so many phone calls that the busy signal was the sound of the day. For all that work, thank you.
Here's what we don't know: what happens next.
Our hope—and what you should ask the President for when you write him—is that when he signs the bill he will say the obvious thing:
"Two months is not long enough to review the pipeline. The Canadians themselves have just delayed review of their tar sands pipelines over safety concerns, and we've just come through a year that set a record for billion-dollar climate-related disasters; I'm not going to do a rush job just to please the oil industry lobbyists. So this pipeline is dead."
Since the State Department has already, in essence, said two months is not enough time, this should be straightforward.
We should know how it's going to play out within 48 hours or so. We're of course ready to fight like heck.
But for this weekend? If you haven't gotten through to the White House, or you think you can round up some friends, you can send them a message by clicking here and click here to spread the word on Facebook and Twitter.
Once you've done that, I recommend eggnog, football, caroling, Hannukah-shopping and checking the email every once in a while? We're hanging fire on this, and we'll let you know when we find out what's going down and if rapid reaction of some kind is required.
So so many thanks for your continued good-hearted work,
P.S. We know one other thing too. On Thursday night the Republican debating society came out in favor the pipeline, which is easy for them to do since they've all now denied climate science. Newt Gingrich in particular blamed "San Francisco environmental extremists" with holding things up. I'm sure our California crew is happy for the shout-out, but it seemed a little unfair to Nebraska farmers, Texas ranchers, Florida College students, New York trade unionists, Wall Street occupiers and even us Vermont granola eaters. We're a big broad bunch and we're going to stay that way!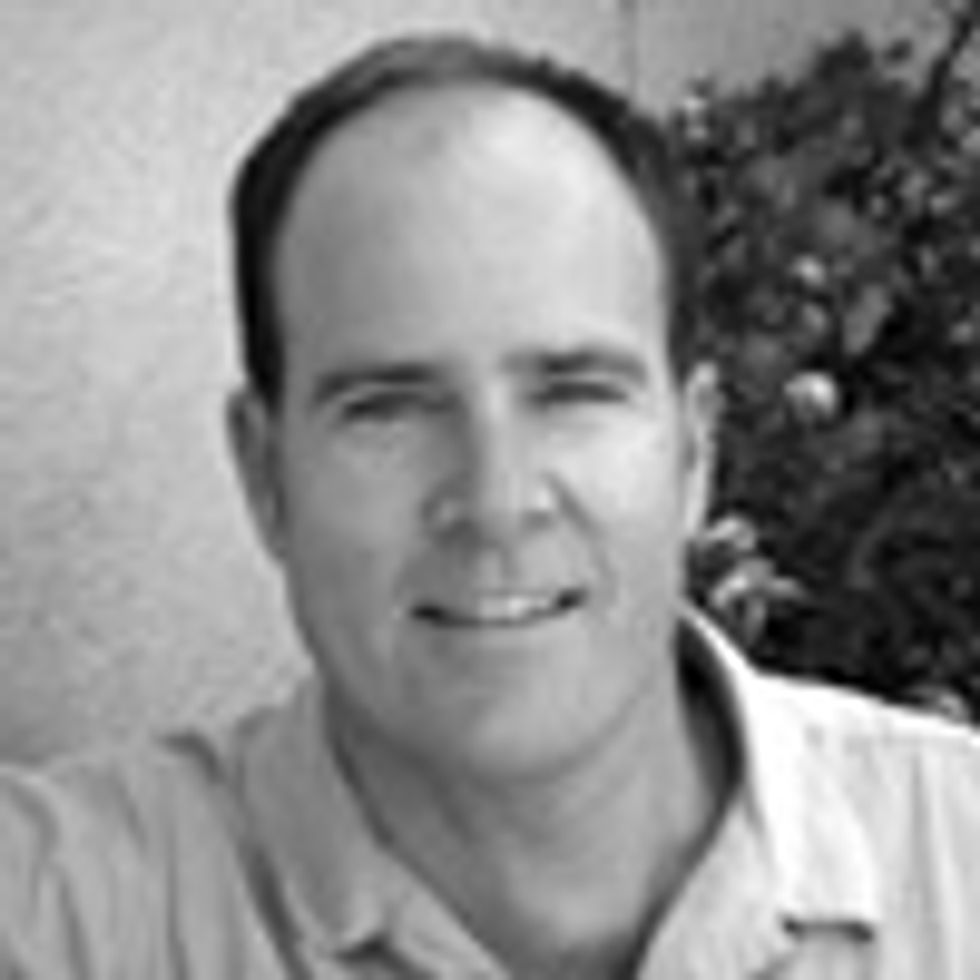 On Saturday, Dec. 17, Congress made a back-room deal that would rush a decision on the dirty Keystone XL tar sands oil pipeline. This dirty, dangerous, oil pipeline proposal would bring corrosive oil from Canada through America's Heartland. It would be devastating to our air, water and climate.
Big Oil's allies successfully held the Payroll Tax Cut hostage to a rider that would order the Obama Administration to ignore public input, good science and environmental laws, and fast-track a decision on the Keystone XL tar sands oil pipeline in the next 60 days.
Once again good public policy is being held hostage to dirty oil bullying.
We celebrated a victory last month for our future Beyond Oil when President Barack Obama decided the Keystone XL oil pipeline needed a more in depth review. Don't let Big Oil try to rob us of that victory and our clean energy future.
It's frustrating, maddening and upsetting to see our progress stalled—but the fight to keep Big Oil and this awful pipeline project at bay is far from over.
Contact your Senators now and tell them you are disappointed in this decision and that you expect them to stand strong against the dirty Keystone XL oil pipeline project. Tell them not to give in to Big Oil blackmail.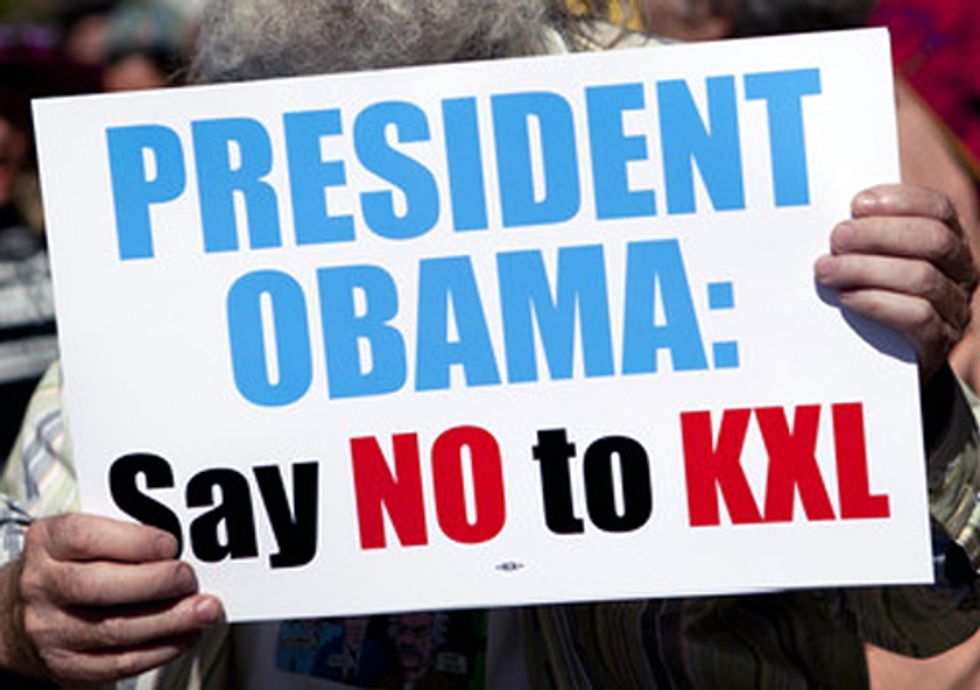 It all comes down to Barack Obama.
As I type this, Big Oil's representatives in the House and Senate are pushing legislation that would rush approval of the Keystone XL tar sands pipeline. Up until now, President Barack Obama has stood strong, threatening to reject any bill that includes the pipeline.
But in the last hour, some terrible news has begun to leak from Washington, D.C.—President Obama seems to be on the verge of caving on Keystone. There's no way to sugarcoat it—if the president allows Keystone to move forward, he will be failing the single biggest environmental test of his presidency.
The next few hours will be absolutely crucial—the president needs to hear from you that cutting a back-room deal with Big Oil on Keystone XL is unacceptable. If he steps up and threatens to veto this bill, he can stop this pipeline in its tracks.
Can you make a call right away? Here's the White House number—202-456-1111.
Or, during the weekend leave a short message for Obama on the White House website.
Feel free to say what you want on the call, but remember to drive this one message home—to keep his promises, President Obama needs to veto legislation that would rush approval of Keystone XL. This pipeline is a threat to our climate and jobs and needs to be stopped.
After you've called the White House, take 30 seconds to let us know how it went by clicking here.
(Don't worry if you get a busy signal—it's actually a good sign—it means we've flooded the White House switchboard and that the movement is sending an overwhelming message to the president. Just keep on trying until you get through.)
President Obama came into office promising to "end the tyranny of oil." This is his chance to prove he was serious. If he's not, he needs to know right now that there will be real consequences.
Big Oil cut a back-room deal with the dirtiest Members of Congress to attach this legislation to a must-pass tax cut bill. These kinds of deals exemplify the tyranny Big Oil exercises over our government, and underscores why the president needs to threaten a veto.
We have just a few hours to convince him to stand strong and veto any legislation to rush the Keystone pipeline. Can you make a call right now and tell him that we expect nothing less? Here's the number again—202-456-1111
Your calls right now are absolutely crucial, and you should also be getting ready to get back into the streets in the days and weeks to come. We're dusting off our plans to go to Obama 2012 offices and raise some ruckus. Call the White House, but also get in touch with your friends to start plotting your next steps locally.
Thanks to you, this fight isn't over yet—not by a long shot.
For more information, click here.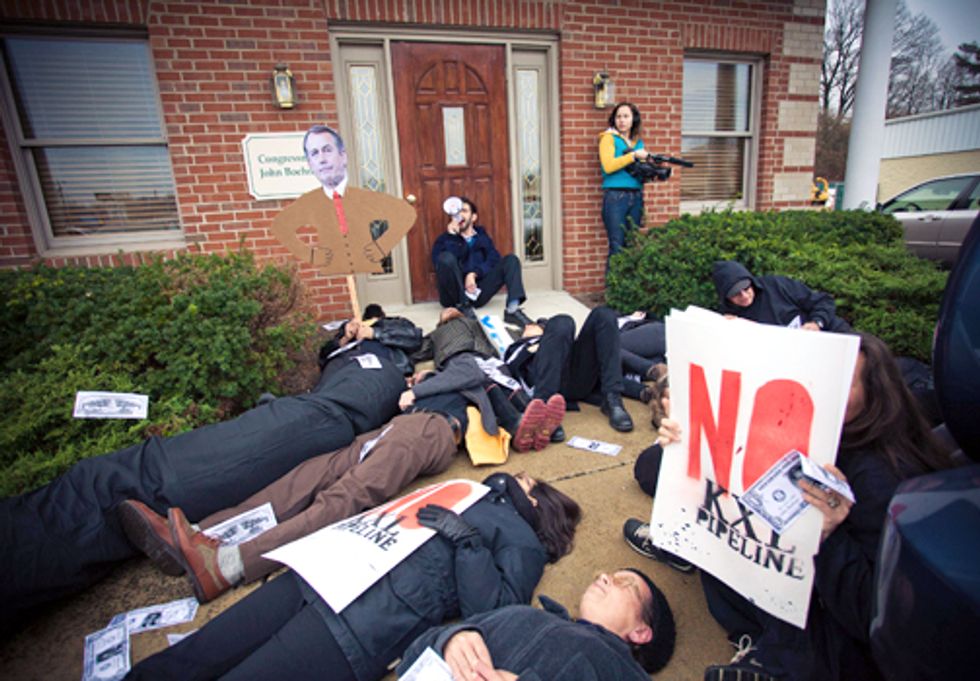 Fed up with House Speaker John Boehner's (R-OH) corporate campaign donor's influence on his policy decisions, activists staged a human oil spill at his office just outside Cincinnati on Dec. 14. Activists believe Boehner's decision to force through the proposed Keystone XL tar sands pipeline is linked to campaign cash from the fossil fuel industry. Speaker Boehner has accepted more than $1.1 million from corporate polluters since 1999.
"John Boehner is using his position to rake in corporate cash at our expense—why else would he try to push through the hugely unpopular and dangerous proposed Keystone XL pipeline?" Asked Sean P. Nolan, CEO and Co-Founder at Reaver Publishing.
Approximately 50 people created the "human oil spill" into Boehner's office as part of an escalating national campaign against the pipeline. Dressed in black, participants used their bodies to represent the potential environmental devastation from the pipeline. If built, it will likely leak toxic tar sands oil over precious farmland and critical aquifers in the heart of our nation. The proposed pipeline has been described as "game over" for the climate by NASA scientist James Hansen.
"Hundreds of Ohioans travelled to Washington, DC, to stop the dangerous Keystone XL tar sands pipeline. Now Boehner is trying to push it through despite mass opposition from his constituents—I'm fed up with politicians doing the bidding of their corporate benefactors," stated Sonnet Gabbard, a teacher and student at University of Cincinnati and an Occupy Cincinnati protester who joined the action.
Boehner announced on Dec. 6, that he was willing to go "to war" over an amendment that would force through the proposed pipeline despite widespread safety concerns and popular outrage.
"The House brings shame on itself when it's members take tens of millions in Big Oil money and then do the industry's bidding. Keystone XL creates no net jobs and pours carbon into the atmosphere—that's why millions across the country opposed it," said Bill McKibben, founder of 350.org, "It's only beneficiaries are the fossil fuel industry and the politicians they support."
This rally is the latest in a months long national grassroots uprising in response to the proposed Keystone XL tar sands Pipeline. The campaign kicked off in August with a two week protest that resulted in more than 1,200 arrests, and in November an event where 10,000 people circled the White House that resulted in President Barack Obama delaying his decision on the pipeline, a move analysts say killed the project.
For more information, visit the Tar Sands Action website by clicking here.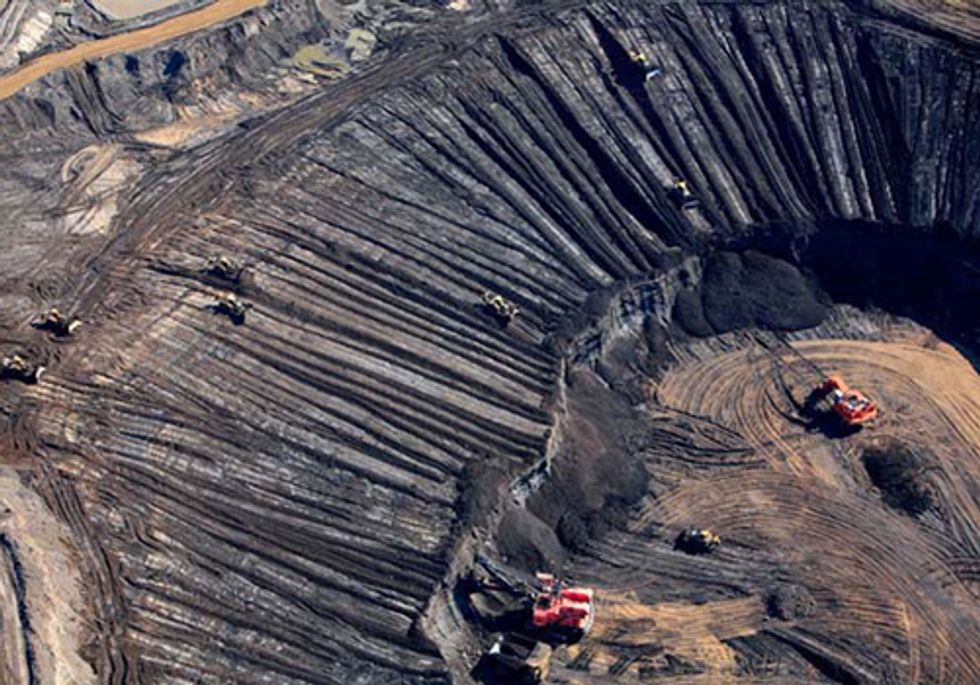 On Wednesday, Dec. 14, stand up to big polluters and their influence over our political system to help stop the Keystone XL pipeline by participating in an action in West Chester, Ohio.
A few weeks ago, President Barack Obama delayed the decision on the Keystone XL pipeline and on Dec. 7, threatened to veto any legislation that attempts to fast-track a decision on this project. But Congress, unfortunately, hasn't been living up to the standard Obama is setting. Despite the President's announcement of a veto threat, bills have been introduced in both the House and the Senate that would fast-track the Keystone XL decision. The person driving this legislation forward is the Speaker of the House, John Boehner (R-OH).
In response to Obama's announcement, Boehner's spokesperson replied: "If President Obama threatens to veto [the forthcoming GOP bill] over a provision that creates American jobs, that's a fight we're ready to have." However, the job creation number being touted by the industry came originally from a report paid for by Transcanada, the company building the pipeline, as explained in this Politico article.

What can you do?
Join 350.org on Wednesday, Dec. 14 in West Chester, Ohio, when we'll be calling out big oil and standing up to Congressman Boehner by letting him know he can't get away with a craven attempt to undermine our democracy and sneak this pipeline through the back door. To register for this event, click here.
Send your Senators an email and ask them to stop this attempt to get Keystone XL pipeline in through the back door and oppose legislation that supports construction of the pipeline.
For more information, email Danny Berchenko at [email protected].