This website uses cookies to ensure you get the best experience while browsing it. By clicking 'Got It' you're accepting these terms.


The best of EcoWatch, right in your inbox. Sign up for our email newsletter!
By Nathaniel Berman
As the poet W.H. Auden put it, "Thousands have lived without love, not one without water."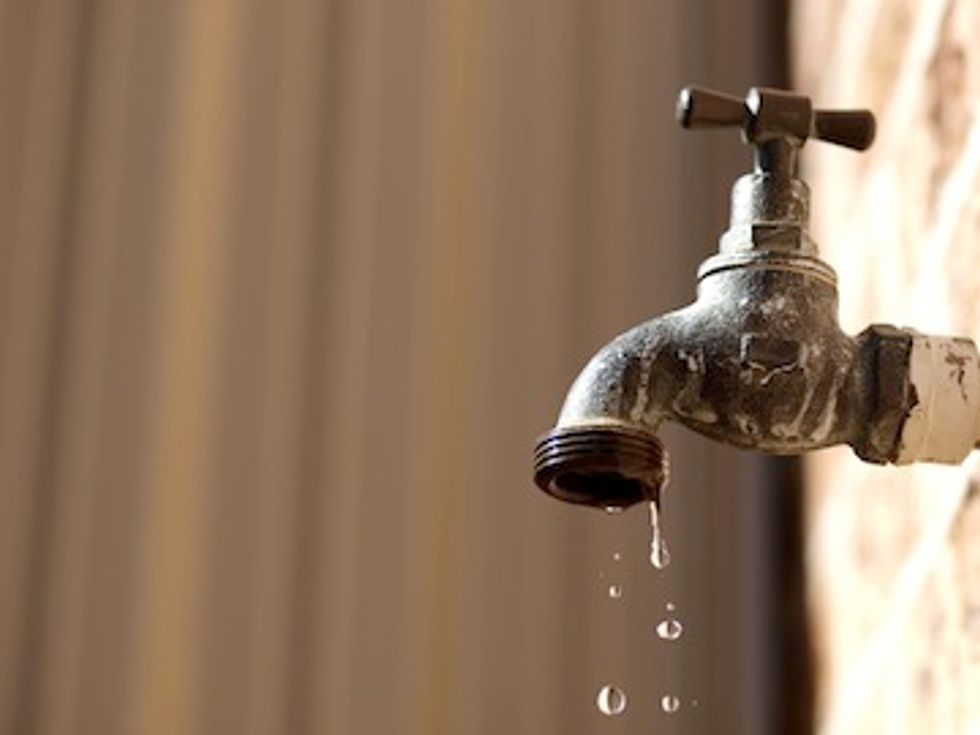 Photo courtesy of Shutterstock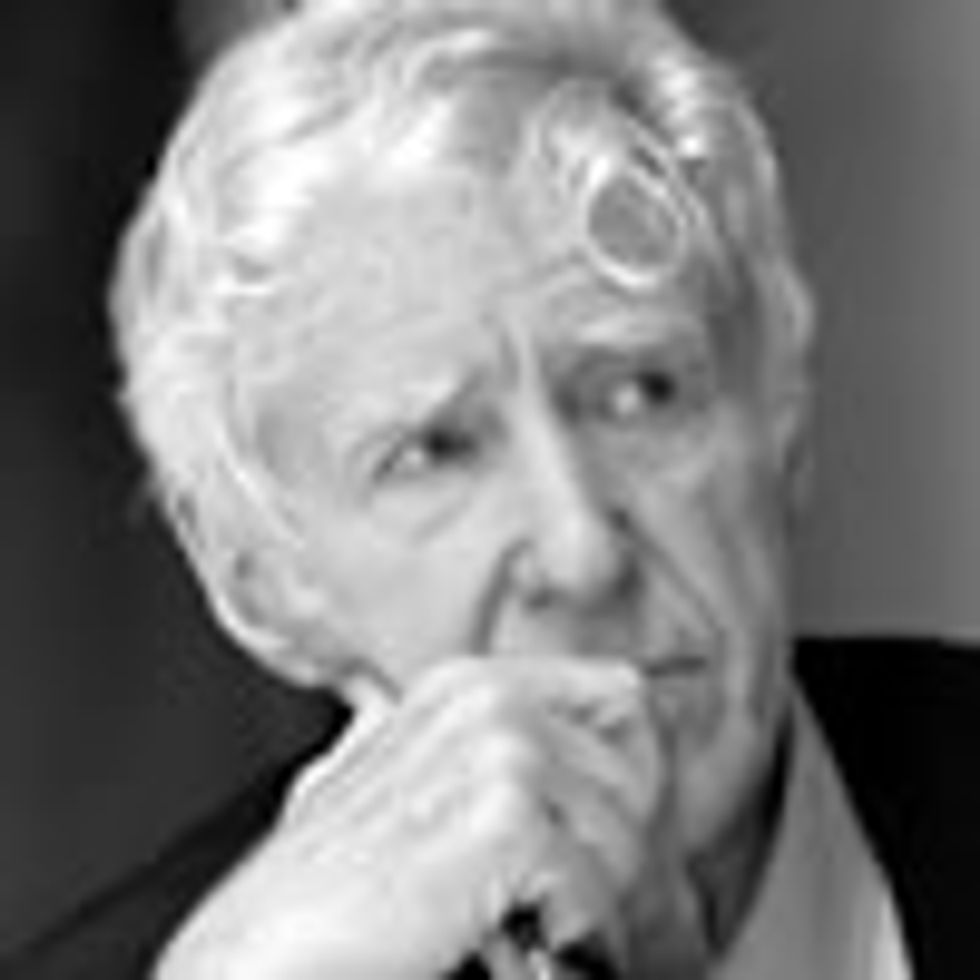 Peak oil has generated headlines in recent years, but the real threat to our future is peak water. There are substitutes for oil, but not for water. We can produce food without oil, but not without water.
We drink on average four liters of water per day, in one form or another, but the food we eat each day requires 2,000 liters of water to produce, or 500 times as much. Getting enough water to drink is relatively easy, but finding enough to produce the ever-growing quantities of grain the world consumes is another matter.
Grain consumed directly supplies nearly half of our calories. That consumed indirectly as meat, milk and eggs supplies a large part of the remainder. Today, roughly 40 percent of the world grain harvest comes from irrigated land. It thus comes as no surprise that irrigation expansion has played a central role in tripling the world grain harvest over the last six decades.
During the last half of the twentieth century, the world's irrigated area expanded from close to 250 million acres (100 million hectares) in 1950 to roughly 700 million in 2000. This near tripling of world irrigation within 50 years was historically unique. But since then the growth in irrigation has come to a near standstill, expanding only 10 percent between 2000 and 2010.
In looking at water and our future, we face many questions and few answers. Could the world be facing peak water? Or has it already peaked?
Farmers get their irrigation water either from rivers or from underground aquifers. Historically, beginning with the Sumerians some 6,000 years ago, irrigation water came from building dams across rivers, creating reservoirs that then enabled them to divert the water onto the land through a network of gravity-fed canals. This method of irrigation prevailed until the second half of the twentieth century, where with few sites remaining for building dams, the prospects for expanding surface irrigation faded. Farmers then turned to drilling wells to tap underground water resources.
In doing so, they learned that there are two types of aquifers: those that are replenishable through rainfall, which are in the majority, and those that consist of water laid down eons ago, and thus do not recharge. The latter, known as fossil aquifers, include two strategically important ones, the deep aquifer under the North China Plain and the Ogallala aquifer under the U.S. Great Plains.
Tapping underground water resources helped expand world food production, but as the demand for grain continued climbing, so too did the amount of water pumped. Eventually the extraction of water began to exceed the recharge of aquifers from precipitation, and water tables began to fall. And then wells begin to go dry. In effect, overpumping creates a water-based food bubble, one that will burst when the aquifer is depleted and the rate of pumping is necessarily reduced to the rate of recharge.
Today some 18 countries, containing half the world's people, are overpumping their aquifers. Among these are the big three grain producers—China, India and the U.S.—and several other populous countries, including Iran, Pakistan and Mexico.
During the last couple of decades, several of these countries have overpumped to the point that aquifers are being depleted and wells are going dry. They have passed not only peak water, but also peak grain production. Among the countries whose use of water has peaked and begun to decline are Saudi Arabia, Syria, Iraq and Yemen. In these countries peak grain has followed peak water.
Nowhere are falling water tables and the shrinkage of irrigated agriculture more dramatic than in Saudi Arabia, a country as water-poor as it is oil-rich. After the Arab oil export embargo in 1973, the Saudis realized they were vulnerable to a counter-embargo on grain. To become self-sufficient in wheat, they developed a heavily subsidized irrigated agriculture based heavily on pumping water from fossil aquifers.
After being self-sufficient in wheat for over 20 years, the Saudis announced in early 2008 that, with their aquifers largely depleted, they would reduce wheat planting by one eighth each year until 2016, when production would end. By then Saudi Arabia projects it will be importing some 15 million tons of wheat, rice, corn and barley to feed its 30 million people. It is the first country to publicly project how aquifer depletion will shrink its grain harvest.
Syria, a country of 22 million people riddled by civil war, is also overpumping its underground water. Its grain production peaked in 2001 and during the years since has dropped 32 percent. It, too, is becoming heavily dependent on imported grain.
In neighboring Iraq, grain production has plateaued over the last decade. In 2012 it was dependent on the world market for two thirds of its consumption. In addition to aquifer depletion, both Syria and Iraq are also suffering from a reduced flow in the Tigris and Euphrates rivers as upstream Turkey claims more water for its own use.
In Yemen, a nation of 24 million people that shares a long border with Saudi Arabia, the water table is falling by roughly six feet a year as water use outstrips aquifer recharge. With one of the world's fastest-growing populations and with water tables falling throughout the country, Yemen is fast becoming a hydrological basket case. Grain production has fallen by nearly half over the last 40 years. By 2015, irrigated fields will be a rarity and the country will be importing virtually all of its grain. Living on borrowed water and borrowed time, Yemen could disintegrate into a group of tribal fiefdoms warring over water.
Thus in the Arab Middle East the world is seeing the collision between population growth and water supply at the regional level. For the first time in history, grain production is dropping in a geographic region with nothing in sight to arrest the decline. Because of the failure of governments in the region to mesh population and water policies, each day now brings 9,000 more people to feed and less irrigation water with which to feed them.
Other countries with much larger populations  are also near or beyond peak water. In Iran, a country with 77 million people, grain production dropped 10 percent between 2007 and 2012 as irrigation wells started to go dry. One-quarter of its current grain harvest is based on overpumping. With its population growing by a million people per year, it, too, faces a day of reckoning.
Pakistan, with a population of 182 million that is growing by 3 million per year, is also mining its underground water. Most of its irrigation water comes from the Indus river system, but in the Pakistani part of the fertile Punjab plain, the drop in water tables appears to be similar to the better-known fall that is occurring in India.
Observation wells near the twin cities of Islamabad and Rawalpindi showed a fall in the water table between 1982 and 2000 that ranged from three to six feet a year. In the Pakistani province of Balochistan, which borders Afghanistan, water tables around the capital, Quetta, are falling by 3.5 meters (11.5 feet) per year—pointing to the day when the city will run out of water. Sardar Riaz A. Khan, former director of Pakistan's Arid Zone Research Institute in Quetta, reports that six of Balochistan's seven basins have exhausted their groundwater supplies, leaving their irrigated lands barren.
In a World Bank study, water expert John Briscoe says: "Pakistan is already one of the most water-stressed countries in the world, a situation which is going to degrade into outright water scarcity due to high population growth." He then notes that "the survival of a modern and growing Pakistan is threatened by water."
In Mexico—home to a population of 122 million that is projected to reach 156 million by 2050—the demand for water is outstripping supply. Mexico City's water problems are well known. Rural areas are also suffering. In the agricultural state of Guanajuato, the water table is falling by six feet  or more a year. In the northwestern wheat-growing state of Sonora, farmers once pumped water from the Hermosillo aquifer at a depth of 40 feet. Today they pump from over 400 feet. Mexico may be near peak water use. Peak grain may be imminent.
In addition to these small and midsize countries, aquifer depletion now also threatens harvests in the big three grain producers—China, India and the U.S.—that together produce half of the world's grain. The question is not whether water shortages will affect future harvests in these countries, but rather when they will do so.
Among the big three, dependence on irrigation varies widely. Some four fifths of China's grain harvest comes from irrigated land, most of it drawing on surface water, principally the Yellow and Yangtze rivers. For India, three fifths of its grain is irrigated, mostly with groundwater. For the U.S., only one-fifth of the harvest is from irrigated land. The bulk of the grain crop is rain-fed, produced in the highly productive Midwestern Corn Belt where there is little or no irrigation.
Falling water tables are already adversely affecting harvest prospects in China, which rivals the U.S. as the world's largest grain producer. A groundwater survey released in Beijing in 2001 indicated that the water table under the North China Plain, an area that produces half of the country's wheat and a third of its corn, was falling fast. Overpumping has largely depleted the shallow aquifer, forcing well-drillers to turn to the region's deep aquifer, which is not replenishable.
The survey reported that under Hebei Province in the heart of the North China Plain, the average level of the deep aquifer was dropping nearly 10 feet per year. Around some cities in the province, it was falling twice as fast. He Qingcheng, head of the groundwater monitoring team, notes that as the deep aquifer is depleted, the region is losing its last water reserve—its only safety cushion.
In 2010, He Qingcheng reported that Beijing was drilling down 1,000 feet to reach an aquifer, five times deeper than 20 years ago. His concerns are mirrored in the unusually strong language of a World Bank report on China's water situation that foresees "catastrophic consequences for future generations" unless water use and supply can quickly be brought back into balance.
As serious as water shortages are in China, they are even more alarming in India, where the margin between food consumption and survival is so precarious. In India, whose population is growing by 15 million per year, irrigation depends heavily on underground water. And since there are no restrictions on well drilling, farmers have drilled more than 27 million irrigation wells and are pumping vast amounts of underground water.
In this global epicenter of well drilling, pumps powered by heavily subsidized electricity are dropping water tables at an alarming rate. Among the states most affected are Punjab, Haryana, Rajasthan and Gujarat in the north and Tamil Nadu in the south. In North Gujarat the water table is falling by 20 feet per year. In Tamil Nadu, a state of 72 million people, water tables are falling everywhere. Kuppannan Palanisami of Tamil Nadu Agricultural University noted in 2004 that 95 percent of the wells owned by small farmers have dried up, reducing the irrigated area in the state by half over the preceding decade.
India's grain harvest has been expanding rapidly in recent years, but in part for the wrong reason, namely massive overpumping. A World Bank study estimates that 15 percent of India's food supply is produced by mining groundwater. Stated otherwise, 175 million Indians are now fed with grain produced with the unsustainable use of water. As early as 2004, Fred Pearce reported in New Scientist that "half of India's traditional hand-dug wells and millions of shallower tube wells have already dried up, bringing a spate of suicides among those who rely on them. Electricity blackouts are reaching epidemic proportions in states where half of the electricity is used to pump water from depths of up to a kilometer."
As India's water tables fall, larger farmers are using modified oil-drilling technology to reach water, going as deep as 1,000 feet in some locations. In communities where underground water sources have dried up entirely, all agriculture is now rain-fed and drinking water must be trucked in. Tushaar Shah of the International Water Management Institute says of India's water situation: "When the balloon bursts, untold anarchy will be the lot of rural India."
In the U.S., farmers are over-pumping in the Great Plains, including in several leading grain-producing states such as Texas, Oklahoma, Kansas, and Nebraska. In these states, irrigation has not only raised wheat yields but it has also enabled a shift from wheat to corn, a much higher-yielding crop. Kansas, for example, long known as the leading wheat state, now produces more corn than wheat.
Irrigated agriculture has thrived in these states, but the water is drawn from the Ogallala aquifer, a huge underground water body that stretches from Nebraska southwards to the Texas Panhandle. It is, unfortunately, a fossil aquifer, one that does not recharge. Once it is depleted, the wells go dry and farmers either go back to dryland farming or abandon farming altogether, depending on local conditions.
In Texas, a large grain and cattle state, whose northern part overlies the shallow end of the Ogallala, irrigated grain area peaked in 1975. Since then it has shrunk by two-thirds, with the most precipitous drop in recent years. In Kansas the peak came in 1982 and irrigated grain area has since fallen 41 percent. Nebraska, now also a leading corn-producing state, saw its irrigated area peak most recently, in 2007. Even though aquifer depletion is reducing grain output in several key states, it is not yet sufficient to reduce the overall U.S. grain harvest, the bulk of which is produced in the rain-fed Midwestern Corn Belt.
At the international level, water conflicts, such as the one in the Nile river basin between Egypt and the upstream countries, make the news. But within countries it is the competition for water between cities and farms that preoccupies political leaders. Indeed, in many countries farmers now face not only a shrinking water supply as aquifers are pumped dry, but also a shrinking share of that shrinking supply.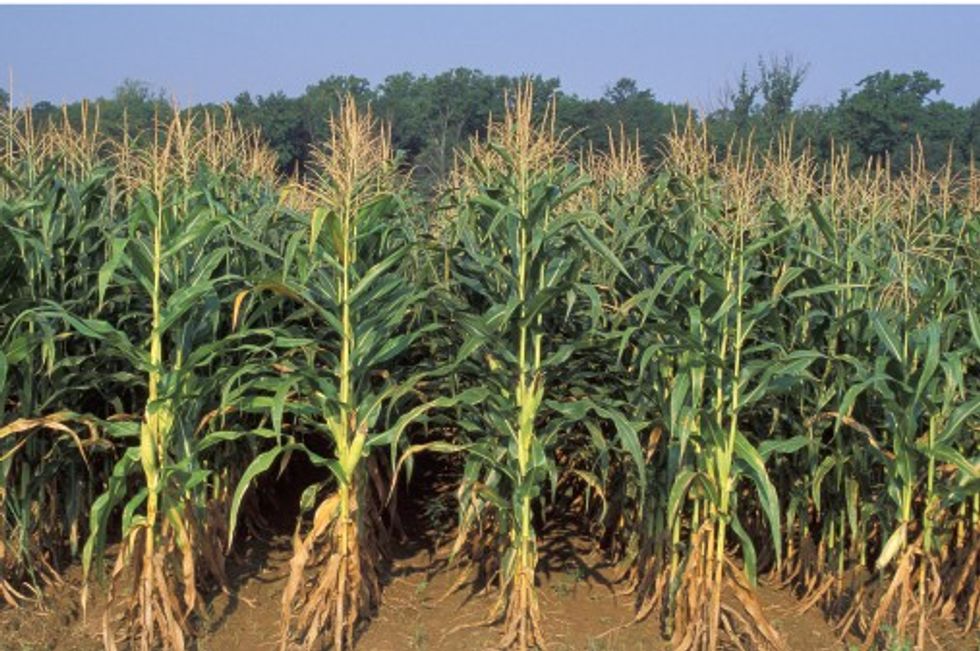 In large areas of the U.S., such as the southern Great Plains and the Southwest, virtually all water is now spoken for. The growing water needs of major cities and thousands of small towns often can be satisfied only by taking water from agriculture. As the value of water rises, more farmers are selling their irrigation rights to cities, letting their land dry up. Hardly a day goes by without the announcement of a new sale. Half or more of all sales are by individual farmers or their irrigation districts to cities and municipalities.
In the largest farm-to-city water transfer in U.S. history, farmers in California's highly productive Imperial Valley agreed in 2003 to send San Diego County enough water to meet the household needs of close to one million people each year. The agreement spans 45 years. This could reduce food production in the Imperial Valley, a huge vegetable garden not only for California, but for countless other markets as well. Writing from the area in the New York Times, Felicity Barringer notes that many fear that "a century after Colorado River water allowed this land to be a cornucopia, unfettered urban water transfers could turn it back into a desert."
Colorado, with a fast-growing population, has one of the world's most active water markets. Cities and towns of all sizes are buying irrigation water rights from farmers and ranchers. In the Arkansas river basin, which occupies the southeastern quarter of the state, Colorado Springs and Aurora (a suburb of Denver) have already bought water rights to one-third of the basin's farmland. Aurora has purchased rights to water that was once used to irrigate 19,000 acres of cropland in the Arkansas valley. The U.S. Geological Survey estimates that 400,000 acres of farmland dried up statewide between 2000 and 2005.
Colorado is not alone in losing irrigation water. Farmers in rural India are also losing their irrigation water to cities. This is strikingly evident in Chennai (formerly Madras), a city of 9 million on the east coast. As a result of the city government's inability to supply water to many of its people, a thriving tank-truck industry has emerged that buys water from nearby farmers and hauls it to the city's thirsty residents.
For farmers near cities, the market price of water typically far exceeds the value of the crops they can produce with it. Unfortunately the 13,000 privately owned tank trucks hauling water to Chennai are mining the region's underground water resources. As water tables fall, eventually even the deeper wells will go dry, depriving rural communities of both their food supply and their livelihood.
In the competition for water between farmers on the one hand and cities and industries on the other, farmers always lose. The economics do not favor agriculture. In countries such as China, where industrial development and the jobs associated with it are an overriding national economic goal, agriculture is becoming the residual claimant on the water supply.
Where virtually all water has been claimed, cities can typically get more water only by taking it from irrigation. Countries then import grain to offset the loss of irrigated grain production. Since it takes 1,000 tons of water to produce one ton of grain, importing grain is the most efficient way to import water. Thus trading in grain futures is, in a sense, trading in water futures. To the extent that there is a world water market, it is embodied in the world grain market.
We can now see how overpumping, whether in the Middle East or the U.S. Great Plains, can lead to aquifer depletion and shrinking grain harvests. In short, peak water can lead to peak grain. For some countries this is no longer merely a theoretical possibility. It is a reality.
Thus far, aquifer depletion has translated into shrinking harvests only in smaller countries in the Middle East. When we look at middle-sized countries such as Iran, Mexico and Pakistan, with tightening water supplies, we see that Iran is already in deep trouble. It is feeling the effects of shrinking water supplies from overpumping. Pakistan may also have reached peak water. If so, peak grain may not be far behind. In Mexico, the water supply may have already peaked. With less water for irrigation, Mexico may be on the verge of a downturn in its grain harvest.
In summarizing prospects for the three big grain producers—the U.S., China and India—we see sharp contrasts. In the U.S., the irrigated grainland is starting to shrink largely as a result of depletion of the Ogallala aquifer, making it more difficult to rapidly increase overall grain production.
China, with four-fifths of its grain harvest coming from irrigated land, relies heavily on irrigation, but it is largely river water. A notable exception to this is the all-important North China Plain which relies heavily on underground water. With tight water supplies in northern China and with cities claiming more irrigation water, the shrinking water supply will likely reduce the harvest in some local situations. And before long it could more than offset production gains, leading to an absolute decline in China's grain harvest.
Of the big three countries, the one most vulnerable to overpumping is India. Three-fifths of its grain harvest comes from irrigated land. And since only a minor share of its irrigation water comes from rivers, India is overwhelmingly dependent on underground water. Its millions of wells, each powered with a diesel engine or electric motor, are dropping water tables at an alarming rate. Accurate data are hard to come by, but India may have already passed peak water. The question is, will peak water be followed by peak grain or is there enough unrealized technological potential remaining to raise yields enough to offset any imminent losses from wells going dry?
The world has quietly transitioned into a situation where water, not land, has emerged as the principal constraint on expanding food supplies. There is a large area of land that could produce food if water were available.
Water scarcity is not our only challenge. Just as harvests are shrinking in some countries because of aquifer depletion, they are shrinking in other countries because of soil erosion. Among the more dramatic examples are Mongolia and Lesotho, which have each seen their grain area shrink as a result of soil erosion. And as a result of overplowing and overgrazing, two huge new dust bowls are forming in the world today, one in northwest China and the other in the Sahelian region of Africa. These giant dust bowls dwarf the U.S. Dust Bowl of the 1930s.
The bottom line is that water constraints—augmented by soil erosion, the loss of cropland to nonfarm uses, a plateauing of yields in major producing areas and climate change—are making it more difficult to expand world food production. The question raised is this: is it conceivable that the negative influences on future food production could one day offset the positive ones, leading to a cessation in the world grain harvest?
Visit EcoWatch's WATER and FOOD pages for more related news on this topic.
——–
EcoWatch Daily Newsletter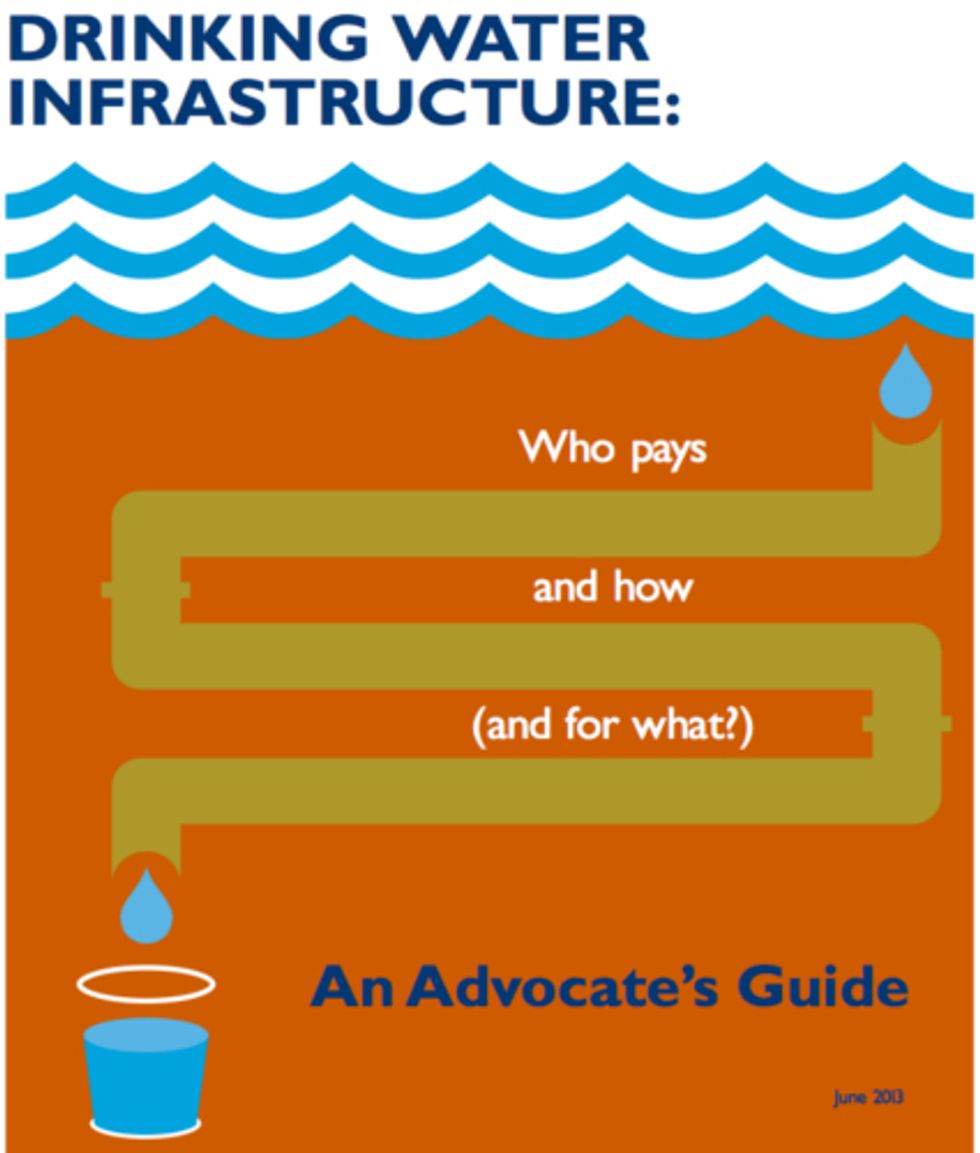 The costs of rebuilding our nation's water infrastructure are jaw dropping: estimates range from $300 billion to $1 trillion needed over the next 30 years. Add in the cost to develop new water supplies, treatment plants and transmission systems to accommodate growth—$20 billion for new reservoirs and pipelines in North Texas, $7 billion for a pipeline in Las Vegas—and the numbers really start to make the mind reel.
Investing in our nation's infrastructure and water security is a necessity. But what we invest in is a choice we should not take lightly—not when the costs are so high. While it's become a platitude that Americans pay too little for water to care how much they use, the reality is that the costs of water services are outpacing the cost gains of every other basic service—faster than electricity, faster than solid waste, faster even than cable television.
And while many of us can afford it, in some communities, the cost of clean drinking water strains the bounds of affordability. A study by the University of North Carolina found that low-income households are paying as much as 8 percent of annual income for water services.
Everyone in America should have access to clean, affordable drinking water and sanitation services. But in an era of fiscal constraint, this means we need to be smarter about the way we provide these services and realistic about the true cost of sticking with the legacy systems we have inherited.
More efficient use of water will have to part of the solution. In the U.S., around one-third of the clean drinking water we treat each day is used to water lawns. This proportion is as high as 70 perecent in some areas. Energy prices are rising, and with it, the cost of treating and moving that water. This is unsustainable, environmentally and financially.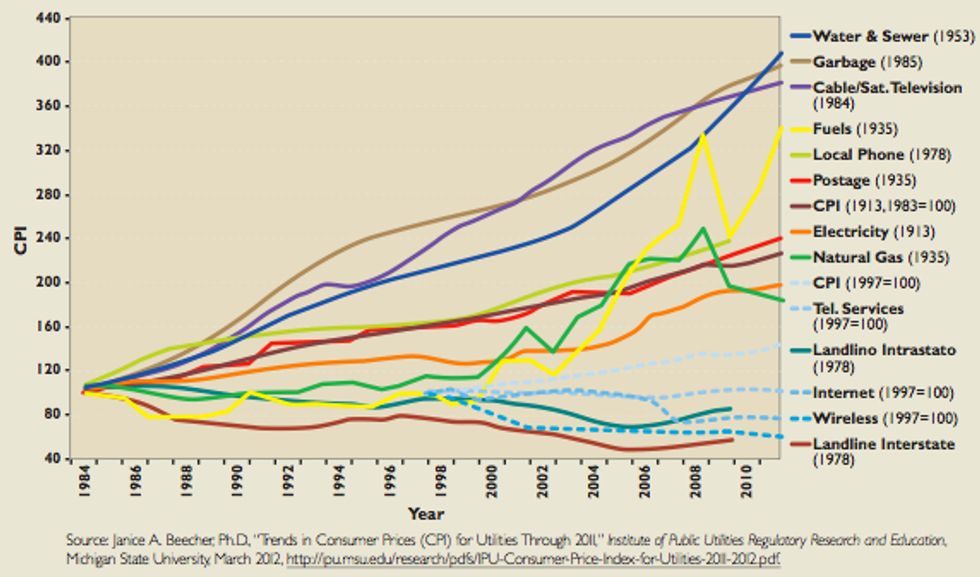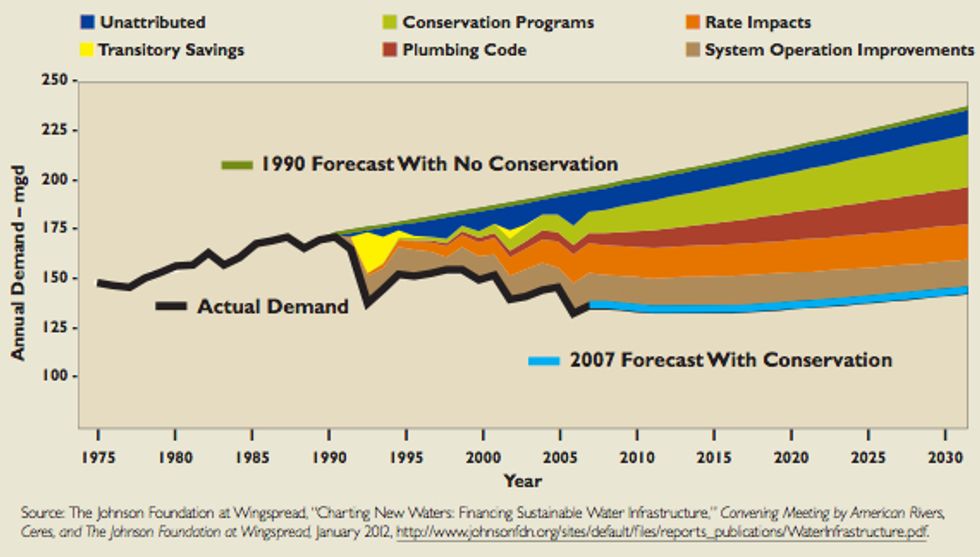 The good news is, we can choose to use water more efficiently, and to protect the affordability of clean drinking water for generations to come. But advocates have to make this solution a reality by educating themselves about the financial constraints water systems face in maintaining the infrastructure and the debt acquired by their predecessors, and by supporting their political leaders to lay the pathway toward equitable and sustainable water services.
A new report by American Rivers looks to shape a sustainable water future for communities across the U.S. It provides a shared foundation of knowledge for advocates of all stripes to cooperate in stewarding their communities' most critical infrastructure, so that Americans always enjoy the best water money can buy, without breaking the bank.
Visit EcoWatch's WATER page for more related news on this topic.

This summer, millions of Americans will flock to the beach to beat the heat, but with increased beach patronage comes an uptick in pollution on our shores, composed in part by un-recycled plastic water bottles. That's why Food & Water Watch (FWW) and the Surfrider Foundation launched an initiative to protect our shores and oceans from plastic pollution. Those participating will pledge to choose tap water in reusable containers over bottled water at the beach this summer.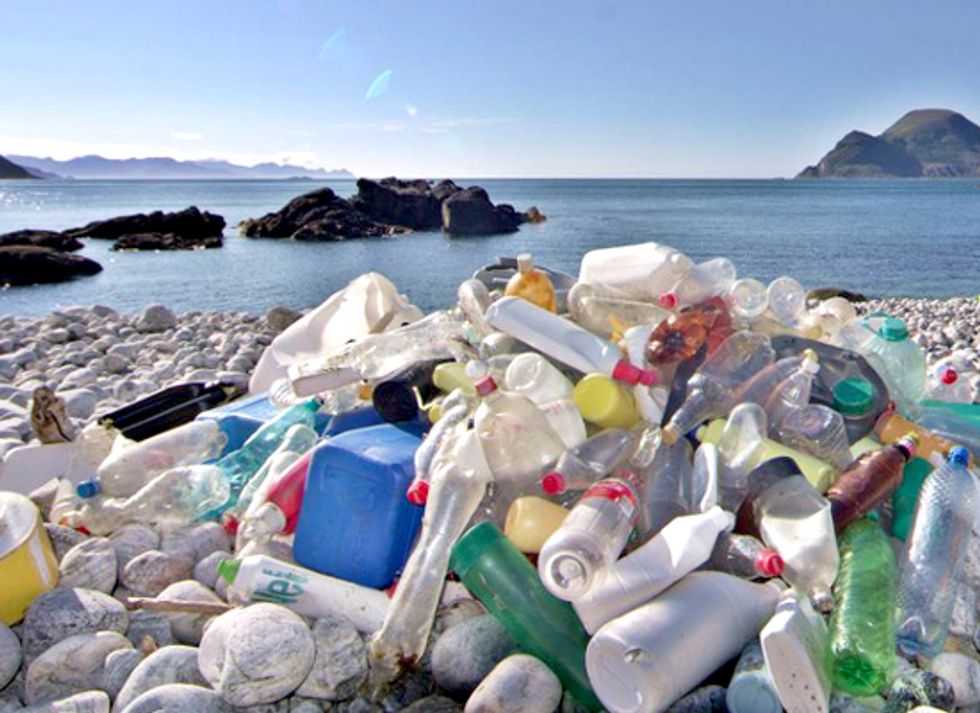 "From destructive fishing practices to global warming, our planet's oceans are in trouble, and turning them into giant trashcans for the bottled water industry's waste is only exacerbating the problem," said FWW Executive Director Wenonah Hauter. "But consumers can help protect our oceans by not littering the shores, and one easy way to do that is to choose tap water over bottled, particularly when they're hitting the beach.
Worldwide, plastic is the most common type of marine litter, according to the Surfrider Foundation. An estimated 100,000 marine mammals and up to 1 million sea birds die every year after ingesting or becoming entangled in plastic marine litter. Plastics comprise up to 90 percent of floating marine debris.
"From coast to coast, local Surfrider Foundation chapters find discarded water bottles at virtually every beach cleanup they host. People can help solve the problem by utilizing reusable bottles," added Bill Hickman, Rise Above Plastics coordinator for the Surfrider Foundation.
About 77 percent of polyethylene terephthalate (PET) plastic water bottles are not recycled, with 4 billion pounds of plastic going to landfills, costing municipalities at least $98 million a year, according to research released Monday by FWW. The report also found that although Nestlé Water's total bottled water sales fell by 31 percent between 2007 and 2012, bottled water still continues to pose significant environmental, economic and equity issues in the U.S. and worldwide. In that time, Nestlé Water's sales increased by 73 percent in emerging markets. This is due in part to the fact that its latest marketing schemes target recent immigrants and low-income consumers.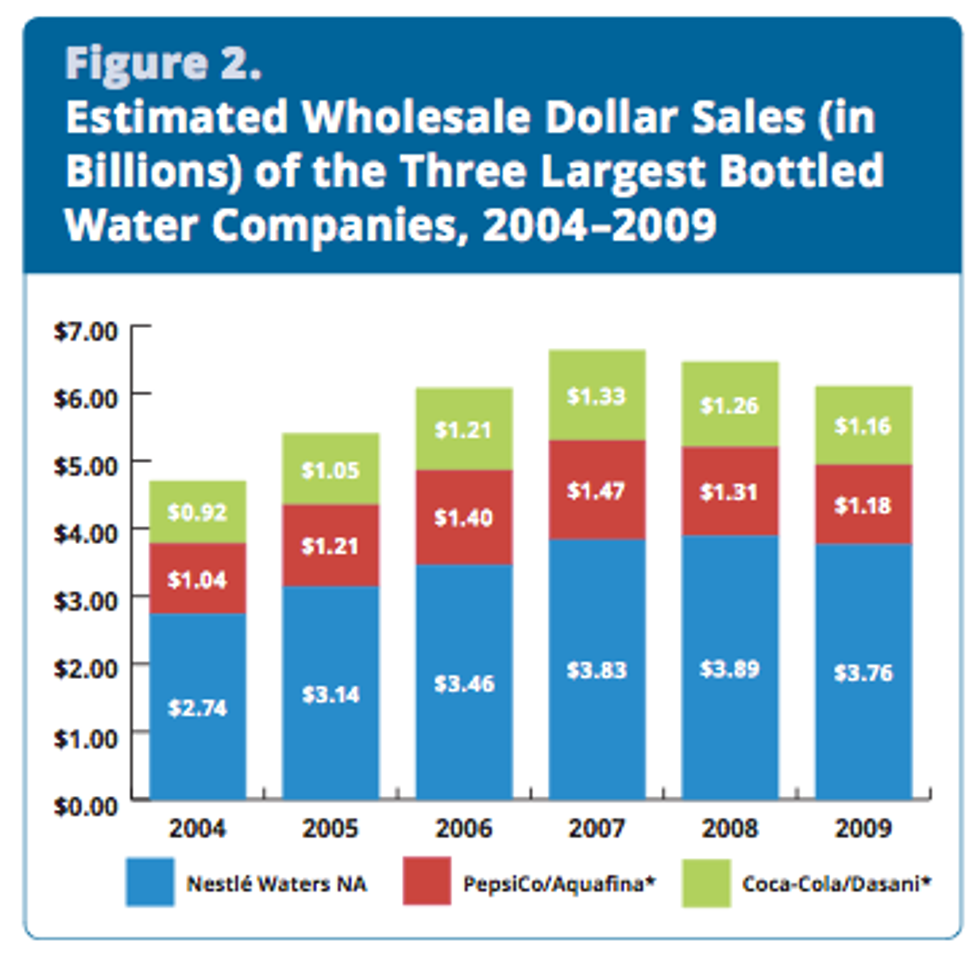 But contrary to the industry's advertising claims, bottled water is not necessarily a purer, safer or healthier alternative to tap water, and is actually subject to less stringent regulation. Federal law does not give the Food and Drug Administration (FDA) the authority to oversee state regulation of bottled water, but requires that the U.S. Environmental Protection Agency (EPA) oversee state regulation of tap water. Unlike the FDA, the EPA regulates tap water under the Safe Drinking Water Act.
The FDA only requires testing for bottled water sold across state lines, which excludes the 60 to 70 percent of bottled water sold within a single state. For the 30 to 40 percent it does regulate, it only requires bottlers to test their source once a week for microbiological contaminants, once a year for chemical contaminants and once every four years for radiological contaminants.
Rather than funding the disposal of bottled water waste, FWW recommends that the federal government invest in improving public water infrastructure. "While ditching bottled water will help clean up our oceans and save consumers money, our nation's drinking water systems are still woefully underfunded. Congress should declare water a universal human right, and it should establish a Clean Water Trust Fund to provide steady, dedicated funding for community water systems so consumers can enjoy safe, clean affordable water from the ever-convenient tap," concluded Hauter.
Visit EcoWatch's WATER page for more related news on this topic.
——–
SIGN THIS PETITION TODAY:
Alberta-based environmental consultant Jessica Ernst just released the first comprehensive catalog and summary compendium of facts related to the contamination of North America's ground water sources resulting from the oil and gas industry's controversial practice of fracking.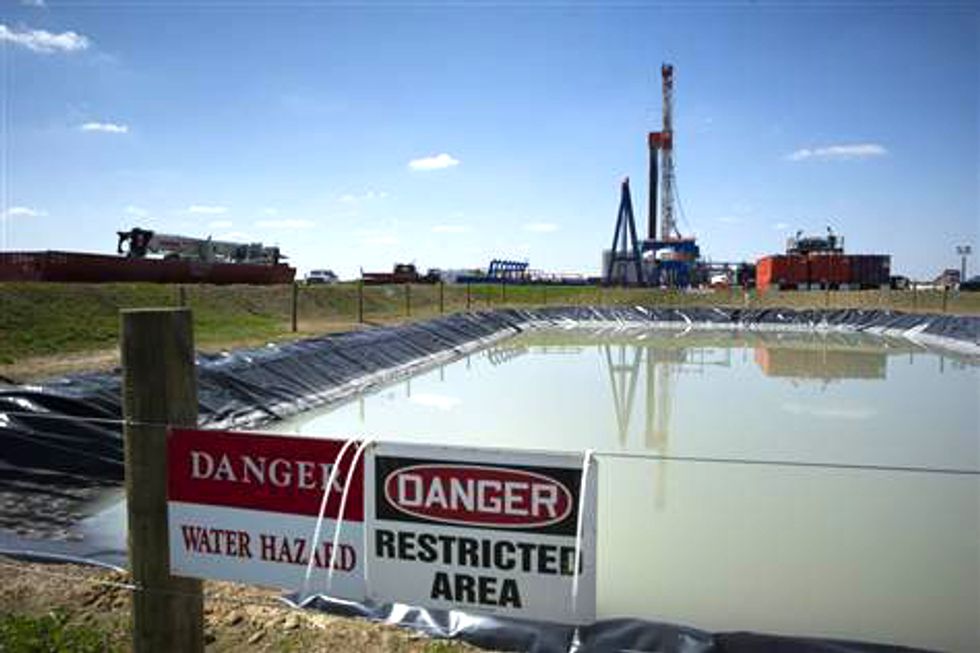 Based on research collected over many years, the 93-page report, Brief Review of Threats to Groundwater from the Oil and Gas Industry's Methane Migration and Hydraulic Fracturing, looks to be a game-changing document, providing little wiggle room for private industry and government spokespeople advocating fracking's immunity from public concern, criticism and liability.
Ever since the pioneering days of coalbed methane fracking experiments in southeast and southwest U.S. in the late 1970s, and through subsequent and evolving grandiose technical stages of widespread experimenting with fracking in the U.S. and Canada, the deep-pocketed inter-corporate industry has consistently fought and influenced both government and citizenry by burying the truth about its cumulative impacts to the environment and human health through confidentiality agreements, threats, half-truths and deceptions. This catalog, devoted primarily to the theme of groundwater impacts, helps to shine the light upon a behemoth circus of utter pitch black darkness.
"Jessica Ernst has made a strong case," notes Will Koop, B.C. Tap Water Alliance coordinator. "Her collection provides excellent and technically friendly working tools, enabling the public to draw their own conclusions from the critical information. This is not just an invaluable document for North Americans, but for the world."
Visit EcoWatch's FRACKING page for more related news on this topic.
——–
Sign the petition today, telling President Obama to enact an immediate fracking moratorium: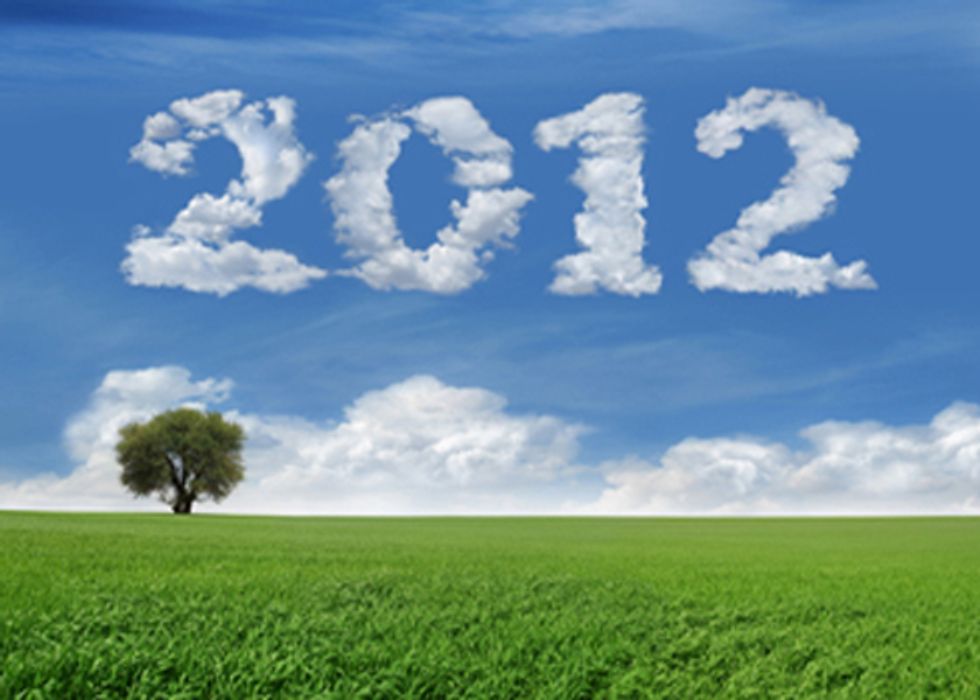 As we head into 2012, many of us will be resolving to lose those few extra pounds, save more money, or spend a few more hours with our families and friends. But there are also some resolutions we can make to make our lives a little greener. Each of us, especially in the U.S., can make a commitment to reducing our environmental impacts.
"The global community, and particularly people living in industrialized societies, have put unsustainable demands on our planet's limited resources," says Robert Engelman, president of the Worldwatch Institute, a global environmental research organization based on Washington, D.C. "If we expect to be able to feed, shelter and provide even basic living conditions to our growing population in years to come, we must act now to change."
The United Nations has designated 2012 as the International Year of Sustainable Energy for All. Broadening access to sustainable energy is essential to solving many of the world's challenges, including food production, security and poverty. "With so many hungry and poor in the world, addressing these issues is critical," says Danielle Nierenberg, director of Worldwatch's Nourishing the Planet project. "Fortunately, the solutions to these problems can come from simple innovations and practices." 
The Nourishing the Planet team recently traveled to 25 countries in sub-Saharan Africa, and will be soon traveling to Latin America, to research and highlight such solutions. The project shines a spotlight on innovations in agriculture that can help alleviate hunger and poverty while also protecting the environment. These innovations are elaborated in Worldwatch's flagship annual report, State of the World 2011: Innovations that Nourish the Planet.
Hunger, poverty and climate change are issues that we can all help address. Here are 12 simple steps to go green in 2012:
(1) Recycle
Recycling programs exist in cities and towns across the U.S., helping to save energy and protect the environment. In 2009, San Francisco became the first U.S. city to require all homes and businesses to use recycling and composting collection programs. As a result, more than 75 percent of all material collected is being recycled, diverting 1.6 million tons from the landfills annually—double the weight of the Golden Gate Bridge. According to the U.S. Environmental Protection Agency (EPA), for each pound of aluminum recovered, Americans save the energy resources necessary to generate roughly 7.5 kilowatt-hours of electricity—enough to power a city the size of Pittsburgh for six years.
What you can do:
Put a separate container next to your trash can or printer, making it easier to recycle your bottles, cans and paper.
(2) Turn off the lights
On the last Saturday in March—March 31 in 2012—hundreds of people, businesses and governments around the world turn off their lights for an hour as part of Earth Hour, a movement to address climate change.
What you can do:
Earth Hour happens only once a year, but you can make an impact every day by turning off lights during bright daylight, or whenever you will be away for an extended period of time.
(3) Make the switch
In 2007, Australia became the first country to "ban the bulb," drastically reducing domestic usage of incandescent light bulbs. By late 2010, incandescent bulbs had been totally phased out, and, according to the country's environment minister, this simple move has made a big difference, cutting an estimated 4 million tons of greenhouse gas emissions by 2012. China also recently pledged to replace the 1 billion incandescent bulbs used in its government offices with more energy efficient models within five years.
What you can do:
A bill in Congress to eliminate incandescent in the U.S. failed in 2011, but you can still make the switch at home. Compact fluorescent lamps (CFLs) use only 20–30 percent of the energy required by incandescents to create the same amount of light, and LEDs use only 10 percent, helping reduce both electric bills and carbon emissions.
(4) Turn on the tap
The bottled water industry sold 8.8 billion gallons of water in 2010, generating nearly $11 billion in profits. Yet plastic water bottles create huge environmental problems. The energy required to produce and transport these bottles could fuel an estimated 1.5 million cars for a year, yet approximately 75 percent of water bottles are not recycled—they end up in landfills, litter roadsides, and pollute waterways and oceans. And while public tap water is subject to strict safety regulations, the bottled water industry is not required to report testing results for its products. According to a study, 10 of the most popular brands of bottled water contain a wide range of pollutants, including pharmaceuticals, fertilizer residue and arsenic.
What you can do:
Fill up your glasses and reusable water bottles with water from the sink. The U.S. has more than 160,000 public water systems, and by eliminating bottled water you can help to keep nearly 1 million tons of bottles out of the landfill, as well as save money on water costs.
(5) Turn down the heat
The U.S. Department of Energy estimates that consumers can save up to 15 percent on heating and cooling bills just by adjusting their thermostats. Turning down the heat by 10 to 15 degrees Fahrenheit for eight hours can result in savings of 5–15 percent on your home heating bill.
What you can do:
Turn down your thermostat when you leave for work, or use a programmable thermostat to control your heating settings.
(6) Support food recovery programs
Each year, roughly a third of all food produced for human consumption—approximately 1.3 billion tons—gets lost or wasted, including 34 million tons in the U.S. according to the United Nations Food and Agriculture Organization (FAO). Grocery stores, bakeries and other food providers throw away tons of food daily that is perfectly edible but is cosmetically imperfect or has passed its expiration date. In response, food recovery programs run by homeless shelters or food banks collect this food and use it to provide meals for the hungry, helping to divert food away from landfills and into the bellies of people who need it most.
What you can do:
Encourage your local restaurants and grocery stores to partner with food rescue organizations, like City Harvest in New York City or Second Harvest Heartland in Minnesota.
Go through your cabinets and shelves and donate any non-perishable canned and dried foods that you won't be using to your nearest food bank or shelter.
(7) Buy local
"Small Business Saturday," falling between "Black Friday" and "Cyber Monday," was established in 2010 as a way to support small businesses during the busiest shopping time of the year. Author and consumer advocate Michael Shuman argues that local small businesses are more sustainable because they are often more accountable for their actions, have smaller environmental footprints, and innovate to meet local conditions—providing models for others to learn from.
What you can do:
Instead of relying exclusively on large supermarkets, consider farmers markets and local farms for your produce, eggs, dairy and meat. Food from these sources is usually fresher and more flavorful, and your money will be going directly to these food producers.
(8) Get out and ride
We all know that carpooling and using public transportation helps cut down on greenhouse gas emissions, as well as our gas bills. Now, cities across the country are investing in new mobility options that provide exercise and offer an alternative to being cramped in subways or buses. Chicago, Denver, Minneapolis and Washington, D.C. have major bike sharing programs that allow people to rent bikes for short-term use. Similar programs exist in other cities, and more are planned for places from Miami, Florida, to Madison, Wisconsin.
What you can do:
If available, use your city's bike share program to run short errands or commute to work. Memberships are generally inexpensive (only $75 for the year in Washington, D.C.), and by eliminating transportation costs, as well as a gym membership, you can save quite a bit of money.
Even if without bike share programs, many cities and towns are incorporating bike lanes and trails, making it easier and safer to use your bike for transportation and recreation.
(9) Share a car
Car sharing programs spread from Europe to the U.S. nearly 13 years ago and are increasingly popular, with U.S. membership jumping 117 percent between 2007 and 2009. According to the University of California Transportation Center, each shared car replaces 15 personally owned vehicles, and roughly 80 percent of more than 6,000 car-sharing households surveyed across North America got rid of their cars after joining a sharing service. In 2009, car-sharing was credited with reducing U.S. carbon emissions by more than 482,000 tons. Innovative programs such as Chicago's I-GO are even introducing solar-powered cars to their fleets, making the impact of these programs even more eco-friendly.
What you can do:
Join a car share program. As of July 2011, there were 26 such programs in the U.S., with more than 560,000 people sharing over 10,000 vehicles. Even if you don't want to get rid of your own car, using a shared car when traveling in a city can greatly reduce the challenges of finding parking (car share programs have their own designated spots), as well as your environmental impact as you run errands or commute to work.
(10) Plant a garden
Whether you live in a studio loft or a suburban McMansion, growing your own vegetables is a simple way to bring fresh and nutritious food literally to your doorstep. Researchers at the FAO and the United Nations Development Programme estimate that 200 million city dwellers around the world are already growing and selling their own food, feeding some 800 million of their neighbors. Growing a garden doesn't have to take up a lot of space, and in light of high food prices and recent food safety scares, even a small plot can make a big impact on your diet and wallet.
What you can do:
Plant some lettuce in a window box. Lettuce seeds are cheap and easy to find, and when planted in full sun, one window box can provide enough to make several salads worth throughout a season.
(11) Compost
And what better way to fertilize your garden than using your own composted organic waste. You will not only reduce costs by buying less fertilizer, but you will also help to cut down on food and other organic waste.
What you can do:
If you are unsure about the right ways to compost, websites such as HowToCompost.org and organizations such as the U.S. Composting Council, provide easy steps to reuse your organic waste.
(12) Reduce your meat consumption
Livestock production accounts for about 18 percent of all human-caused greenhouse gas emissions and accounts for about 23 percent of all global water used in agriculture. Yet global meat production has experienced a 20 percent growth rate since 2000 to meet the per capita increase of meat consumption of about 42 kilograms.
What you can do:
You don't have to become a vegetarian or vegan, but by simply cutting down on the amount of meat you consume can go a long way. Consider substituting one meal day with a vegetarian option. And if you are unable to think of how to substitute your meat-heavy diet, websites such as Meatless Monday and Eating Well offer numerous vegetarian recipes that are healthy for you and the environment.
The most successful and lasting New Year's resolutions are those that are practiced regularly and have an important goal. Watching the ball drop in Times Square happens only once a year, but for more and more people across the world, the impacts of hunger, poverty and climate change are felt every day. Thankfully, simple practices, such as recycling or riding a bike, can have great impact. As we prepare to ring in the new year, let's all resolve to make 2012 a healthier, happier and greener year for all.
For more information, click here.