The world's oldest known living black rhino has died at age 57.
Fausta was first discovered in the crater by a scientist from the University of Dar Es Salaam in 1965 when she was between three and four years old. She wandered freely in the crater for most of her life and never had calves, something that might have contributed to her longevity, BBC News reported.
Rhinos typically only live for between 37 and 43 years in the wild, and up to 50 years in captivity. Fausta, however, survived in the wild until she was 54, when she was brought to a sanctuary because she suffered from poor eyesight and fell prey to hyenas.
"Vicious animals, especially hyenas, started attacking her and she received very serious sores," Manongi told BBC Swahili. "By 2016, we had to get her out of the wild and put her in special care."
Fausta's life has covered a tumultuous time for black rhinos. Their population plummeted by 98 percent between 1960 and 1995 to less than 2,500, mostly due to the actions of European hunters and settlers in Africa. Their numbers have since doubled to around 5,000, but they are still considered a critically endangered species according to the International Union for Conservation of Nature Red List. They are now primarily threatened by poaching and habitat loss.
Fausta's death comes the month after Sana, the oldest white rhino in captivity, died in France at age 55, CNN reported.
But this month has also brought joyful news to rhino conservationists. Manongi told BBC News that another rhino was born on the same day that Fausta died. And, a few days earlier, the Potter Park Zoo in Michigan announced the first birth of a black rhino calf in its 100-year history.
However, 2019 was a sad year for another rhino species, the Sumatran rhino. The species became extinct in Malaysia in November when Iman, the last female, died in captivity. There are now only around 80 Sumatran rhinos left in Indonesia.
There are currently five species of rhino, according to
Save the Rhino
. Black and white rhinos are native to Africa, while Sumatran and Javan rhinos live in Indonesia and greater one-horned rhinos live in India and Nepal.
From Your Site Articles
Related Articles Around the Web
EcoWatch Daily Newsletter
Elephants in Ruaha National Park. tony (tickspics) / Flickr
By Brennan PetersonWood and Adam C. Stein
The Great Ruaha River in southern Tanzania is the lifeblood of Ruaha National Park, one of the last strongholds of major elephant and lion populations in Africa. Flowing through Ruaha National Park before emptying into the Rufuji River, the Great Ruaha and associated river systems also provide a massive economic service to the whole of Tanzania.
Unfortunately the benefits received from the river diminished rapidly nearly 30 years ago. Starting in 1988, with a loan from the African Development Bank, the 3,000 ha Kapunga private rice farm was built in the Usangu wetland catchment area of the Great Ruaha River, upstream of Ruaha National Park. The goal was to improve agricultural livelihoods of farmers in the region. Prior to construction, an environmental impact assessment was not completed but was included in a project completion report where impacts were identified retrospectively. Chief among these were the drying of the Great Ruaha, loss of wildlife habitat in the wetlands downstream from the project and pollution from agricultural chemical run-off.
The Great Ruaha River in September.Viktoria Kalinina
Poor design and management of the rice farms means that diverted water is not returned to the river system, and satellite farms that have grown around Kapunga farm divert a far greater amount of water than the originally intended 20 to 30 percent. Heavy use of fertilizers, pesticides and herbicides has led to unknown levels of these chemicals in downstream water sources. It has also been reported that wetlands below the rice farms have lost 77 percent of their former surface area.
An elephant digs in the sand to look for water. When the Ruaha stops flowing, large mammals struggle to find drinking water. Brennan PetersonWood
Formerly, the upstream wetlands would act as a giant sponge and supply the Great Ruaha with water that had accumulated during the rainy months. Now, with the loss of 77 percent of wetland habitat and severely reduced inflow, the wetlands do not contain sufficient water. Since 1993 the Great Ruaha River has stopped flowing during the dry season, usually from September through the end of November. Alarmingly, an outbreak of the bacterial disease anthrax killed more than 40 hippos in September with the drying of the river cited as a contributing factor by the chief park warden of Ruaha National Park. A 2003 study showed that the drying of the Great Ruaha creates a 60 percent loss of dry season habitat within the park. The drying particularly affects large mammals such as elephants and buffalo, possibly causing a decline in buffalo populations in the Ruaha ecosystem. These species are now forced to venture out of the park and into farmers' fields looking for water. Communities surrounding the park have recently been experiencing unprecedented levels of crop-raiding by elephants, putting humans and elephants in close contact and leading to multiple deaths on both sides.
A lion feeds on a cape buffalo. Ruaha National Park is an important ecosystem for the last remaining lions in Africa. A staple prey for lions, cape buffalo are declining in the park as a result of the river drying. Viktoria Kalinina
In addition to the environmental impact, the economic losses of the drying of the Great Ruaha have been astronomical. Wildlife driven tourism in Tanzania contributes around $2 billion annually and 12.2 percent of employment to the country. The Great Ruaha powers two hydroelectric dams, Mtera and Kidatu, which generate 80 percent of Tanzania's electric power. In 2006 water levels dropped so low that the Mtera hydroelectric dam had to be fully shut down. Tanzania's national utility company reported losses of 2 to 9 million dollars each day with total losses likely ranging from 360 million to 1.6 billion dollars. Even if the rice farm project had achieved full production success, which to date it has not, its profits are dwarfed by the losses sustained from the electrical power losses alone.

Recognizing the potential for massive economic loss and environmental degradation, the government of Tanzania formed a committee of minsters in early April 2017 to address the problems facing the river. Headed by Yusuf Makamba, the minister of state in the office of the vice president (union and environment) and including three other ministers, the committee was to meet for one month to seek solutions. Makamba announced on April 24 that the government would not shy away from addressing the drying of the river.
The Great Ruaha is not Tanzania's only environmental catastrophe at the hands of development aid and as the government pushes forward another river project that will cause damage to the ecology of a world heritage site, conservation fingers are crossed that the push to restore the Great Ruaha won't dry up like the river itself.
From Your Site Articles
Related Articles Around the Web
waterlust.com / @tulasendlesssummer_sierra .
Each product featured here has been independently selected by the writer. If you make a purchase using the links included, we may earn commission.
The bright patterns and recognizable designs of Waterlust's activewear aren't just for show. In fact, they're meant to promote the conversation around sustainability and give back to the ocean science and conservation community.
Each design is paired with a research lab, nonprofit, or education organization that has high intellectual merit and the potential to move the needle in its respective field. For each product sold, Waterlust donates 10% of profits to these conservation partners.
Eye-Catching Designs Made from Recycled Plastic Bottles
waterlust.com / @abamabam
The company sells a range of eco-friendly items like leggings, rash guards, and board shorts that are made using recycled post-consumer plastic bottles. There are currently 16 causes represented by distinct marine-life patterns, from whale shark research and invasive lionfish removal to sockeye salmon monitoring and abalone restoration.

One such organization is Get Inspired, a nonprofit that specializes in ocean restoration and environmental education. Get Inspired founder, marine biologist Nancy Caruso, says supporting on-the-ground efforts is one thing that sets Waterlust apart, like their apparel line that supports Get Inspired abalone restoration programs.
"All of us [conservation partners] are doing something," Caruso said. "We're not putting up exhibits and talking about it — although that is important — we're in the field."
Waterlust not only helps its conservation partners financially so they can continue their important work. It also helps them get the word out about what they're doing, whether that's through social media spotlights, photo and video projects, or the informative note card that comes with each piece of apparel.
"They're doing their part for sure, pushing the information out across all of their channels, and I think that's what makes them so interesting," Caruso said.
And then there are the clothes, which speak for themselves.
Advocate Apparel to Start Conversations About Conservation
waterlust.com / @oceanraysphotography
Waterlust's concept of "advocate apparel" encourages people to see getting dressed every day as an opportunity to not only express their individuality and style, but also to advance the conversation around marine science. By infusing science into clothing, people can visually represent species and ecosystems in need of advocacy — something that, more often than not, leads to a teaching moment.

"When people wear Waterlust gear, it's just a matter of time before somebody asks them about the bright, funky designs," said Waterlust's CEO, Patrick Rynne. "That moment is incredibly special, because it creates an intimate opportunity for the wearer to share what they've learned with another."
The idea for the company came to Rynne when he was a Ph.D. student in marine science.
"I was surrounded by incredible people that were discovering fascinating things but noticed that often their work wasn't reaching the general public in creative and engaging ways," he said. "That seemed like a missed opportunity with big implications."
Waterlust initially focused on conventional media, like film and photography, to promote ocean science, but the team quickly realized engagement on social media didn't translate to action or even knowledge sharing offscreen.
Rynne also saw the "in one ear, out the other" issue in the classroom — if students didn't repeatedly engage with the topics they learned, they'd quickly forget them.
"We decided that if we truly wanted to achieve our goal of bringing science into people's lives and have it stick, it would need to be through a process that is frequently repeated, fun, and functional," Rynne said. "That's when we thought about clothing."
Support Marine Research and Sustainability in Style
To date, Waterlust has sold tens of thousands of pieces of apparel in over 100 countries, and the interactions its products have sparked have had clear implications for furthering science communication.
For Caruso alone, it's led to opportunities to share her abalone restoration methods with communities far and wide.
"It moves my small little world of what I'm doing here in Orange County, California, across the entire globe," she said. "That's one of the beautiful things about our partnership."
Check out all of the different eco-conscious apparel options available from Waterlust to help promote ocean conservation.
Melissa Smith is an avid writer, scuba diver, backpacker, and all-around outdoor enthusiast. She graduated from the University of Florida with degrees in journalism and sustainable studies. Before joining EcoWatch, Melissa worked as the managing editor of Scuba Diving magazine and the communications manager of The Ocean Agency, a non-profit that's featured in the Emmy award-winning documentary Chasing Coral.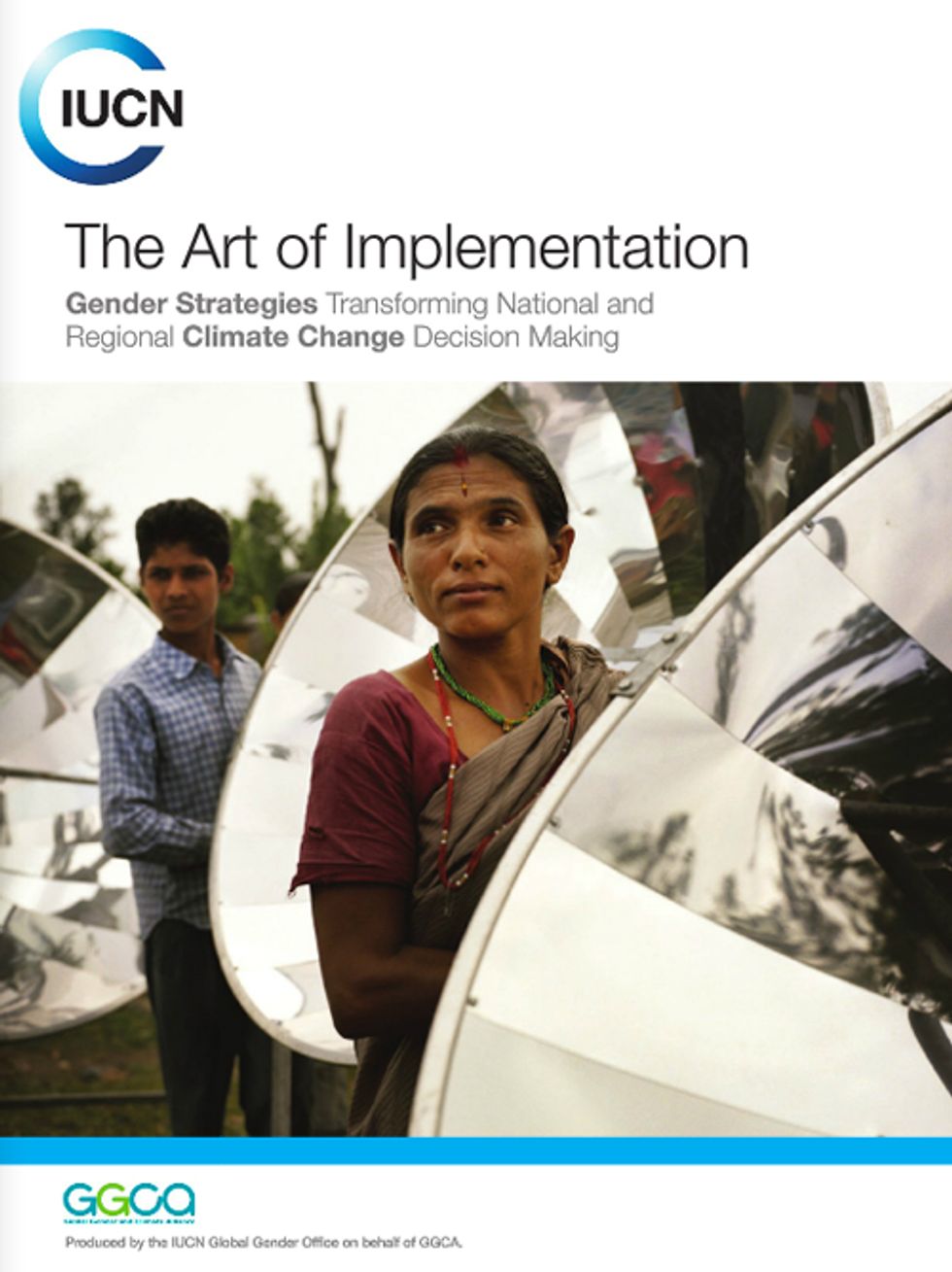 A new International Union for Conservation of Nature (IUCN) publication outlining action plans for women to help them adapt to climate change and minimize its impact has been launched at the 18th Conference of the Parties to the United Nations Framework Convention on Climate Change in Doha, Qatar.
A water taxi network owned and operated by women on the Nile that reduces emissions and provides fast, reliable public transport in a gridlocked Cairo transport system; a recycling project that empowers women as green entrepreneurs in Kathmandu; women-environmental whistleblowers on the coast of Liberia that assist the government in the collection of meteorological data to forecast the weather, acting as an early-warning system for storms and reporting environmental offenses; a carbon-footprint program run by community women and poetry singers in temples in Jordan and Nepal that communicate climate change messages. These are just a few innovative examples included in the book.
The Art of Implementation: Gender Strategies Transforming National and Regional Climate Change Decision Making focuses on the development of climate change and gender action plans—steps to be taken by women to adapt to climate change and minimize its impact. The publication includes a synthesis of strategies and action plans developed by the IUCN Global Gender Office on behalf of the Global Gender and Climate Alliance (GGCA) in Mozambique, Jordan, Egypt, Tanzania, Nepal, Haiti, Panama, Costa Rica, Liberia, the Arab League of States and the Central American Region. It also outlines the methodology used by IUCN.
"A critical step in the development of these action plans is the need to anchor global agreements within national contexts so as to take action on climate change at the local and national level, whilst harnessing the power of women in the process," says Lorena Aguilar, IUCN's Senior Global Gender Adviser. "The strategies and action plans represent a country's intention to empower and respond to the needs of the often invisible 'other half' of the population in the context of climate change. They link national and global policy in a concrete manner, communicate the importance of gender in climate action and frame women as agents of change—and not merely as a 'vulnerable' group."
The book outlines actions designed to adapt to climate change and minimize its impact that can be taken by women and other players in a variety of sectors covering topics as diverse as agriculture and food security, forests and REDD+, water, energy, health, urbanization, integrated coastal management, waste management, tourism, land use and disaster risk management. Each section also includes clear objectives, actions and indicators and identifies the specific institutions responsible for their implementation and delivery.
The action plans provide a comprehensive framework for the development of projects and their implementation, which has been agreed on by governments, UN institutions, contributing country partners, academia, the private sector and civil society, among others.
"Climate change will undermine the very foundation of socioeconomic development and will increase inequality and poverty," says Tarja Halonen, Former President of Finland and main funding partner to the project. "It will have a serious impact on the livelihoods of poor women in developing countries, as the increasing droughts and storms will affect agriculture and water resources, which are often the responsibility of women."
Until recently, policy responses at the global or national level did not reflect this reality. For more than twenty years, gender equality was absent from the United Nations Framework Convention on Climate Change (UNFCCC) and in decision-making by its Conference of the Parties and Subsidiary Bodies. Few National Adaptation Programs of Action (NAPAs) or national communications submitted by Parties to the UNFCCC addressed gender issues in a comprehensive manner, and some did not mention gender considerations at all.
Following several years of advocacy, capacity building, and building awareness, governments have now agreed multilaterally that gender equality is a key component in achieving climate change goals. Since 2008, more than 60 official gender references have entered the UNFCCC negotiation text, and the final outcomes of the Cancun (2010) and Durban (2011) conferences included eight and seventeen references to gender, respectively.
With these global mandates in place, the urgent next step is to turn them into action and determine how to design climate change policies that address these issues.
Visit EcoWatch's CLIMATE CHANGE page for more related news on this topic.