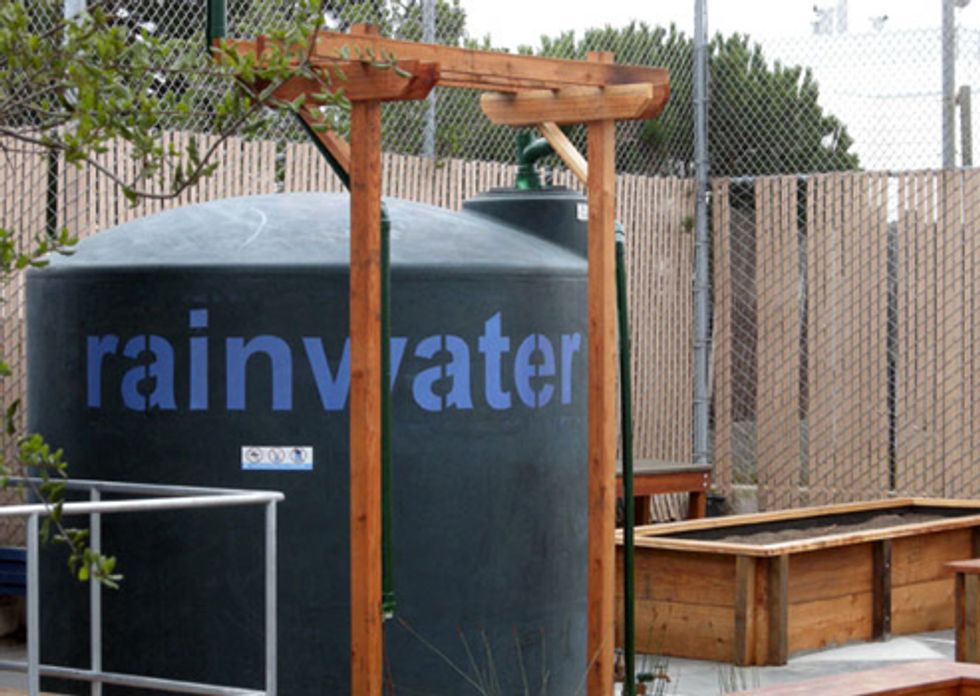 As America's expanding urban areas struggle with major water supply shortages and runoff pollution problems, capturing rainwater from rooftops provides a tremendous untapped opportunity to increase water supply and improve water quality, according to a recent analysis on Capturing Rainwater from Rooftops by the Natural Resources Defense Council (NRDC).
In its report, NRDC demonstrates the benefits and potential of rooftop rainwater capture, a "green infrastructure" practice that can be used to retain stormwater runoff on-site, by analyzing ways in which eight diverse U.S. cities could incorporate this simple water collection approach. By comparing annual rainfall totals to rooftop coverage, NRDC determined that opportunities exist in each city to capture hundreds of millions of gallons of rainfall every year for reuse. By doing so, residents of these communities would obtain inexpensive onsite water supplies for non-potable uses, such as yard watering and toilet flushing, reduce runoff pollution, and would lower energy costs associated with treating and delivering drinkable-quality water.
"Our analysis shows that solutions to one of America's biggest urban challenges are right in front of us—in this case, literally falling from the sky," said Noah Garrison, lead author of the report and NRDC water policy analyst. "The potential exists for cities throughout the U.S. to capture hundreds of millions or even billions of gallons of rainwater each year from urban rooftops. We encourage policymakers to look closely at the bottom-line benefits of rooftop rainwater harvesting, and consider implementing policies and incentives that generate more momentum for rainwater collection while making the practice more accessible as well."
Specifically, NRDC's report illustrates opportunities for capturing, treating and supplying harvested rainwater for non-potable purposes in Atlanta, Ga.; Austin, Texas; Chicago, Ill.; Denver, Colo.; Fort Myers, Fla.; Kansas City, Mo.; Madison, Wisc.; and Washington, D.C. Several success stories also demonstrate the effectiveness of rooftop rainwater capture for new construction in New York, N.Y., and redeveloped buildings in Santa Monica, Calif. The total annual volume of rainwater falling on rooftops in these cities alone, if captured in its entirety, would be enough to meet the water supply needs of at least 21 percent to as much as 75 percent of each city's population.
The report comes as the U.S. Environmental Protection Agency is in the process of updating its national standards for controlling runoff pollution from new development and existing paved areas. NRDC encourages the agency to adopt national standards for on-site stormwater retention that will increase green infrastructure approaches such as rainwater harvesting. As a result, communities can effectively transform polluted runoff flowing to our waterways into captured rooftop rainwater used as an on-site water supply resource.
"Urban areas struggling with water supply issues and runoff pollution should look to this report for ideas and encouragement," said Jon Devine, senior attorney in NRDC's water program.
NRDC encourages cities and states to develop policy options and incentives to encourage more rainwater harvesting. These include:
Adopt stormwater pollution control standards that require on-site volume retention.
Adopt standards that require or promote rainwater harvesting and/or water efficiency.
Review building, health and plumbing codes for barriers to reusing rainwater.
Provide incentives for decreasing stormwater runoff and promoting water conservation.
Require use of rainwater harvesting on all public properties.
The complete NRDC report is available by clicking here.
For more information on rooftop rainwater capture, see Noah Garrison's blog by clicking here.
For more information, click here.
—————
The Natural Resources Defense Council (NRDC) is an international nonprofit environmental organization with more than 1.3 million members and online activists. Since 1970, our lawyers, scientists, and other environmental specialists have worked to protect the world's natural resources, public health, and the environment. NRDC has offices in New York City, Washington, D.C., Los Angeles, San Francisco, Chicago, Livingston, Montana, and Beijing.
EcoWatch Daily Newsletter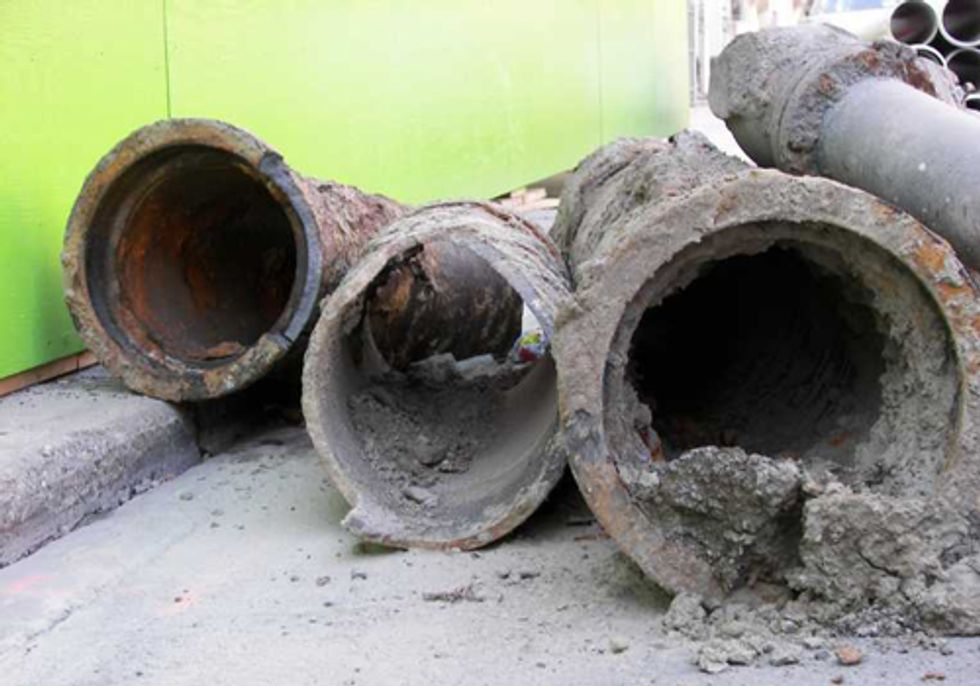 Innovative financing and pricing flexibility are key to preparing the nation's aging freshwater systems to handle growing demand and environmental challenges, according to a Charting New Waters report released Jan. 26 by The Johnson Foundation at Wingspread, American Rivers and Ceres.
The Financing Sustainable Water Infrastructure report, is the product of a meeting convened by The Johnson Foundation, in collaboration with American Rivers and Ceres, which brought together a group of experts to discuss ways to drive funding toward the infrastructure needed for the 21st century.
Largely built on systems developed during the 19th and early 20th centuries, U.S. water infrastructure faces profound problems of aging components, outdated technology and inflexible governance systems ill-equipped to handle current consumption, environmental and economic problems.
Presently, about 6 billion gallons of expensive, treated water is being lost in the U.S. each day due to leaky and aging pipes—some 14 percent of the nation's daily water use. This pervasive water waste is underscored by the fact the American Society of Civil Engineers gives the nation's water systems a D-, the lowest grade of any infrastructure including roads and bridges.
The report concludes that rebuilding and operating our water systems as they are presently built would be enormously inefficient. One major problem is the very nature of the systems themselves—where drinking water, stormwater and wastewater are built, financed and operated as entirely distinct units rather than as more efficient, interconnected systems. Another major problem is myopic, inflexible water-pricing systems that fail to distinguish between various water uses and generally undervalue water.
In order to achieve more sustainable, resilient and cost-effective freshwater systems, the report recommends bold new approaches for financing and operating public water systems, including:
• Local water solutions that can improve efficiencies, including green infrastructure, closed-loop systems and water recycling
• Flexible water pricing and revenue structures that distinguish between drinking water and various other types of water, such as lawn water and toilet water
• System-wide, full-cost accounting of water services and financing mechanisms
• Less reliance on state and federal funding and more reliance on private, market-based financing mechanisms that can support local, customer-supported solutions.
"While the deteriorating state of the nation's water infrastructure is not a secret, we have lacked workable strategies and policies to finance the changes needed," said Lynn Broaddus, director, Environment Programs at The Johnson Foundation. "This report addresses the critical linkage between financing and sustainability that was initially raised by the Charting New Waters consensus report in 2010. It's not enough to pay for new water infrastructure—we need the financing to actually drive a new, sustainable water infrastructure that will take care of generations to come."
 
Jeffrey Odefey, director of Stormwater Programs at American Rivers, said, "Clean water and resilient ecosystems are absolutely vital to our health, our communities, and economy. This timely report lays out clear directions to ensure that our communities grow into the future with safe, reliable water supplies and healthy rivers and streams."
Sharlene Leurig, senior manager of Water and Insurance Programs at Ceres, said, "This report makes clear that our nation's water infrastructure system is broken and dramatic changes are needed. Rethinking how we finance and operate our vast water systems is not a choice, it's a must. We have the engineering and land use tools we need to ensure our water systems can stand up to 21st century challenges. The key will be partnerships and cooperation between business, government and public interest groups to finance these new tools."
The Johnson Foundation is releasing this report as part of its work with Charting New Waters, an effort it formally launched in 2010 dedicated to catalyzing new solutions to U.S. freshwater challenges. Charting New Waters is composed of a diverse group of leaders from business, agriculture, academia and environmental organizations that have publicly committed to improving U.S. freshwater resources by advancing the principles and recommendations of the group. 
The initial phase of work led to the release of Charting New Waters: A Call to Action to Address U.S. Freshwater Challenges, a consensus report issued on Sept. 15, 2010. Download the report here.
As part of its ongoing Charting New Waters effort, The Johnson Foundation is also hosting a series of Regional Freshwater Forums that convene experts to examine freshwater challenges, successes, innovations and potential solutions that can bridge geographies and inform national policy. The first Forum took place in Denver, Colo., in October 2011.
For more information, click here.
—————
The Johnson Foundation at Wingspread is dedicated to serving as a catalyst for change by bringing together leading thinkers and inspiring new solutions on major environmental and regional issues. For additional information about Charting New Waters, or to learn more about The Johnson Foundation at Wingspread, visit www.johnsonfdn.org.
Ceres is an advocate for sustainability leadership. It leads a national coalition of investors and public interest groups working with companies to address sustainability challenges such as global climate change and water scarcity. Ceres also directs the Investor Network on Climate Risk (INCR), a network of 100 institutional investors with collective assets totaling about $10 trillion. For more information, visit www.ceres.org.
boonchai wedmakawand / Moment / Getty Images
Delta-8 THC is a cannabis product that has become a bestseller over the past few months, as many consumers find they can legally purchase it from CBD retailers. Its proponents say that Delta-8 THC will give you a nice little buzz, minus some of the more intense feelings (including paranoia) that are sometimes associated with marijuana.

Delta-8 THC is being marketed as a legal option for consumers who either don't live in a state with legal cannabis, or are a little apprehensive about how traditional psychoactive THC products will affect them. But is it all it's cracked up to be? Let's take a closer look, exploring what Delta-8 THC is, how it differs from other THC products, and whether it's actually legal for use.
<h2>What is Delta-8 THC?</h2><p>To better understand <a href="https://www.nytimes.com/2021/02/27/health/marijuana-hemp-delta-8-thc.html" target="_blank">Delta-8 THC</a>, it helps to cover some basics about THC and cannabis.</p><p>Cannabis plants come chock full of different <a href="https://www.nccih.nih.gov/health/cannabis-marijuana-and-cannabinoids-what-you-need-to-know" rel="noopener noreferrer" target="_blank"><em>cannabinoids</em></a>. These are naturally-occuring chemical compounds that bind with receptors throughout your body. They can offer a wide range of mental, emotional, and physical effects; indeed, the healing and therapeutic properties marijuana or <a data-linked-post="2648563694" href="https://www.ecowatch.com/strongest-cbd-oil-2648563694.html" target="_blank">CBD products</a> offer can be attributed to cannabinoids.</p><p>One of the most common cannabinoids is what's known as Delta-9 THC. Simply put, this is the part of marijuana that gets you "high." It's worth noting that Delta-9 THC remains illegal in many states, except for in the most minute doses, and is still illegal at the federal level. CBD products are made with trace amounts of THC, ensuring that consumers can enjoy positive health effects in a perfectly legal way, without the risk of getting high.</p><p>On a chemical level, <a href="https://www.nytimes.com/2021/02/27/health/marijuana-hemp-delta-8-thc.html" rel="noopener noreferrer" target="_blank">Delta-8 THC</a> is not too different from Delta-9 THC; the distinction comes down to just a few molecules. But those molecules make a big practical impact: Delta-8 THC will give you a buzz, but the psychoactive effects are considerably milder than with Delta-9 THC.</p><p>More specifically, many cannabis enthusiasts report that Delta-8 THC helps them feel good but also leaves them relatively clear-headed; and, it doesn't produce the anxiety or jitteriness that often characterize a Delta-9 THC high.</p><p>Additionally, because of the way the law is written regarding Delta-9 THC, some CBD companies now sell Delta-8 THC products in places where traditional cannabis is still illegal.</p><h2>What's the Difference Between Delta-9 THC and Delta-8 THC?</h2><p>Here are the primary differences to note between Delta-9 and Delta-8 THC:</p><ul class="ee-ul"><li>Delta-9 THC is the primary psychoactive ingredient found in marijuana. In other words, it's the part that gets you high.</li><li>Though some states have found workarounds, Delta-9 THC is still illegal under federal law.</li><li>Delta-8 THC is also found in the cannabis plant, though it's not quite as powerful or as well-known. </li><li>Delta-8 THC is milder in its psychoactive effects. And, it's not <em>technically </em>illegal under current law.</li></ul><p>These are just a few of the key distinctions to keep in mind. Delta-8 THC is popular among consumers who want a smoother high, and don't want to violate federal law.</p><h2>Is Delta-8 THC Legal?</h2><p>We noted that Delta-8 THC is not <em>technically </em>illegal. Here, we need to get into some of the nuanced legal considerations that surround this substance.</p><p>First of all, there are plenty of cannabis companies that actively promote Delta-8 THC as a legal way to get high. Again, that's technically true, but is still a point of debate for some.</p><p>For one thing, it's not explicitly listed as an illegal substance. While federal laws, and some state laws, specifically ban Delta-9 THC, Delta-8 THC is never mentioned. More to the point, though, many proponents will cite the<a href="https://www.usda.gov/farmbill" rel="noopener noreferrer" target="_blank"> 2018 Farm Bill</a>. This law legalized several industrial hemp products on a national level, including CBD.</p><p>The Farm Bill also includes some fairly nuanced positions regarding THC. In summary, the law says that hemp and cannabis-derived products are legal so long as they contain less than 0.3 percent Delta-9 THC.</p><p>With that said, some lawyers contend that Delta-8's heyday may soon come to an end. That's because the Farm Bill clears it only so long as it's derived directly from hemp; most of the Delta-8 THC products sold today aren't made from hemp, but rather from synthetically-altered CBD.</p><p>Some of these issues are a little fuzzy, and <a href="https://www.rollingstone.com/culture/culture-features/delta-8-thc-legal-weed-explained-1113859/" rel="noopener noreferrer" target="_blank">the legal future of Delta-8 THC</a> remains a little uncertain. For now, though, many experts would argue that it is legal to purchase.</p><h2>What Kinds of Delta-8 THC Products Are Available?</h2><p><em>Each product featured here has been independently selected by the writer. If you make a purchase using the links included, we may earn commission.</em></p><p>If you're looking to try Delta-8 THC products, you'll certainly find plenty of different products. Dispensaries and legal cannabis stores currently have a trove of products that use this cannabinoid. Some examples include:</p><ul class="ee-ul"><li>Vape cartridges, tinctures, and capsules.</li><li>Beverages made with Delta-8 THC, including some seltzers.</li><li>Edibles, including Delta-8 THC gummy bears, chocolate bars, and more.</li></ul><p>The cannabis industry has really been running with Delta-8 THC, finding creative ways to bring it to market. And chances are, even more products will be springing up in the weeks and months to come. </p><p>It's very important to note that you should only purchase Delta-8 THC products from reputable brands and established cannabis retailers. We do not recommend purchasing any products that contain Delta-8 THC from gas stations or vape shops. If you are looking for a reputable place to explore these products, here are a few brands that we trust and recommend:</p>
<img class="rm-lazyloadable-image rm-shortcode" type="lazy-image" data-runner-src="https://assets.rebelmouse.io/eyJhbGciOiJIUzI1NiIsInR5cCI6IkpXVCJ9.eyJpbWFnZSI6Imh0dHBzOi8vYXNzZXRzLnJibC5tcy8yNjAzNjAyMy9vcmlnaW4uanBnIiwiZXhwaXJlc19hdCI6MTYzMTMxMjAyNX0.wRpb_E9ZFZFNgkYsYh6cleNbTezo16rUeTmifcP_yCk/img.jpg?width=980" id="60683" width="400" height="400" data-rm-shortcode-id="32630bf41fd6909a232194b540c570eb" data-rm-shortcode-name="rebelmouse-image" />
nuleafnaturals.com
<p><a href="https://nuleafnaturals.com/product/full-spectrum-delta-8-thc-oil-30mg-ml/" target="_blank" rel="noopener noreferrer">NuLeaf Naturals Full Spectrum Delta 8 THC Oil</a> is made from organic hemp and organic virgin hemp seed extract. It's available in a 150 mg bottle and a 450 mg bottle, which both provide 15 mg of Delta 8 THC per serving. This formula is also available in a soft gel.</p>
<img class="rm-lazyloadable-image rm-shortcode" type="lazy-image" data-runner-src="https://assets.rebelmouse.io/eyJhbGciOiJIUzI1NiIsInR5cCI6IkpXVCJ9.eyJpbWFnZSI6Imh0dHBzOi8vYXNzZXRzLnJibC5tcy8yNjAzNjE2Ni9vcmlnaW4uanBnIiwiZXhwaXJlc19hdCI6MTY2OTcwNTgzM30.opm4l5-rSqV1HfvrbVE16EEVZvqxI42xgqnsQfL9p2M/img.jpg?width=980" id="2c749" width="400" height="400" data-rm-shortcode-id="a678e76d8cd5e13bae95d9c3ae664b85" data-rm-shortcode-name="rebelmouse-image" />
botanyfarms.com
<p>The <a href="https://www.botanyfarms.com/product/delta-10-thc-vape-cartridge/?aff=14" target="_blank">Botany Farms Delta-10 THC Vape Cartridge</a> actually contains both Delta-10 and Delta-8 THC.This is designed to provide the desired effects of Delta-8 THC but without the drowsiness. They also offer a vape cartridge with a 1:1 concentration of <a href="https://www.botanyfarms.com/product/delta-10-delta-8-thc-vape-cartridge/?aff=14" target="_blank">Delta-8 THC</a> and Delta-10 THC. Note that while vape products can be used to aid in smoking cessation, we do not recommend vaping or smoking because of the negative health effects they can cause.</p>
<h2>What are the Pros and Cons of Delta-8 THC?</h2><p>As you consider whether Delta-8 THC is worth your time, it may be helpful to weigh the pros against the cons.</p><p><strong>Pros</strong></p><p>Let's start with some of the positives:</p><ul class="ee-ul"><li>Delta-8 THC does have psychoactive effects, but it's a milder effect than with traditional Delta-9 THC.</li><li>Delta-8 THC is currently legal and widely accessible in multiple states.</li><li>There are a wide number of products that use Delta-8 THC.</li></ul><p><strong>Cons</strong></p><p>Now, a few of the downsides.</p><ul class="ee-ul"><li>Delta-8 THC isn't quite as commonplace as other cannabis products, including CBD, and some of the options on the market are expensive.</li><li>While this substance is technically legal, there are plenty of uncertainties over its legal future. It's something you want to keep in mind.</li><li>As a relatively new product, Delta-8 THC products are not regulated by the FDA and there is not independent testing in place to verify that it is safe or pure.</li></ul><p>As with any cannabis product, Delta-8 THC has its pros and cons. As you seek the cannabis product that's best for you, it's largely a matter of personal preference.</p><p>Also note that smoking, vaping, or otherwise imbibing any kind of cannabis-related product can carry some medical risks and negative health consequences. If you have any specific concerns, we recommend consulting with your doctor before you try any Delta-8 THC product.</p><p><em><strong>Josh Hurst </strong></em><em>is a journalist, critic, and essayist. He lives in Knoxville, TN, with his wife and three sons. He covers natural health, nutrition, supplements, and clean energy. His writing has appeared in Health, Shape, and Remedy Review.</em></p>