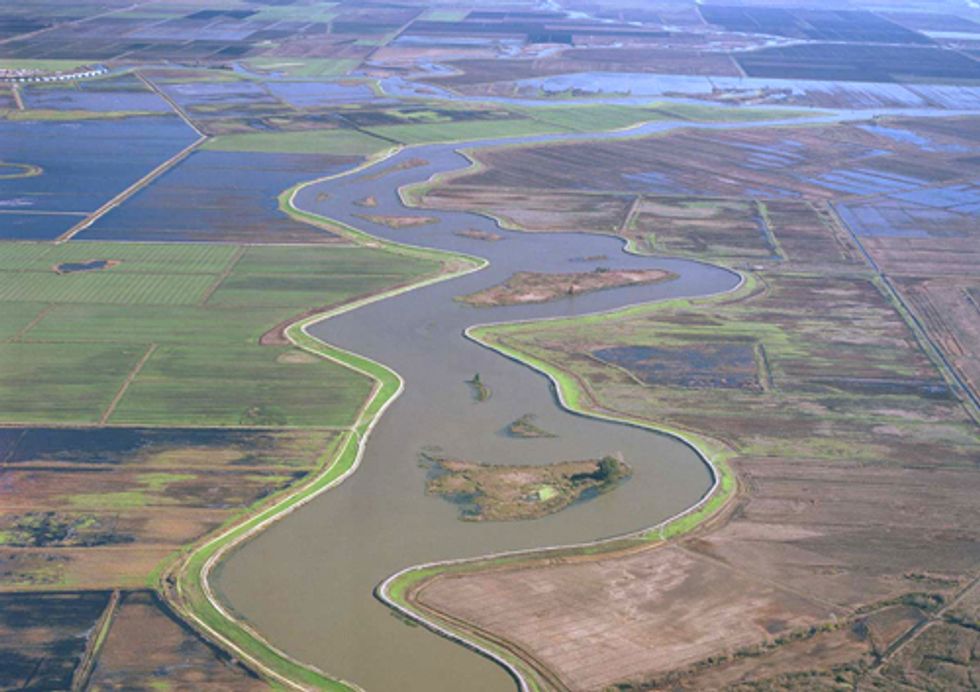 A bill that overrides a bipartisan, court-approved settlement to restore the San Joaquin River in California was passed by the House of Representatives, despite the fact that President Obama has already pledged to veto it. The bill passed with strong Republican support and against the wishes the vast majority of California Democratic House members.
The bill called the "San Joaquin Valley Water Reliability Act" (H.R. 1837) is also opposed by the State of California, California's two senators, the California Attorney General, the leaders of the California State Legislature, commercial and recreational fishing associations, environmental groups, water districts, local governments, delta farmers and others.
Among other things the bill, introduced by Rep. Devin Nunes (R-CA), would toss out the 2009 San Joaquin River Restoration Agreement, which was agreed to by parties in a federal court settlement in California. The bill also sets a dangerous precedent for preempting state water rights, leaving other states vulnerable to this kind of federal interference.
Farmers and fishermen, whose livelihoods depend on a healthy Bay-Delta oppose the bill because it would take water needed to grow crops and healthy salmon runs. If passed, the Representative Nunes bill would reverse efforts to restore the Bay-Delta estuary and improve the reliability California's water supplies.
Zeke Grader of the Pacific Coast Federation of Fishermen's Associations, a trade group representing commercial salmon fishermen said, "This bill is a jobs killer for fishermen and fishing communities. It's clear that Mr. Nunes and his fellow travelers have greased the way for a massive giveaway of a public resource to these San Joaquin Valley water profiteers."
"The Nunes bill is a blatant attempt to boost corporate profits for some of the world's wealthiest agribusinesses and to wipe out important environmental protections that the bill's supporters never liked," said Marjorie Mulhall, Earthjustice associate legislative counsel. "The changes proposed by Big Ag will result in more species going extinct, including species like Pacific salmon that are critical to the economies of West Coast states."
At stake is the largest estuary on the West Coast of North America. It is a maze of wetlands and farmlands, islands and waterways, where torrents of the Sierra Nevada mix with tides from the Pacific Ocean. It provides a haven for fish and wildlife, quenches the thirst of millions of Californians, contains thousands of acres of farmland while watering hundreds of thousands more, and nurses salmon runs that sustain fishing ports along a thousand miles of coastline.
A Bush-era water giveaway to junior water rights growers and a billionaire water-broker shattered the estuary's delicate life balance and caused natural flows to reverse course, dragging tens of thousands of young salmon and other native fish to their deaths. Earthjustice won court victories to stop this runaway water diversion scheme—victories now under attack in Congress.
For more information, click here.
EcoWatch Daily Newsletter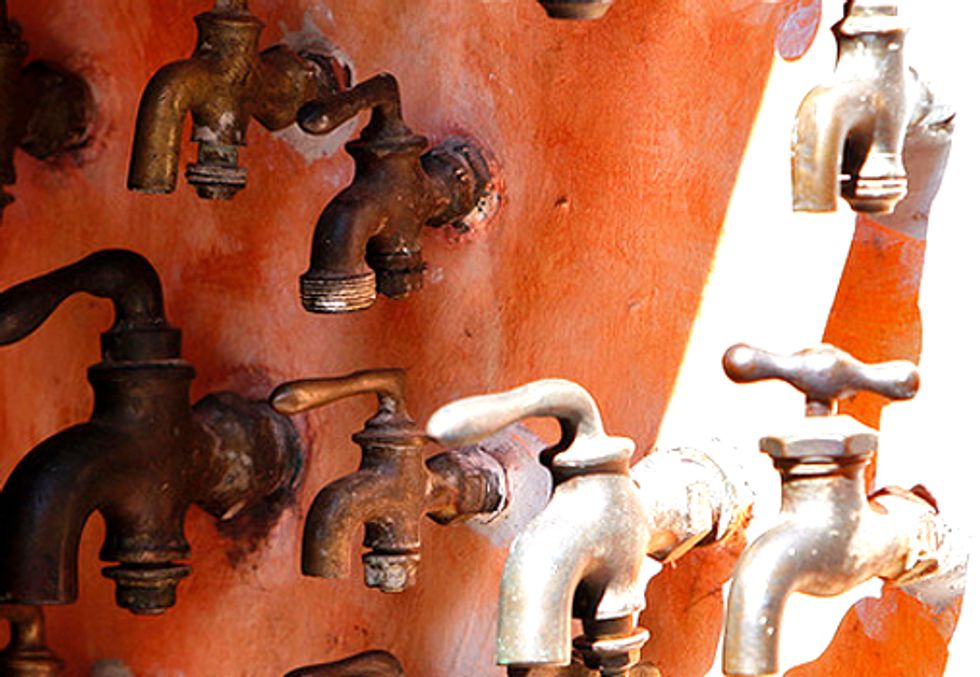 Solving the tragedy of almost 900 million people around the globe lacking access to safe water, and 2.6 billion lacking access to sanitation requires innovative solutions to fixing inadequate and underfunded infrastructure. A new report released on Feb. 28 by the national consumer advocacy group Food & Water Watch highlights how public-public partnerships have successfully and inexpensively provided these critical resources to communities around the globe. Public-Public Partnerships: An Alternative Model to Leverage the Capacity of Municipal Water Utilities, shows that municipalities can forge partnerships with one another to efficiently deliver drinking water and wastewater service while ensuring that these resources are kept under public control.
"All too often, communities that cannot afford to maintain their own drinking and wastewater systems are forced to sell or lease them to private entities, which often provide subpar service at higher rates," said Food & Water Watch Executive Director Wenonah Hauter. "Public-public partnerships allow communities to avoid the woes associated with privatized service and ensure that essential drinking water supplies and sewer systems stay in the public's hands."
Under a public-public partnership, two or more water utilities or non-governmental organizations pool resources, buying power and technical expertise. Such partnerships provide the same advantage that a private utility could deliver without the workforce reductions, poor customer service, rate increases and service interruptions that private utilities are notorious for. Because such partnerships do not involve investors who expect a cut of the savings, efficiencies generated are reinvested into the system, not shareholder bank accounts.
"Privatization has failed consumers in the United States and around the world," said Donald Cohen, chair of In the Public Interest. "Public-public partnerships have proven a superior model of delivering essential resources such as water and sanitation to consumers because they don't rely on the help of an entity purely motivated by profits."
"Public-Public Partnerships build on the public sector's rich legacy of cooperation, common sense and dedication to meeting basic needs," said Sean Sweeney, director of the Cornell Global Labor Institute. "These principles are the foundation stones of a truly sustainable economy. It is a future waiting to be realized."   
Public-public partnerships can be successfully implemented on a variety of scales—within nations, across national boundaries and between industrialized nations and developing ones. Some examples include:  
The Baltimore Regional Cooperative Purchasing Committee, a group of communities in Maryland saved $1.5 million in 2010 by partnering with one another.
The town of Cape Vincent, New York teamed up with the village of Cape Vincent to purchase a single water tank to serve both municipalities. They saved $1 million and reduced the average cost per household by $200 a year.
The city of Nashville, Tennessee, partnered with the water workers' union there to lower the cost of water delivery by re-engineering the city's water services. Within five years, this utility-employee partnership saved a total of $8.5 million and lowered rates for customers.
In Puerto Cortés, Honduras, a partnership among five civil society groups created a new water utility that was eventually able to provide water to 98 percent of the city's residents 24 hours a day whereas the city's old water utility only delivered water to 79 percent of residents, 14 hours a day.
For communities in the developing world, these partnerships can serve as the foundation for sustainable economic development. Partnerships between water systems in industrialized nations and those in developing countries can improve water quality and allow parties to share best practices. Industrialized countries can provide management and technical expertise in these cases while ensuring that costs are kept low for consumers. This model has been particularly successful in Africa, where more than half a dozen cross-border utility partnerships have been forged since 1987.
"Tight economic times often mean that communities have a hard time maintaining their drinking water and sanitation systems, and they have often resorted to leasing or selling these assets to private entities in order to make ends meet. But privatization has already proven to be a failure. Public-public partnerships are a cheap, efficient method of providing essential drinking water and wastewater services. Governments around the globe should implement policies to facilitate them," concluded Hauter.  
Public-Public Partnerships: An Alternative Model to Leverage the Capacity of Municipal Water Utilities is available by clicking here.
For more information, click here.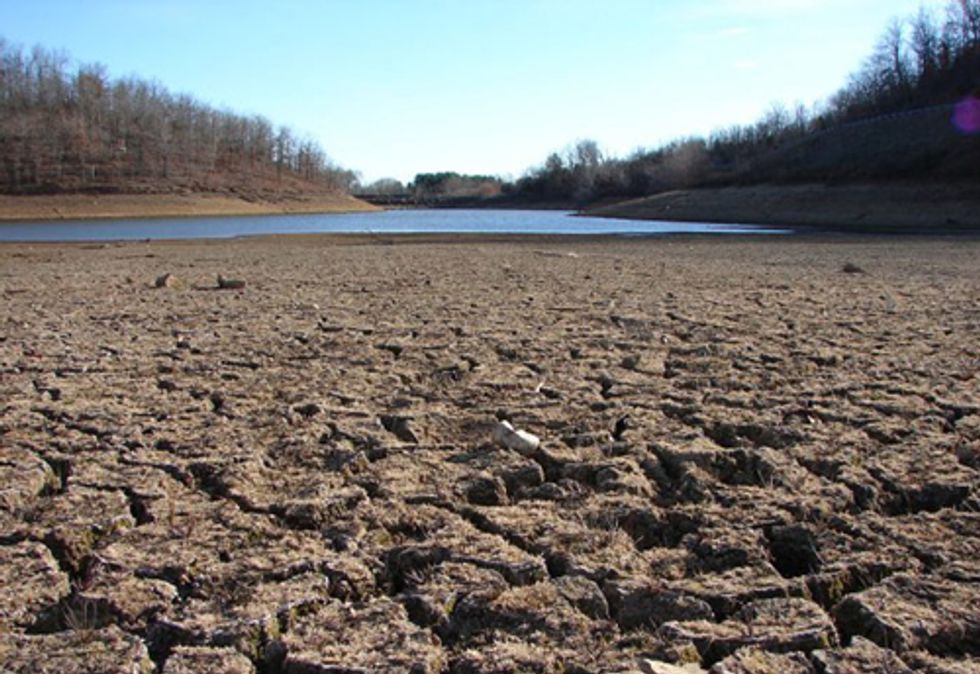 The Government of the United Kingdom must get tough on water companies and do more to save water or drought will keep threatening British crops, Friends of the Earth warned Feb. 20, as Environment Secretary Caroline Spelman prepares to hold an emergency summit between companies, wildlife groups and river users.
The green campaigning charity says that the drought crisis has been a long-time coming, as successive Governments have consistently allowed the over-abstraction of water from several English rivers and ignored the problem of leaky old water pipes. Meanwhile, climate change increases the risk of weather extremes like drought.
Last week the Centre for Hydrology and Ecology said that average rainfall in the UK so far this winter has been the lowest since 1972, with the Midlands and Anglian regions having had their second driest years in almost a century. The Environment Agency warned that half of all British households could face hosepipe bans unless a long bout of exceptionally heavy rain fell by April.
"Leaky old water pipes and over-abstraction from rivers mixed with unusually low rainfall this winter is a dangerous—and expensive—concoction," said Friends of the Earth's Senior Nature Campaigner, Paul de Zylva. "It's little surprise we're in drought—successive Governments have ignored expert advice on saving water, burdening farmers and households with the consequences. Ministers keep holding water summits but if they are serious about safeguarding water supplies and protecting crops and wildlife, they must urgently stop water companies drying out our rivers and place water saving at the heart of our planning system."
"There are simple steps that all of us can take to save water—from taking shorter showers to turning off the tap when we clean our teeth," said de Zylva.
For more information, click here.
In Chasing Water, photojournalist Peter McBride sets out to document the flow of the Colorado River from source to sea. A Colorado native, McBride hails from a ranching family that depends on the Colorado for irrigation, and this is the story of his backyard.
His simple desire is to find out where the irrigation water of his youth went after his family used it, and how long it took the water to reach the ocean. His experience, however, is not so straightforward, analogous, perhaps, to tracking down a special friend from childhood—one who was always full of vitality—only to find her utterly changed and diminished. Writer John Waterman joins McBride on this 1,500-mile journey, one that shows how the thirst of the 30 million that the Colorado supports takes an unhealthy toll.
For more information, click here.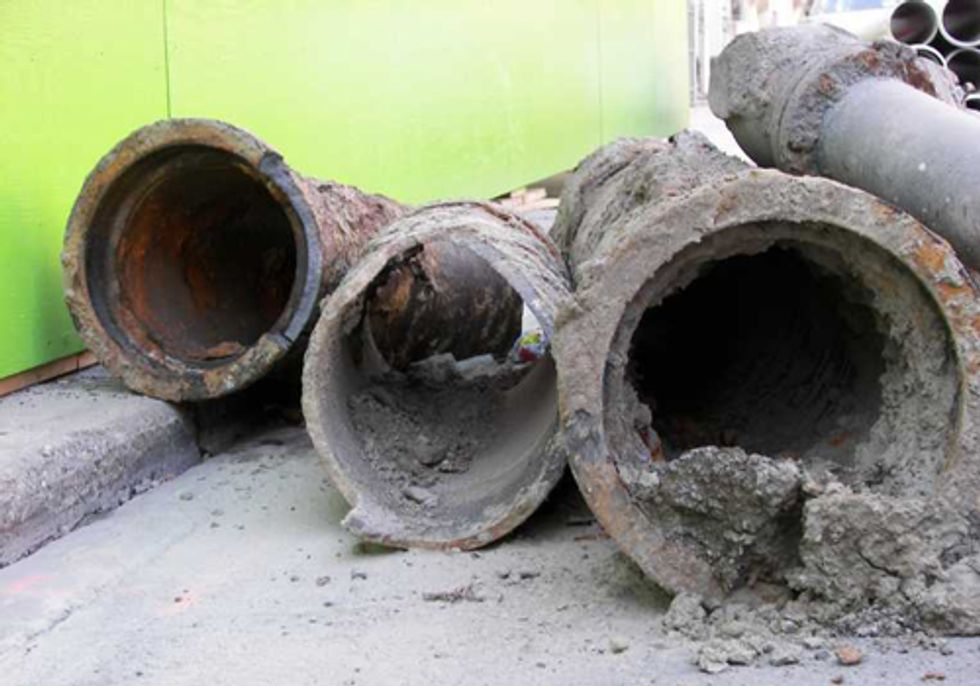 Innovative financing and pricing flexibility are key to preparing the nation's aging freshwater systems to handle growing demand and environmental challenges, according to a Charting New Waters report released Jan. 26 by The Johnson Foundation at Wingspread, American Rivers and Ceres.
The Financing Sustainable Water Infrastructure report, is the product of a meeting convened by The Johnson Foundation, in collaboration with American Rivers and Ceres, which brought together a group of experts to discuss ways to drive funding toward the infrastructure needed for the 21st century.
Largely built on systems developed during the 19th and early 20th centuries, U.S. water infrastructure faces profound problems of aging components, outdated technology and inflexible governance systems ill-equipped to handle current consumption, environmental and economic problems.
Presently, about 6 billion gallons of expensive, treated water is being lost in the U.S. each day due to leaky and aging pipes—some 14 percent of the nation's daily water use. This pervasive water waste is underscored by the fact the American Society of Civil Engineers gives the nation's water systems a D-, the lowest grade of any infrastructure including roads and bridges.
The report concludes that rebuilding and operating our water systems as they are presently built would be enormously inefficient. One major problem is the very nature of the systems themselves—where drinking water, stormwater and wastewater are built, financed and operated as entirely distinct units rather than as more efficient, interconnected systems. Another major problem is myopic, inflexible water-pricing systems that fail to distinguish between various water uses and generally undervalue water.
In order to achieve more sustainable, resilient and cost-effective freshwater systems, the report recommends bold new approaches for financing and operating public water systems, including:
• Local water solutions that can improve efficiencies, including green infrastructure, closed-loop systems and water recycling
• Flexible water pricing and revenue structures that distinguish between drinking water and various other types of water, such as lawn water and toilet water
• System-wide, full-cost accounting of water services and financing mechanisms
• Less reliance on state and federal funding and more reliance on private, market-based financing mechanisms that can support local, customer-supported solutions.
"While the deteriorating state of the nation's water infrastructure is not a secret, we have lacked workable strategies and policies to finance the changes needed," said Lynn Broaddus, director, Environment Programs at The Johnson Foundation. "This report addresses the critical linkage between financing and sustainability that was initially raised by the Charting New Waters consensus report in 2010. It's not enough to pay for new water infrastructure—we need the financing to actually drive a new, sustainable water infrastructure that will take care of generations to come."
 
Jeffrey Odefey, director of Stormwater Programs at American Rivers, said, "Clean water and resilient ecosystems are absolutely vital to our health, our communities, and economy. This timely report lays out clear directions to ensure that our communities grow into the future with safe, reliable water supplies and healthy rivers and streams."
Sharlene Leurig, senior manager of Water and Insurance Programs at Ceres, said, "This report makes clear that our nation's water infrastructure system is broken and dramatic changes are needed. Rethinking how we finance and operate our vast water systems is not a choice, it's a must. We have the engineering and land use tools we need to ensure our water systems can stand up to 21st century challenges. The key will be partnerships and cooperation between business, government and public interest groups to finance these new tools."
The Johnson Foundation is releasing this report as part of its work with Charting New Waters, an effort it formally launched in 2010 dedicated to catalyzing new solutions to U.S. freshwater challenges. Charting New Waters is composed of a diverse group of leaders from business, agriculture, academia and environmental organizations that have publicly committed to improving U.S. freshwater resources by advancing the principles and recommendations of the group. 
The initial phase of work led to the release of Charting New Waters: A Call to Action to Address U.S. Freshwater Challenges, a consensus report issued on Sept. 15, 2010. Download the report here.
As part of its ongoing Charting New Waters effort, The Johnson Foundation is also hosting a series of Regional Freshwater Forums that convene experts to examine freshwater challenges, successes, innovations and potential solutions that can bridge geographies and inform national policy. The first Forum took place in Denver, Colo., in October 2011.
For more information, click here.
—————
The Johnson Foundation at Wingspread is dedicated to serving as a catalyst for change by bringing together leading thinkers and inspiring new solutions on major environmental and regional issues. For additional information about Charting New Waters, or to learn more about The Johnson Foundation at Wingspread, visit www.johnsonfdn.org.
Ceres is an advocate for sustainability leadership. It leads a national coalition of investors and public interest groups working with companies to address sustainability challenges such as global climate change and water scarcity. Ceres also directs the Investor Network on Climate Risk (INCR), a network of 100 institutional investors with collective assets totaling about $10 trillion. For more information, visit www.ceres.org.