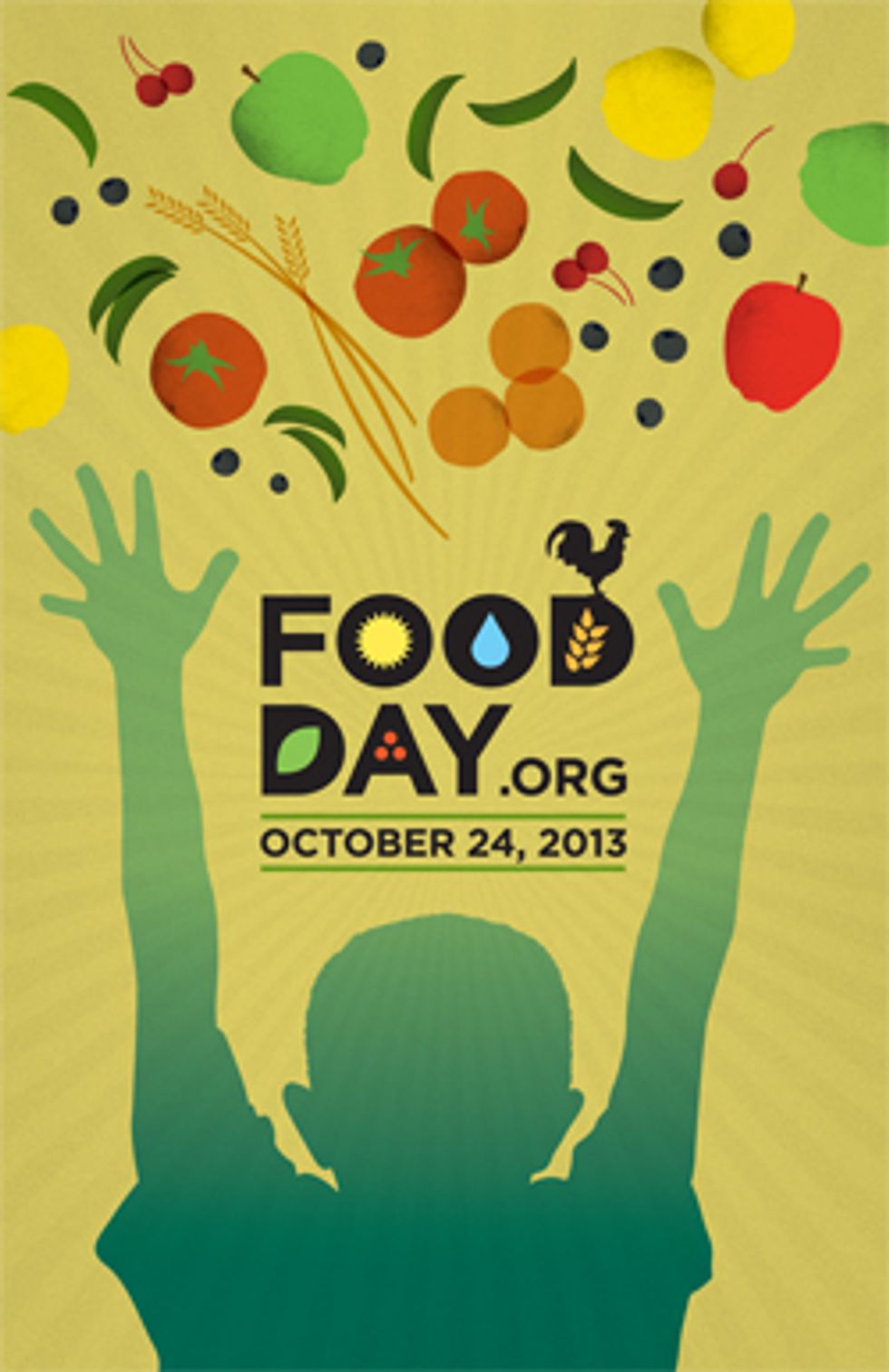 We designate days of the year to honor things we deem important: our ethnic heritage, romance, the labor movement. So it makes sense to spend one day thinking about one thing that's important to every single human being: food. After all, everyone eats.
Food Day, Oct. 24, is aimed at doing just that. In its third year, the nationwide grassroots campaign will put the spotlight on healthy, affordable and sustainably produced food.
On Oct 24, thousands of events will be held in all 50 states and involve some of the country's most well-known food activists. The events support the production and consumption of  food that is healthy, affordable, and produced with care for the environment, farm animals, and the people who grow, harvest, and serve it.
Organizers hope to encourage people to cut back on consuming sugary drinks, overly salted packaged foods and fat-laden, factory-farmed meats and eat more vegetables, fruits, whole grains and sustainably raised protein.
In 2012, people celebrated Food Day at community festivals in Denver, New York City and Savannah; at a national conference on the future of food in Washington, D.C.; at thousands of schools and universities in Boston, Portland, Minneapolis and other places. Mayors in Los Angeles, Seattle and New Haven chose Food Day to announce improvements to their food policies. A slideshow of 2012 Food Day events shows highlights of the more than 3,200 events held  in 50 states in 2012.
The campaign was founded by the Center for Science in the Public Interest. Partner organizations include the Academy of Nutrition and Dietetics, Consumer Federation of America, Farm Aid, National Parent Teacher Association, United Church of Christ and Yale Rudd Center for Food Policy & Obesity at Yale University. The Food Day video shown above features an appearance by filmmaker Morgan Spurlock, director and star of  Super Size Me.
Want to find out what's happening in your community? Organizers have an interactive map where you can find Food Day events in your area. Just type in your address and how far you're willing to travel.

EcoWatch Daily Newsletter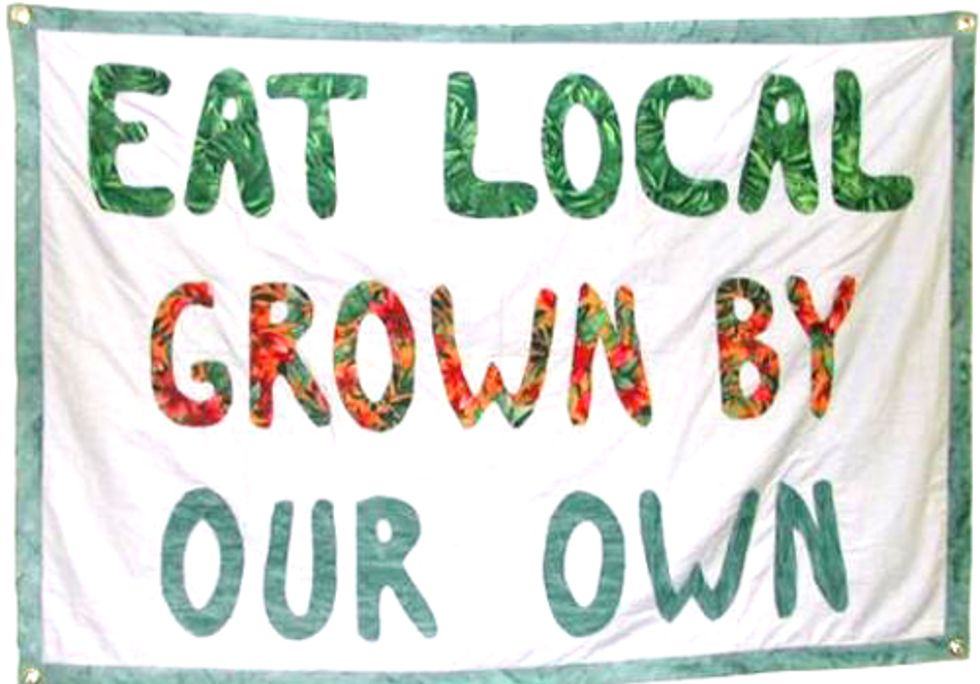 On Feb. 29 the U.S. Department of Agriculture (USDA) released a comprehensive report on its Know Your Farmer, Know Your Food initiative, launched in 2009 to enhance coordination among federal programs that in various ways help to build local and regional farm and food systems.
"This is a very timely report," notes Helen Dombalis, policy associate with the National Sustainable Agriculture Coalition. "The ongoing revitalization of regional farm and food systems depends on the continuation of key 2008 Farm Bill programs whose funding expires later this year if Congress does not act."
The expiring farm bill programs range from Value-Added Producer Grants, which help farmers develop new products and markets while increasing their share of the consumer food dollar, to the Farmers Market Promotion Program, which helps create and expand venues for direct farmer-to-consumer sales of local foods.
Also up for farm bill funding renewal are the Rural Micro-Entrepreneur Assistance Program, National Organic Certification Cost Share Program, Beginning Farmer and Rancher Development Program, Outreach and Assistance for Socially Disadvantaged Farmers and Ranchers, Rural Energy for America Program, Organic Agriculture Research and Extension Initiative, and Specialty Crop Research Initiative.
"Congress should renew and expand funding for these innovative programs in the 2012 Farm Bill," says Dombalis. "Local and regional agriculture is a major new driver in the farm economy. There are very significant emerging market and business opportunities, but major research, infrastructure, and technical assistance gaps need to be filled to reap the full benefit. We need all of the existing farm bill tools available in the future to grow rural jobs and to increase new farming opportunities."
Several bills pending in Congress, including the Local Farms, Food, and Jobs Act and the Beginning Farmer and Rancher Opportunity Act, include provisions to renew funding for these vital programs and to ensure our federal agriculture policy meets the needs of local and regional producers. Both bills are aimed at inclusion in the 2012 Farm Bill and have the support of hundreds of farm, food, and rural organizations nationwide.
Report Contents and the Compass
Know Your Farmer, Know Your Food's primary goals revolve around better using federal resources to boost job creation through a modernization of local and regional farm and food economies. The report details a case study in northeastern Iowa where local food sales catapulted more than one thousand percent in just four years and another in Oklahoma where a group of producers are aggregating, labeling, and cooperatively marketing $70,000 worth of food a month statewide to create an extra income stream. Similar economic ripple effects to improve farm and rural income are found throughout the report.
Food access also plays prominently into the initiative's priorities, which include programs to localize food processing and distribution in ways that reach underserved communities. The USDA Farm to School team has helped spur programs that have increased students' fresh fruit and vegetable consumption by 25 to 84 percent, and Know Your Farmer has also coordinated research to support the development of new "food hubs" which facilitate growers' access to local markets and fair prices.
Along with the report, USDA is releasing an interactive mapping feature called the Know Your Farmer, Know Your Food Compass, which highlights accomplishments of USDA programs and success stories from across the country. The new Web-based tool will provide a visual, state-by-state display of projects and case studies that fall under the umbrella of the initiative.
The initiative does not have a budget of its own. Rather, it uses existing USDA programs and staff to better improve the Department's response to the burgeoning farmer and consumer interest in regional food systems.
Dombalis describes Know Your Farmer, Know Your Food as "government at its best. Programs and services serving local and regional producers are scattered across USDA's various agencies. The Know Your Farmer initiative helps drive vital coordination to improve program delivery."
Both the report and Compass are available on the USDA's website by clicking here.
For more information, click here.
—————
The National Sustainable Agriculture Coalition is a grassroots alliance that advocates for federal policy reform supporting the long-term social, economic, and environmental sustainability of agriculture, natural resources, and rural communities.
waterlust.com / @tulasendlesssummer_sierra .
Each product featured here has been independently selected by the writer. If you make a purchase using the links included, we may earn commission.
The bright patterns and recognizable designs of Waterlust's activewear aren't just for show. In fact, they're meant to promote the conversation around sustainability and give back to the ocean science and conservation community.
Each design is paired with a research lab, nonprofit, or education organization that has high intellectual merit and the potential to move the needle in its respective field. For each product sold, Waterlust donates 10% of profits to these conservation partners.
Eye-Catching Designs Made from Recycled Plastic Bottles
waterlust.com / @abamabam
The company sells a range of eco-friendly items like leggings, rash guards, and board shorts that are made using recycled post-consumer plastic bottles. There are currently 16 causes represented by distinct marine-life patterns, from whale shark research and invasive lionfish removal to sockeye salmon monitoring and abalone restoration.

One such organization is Get Inspired, a nonprofit that specializes in ocean restoration and environmental education. Get Inspired founder, marine biologist Nancy Caruso, says supporting on-the-ground efforts is one thing that sets Waterlust apart, like their apparel line that supports Get Inspired abalone restoration programs.
"All of us [conservation partners] are doing something," Caruso said. "We're not putting up exhibits and talking about it — although that is important — we're in the field."
Waterlust not only helps its conservation partners financially so they can continue their important work. It also helps them get the word out about what they're doing, whether that's through social media spotlights, photo and video projects, or the informative note card that comes with each piece of apparel.
"They're doing their part for sure, pushing the information out across all of their channels, and I think that's what makes them so interesting," Caruso said.
And then there are the clothes, which speak for themselves.
Advocate Apparel to Start Conversations About Conservation
waterlust.com / @oceanraysphotography
Waterlust's concept of "advocate apparel" encourages people to see getting dressed every day as an opportunity to not only express their individuality and style, but also to advance the conversation around marine science. By infusing science into clothing, people can visually represent species and ecosystems in need of advocacy — something that, more often than not, leads to a teaching moment.

"When people wear Waterlust gear, it's just a matter of time before somebody asks them about the bright, funky designs," said Waterlust's CEO, Patrick Rynne. "That moment is incredibly special, because it creates an intimate opportunity for the wearer to share what they've learned with another."
The idea for the company came to Rynne when he was a Ph.D. student in marine science.
"I was surrounded by incredible people that were discovering fascinating things but noticed that often their work wasn't reaching the general public in creative and engaging ways," he said. "That seemed like a missed opportunity with big implications."
Waterlust initially focused on conventional media, like film and photography, to promote ocean science, but the team quickly realized engagement on social media didn't translate to action or even knowledge sharing offscreen.
Rynne also saw the "in one ear, out the other" issue in the classroom — if students didn't repeatedly engage with the topics they learned, they'd quickly forget them.
"We decided that if we truly wanted to achieve our goal of bringing science into people's lives and have it stick, it would need to be through a process that is frequently repeated, fun, and functional," Rynne said. "That's when we thought about clothing."
Support Marine Research and Sustainability in Style
To date, Waterlust has sold tens of thousands of pieces of apparel in over 100 countries, and the interactions its products have sparked have had clear implications for furthering science communication.
For Caruso alone, it's led to opportunities to share her abalone restoration methods with communities far and wide.
"It moves my small little world of what I'm doing here in Orange County, California, across the entire globe," she said. "That's one of the beautiful things about our partnership."
Check out all of the different eco-conscious apparel options available from Waterlust to help promote ocean conservation.
Melissa Smith is an avid writer, scuba diver, backpacker, and all-around outdoor enthusiast. She graduated from the University of Florida with degrees in journalism and sustainable studies. Before joining EcoWatch, Melissa worked as the managing editor of Scuba Diving magazine and the communications manager of The Ocean Agency, a non-profit that's featured in the Emmy award-winning documentary Chasing Coral.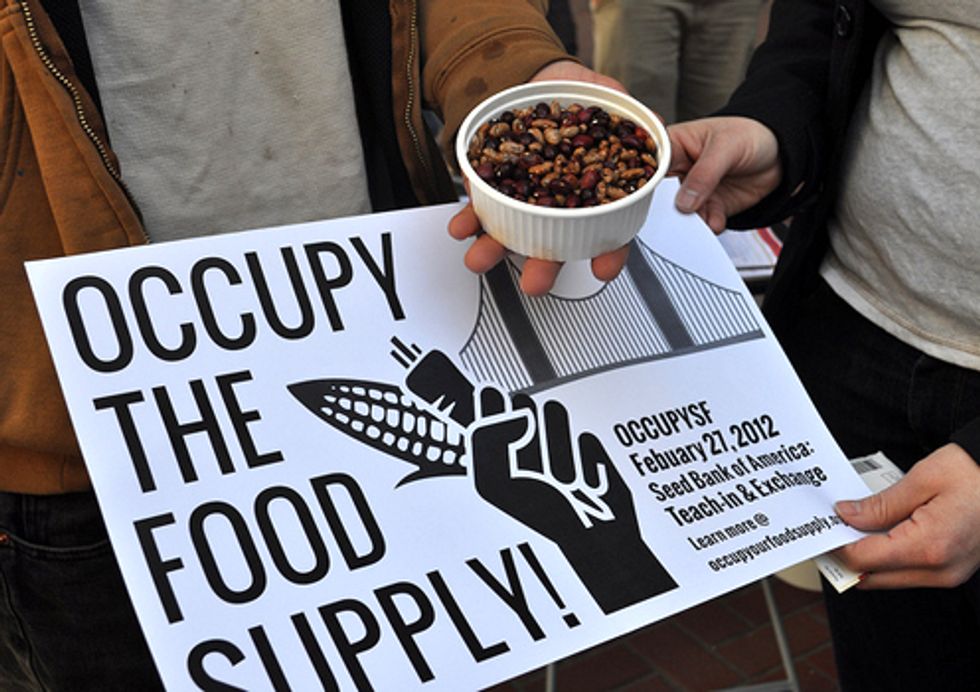 Organizers called the Feb. 27 Occupy our Food Supply day of action a resounding success. The day included more than 100 events across the globe, united an unprecedented alliance of more than 60 Occupy groups and 30 environmental, food and corporate accountability organizations, and featured prominent voices including Indian environmentalist Vandana Shiva, music legend Willie Nelson, actor Woody Harrelson, authors Raj Patel, Anna Lappe, Gary Paul Nabhan, author Michael Ableman and Marion Nestle, among others.
"At this point, we can barely keep up with all the events and blog postings," said Hillary Lehr, an organizer for Rainforest Action Network, which helped facilitate the day of action. "From mommy bloggers to Occupy groups, we are seeing an enormous spectrum of people respond to Occupy our Food Supply's call to resist corporate consolidation of our food systems and create socially and environmentally just local solutions. Plain and simple, it is clear that getting big food giants like Cargill and Monsanto out of our food system is an idea whose time has come."
Across the globe, online and offline, thousands participated in the events. Events included a 40 person seed exchange at the New York Stock Exchange hosted by Occupy Wall Street; the building of a community garden in Oakland hosted by Occupy the Food System Oakland; the 'stickering' of genetically modified foods at more than 20 Safeway and Whole Foods grocery stores across the country; more than 100 people in Wayzata, Minn. convening a Cargill call-in day to CEO Greg Page; and an 'evict Monsanto' protest is planned for Feb. 29 at the Monsanto offices in Lockhart, Texas.
"Every stage of the food system involves some sort of destructive or exploitive practice, and we really need to change that," said Alec Higgins with Occupy Wall Street Food Justice, which organized the seed exchange at the New York Stock Exchange. "Food is at the core of OWS values. We are coming together around this one thing that is so essential to our well being. It's what we eat."
Occupy our Food Supply also had an online face with a blogger and social media day of action, asking influential bloggers, social media users and blog sites to write on the corporate control of food. More than 75 blogs covered the day, from the prominent Huffington Post to the niche CivilEats and Curvy, Foody, Hungry. On Twitter, the event reported two to three posts per minute using the #F27 hasthtag.
Never have so few corporations been responsible for more of our food chain. Of the 40,000 food items in a typical U.S. grocery store, more than half are now brought to us by just 10 corporations. Today, three companies process more than 70 percent of all U.S. beef, Tyson, Cargill and JBS. More than 90 percent of soybean seeds and 80 percent of corn seeds used in the U.S. are sold by just one company—Monsanto. Four companies are responsible for up to 90 percent of the global trade in grain. And one in four food dollars is spent at Walmart.
The overwhelming support for Occupy our Food Supply underscores the unity between farmers, parents, health care professionals, human rights activists, food justice advocates and food lovers around the world who are increasingly viewing their concerns as different manifestations of the same underlying problem—a food system structured for short term profit instead of the long term health of people and the planet.
Supporting groups included: Bay Localize, Berkeley Association for Animal Advocacy, Biosafety Alliance, California Food and Justice Coalition, Chiapas Support Committee, Family Farm Defenders, Food Democracy Now, Food First, Foodchain Workers Alliance, Indigenous Environmental Network, National Family Farms Coalition, PAN (Pesticide Action Network), Pesticide Watch, Planting Justice, Occupy Big Food, Occupy Claremont, Occupy Cargill, Occupy DC, Occupy Denver, Occupy Farms, Occupy Fort Lauderdale, Occupy Food, Occupy Gardens Toronto, Occupy Jacksonville, Occupy MN/Seeds of Change, Occupy London, Occupy Monsanto, Occupy Philly Occupy Vacant Lots),  Occupy Porto Alegre (Brazil), OWS-Food Justice, OWS Puppets, OWS Sustainability, Occupy Santa Cruz, Occupy SF Environmental Justice Working Group, and Occupy the Food System-Oakland, Organic Consumer Association and many others.
See the full list of supporting organizations and events by clicking here.
For more information, click here.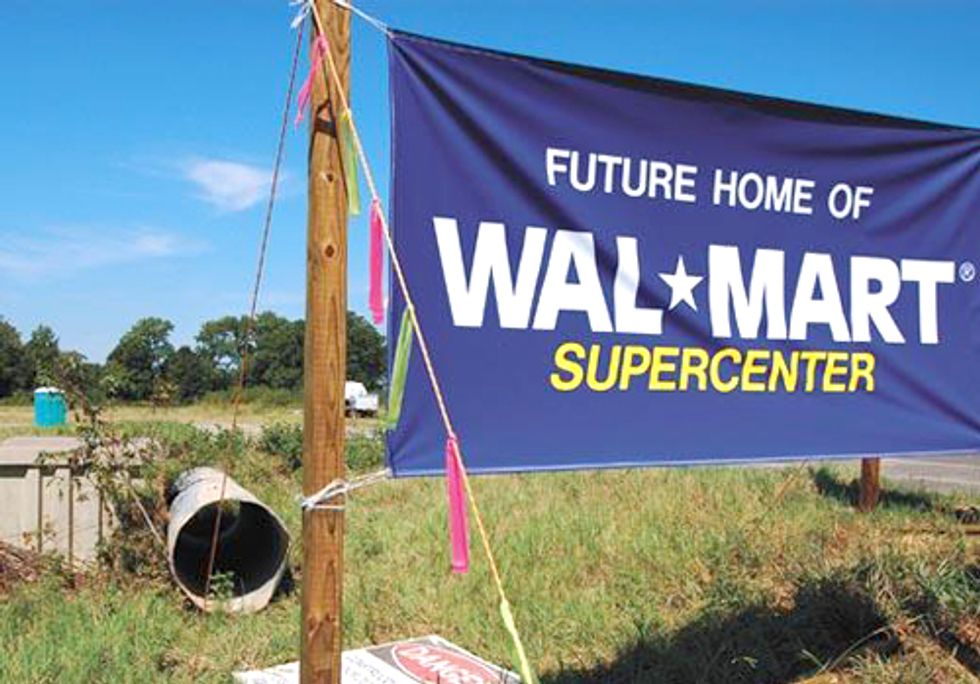 On the steps of New York City Hall on Feb. 23, national, community, food, urban and labor group leaders hosted a press conference to address Walmart's negative impact on the food system. Food & Water Watch Executive Director Wenonah Hauter and Stuart Appelbaum, president of the Retail, Wholesale, and Department Store Union (RWDSU), spoke at the event, which also marked the release of the new Food & Water Watch report, "Why Walmart Can't Fix the Food System," an analysis of the rift between Walmart's marketing claims and the true impact the company has on the food system.
This week, as the largest food retailer in the U.S. released its fourth quarter earnings, community leaders in New York gathered to call attention to the company's business model, which squeezes farmers, workers and processors, and drives food production to become more consolidated and industrialized. While Walmart has been busy promoting itself as the solution to lack of access to healthy food in urban communities, the message from City Hall was loud and clear—Walmart is not the answer and they are not wanted in New York City.
"Plunking down a big-box store in the middle of a community with a lack of access to healthy food will not solve this complicated problem," said Food & Water Watch Executive Director Wenonah Hauter. "Selling fruit and vegetables is one step, but all communities, especially those that are struggling financially, will be better served for the long term by local businesses that put money back into the community by paying livable wages and buying from local and regional suppliers and farmers whenever possible."
"This report shows Walmart has been a source of tremendous harm and devastation to workers, businesses, and communities across the country," said Stuart Appelbaum, president of the Retail, Wholesale and Department Store Union (RWDSU), UFCW. "Walmart is a great destroyer, not the great savior it claims to be. We are working with a large coalition to keep Walmart out of New York City."
"Walmart can't fix the food system, just like it can't get our communities out of poverty," said Matt Ryan, executive director of ALIGN. "It is ultimately the source of the problem, not the solution."
"I don't believe for one second that Walmart cares whether or not I have fresh vegetables; their bottom line is opening more stores and making money," said East New York resident Maria Maisonett.
"Part of the challenge to ending hunger in our communities is creating a sustainable food system that provides affordable, healthy food while also paying a living wage to food producers and other workers in the food system," said Mark Dunlea, executive director of the Hunger Action Network of NYS. Walmart unfortunately is a major factor in the corporate consolidation of our food supply, making it harder for local farmers and communities to make a decent living, while also pushing out other food retailers. Too much of Walmart's publicity about support local and organic foods is a marketing devise rather than supporting a truly local, decentralized, environmentally sound, sustainable food system."
"Brooklyn doesn't need a Walmart to eat more healthy food. It needs local businesses, paying fair wages, and a focus on a stronger sustainable regional supply chain," said Benjamin Solotaire, a volunteer with the Brooklyn Food Coalition.
"It is no surprise that the Food & Water Watch report shows how Wal-Mart is not a solution to food deserts but the actual problem," says Food Chain Workers Alliance organizer Diana Robinson. "Whether it be from factory workers in Bangladesh to warehouse and retail workers in the United States, Wal-Mart has a proven record of committing labor rights violations with its own employees. Because of Wal-Mart's dominance in the retail market, it drives down the prices that it pays its suppliers, which, in turn, drives down wages and working conditions throughout the food supply chain. 20 million people in the U.S. work in the food system, and many of the low-wage food workers live in food deserts because they cannot afford to live in neighborhoods with reasonable access to affordable fresh and healthy food. It's a vicious cycle that needs to be stopped. Wal-Mart's business practice of super low wages and super low prices is not the answer to food desserts."
For more information, click here.
—————
Food & Water Watch works to ensure the food, water and fish we consume is safe, accessible and sustainable. So we can all enjoy and trust in what we eat and drink, we help people take charge of where their food comes from, keep clean, affordable, public tap water flowing freely to our homes, protect the environmental quality of oceans, force government to do its job protecting citizens, and educate about the importance of keeping shared resources under public control.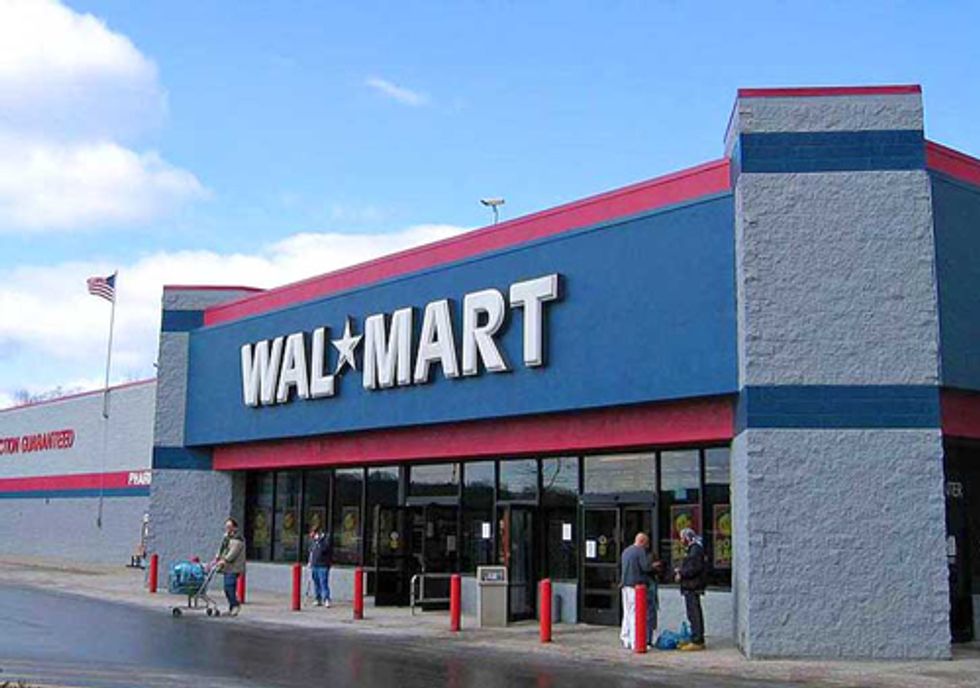 As Walmart releases its fourth quarter earnings on Feb. 21, Food & Water Watch released a report analyzing the rift between Walmart's marketing claims and the true impact the company has on the food system. Why Walmart Can't Fix the Food System finds that Walmart's recent high-profile initiatives to bring healthier fare to food deserts, expand healthy food offerings including local and organic food, and be environmentally sustainable are merely window dressing to divert attention away from the company's business model, which squeezes farmers, workers and processors, and drives food production to become more consolidated and industrialized.
"From press conferences with the First Lady, to promises to buy local produce, to the 'Great For You' healthy labeling scheme they just announced, Walmart's PR machine has been on overdrive for the past couple years as it tries to polish its tarnished image," said Wenonah Hauter, executive director of Food & Water Watch. "The truth is, Walmart is still the retail giant that exploits its workers and suppliers to undercut all other competition, which leaves consumers with a lot less choice. Unless it changes its business model, Walmart cannot help us move towards a more sustainable food system."
Walmart is the biggest company in the U.S. with 2010 sales of $419 billion, a little over half of that coming from grocery sales. In the past 12 years since it began selling food alongside other retail products, Walmart has become the largest food retailer in the U.S. One out of every three dollars spent on groceries in the U.S. goes to Walmart.
Food isn't just good business for Walmart—it's the cornerstone of the company's public relations offensive. The report analyzes Walmart's ambitious campaign to convince skeptical local governments and communities that the company can alleviate the problem of food deserts—low-income areas with little access to fresh food. Contrary to the company's claims, report explains that Walmart's motivation is to break through the strong community opposition that has successfully blocked Walmart from many urban markets including New York, Los Angeles, and until 2006, Chicago.  
"Plunking down a big-box store in the middle of a community with a lack of access to healthy food will not solve this complicated problem," said Hauter. "Selling fruit and vegetables is one step, but all communities, especially those that are struggling financially, will be better served for the long term by local businesses that put money back into the community by paying livable wages and buying from local and regional suppliers and farmers whenever possible."
Walmart's other good food pledges such as buying local, offering more organic foods and being environmentally responsible are probed in the report, which describes Walmart's business model of driving down costs at every step in the supply chain without consideration for the costs to employees, food producers and the environment.
To conclude, the report advises local governments to seek better solutions to increase communities' access to healthy food and encourages the federal government to investigate Walmart's anticompetitive practices and its impact on the food chain—and adapt food and farm policy that strengthens regional food systems and food assistance programs that will provide healthy, affordable food to all communities.
On Thursday, Feb. 23, a press conference will be held on the steps of City Hall in New York City in conjunction with the Walmart-Free NYC campaign. Food & Water Watch's Executive Director Wenonah Hauter will speak alongside national and local community and labor leaders who will also be available for interviews.
To read the full report, click here.
For more information, click here.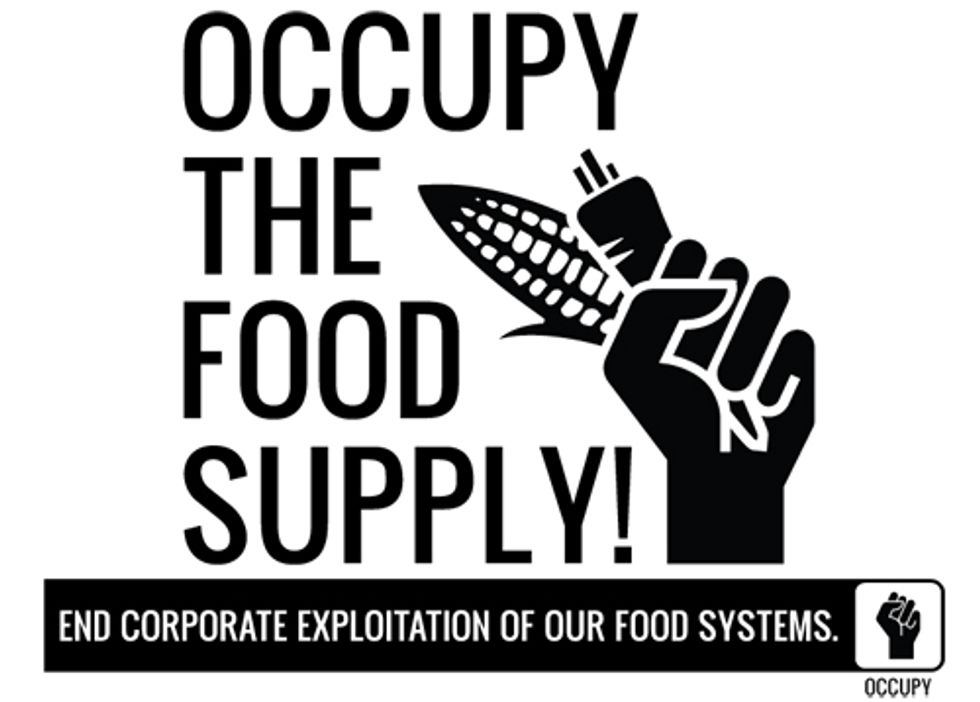 Occupy Our Food Supply is bringing together the Occupy, sustainable farming, food justice, buy local, slow food, and environmental movements for a global day of action on Feb. 27, 2012. Inspired by the theme of CREATE/RESIST, thousands will come together to creatively confront corporate control of our food supply and take action to build healthy, accessible food systems for all.
Industrial agribusiness corporations like Cargill, Monsanto, ADM and Dupont have gained runaway control of our food systems and to take them back, we'll need all the collective power we can manifest around the world. There are few things more personal than the food we put into our bodies every day. Let's ensure that we can stand by the food we eat from farm to fork.
Occupy Our Food Supply will be a major decentralized global day of food action and solidarity. Act locally to affect massive change globally—from hosting a sustainable potluck to planning a community garden to organizing a Tour of Shame featuring corporate food polluters in your area.
Register your event to stand up and be counted in the movement to Occupy Our Food Supply, or click the map to find an event near you and email the organizer to get involved.
Sign up to take action on Feb. 27 to Occupy Our Food Supply.
For more information, click here.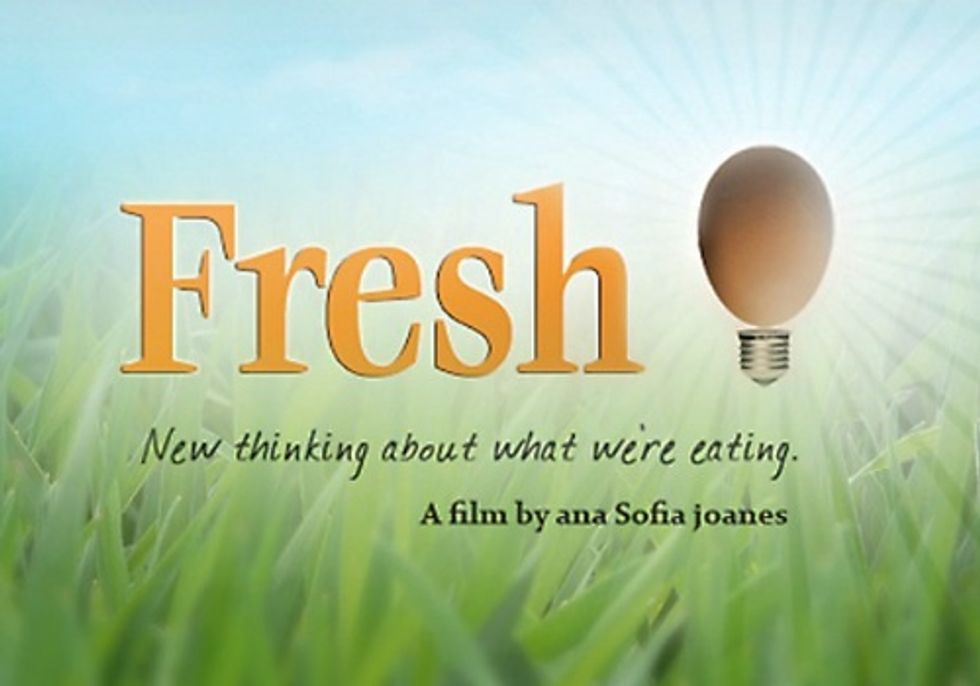 WHAT: Screening of the documentary Fresh
WHEN: Feb. 7, 6:30 -  9 p.m.
WHERE: Arts Collinwood, 15605 Waterloo Rd., Cleveland, Ohio 44110
Cleveland's Fair Farm Bill Campaign, Community Greenhouse Partners and Arts Collinwood will host a free screening of Fresh, an important documentary about our food system.
Fresh celebrates the farmers, thinkers and business people across America who are re-inventing our food system. Each has witnessed the rapid transformation of our agriculture into an industrial model and confronted the consequences: food contamination, environmental pollution, depletion of natural resources and morbid obesity. Forging healthier, sustainable alternatives, they offer a practical vision for the future of our food and our planet.
Among several main characters, Fresh features:
• urban farmer and activist Will Allen, recipient of MacArthur's 2008 Genius Award.
• sustainable farmer and entrepreneur Joel Salatin, made famous by Michael Pollan's book, The Omnivore's Dilemma.
• supermarket owner David Ball, challenging our Wal-Mart dominated economy.
Arts Collinwood Bar and Cafe opens at 5 p.m.- come early to grab some delicious food or drink
The movie will start at 6:45 p.m. Run time is approximately 74 minutes. Discussion and action stations to follow.
For more information or to RSVP, click here.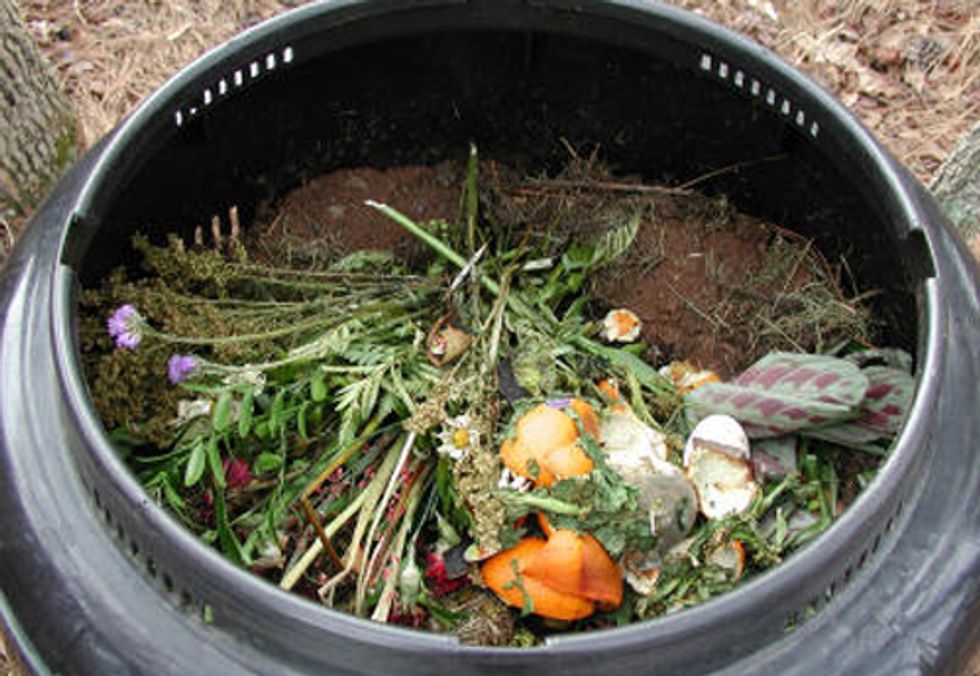 By Graham Salinger
The United Nations Food and Agriculture Organization (FAO), reports that an estimated one-third of the food produced worldwide for human consumption is wasted annually. In the U.S., an estimated 40 percent of edible food is thrown away by retailers and households. In the United Kingdom, 8.3 million tons of food is wasted by households each year. To make the world more food secure consumers need to make better use of the food that is produced by wasting less.
Today, Nourishing the Planet presents five ways that consumers can help prevent food waste.
1. Compost—In addition to contributing to food insecurity, food waste is harmful to the environment. Rotting food that ends up in landfills releases methane, a potent greenhouse gas, that is a major contributor to global climate change and can negatively affect crop yields. Composting is a process that allows food waste to be converted into nutrient rich organic fertilizer for gardening.
Compost in Action—In Denver, the city contracts with A1 Organics, a local organic recycling business, to take people's waste and turn it into compost for local farmers. Similarly, a new pilot program in New York City allows patrons to donate food scraps to a composting company that gives the compost to local farmers.
2. Donate to food banks—Donating food that you don't plan to use is a great way to save food while helping to feed the needy in your community.
Food Banks in Action—In Atlanta, Ga., the Atlanta Community Food Bank relies on food donations to supply 20 million pounds of food to the poor each year. In Tennessee, the Second Harvest Food Bank works to reduce waste resulting from damaged cans by testing the cans to make sure that they don't have holes in them that would allow food to spoil. For more on how you can donate food that would otherwise go to waste, visit Feed America, a national network of food banks.
3. Better home storage—Food is often wasted because it isn't stored properly, which allows it to mold, rot or get freezer burn. By storing food properly, consumers can reduce the amount of food they waste.
Better storage in Action—The National Center for Home Food Preservation is a great resource for consumers to learn a range of techniques to increase the shelf life of food. For example, they recommend blanching vegetables—briefly boiling vegetables in water—and then freezing them. They also stress canning fruits and vegetables to protect them against bacteria.
4. Buy less food—People often buy more food than they need and allow the excess food to go to waste. Reducing food waste requires that consumers take responsibility for their food consumption. Instead of buying more food, consumers should buy food more responsibly.
Buying Less Food in Action—Making a shopping list and planning meals before shopping will help you buy the amount of food that is needed so that you don't waste food. There are a number of services that help consumers shop responsibly—Mealmixer and e-mealz help consumers make a weekly shopping list that fits the exact amount of food that they need to buy. Eating leftovers is another great way to reduce the amount of food that needs to be purchased. At leftoverchef.com, patrons can search for recipes based on leftover ingredients that they have.  Similarly, Love Food Hate Waste offers cooking enthusiasts recipes for their leftovers.
5. Responsible grocery shopping—Consumers should make sure that they shop at places that practice responsible waste management. Many grocery stores are hesitant to donate leftovers to food banks because they're worried about possible liabilities if someone gets sick. But consumers can encourage grocery chains to reduce food waste by supporting local food banks in a responsible manner.
Responsible grocery shopping in Action—Safeway and Vons grocery chains donate extra food to Feeding America. Additionally, Albertsons started a perishable food recovery program that donates meat and dairy to food banks. The Fresh Rescue program, which partners with various national supermarkets, has also helped food banks with fundraising in 37 states.
For more information, click here.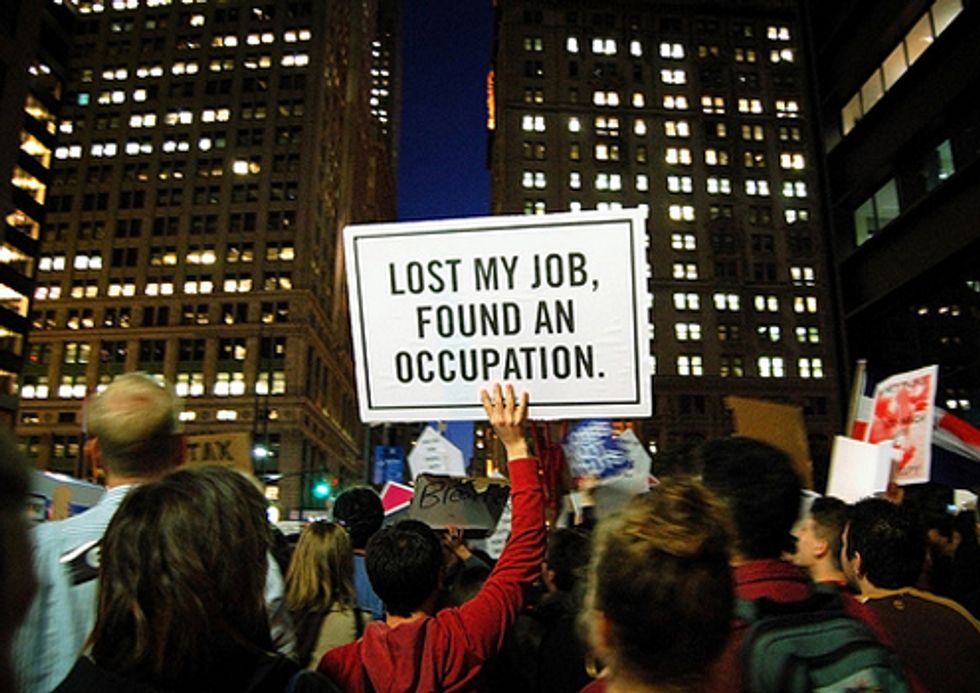 By Michele Simon
Given all the defeats and set-backs this year due to powerful food industry lobbying, the good food movement should by now be collectively shouting—I am mad as hell and I'm not going to take it anymore.
If you feel that way, I have two words of advice—get political.
I don't mean to ignore the very real successes—increases in farmers markets, innovative and inspiring programs such as Food Corps, and an increasingly diverse food justice movement, just to name a few. But lately, at least when it comes to kids' and junk food, we've been getting our butts kicked.
And it's not just because corporations have more money to lobby—of course they do. It's that too often, we're not even in the game. Or, we tend to give up too easily. While I know many food justice advocates who understand this is a political fight over control of the food system, sadly I cannot say the same thing about some of my public health colleagues. Too many nonprofits, foundations and professionals are playing it safe, afraid to take on the harder fights.
A politician from Maine I interviewed for my book was complaining to me about how food industry lobbyists were in his state capital every single day, while public health sent the occasional volunteer. His sage advice to us advocates—"You may be out-gunned, but you have to bring a gun."
Moreover, many groups have shown that you don't always even need a bigger gun. The small but impressive organization, Campaign for a Commercial-Free Childhood, proved that this summer when it won an important victory against Scholastic regarding its corporate-sponsored materials. How did they do it? A combination of smart campaigning and effective media. Not by playing nice.
Many public health folks I know are more comfortable with research and data than politics and lobbying. But if we are to make real progress, that has to change. Back in May, after a series of defeats, my colleague Nancy Huehnergarth wrote a great call-to-action. She noted how public health advocates and its funders are "very genteel" and that when industry lobbying beats us back, advocates just want more science, believing that the new data "will finally convince policymakers and the public to take action." But it doesn't work that way, as she explains:
The reality is that when going up against deep-pocketed, no-holds barred opponents like Big Food, Big Beverage and Big Agriculture, public health's focus on science and evidence is easily trumped by money and messaging. If public health advocates don't start rolling up their sleeves and using some of the same tactics used by industry, progress in this fight to create a safe, healthy, sustainable food system is going to move very slowly.
Now for some good news. We are already seeing positive signs that indeed, the food movement is getting more political. Recent defeats are helping to mobilize people even more, as folks realize the food industry is not playing nice, so we can't either. Here then, are just a few signs of hope for 2012:
1) The growing political movement opposing genetically-engineered foods, which includes a huge Just Label It campaign with an impressive list of supporters. Stay tuned also for the 2012 ballot initiative in California to label GMOs.
2) Powerful nonprofit organizations (who don't shy away from politics) getting involved for the first time in nutrition policy. For example, the Environmental Working Group's (EWG) recent report on sugary cereals called out the utter failure of Big Food's voluntary nutrition guidelines on marketing to children. Given EWG's one million-plus supporters, I can't wait to see where they go with this issue in 2012.
3) Increasing coverage in mainstream media that food industry marketing (and not just personal responsibility) bears much of the blame for the nation's public health crisis. Examples include a front page story in a recent Sunday edition of the San Francisco Chronicle and Mark Bittman's weekly Opinionator column in the New York Times, which is consistently smart and hard-hitting.
4) Speaking of media, as traditional investigative journalism outlets have become more scarce, a new breed of reporters may be born from an innovative project just launched in November—Food and Environmental Reporting Network. Its mission is to "produce investigative journalism on the subjects of food, agriculture, and environmental health in partnership with local and national media outlets." Judging from its first in-depth report on dairy CAFOs (concentrated animal feeding operations) in New Mexico, I am looking forward to more in 2012.
5) Finally, the Occupy movement, while still very young, has already inspired a number of food politics offshoots. As I wrote after Food Day, several others have penned calls to action showing the deep connections between corporate control of the food supply and economic injustice. (If you read just one, Tom Philpott's Foodies, Get Thee to Occupy Wall Street should convince you.) Also, the amazing grassroots organization Food Democracy Now (based in Iowa) recently organized an "Occupy Wall Street Farmers' March" to bring the message that family farmers are also the 99 percent. (Read organizer Dave Murphy's moving account of the successful event and watch the videos of the passionate speakers.)
There are many other amazing groups, farmers and eaters organizing all over the country (and the world) to take back our food supply from corporate profiteers. We've got plenty of challenges ahead, with the farm bill up for renewal and more school food nutrition standards to fight for, just for starters. I am hopeful that next year we will see the food movement get even more political. I just hope I can also say, by the end of 2012, that it was the year more of my public health colleagues joined in.
For more information, click here.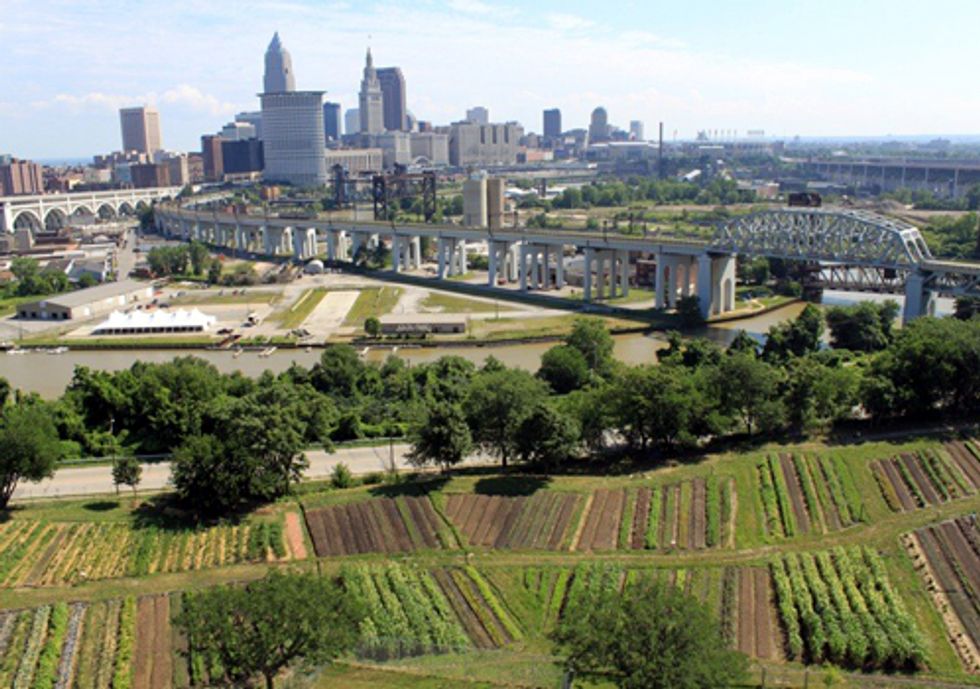 The Turner Environmental Law Clinic at the Emory University School of Law, in partnership with Georgia Organics, has released one of the most comprehensive looks at urban agriculture policy in the U.S. The study provides a look at urban agriculture policies implemented by many of Sustain Lane's top ranking sustainable cities.
Urban agriculture has become a national phenomenon as vacant lots and downsizing cities struggle to make efficient use of abandoned land, generate jobs, boost property values, promote community engagement and expand access to fresh, locally grown food. Urban agriculture can take many forms—from a community garden where multiple neighbors grow on land they share to full-scale farms that provide robust production of crops as well as educational opportunities and jobs for residents.
This report represents one of the most comprehensive, objective presentations of current urban agriculture policies being implemented across the country. Some cities have reacted in a nimble manner, creating conditions that have allowed urban food production to thrive. Other cities are struggling to identify the best mechanisms to spur urban agriculture. What is evident is that there is no one-size fits all policy to address urban agriculture. Each community needs its own nuanced approach to balance the land it has available with the needs of its residents.
Mindy Goldstein, acting director of the Turner Environmental Law Clinic, was overwhelmed at her student's interest in this topic. "We prepared this report to highlight some of the best practices being employed across the country. Our goal is to build upon these practices and prepare recommendations that will work best for the city of Atlanta and other urban areas in the state. The clinic's students dove right into this work. They were eager to lend their legal expertise to this exciting social re-innovation."
Alice Rolls, executive director of Georgia Organics and member of the Atlanta Local Food Initiative, is excited about using the report to inform the organization's work on urban agriculture issues. "It will greatly inform Georgia Organics' advocacy efforts. Land use policy can be a powerful tool to expand agricultural activity and increase access to locally grown food. With so much momentum and innovation happening to address food deserts and improve public health, food policy is a critical piece of the puzzle in solving our food security and access issues."
Both Ms. Rolls and Ms. Goldstein stated that the analysis will be shared with the city of Atlanta, among others, to inform the policy discussions currently happening. In 2010, the city of Atlanta announced an aggressive goal that 75 percent of residents would have access to fresh, locally grown food within 10 minutes of their homes by 2020.
For a full copy of the report, click here.
For more information, click here.
—————
The Turner Environmental Law Clinic provides free legal assistance to individuals, community groups, and non-profit organizations seeking to protect and restore the natural environment for the benefit of the public. Through its work, the Clinic offers students an intense, hands-on introduction to sophisticated environmental law and regulatory practice.
An outgrowth of a grower's association established in the 1970s, Georgia Organics is a member-supported not-for-profit organization devoted to promoting sustainable foods and local farms in Georgia. A sustainable local food system is critical to the future of Georgia's health, environment, and economy. Recognizing this vital need, Georgia Organics builds and strengthens a sustainable local food system that cultivates healthier Georgians, a cleaner environment, and stronger local economies. Georgia Organics builds supply through comprehensive grower education and outreach programs, and catalyzes demand on the consumer and business end by fostering market opportunities for local food. This combination creates powerful relationships that lead the state's communities toward local, sustainably grown food.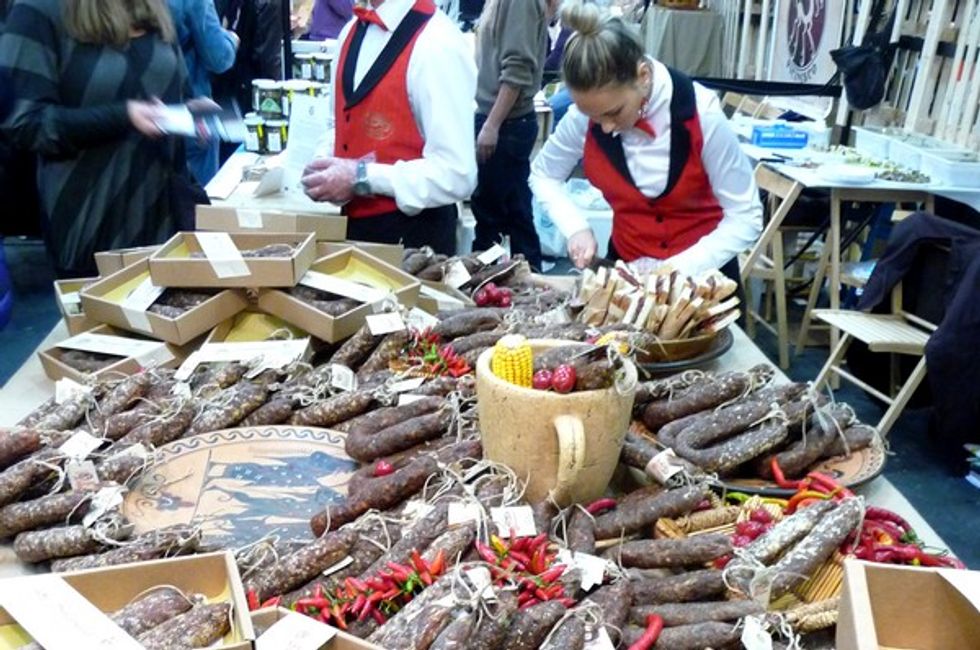 This November, Slow Food launches the new Slow Europe website to present the network's position on various European policies and give visibility to the activities carried out around Europe on food production issues such as agriculture, fisheries, biodiversity, climate change, cooperation and consumer awareness.
The Slow Food in Action section of the site will show how local groups are engaging their communities in the discussion about the future food system through debates, conferences, small and large events, and projects to support small-scale farmers and fishers. The site also provides position papers, communication materials and other tools and motivation for Slow Food and Terra Madre communities to link their activities to the European policy reform and spread the message to all citizens that these issues concern all of us and not only politicians.
At Euro Gusto, the biennial European Slow Food Fair that took place earlier in November, European Slow Food representatives involved in European Union policies met to identify strengths and challenges in influencing policies, and to decide on a common strategy. A draft of Slow Food's position paper on climate change, Climate Change and the Food System, was also presented. The final document will be published soon on the Slow Europe site. The conference, which was financed by the European Union, welcomed Paolo Di Croce, secretary general of Slow Food International, Irene Biglino, collaborator of Slow Food, Ariadna Rodrigo of Friends of the Earth Europe and Markéta Braine-Supkova from the International Urban Food Network. During the conference, participants analyzed the relationship between the food system and climate change—food production is among the main reasons responsible for climate change, and the exploding global population will need to be fed. It is necessary, therefore, to support a virtuous production model that respects ecosystems and values short production chains, the conference concluded.
Meanwhile, the Youth Food Movement in Holland is already organizing a meeting for Slow Food Youth European coordinators on the occasion of Terra Madre Day, to amalgamate their activities around the Common Agricultural Policy reform in the CAP2013 campaign. Their meeting will be followed by a public event where speakers, cooks, farmers and activists will gather at an-eat in, to enjoy food for change.
Visit the Slow Europe website by clicking here.
For more information, click here.
—————
Slow Food USA is part of a global, grassroots organization with supporters in over 150 countries who believe that food and farming should be sources of health and well-being for everyone. Through international and national advocacy, local projects and bringing people together through the common language of food, Slow Food members and supporters are making it easier to access real food that is good for us, good for those who produce it and good for the planet.