This website uses cookies to ensure you get the best experience while browsing it. By clicking 'Got It' you're accepting these terms.


The best of EcoWatch, right in your inbox. Sign up for our email newsletter!
By Diana Madson
On 87 acres of land owned by the city of Fayetteville, Arkansas, solar panels absorb the sun's rays.
This photograph shows green photosynthetic cyanobacteria growing and mineralizing in the sand-hydrogel framework. The living material has similar strength to cement-base mortar. College of Engineering and Applied Science at Colorado University Boulder /
EurekAlert!
Cement is a remarkable building material; it's cheap, durable and readily available. However, its production is a leading source of carbon dioxide emissions, coughing up 2.8 gigatons of emissions every year, as Advanced Science News reported.
EcoWatch Daily Newsletter
Following hundreds of years of oppression under colonial rule and decades as a pawn in a bipolar world, Africa has been left a damaged continent. Here Kumi Naidoo explains this historical context in which a new pan-African civil society initiative is developing, of which he is the start-up director.
Over the past few years the global media has repeatedly referred to the phenomenon of "Africa Rising" to describe the ongoing looting of natural resources and illicit financial outflows from the continent. This confirms that the earlier models of colonization have not ended, but have merely been adjusted and refined and are now conducted and presented behind the veneer of liberation and democracy of African people.

I set out some key historical facts about colonization and what the current effects of colonization are and why, in this context, a discussion arose to establish a new initiative—a broad based African civil society platform. During the many discussions in relation to this new initiative, some consensus points have emerged which are presented here. These are not meant to be understood as fait accompli of the new platform. Instead they are key starting points to show how we are going about establishing such an initiative, what makes the process and outcomes different from previous attempts at civil society unity and how we are going to build consensus around such an initiative that will seek justice, peace and sustainable development on and for the African continent.
Tree of Life.Earth Touch
The African continent draws its modern history from the Berlin Conference held between 1884 and 1885, which sought to legitimize control over the continent, its people and specifically its natural resources. No African was ever consulted in this process. By 1900, European states claimed almost 90 percent of the land mass, ignoring and abolishing local autonomy and self-governance of the African people. The decolonization period post World War II and then the Cold War, saw Africans being used as political and economic pawns by both sides of the ideological conflict.

The effects of having excluded Africans from decision making about their own countries and their continent are starkly manifested in an artificially divided continent, weak and often at war with itself. This was the prime impulse behind the idea of building a movement for a more united continent, starting with civil society as the vanguard of such a process.
Africans remain constrained by these major incidents of political and economic domination of the peoples (and resources) of Africa. Starkly summed up by the pan-Africanist Tajudeen Raheem (1961-2009), when he observed that "Africa is the richest continent underneath the ground and that is precisely why we are one of the poorest continents above the ground," this resource curse and its abhorrent effects remain the daily reality for the majority of Africans. Within this context (and unlike some of their South American and Asian counterparts) individual African countries are unable to stand firm on the global stage in terms of climate change or trade negotiations, despite having proxy representation through South Africa in platforms such as the G20. There is little evidence to show that South Africa has used this proxy role for any substantial continental benefit. Instead, its political leadership has mostly just accepted the negative compromises of these platforms, including the G20, leaving the continent inadequately represented amongst the global economic and political forces.
The imperative to work more urgently and diligently towards a united civil society across the continent is ever greater now that civil protests are more widespread and a frequent feature of life in most parts of the world. The people of the African continent have an opportunity to integrate their struggles into the larger global movements against rising inequality and climate change impacts, standing shoulder to shoulder with their governments on these global stages, while simultaneously pressurizing African governments to perform substantially better than they are doing currently.
Attempts at civil society unity on the continent are not new. Several initiatives have been spawned over the years, including the first Pan African Conference (ironically held outside the continent) as early as 1900, several civil society backed resolutions and the Organization of African Unity (OAU) process to establish more widespread cooperation between non-governmental organizations (NGOs) and civil society organizations (CSOs) in 2003.
Within these broader attempts of unity there have also been several attempts to build civil society networks across the continent. Some were thematically focused, such as the African Association for Literacy and Adult Education (AALAE) and others where more generic such as the Harare Caucus, that sought to bring together regional civil society networks across the continent. A cursory assessment of these initiatives highlights some of the reasons for their limited success:
The impetus for setting them up was external to the continent and they were usually geared towards meeting short-term interests of particular (global civil society) organizations.
There was a lack of adequate resourcing for the initiatives, from human and financial capital to ideological robustness—a long-term strategy is critical to movement building.
Governance failings—the competing interests of individuals heading established and resourced NGOs sometimes goes against the needs of a continent wide movement. Those entrusted with leadership responsibilities of continental networks did not have the dedicated time to exercise proper governance of the management and secretariat.
Civil Society Under Attack
Africa's historical resistance to slavery, economic imperialism and political colonization finds focus in the current struggles by African people for democratic governance, justice, equality and a voice in the international policy arena.
Today we are told that Africa is rising. Yet, when we look closer, it seems that this is based solely on aggregated assessments of national Gross Domestic Product. In these rising African countries the few are becoming fantastically wealthy while the majority remain socially marginalized and economically excluded. In truth, the majority of Africans are not rising and continue to struggle with poverty and the denial of their most basic rights.
Underlying this state-of-affairs is the phenomenon of shrinking political and civic space. We have seen a drastic curtailment of the freedom of association, assembly and expression in far too many countries across the continent. This has been accompanied by heightened levels of corruption and growing levels of inequality. These rights violations have been met by new forms of social organization and leadership leading to partial victories and new forms of popular actions and movements. Civil society in Africa is under assault on many fronts. We are experiencing many restrictions on political space, the erosion of women's rights, increasing inequality and climate change that is already having significant negative human impacts across the continent.
Africa Rising
The current initiative to establish a continent wide social justice platform for civil society actions, solidarity, protection and advancement came about as a confluence of factors at a similar time and operating within the context set out above.
For some years now, Action Aid Denmark has been running the well-regarded Training Centre for Development Cooperation (TCDC) in Arusha, Tanzania. In 2015 Action Aid Denmark handed over the TCDC facility to an African institution in order to further establish the facility as a base of operations for a new Africa wide center for civil society.
In February 2016, I agreed to serve as the start-up director of the new initiative. Upon accepting the role I immediately set about engaging in dialogue with civil society across the continent to gain further insight into perspectives on a move to build greater unity within civil society on the continent. The process included numerous formal and informal consultations with civil society activists, regional and local networks, NGOs, international non-governmental organizations (INGOs), trade unions and faith-based groups across the continent.
This process of bottom-up consultations (which is ongoing) has shown that almost everyone who has participated agreed that African unity—reflected by greater social, political and economic integration—is critical for Africa and its peoples. Individual nation states are far too weak to fight for what they need; be it in negotiations about trade, climate or a host of other pertinent issues.
Secondly, most activists feel we are fighting on two fronts. On the one hand, we are fighting a global system that is unjust, inequitable and is leading us to climate catastrophe that fundamentally threatens our very ability to survive as a species. A system that serves the top 1 percent has to be vigorously opposed. On the other hand, we are facing national governments that have witnessed "state capture" by local and global elites and are often acting against the interests of their own citizens. This leads us to a situation where we need to both defend human rights and democracy at home and also ensure our governments are taking on the obscene injustices that prevail at the global level.
Thirdly, many on the continent feel that we need to have a fundamental rethink as to what constitutes civil society. There is a growing recognition that there is too much dependency on and too much influence of INGOs but also greater acceptance that even local and national NGOs are disconnected from the poorest and most marginalized. While there are, of course, inspirational exceptions to this, there is increasing agreement that the engine of resistance to injustice is not coming from formal and bureaucratized NGOs but is coming from looser, informal and social media driven activism. Some of the most inspiring challenges to power in Africa and globally, in the last decade have not seen the more formal NGOs playing any decisive role.
Lastly, the consultations were unanimous in their focus on a wider initiative as opposed to a specific center. Thus, while the Arusha TCDC facility is likely to be a key convening point for civil society (it already enjoys credibility and success as an NGO management training facility), for the purposes of building the vision of the potential future initiative we want it to be driven by a bottom-up process of consultation that is not focused on a single center but on a range of such convening spaces.
These key discussions were affirmed at a recent strategy workshop organized by the African Civil Society Initiative. Thirty activists, NGOs and networks aligned themselves with the inspirational Rustlers Valley Declaration (2014), thus taking up the challenge for civil society generally and NGOs specifically "to be the change we want to see in the world."
The key consensus points developed in the African Civil Society Initiative process to date represent some significant departures from previous attempts at civil society unity in Africa. Firstly, there is an acceptance that NGOs and INGOs cannot be the sole drivers of the process. The initiative must be much broader than any previous attempts and will make a special effort to be inclusive of social movements, NGOs, peoples and popular social justice movements, intellectuals, artists, sports people, cultural activists and others, across the continent and the African Diaspora. Secondly, a phased approach must continue to be employed, ensuring consensus at each step—no one must be left behind. Thirdly, the eventual organizational structure of the initiative must reflect the lean and agile nature of the initiative itself.
Based on the current feedback from the consultation process, it is likely that the initiative will focus on six key cross-cutting areas that have substantial significance and have gained general consensus, specifically:

Exposing corruption and opposing impunity;
Fighting for full gender equality;
Defending and deepening democratic space generally and civic space specifically;
Working for poverty eradication;
Assertively addressing the challenge of climate change.
These consensus points will most likely be implemented by the nascent initiative in the following ways:
Sparking a major conversation across the continent about the establishment of the initiative—what such an intervention would look like, who would participate, what participants' expectations are and what the objectives of such a platform would be?
Establishing internal and external communications functionality, making as much use of social media platforms to ensure widespread engagement of all who are interested in civil society;
Organizing a Validation Conference in Arusha, Tanzania—the final steps to establish the initiative must have broad public endorsement with people and organizations ready to stand up and be counted in the fight for justice. The conference will deliberate on how the initiative should be established and operate. Should the conference demonstrate the requisite level of support the initiative's operations will commence promptly thereafter.
And lastly, all of this work requires that most basic of needs, the resources to succeed and the current team is busy preparing for the Validation Conference, staff and other related costs.
It is time we speak together and decide what change we wish to see in our countries, across Africa and what we want Africa to be when we celebrate Africa Day in the future. For a long time now, others have been writing our story. Now is the time for us to take a brave step, a giant step for us and start writing (and telling) our own story—a story of a united Africa, at peace with prosperous and healthy people.
We need your voice, ideas, thoughts and action to keep working together to build this initiative. It is not complicated to do your part, tweet to us @helloacsi, write on our Facebook wall or send an email to acsihello@gmail.com.
Together for Africa, for justice, peace and sustainable development.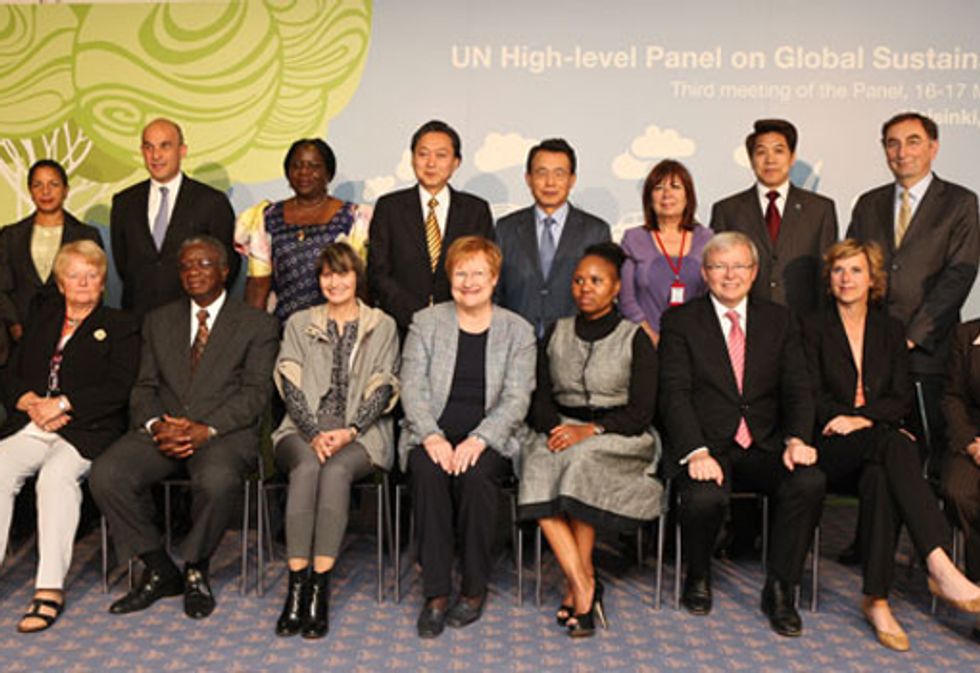 The United Nations (UN) High-Level Panel for Global Sustainability call for a radical redesign of the global economy for a healthy environment and social well-being deserves a wide audience and the full attention of all governments before this year's Rio+20 Earth Summit, global environment organization World Wildlife Fund (WWF) said Jan 30.
Resilient People, Resilient Planet: A Future worth Choosing, more than a year in preparation by a panel co-chaired by South African president Jacob Zuma and Finnish President Tarja Halonen, is a useful successor to Our Common Future, the 1987 Brundtland Report that became the reference text on sustainable development and the basis of the original 1992 Rio Earth Summit—for many considered the start of the global environmental movement.
"The Global Sustainability report gives the highest level political signal yet of greater readiness to take the bold steps needed to build a prosperous future," said Jim Leape, director general of WWF International.
"This report makes the alarming point that while we are already exceeding the Earth's capacity to support us, by 2030 we will need 50 percent more food, 45 percent more energy and 30 percent more water than we do today.
"The High-Level Panel report offers a vision for meeting those challenges. As negotiators develop the text for the Rio Summit in June, we look to them to embrace the urgency and commitments needed to turn this vision into reality."
Convened by UN Secretary General Ban Ki-moon in 2010, the panel was charged with providing a vision for sustainability, growth and prosperity in the years to come, along with a framework for moving past political and economic hurdles that put progress at risk. The panel, comprising current and former political leaders, was urged to make bold, practical and concrete recommendations reflecting the scale and urgency of the challenges faced by our planet.
Global conservation organization WWF welcomed the report's call for responsible consumer choices and sustainable resource management, and urged political leaders to create the enabling conditions to allow for the "21st century Green Revolution" called for in the Jan. 30 report.

Wanted urgently—a sustainable economy
The Global Sustainability report focuses on a number of essential measures to create a "green economy." WWF welcomes the wide-ranging recommendations which include:
 incorporating social and environmental costs in the regulation and pricing of goods
 the phasing out of counter-productive subsidies (particularly fossil fuel subsidies)
 a requirement for business groups to work with governments and international agencies to report annually on environmental practices
 the establishment of a "beyond GDP" Sustainable Development Index or set of indicators to be developed by 2014
A coherent institutional framework
The second important area covered by the report relates to the strengthening of institutional governance at all levels. Recommendations include:
 the establishment of universal Sustainable Development Goals to compliment and succeed the Millennium Development Goals post-2015
 the establishment of a new UN Global Sustainable Development Council
 a peer review mechanism to enable states to share experiences and lessons learned
Other notable areas of the report include:
 the recognition of the links between food, water and energy and the fact that they should not be treated as separate issues
 the need to give priority to challenges facing marine and coastal ecosystems
 funds for transition to sustainable development to developing countries
 increased resources for disaster risk reduction
Report's weaknesses
Much like the Rio+20 first negotiating draft issued earlier this month, the report is weak on binding commitments.
WWF did have concerns that while the recommendations for economic and institutional reform are positive, the report fails to suggest any concrete, time-bound commitments for progress, leaving policies open to governments to implement as they saw fit.
WWF urged the discussion at Rio to reflect the need for obligations and commitments in the recognition that this is about everyone's future prosperity.
While the report focuses strongly on environmental concerns, the Rio negotiations need to further integrate social issues which are core to sustainability.
For real change, we need to take into account social issues such as poverty eradication, gender equality, fair distribution of resources, advancing of education and employment creation. Recommendations must make the link between social welfare and environmental health.
Find more information on the Global Sustainability report by clicking here.
Learn more about WWF's reaction to the Rio+20 first negotiating draft by clicking here.
For more information, click here.
—————
WWF is one of the world's largest and most respected independent conservation organizations, with over 5 million supporters and a global network active in over 100 countries. WWF's mission is to stop the degradation of the earth's natural environment and to build a future in which humans live in harmony with nature, by conserving the world's biological diversity, ensuring that the use of renewable natural resources is sustainable, and promoting the reduction of pollution and wasteful consumption.
The World Economic Forum (WEF), meeting this week in Davos, Switzerland, is the biggest annual gathering of influential thinkers and leaders from the worlds of business, politics, media and civil society. World Wildlife Fund (WWF) Director General Jim Leape explains why WWF is there.
What are the main environmental issues on your mind going into this year's World Economic Forum in Davos?
There is an ever greater need for a sustainable approach to business—especially regarding resource use, in a world of rapidly increasing consumption. Humanity is already using the equivalent of over 1.5 planets—yet for life we all rely on clean air and healthy freshwater resources, abundant forests and thriving natural ecosystems.
WWF is active in preserving freshwater systems, ocean life and forests; encouraging the use and development of renewable energy; reducing the impact on natural resources of major commodity supply chains like paper, palm oil and soy; and generally lightening humanity's footprint on the natural world. We envision a future where humans live in harmony with nature, and we partner with major players on the world stage—politicians, civil society, faith groups, labour unions, businesses and many others—in achieving that goal.
The theme of this year's Davos event is 'The Great Transformation: Shaping New Models," and this links closely with WWF's vision of change that makes room for both social and environmental sustainability. We only have one planet, and a finite bank of precious natural resources. But with bold and thoughtful solutions, there is ample room for green businesses to thrive within a model of global sustainable development.
In recent years, WEF has proved to be an increasingly important place to engage with companies on sustainability. Good initiatives have started to emerge regarding water, agriculture and sustainable consumption—and I look forward to see how these good intentions can become more concrete in the coming days and weeks.
The WEF event in Davos is an opportunity to catch up with business and corporate contacts. How important is WWF's work with the private sector, and why should businesses care about the environment?
Business and industry have a massive impact on natural resources, and companies have a duty to ensure that they use those resources sustainably. We all benefit from products and services in our daily lives, but the private sector should be encouraged to conduct its business in a way that entails a minimum impact on the natural world and the ecosystems on which we all depend.
Companies that want to be competitive today and tomorrow should be concerned about sustainability. Licence to operate is being increasingly influenced by environmental and social performance—and this trend will only continue.
WWF engages with corporate partners to bring about real change on the ground—supporting responsible businesses to reduce their ecological footprint.
The next big event this year is the Rio+20 summit on sustainable development in Brazil in June. What does WWF hope will come out of that global gathering?
Two decades after the first Earth Summit in Rio de Janeiro, Brazil, this year's Rio+20 conference is a major opportunity for the world to commit to charting a course for creating shared prosperity within the limits of this one planet. Twenty years ago the term 'sustainable development' came into currency, but this has still not been followed by sufficient action in making the concept a reality. Rio is an opportunity to put things back on track.
I am hopeful that Rio+20 will prove a catalyst in sparking new commitments and urging major players—including governments, businesses and others—to stretch themselves in aiming for a more sustainable approach to what they do. The WEF in Davos this week is an ideal platform to inspire governments, corporate players and others to step up and prepare the road to Rio.
For more information, click here.