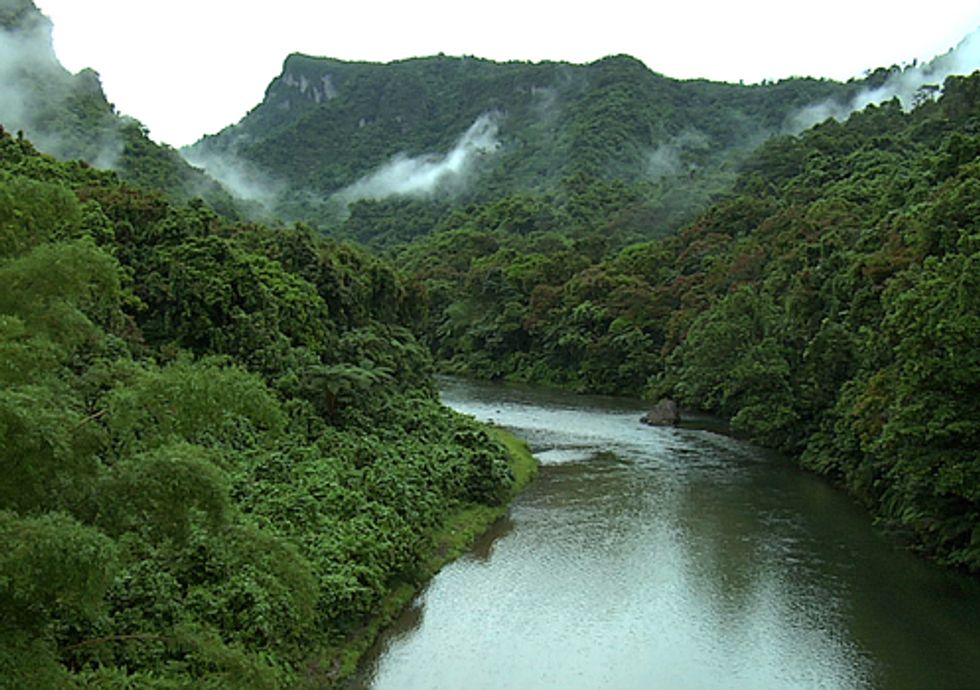 Protecting the land of highest priority for biodiversity conservation also delivers significant, life-sustaining services and income to the world's most impoverished people, according to a new study published this month in the journal, BioScience. Yet conservation efforts and poverty alleviation efforts are both at risk of failing, since this 'natural capital' is grossly undervalued in the global marketplace.
The ground-breaking study, Global Biodiversity Conservation and the Alleviation of Poverty, was led by a team from Conservation International, and co-authored by scientists at NatureServe, National Fish and Wildlife Foundation, and the University of Wisconsin-Madison.
The scientists analyzed the value of benefits the world's poorest people receive from priority areas for biodiversity conservation. They assessed a broad range of 'ecosystem services', the benefits people receive from natural habitats—from local benefits including crop pollination, foods, medicines, and clean, fresh water, to global benefits such as climate regulation.
 
Dr. Will Turner, lead author and vice president for Conservation International, emphasized the strong correlations his team discovered, showing the high value of effectively managing the stocks of natural capital to ease poverty—the world's top conservation priorities (less than a quarter of Earth's land surface) provide over half (56-57 percent) of the world's ecosystem service value, directly supporting the world's poorest people, who generally struggle to survive on less than one dollar a day.
"What the research clearly tells us is that conserving the world's remaining biodiversity isn't just a moral imperative, it is a necessary investment for lasting economic development. But in many places where the poor depend on these natural services, we are dangerously close to exhausting them, resulting in lasting poverty," said Turner.
The study also found that when all 17 ecosystem services they examined are totaled, the benefits of these areas are more than triple (326 percent) the costs of conserving them.
"We have always known that biodiversity is foundational to human well-being, but we now have a strong case that ecosystems specifically located in the world's biodiversity hotspots and high-biodiversity wilderness areas also provide a vital safety net for people living in poverty," said Dr. Russell Mittermeier, president of Conservation International and a co-author of the paper. "Protecting these places is essential not only to safeguard life on earth but also to support the impoverished, ensure continued broad access to nature's services, and meet the U.N. Millennium Development Goals."
The scientists analyzed four different scenarios for the links between biodiversity conservation and human poverty—(1) potential ecosystem services, the range of services that nature provides whether or not people use them; (2) realized ecosystem services, which are directly available to local, downstream or global populations; (3) essential services, representing the immediate and critical benefits available to poor individuals (wood for shelter, water for drinking, etc.); and (4) essential services with transfers, or those which compensate local stewards of natural resources with market or incentive mechanisms.
 
In the last scenario—transfers of benefits from ecosystem services—the researchers reported that markets and other financial mechanisms that provide compensation to local populations who take on the responsibility of protecting and sustainably managing nature at its source (such as Payments for Ecosystem Services or Reducing Emissions from Deforestation and forest Degradation) have the potential to provide a 50 percent increase in benefits to poor communities, delivering up to an additional half trillion USD per year to the people who need it most.
To put this in context, the scientists calculated that if the value generated by ecosystem services to local people were distributed effectively and equitably, it would exceed $1 per-person per-day for nearly one-third of the world's poorest people (331 million of an estimated 1.1 billion living in poverty).
"Developed and developing economies cannot continue to ask the world's poor to shoulder the burden of protecting these globally important ecosystem services for the rest of the world's benefit, without compensation in return," added Turner. "This is exactly what we mean when talk about valuing natural capital. Nature may not send us a bill, but its essential services and flows, both direct and indirect, have concrete economic value."
Co-author Dr. Claude Gascon, executive vice president of the National Fish and Wildlife Foundation said, "This paper clearly shows that the natural world provides huge benefits to humanity by contributing to the well being of local and global communities. Moreover, areas of high biodiversity importance are disproportionately critical in providing these benefits and should therefore be a high priority for protection."
 
"The study also demonstrates that the collection of biodiversity data yields great benefit," said Tom Brooks, chief scientist at NatureServe. "Not only in guiding conservation in its own right, but also—when analyzed alongside socio-economic datasets—in informing policy across the board."
 
Addressing gaps that still remain in the science, Turner added, "Is natural capital alone sufficient to alleviate poverty? The answer is no. Our existing information of the value of ecosystem services is grossly insufficient, and we have much work ahead of us to quantify these services. But the magnitude of synergies between priority biodiversity conservation areas and poverty alleviation goals is so large, that we really must work on them together."
Mittermeier concluded, "We have learned a lot in understanding how ecosystem services flow to people, but in many ways, the world's economic compass is broken—we are undervaluing and overspending our planet's natural capital. That is why it is so important for decision-makers to integrate conservation of nature as a critical component of economic and poverty-alleviation policies this decade. "
For more information, click here.
—————
For more information about the methodology or specific findings of this research, download the full text of the paper by clicking here.
 
Conservation International (CI)—Building upon a strong foundation of science, partnership and field demonstration, CI empowers societies to responsibly and sustainably care for nature, our global biodiversity, for the long term well-being of people. Founded in 1987 and marking its 25th anniversary in 2012, CI has headquarters in the Washington DC area, and 900 employees working in nearly 30 countries on four continents, plus 1,000+ partners around the world. For more information, click here, or on Facebook or Twitter.
 
NatureServe—NatureServe is a non-profit conservation organization whose mission is to provide the scientific basis for effective conservation action. NatureServe represents an international network of biological inventories-known as natural heritage programs or conservation data centers-operating in all 50 U.S. states, Canada, Latin America and the Caribbean. The objective scientific information about species and ecosystems developed by NatureServe is used by all sectors of society-conservation groups, government agencies, corporations, academia, and the public-to make informed decisions about managing our natural resources. For more information, click here.
 
National Fish and Wildlife Foundation (NFWF)—The National Fish and Wildlife Foundation is made up of 80 professional staff in four offices across the country: Washington, D.C.; St. Paul, MN; Portland, OR; and San Francisco, CA.Our Board of Directors is made up of 30 members, all confirmed by the White House. Learn more about the people at the National Fish and Wildlife Foundation by clicking here.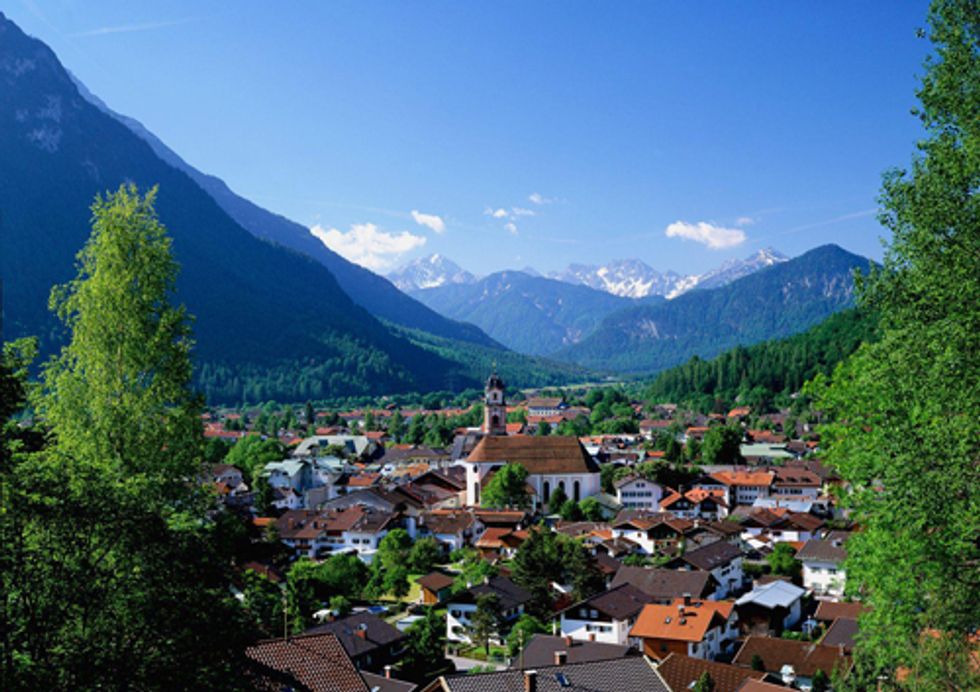 By Kaid Benfield
Used with permission of NRDC – Switchboard
As director of Natural Resources Defense Council's (NRDC) sustainable communities work, I spend a lot of time defining (and refining) our goals—what is a sustainable community? We must know the destination in order to forge a path. But, in this case, that path can be as elusive as Hansel and Gretel's.
In a room of twenty "experts," chances are you'll find a dozen different definitions. I've come to believe that there is no fixed definition of a sustainable community, though there are some good descriptions out there, mostly having to do with places that foster environmental, economic and social health in the present without compromising the future. 
Forging or choosing a clear statement can be useful, especially for the pragmatic professionals who tend to populate my daily work environment. But, at the same time, trying to narrow the concept down can miss a lot, in my opinion. What is far more interesting, and perhaps more important, is the exploration of ideas relating to sustainability.
I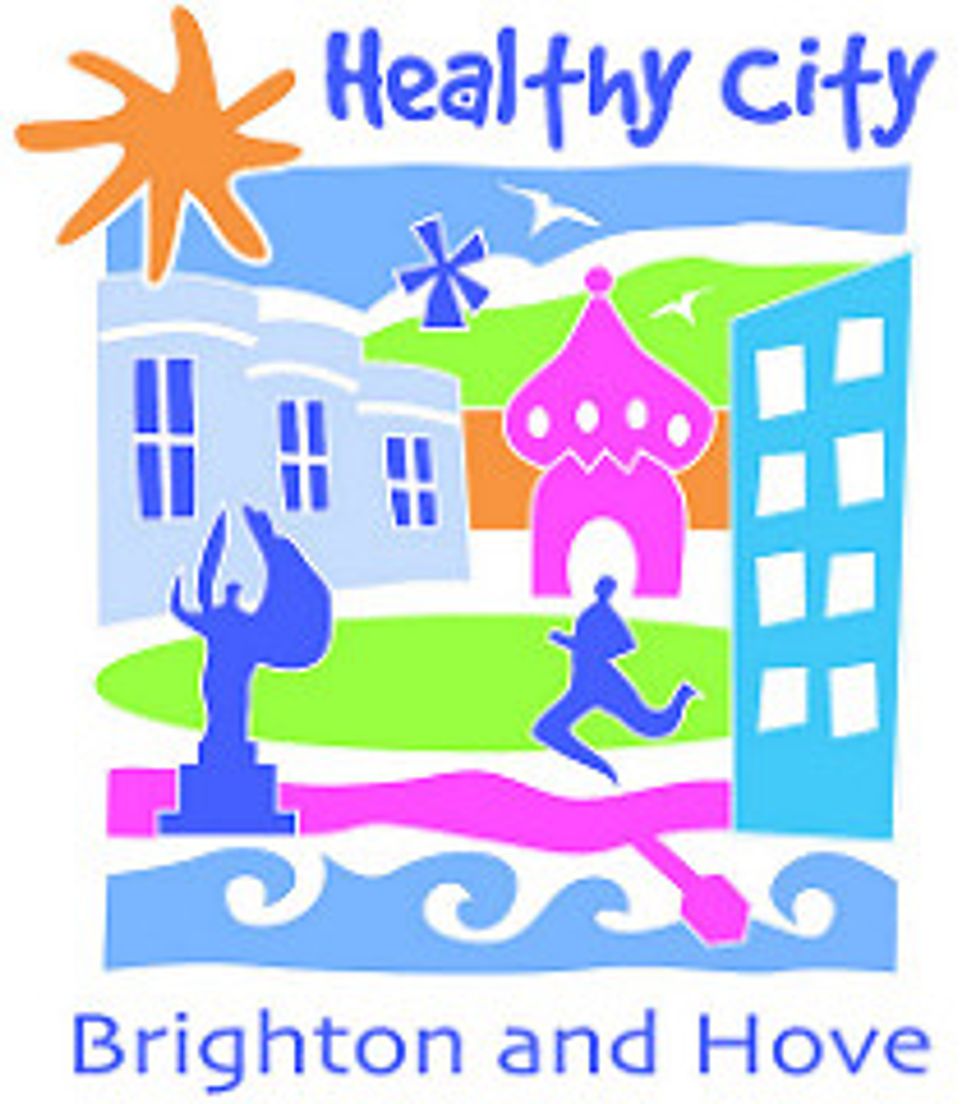 n this vein, in 2010 I ran across the work of what is now called the Healing Cities Institute, "a non-profit society whose intention is to improve the physical, spiritual, social, and mental well-being of our communities." I wrote about the group then, because it was beginning to raise some important issues relating to how the physical environment of a place can affect health and wellness—which, as I noted later in an article about societies and happiness, some places are finding ways to measure.
Mark Holland, a former director of Vancouver's sustainability office and a founder of the Healing Cities Institute, put it this way in an interview published in the Baltimore-based Urbanite:
"Ten years ago when we talked about creating sustainable cities, that was entirely a focus on environment. What has happened since, is that we began to see this tsunami of information coming forward in the connections between design and health. We realized we really needed to dig deeper into the human experience in cities. Most of that has been left to a strange amalgam of other practitioners—architects, environmental physiologists—but it really hasn't found its way clearly into a framework of urban planning."
A few years ago, Holland wrote a great statement of the underlying principles for sustainability in his Eight Pillars of a Sustainable Community, which I highlighted here. As things have evolved, the Pillars were precursors of a sort to what the institute now calls "8 Dimensions of a Healing City." Here is the current list, with some excerpts from the website's somewhat longer discussion of each:
Whole communities—"Does your community support your needs as a whole human being by providing convenient and comfortable opportunities for living, working, playing, and reflecting?"
Conscious mobility—"How do your travel choices make you feel physically, emotionally, and spiritually?"
Restorative architecture—"What do the buildings you spend your time in tell you about your community and the world—and your place within it?"
Thriving landscapes—"Where do you go to feel connected to earth, people, and other living things?"
Integrated infrastructure—"Do you know what happens with your community's inputs and outputs (e.g. water, waste, sewage, energy) and how do you feel about the impacts of these systems on the world?"
Nourishing food systems—"What are you eating and how much do you know about it (where it comes from, who created it, what's in it?)"
Supportive society—"Do you feel you know of resources available to you or those you know should you need assistance or help?"
Healthy prosperity—"What is your relationship to abundance?"
This is an intriguing list, if not an explicitly environmental one. It is not about how well cities are working with the planet and our natural resources, but about how well cities are working for their residents. Those two notions may overlap but they are not the same. Moreover, the questions are written to be considered by individuals. If someone's preference for "conscious mobility" is a freeway big enough to drive his SUV anywhere he wants without delay, there is nothing in the list to suggest that the answer is any less deserving of respect than that of someone who places a higher value on walkability or transit.  
For my purposes, the original "Pillars" are probably more instructive, because they provide answers as well as questions. The space given to "nourishing food systems" in the current list, for example, referred specifically to food stores, markets, restaurants and gardens in the older list. What is now "restorative architecture" was "green buildings" in the older list. "Conscious mobility" was "an environmentally friendly and community-oriented transportation system."
No doubt the "Pillars" (read them fully described here) more closely reflected Holland's background as a city planner. So now it's a different list, less prescriptive, only indirectly about the environment, and more open-ended and provocative.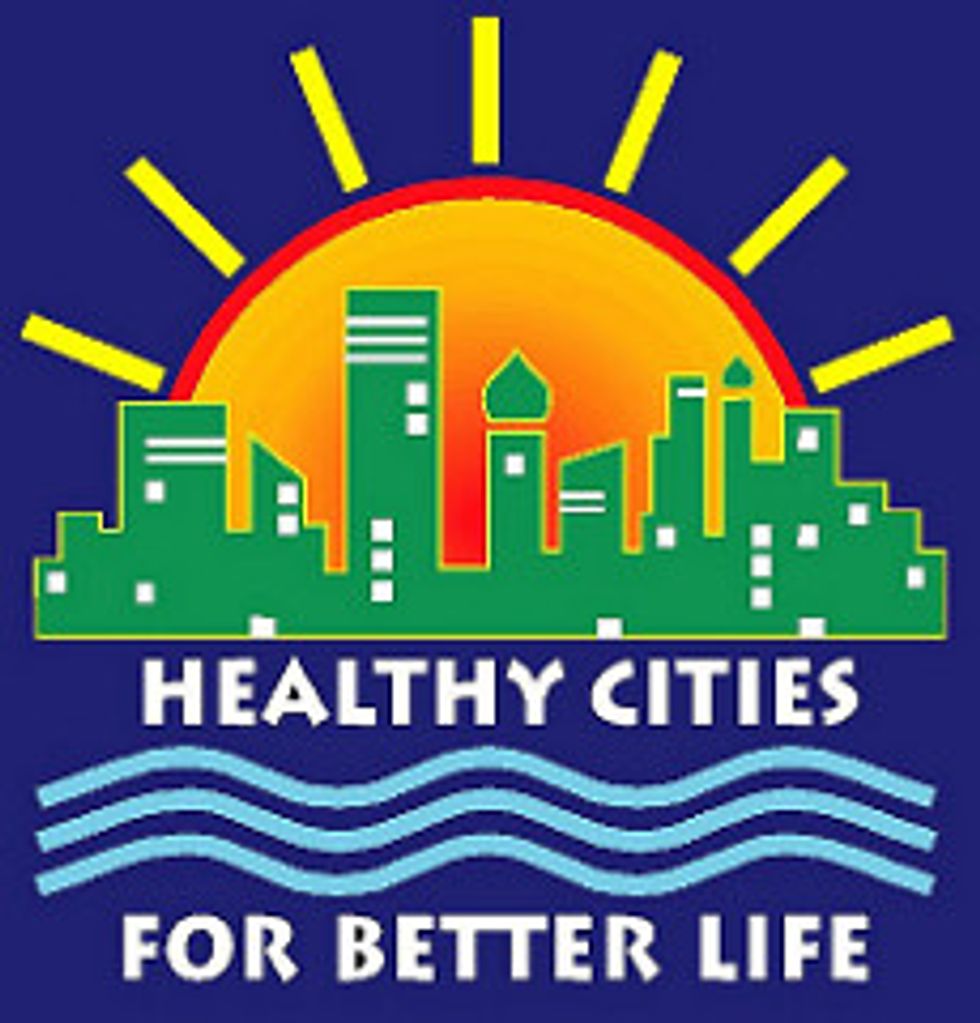 That is useful, too, particularly for engaging the public in discussion about their communities. But I wish the institute would promote both sets of principles, actually—the planet must be nourished and healed along with its people. That requires guidance, not just inquiry.
Open-endedness notwithstanding, it is clear from the Urbanite interview that Holland retains a laudable point of view about the specifics of our built environment:
"For instance, a straight-line distance of about 400 to 500 meters between where you live and a grocery store or an eating or drinking establishment will result in directly increased walking . . . Walking increases for individuals about 20 percent for each park that is within a 1-kilometer distance of a residential area. That's a big number.

"That's why a person who lives in a suburban density is at least 10 pounds heavier than the average person who lives in an urban density, all other things being equal. Well, for every pound, your body creates roughly 75,000 miles of capillary blood paths to treat all those cells. So, ten times that, that's a lot more; that's blood pressure issues.

"Access to community gardens definitely improves physical health, it improves diet, it increases social interaction . . . The list goes on."
I also love his interest in the neighborhood scale. Urbanite interviewer Greg Hanscom asked if there were specific examples of successful healing cities. Holland responded with some thoughts about neighborhood indicators:
"I have difficultly pointing to cities. I think neighborhoods would probably be a better focus. Neighborhoods are the environment in which our kids grow up and we start our businesses. They are the unit of space we live our lives in. Neighborhoods that have a lot of people walking, a lot of people moving around, access to green space, a strong social network—those are the kind of places that build your physical, social, mental, and emotional health and your sense of spiritual well-being."
Agreed. We may have to look elsewhere for guidance about creating cities that heal the planet, but the healing of our bodies, mind and spirit deserves consideration, too. In that respect, the institute is clearly on to something, and perhaps something important.
For more information, click here.
—————

Kaid Benfield writes (almost) daily about community, development, and the environment.  For more posts, see his blog's home page.  Also visit NRDC's sustainable communities video channel.
EcoWatch Daily Newsletter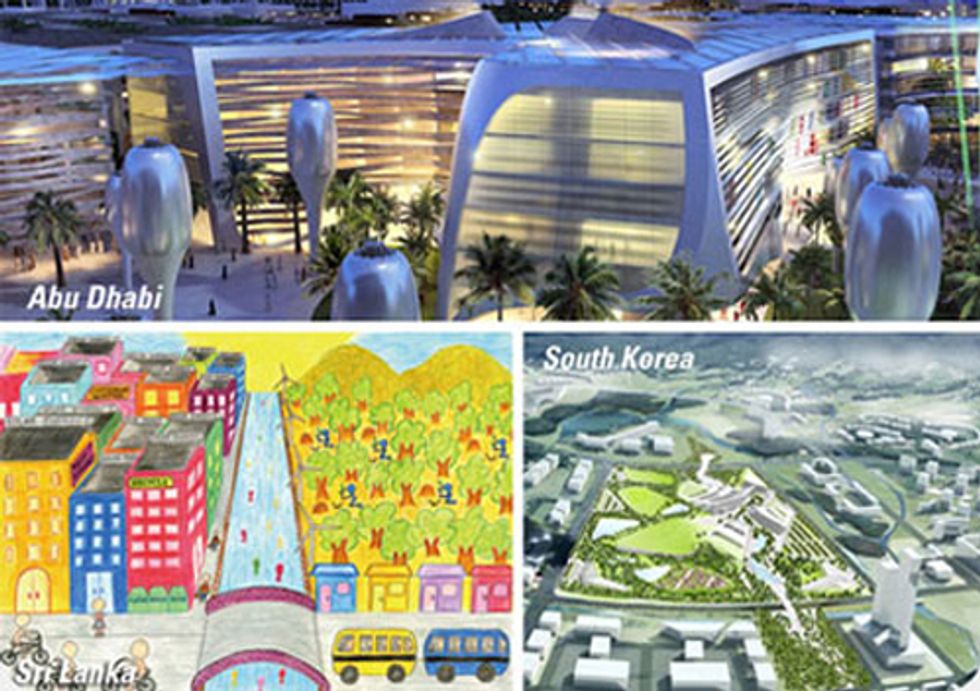 A team of world-class visual artists and experts in sustainable development announced Nov. 23 it's launching a first-of-its-kind global conversation to learn what people want their communities to be like in 2030.
The project, called The Future We Want, is being conducted in cooperation with the United Nations (U.N.), leading up to the U.N.'s Conference on Sustainable Development, better known as Rio+20, next June in Rio de Janeiro.
According to one of its directors, William Becker, the project is assembling a group of the world's foremost visual artists and technology experts who will use a variety of tools to gather ideas from around the world on this question—What do we want our community and lives to be like 20 years from now, including how we've addressed challenges such as climate change, population growth and resource limitations?
Based on responses, The Future We Want team will produce vivid videos and animations of life in a variety of cultures and nations in the year 2030, and unveil them in an exhibit at the Rio conference.
While the project is not an official U.N. enterprise—it's funded by individuals, corporations and foundations—it's designed to add a new dimension to Rio+20 and other upcoming U.N. events on sustainable development. The project's title mirrors the U.N.'s tagline for Rio+20 announced Nov. 22 by Secretary General Ban Ki-moon.
"We have seen and heard a great deal about the future we must avoid," Becker said. "It's time for a conversation about the future we can build."
The co-director of The Future We Want project, Jonathan Arnold noted that communications technologies available today make possible an unprecedented global dialogue. Arnold already uses advanced visualization technologies in his work as a successful smart-growth real estate developer in Kansas City, Mo.
"There is a point at which scientific warnings and dramatic media produce apocalypse fatigue when they focus solely on civilization's collapse," Arnold said. "When people reach that point, they feel helpless and they disengage. The Future We Want will provide balance by inviting and visualizing realistic ideas from people around the world about the positive future that's possible if we put our minds to it."
Becker and Arnold, who have been developing the project the past three years, noted that the power of positive vision was demonstrated more than 70 years ago when General Motors (GM) hosted the Futurama Pavilion at the 1939 New York Worlds Fair. Millions of visitors were shown models of a dynamic, highly mobile, car-centered society, offering hope during the Great Depression. Developed nations have invested in the GM vision ever since.
"It clearly is time for a new vision," Arnold said. "The world shown in 1939 is no longer sustainable. The Great Recession, the growing impacts of global warming, impending shortages of water and other critical resources all have created another teachable moment in which we are learning that our old concepts of communities no longer work."
"We believe the world is hungry for a future that is more stable, more secure, more resilient and more genuinely prosperous than the world we would get with business as usual," Arnold said.
People interested in joining The Future We Want conversation can begin by clicking here.
For more information, click here.