This website uses cookies to ensure you get the best experience while browsing it. By clicking 'Got It' you're accepting these terms.
Phil Roeder / Flickr / CC BY 2.0
By Julia Conley
A day into Brett Kavanaugh's new role as an associate justice on the U.S. Supreme Court, the court ruled in favor of a decision the judge had made while serving on the DC Circuit Court of Appeals—allowing a challenge to a greenhouse gas regulation to stand one day after the United Nations warned that "unprecedented" political will is needed to fight the climate crisis.
At his nomination on July 9, Brett Kavanaugh claimed, "No president has ever consulted more widely, or talked with more people from more backgrounds, to seek input about a Supreme Court nomination." Official White House photo by D. Myles Cullen
When President Donald Trump announced Brett Kavanaugh as his pick to replace retiring Supreme Court Justice Anthony Kennedy on Monday, he picked the potential justice with the most environmental law experience of his final four frontrunners, E&E reported.
EcoWatch Daily Newsletter
The Supreme Court of the United States on Monday morning July 09, 2018. Matt McClain / The Washington Post via Getty Images
By Courtney Hight
Donald Trump announced that he will be nominating another extremist judge to the Supreme Court—Brett Kavanaugh. If the Senate lets Trump successfully install Kavanaugh to fill this seat, the Court will rubber stamp Trump's agenda for decades to come—no longer functioning as a check against his abuses of power and attacks on women's rights and bedrock clean air and clean water laws, which is needed now more than ever.
By Ken Kimmell
Battle lines over President Trump's nominee for a new U.S. Supreme Court justice are now being drawn, as they should be, over crucial issues such as a woman's right to choose, health care, immigration, civil rights and criminal justice. In past nomination fights, little attention has been paid to the court's role in shaping environmental law and science-based regulation. But it would be a major mistake to overlook these issues now. The Supreme Court has an enormous impact on how U.S. environmental laws are interpreted and enforced, and a new justice could tip the balance against science-based rules on climate change, clean air and clean water.
The U.S. Senate is beginning the confirmation process today to consider Judge Neil Gorsuch to the U.S. Supreme Court. Gorsuch, nominated by President Trump on Jan. 31, is now a jurist on the 10th U.S. Circuit Court of Appeals in Denver.
Senators will be making their opening statements, with Republicans expected to say that he will be fair-minded on all issues, including those pertaining to the environment by pointing to what they consider an even-handed record. Democrats, though, will be asking targeted questions of the would-be Supreme Court jurist, especially about his thinking on the carbon-cutting Clean Power Plan that now awaits a decision at the appeals court level.
What could happen? "I'm willing … to say, that he's going to come at these things neutral and if he doesn't think an agency's interpretation is credible he's going to say so," Pat Parenteau, a professor at Vermont Law School, told the Associate Press. "Sometimes that's going to cut in favor of the environment and sometimes it's going to cut against the environment and I don't know how much of that concern actually weighs into his decision making."
What cases might environmentalists look at to get a keener insight into Judge Gorsuch's legal mindset? One of the most recent and hotly contested consisted of a Colorado state mandate requiring investor-owned utilities get 30 percent of electricity they sell from renewable sources by 2020—a law that Gorsuch voted to uphold.
According to Heavy:
In 2015, on a three-judge panel, Gorsuch affirmed that Colorado's renewable energy law would remain in place and did not violate the Constitution. The plaintiff had advocated for a free market approach to environmentalism and argued that the law violated the Commerce Clause and unfairly hurt out-of-state businesses, such as coal producers.
Conversely, according to the AP, Gorsuch sided with business interest in a 2010 case in which the U.S. Environmental Protection Agency (EPA) had classified land in New Mexico as Indian territory when a company had wanted to explore there. Gorsuch said that the land in question was not actually on an Indian reservation and thus ruled in favor of the mining company.
By way of background, Neil Gorsuch is the son of Ann Burford Gorsuch, who led the EPA from 1981 to 1983 when President Reagan was in office. Environmentalists had been critical of her back in the day, saying that she had failed to tackle cases important to their cause and that she had tried to loosen existing regulations that had been meant to reduce pollution.
To that end, Democratic senators have expressed concern that Judge Gorsuch naturally favors the interest of big business. Senators worry that this would come at the expense of the environment as well as the most vulnerable Americans.
"The highest court in the land should be reserved only for those who believe that a democracy works for the people—not corporations," Michael Brune, executive director of the Sierra Club, said in a statement. "Unfortunately but not unsurprisingly, Donald Trump's nominee, Neil Gorsuch, does not subscribe to this belief as evidenced by his long record of anti-environment, anti-women and anti-worker decisions."
Progress Now in Colorado believes that the nominee would set back environmental policy. Meantime, NextGen Climate President Tom Steyer said that, when Gorsuch was nominated, the U.S. Senate had owed "no deference" to Trump, who lost the popular vote. "The Supreme Court is one of the last lines of defense at this perilous time for our country," Steyer added.
Environmentalists, for example, point to the Chevron Doctrine, which is encompassed in the case of Chevron U.S.A., Inc v. NRDC. Simply, courts will defer to the federal agencies that have thoroughly analyzed a policy. But green groups, pointing to an earlier immigration case, are fearful that the Supreme Court nominee would give short shrift to the doctrine. That's because it is often associated with EPA regulations.
"It gives them broad authority to regulate certain pollution and it leaves it up to the experts to determine exactly what threshold of pollution is acceptable and what threshold is dangerous," Billy Corriher of the Center for American Progress said, according to the AP. "Judge Gorsuch would want to get rid of that standard and basically allow judges to substitute their own judgment for the judgment of the agency experts."
While some of the high court's current judges have criticized the doctrine—notably Justice Clarence Thomas—it has, in effect, served as a check on judicial activism, Kenneth Reich, an environmental and energy lawyer in Boston, said in an earlier interview. That's particularly relevant with regard to statutes that require a precise expertise—knowledge that the judges cannot possibly have.
The Clean Power Plan is a case-in-point. In 2007, the Supreme Court ruled that carbon dioxide is a pollutant that could be regulated under the Clean Air Act—something that EPA made official in 2009, saying it was a danger to public health and welfare. And in 2014, the high court upheld that so-called endangerment finding. That ruling is the foundation behind President Obama's Clean Power Plan.
But in February 2016, the Supreme Court issued a "stay" to address some concerns of several states before sending the case back to the DC Court of Appeals, where a decision is expected soon. No matter how it rules, it will head back to the high court, which is now evenly split on the Clean Power Plan. The question many are asking is just how would Gorsuch decide and would he respect the Chevron Doctrine?
Environmental groups believe a large favor was handed to corporations, billionaires and the campaigns they fund when U.S. Supreme Court justices decided Wednesday to strike down overall limits on campaign contributions.
The 5-4 decision in the case of coal executive Shaun McCutcheon v. the Federal Election Commission (FEC) means that individual contributors no longer face a cap on how many candidates and parties they can fund in an election cycle. That unnerves environmental groups who have been fighting against the once-quiet contributions of coal and fossil fuel supporters like the Koch Brothers who fund legislators that favor anti-renewable energy policies.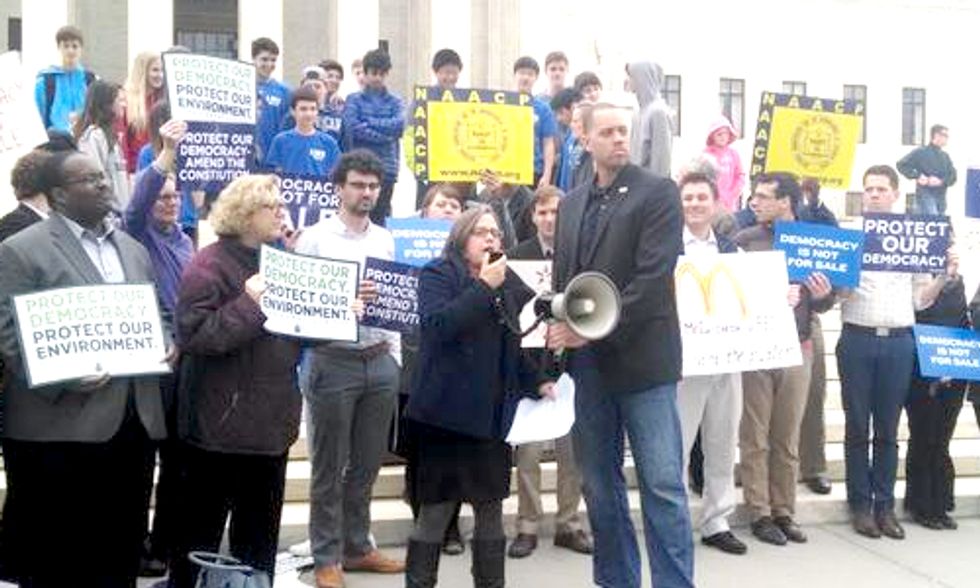 "The Supreme Court's decision today in McCutcheon v. FEC fundamentally contradicts the values that sustain our democracy and undermines the notion that our government functions of, by, and for the people," Sierra Club Executive Director Michael Brune wrote in a statement following the decision.
"To be clear, today the Court capitulated to a coal executive's demand that he and his fellow big polluters be allowed to dump millions more of their corrupt dollars into politics."
That coal executive is Shaun McCutcheon of Alabama who bristled at being unable to spread his funds to 27 congress members in 2012. Now, he and his other contributors will have no such worry.
"The McCutcheon ruling shows that the decades-long crisis with money in politics—a serious problem accelerated by Citizens United—has just been turned up another notch," said Wenonah Hauter, executive director of Food & Water Watch. "With these two rulings, corporations and billionaires like the Koch brothers will be able to use their money to buy more influence in more places, gaining a tighter grip on our government."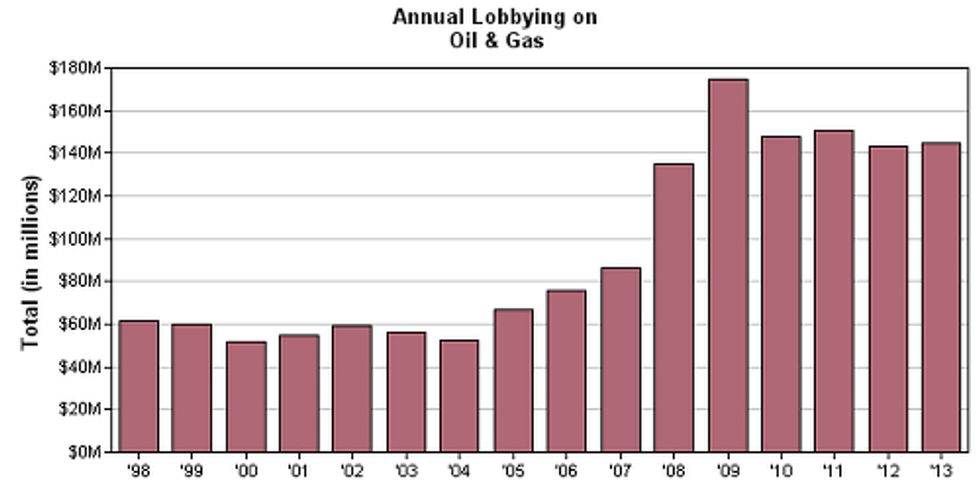 Hauter pointed to some statistics the Center for Responsive Politics that illustrate how much influence the oil and gas industries already had on politics before Wednesday's ruling. Spending more than $145 million to lobby in Washington, oil and gas was one of the top five industries in terms of political spending. Exxon, Chevron, BP and Koch Industries top most of the annual lists of top funders within the oil and gas realm.
Without an aggregate limit, the Court allows individuals to contribute up to $3.6 million during an election cycle to benefit the parties, candidates and political action committees of his or her liking. The limit was previously $123,200.
"After decades of funding think tanks and judges to promote radical ideas equating money with speech and corporations with people, the big-money men and women who want to have the government in their pocket are at their apex," Claiborne Deming wrote in a statement on behalf of The Story of Stuff Project. "But history tells us that after hitting the top, the pendulum will begin to swing the other way."
Brune's statement exhibited a similar sense of optimism, regarding the ruling as a chance to galvanize those who disagree with it.
"This decision isn't just an egregious attempt to cede our democracy to corporate rule—it is an opportunity to organize the 91 percent of Americans who want something done about corrupt money in politics," he said. "The Supreme Court and big polluters have made it clear what side they are on.
Now, we will make clear that its the wrong side."
——–
YOU ALSO MIGHT LIKE
New Study Exposes Flood of Dark Money Feeding Climate Change Denial
New Report Reveals Koch Brothers Could Make $100B Profit if Keystone XL Pipeline is Built
First Potential Offshore Wind Farm in U.S. Survives Koch-backed Lawsuit, But Faces Another
——–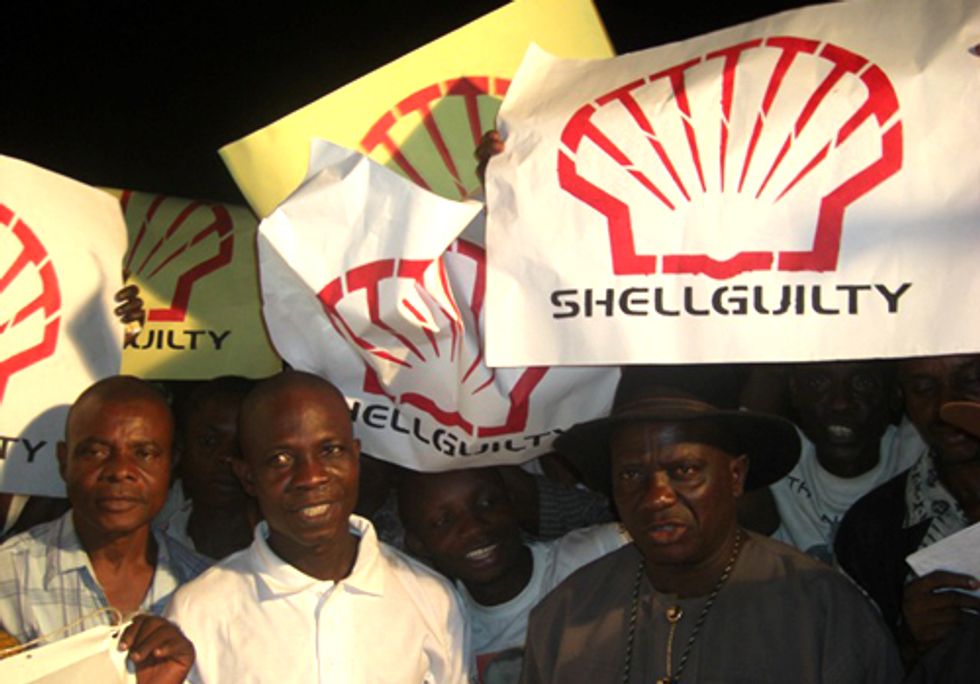 On Feb. 28 the Supreme Court will hear oral arguments in a case that will determine whether the U.S. truly supports the principles of international law for human rights accountability. Kiobel v. Royal Dutch Petroleum will examine whether corporations enjoy impunity when they are complicit in torture, extrajudicial executions and genocide, or whether they can be sued in the same manner as any other private individual under U.S. law for such egregious violations. Human Rights First submitted an amicus brief in the Kiobel case urging the Supreme Court to rule that corporations can be held liable for human rights violations they commit abroad.
"The idea that non-Americans should be able to use U.S. courts to sue non-Americans for international law violations committed abroad is not new," said Human Rights First's Gabor Rona. "'Universal jurisdiction is not only a well-established practice in international law, it is required for grave breaches of the Geneva Conventions, such as murder and torture, and by the U.N. Convention against Torture."
The alleged facts of the case are gruesome—Esther Kiobel, for herself and on behalf of her late husband, Dr. Barinem Kiobel and 10 other Nigerians, claims that Royal Dutch Shell Petroleum Co.—along with one of its subsidiaries, and a British firm, Shell Transport and Trading Co.—aided and abetted the Nigerian military dictatorship's use of murder and torture against opponents of oil exploration in the Ogoni region of the Niger Delta between 1992 and 1995.
The case is brought under the Alien Tort Statute (ATS), a U.S. law that has in recent times developed into a means for foreign victims of international law violations committed by non-Americans to sue in U.S. courts. The idea of corporate legal responsibility has been well established since Nuremberg, where the U.S. aggressively, and correctly, championed the prosecution of I.G. Farben, the German corporation that made Zyklon B gas for use in the Nazi gas chambers. The only procedural difference is that this case is a civil lawsuit, rather than a criminal prosecution.
Human Rights First has long advocated that U.S. courts should comply with international legal norms and principles that prevent the worst human rights abusers from enjoying impunity. In addition to its amicus brief in the Kiobel case, the organization engaged in intensive advocacy with the U.S. government, urging it to weigh in on the case in favor of corporate liability. For example, in a letter to the Solicitor General last November, Human Rights First's President and CEO Elisa Massimino noted that for the Court to interpret the ATS narrowly "fails to take into account the emerging global consensus regarding the responsibility of corporations for the human rights impacts of their global operations." The government then submitted its own brief in support of the victims' right to sue.
"The case takes on a particularly poignant meaning in light of another recent U.S. Supreme Court case, Citizens United, that treats corporations as people under the U.S. Constitution when it comes to matters of First Amendment rights," concluded Rona. "If corporations are people for purposes of rights, they should also be treated as people for purposes of responsibilities. And requiring them to be responsible for complicity in murder and torture is the least our judicial system should demand. Anything less would imply that no corporate atrocity is so great that it requires accountability."
For more information, click here.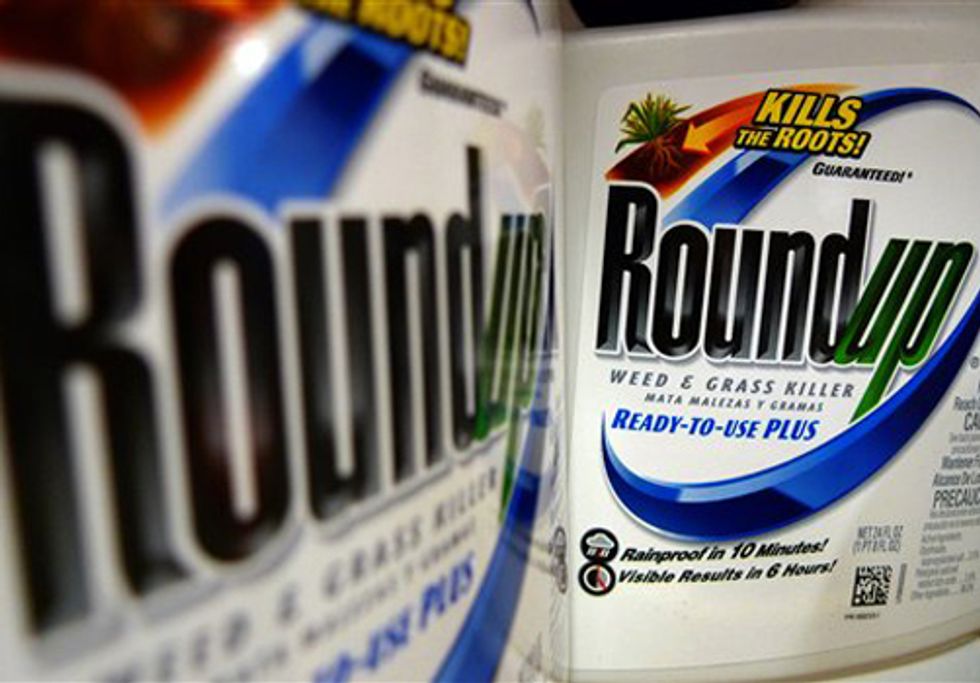 A French court has found U.S. chemical giant Monsanto Co. guilty of pesticide poisoning in the case of a French farmer who became ill after exposure to one of the company's herbicides, according to Reuters. The case is significant in that it sets precedent for other cases alleging pesticide poisoning or negligence in reporting of potential effects on human health resulting from pesticides. The court has said it will seek an expert opinion regarding the farmer's losses in order to determine the appropriate amount of damages he should be rewarded.
The case stems from an incident in which the farmer, Paul Francois, inadvertently inhaled Monsanto's Lasso pesticide when cleaning his sprayer tank on his farm in southern France in 2004. He then began experiencing memory loss, headaches, and stammering, among other neurological problems. This led to his decision to file suit against Monsanto, asserting that the company did not provide adequate warnings on the product label that would indicate these symptoms could result from exposure. The court agreed with Mr. Francois, stating that, "Monsanto is responsible for Paul Francois's suffering after he inhaled the Lasso product … and must entirely compensate him," according to Agence France-Presse (AFP).
Lasso is a general herbicide for grasses and some broadleaf weeds whose active ingredient is alachlor. Before Roundup, Lasso was one of Monsanto's biggest products and became one of the most widely used of any pesticide in the U.S. in the 1980s. Alachlor is a highly toxic chemical that is widely considered an endocrine disruptor and has been linked to kidney and liver damage as well as birth and developmental defects. It is classified by the U.S. Environmental Protection Agency (EPA) as likely to be carcinogenic in high doses. Nonetheless, it remains registered for use through the U.S. In 1987, the state of Massachusetts attempted to ban the chemical, but was fought by Monsanto, which successfully convinced the state's pesticide board to make alachlor a restricted use chemical instead of banned. The chemical was banned throughout the European Union in 2007, including in France, where the Francois incident occurred. It is registered for use in the U.S.
Numerous other cases have been filed seeking damages from chemical companies due to pesticide poisonings, but they have often suffered because of the difficulty of linking chemical exposure to a particular person's chronic illness. However, the Francois case was able to demonstrate that it was in fact the pesticide that caused harm because it was linked to a specific incident involving acute exposure, rather than long terms effects after repeated, chronic exposure. The problem with trying to prove cases regarding chronic exposure was summarized by another farmer, who told Reuters, "It's like lying on a bed of thorns and trying to say which one cut you."
A lawyer for Monsanto said the company was disappointed with the decision and that it will explore appealing to a higher court.
Monsanto and its products are currently involved in several other lawsuits, largely stemming from its line of herbicide tolerant "Roundup Ready" crops. A lawsuit filed by the Public Patent Foundation on behalf of family farmers, seed businesses, organic agricultural organizations, and environmental groups (including Beyond Pesticides) seeks to prevent the chemical company from asserting its patents and suing farmers who are unwittingly found to have incidental amounts of patented herbicide-tolerant seeds in their fields. Oral arguments in this case were heard last month.
Beyond Pesticides is also a plaintiff in another lawsuit involving genetically engineered crops led by attorneys for the Center for Food Safety (CFS), Earthjustice, and farm and environmental groups. The lawsuit filed against the U.S. Department of Agriculture (USDA) argues that the agency's 2011 unrestricted approval of Monsanto's genetically engineered alfalfa is unlawful. For more information on genetically engineered crops, see Beyond Pesticides' webpage.
Chemical companies' argument that people in the U.S. do not have a right to sue for damages associated with registered pesticides lost in the U.S. Supreme Court in 2005 in Bates et al v. Dow AgroSciences LLC. The Supreme Court ruled that citizens damaged by pesticides have the right to sue producers of these toxic products, finding that federal pesticide law does not offer adequate protection from "manufacturers of poisonous substances." Dow Chemical Company, supported by the Bush administration at the time, argued that, because its products are registered by EPA, chemical manufacturers should be shielded from litigation.
For more information, click here.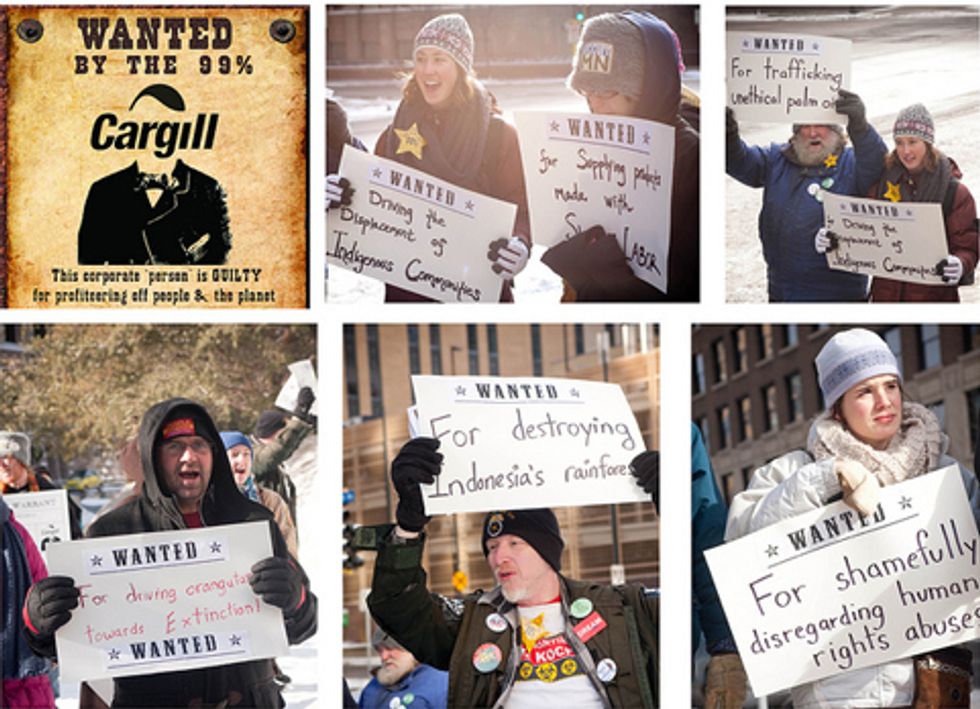 As part of a nationwide day of action protesting the legal doctrine of 'corporate personhood' enshrined by the controversial Citizens United vs. FEC Supreme Court ruling two years ago, a diverse crowd of more than forty Occupy activists and allies staged a rally and march with the Rainforest Action Network (RAN) through downtown Minneapolis on Saturday, Jan. 21. The demonstration began with a rally at the site of the former Occupy Minneapolis encampment, then marched to the Minneapolis Grain Exchange, where Cargill has an office, to post a mock "Citizen's Arrest Warrant" for Cargill Inc.
The colorful group, led by a large banner that read, "WANTED: Cargill Inc., For Profiteering Off People and Planet," then took to the streets waving placards that outlined their grievances with the agribusiness giant. The crowd included environmentalists upset that Cargill, the largest U.S. importer of palm oil, is connected to the destruction of Indonesian rainforests, as well as food justice advocates who say Cargill's support of free trade policies comes at a high price for farmers and food security. Occupy activists pointed out that the family that controls Cargill is the wealthiest in America and uses Cargill's corporate status as a 'person' to exercise political influence in Washington, D.C., where the company spent $1.3 million on lobbying last year alone.
Rainforest Action Network's Agribusiness Campaigner Ashley Schaeffer was among the protesters. She said, "Cargill is an enormously powerful agricultural company that has a dangerous stranglehold on our food supply. This is unhealthy to both people and the planet because Cargill continues to operate with the profits-above-all business mentality of a cutthroat trader." Schaeffer continued, "Cargill has known for many years that its practices are contributing to abuses that include slave labor and rainforest destruction but the company stubbornly continues to operate without basic safeguards that could prevent these violations."
Mark Muller, director of the Food and Justice Program at the Institute for Agriculture and Trade Policy (IATP), said, "We at the Institute for Agriculture and Trade Policy are thrilled by the local food movement. And yet we also recognize that we can only go so far given how far our political and legal system tilts in favor of corporations. Reclaiming our democracy from corporate control is crucial, and we salute all the activists that are working for a better food system and a better democracy."
Hillary Lehr, also with Rainforest Action Network, commented, "Corporations aren't people, everyone knows that. But the infamous Jan. 21, 2010 ruling on the Citizens United vs. FEC Supreme Court case allows corporations unlimited political spending during elections, under a constitutional right equating money with free speech. If corporations have rights like people, shouldn't that mean they can be arrested for their crimes like people, too?"
Cargill is the largest privately held company in the world and is owned by the richest family in America. Cargill's annual revenue ($119 billion) is bigger than 70 percent of the world's countries. Cargill is responsible for 25 percent of all U.S. grain exports, handles 25 percent of global palm oil trade (the world's most used vegetable oil) and supplies about 22 percent of the U.S. domestic meat market.
Paul Sobocinski, a Land Stewardship Project organizer and family farm livestock producer from Wabasso, Minn. said, "Cargill wants to control the livestock industry, they'd like to turn family farmers into modern day serfs who do their bidding while Cargill walks away with the lion's share of the profits. Cargill is fully integrated and one of the largest meatpackers and factory farm hog producers in the country. It's time to hold them accountable. It's time to take back our food and farming system from corporate agribusiness."
The event in Minneapolis was part of a week of coordinated protests nationwide that included Occupy Congress in Washington, D.C., Occupy the Courts and mass demonstrations across the country on Jan. 20.
For more information on Cargill, see RAN's Cargill fact sheet by clicking here.
For more information, click here.
—————
Rainforest Action Network runs hard-hitting campaigns to break North America's fossil fuels addiction, protect endangered forests and Indigenous rights, and stop destructive investments around the world through education, grassroots organizing, and non-violent direct action. For more information, visit www.ran.org.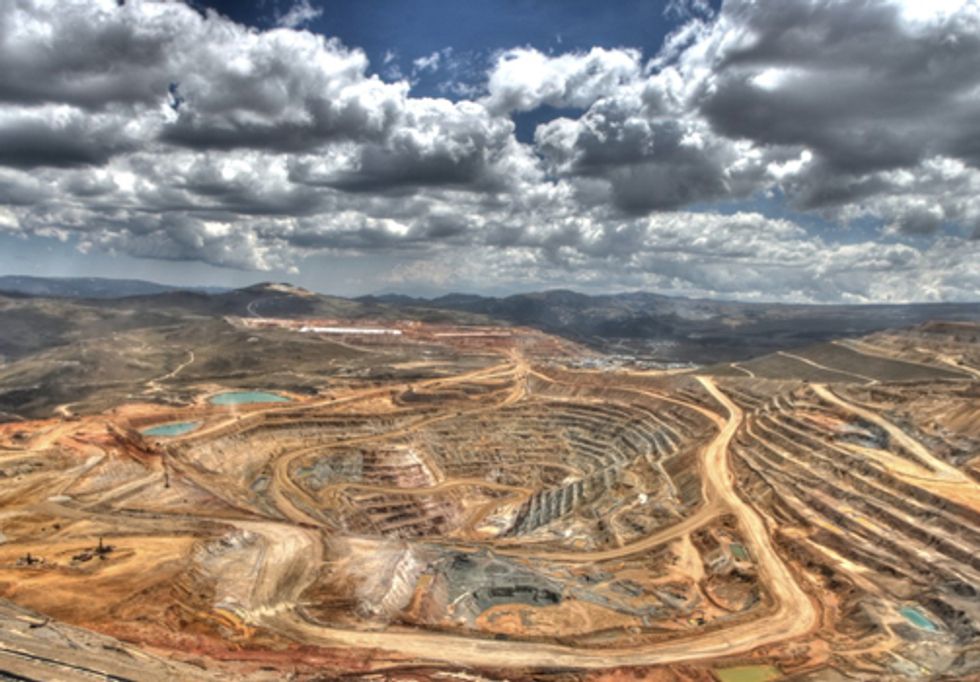 The U.S. Environmental Protection Agency (EPA) released its complete analysis of the most recent Toxics Release Inventory (TRI) data. The analysis—of data publicly released in October 2011—indicates that, as with every year since the metal mining industry was required to report in 1997, the metal mining industry is the nation's largest toxic polluter, accounting for 41 percent of all reported toxics in 2010, or 1.6 billion pounds.
The metal mining industry accounts for the vast majority of toxic heavy metals and metalloids released such as:
Arsenic (96  percent / 280 million pounds)
Mercury (92 percent of mercury / 4.4 million pounds)
Lead (86 percent / 538 million pounds), among others
But perhaps the most significant toxics releases are those not included—across metal mining and oil & gas production.
As the EPA analysis explains, the metal mining industry successfully sued to exclude from the TRI most toxics in waste rock. Consequently, beginning with the 2002 reporting year, more than one third of the metal mining industry's toxics—which are still released into the environment every year—go unreported. If included for the 2010 reporting year, the metal mining industry would have reported a whopping 2.1 billion pounds and accounted for almost half of all toxics reported in the U.S. This is especially significant because—thanks to loopholes in the Clean Water Act and a recent Supreme Court decision—mining companies can dump toxics directly into rivers, lakes and streams.
Additionally, and unfortunately, one of the most serious threats to our nation's drinking water supply is left unknown. Unlike almost all other industries, oil & gas producers do not have to report releases for most of their operations under the Emergency Planning and Community Right-to- Know Act (EPCRA), the legislation authorizing TRI, or under any other federal statute—including the Clean Water Act and the Safe Drinking Water Act.
The damage from this omission is increasing thanks to the shale gas boom enabled by horizontal hydraulic fracturing. Drilling for oil and gas now occurs in 34 states across the country, threatening the drinking water sources of tens of millions of Americans. Yet communities are in the dark because drillers don't have to report the toxics they release from the thousands of wells and compressors.
While individual states are beginning to require disclosure, the Toxics Release Inventory exemplifies why state regulations continue to come up short—easily accessible national data allows comparison across regions, industries and chemicals. Federal reporting requirements allow communities to better judge the risks posed by toxics in their communities. And as a consequence, and as happened with mercury air pollution from gold mining, it allows those communities to exert pressure on both industries and government to require reductions in toxics releases.
The Toxic Release Inventory once again shows why effective federal environmental oversight of resource extraction is necessary to protect communities and the environment.
TRI Reports:
For more information, click here.
—————
Earthworks is dedicated to protecting communities and the environment from the impacts of irresponsible mineral and energy development while seeking sustainable solutions.