Scientists and regulators have sounded the alarm linking the overuse of antibiotics in livestock production with helping to increase the creation and spread of antibiotic resistant infections. Three years ago, as a result, the U.S. Food and Drug Administration (FDA) launched a voluntary program seeking to curb some livestock drug uses. But the widespread use of these antibiotics seems to continue as before.
Antibiotic Resistant Infections Kill 23,000 Americans Each Year, Sicken 2 Million https://t.co/cmWhdMiFpF @NRDC @Earthjustice @TEDxManhattan

— EcoWatch (@EcoWatch)1481058251.0
On Thursday, the latest FDA figures on antibiotics sold for use in meat and poultry production came out. The news is not good. Sales just keep rising. Against the backdrop of a crisis in now untreatable or nearly untreatable infections, this report further underscores how urgently we need more and stronger government action to address the ongoing overuse of the drugs in livestock.
Sales of medically important antibiotics—including penicillins, cephalosporins, tetracyclines and erythromycins, to name a few—for livestock were up 2 percent over 2014, and up 26 percent overall from 2009 through 2015. An overwhelming 95 percent of human antibiotics were sold as additives to animal feed and drinking water—routes of delivery that are typical of growth promotion or disease prevention.
More than 21.3 million pounds of medically-important drugs were sold for use in livestock last year. By comparison, the FDA reports that in 2011 (the last year for which it has such data, apparently) a bit more than 7.2 million pounds of antibiotics were sold for use in human medicine. In other words, just under 70 percent of all medically important antibiotics in the U.S. are sold for use in animals, not people. In 2015, 97 percent of all medically important antibiotic sales for livestock or poultry were over-the-counter, meaning they were sold without a prescription and typically without any oversight by a veterinarian.

It remains unclear how effective FDA's current voluntary efforts will be to reduce the routine use of antibiotics in livestock and poultry production. While livestock antibiotics will no longer carry a label that says they can be used for growth promotion, many of these same products will continue to be approved for routine use in the same manner and similar dosages for the purpose of disease prevention. The pharmaceutical industry has consistently claimed that "growth promotion" constitutes no more than 10 percent of antibiotic use in livestock and poultry. The Natural Resources Defense Council believes that the use of antibiotics in animal feed or water under a "disease prevention" claim constitutes the vast majority of all antibiotic use.
Two million Americans already suffer from drug-resistant infections every year and more than 23,000 die as a result, according to the Center for Disease Control and Prevention. My New Year's resolution would be for antibiotics to be used differently in the future, especially in livestock production. One might have thought sales figures would already be dropping, since every food animal sector claims they're using fewer antibiotics and only when medically justified. But the FDA's actual data suggest otherwise.

David Wallinga is the senior health officer at the Natural Resources Defense Council.
EcoWatch Daily Newsletter
Not all bacteria are created equal. The first-time discovery of a long-dreaded superbug on U.S. pig farms, announced Monday, really stands out. And not in a good way.
What they found on pig farms was a kind of CRE bacteria, for carbapenem-resistant Enterobacteriaceae. CRE is one of the nastier superbugs. Infections with these germs are very difficult to treat and can be deadly—the death rate from patients with CRE bloodstream infections is up to 50 percent.
The Centers for Disease Control and Prevention (CDC) said these bacteria already cause 9,300 infections and 600 deaths each year. To date, CRE infections occur mostly among patients in hospitals and nursing homes; people on breathing machines or with tubing inserted into their veins or bladders are at higher risk, as are people taking long courses of certain antibiotics. But newer, more resistant kinds of CRE seem to be causing more problems outside hospitals, in communities and among healthier people.
Tom Frieden, head of the CDC, refers to CRE as "nightmare bacteria." Why nightmarish? Because CRE carry genes rendering them resistant to multiple antibiotics—not only to carbapenems, which have been a "last resort" treatment for these kind of infections—but also to other broad spectrum antibiotics, like cephalosporins. CRE have been found on farms before. Monday's report stands out because the carbapenem resistance gene, called bla IMP-27, found on these farms is carried by a plasmid.
Plasmids are strands of DNA that can move easily from one bacterium to another, including across species. After acquiring the right kind of plasmid, with resistance to eight or ten or twelve different antibiotics, a bacterium on a farm or in the human gut could transform from something pretty benign to something lethal in an instant. Previous isolates of CRE found outside of hospitals have been less alarming, because they haven't carried this transmittable plasmid. Earlier this year, scientists also discovered transmissible (plasmid-carried) resistance to colistin—another antibiotic of last resort—in E. coli bacteria isolated from two U.S. pigs.

What happens when—when, not if—the same plasmid collects resistance genes to both colistin and carbapenems? That's the Nightmare on Main Street scenario that many experts fear and perhaps even expect in our future. Infections caused by gram negative bacteria carrying that super-plasmid would be virtually untreatable. As it spreads into the human population, one could reasonably expect a big increase in costs, hospitalizations and deaths.
To some degree, the genie is out of the bottle. By that I mean that farms, like hospitals, are now confirmed as reservoirs of resistance to last-resort drugs, like carbapenems and colistin. Focus now must be on how to change farm practice to try and limit the spread of those superbugs. That's a tall order when it comes to the U.S. pork industry, however.
Today's $22 billion U.S. pork industry may be the perfect storm when it comes to superbug creation. The industry concentrates huge amounts of pigs, manure and antibiotics on relatively few farms in a few counties in a few states. Only 21,687 farms specialize in hog production; they account for 90 percent of hog sales. Just three states, Iowa, North Carolina and Minnesota account for 55 percent of such sales. Routine use of antibiotics on such farms is common (although not carbapenems).
Antibiotic Resistant Infections Kill 23,000 Americans Each Year, Sicken 2 Million https://t.co/cmWhdMiFpF @NRDC @Earthjustice @TEDxManhattan

— EcoWatch (@EcoWatch)1481058251.0
Day-old piglets routinely get injected with ceftiofur, which belongs to a critically important human class of antibiotics. Some piglets get multiple doses, increasing the pressure selecting for drug-resistant bacteria in those pigs and on their farms. What's less understood is that using one antibiotic in these settings increases resistance to all the antibiotics that have genes on the same plasmid. CRE bacteria with the bla IMP-27 gene carry resistance not only to carbapenems but also to cephalosporins like ceftiofur. So continuing to use ceftiofur and other antibiotics in weaner pigs likely is a big part of the problem.
Sticking one's head in the sand no longer seems like a viable strategy for the U.S. pork industry. Superbug genes are here and they're on our pig farms. The future's never going to be the same.
David Wallinga, MD, is the senior health officer at the Natural Resources Defense Council.
Let's talk about America's farm­grown terrorism epidemic. Back on Sept. 11, nearly 3,000 people lost their lives in the attacks on the World Trade Center, Pentagon, and in Shanksville, Pennsylvania. Since 9/11, our government has spent more than $7.6 trillion on military and homeland security operations in response to the deaths of those roughly 3,000 souls. Now, compare that to the fact that each year, 23,000 Americans die from antibiotic-resistant infections, and another 2 million get sick. That's the equivalent of nearly eight 9/11's per year. But our government isn't doing a thing about it.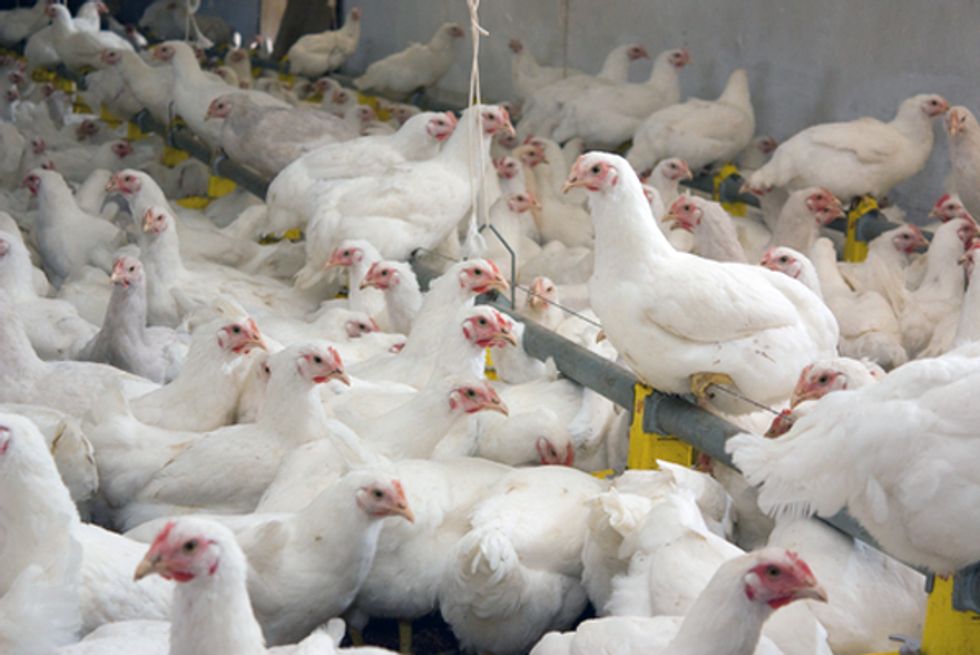 In 2011 alone, nearly 30 million pounds of antibiotics were purchased by Big Agriculture, to promote growth in the animals, and to reduce the spread of disease in the horrific factory ­farm conditions. Photo credit: Shutterstock
Each year, Big Agriculture feeds millions and millions of pounds of antibiotics to factory farm animals, all to slightly increase their profits by plumping up their meat. In 2011 alone, nearly 30 million pounds of antibiotics were purchased by Big Agriculture, to promote growth in the animals, and to reduce the spread of disease in the horrific factory ­farm conditions. That 30 million pounds is a staggering four times the amount of antibiotics that were prescribed to humans that year.
These are otherwise healthy animals, but they're getting dosed daily with low­ levels of antibiotics anyway. As a result, this widespread and unnecessary use of antibiotics in factory­farm animals is creating a major public health crisis here in the U.S by breeding antibiotic resistant infections caused by bacteria referred to in the media as superbugs.
But rather then enforcing regulations already in place to control the use of antibiotics in factory­ farm animals, our federal government is bowing to the interests of Big Agriculture, and is continuing to let the abuse go on.
Just last week, the U.S. Second Circuit Court of Appeals ruled that the Food and Drug Administration could leave an antibiotic that's used in animal feed on the market, even though the dangers associated with that antibiotic are widely known, including the increased risk of antibiotic resistance infections jumping to human beings. Basically, the court gave Big Agriculture the go­ahead to continue pumping millions and millions of pounds of antibiotics into poultry and livestock, with no concern for public safety. 
So, why should Americans care about this? Well, for starters, Americans eat a lot of meat. And the superbugs and antibiotic­resistant bacteria that are bred on factory farms very easily make their way into our food system.
For example, last year, a drug­resistant salmonella outbreak tied to chicken from Foster Farms sickened more than 600 Americans, and that outbreak is still getting worse today. And if that wasn't bad enough, these antibiotic­resistant superbugs also get into our water supply, and into soil for crops. The situation is so dire that, speaking about antibiotic resistance, Dr. Thomas Freidman, director of the Centers for Disease Control, said that, "If we don't act now, our medicine cabinet will be empty and we won't have the antibiotics we need to save lives."
If 23,000 Americans are already dying from superbugs and antibiotic­resistant infections each year, just imagine how much worse it could get as this antibiotic abuse continues. We could soon have a full­blown pandemic on our hands. But it doesn't have to get worse. We can stop this farm­grown terrorism right now, andsave millions of lives.
Big Agriculture says that slashing its use of antibiotics will hurt all of us in the form of higher prices at the supermarket, but that's simply not the case. As Ruth Reichl points out over at The New York Times, "Although many industrial farmers claim that cleaning up their act will cost the rest of us at the cash register, responsible producers from Missouri to Denmark are already raising healthy livestock and poultry at competitive prices without the use of unnecessary drugs."
Reichl highlights the story of Russ Kremer, a fifth­generation pork farm in Missouri, who, after nearly being killed by an antibiotic­resistant infection on his own farm, decided to do things the all natural way. He lets his pigs roam free, and doesn't have to stuff them full of antibiotics, because they're not living in squalor. And, thanks to competitive prices, his meat is bought by companies like Chipotle and Costco.
So Big Agriculture's "higher meat prices" argument is complete bologna. Pun intended. The use of antibiotics on factory farms is all about profits for Big Agriculture, But, with 23,000 Americans dying each year as a result, it's time to start putting the American people ahead of profits.
Meat producers and sellers across the country need to say "no" to more superbugs. No animals on factory farms should ever be given antibiotics, unless diagnosed as sick by a veterinarian. And while we're at it, we need to work harder to close down Washington's revolving door, which encourages employees in government agencies like the FDA to get bought off by corporate interests and then turn a blind eye to corporate abuse.
We have a right to eat food that's not going to kill us.
You Might Also Like
How Antibiotics Make Bad Bugs Stronger and Weaken Our Immune Systems
8 Scary Facts About Antibiotic Resistance
Court Rules Rampant Misuse of Antibiotics on Factory Farms Can Continue