This website uses cookies to ensure you get the best experience while browsing it. By clicking 'Got It' you're accepting these terms.


The best of EcoWatch, right in your inbox. Sign up for our email newsletter!
Pexels
Tuesday, just ahead of Memorial Day weekend, the Environmental Working Group released its 12th annual Guide to Sunscreens, rating the safety and efficacy of more than 1,000 sunscreens, moisturizers and lip balms that advertise sun protection. EWG researchers found that 67 percent of the products don't work well or contain ingredients that could harm health.

Bleached corals. NOAA / Bernardo Vargas-Ángel
Lawmakers in Hawaii passed a bill Tuesday prohibiting the sale of sunscreens that are harmful to ocean ecosystems, including coral reefs.
The bill now heads to Governor David Ige for his signature. If signed, Hawaii will ban these sunscreens starting Jan. 1, 2021 and become the first state in the nation to enact such a law.
EcoWatch Daily Newsletter
Skin cancer is now the most common form of cancer in the U.S. According to the Skin Cancer Foundation, one in five Americans will develop skin cancer during the course of their lifetime, which makes smart sun protection and proper skin care more important than ever.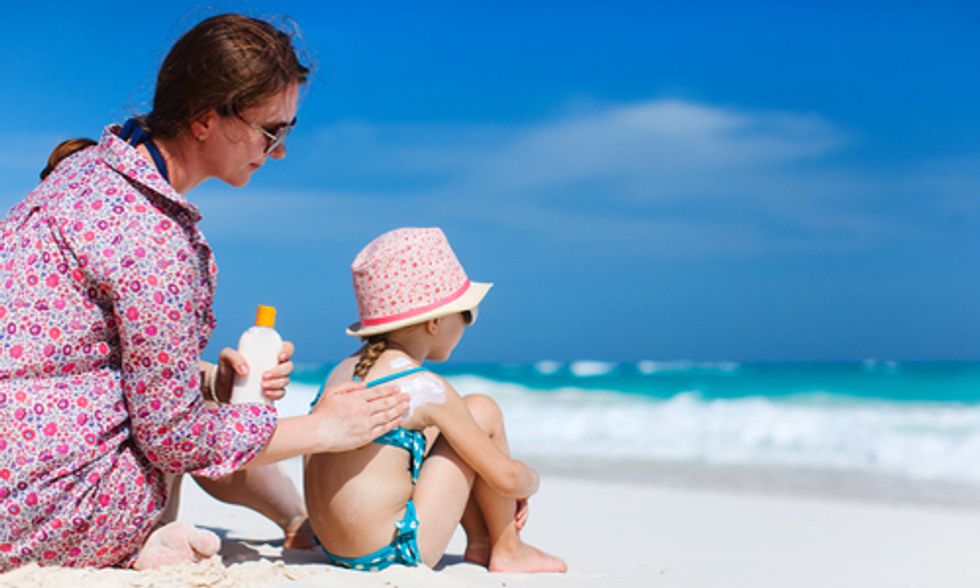 Photo courtesy of Shutterstock
With more than 2 million Americans diagnosed annually with skin cancer, the Environmental Working Group (EWG), along with innovative sun protection companies, have launched a public education campaign to increase awareness about the alarming rise of melanoma, the worrisome popularity of tanning beds, and the large number of ineffective sunscreens—many containing potentially harmful chemicals.
EWG is hoping that the new campaign can make proper sun safety as essential as seat belts in the minds of the public.
"Many of us spend hours outside and don't take simple steps to protect ourselves from the sun's harmful rays," said Ken Cook, president of EWG. "The good news is skin cancer is often preventable, and if we take some rather simple steps, we can bend the skin cancer curve away from rising rates."
Utilizing social media and tech-savvy initiatives, the Sun Safety campaign hopes to send a wake-up call to Americans—young people in particular—with clear, compelling strategies to reduce the risks of skin damage and cancer related to sun exposure and tanning beds.
According to EWG, the campaign is harnessing advanced imaging technology developed by Canfield Imaging Systems, the leading developer of photographic imaging solutions for the medical and skin care industries, to visualize sun damage and encourage people to form sun-safe habits. The campaign plans to station the Canfield camera at locations around the country so people can see for themselves the damage the sun has already caused to their skins and learn how they can mitigate further harm.
Based on decades of scientific research, the campaign concludes that the best defenses against harmful ultraviolet radiation are protective clothing, shade, timing and safer and more effective sunscreens. Below is a quick summary of sun protection tips from EWG, for more information—including how to pick a good sunscreen—check out the campaign's website:   
Not All Sunscreens Are Equal: Choose the safest, most effective sunblock products by consulting EWG's online guide to sunscreens.
Regular Skin Checks: for new moles that are tender or growing. Ask your primary care doctor how often you should see a dermatologist.
Don't Get Burned: Red, sore, blistered or peeling skin means far too much sun—and raises your skin cancer risk.
Wear Clothes: Shirts, hats, shorts and pants provide the best protection from UV rays—and they don't coat your skin with goop.
Find Shade—or Make It: Picnic under a tree, read beneath an umbrella, take a canopy to the beach. Keep infants in the shade—they lack the tanning pigments known as melanin to protect their skin.
Plan Around the Sun: Go outdoors in early morning or late afternoon, when the sun is lower. UV radiation peaks at midday.
Sunglasses Aren't Just a Fashion Accessory: Good shades protect your eyes from UV radiation that causes cataracts.
The Sun Safety campagin was launched jointly with leading dermatologists and 16 sunscreen makers, including: EWG, All Terrain, Aubrey, Ava Anderson Non Toxic, Babo Botanicals, Babytime! by Episencial, Badger, Beauty Counter, California Baby, Elemental Herbs, Goddess Garden Organics, Juice Beauty, Marie Veronique Organics, MD Solar Sciences, MyChelle Dermaceuticals, Raw Elements, Thinkbaby/ Thinksport and True Natural.
--------
YOU MIGHT ALSO LIKE
The Good and Bad of Color Corrector Makeup
Summer Beachgoers, Ditch Bottled Water to Protect Shores From Plastic Pollution
2013 Guide to Sunscreens: What to Use, What to Lose 
--------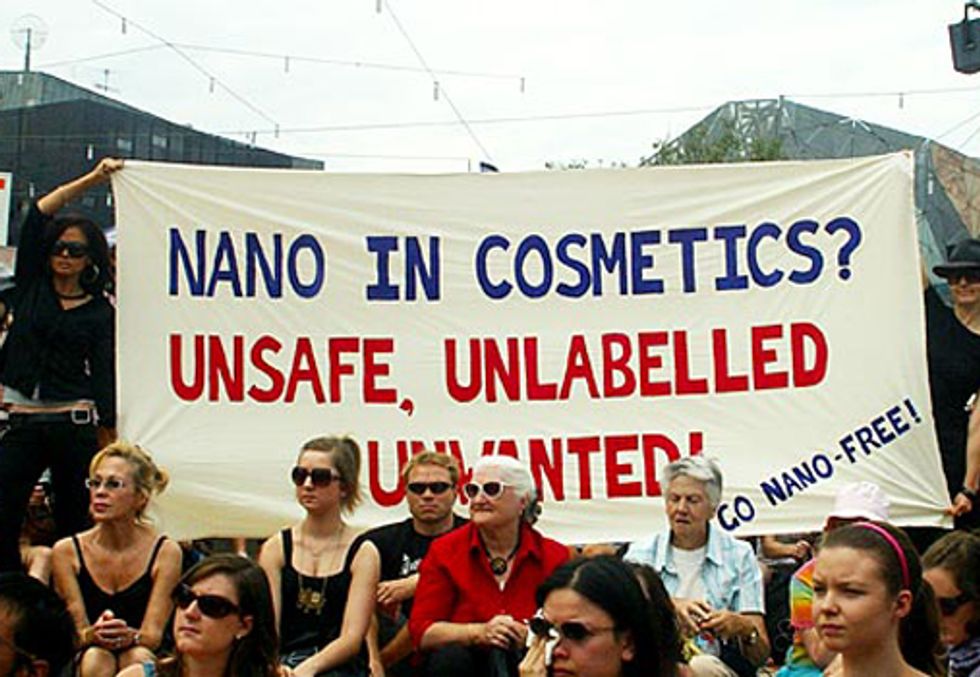 Concerned by the growing body of scientific reports cautioning against the unregulated use of nanotechnology in consumer products, a coalition of nonprofit consumer safety and environmental groups sued the U.S. Food and Drug Administration (FDA) Dec. 21. The case is the first lawsuit over the health and environmental risks of nanotechnology and nanomaterials.
Nanotechnology is a powerful platform technology for taking apart and reconstructing nature at the atomic and molecular level. Just as the size and chemical characteristics of manufactured nanomaterials give them unique properties, those same properties—tiny size, vastly increased surface area to volume ratio, and high reactivity—can also create unique and unpredictable health and environmental risks.
The lawsuit demands FDA respond to a petition the public interest organizations filed with the agency in 2006, nearly six years ago. The coalition is led by the International Center for Technology Assessment (ICTA), on behalf of fellow plaintiffs Friends of the Earth, Food and Water Watch, the Center for Environmental Health, the ETC Group and the Institute for Agricultural and Trade Policy.
"Nano means more than tiny. It means materials that have the capacity to be fundamentally different. Yet more and more novel nanomaterials are being sold infused into new consumer products every day, while FDA sits idly by," said George Kimbrell, ICTA attorney. "The agency's unlawful delay unnecessarily places consumers and the environment at risk."
The eighty-page petition documents the scientific evidence of nanomaterial risks stemming from their unpredictable toxicity and seemingly unlimited mobility. The 2006 petition requested that the FDA take several regulatory actions, including requiring nano-specific product labeling and health and safety testing, and undertaking an analysis of the environmental and health impacts of nanomaterials in products approved by the agency.
Nanomaterials in sunscreens, one of the largest sectors of the nano-consumer product market, were also a focus of the action. The petitioners called on the agency to regulate nano-sunscreens to account for their novel ingredients rather than assume their safety, and to pull such sunscreens from the market until and unless the agency approves them as new drug products.
"Year after year goes by but we have yet to see the FDA do the bare minimum and require nanosunscreens to be labeled as such. This is a basic consumer right," said Ian Illuminato of Friends of the Earth. "We're well past the 1800s—nobody likes or should be forced to use mystery chemicals anymore."
Since 2006, numerous studies and reports, including agency publications by the U.S. Environmental Protection Agency, the Office of the Inspector General, and the U.S. Government Accountability Office, acknowledge significant data gaps concerning nanomaterials' potential effects on human health and the environment. Most troubling are studies using mice that show that nano-titanium dioxide when inhaled and when eaten can cause changes in DNA that affect the brain function and may cause tumors and developmental problems in offspring. One study found titanium dioxide nanoparticles were found in the placenta, fetal liver and fetal brain.
"It is unacceptable that the FDA continues to allow unregulated and unlabeled nanomaterials to be used in products consumers use every day," said Wenonah Hauter, executive director of Food & Water Watch. "It is past time for this agency to live up to its mission and protect public health by assessing the health and environmental risks of nanomaterials, and to require labeling so that consumers know where these new materials are being used."
"The scientific consensus is that nanomaterials require specific testing to account for their novel capacities and potential risks. The FDA must do such testing as part of a pre-market safety assessment in a broader regulatory initiative to protect public health," said Steve Suppan of the Institute for Agriculture and Trade Policy.
For more information, click here.