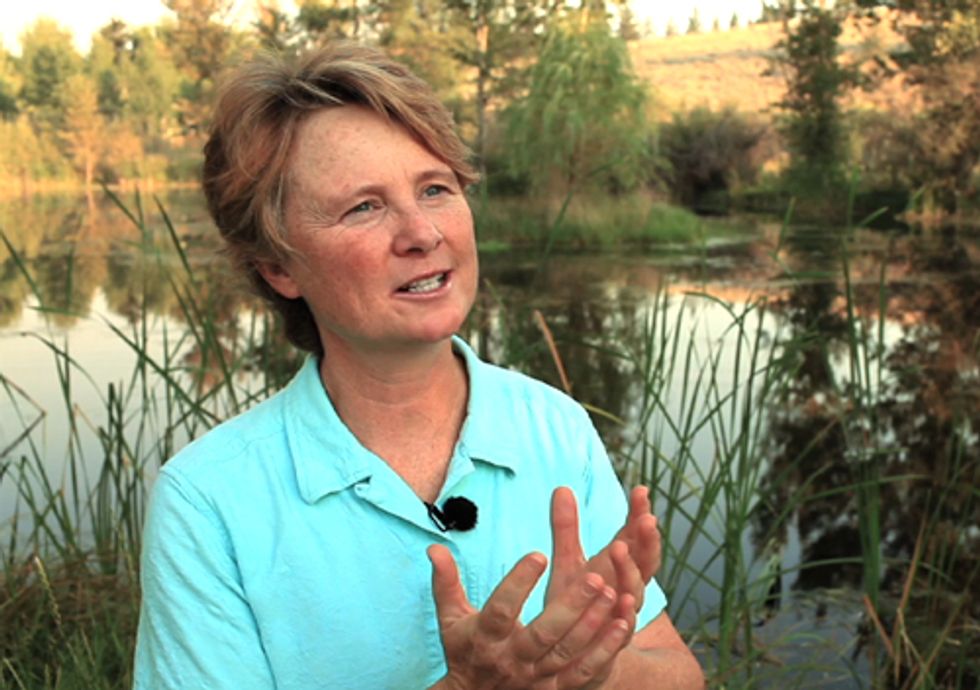 On Thursday, Sept. 20 at 7:30 p.m., Janine Benyus will speak at E.J. Thomas Hall at the University of Akron and give an insider's view of the latest biomimicry advances on the drawing board and in the marketplace.
Biomimicry is the practice of learning from and then emulating life's best ideas to create a more sustainable world. By mimicking nature's time-tested strategies, biomimics are learning to create concrete like a coral, resist bacteria like a shark, produce colors like a peacock, purify water like a marsh and gather energy like a leaf. Based on 3.8 billion of years of research and development, these designs sip energy, shave material use, eliminate toxins and turn waste into opportunities.  
Once a specialty science, biomimicry has spread virally in the last 15 years. Dozens of biomimicry start-ups, including several companies in the Great Lakes region, are making headlines with nature-inspired technologies that solve global challenges and disrupt business as usual. Leading companies such as Boeing, HOK, IDEO, Interface, Levi's, Nike and Colgate-Palmolive use biomimicry in their labs as well as their boardrooms, finding inspiration for product and management redesign.  
Since the publication of her seminal book, Biomimicry: Innovation Inspired by Nature, Benyus and her colleagues at Biomimicry 3.8 have developed a methodology for bio-inspired design while introducing millions to its potential. They've worked with more than 250 corporate clients and professors from more than 100 universities to embed biomimicry in both design and decision making. They've been "biologists at the design table" with some of the world's greatest innovators, reimagining everything from carpets to cities.
During her talk, Benyus will discuss the worldwide spread of the meme, and how it is being heralded as a "one of the top 20 breakthrough business ideas" (Harvard Business Review, HBR List), "a paradigm shift for the world of design" (Smithsonian National Design Awards), and "one of 10 innovations that will change the way you manufacture" (Society of Manufacturing Engineers). At this critical tipping-point for the field, she'll describe what's needed to take biomimicry global while cultivating ethical thought leadership here at home.
One of the most significant developments in biomimicry is happening right here in Northeast Ohio. As Biomimicry 3.8's first Founding Affiliate, the Great Lakes region is poised to become the Silicon Valley of biomimicry education, finance and commercialization. The University of Akron is already making biomimicry news, with its spider and gecko inspired research and the world's first PhD in biomimicry. 
Come learn what all the excitement is about from the founder of this practical, radical and powerfully hopeful approach to innovation. Hear what happens when inventors become nature's apprentices, creating world-changing technologies that create conditions conducive to all life.
Visit EcoWatch's BIODIVERSITY pages for more related news on this topic.
EcoWatch Daily Newsletter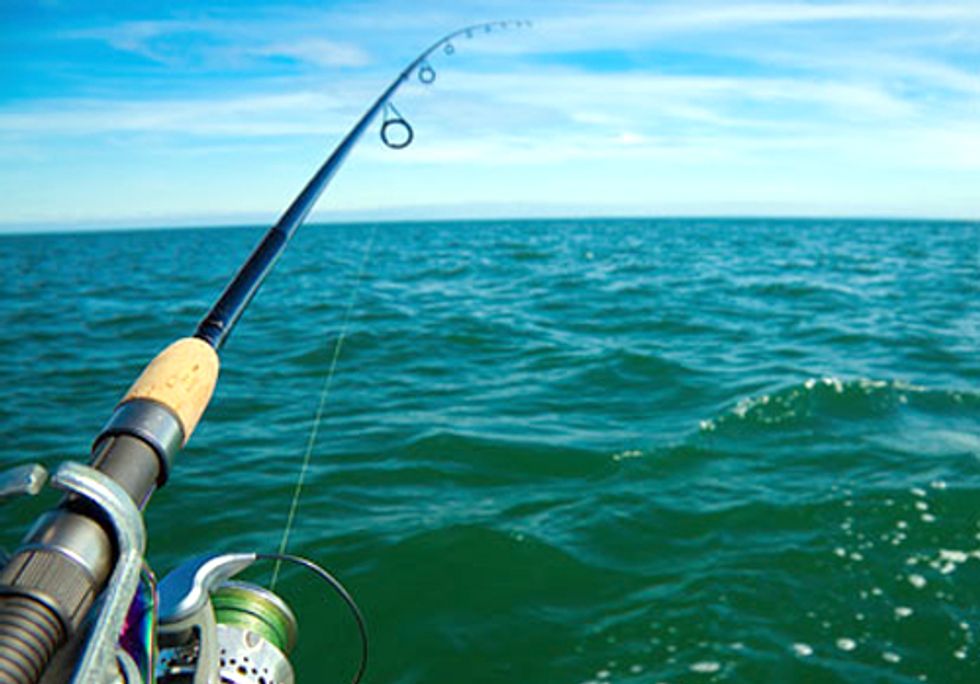 In a 20-12 vote today, the Senate voted to pass an unbalanced bill that falls short of adequate protection for Lake Erie's rivers and impairs the rights of hunters and anglers and the public's use of waters within the Ohio Lake Erie drainage watershed. HB 473 is legislation that would implement the Great Lakes Compact. Following the Ohio Senate's passage of House Bill 473, environmental, conservation and sportsmen groups responded today with disappointment and grave concerns for the future of Ohio's waters.
"The bill rewards big businesses at the expense of recreational users, residents, wildlife and the waters of Lake Erie," said Kristy Meyer, director of Agricultural & Clean Water Programs at the Ohio Environmental Council. "It is now up to the governor to ensure Ohio adopts a more balanced approach for Lake Erie and the wildlife, residents and businesses that depend upon it."
In 2008, Ohio joined with 7 other states in adopting the Great Lakes Compact-an unprecedented joint agreement providing protections against diversions of water outside of the Great Lakes basin and unwise water use within the basin. Following the passage in each individual state, the Compact was adopted by the U.S. Congress.
Ohio's General Assembly was then required to pass legislation to implement water management and conservation programs under the Compact. Gov. John Kasich rightfully vetoed the first version passed by the legislature last year, as it fell short of providing the necessary protection for Lake Erie and its vital tributaries. While the new legislation is improved, it still falls short in the some of the same major areas that are needed to protect Lake Erie and its vital tributaries.
"Lake Erie and its rivers and streams provide world class steelhead and walleye fishing. Unfortunately, this bill fails to protect these special resources," said Marc Smith, senior policy manager with National Wildlife Federation. "Hopefully, Governor Kasich recognizes the importance of Lake Erie to Ohio's economy and our way of life by vetoing this bill."
In addition, House Bill 473 also impairs the rights of hunters, anglers and the public to challenge decisions that would threaten their ability to enjoy and recreate in Ohio's Lake Erie Basin.
"Governor Kasich did the right thing by vetoing the initial version of Great Lakes Compact legislation," said Rick Unger, president of the Lake Erie Charter Boat Association. "While we appreciate his engagement in the issue and his concern over the protection of the Lake Erie Basin, we urge him to consider throwing this one back, as well."
During the consideration of the legislation, former Govs. Bob Taft and George Voinovich raised concerns in a letter to lawmakers, urging them to amend HB 473 to protect recreational users' rights to appeal a water use permit, as well as protect Lake Erie and its rivers. Former Ohio Department of Natural Resources Director Sam Speck, who negotiated the Compact agreement amongst the Great Lakes states, stressed the importance of striking a fair balance between industry's access to water and maintaining sustainable water supplies in the Lake Erie drainage basin in testimony before the House.
Among others, the legislature also heard concerns voiced from a wide variety of sporting and boating groups, including the Izaak Walton League of America, Ohio Division; the League of Ohio Sportsmen; Ducks Unlimited; the Bull Moose Sportsmen Alliance; Central Ohio Anglers and Hunters; Lake Erie Charter Board Association; Ohio B.A.S.S. Federation Nation; Grand River Sailing Club; and the Greater Cleveland Boating Association.
As a result of recreational and commercial fishing, hunting, wildlife watching, tourism and travel, Lake Erie supplies the state with more than $10 billion in economic revenue each year and 1 out of every 10 jobs in the counties along the coast. It is the most biologically productive of all the Great Lakes. It produces more fish for human consumption than all the other Great Lakes combined. "Protecting Lake Erie and its rivers are vital to the health of Ohio's wildlife and economy," said Josh Knights, executive director of the Ohio Chapter of The Nature Conservancy.
Senators that voted to pass the legislation:
Tom Niehaus (R-New Richmond)
Cliff Hite (R-Findlay)
Mark Wagoner (R-Ottawa Hills)
Kevin Bacon (R-Village of Minerva)
Bill Coley (R-Liberty Township)
Bill Beagle (R-Tipp City)
Peggy Lehner (R-Kettering)
Shannon Jones (R-Springboro)
Bill Seitz (R-Cincinnati)
Chris Widener (R-Springfield)
Keith Faber (R-Celina)
Jim Hughes (R-Columbus)
Bob Peterson (R-Sabina)
Capri Cafaro (D-Hubbard)
Kris Jordan (R-Powell)
Troy Balderson (R-Zanesville)
Larry Obhf (R-Montville)
Dave Burke (R-Marysville)
Scott Oelslager (R-North Canton)
Tim Schaffer (R-Lancaster)
 
Senators that voted against the legislation:
Lou Gentile (D-Stubenville)
Eric Kearny (D-Cincinnati)
Edna Brown (D-Toledo)
Gayle Manning (R-North Ridgeville)
Charleta Travares (D-Columbus)
John Ecklund (R-Munson Township)
Shirley Smith (D-Cleveland)
Michael Skindell (D-Lakewood)
Nina Turner (D-Cleveland)
Frank LaRose (R-Akron)
Tom Sawyer (D-Akron)
Joe Schiavoni (D-Canefield)
For more information, click here.
waterlust.com / @tulasendlesssummer_sierra .
Each product featured here has been independently selected by the writer. If you make a purchase using the links included, we may earn commission.
The bright patterns and recognizable designs of Waterlust's activewear aren't just for show. In fact, they're meant to promote the conversation around sustainability and give back to the ocean science and conservation community.
Each design is paired with a research lab, nonprofit, or education organization that has high intellectual merit and the potential to move the needle in its respective field. For each product sold, Waterlust donates 10% of profits to these conservation partners.
Eye-Catching Designs Made from Recycled Plastic Bottles
waterlust.com / @abamabam
The company sells a range of eco-friendly items like leggings, rash guards, and board shorts that are made using recycled post-consumer plastic bottles. There are currently 16 causes represented by distinct marine-life patterns, from whale shark research and invasive lionfish removal to sockeye salmon monitoring and abalone restoration.

One such organization is Get Inspired, a nonprofit that specializes in ocean restoration and environmental education. Get Inspired founder, marine biologist Nancy Caruso, says supporting on-the-ground efforts is one thing that sets Waterlust apart, like their apparel line that supports Get Inspired abalone restoration programs.
"All of us [conservation partners] are doing something," Caruso said. "We're not putting up exhibits and talking about it — although that is important — we're in the field."
Waterlust not only helps its conservation partners financially so they can continue their important work. It also helps them get the word out about what they're doing, whether that's through social media spotlights, photo and video projects, or the informative note card that comes with each piece of apparel.
"They're doing their part for sure, pushing the information out across all of their channels, and I think that's what makes them so interesting," Caruso said.
And then there are the clothes, which speak for themselves.
Advocate Apparel to Start Conversations About Conservation
waterlust.com / @oceanraysphotography
Waterlust's concept of "advocate apparel" encourages people to see getting dressed every day as an opportunity to not only express their individuality and style, but also to advance the conversation around marine science. By infusing science into clothing, people can visually represent species and ecosystems in need of advocacy — something that, more often than not, leads to a teaching moment.

"When people wear Waterlust gear, it's just a matter of time before somebody asks them about the bright, funky designs," said Waterlust's CEO, Patrick Rynne. "That moment is incredibly special, because it creates an intimate opportunity for the wearer to share what they've learned with another."
The idea for the company came to Rynne when he was a Ph.D. student in marine science.
"I was surrounded by incredible people that were discovering fascinating things but noticed that often their work wasn't reaching the general public in creative and engaging ways," he said. "That seemed like a missed opportunity with big implications."
Waterlust initially focused on conventional media, like film and photography, to promote ocean science, but the team quickly realized engagement on social media didn't translate to action or even knowledge sharing offscreen.
Rynne also saw the "in one ear, out the other" issue in the classroom — if students didn't repeatedly engage with the topics they learned, they'd quickly forget them.
"We decided that if we truly wanted to achieve our goal of bringing science into people's lives and have it stick, it would need to be through a process that is frequently repeated, fun, and functional," Rynne said. "That's when we thought about clothing."
Support Marine Research and Sustainability in Style
To date, Waterlust has sold tens of thousands of pieces of apparel in over 100 countries, and the interactions its products have sparked have had clear implications for furthering science communication.
For Caruso alone, it's led to opportunities to share her abalone restoration methods with communities far and wide.
"It moves my small little world of what I'm doing here in Orange County, California, across the entire globe," she said. "That's one of the beautiful things about our partnership."
Check out all of the different eco-conscious apparel options available from Waterlust to help promote ocean conservation.
Melissa Smith is an avid writer, scuba diver, backpacker, and all-around outdoor enthusiast. She graduated from the University of Florida with degrees in journalism and sustainable studies. Before joining EcoWatch, Melissa worked as the managing editor of Scuba Diving magazine and the communications manager of The Ocean Agency, a non-profit that's featured in the Emmy award-winning documentary Chasing Coral.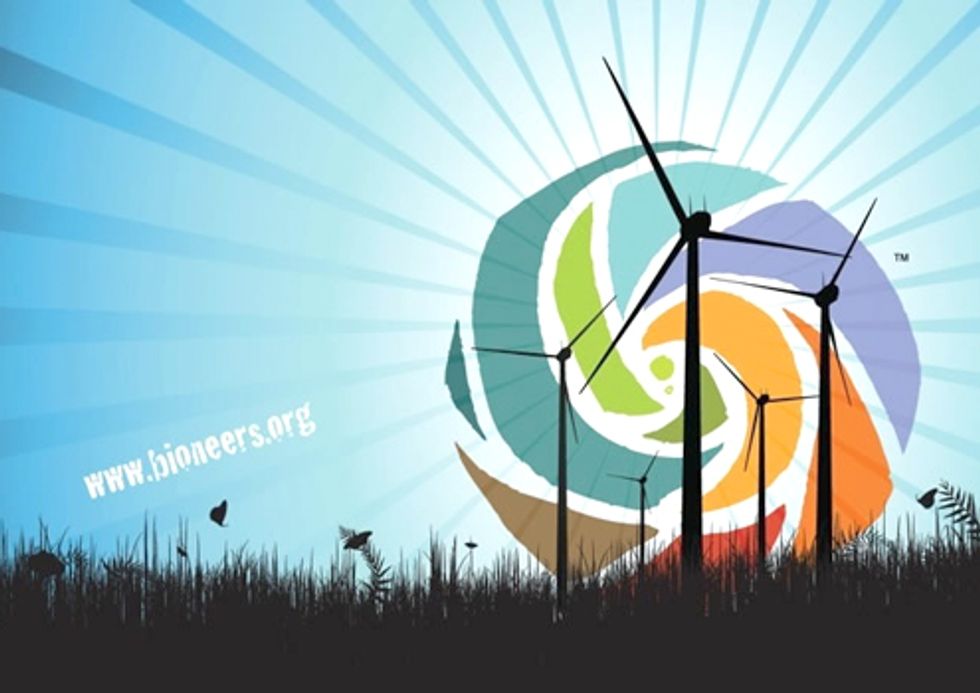 Green is a big color at Cleveland State University. Students and the community will be highlighting "green" as in "Sustainability "on April 11 with Green Advantage: Sustainability and Vision, a full day of presentations that showcase a number of initiatives at CSU, Northeast Ohio and nationally. The event is free of charge for CSU students and staff, as well as the broader community, who will be inspired by what is happening on campus and beyond.
The student-initiated day, sponsored by the CSU Student Environmental Movement, is in partnership with Bioneers Cleveland that has been bringing the outstanding speakers from the national Bioneers conference virtually to Cleveland for the past five years. The keynote speech will be given by Erin Huber, 2011 Cleveland State grad who has started Drink Tap, Drink Local that has included a water project in Uganda. She will introduce the DVD of Philippe Cousteau's Bioneers talk, Continuing a Legacy: Building a Sustainable World in the 21st Century.
Other speakers via DVD include The Rights of Nature: An Idea Whose Time Has Come, Natalia Green, Earth Jurisprudence; When Women are People…and Corporations Are Not: Why the First Inequality Will Also be the Last, Gloria Steinem, world-renowned writer, lecturer, editor and feminist activist; Life's Operating Manual, Dayna Baumeister, co-founder of the Biomimicry Guild and Institute; and The Real Food Challenge, Anim Steel, Director of National Programs at The Food Project.
Local presenters include Dr. Wendy Kellogg, Director, Master of Urban Planning, Design and Development Faculty Associate who will introduce a panel on women's leadership; Steph Crow Hawk, Environmental Consultant; Torrey McMillan (Hathaway Brown) moderating a panel on Biomimicry with Peter Niewiarwoski (University of Akron); and Carlton Jackson (Tunnel Vision Hoops) on local food initiatives.
To start the day, Jenita McGowan, Chief of Sustainability for the City of Cleveland, will give an update on Sustainable Cleveland 2019, and students from the Citizens' Leadership Academy will participate in Fast Track Jr., in which ideas for social entrepreneurship will be pitched for the audience to vote on. The students will be coached by CSU students and the winning idea will receive additional assistance in making it happen.
Conference chair is Mischelle Brown, Masters' student in Philosophy, who was inspired by the Bioneers Cleveland event at Cuyahoga Community College in 2010. She has assembled a diverse student and organizational committee and hopes that the event will raise interest in what is already happening to make CSU a greener campus as well as to inspire more focus on sustainability.
The day will end at 4:30 p.m. with a no-host networking reception at Uno's in the Student Union. Further information can be found by clicking here.
Registration at the door starts at 8:30 a.m.; the program will start promptly at 9:00 a.m.
Green Advantage, April 11, 2012
Come for the day or for an hour
8:30 a.m.                   Registration and Continental Breakfast
9:00 a.m.                   Welcome, Andrew Thomas, CSU xxxxxxxx
Sustainable Cleveland 2019, Jenita McGowan, Chief of Sustainability for the City of Cleveland
9:15 a.m.                    Fast Track Jr., Carlton Jackson (Tunnel Vision Hoops), Brittany Coffin (2010 Fast Track Winner from Downspout Rain Garden),            and Citizens Leadership Academy students who will pitch their ideas for building thriving communities for the audience to select the winning concept.
9:40 a.m.                   Keynote, Erin Huber, Director of Drink Local, Drink Tap, CSU Alum, '10
10:00 a.m.                 Continuing a Legacy: Building a Sustainable World in the 21st Century, Philippe Cousteau via DVD, CEO of EarthEcho  International, Chief Ocean Correspondent for Discovery's Animal Planet and CNN
11:00 a.m.                  The Rights of Nature: An Idea Whose Time Has Come, Natalia Green via DVD, Earth Jurisprudence; Local Presentation by Steph Crowhawk, Environmental Consultant
12:00 p.m                   Lunch on your own (Food Court, etc.)
1:00 p.m.                    When Women are People…and Corporations Are Not: Why the First Inequality Will Also be the Last, Gloria Steinem via DVD, world-renowned writer, lecturer, editor and feminist activist. Local presentation by Dr. Wendy Kellogg and panel
2:00 p.m.                    Life's Operating Manual, Dayna Baumeister via DVD, Co-founder of the Biomimicry Guild and Institute: Local Biomimicry Panel with Torrey McMillan (Hathaway Brown), Doug Paige (Cleveland Institute of Art), Peter Niewiarwoski

3:00 p.m.                   The Real Food Challenge, Anim Steel via DVD, Director of National Programs at The Food Project. Local Presentation by Carlton Jackson (Tunnel Vision Hoops)
4:00 p.m.                   Wrap-up
4:30 p.m.                    Networking Reception at Bar UNOS, CSU Student Center
For more information, click here.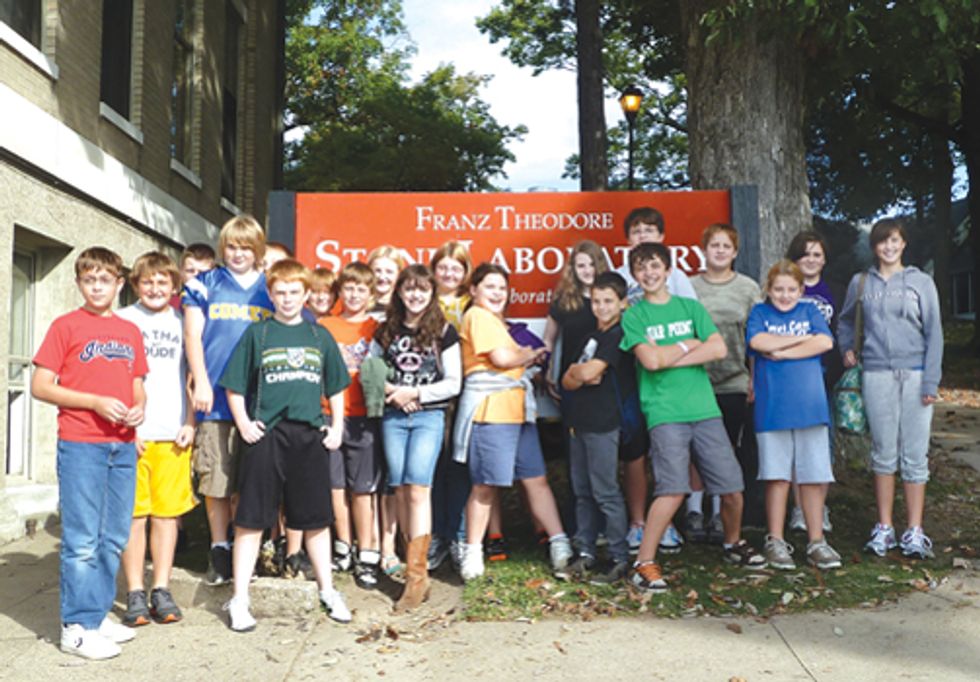 The summer 2011 algal bloom outbreak in the western section of Lake Erie was the worst ever recorded according to a new report by the National Wildlife Federation. Researchers have different opinions on what caused this "perfect storm" of algal growth this summer, but all agree that immediate action must take place to prevent this from happening again.
Akron's Coventry Middle School students have been studying this environmental catastrophe through their Disney Planet Challenge project, What is an algal bloom?...You are about to enter the Dead Zone! Disney's Planet Challenge (DPC) is a project-based learning environmental competition for classrooms across the U.S. DPC teaches kids about science and conservation while empowering them to make a positive impact on their communities and planet.
Coventry students have been working with Ohio Environmental Protection Agency (EPA) Surface Water Division and participating in several labs on nutrient overloading. Community involvement will include "storm drain marking" on a minimum of 25 storm drains throughout the village.
The students held a fishing derby at the Division of Wildlife Fish Hatchery in Portage Lakes. Student Adam Marsh attended the derby with his mother and 2 siblings, stating that the reason he participated in the event "was to have fun and enjoy the outdoors in a clean and safe environment." The students visited the Ohio State's Aquatic Research Facility on Gibraltar Island observing the algal bloom first hand and completing water quality testing and stream monitoring.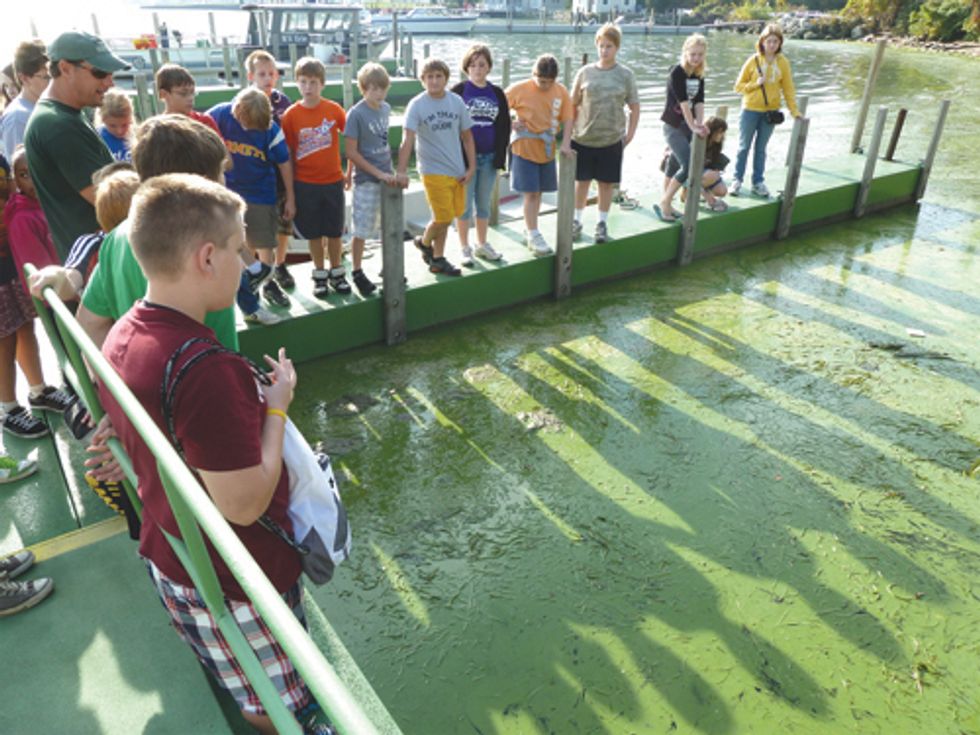 Middle School students realize the economic and recreational significance of Lake Erie and hope to bring this ecological disaster to the forefront of environmental issues. Teachers Chris Lorence and Jim Trogdon are the coordinators of the project. Trogdon states, "The first step in solving any problem is to make people aware of the current situation and then take action. This is the goal of our project." Coventry Middle School students are actively working with a variety of resources including the Ohio Division of Wildlife, Cuyahoga Valley National Park, Ohio State's Aquatic Research Center, Stone Lab, Underwriter's Laboratories and Ohio EPA Surface Water Division of Summit County.
Alec McClellan, President of Good Nature Organic LawnCare, partnered with Coventry Middle School to help promote the students' Disney Project. Good Nature will donate $30 to the school's outdoor education program for anyone who signs up for a full lawncare program. For more information, call Good Nature Organic Lawncare at 216-285-1881.
Best of luck to these young environmentalists as they continue their work.
Disney's Planet Challenge is a free, project-based environmental program that empowers students to make a difference in school, at home and in their local communities.
For more information, click here.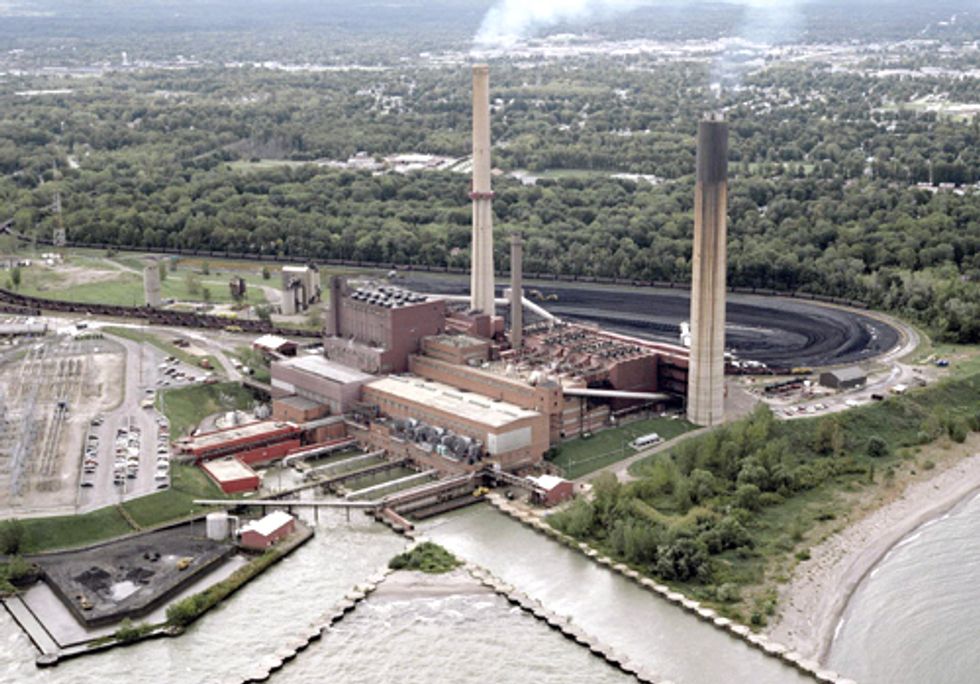 The Ohio Environmental Council is praising First Energy Corp. for its plan to permanently close six coal-fired power plants, including four along Ohio's Lake Erie coast.
 
The Akron-based energy company's announcement on Jan. 26 said that the shut down will take place by September for the Bayshore (Toledo), Lakeshore (Cleveland), Eastlake (Eastlake) and Ashtabula (Ashtabula) power plants. The company's plans also include the retirement of a power plant in Maryland and Pennsylvania.
 
Together, the six power plants have the capacity to generate nearly 2,700 megawatts of electricity—enough to power more than 600,000 homes.
 
"First Energy has made the right decision, and not just for its bottom line," said Nolan Moser, clean air director and staff attorney for the Ohio Environmental Council.
 
"Pulling the plug on these dirty, old, outdated coal plants will deliver cleaner air to millions of Americans.  It will mean less asthma, less lost work and less mercury emissions. We thank First Energy for doing right by the people of Ohio."
 
First Energy indicated that it is cheaper to close the facilities rather than install modern pollution controls to control mercury emissions, as required by new federal air rules. The plants were constructed in the 1950s when few if any pollution controls were required. The utility also indicated that the plants were not used very much in recent years.
 
"It makes sense to finally retire these old plants," said Moser. "Most of these facilities first fired up when IKE was in the White House and Edsels prowled the highway. These old plants' technology is inefficient, outdated, and by today's standards, downright dirty. First Energy has made the right decision to move towards newer, cleaner and more cost effective resources."
 
First Energy noted that the low cost of energy available from other, newer power generating facilities was a factor in its decision.
 
"In the past few years, First Energy and Ohio's other investor-owned utilities have made aggressive investments in energy- and cost-saving technologies and renewable energy generating facilities," said Moser. "This boost in energy efficiency and new wind and solar farms are beginning to power Ohio with clean, affordable power. These new resources are adding power capacity, putting people to work, and keeping energy costs down. We hope that First Energy will continue to invest in a cleaner energy future."
 
Moser compared these new resources to the older facilities that First Energy plans to close down. "On the one hand, Ohio is investing in clean, efficient new energy resources; on the other some utilities still have 1950's era coal plants operating. First Energy deserves credit for moving away from old, inefficient facilities and investing instead in clean, new technologies. That's good for Ohio consumers, our economy and environment."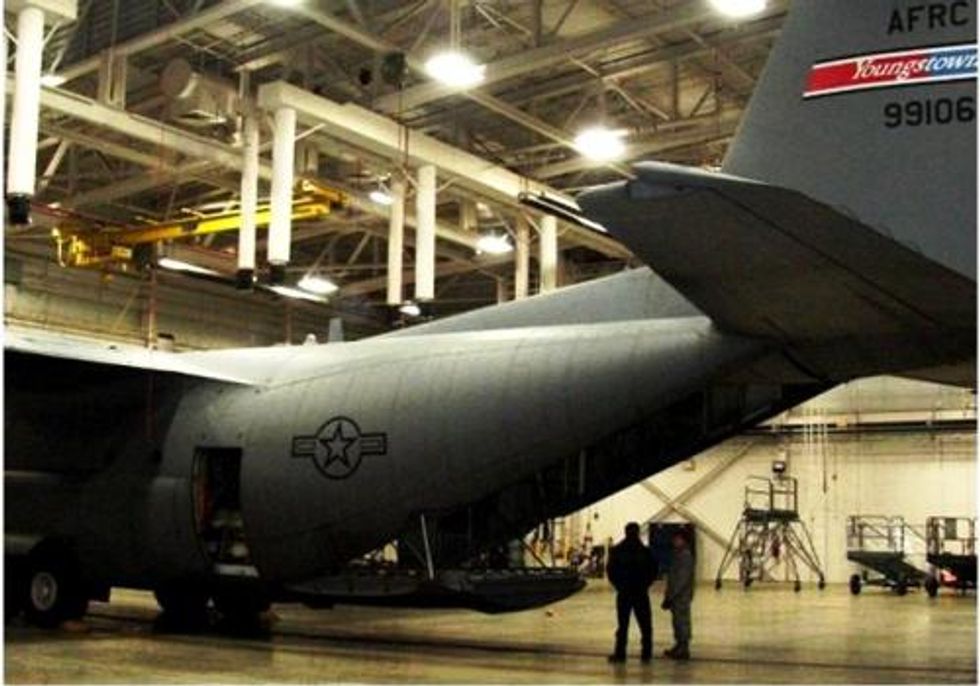 The Cleveland-based non-profit, MedWish International and G-Team, the philanthropic arm of Groupon, announced on Jan. 10 the launch of a fundraising campaign that will allow Northeast Ohio to save lives and improve the health of those in desperate need of medical care in Honduras. MedWish International is committed to repurposing medical supplies and equipment discarded by the healthcare industry to provide humanitarian aid in developing countries and reduce solid waste. The purpose of the new fundraising campaign is to send their largest shipment ever to support three clinics in Tegucigalpa, Honduras. All donations to fund this shipment will be matched dollar-for-dollar by the Sherwin-Williams Children's Health Fund, established through a generous grant by The Sherwin-Williams Company. 
"This shipment will improve health and save lives for thousands of people in Honduras," said Brian Smith, who arranged the shipment through the nonprofit Helping Hands for Honduras and works as director of strategic project development at the Cleveland Clinic. "The ultrasound machine will help improve maternal health, the mammography machine will allow faster detection and treatment of cancer and the 24 beds will make a huge difference in ensuring every patient is comfortable."
The online fundraising campaign will be available on Groupon Cleveland, Groupon Akron-Canton, and Groupon Youngstown's G-Team pages from Jan. 10 - Jan. 12. Utilizing G-Team's collective action model, Groupon followers can pledge support for the Honduras shipment in increments of $10 or more. Each $10 donation will provide approximately 150 pounds of donated medical supplies and equipment to Del Torax Hospital, a charitable hospital serving the poor in Tegucigalpa, as well as Santa Rosa Lima Clinic and The Cedros Clinic.
Moreover, because these supplies have been discarded by local hospitals, medical device companies and individuals, MedWish is conserving the environment by preventing them from ending up in Northeast Ohio landfills. Because of FDA regulations, insurance liability and the rapid advance of technology, American hospitals must discard still-useful supplies on a daily basis. Cleveland is one of just a handful of cities in the entire country that has an organization like MedWish to recycle and redistribute these supplies to countries in need. The MedWish warehouse consists of 40,000 square feet—almost an entire football field—of such supplies waiting to be sent overseas.
While MedWish sends over 200 shipments annually to over 60 countries around the world, this shipment is unique for two reasons. First, through the Denton Program, the United States military offers unused space aboard its cargo planes for free to humanitarian relief organizations. Through this program, the MedWish supplies will be sent from Youngstown Air Reserve Station to Honduras aboard a C-5 cargo plane on Jan. 20. Second, because of the free shipping and size of airplane, this will be the largest load in MedWish International's 19-year history. The shipment includes 144 items total, including 24 beds, 24 night stands, an ultrasound, three mobile x-ray machines, 4 exam tables, 24 Infusion Pumps, a Mammography Machine and 2 OR tables, among other items.
Honduras is one of the neediest countries in the Americas, with more than 35 percent of the population living on less than $2 a day, and roughly 80 percent of the population without access to quality healthcare. Hospital Del Torax is the only advanced-care facility of its kind in Honduras. Together with MedWish, Hospital Del Torax has continuously increased its effectiveness while lowering patient mortality.
100 percent of the G-Team campaign proceeds will be used to support the shipment of more than 20,000 pounds of life-saving medical supplies and equipment to Honduras through MedWish International.
For more information, click here.
--------
About MedWish International
Founded by Dr. Lee Ponsky, M.D., MedWish International is committed to repurposing medical supplies and equipment discarded by the healthcare industry with the objectives of providing humanitarian aid in developing countries to save lives and reducing solid waste to save our environment. MedWish has recovered 2.2 million pounds of medical surplus from over 50 hospitals in the United States over the past five years, and has shipped aid overseas to 90 countries since its inception in 1993. For more information, or to make a difference, visit www.medwish.org.
About G-Team
G-Team, launched in July 2010 in Chicago, features a weekly local campaign in more than 65 markets nationwide, enabling Groupon followers to do good, have fun and make a real impact in their communities. G-Team uses collective action to gather support for worthwhile causes and produce tangible results for local organizations. To learn more about G-Team and how to become a featured organization, visit http://www.groupon.com/g-team. To subscribe to Groupon, visit http://www.groupon.com.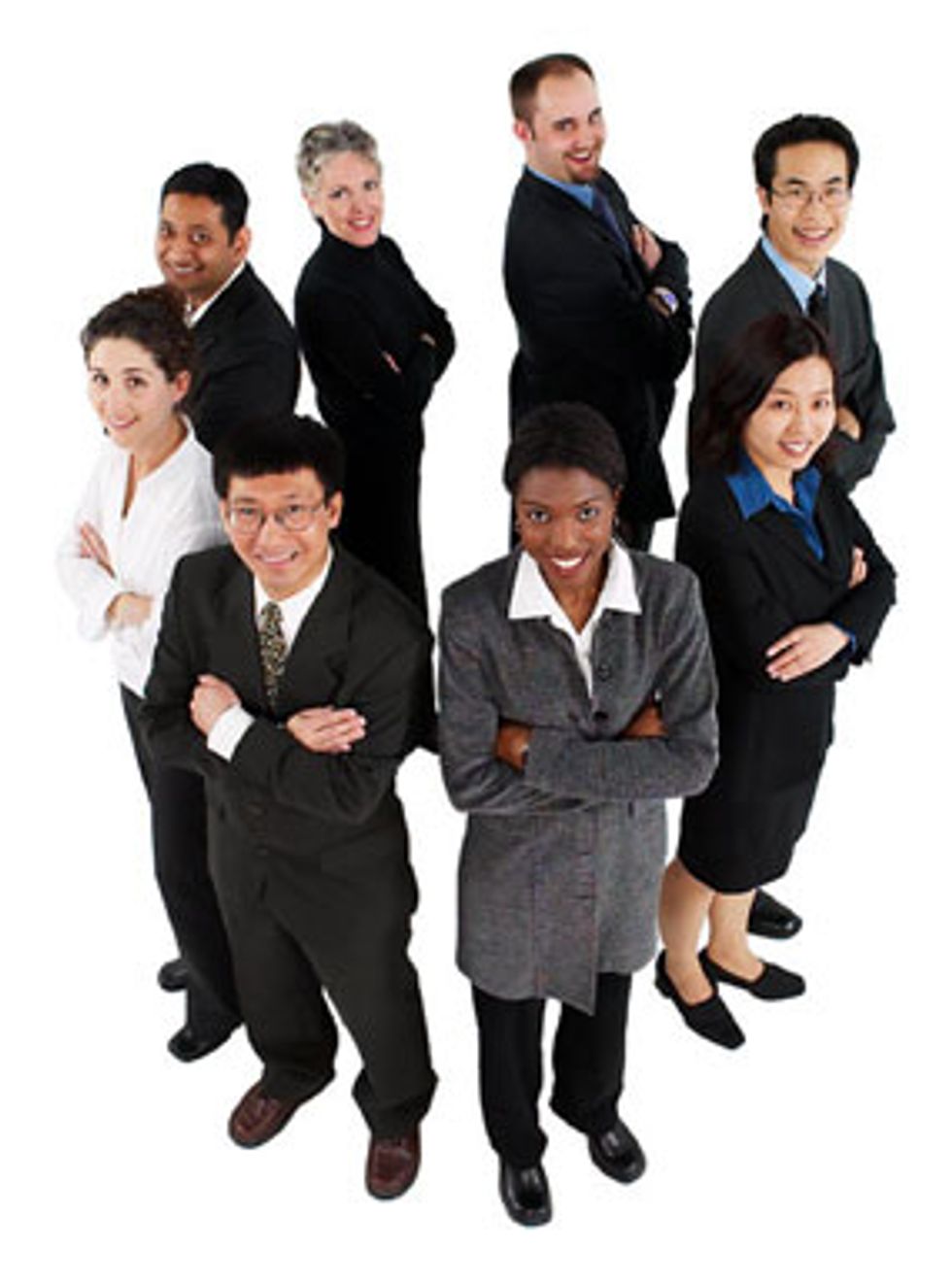 by Beau Daane
A new model of sustainability consulting for small and medium sized enterprises has come to Northeast Ohio. The Fowler Center for Sustainable Value at the Weatherhead School of Management at Case Western Reserve University, in partnership with True Market Solutions, introduced its Sustainability Circles initiative in October. This program aims to help companies improve their financial performance by fully embracing sustainable business practices. The program is designed to be both accessible and affordable, while helping participating companies build brand equity and revenues, reduce costs, manage risks, engage employees and stakeholders, and build strong community.
The Sustainability Circles concept broadens the scope of traditional consulting activities to include peer-based learning with professional advising and other unique elements. The Sustainability Circles program brings up to nine organizations at a time into a peer learning community one day a month for six months. Monthly sessions will focus on a variety of sustainable business practice topics spanning from Built Environments (lighting, HVAC, waste and renewable energy) to Operational Environments (procurement and supply chain management). Peer groups will work together to learn from industry experts, determine best practices and devise strategies to move forward. These peer-based learning sessions will be supported by individualized coaching sessions. Sustainability Circle members will be given access to a national network of experts in addition to a network of local entities to help them implement new activities and practices.
At the end of the process, participants will walk away with several tangible results that will greatly aid their transition to a more sustainable enterprise. These results include a complete carbon footprint analysis, an initial project and a customized Sustainability Action Plan.
The Sustainability Circles team has decades of combined professional experience working with companies on sustainability-related issues. The Fowler Center is a major thought leader in the realm of sustainable value, with extensive experience in collaboration and consulting projects of all sizes, ranging from Appreciate Inquiry summits with hundreds of people to one-on-one consultations with organizations.
As the Secretariat of the U.S. Network of the UN Global Compact, the world's largest voluntary corporate sustainability reporting initiative, the Fowler Center helps shape the agenda of sustainability in the U.S. business community. With reputable professors like David Cooperrider, PhD, Fairmount Minerals Professor in Social Entrepreneurship and Professor of Organizational Behavior, and Chris Laszlo, PhD, Associate Professor of Organizational Behavior, the Fowler Center is a dynamic player in both business and academic arenas.
True Market Solutions is a San Francisco-based company created out of the shared passion of its founders to make a real impact in the world for future generations and to address the great challenges and opportunities of our era. Its founders are business leaders with deep personal experience and connections in the world of business and sustainability. With this vision in mind, True Market Solutions created the Sustainability Circles curriculum and have offered it in several other regions around the country.
Sustainability Circle Previews were offered in Cleveland and Akron in mid-October. Forty-two companies came out to the previews to learn about this compelling new opportunity to embed sustainability in their core business practices. Sustainability Circle Previews will be offered again on a regular schedule, in Cleveland and Akron.
Enrollment is currently open for the Sustainability Circles programs that will officially kick off in December. Additional Sustainability Circles will be launched in 2012, in Cleveland and Akron.
For more information, contact Beau Daane, Fowler Center Manager, at 216-368-4795 or [email protected] and visit www.weatherhead.case.edu/centers/fowler.
--------
The Fowler Center for Sustainable Value leverages interdisciplinary scholarship and practice to help leaders capitalize on new profitable business opportunities to solve the world's growing social and environmental problems. We work directly with all institutions to embed sustainability into their core strategy, applying cutting-edge competencies in design, innovation, whole systems and appreciative inquiry.