This website uses cookies to ensure you get the best experience while browsing it. By clicking 'Got It' you're accepting these terms.
A Tesla Model S at a supercharger station.
Public Herald / Flickr
Government subsidies for electric vehicles and solar panels are an important tool to help accelerate a clean energy economy. However, a top White House economic advisor said on Monday that the Trump administration is looking to end such federal incentives, Reuters reported.
Sweeteners for purchasing EVs and other Obama-era items could be eliminated in as little as two years, according to Larry Kudlow, the director of the White House National Economic Council.
The world's richest countries continue to subsidize at least $100 billion a year in subsidies for the production and use of coal, oil and gas, despite repeated pledges to phase out fossil fuels by 2025.
EcoWatch Daily Newsletter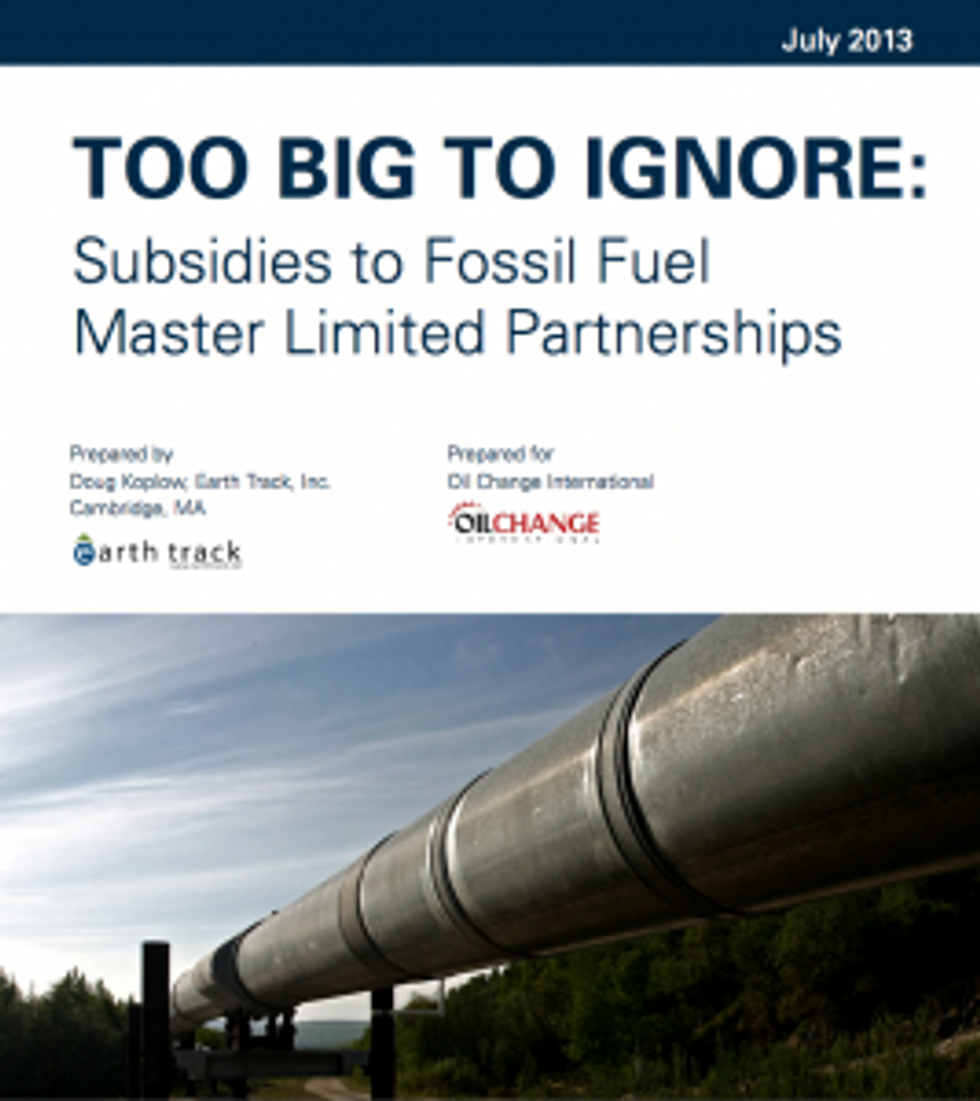 A new report released today by Oil Change International and Earth Track exposes a largely unaccounted for subsidy to the fossil fuel industry, valued at roughly $4 billion per year and growing.
New analysis quantifies the value of tax avoidance by the fossil fuel industry through a corporate structure called "master limited partnerships (MLPs)." Though eliminated for most U.S. industries more than a quarter century ago, special rules protected eligibility for fossil fuels, and have allowed a growing range of oil and gas activities to escape corporate income taxes entirely.
The report, Too Big to Ignore: Subsidies to Fossil Fuel Master Limited Partnerships, finds that the oil, gas and coal sectors have increasingly dominated the MLP universe, now comprising well over three-quarters of the total. Existing estimates of the taxpayer costs associated with fossil fuel MLPs are deceptively low, reducing the pressure to end this tax break once and for all.
MLPs, such as those created by Enbridge, Sunoco and TransCanada, not only enable firms to escape corporate income taxes on profits, but also to delay most tax payments on distributions to partners by many years. As Forbes has said, MLPs are an "income and a tax shelter rolled into one investment."
The MLP structure, according to the new report, cost the U.S. treasury as much as $13 billion in lost tax revenue between 2009 and 2012, a figure six times larger than previous estimates. Fossil fuel interests continue to convert to MLPs at an alarming rate through asset spin-offs, mergers and by seeking expanded eligibility granted not only by Congress, but also through rather secretive Internal Revenue Service (IRS) rulings.
"Not only does the U.S. oil boom imperil our communities and climate, but the increasing use of master limited partnerships allows the industry to pay even less of its share of the taxes needed to support those same communities," said David Turnbull, campaigns director of Oil Change International. "The fossil fuel industry is busy destroying our air, water, land and climate, all the while finding new ways to avoid taxes."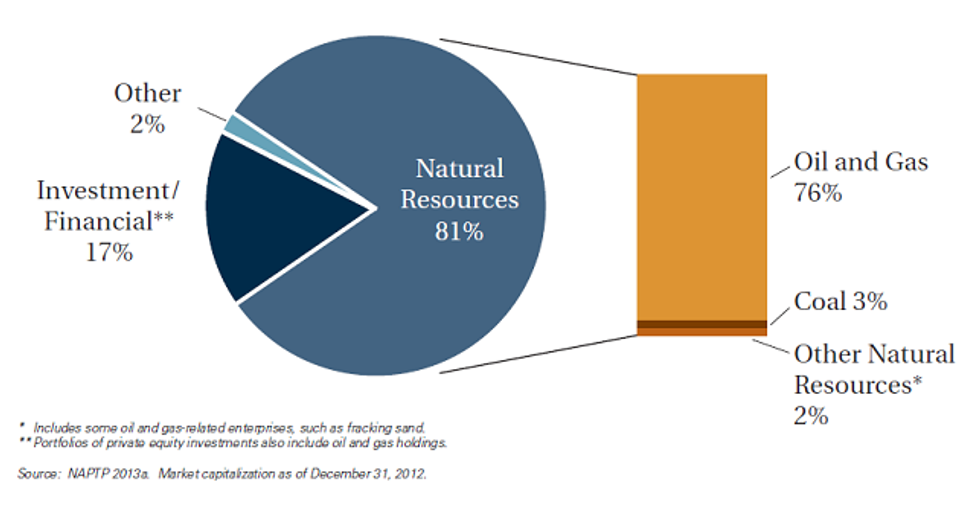 "Tax subsidies to fossil fuels through master limited partnerships go against both the fiscal and environmental interests of our country, yet are repeatedly overlooked in most federal oversight reports on subsidies," said Doug Koplow of Earth Track, the report's author. 
"Though recent efforts have looked to expand master limited partnership subsidies to some renewable energy resources, the evidence suggests that the fossil fuel sector will continue to capture the vast majority of the MLP subsidies even with an expansion," Koplow continues. "In the context of the climate crisis we face, the continuation of this subsidy to fossil fuels is inappropriate regardless of any potential benefits to new industries."
Visit EcoWatch's ENERGY page for more related news on this topic.
——–
SHARE YOUR THOUGHTS BELOW: Should these subsidies be applied to the renewable energy industry as well, or eliminated all together?
——–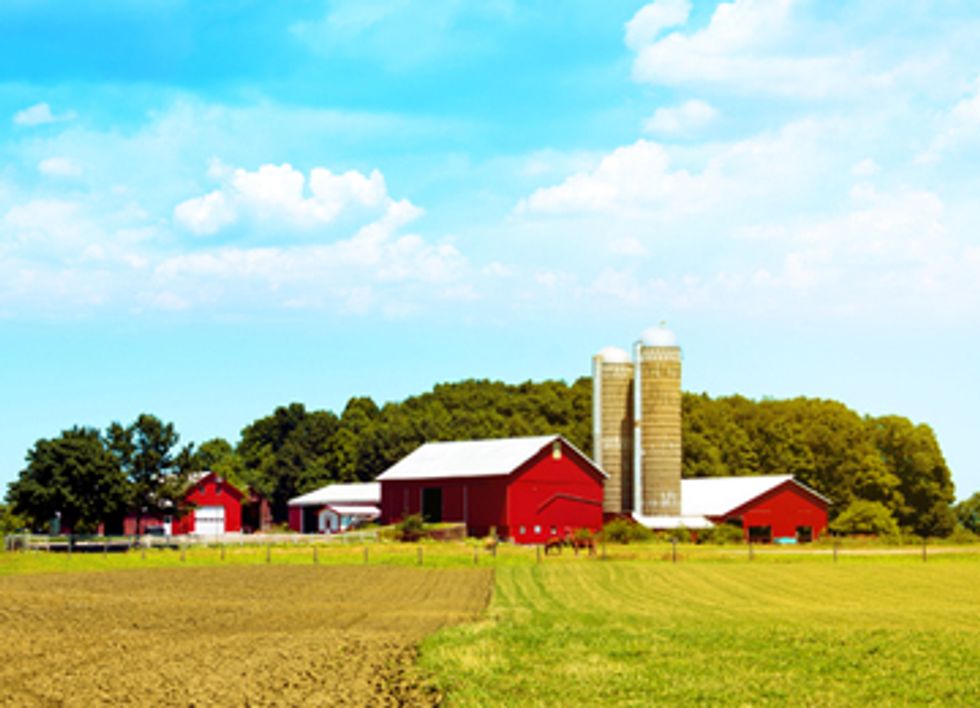 Photo courtesy of Shutterstock
The budget-busting farm bill headed to the House floor next week is bad news for taxpayers. Here's why this bill, officially H.R. 1947, shouldn't pass. 
This bill would:
Send crop insurance subsidies soaring to nearly $100 billion over the next decade. Right now, the U.S. Department of Agriculture (USDA) covers, on average, two-thirds of a farmer's premium. The bill proposes to increase revenue guarantees to 90 percent of a farm's income, provide 80 percent of a cotton farmer's premium subsidy and create a new peanut insurance program tied to the price of peanuts in Rotterdam.
Fail to limit insurance subsidies so the largest farm businesses would continue to collect the lion's share. Under current law, some farmers reap more than $1 million in premium support, and roughly 10,000 farmers receive more than $100,000 in premium support. While the top one percent of farmers annually receives, on average, more than $200,000, the bottom 80 percent collects just $5,000.
Increases price guarantees so close to market prices that even a small decline in crop prices would trigger billions of dollars in government spending, erasing any savings from eliminating long-discredited "direct payments" for corn, soybeans, wheat and rice. This so-called "price loss" program would boost already sky-high price guarantees for cotton and peanuts by 30 and 80 percent, respectively. The bill would even create a new price guarantee for sushi rice.
Extend direct payments for cotton farmers for two more years at a cost of nearly $1 billion. Direct payments would continue to be paid to cotton farmers regardless of need—or even whether a farmer harvested a crop. Other farmers would have to limp by unlimited insurance subsidies and eye-popping price guarantees.
Conceal names of subsidy recipients, among them, members of Congress. Recipients of direct payments, conservation payments and other farm programs are made public but the House Agriculture Committee has refused to divulge the identities of those who receive crop insurance subsidies that now comprise two-thirds of the farm safety net.
Weaken the conservation compact. Since 1985, farmers have agreed to adopt basic environmental protections in exchange for nearly $300 billion in farm subsidies. But, unlike the Senate farm bill, H.R. 1947 would not require that farmers receiving generous insurance premium subsidies protect wetlands or reduce soil erosion.
Reasonable reforms would provide farmers a robust safety net but at far less cost to the taxpayer than H.R. 1947. A bipartisan group of House members hopes to improve the bill via amendments to limit crop insurance subsidies to $50,000 per farmer, subject crop insurance subsidies to means testing, end windfall profits and require USDA to disclose the names of subsidy recipients. When combined with other reforms, these amendments could save the taxpayers more than enough to spare conservation and nutrition programs from proposed cuts and meet deficit reduction targets.
Visit EcoWatch's FOOD and FARM BILL pages for more related news on this topic.

The International Energy Agency (IEA) released today a major new report warning that nothing short of an energy sector revolution is required to protect the world from runaway climate change and a global temperature rise beyond two degrees Celsius.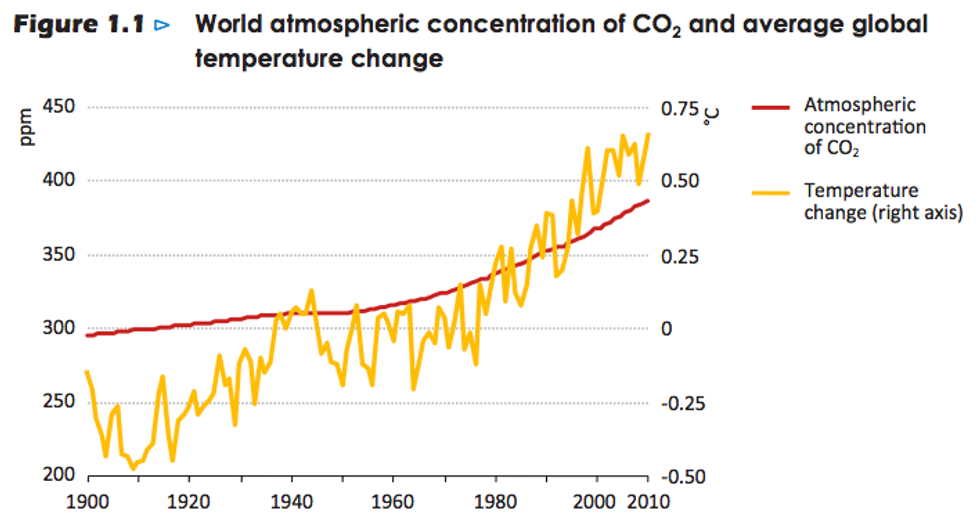 In what is the IEA's most urgent call for climate action yet, the World Energy Outlook Special Report 2013: Redrawing the Energy Climate Map advocates a "reorientation of an energy system currently dominated by fossil fuels," and proposes near-term action to clean up the power sector and halt the increase of global emissions by 2020.
It also calls for "transformational" change in energy generation worldwide in the longer term.
IEA Executive Director Maria van der Hoeven said:
Climate change has quite frankly slipped to the back burner of policy priorities. But the problem is not going away—quite the opposite.

This WEO [World Energy Outlook] Special Report is a timely reminder that climate change must remain a permanent and prominent item on the policy agenda. It seeks to outline the intensive action which we need to start implementing today, without waiting to 2020 or later for a global agreement to take effect.
Compared to 2011, energy-related carbon dioxide emissions in 2012 have increased by 1.4 percent.
A new global agreement aimed at meeting this target will not emerge before 2015 and is not likely to be implemented before 2020.
Meanwhile, the world is drifting further towards dangerous levels of average temperature rise and runaway climate change; the IEA projects an increase of 3.6 to 5.3 degrees Celsius by the end of the century. Scientists warn this level of warming could threaten civilization as we know it.
In its "4-for-2 degrees Celsius" scenario, the report proposes four near-term "pragmatic and achievable" measures to put the world on track to limiting warming to safer levels and could reduce emissions by eight percent on levels otherwise expected by 2020 without harming economic growth.
Targeted energy efficiency measures in buildings, industry and transport would account for nearly half of these savings by 2020 while limiting the construction and use of the least-efficient coal-fired power plants could deliver another 20 percent of these savings—while helping to curb local air pollution.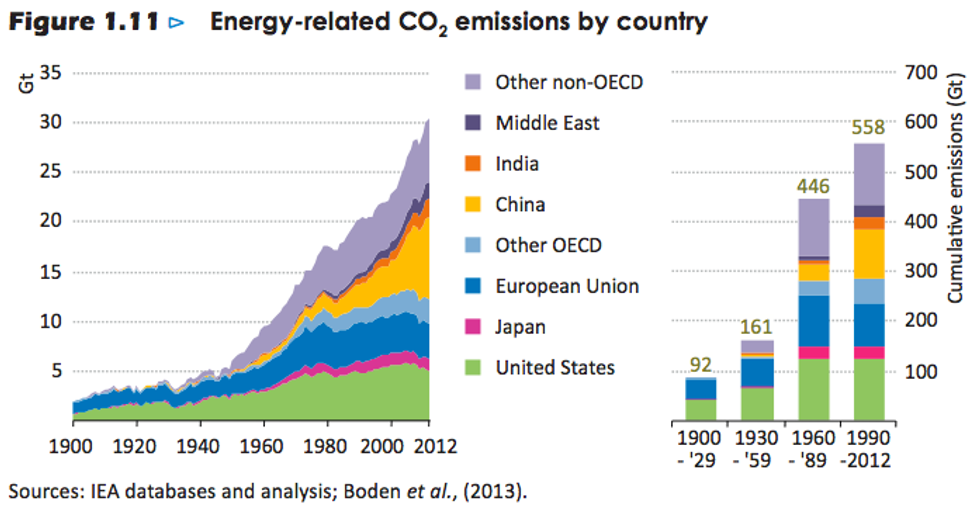 The report estimated renewable energy generation would increase from around 20 percent to 27 percent over the same period to fill the void created.
Halving methane releases from flaring in the oil and gas industry could provide another 18 percent of the savings and implementing a partial phase of out fossil fuel consumption subsidies would account for 12 percent, according to the report.
The IEA also makes the economic case for avoiding a looming 2017 lock-in for long-term warming above 2ºC. While delaying climate action across the entire energy system till 2020 would save $1.5 trillion, the report estimates that an additional $5 trillion will be needed in low-carbon investment after this date.
Fossil fuel power plants have long life cycles and are therefore exposed to serious risks in a carbon-constrained world, facing early and costly retirement or retrofitting, or even becoming "stranded assets."
In a report last year, the IEA warned that—to stay below two degrees Celsius—about two-thirds of proven global fossil fuel reserves have to stay in the ground. Yet companies spend vast amounts not only digging up known fossil fuel reserves but by looking for and developing new fossil fuel reserves.
A recent report from the Carbon Tracker Initiative found that the financial industry invested $674 billion in such projects last year alone, and warned that $6 trillion could be pumped into a "carbon bubble" over the next decade.
In response to this dire outlook for carbon-intensive utilities, the IEA promotes a strong global carbon market and carbon capture and storage (CCS) technologies as possible ways to avoid problems and to create a role for fossil fuels in the future energy mix of a carbon-constrained world.
However, in the same report the IEA also warns that the use of CCS "remains distant" as the technology has yet to be deployed at scale, and it could still be many years before the power sector could rely on it, if full-scale deployment ever becomes a reality.
Greenpeace also warns that power plants fitted with the technology require 11-40 percent more fuel and thus boost dependence on fossil fuels even further.
While generally welcoming the IEA's call to action, environmental groups have upped the stakes.
Samantha Smith, leader of the World Wildlife Fund (WWF) Global Climate & Energy Initiative said:
This is a welcome intervention by the IEA, particularly the focus on energy efficiency standards for lighting, cars and appliances as well as cutting methane losses in oil and gas production. Unfortunately, the other policies are incomplete, not ambitious enough or regionally biased. With the world on track for catastrophic levels of global warming, as the IEA says, these stop-gap proposals simply don't go far enough.
Building on IEA arguments they argue that the IEA should set a target to cut emissions from coal power 20 percent by 2020—targeting all power stations.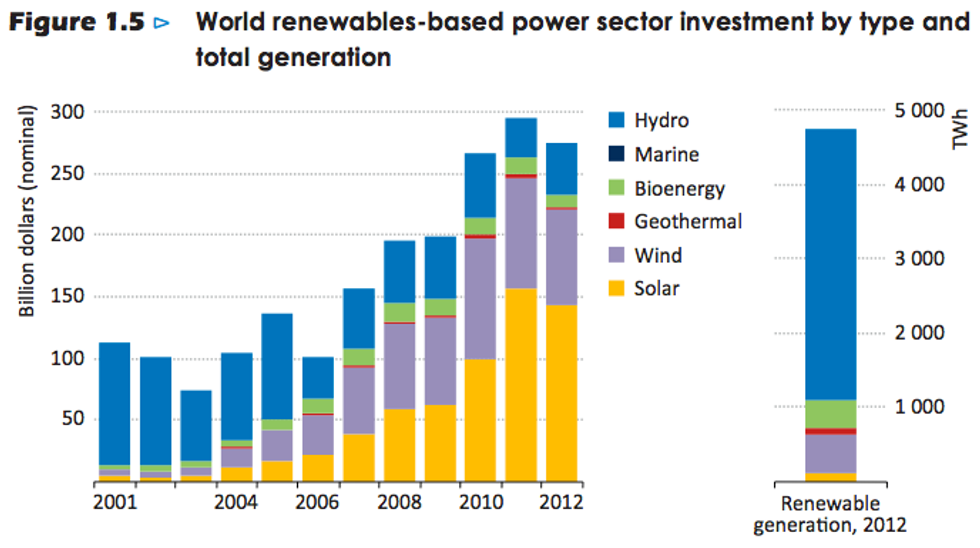 They also call for deeper cuts in fossil fuel subsidies, phasing out both consumption subsidies and production subsidies—those providing incentive for exploring for new reserves—in both developed and developing countries.
According to the IEA, $523 billion was spent globally in 2011—up 30 percent from 2010 and huge in comparison to the $88 billion spent on subsidising clean renewables.
WWF says governments should instead use taxpayer money to boost renewables and fight energy poverty.
Visit EcoWatch's CLIMATE CHANGE page for more related news on this topic.
——–
Click here to tell Congress to Expedite Renewable Energy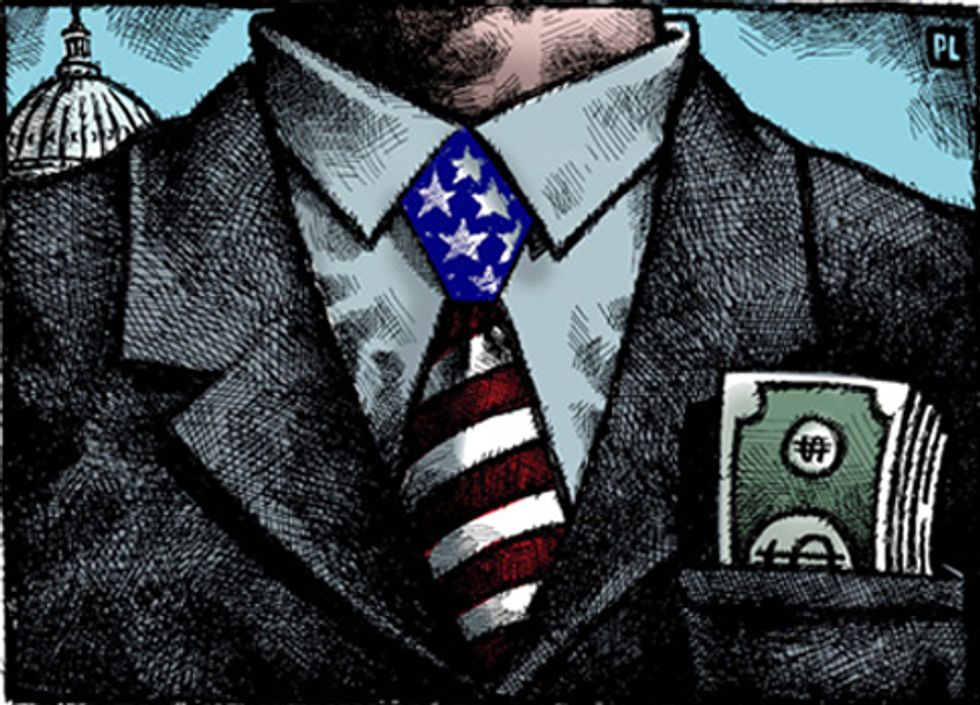 By Steve Kretzmann
What if you were in Vegas, and a friend told you there was a slot machine in the corner that was giving out $59 for every $1 that was put in? You'd think the machine was broken, and that it was rigged.
What if an investment advisor told you that he could get you $59 back for every $1 you gave him? That's a 5,800 percent rate of return. Even Bernie Madoff only promised 10.5 percent. Obviously a scam, right?
Clearly this is a scam, but if you're the oil, gas and coal industry, it's legal and business as usual in Washington. For every $1 the industry spends on campaign contributions and lobbying in Washington, D.C., it gets back $59 in subsidies.
Here's how it works:
Amount the fossil fuel industry spent during the 111th Congress (2009 & 2010) on contributions to Congress' campaigns—$25,794,747
Oil and Gas lobbying total 2009—$175,454,820
Oil and Gas lobbying total 2010—$146,032,543
Total amount spent by Big Fossil in 111th Congress—$347,282,110
2009 amount given to fossils in federal subsidies—$8,910,440,000
2010 amount given to fossils in federal subsidies—$11,578,900,000
Total amount given to fossils during 111th Congress—$20,489,340,000
(Find the original Organisation for Economic Co-operation and Development (OECD) source for subsidies by clicking here and broken down by U.S. Federal totals by clicking here)
Divide the total subsidies by the total money spent by the industry and you get 59.
$1 in. $59 out. That's a 5,800 percent return on political investment. Not bad.
For more information, click here.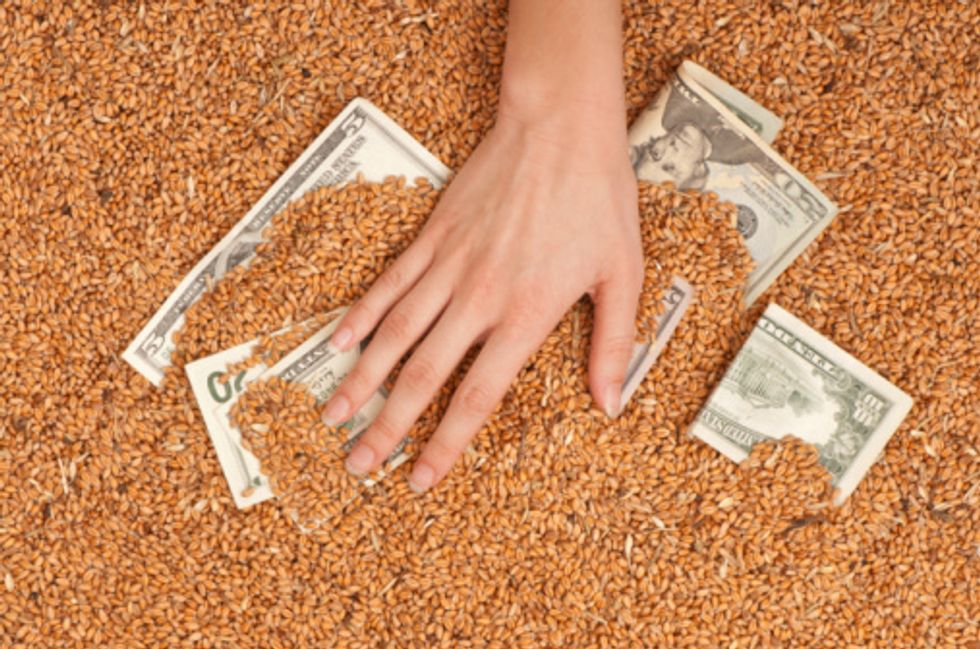 The Environmental Working Group (EWG) released a Direct Payment Database Nov. 10, giving taxpayers a look inside the complex agriculture partnerships and corporations that got the lion's share of $4.7 billion in federal direct payments to farmers in 2009. EWG found that the 10 agribusinesses receiving the biggest payouts raked in a total of $5.4 million. The biggest payments went to large agribusinesses in the southern states of Arkansas, Louisiana, Georgia, Tennessee and Mississippi.
The database also provides the names of the individuals who ultimately cashed the subsidy checks, whose identities have been hidden by these corporate structures and not publicly disclosed by the U.S. Department of Agriculture (USDA) since the 2008 farm bill.
Direct payments, promoted as a safety net for working farm and ranch families, are in reality annual cash giveaways to the most profitable businesses in farm country. The average crop subsidy payment to the top ten recipients in 2009 was $542,172 apiece—about 10 times more than the average American earns annually. A total of 160 individuals ultimately collected payments through these 10 farm enterprises.
"This new data underscores why direct payments should be eliminated. The savings could help reduce the deficit and bolster conservation and nutrition programs," said Craig Cox, EWG's vice president for Agriculture and Natural Resources. "It is remarkable that some in the subsidy lobby are still trying to cling onto this wasteful and unnecessary program."
The recipient of the single biggest direct payment was Ratio Farms in Helena, Ark. EWG's database identifies the 26 individuals who cashed in on the operation's $874,666 in subsidy payments. Each one received about $33,600 in 2009—barely $6,000 below USDA's $40,000 limit on how much each person is eligible to receive annually.
In its 2010 EWG farm subsidy database update released earlier this year, EWG was unable to identify individual recipients because the USDA now only provides this information on a program by program basis, making it easier for many of the individual beneficiaries to shield their receipt of tax dollars behind paper farms and corporate entity shell games. EWG obtained the additional data under the federal Freedom of Information Act and is still waiting for the 2010 records.
Since the early 90s, EWG has worked to transform USDA's current system of direct payments into a program that would actually target assistance to working farm and ranch families that need help to stay on the land, but until now the Big Ag subsidy lobby has blocked all attempts at meaningful reform. Now it is time to simply end direct payments, which are finally in the budget crosshairs as Congress works to reduce the federal deficit. Reformers, however, are still facing a full-court press from entrenched corporate agriculture interests, which want to replace the handouts with an expensive new entitlement to guarantee the business income of the very same highly profitable farm businesses that have long profited from direct payments.
EWG thinks that is the wrong way to go. Instead, it recommends:
• Eliminating direct payments, counter-cyclical payments, loan deficiency payments, ACRE (Average Crop Revenue Election) and SURE (Supplemental Revenue Assistance Payments).
• Providing every farmer with a free crop insurance policy that covers yield losses of more than 30 percent and eliminating federal premium and other subsidies for revenue-based or other crop insurance products.
• Having the federal government take bids from insurance companies to service these policies, eliminating insurers' recent windfall profits and encouraging the private sector to develop and offer innovative options for farmers to increase insurance coverage—but not at taxpayers' expense.
• Requiring producers to meet a basic standard of conservation practices in order to be eligible for publicly financed crop insurance.
• Ensuring full transparency by requiring USDA to disclose who is getting the free policies, the cost to taxpayers and how much farmers receive in insurance payouts.
For more information, click here.