This website uses cookies to ensure you get the best experience while browsing it. By clicking 'Got It' you're accepting these terms.


The best of EcoWatch, right in your inbox. Sign up for our email newsletter!
Youth activists ages 11-18 learn to fight plastic pollution at the inaugural Ocean Heroes Bootcamp. Ocean Heroes Bootcamp
By 2018 Ocean Heroes: Claire MacQueen (13 years old), Sabine Thomas (13) and Ava Inskeep (14)
We despise single-use plastics. We want to keep our oceans and our beaches clean. Early last year I (Claire) lived in India for several months and became curious about plastic waste, as it was much more visible in India than back home in the U.S. Seeing all the plastic waste while I was visiting helped me to understand that much of the trash produced by the U.S. actually ends up in developing countries, like India, which does not have a proper waste management system like we do at home, which causes a ton of trash to end up in waterways and the ocean.
Within 100 hours of Donald Trump's inauguration, in the first and largest youth-led mobilization of 2017, thousands of students across the country walked-out of class in protest of Trump and his corrupt fossil fuel billionaire cabinet. This comes just two days after nearly 3 million people mobilized in Women's Marches around the world. Students on dozens of campuses across the country are demanding administrations resist and reject Trump's climate denial cabinet by divesting from fossil fuels and reinvesting in solutions to the climate crisis.
"In the face of Trump's dangerous climate denial, youth are rising up," said Greta Neubauer, director of the Divestment Student Network. "For any chance at curbing the worst impacts of climate change, our universities must stand on the right side of history with students and take action now against Trump's climate denial. We won't allow Trump and his fossil fuel billionaire cabinet to foreclose on our future."

Monday's day of action, dubbed #ResistRejectDenial, is also the largest youth-led mobilization in the history of the fossil fuel divestment movement. Students and youth have been a driving force leading the fossil fuel divestment movement to be the mainstream global movement it is today, with more than 600 institutions across 76 countries representing more than $5.2 trillion in assets committing to some level of divestment.

The same day as Trump's inauguration, the Oregon State University board unanimously voted to divest from all fossil fuels. Other key commitments from colleges and universities in the U.S. include the University of Massachusetts Foundation, the University of Maryland, as well as Georgetown University and the University of California school system that have committed to partial fossil fuel divestment. Divestment has taken hold on campuses around the world, including in the United Kingdom where a quarter of universities have committed to divest.
"I need my university to stand up for our futures under Trump's dangerous and corrupt climate denial," said Samantha Smyth, sophomore at Appalachian State University. "We must disavow the blatant disregard for our well-being and future by climate deniers in office. We must stand up for the millions of people who are dying at the hands of powerful, morally corrupt individuals who deny climate change."
Prior to election day, young people proved themselves a force to be reckoned with. This was demonstrated in unprecedented political engagement throughout the election, challenging candidates to take stronger stances on climate, as well as in youth organized sit-ins at senate offices, engagement in mass mobilizations such as Women's Marches and the #DayAgainstDenial and rallying to oppose Trump's corrupt climate-denying appointees.
Young people have been a driving factor in pushing our institutions to stand on the right side of history, with two consecutive years of on-campus escalation from 100 campuses, resulting in more than 30 arrests, with victory at the University of Massachusetts, University of California and University of Oregon. Since 2014, thousands of students across the country have participated in national escalation for fossil fuel divestment.
Beyond fossil fuel divestment, young people are taking action to ensure elected officials take necessary action on climate and against Big Oil. In an ongoing lawsuit, 21 young people from across the U.S. filed a landmark lawsuit against the federal government for its failure to address the effects of climate change.
"This is a wake up call to Donald Trump; there are almost 75 million people in this country under the age of 18," said Xiuhtezcatl Martinez, youth director of Earth Guardians and a plaintiff in the federal climate change lawsuit. "We didn't have an opportunity to vote in the past election, but we will suffer the consequences of climate inaction to a greater degree than any living generation. Our right to a just and livable future is nonnegotiable."

Just last week, the World Meteorological Organization confirmed that 2016 was the hottest year on record and the second hottest year in U.S. history surpassing records of 2015 and 2014. Extreme weather, including storms, floods and droughts, are impacting communities at a pace and magnitude far exceeding previous predictions, making it even more crucial that institutions divest and take meaningful action on climate.
"Hope is something we must create. In this moment, the best way to do that is by taking action and showing that we will rise to this moment," said Neubauer. "When it comes to climate change, time is not on our side. This is just the beginning of the opposition that the Trump's Administration should expect from young people"

EcoWatch Daily Newsletter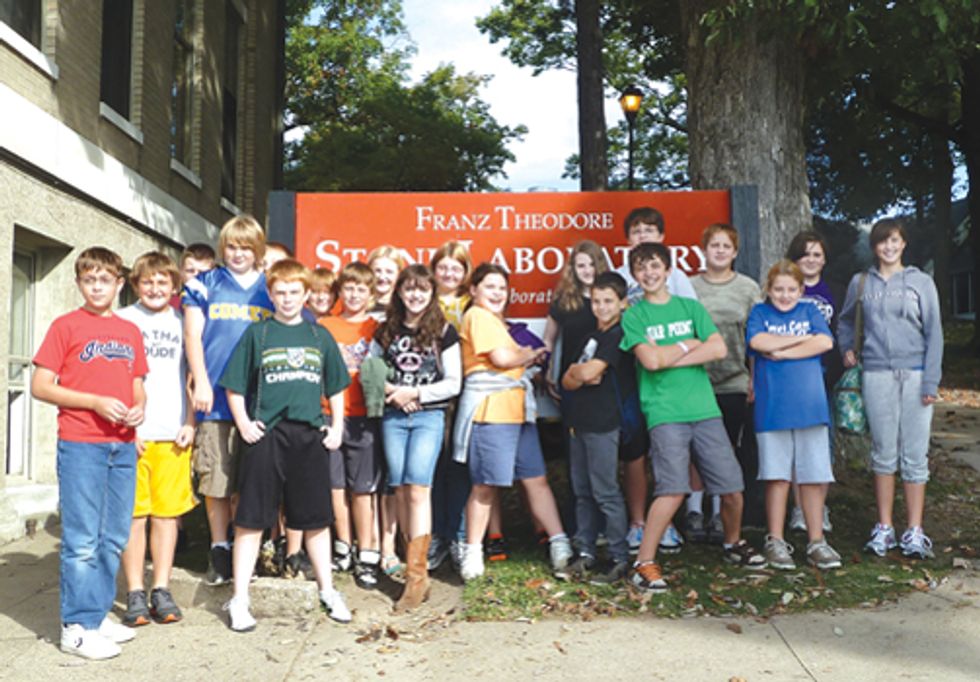 The summer 2011 algal bloom outbreak in the western section of Lake Erie was the worst ever recorded according to a new report by the National Wildlife Federation. Researchers have different opinions on what caused this "perfect storm" of algal growth this summer, but all agree that immediate action must take place to prevent this from happening again.
Akron's Coventry Middle School students have been studying this environmental catastrophe through their Disney Planet Challenge project, What is an algal bloom?...You are about to enter the Dead Zone! Disney's Planet Challenge (DPC) is a project-based learning environmental competition for classrooms across the U.S. DPC teaches kids about science and conservation while empowering them to make a positive impact on their communities and planet.
Coventry students have been working with Ohio Environmental Protection Agency (EPA) Surface Water Division and participating in several labs on nutrient overloading. Community involvement will include "storm drain marking" on a minimum of 25 storm drains throughout the village.
The students held a fishing derby at the Division of Wildlife Fish Hatchery in Portage Lakes. Student Adam Marsh attended the derby with his mother and 2 siblings, stating that the reason he participated in the event "was to have fun and enjoy the outdoors in a clean and safe environment." The students visited the Ohio State's Aquatic Research Facility on Gibraltar Island observing the algal bloom first hand and completing water quality testing and stream monitoring.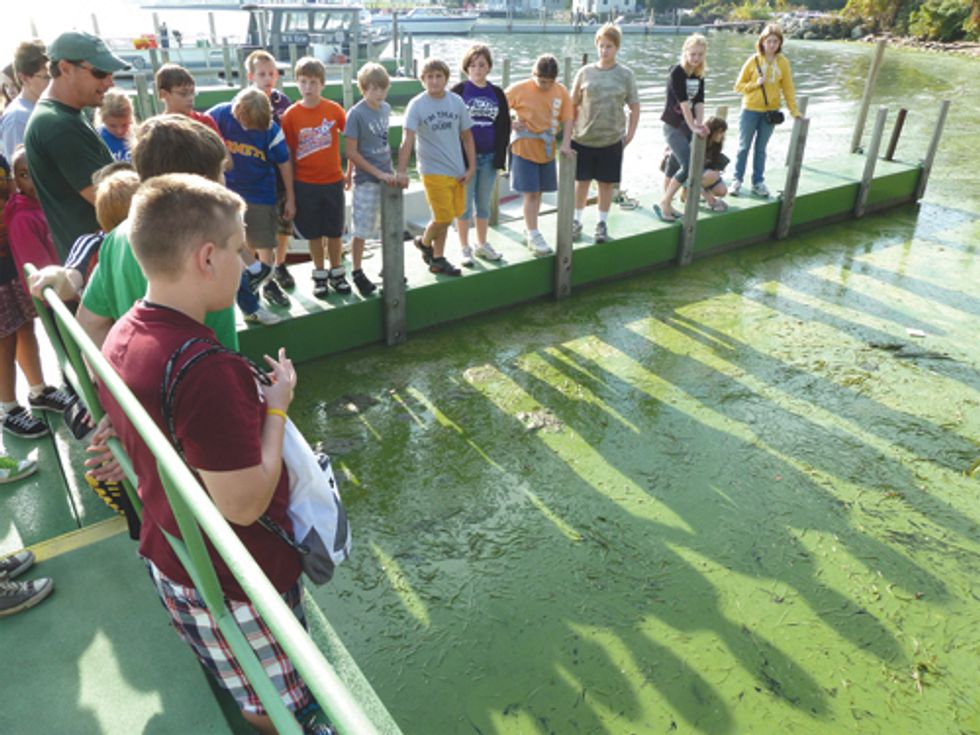 Middle School students realize the economic and recreational significance of Lake Erie and hope to bring this ecological disaster to the forefront of environmental issues. Teachers Chris Lorence and Jim Trogdon are the coordinators of the project. Trogdon states, "The first step in solving any problem is to make people aware of the current situation and then take action. This is the goal of our project." Coventry Middle School students are actively working with a variety of resources including the Ohio Division of Wildlife, Cuyahoga Valley National Park, Ohio State's Aquatic Research Center, Stone Lab, Underwriter's Laboratories and Ohio EPA Surface Water Division of Summit County.
Alec McClellan, President of Good Nature Organic LawnCare, partnered with Coventry Middle School to help promote the students' Disney Project. Good Nature will donate $30 to the school's outdoor education program for anyone who signs up for a full lawncare program. For more information, call Good Nature Organic Lawncare at 216-285-1881.
Best of luck to these young environmentalists as they continue their work.
Disney's Planet Challenge is a free, project-based environmental program that empowers students to make a difference in school, at home and in their local communities.
For more information, click here.