The first outreach effort from the Brewers for Clean Water campaign calls on America's most visible home brewer—President Obama—to move forward long-delayed safeguards under the Clean Water Act. The campaign is a partnership between the Natural Resources Defense Council (NRDC) and some of the nation's most respected craft brewers aimed at protecting and bolstering America's bedrock water protection law. Twenty brewers signed onto a letter sent to the White House today in favor of protecting American streams, wetlands and headwaters.
"You can't keep our biggest sources of water, and beer, clean if polluters are allowed to dump into the streams and wetlands that that our larger waterways depend on," said NRDC Water Program Senior Policy Analyst Karen Hobbs. "But that's what has been allowed to happen since the Bush Administration. The brewers are telling President Obama that they need their number one ingredient protected to maintain their business and slake the American thirst for tasty brews."
The brewers' letter calls upon the administration to release Clean Water Act policy updates that have been delayed for more than a year.
Few small businesses depend on clean water as much as craft brewers. While hops and malt can be sourced elsewhere, breweries are reliant on their local water supplies. Whether drawn from lakes, rivers, groundwater or a local water system, breweries rely on the protections of the Clean Water Act to ensure the quality of their main ingredient. Beer is 90 percent water. Small streams and wetlands help ensure a safe and sufficient water supply, but they've been vulnerable to pollution and destruction since the Bush Administration.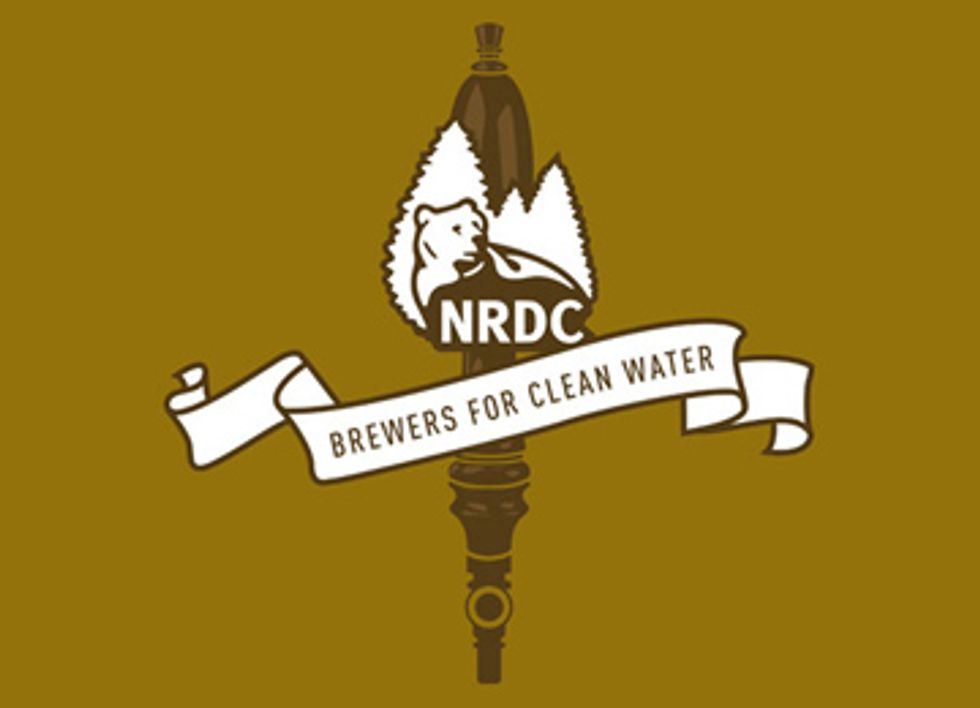 In April, NRDC announced the Brewers for Clean Water partnership to leverage the compelling business voice of nearly two dozen of the nation's most respected craft beer makers in advocacy around water protections. In their first public messaging outreach on behalf of the Clean Water Act under the campaign, the following breweries signed on to the White House letter:
The letter focuses on White House delays in clarifying which water bodies are covered by the Clean Water Act. Supreme Court decisions in 2001 and 2006 created uncertainty about what types of waters are protected by the law. Agency "guidance" issued under former president George W. Bush further limited the ability of pollution control officials to protect waters, making implementation of the law difficult, time consuming and expensive. As a consequence, it became unclear whether the law protected a variety of waters, especially those that are geographically isolated from others, or that lack permanent flow. More than 117 million Americans depend on these water bodies for their drinking water. The U.S. Environmental Protection Agency and the U.S. Army Corps of Engineers released draft guidance in 2011; they received more than 230,000 comments, the vast majority of which were positive. 
Following are quotes from brewers signed onto the letter:
"By protecting our nation's waterways, we are protecting our beer," said Jenn Vervier, director of strategy and sustainability at New Belgium Brewing Company, Fort Collins, CO. "America's waterways are critical to our environment, our economy and our health. Not only does the great-tasting beer we brew depend on it, but so do the communities in which we operate."
"Chicago is a big beer town, so the President should know what's at stake," said Josh Deth, head brewer and "Chairman of the Party" at Revolution Brewing, one of the most beloved breweries in President Obama's hometown. "Chicagoans rely on Lake Michigan for more than source water for our beer—it's where our drinking water comes from and where our kids swim. There's far more than beer at stake."
"As breweries, we have a voice that can be heard by thousands. As citizens, we have a responsibility to use that voice to improve the world around us. And, as Michiganders, we must do whatever we can to protect our pristine rivers, streams and lakes," said Russell Springsteen, owner of Right Brain Brewery, Traverse City, MI.
"Every living being has a right to a clean and abundant source of water. Brewers are no exception, and across the country they rely on clean water to create the libations enjoyed by so many. Protecting our waterways from pollution protects a growing American economy and the health of our communities," said Cheri Chastain, sustainability coordinator at Sierra Nevada Brewing Company, Chico, CA.
"Water is our most precious natural resource, nationally and especially in New York, the only state that touches two Great Lakes and the Atlantic Ocean. Whether New Yorkers swim in Lake Erie, kayak in the East River or draw their drinking water from the Catskill Mountains, they understand the importance of protecting our water resources vigorously," said Kelly Taylor, co-owner of KelSo Beer Company in Brooklyn, NY.
"Breweries have always been a key public meeting place in our communities and we wouldn't exist without the support of our patrons. Because of this, we feel it's of utmost importance to do what we can to give back to our community. Our support of the Clean Water Act is an important component of this desire to be a responsible business," said Kris Spaulding, sustainability director and owner of Brewery Vivant, Grand Rapids, MI.
"Wisconsin residents have a special relationship to our water resources, which our state constitution holds in trust for all. By moving forward with this long-delayed action to protect headwaters and wetlands under the Clean Water Act, the administration will help protect Wisconsin's water resources, as well as our economy. About 10 percent of our beer is currently exported and this guidance will help ensure the highest quality of our products here and for export," said Russ Klisch, owner of Lakefront Brewery, Milwaukee, WI.
"Our mission is improving the quality of life for our neighbors. In order to continue that mission, the nation's waterways, including Lake Michigan, must be protected," said Greg Shuff, owner of DryHop Brewers, Chicago, IL. "Clean water is critical for the wellness of communities across the country, in addition to the quality of the beer we brew for our neighbors in Chicago." 
"In Northern Michigan, we are surrounded by water. That fact has shaped our beer and brewing philosophy. We recognize the urgent need to clean and sustain our water resources, not just for our beer, but for our way of life," said Joe Short, owner of Short's Brewery, Elk Rapids, MI.
"Beer is an excellent megaphone, which is why we're calling on our nation's most visible home brewer, President Obama, to release this important guidance," said Ian Hughes, environmental and safety coordinator for Goose Island Beer Company. "No one can afford to take clean water for granted, even those of us who live in the Great Lakes watershed and use its great water for brewing."
Visit EcoWatch's WATER page for more related news on this topic.
——–
EcoWatch Daily Newsletter
By Brian Bienkowski
When fish swim in waters tainted with antidepressant drugs, they become anxious, anti-social and sometimes even homicidal.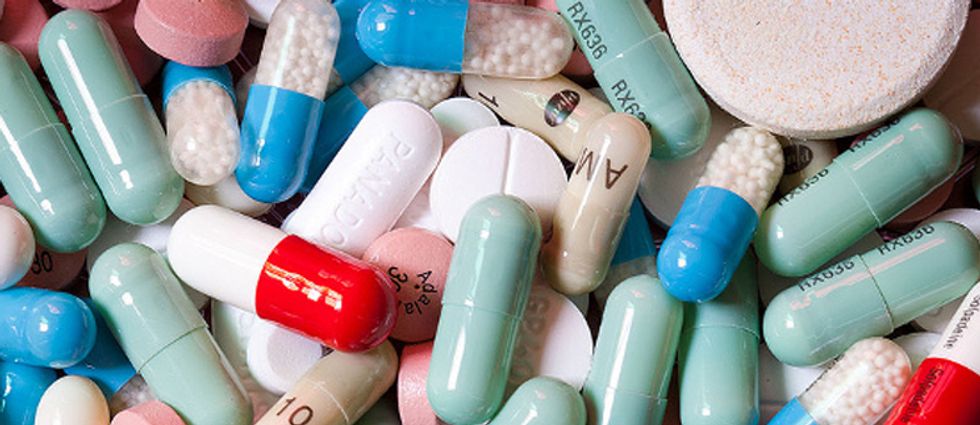 New research has found that the pharmaceuticals, which are frequently showing up in U.S. streams, can alter genes responsible for building fish brains and controlling their behavior.
Antidepressants are the most commonly prescribed medications in the U.S.; about 250 million prescriptions are filled every year. And they also are the highest-documented drugs contaminating waterways, which has experts worried about fish. Traces of the drugs typically get into streams when people excrete them, then sewage treatment plants discharge the effluent.
Exposure to fluoxetine, known by the trade name Prozac, had a bizarre effect on male fathead minnows, according to new, unpublished research by scientists at the University of Wisconsin-Milwaukee.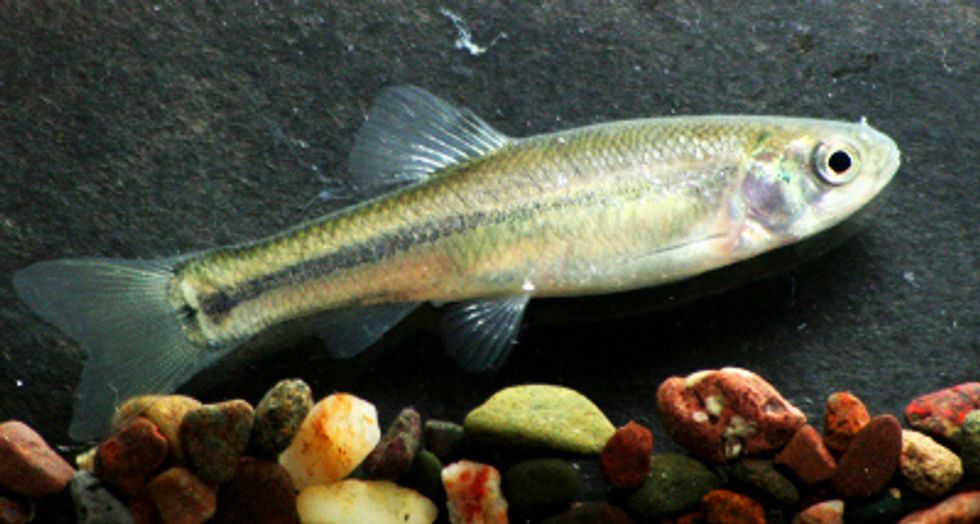 Male minnows exposed to a small dose of the drug in laboratories ignored females. They spent more time under a tile, so their reproduction decreased and they took more time capturing prey, according to Rebecca Klaper, a professor of freshwater sciences who spoke about her findings at a Society of Environmental Toxicology and Chemistry conference last fall. Klaper said the doses of Prozac added to the fishes' water were "very low concentrations," one part per billion, which is found in some wastewater discharged into streams.
When the dose was increased, but still at levels found in some wastewater, females produced fewer eggs and males became aggressive, killing females in some cases, Klaper said at the conference.
The drugs seem to cause these behavioral problems by scrambling how genes in the fish brains are expressed, or turned on and off. The minnows were exposed when they were a couple of months old and still developing.
There appeared to be architectural changes to the young minnows' brains, Klaper said at the toxicology conference. Growth of the axons, which are long nerve fibers that transmit information to the body, was disrupted.
The new findings build on Klaper's previous research, which tested minnows with the gene changes to see how well they avoided predators. They swam longer distances and made more directional changes, which suggests that the drugs induced anxiety.
The drugs used in the study were among the most common in sewage: Prozac, Effexor and Tegretol. The researchers tested each drug alone and in combination.
"At high doses we expect brain changes," Klaper said. "But we saw the gene expression changes and then behavioral changes at doses that we consider environmentally relevant."
However, there is too little evidence to know whether pharmaceuticals are having any impacts on fish populations in the wild, said Bryan Brooks, an environmental science professor at Baylor University who has extensively studied pharmaceuticals in streams and fish.
Any changes in reproduction, eating and avoiding prey can have devastating impacts for fish populations, Klaper said.
The most vulnerable fish populations are those downstream of sewage treatment plants, where prescription drugs consistently show up in higher levels than in other waterways. It's only within the past decade that technology has allowed plants to test for the chemicals in their wastewater and in waters downstream, though most still don't, said Steve Carr, supervisor of the chemistry research group at the Los Angeles County Sanitation Districts.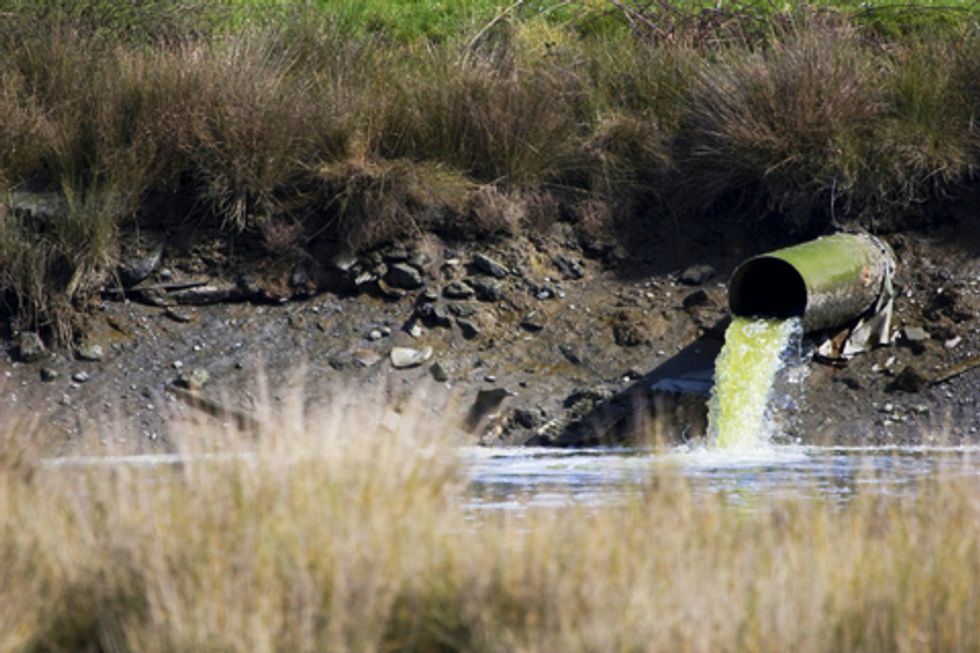 One of the antidepressants tested in the fish—Tegretol—comes into the treatment plants and goes out at near constant levels, said Eric Nelson, a senior chemist with the Los Angeles County Sanitation Districts.
That means the county's treatment technology does not seem to have any effect on the drug. It comes in and leaves in a very tight range, about 150 to 400 parts per trillion, Nelson said.
Nelson said the two other drugs tested on the fish—Prozac and Effexor—are discharged in effluent at even lower levels: between about 20 and 30 parts per trillion. In comparison, the levels that altered behavior of the lab fish were 50 times higher.
When monitoring an Iowa and a Colorado stream, the U.S. Geological Survey found most drugs at levels similar to Los Angeles County's. However, these low levels could still find their way into fish brains, according to their 2010 study.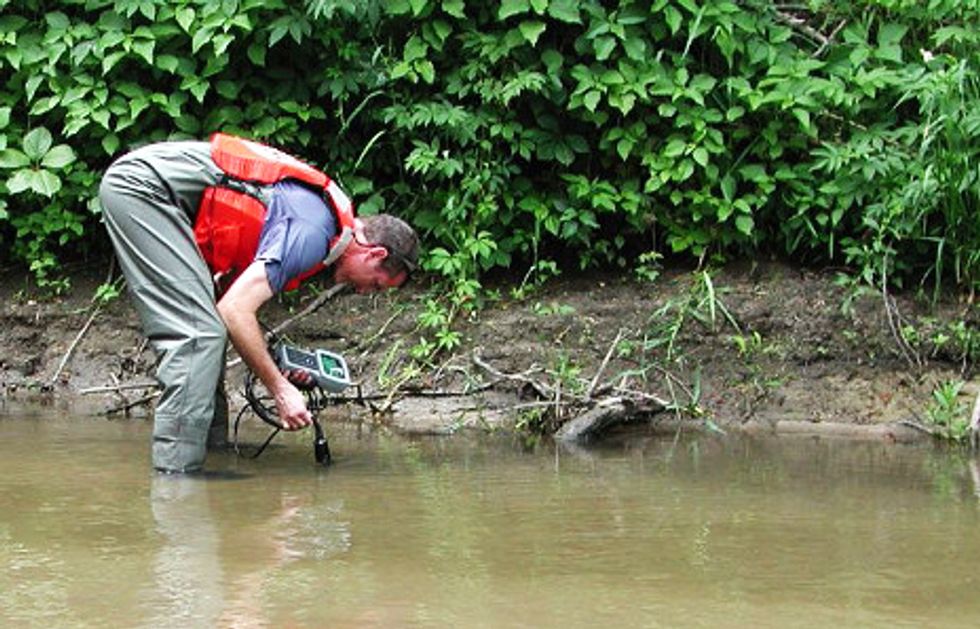 Researchers found elevated levels of pharmaceuticals in the stream water two to six miles from the sewage treatment plants. But the chemicals at the highest levels in the water were not the ones most prevalent in the fish brains.
"The fish downstream of the wastewater treatment had elevated concentrations of two antidepressants … Zoloft and Prozac," said Edward Furlong, a research chemist at the U.S. Geological Survey based in Boulder, CO. "And these were relatively low in water compared to others."
Even if the levels released into streams seem low, they are constant, which is problematic, Brooks said.
"The drugs may not be classically persistent like PCBs [Polychlorinated biphenyl]," Brooks said. "But they're pseudo-persistent. The [continuous] exposure of organisms in a stream is equivalent to a chemical that is persistent."
Some drugs bioaccumulate, or build up, in rainbow trout, according to Brooks' research. Also, rainbow trout exposed to sewage effluent have pharmaceuticals in their blood at levels as high as those that affect the brains of people, according to research in Sweden.
Brooks said the likelihood of bioaccumulation for pharmaceuticals is high. "People have to take these drugs for weeks before they start having effects. They slowly bioaccumulate in your system," which suggests bioaccumulation potential in fish, too, said Brooks.
Changes to the brain can affect all kinds of things in fish, Klaper said. And since humans have a similar brain gene structure, the findings raise questions about whether traces of these drugs in drinking water might harm human health.
The U.S. Environmental Protection Agency (EPA) considers pharmaceuticals an "emerging concern," and has concluded that the chemicals may pose risks to wildlife and humans. There are currently no federal regulations of the compounds in waste or drinking water. However, 12 pharmaceuticals are currently on the EPA's Contaminant Candidate List, which are chemicals that may require regulation under the Safe Drinking Water Act.
Studies have consistently found prescription drugs in drinking water at parts-per-trillion levels. U.S. Geological Survey scientists sampled 74 waterways used for drinking water in 25 states in 2008 and found 53 had one or more of the three dozen pharmaceuticals they were testing for in their water. Forty percent of the pharmaceuticals were found at one or more of the sites.
Fifty-four active pharmaceutical ingredients and 10 metabolites have been detected in treated U.S. drinking water, according to a 2010 EPA review.
Studies of children exposed in the womb to antidepressants taken by their mothers show effects on their motor development and a higher risk of some birth defects.
But health officials say the levels found in some drinking water are too low to cause harm.
According to a 2012 World Health Organization report, the "trace quantities of pharmaceuticals in drinking water are very unlikely to pose risks to human health." The report said that the amount found in drinking water is usually 1,000 times lower than doses expected to have an effect on a person.
But Klaper said that in light of the gene changes in fish brains, officials may need to rethink what is considered safe.
"Fish do not metabolize drugs like we do," Klaper said. "Even if environmental doses aren't thought to be much for a human, fish could still have significant accumulation, and, it appears, changes in their brain's gene expression."
Visit EcoWatch's BIODIVERSITY page for more related news on this topic.
——–
waterlust.com / @tulasendlesssummer_sierra .
Each product featured here has been independently selected by the writer. If you make a purchase using the links included, we may earn commission.
The bright patterns and recognizable designs of Waterlust's activewear aren't just for show. In fact, they're meant to promote the conversation around sustainability and give back to the ocean science and conservation community.
Each design is paired with a research lab, nonprofit, or education organization that has high intellectual merit and the potential to move the needle in its respective field. For each product sold, Waterlust donates 10% of profits to these conservation partners.
Eye-Catching Designs Made from Recycled Plastic Bottles
waterlust.com / @abamabam
The company sells a range of eco-friendly items like leggings, rash guards, and board shorts that are made using recycled post-consumer plastic bottles. There are currently 16 causes represented by distinct marine-life patterns, from whale shark research and invasive lionfish removal to sockeye salmon monitoring and abalone restoration.

One such organization is Get Inspired, a nonprofit that specializes in ocean restoration and environmental education. Get Inspired founder, marine biologist Nancy Caruso, says supporting on-the-ground efforts is one thing that sets Waterlust apart, like their apparel line that supports Get Inspired abalone restoration programs.
"All of us [conservation partners] are doing something," Caruso said. "We're not putting up exhibits and talking about it — although that is important — we're in the field."
Waterlust not only helps its conservation partners financially so they can continue their important work. It also helps them get the word out about what they're doing, whether that's through social media spotlights, photo and video projects, or the informative note card that comes with each piece of apparel.
"They're doing their part for sure, pushing the information out across all of their channels, and I think that's what makes them so interesting," Caruso said.
And then there are the clothes, which speak for themselves.
Advocate Apparel to Start Conversations About Conservation
waterlust.com / @oceanraysphotography
Waterlust's concept of "advocate apparel" encourages people to see getting dressed every day as an opportunity to not only express their individuality and style, but also to advance the conversation around marine science. By infusing science into clothing, people can visually represent species and ecosystems in need of advocacy — something that, more often than not, leads to a teaching moment.

"When people wear Waterlust gear, it's just a matter of time before somebody asks them about the bright, funky designs," said Waterlust's CEO, Patrick Rynne. "That moment is incredibly special, because it creates an intimate opportunity for the wearer to share what they've learned with another."
The idea for the company came to Rynne when he was a Ph.D. student in marine science.
"I was surrounded by incredible people that were discovering fascinating things but noticed that often their work wasn't reaching the general public in creative and engaging ways," he said. "That seemed like a missed opportunity with big implications."
Waterlust initially focused on conventional media, like film and photography, to promote ocean science, but the team quickly realized engagement on social media didn't translate to action or even knowledge sharing offscreen.
Rynne also saw the "in one ear, out the other" issue in the classroom — if students didn't repeatedly engage with the topics they learned, they'd quickly forget them.
"We decided that if we truly wanted to achieve our goal of bringing science into people's lives and have it stick, it would need to be through a process that is frequently repeated, fun, and functional," Rynne said. "That's when we thought about clothing."
Support Marine Research and Sustainability in Style
To date, Waterlust has sold tens of thousands of pieces of apparel in over 100 countries, and the interactions its products have sparked have had clear implications for furthering science communication.
For Caruso alone, it's led to opportunities to share her abalone restoration methods with communities far and wide.
"It moves my small little world of what I'm doing here in Orange County, California, across the entire globe," she said. "That's one of the beautiful things about our partnership."
Check out all of the different eco-conscious apparel options available from Waterlust to help promote ocean conservation.
Melissa Smith is an avid writer, scuba diver, backpacker, and all-around outdoor enthusiast. She graduated from the University of Florida with degrees in journalism and sustainable studies. Before joining EcoWatch, Melissa worked as the managing editor of Scuba Diving magazine and the communications manager of The Ocean Agency, a non-profit that's featured in the Emmy award-winning documentary Chasing Coral.
Television ads produced by the polluter lobbyist group "Free Market Florida" are an affront to millions of Floridians who are living with the sad reality of polluted drinking water, toxic algae outbreaks and fish kills in their favorite rivers, springs, lakes, as well as on our tourist beaches.
"Our tourism economy depends on clean water, and this group actually has the audacity to fight against that? It doesn't make any sense," said Earthjustice attorney Alisa Coe. "It is just common sense to set limits on the amount of sewage, manure and fertilizer that's allowed in our water," Coe said. "You would think that's something everyone can agree on."

The toxic algae outbreaks breaking out around Florida can cause rashes, breathing problems, stomach disorders, and worse. Health authorities have had to shut down drinking water plants, beaches and swimming areas. Toxic algae can kill fish, livestock and pets.
View Florida Slime Crime Tracker in a larger map by clicking here.
This pollution hurts people who work in restaurants, hotels, beach concessions, the fishing industry, the boating industry, the dive industry, and the real estate sales and rental markets.
After years of seeing toxic algae on Florida tourist beaches like Sanibel Island and at fishing destinations like the St. Johns River, Earthjustice filed a Clean Water Act federal lawsuit in 2008 in the Northern District of Florida on behalf of the Florida Wildlife Federation, the Conservancy of Southwest Florida, the Environmental Confederation of Southwest Florida, St. John's Riverkeeper and the Sierra Club. In 2009, the U.S. Environmental Protection Agency set numeric limits for the phosphorus and nitrogen that comes from sewage, fertilizer and manure in the water.
Take action to clean up Florida's waters by clicking here.
For more information, click here.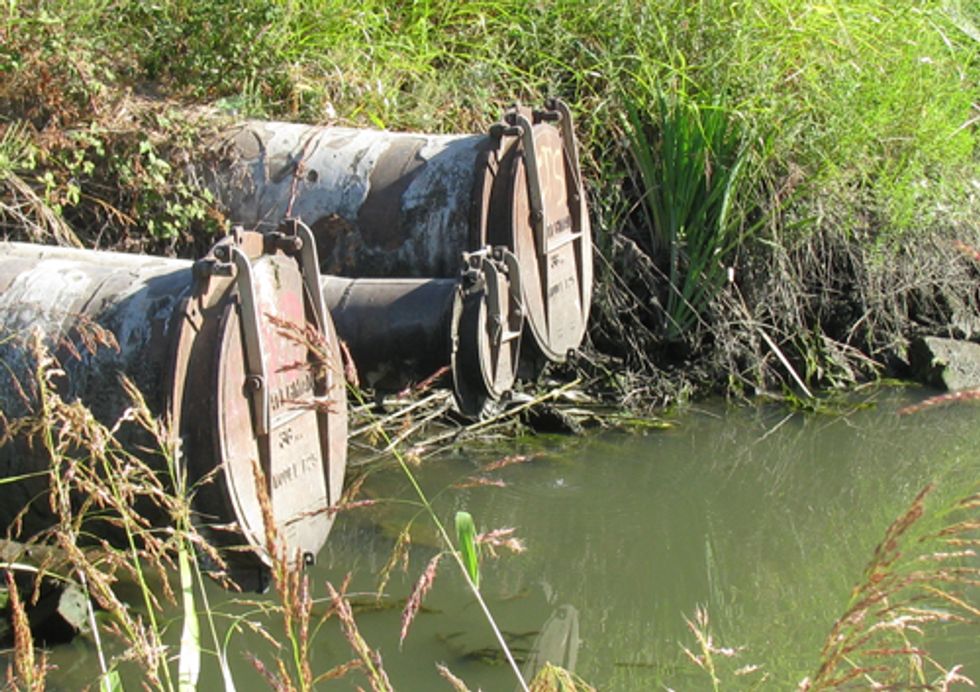 The U.S. Environmental Protection Agency (EPA) announced the release of a new tool that provides the public with important information about pollutants that are released into local waterways. Developed under President Obama's transparency initiative, the Discharge Monitoring Report (DMR) Pollutant Loading Tool brings together millions of records and allows for easy searching and mapping of water pollution by local area, watershed, company, industry sector, and pollutant. Americans can use this new tool to protect their health and the health of their communities.
"Transparency leads to greater accountability and better information about pollution in our nation's communities," said Cynthia Giles, assistant administrator for EPA's Office of Enforcement and Compliance Assurance. "By making the data we collect available in easy to use tools, we are keeping Americans informed about the health of the environment in their neighborhoods."
Searches using the DMR Pollutant Loading Tool result in "top ten" lists to help users easily identify facilities and industries that are discharging the most pollution and impacted waterbodies. When discharges are above permitted levels, users can view the violations and link to details about enforcement actions that EPA and states have taken to address these violations.
Facilities releasing water pollution directly into our nation's waterways, such as wastewater treatment plants or industrial manufacturers, must receive a permit to discharge under the Clean Water Act. Each permit sets specific limits for how much can be discharged. It also requires the permittee to frequently sample their wastewater discharges and report the data to their state or EPA permitting authority.
A link to the new tool can be found on EPA's Enforcement and Compliance History Online (ECHO) website, which provides information about inspections, facility compliance, and state and federal enforcement actions. EPA has also released several new ECHO features, including a search for criminal enforcement cases and web developer tools that make it easy to tap into ECHO reports and maps.
Information about the webinar:
What: A webinar to demonstrate how to use the new Discharge Monitoring Report (DMR) Pollutant Loading Tool.
Who: Members of the media, non-profit organizations, industry, business, and citizens interested in learning how to use the tool are encouraged to participate.
When: Thursday, Jan. 26, 2012, 10 a.m., Eastern Time
How: To participate, please use the following dial-in numbers.
Audio Contact Instruction:
(1) Dial the toll-free dial-in number: (866) 358 1366
(2) At the recorded prompt, enter the Conference Code (2025661014) and the "#" sign, using the telephone keypad.
(3) Wait for the Leader to join and the conference to begin.
(4) To disconnect, hang up the telephone.
To access the Webinar use the GoToWebinar link by clicking here.
*** You Must Register in Advance to Access the Webinar***
Access the DMR Pollutant Loading Tool by clicking here.
Visit ECHO by clicking here.
For more information, click here.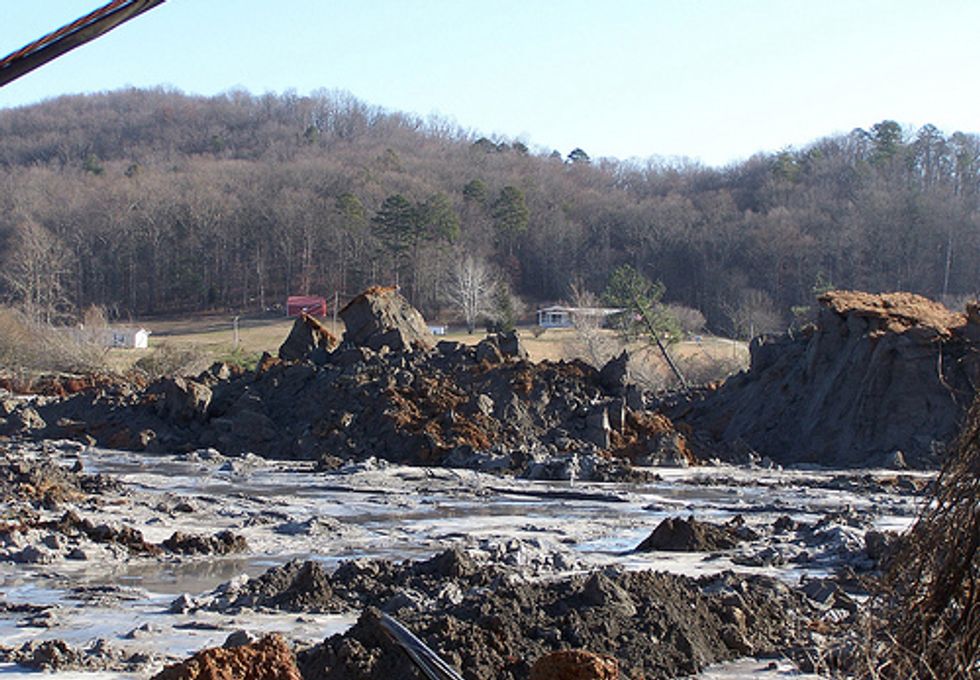 Environmental and public health groups announced their intent to sue the U.S. Environmental Protection Agency (EPA) in federal court Jan. 18 to force the release of long awaited public health safeguards against toxic coal ash. The EPA has delayed the first-ever federal protections for coal ash for nearly two years despite more evidence of leaking ponds, poisoned groundwater supplies and threats to public health.
Earthjustice, on behalf of Appalachian Voices (N.C.), Chesapeake Climate Action Network (Md.), Environmental Integrity Project, French Broad Riverkeeper (N.C.), Kentuckians For The Commonwealth (Ky.), Moapa band of Paiutes (Nev.), Montana Environmental Information Center (Mont.), Physicians for Social Responsibility, Prairie Rivers Network (Ill.), Sierra Club and Southern Alliance for Clean Energy (Tenn.), sent the EPA a notice of intent to sue the agency under the Resource Conservation and Recovery Act (RCRA). The law requires the EPA to ensure that safeguards are regularly updated to address threats posed by wastes. However, the EPA has never undertaken any action to ensure safeguards address the known threats posed by coal ash, a toxic mix of arsenic, lead, hexavalent chromium, mercury, selenium, cadmium and other dangerous pollutants that result from burning coal at coal-fired power plants.
A copy of the Notice of Intent to Sue letter sent to the EPA is available here.
Following a spill of more than a billion gallons of coal ash at a disposal pond in Harriman, Tenn., in December 2008, EPA Administrator Lisa Jackson announced in 2009 plans to set federal coal ash regulations by year's end. In May 2010, the EPA proposed a hybrid regulation to classify coal ash either as hazardous or non-hazardous waste. After eight public hearings across the country and more than 450,000 public comments, the agency decided to delay finalizing the rule amid intense pressure from the coal and power industries.
The following video shows the devastating results of the Harriman, Tennessee coal ash spill:
Despite numerous studies showing the inadequacy of current federal coal ash safeguards to protect public health and the environment as well as documented evidence by the EPA and environmental groups showing coal ash poisoned aquifers and surface waters at 150 sites in 36 states, the EPA continues to fail to adopt federal safeguards. The Jan. 18 lawsuit would force the EPA to set deadlines for review and revision of relevant solid and hazardous waste regulations to address coal ash, as well as the much needed and overdue changes to the test that determines whether a waste is hazardous under RCRA.
"Politics and pressure from corporate lobbyists are delaying much needed health protections from coal ash," said Earthjustice attorney Lisa Evans. "The law states that the EPA should protect citizens who are exposed to cancer-causing chemicals in their drinking water from coal ash. As we clean up the smokestacks of power plants, we can't just shift the pollution from air to water and think the problem is solved. The EPA must set strong, federally enforceable safeguards against this toxic menace."
"It's well past time for the EPA to do something about this hazardous waste," said Anne Hedges, program director of the Montana Environmental Information Center. "Our biggest coal ash ponds in Montana are leaking and have been leaking for decades."
"For far too long the Tennessee Valley Authority has been allowed to ignore the dangers of coal ash, resulting in the 2008 Kingston disaster, one of the worst environmental catastrophes of our time," said Josh Galperin, policy analyst and research attorney for Southern Alliance for Clean Energy. "Despite the lessons of Kingston and an explicit congressional mandate, coal ash continues to be unregulated by the EPA. We are taking action today to drive EPA to follow-through on its legal duty to protect Americans from this toxic waste."
"Data on groundwater at coal ash disposal sites is now available, and the results in Illinois and many other states are grim," said Traci Barkley, water resources scientist with Prairie Rivers Network. "State regulators found high levels of coal ash pollutants in groundwater at all 22 sites in our state. Seeing that our state's rules have not protected our residents and our clean water, we need to know that the EPA will get the job done."
"Right now our organization is involved in several lawsuits against old, leaking coal ash landfills in Maryland," said Diana Dascalu-Joffe, staff attorney with Chesapeake Climate Action Network. "Dangerous coal ash is leaching into waterways that hurt the Chesapeake Bay and could be threatening the health of Maryland citizens. The EPA has a responsibility to issue a uniform, strong rule to address coal ash so groups like ours don't have to fight to clean them up, facility by facility, at the state level."
"With a state legislature bent on weakening the ability to protect public health, North Carolinians are calling on the EPA to demonstrate political leadership by providing strong and consistent federal guidelines for coal ash disposal and storage," said Sandra Diaz, North Carolina campaign coordinator for Appalachian Voices.
"With many coal ash dumps located in populated areas, the public depends on the EPA to do everything possible to protect our health and keep our communities safe," said Mary Love, member of Kentuckians For The Commonwealth. "We need strong standards so we can not only clean up communities that have already been poisoned but make sure these toxic chemicals never again leak into our homes and communities."
"The EPA promised to set standards for coal ash disposal sites more than a decade ago," said Eric Schaeffer, executive director at Environmental Integrity Project. "Are we going to have to wait for another disaster before EPA finally keeps that promise?"
"The toxic threat that coal ash poses to human health is severe," said Dr. Maureen McCue, MD, PhD, of Physicians for Social Responsibility. "Coal ash contains contaminants that can cause cancer and can damage the intestines, liver, kidney, lungs, heart, peripheral nervous system and brain. It's unthinkable that the EPA allows this toxic stew to get into drinking water. It doesn't get much dirtier than this."
"Our children are losing more than their health because of the power plants; they're losing their culture, too," said William Anderson, chairman of the Moapa Band of Paiutes in southeastern Nevada. "We used to hunt ducks and geese on our land—but no longer. The birds land in the coal wastewater ponds. We used to harvest medicinal plants, but not anymore. The plants have been contaminated over the years by the plant's coal ash dust, soot and other pollutants."
"Two of the nation's 49 high hazard coal ash dams sit on the banks of the French Broad River. These ponds pose a looming threat to the health and safety of the surrounding community, as well as the French Broad River," said Hartwell Carson, French Broad Riverkeeper. "The dams also hold back toxic coal ash that pollutes the groundwater and surface water every day. It is time for the EPA to act to protect the French Broad River and the hundreds of similarly impacted rivers and communities around the country."
"The EPA must act and they must act soon," said Bruce Nilles, senior campaign director for the Sierra Club's Beyond Coal Campaign. "Millions of tons of toxic waste from coal plants—coal ash containing arsenic, lead, mercury and other dangerous pollution—are dumped across the country each year, often without basic safety protections. Even though the EPA has identified more than four dozen highly dangerous coal ash sites around the country they have still failed to safeguard the health and well being of those living near the dumping grounds. We urge the EPA to take definitive action to protect American families and communities."
For more information, click here.