In the U.S., our infrastructure isn't designed to handle the increased floods and droughts that come with global warming. Consider Florida, where coastal cities are spending billions of dollars on pumps and desalination plants to deal with flooding, or Denver, CO, which had to restrict residential lawn watering to two days a week throughout the spring due to drought.
Clearly, we need to be smarter about our precious water supply in the coming years. Many cities are already getting a jump start on smart water solutions and their work provides models for other places dealing with water challenges.
Bioswales
Bioswales—also known as rain gardens—absorb and filter runoff from nearby pavement. Not only do they keep polluted rainwater from reaching our rivers and lakes, they beautify our cities and prevent flooding.
A bioswale is installed along a new bike trail in Indianapolis, IN.
Porous/Permeable Pavement
Another way to ensure rainwater is filtered before it reaches our waterways is by letting it hit the ground rather than run along the top of pavement. Porous pavement like that pictured above has tiny gaps that allow the water to flow through.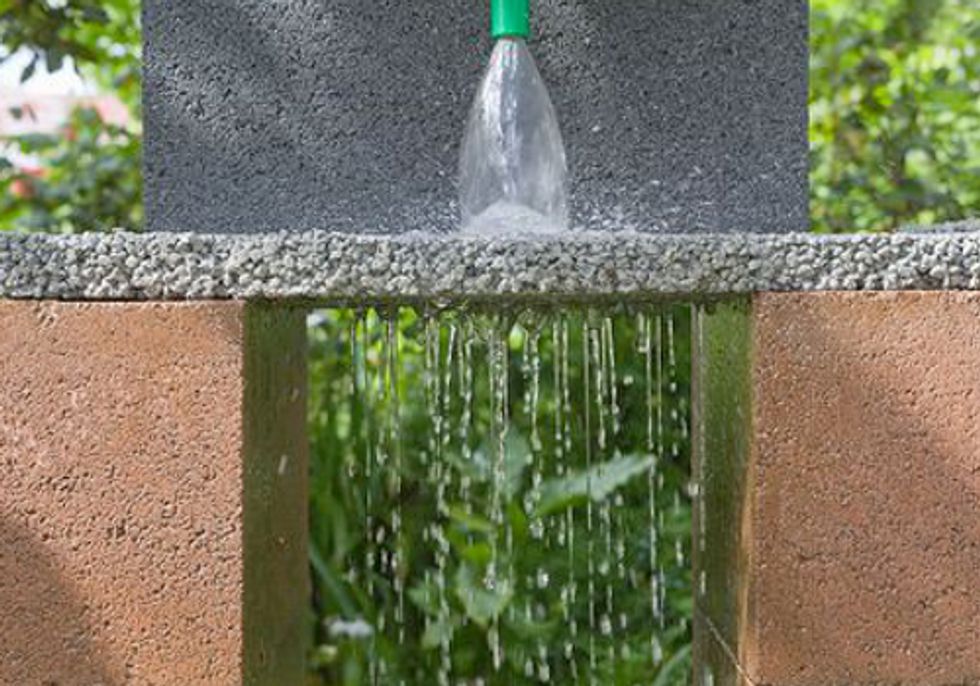 Cisterns/Rain Barrels
About one-third of the clean drinking water in the U.S. is used to water lawns. One way to halt this waste is to encourage the use of cisterns and rain barrels which collect rainwater for things like gardening and flushing toilets. The town of Northfield, MN, rebates its residents 50 percent of the cost of installing such systems. Many other towns in the U.S. have similar programs, and rain barrels are readily available at most home improvement stores.
Solar Water Heaters
Rather than using solar panels to create electricity, solar water heaters use them to heat water. About 30 million homes in China use solar water heaters and many municipalities in the U.S., like Palo Alto, CA, Austin, TX, and Tallahassee, FL, offer rebates to their residents if they install them.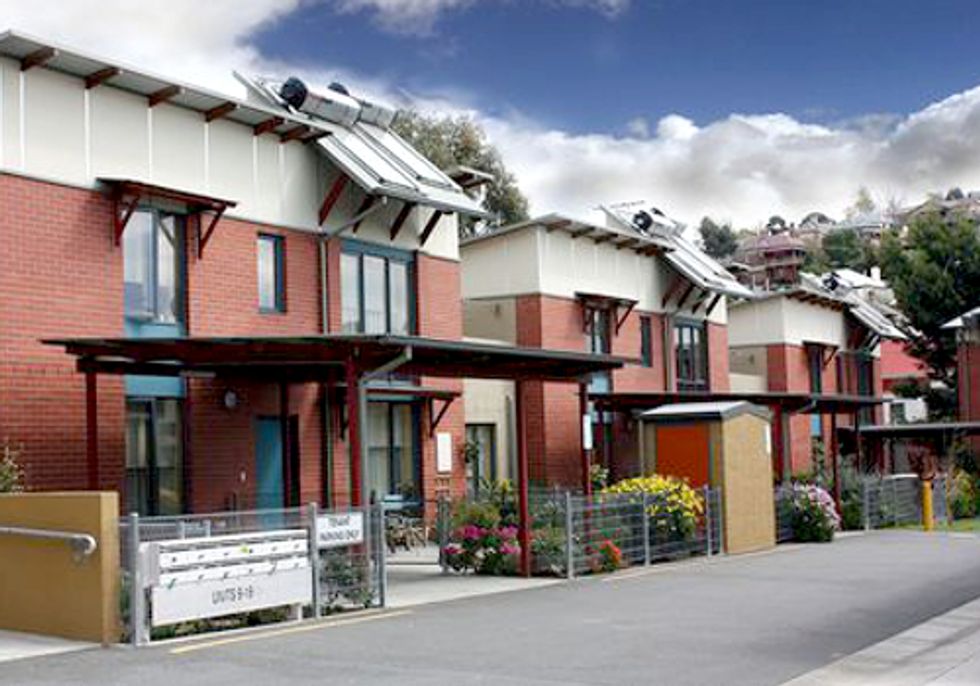 Riparian Buffers
Nothing manages water better than nature. Ensuring that our waterways are buffered from development by conserving the vegetation around it keeps them clean, provides vital habitat for plants and animals and guards against flooding. In just one project of its kind, EarthShare member Trust for Public Land helped protect nearly 600 acres of land near the LaPlatte River, which feeds into Lake Champlain. Because of this, the safety of the drinking water supply for 68,000 people is ensured.
Green Roofs
Green roofs have multiple benefits: they reduce the heat island effect in cities, filter air pollution, improve building efficiency and much more. They also reduce the volume of storm water flowing into sewer systems. Chicago, IL, leads the country in green roofs installed.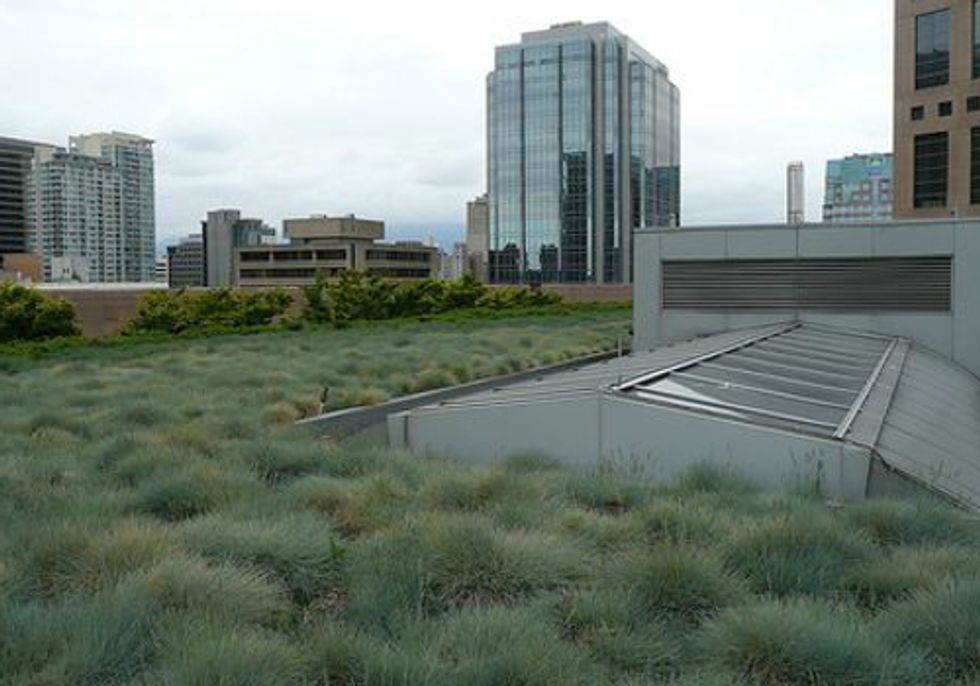 Visit EcoWatch's WATER page for more related news on this topic.
——–

EcoWatch Daily Newsletter
When it rains in cities or suburban areas with lots of roads and rooftops, rainwater is unable to soak into the ground. Instead, it flows along the surface where it picks up pollutants like sediment, chemicals, oil, grease or heavy metals. The runoff then flows into storm drains where it ultimately ends up in nearby rivers, lakes and streams.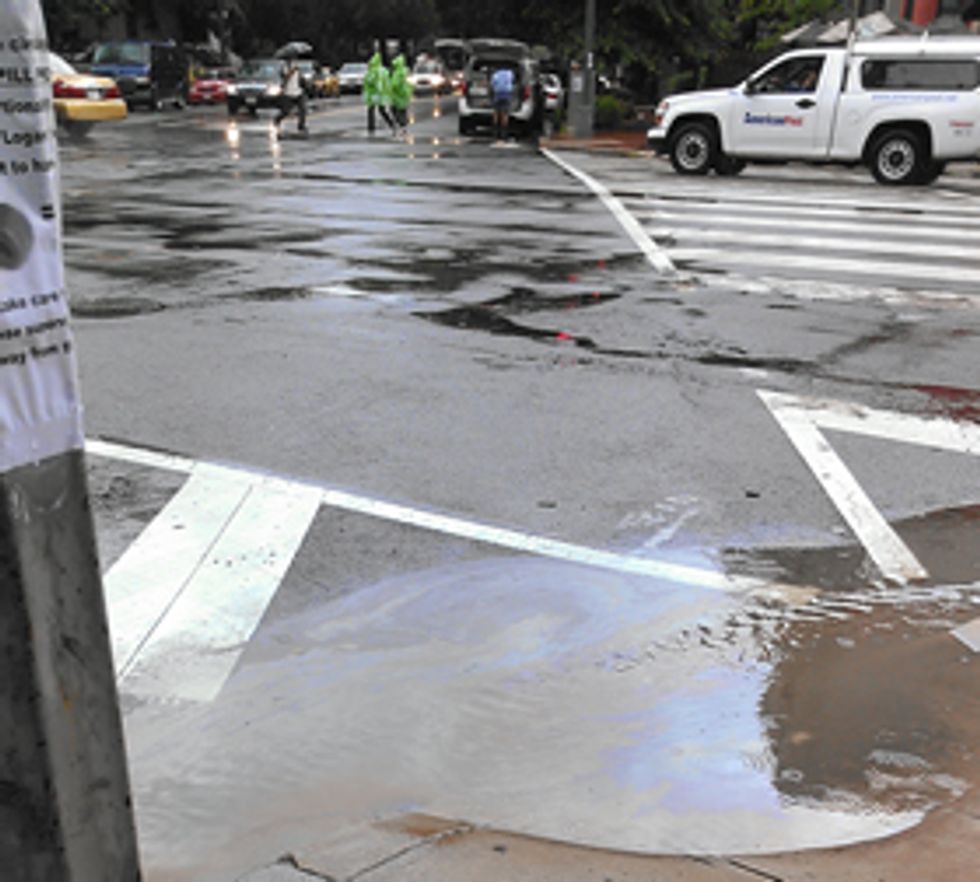 From basement backups to beach closures to sewage overflows, polluted runoff can have big costs for communities. The Federal Emergency Management Agency estimates that polluted urban runoff contributes to 25 percent of economic losses from flooding, totaling nearly $1 billion every year. The Environmental Protection Agency (EPA) has found that between 1.8 million and 3.5 million people are estimated to become sick from recreational contact with raw sewage discharges into waters every year.
In particular, large paved areas of commercial and industrial facilities built decades ago are significant contributors of polluted runoff yet are seldom required to control or treat it in ways that really protect our local waters. Taxpayer dollars already support public infrastructure to manage runoff and these existing sites are not doing their fair share.
Studies have consistently demonstrated that these sites accumulate large quantities of pollutants such as copper, lead, zinc, phosphorus and nitrogen. Although little management is required, runoff from these areas carries harmful contaminants into local waters that degrade drinking water supplies, cause beach closures and threaten fish habitat. Large volumes of runoff also contribute to local flooding, shutting down roads and exacerbating basement backups at additional costs to communities and local businesses.
Given that more than half of the hardened surfaces in our urban areas consist of buildings and parking lots (53.9 percent according to the U.S. Geological Survey), it will be practically impossible to attain clean water goals without controlling the runoff that leaves these sites.
Today, American Rivers, Anacostia Riverkeeper, Anacostia Watershed Society, Blue Water Baltimore/ Baltimore Harbor Waterkeeper, California Coastkeeper Alliance, Conservation Law Foundation, Natural Resources Defense Council, PennFuture, Potomac Riverkeeper and the Shenandoah Riverkeeper submitted petitions to the Environmental Protection Agency (EPA) that call on the Agency to use its existing authority to better manage runoff from existing commercial, industrial and institutional areas. 
These petitions are based on facts we all know—that rainwater running off the pavement and rooftops in these areas pollutes our waters.  They call on EPA to carry out the responsibility assigned to it by Congress in 1987, known as residual designation authority, to take steps that will create cleaner waters by reducing polluted runoff and keeping it out of storm sewers and local waterways.
These contributors should be held accountable for their contributions to pollution through runoff and help share the cost of managing their stormwater rather than placing the burden solely on the taxpayer. These sites can share in the cost of solutions to solve the problems they are helping create.
Visit EcoWatch's WATER page for more related news on this topic.
——–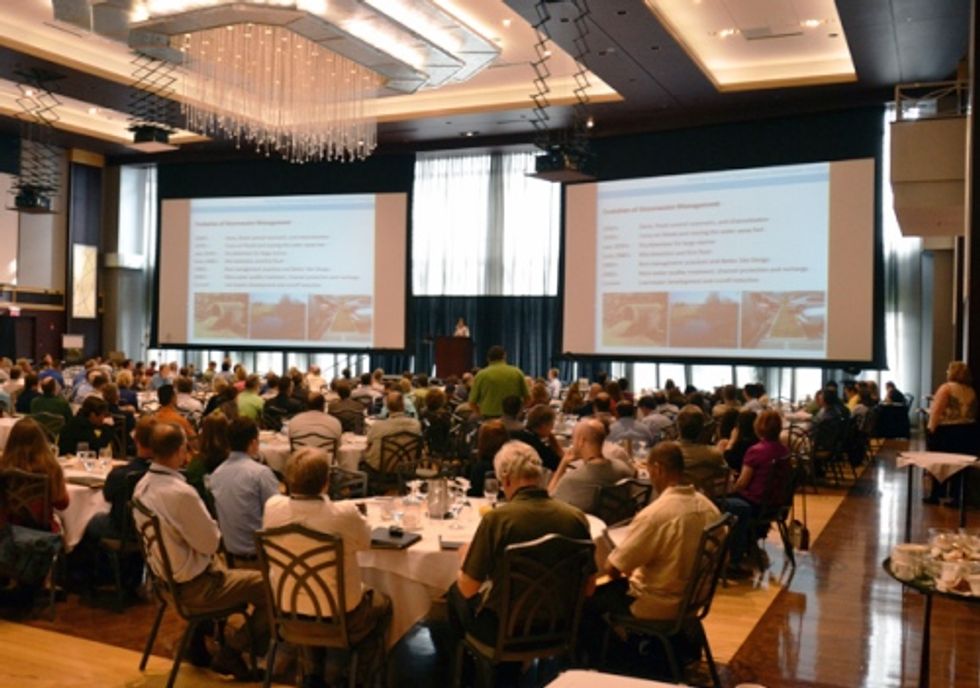 WHAT: 2012 Ohio Stormwater Conference
WHEN: June 6 - 8
WHERE: SeaGate Convention Center, 401 Jefferson Ave., Toledo, Ohio 43604
The Tinkers Creek Watershed Partners and the Ohio Stormwater Association are hosting the 2012 Ohio Stormwater Conference. The event is an annual conference dedicated to advance the knowledge and understanding of comprehensive stormwater management for those dealing in all aspects of planning, design, implementation and regulatory compliance. The conference will provide updates on environmental issues, new technologies, regulatory information and pollution prevention.
The 2012 Ohio Stormwater Conference is a great opportunity to strengthen your skills and knowledge in an intensive workshop setting with other colleagues.
Opening Speaker:
• Scott J. Nally, director Ohio Environmental Protection Agency
2012 Keynote Speaker:
• Theodore E. Scott, PE, CPESC, LEED AP, MSP Stormwater Maintenance LLC
June 6:
• CPESC training, $100 per person
June 7:
• Exams for all Envirocert Certifications, $50 per person.
For more information and to register, click here.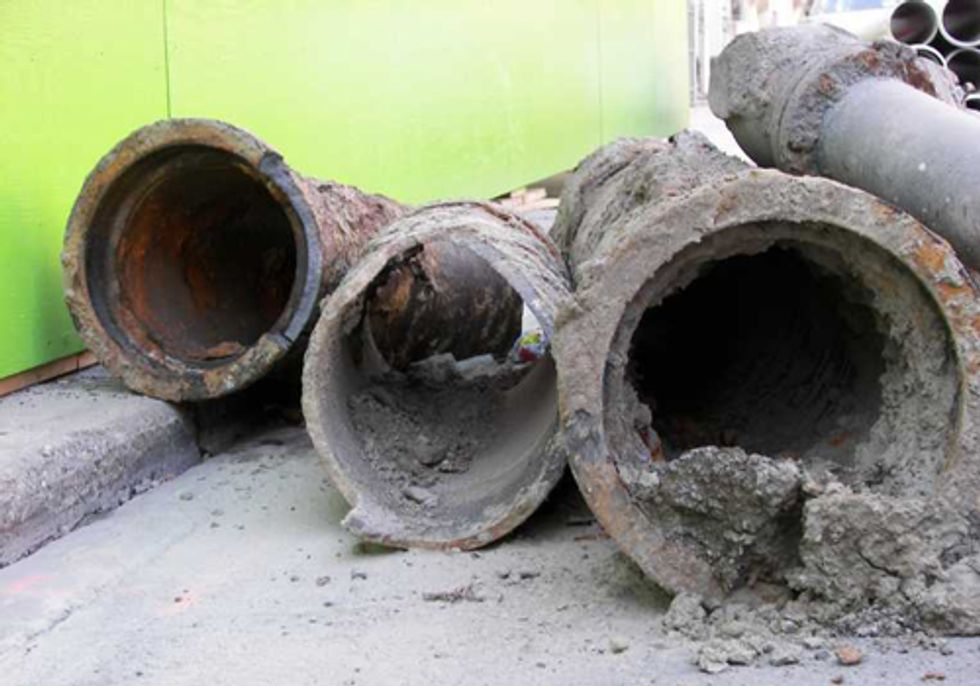 Innovative financing and pricing flexibility are key to preparing the nation's aging freshwater systems to handle growing demand and environmental challenges, according to a Charting New Waters report released Jan. 26 by The Johnson Foundation at Wingspread, American Rivers and Ceres.
The Financing Sustainable Water Infrastructure report, is the product of a meeting convened by The Johnson Foundation, in collaboration with American Rivers and Ceres, which brought together a group of experts to discuss ways to drive funding toward the infrastructure needed for the 21st century.
Largely built on systems developed during the 19th and early 20th centuries, U.S. water infrastructure faces profound problems of aging components, outdated technology and inflexible governance systems ill-equipped to handle current consumption, environmental and economic problems.
Presently, about 6 billion gallons of expensive, treated water is being lost in the U.S. each day due to leaky and aging pipes—some 14 percent of the nation's daily water use. This pervasive water waste is underscored by the fact the American Society of Civil Engineers gives the nation's water systems a D-, the lowest grade of any infrastructure including roads and bridges.
The report concludes that rebuilding and operating our water systems as they are presently built would be enormously inefficient. One major problem is the very nature of the systems themselves—where drinking water, stormwater and wastewater are built, financed and operated as entirely distinct units rather than as more efficient, interconnected systems. Another major problem is myopic, inflexible water-pricing systems that fail to distinguish between various water uses and generally undervalue water.
In order to achieve more sustainable, resilient and cost-effective freshwater systems, the report recommends bold new approaches for financing and operating public water systems, including:
• Local water solutions that can improve efficiencies, including green infrastructure, closed-loop systems and water recycling
• Flexible water pricing and revenue structures that distinguish between drinking water and various other types of water, such as lawn water and toilet water
• System-wide, full-cost accounting of water services and financing mechanisms
• Less reliance on state and federal funding and more reliance on private, market-based financing mechanisms that can support local, customer-supported solutions.
"While the deteriorating state of the nation's water infrastructure is not a secret, we have lacked workable strategies and policies to finance the changes needed," said Lynn Broaddus, director, Environment Programs at The Johnson Foundation. "This report addresses the critical linkage between financing and sustainability that was initially raised by the Charting New Waters consensus report in 2010. It's not enough to pay for new water infrastructure—we need the financing to actually drive a new, sustainable water infrastructure that will take care of generations to come."
 
Jeffrey Odefey, director of Stormwater Programs at American Rivers, said, "Clean water and resilient ecosystems are absolutely vital to our health, our communities, and economy. This timely report lays out clear directions to ensure that our communities grow into the future with safe, reliable water supplies and healthy rivers and streams."
Sharlene Leurig, senior manager of Water and Insurance Programs at Ceres, said, "This report makes clear that our nation's water infrastructure system is broken and dramatic changes are needed. Rethinking how we finance and operate our vast water systems is not a choice, it's a must. We have the engineering and land use tools we need to ensure our water systems can stand up to 21st century challenges. The key will be partnerships and cooperation between business, government and public interest groups to finance these new tools."
The Johnson Foundation is releasing this report as part of its work with Charting New Waters, an effort it formally launched in 2010 dedicated to catalyzing new solutions to U.S. freshwater challenges. Charting New Waters is composed of a diverse group of leaders from business, agriculture, academia and environmental organizations that have publicly committed to improving U.S. freshwater resources by advancing the principles and recommendations of the group. 
The initial phase of work led to the release of Charting New Waters: A Call to Action to Address U.S. Freshwater Challenges, a consensus report issued on Sept. 15, 2010. Download the report here.
As part of its ongoing Charting New Waters effort, The Johnson Foundation is also hosting a series of Regional Freshwater Forums that convene experts to examine freshwater challenges, successes, innovations and potential solutions that can bridge geographies and inform national policy. The first Forum took place in Denver, Colo., in October 2011.
For more information, click here.
—————
The Johnson Foundation at Wingspread is dedicated to serving as a catalyst for change by bringing together leading thinkers and inspiring new solutions on major environmental and regional issues. For additional information about Charting New Waters, or to learn more about The Johnson Foundation at Wingspread, visit www.johnsonfdn.org.
Ceres is an advocate for sustainability leadership. It leads a national coalition of investors and public interest groups working with companies to address sustainability challenges such as global climate change and water scarcity. Ceres also directs the Investor Network on Climate Risk (INCR), a network of 100 institutional investors with collective assets totaling about $10 trillion. For more information, visit www.ceres.org.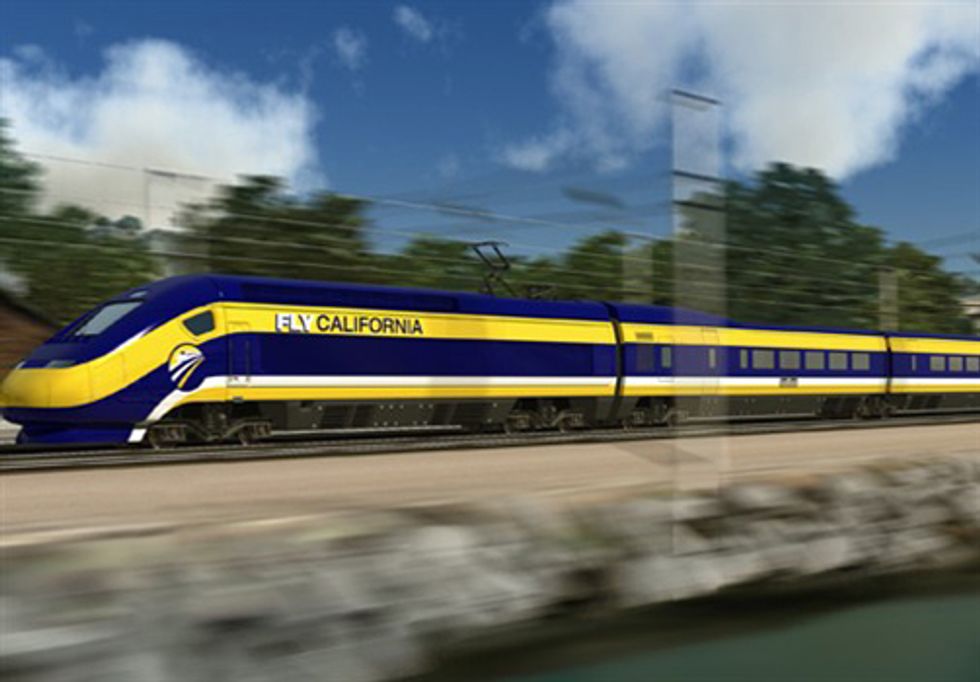 This week, Gov. Jerry Brown outlined his policy priorities for the coming year, one that will see California poised to make history by implementing its groundbreaking climate and clean energy law, increasing water reliability, restoring a troubled and neglected Bay-Delta ecosystem, and investing in low carbon fuels that reduce the state's dependence on petroleum—all measures that will create a healthy environment and a healthy economy. 
Following is a statement by Ann Notthoff, California advocacy director at the Natural Resources Defense Council:
"Protecting California's economy and environment go hand in hand. The governor recognized that a healthy environment is an essential tool to re-energize California's economy. Implementing and enforcing California's landmark climate and clean energy law to reduce harmful pollution and meet our climate goals is vitally important, as is investing in clean fuels that innovate the market and reduce our dependence on oil.
"Gov. Brown also hit the mark by recognizing that protecting the Bay-Delta estuary and ensuring a reliable water supply is key to our environmental and economic well being. Investing in homegrown clean energy sources, including energy efficiency is what California does best, and the governor is right on in singling out these areas in his agenda for economic growth in the year ahead."
Key Issues in the Governor's Budget:
Water—Gov. Brown is to be commended for explicitly recognizing the dual goals of restoring the Bay-Delta ecosystem, including a healthy salmon fishery, and ensuring a more reliable water supply. Achieving these goals will require focusing on risks related to Delta levee stability as well as restoring natural flows and habitat. In 2009, the legislature mapped out the path for achieving these twin goals by reducing reliance on water from the Delta, through increased investments in water recycling, water efficiency, and better management of groundwater and storm water. We look forward to working with the governor to implement his commitment.
Cap-and-Trade and Clean Energy—California's groundbreaking cap-and-trade program will reduce pollution, improve public health, and keep California on the cutting edge of the clean energy economy. The governor's budget recognizes that the revenue from the cap-and-trade program offers an opportunity to invest in our economy and create real benefits for Californians.
Low Carbon Fuels—We agree with the governor on the urgent need to reduce our oil dependency by phasing in cleaner fuels and phasing out the dirtier ones. That's why we are joining the state to defend California's Low Carbon Fuel Standard against the oil industry lawsuit. Hundreds of alternative fuel companies stand ready to produce and supply cleaner fuels. Unfortunately, the oil industry is proving once again they would rather litigate than innovate to keep us hooked on oil.
High Speed Rail—We agree with Gov. Brown that a 21st century high speed rail system presents a unique opportunity to improve mobility and create jobs, yet legitimate concerns have been raised about the management and feasibility of the project in California. We're hopeful that the governor's commitment to the high speed rail means a substantial commitment to addressing these concerns. A meaningful "reset" on the high speed rail can raise public confidence and lead to a viable project.
For more information, click here.
—————
The Natural Resources Defense Council (NRDC) is an international nonprofit environmental organization with more than 1.3 million members and online activists. Since 1970, our lawyers, scientists, and other environmental specialists have worked to protect the world's natural resources, public health, and the environment. NRDC has offices in New York City, Washington, D.C., Los Angeles, San Francisco, Chicago, Livingston, Montana, and Beijing.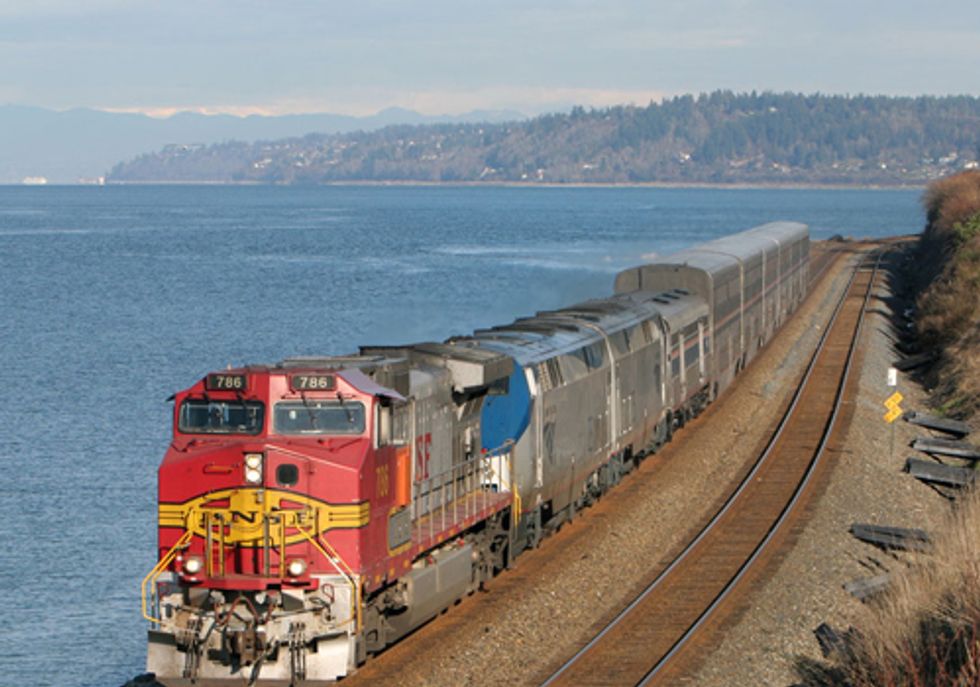 After a multi-year legal challenge, Puget Soundkeeper Alliance (Soundkeeper) has entered one of the country's largest Clean Water Act settlements involving the discharge of stormwater pollution. As part of a settlement of Federal Clean Water Act claims, BNSF Railway Company (BNSF) agreed to pay $1.5 million to a third-party organization to fund Puget Sound restoration and pollution mitigation projects. Soundkeeper had earlier obtained a court ruling establishing that BNSF had illegally discharged industrial stormwater from a Seattle facility to Puget Sound. The case is pending before the Honorable John Coughenour in the Federal Court for the Western District of Washington, located in Seattle.
"Stormwater pollution is killing Puget Sound. The size of this settlement is one of the largest ever in a citizen enforcement action involving stormwater discharges. It sends a strong message that stormwater pollution is an important issue and has serious consequences for polluters," said Chris Wilke, Puget Soundkeeper and executive director at Puget Soundkeeper Alliance.
As described in the proposed Consent Decree submitted Dec. 21 to a Washington federal judge, BNSF has implemented numerous measures since the lawsuit was filed to help ensure compliance with the Clean Water Act in future discharges to Elliott Bay. By law, the U.S. Department of Justice and the U.S. Environmental Protection Agency have 45 days to review the agreement before it may be signed into legal effect as an order of the court.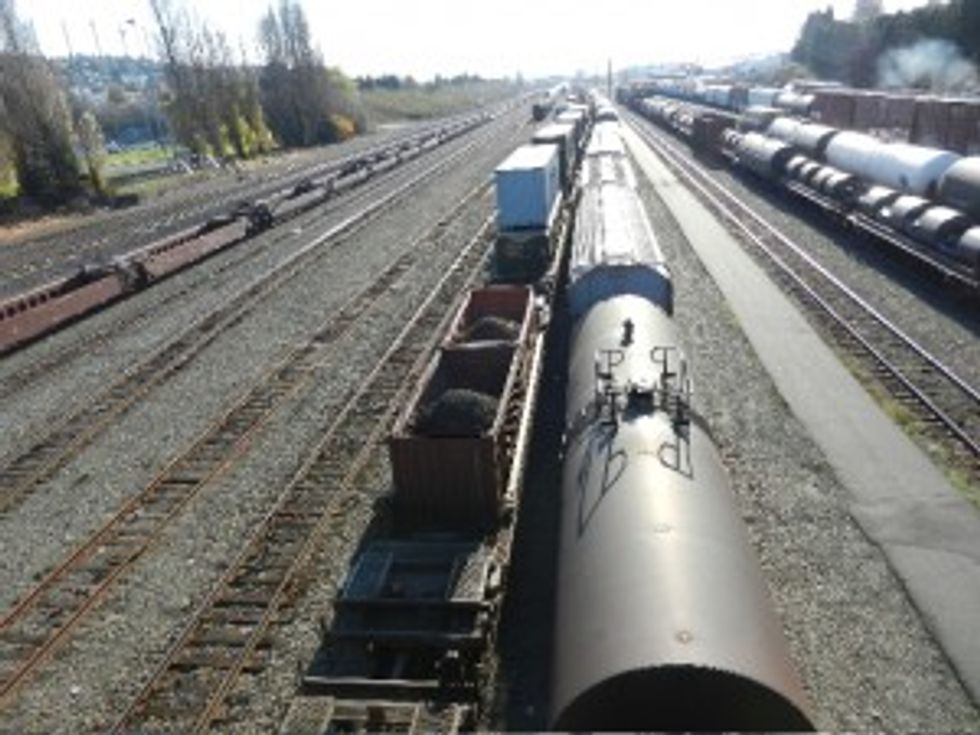 The case involves stormwater discharges from BNSF's Balmer Yard facility, located between Seattle's Queen Anne and Magnolia neighborhoods. The facility discharges industrial stormwater to Elliott Bay near the public beach at Smith Cove Park. The facility is operated by Texas-based BNSF, a subsidiary of Berkshire Hathaway.
Industrial stormwater can contain toxic levels of heavy metals, such as copper, zinc and lead, as well as oils and suspended solids. Elliott Bay is identified by state and federal agencies as providing critical habitat for threatened Chinook salmon and is home or a migration route to other species including coho salmon, sixgill shark, octopus, lingcod, marbled murrelet, harbor seals, harbor porpoise and orca whales. Polluted stormwater runoff is the number-one source of toxic loading in the Puget Sound, according to a recent study by the Department of Ecology. Heavy metals, especially copper, are particularly dangerous to the survival of salmon species, which are highly valued culturally and economically by the people of the Puget Sound Region.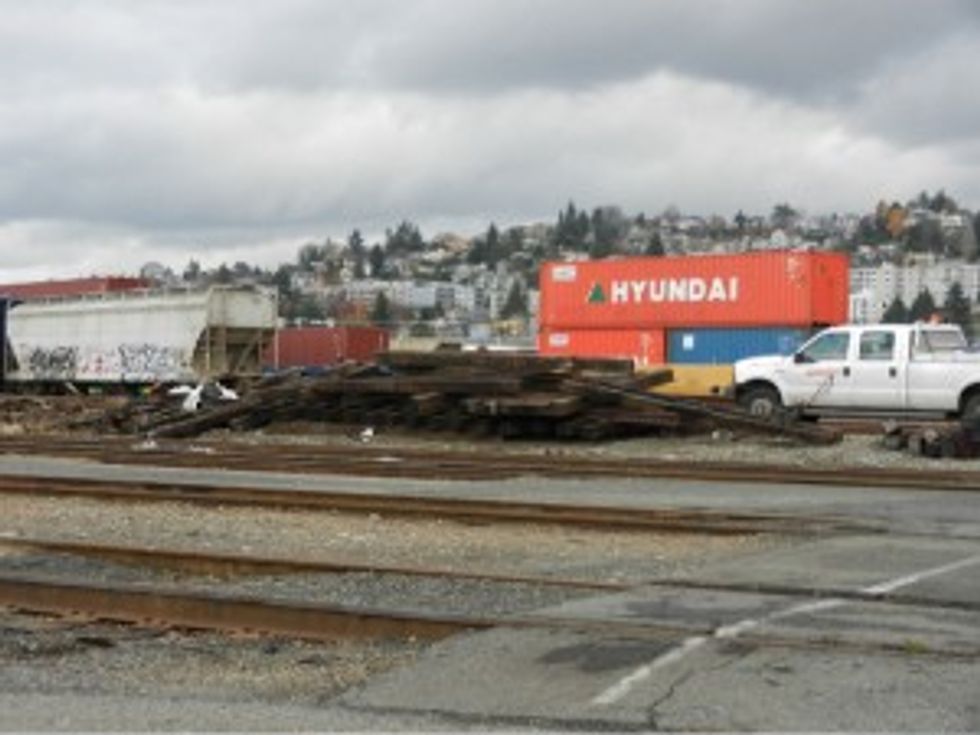 Soundkeeper filed the suit against BNSF in July of 2009 under the Clean Water Act's "citizen suit" provision, which authorizes concerned citizens to step in and enforce its provisions to protect public waterways when public agencies fail to do so. Soundkeeper alleged that BNSF was in violation of its Clean Water Act permit regulating discharges of industrial stormwater from the Balmer Yard facility. Soundkeeper amended the complaint in August 2010 to add claims that BNSF's unpermitted discharges of industrial stormwater from the Balmer Yard violated the Clean Water Act.
"We identified the Balmer Yard because BNSF had consistently reported concentrations of heavy metals in its discharges far exceeding the thresholds set by its permit," said Wilke of Soundkeeper. "These pollutant levels were particularly concerning because a facility as large as the Balmer Yard can discharge a significant amount of industrial stormwater to Puget Sound." Wilke said this is an important step in the long process to clean up toxic stormwater discharges to the Puget Sound, which is identified as a high priority in the recovery of the Puget Sound by state and federal agencies.
Federal Judge John Coughenour entered an order in August of 2011 finding BNSF liable for extensive violations of the Clean Water Act, including for discharging industrial stormwater without a permit and for failing to implement required stormwater pollution control measures.
Soundkeeper was represented in the lawsuit by the Seattle law firm of Smith & Lowney, which focuses on environmental and public interest law. "This settlement shows that the Clean Water Act is a potent tool for holding industry accountable for illegal stormwater pollution. We hope the size of this settlement encourages businesses and governments to tackle their stormwater problems," said Brian Knutsen, the lead attorney on the case.
The Consent Decree filed Dec. 21 contains provisions for recovering damages to the environment and ensuring compliance with the Clean Water Act at the facility. The Consent Decree recognizes that since the case was filed, BNSF has taken significant actions to improve its management of stormwater on its site, including developing a stormwater pollution prevention plan, coating roofs to minimize zinc pollution, stabilizing banks to minimize soil erosion, and taking other actions to prevent and control spills and minimize rain contact with sources of contamination.
BNSF must pay a total of $1.5 million to a new Puget Sound Stewardship and Mitigation Fund established by the Rose Foundation, which will award grants for environmental restoration projects in Puget Sound. "This new fund will help support important work to protect the waters of Puget Sound," said Rose Foundation director Tim Little. "The money will be put to good use in protecting water quality and rebuilding habitat for endangered salmon for years to come."
The federal court will retain jurisdiction over the case to enforce the requirements of the consent decree, which includes the requirement that BNSF comply with the terms of its stormwater discharge permit.
For more information, click here.
The proposed Consent Decree can be viewed by clicking here.
The Court's order on Clean Water Act violations can be viewed by clicking here.
—————
The mission of Puget Soundkeeper Alliance is to protect and preserve Puget Sound through monitoring, engagement, enforcement and partnership. Puget Soundkeeper is a licensed member of the 200-member international Waterkeeper Alliance, which fights to protect waterways around the world. Puget Soundkeeper Alliance does not receive any money from this settlement, despite the intense involvement of its staff and several board members over the years of litigation.